The kitchen nook has been in need of an update.  It had the furniture from our old house and although it "worked" in our current house it wasn't exactly right.  I have several more things I want to do in this area, but I have made a start!  Here is part 1 of our breakfast nook update.
 Now, that Avery has started Kindergarten we spend way more time here having family dinners and I just love it.  With both Geoff and I working from home our schedules were very flexible and we would all just kind of eat dinner at random times unless we were going out to eat.  Now, we have a routine and I love it.    Since we are spending so much more time in our breakfast area it was time to update it.  The first thing that needed to be updated was our kitchen table.  Our old home had a small space and this black pedestal table was perfect.  It could be a small circle or extended to an oval with a leaf.  In our new home we always had it extended, but I was wanting a large harvest table for the space.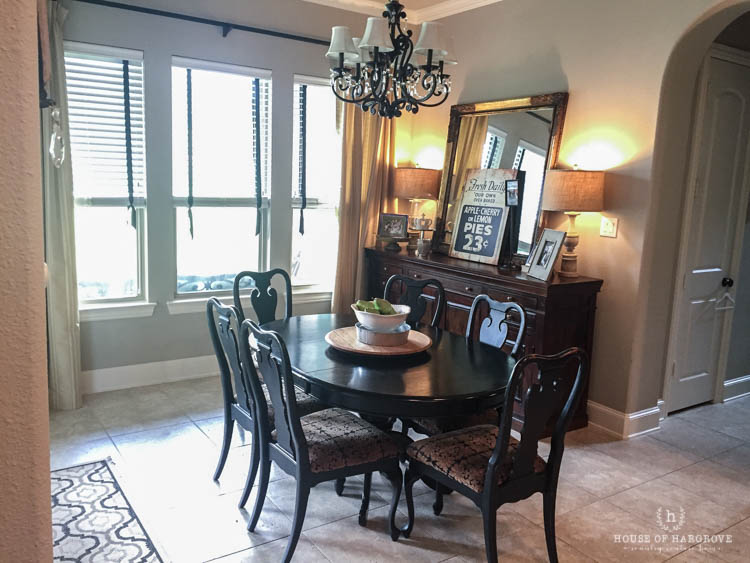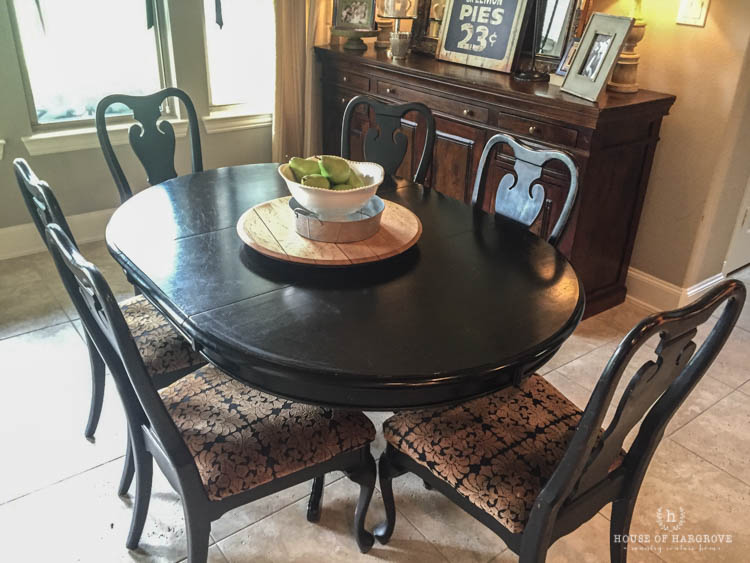 I found the perfect table at an auction!  It is a 7 foot planked pine table with tons of character and it was exactly what I was looking for.  There is a ton of space and when we are not eating here the kids love doing crafts on it.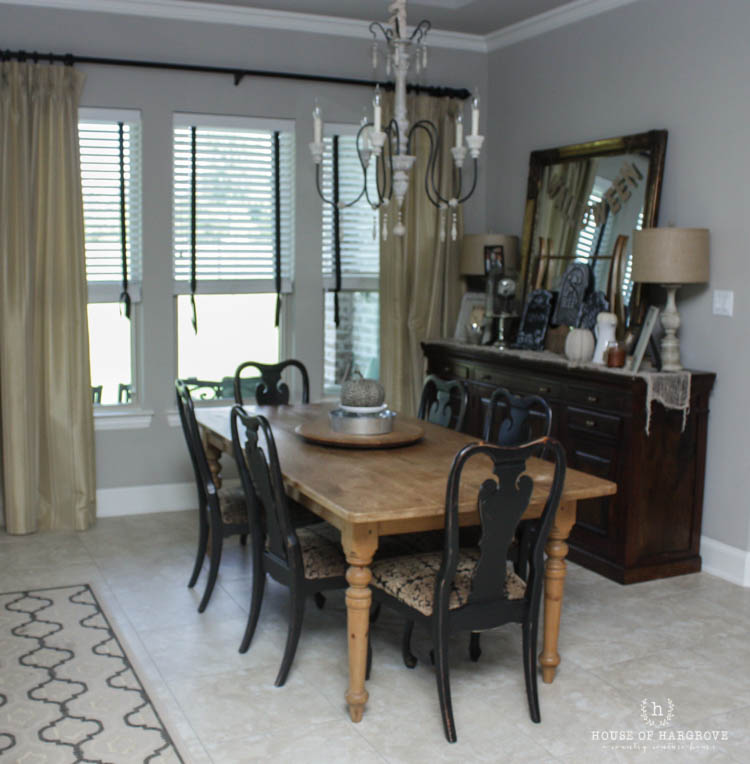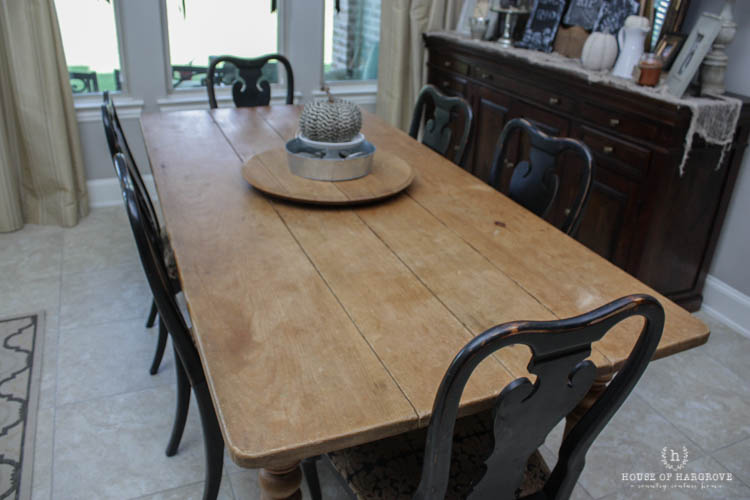 The next thing that needed to be updated was the lighting.  The old chandelier was heavy iron with crystals and I wanted to lighten up this space and give it more of a farmhouse feel.  When I came across the Giselle Chandelier from Joss & Main I knew it was perfect!  It has the open, light feel I was going for and I couldn't believe how great the price was!  ONLY $184.95!  It also had a 5 star rating so I was sold!  I absolutely love it!  The details are beautiful and it looks so much more expensive than it is.  The size is perfect for the space and it made a huge transformation.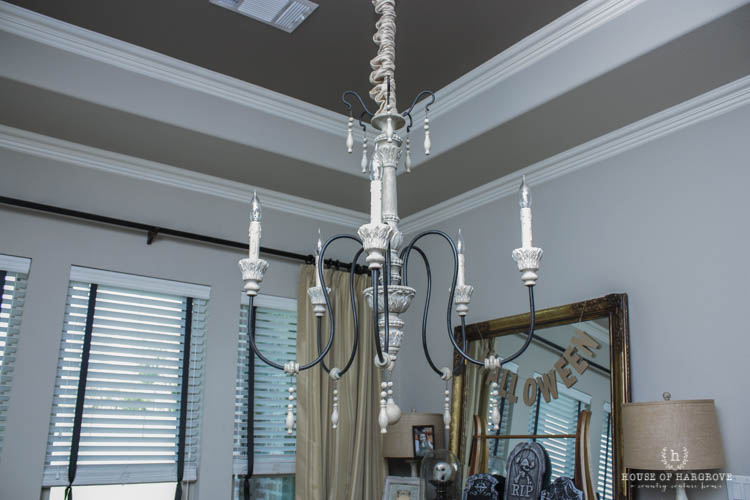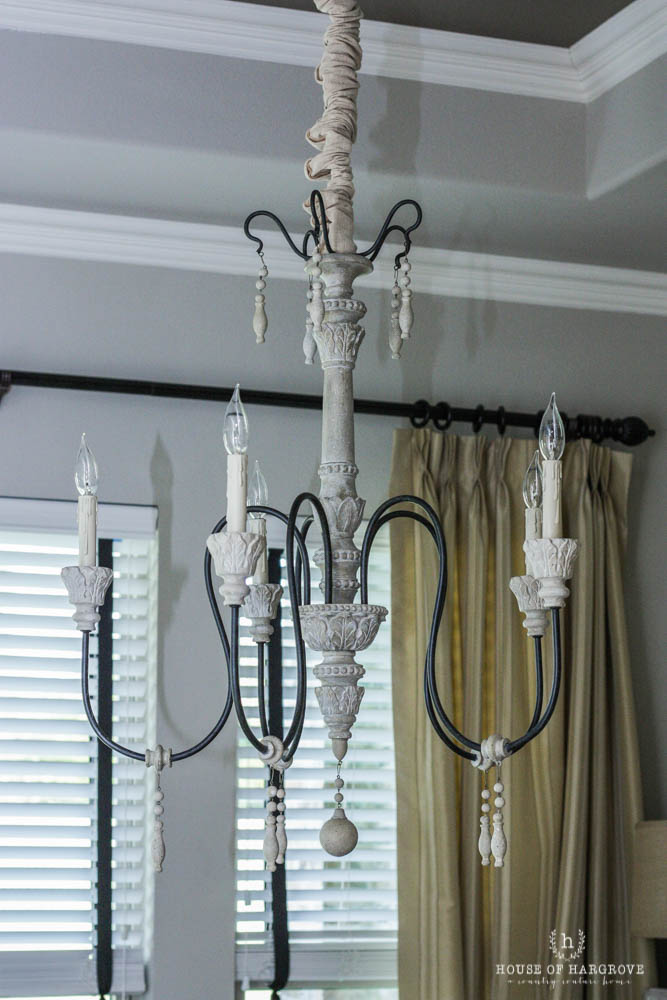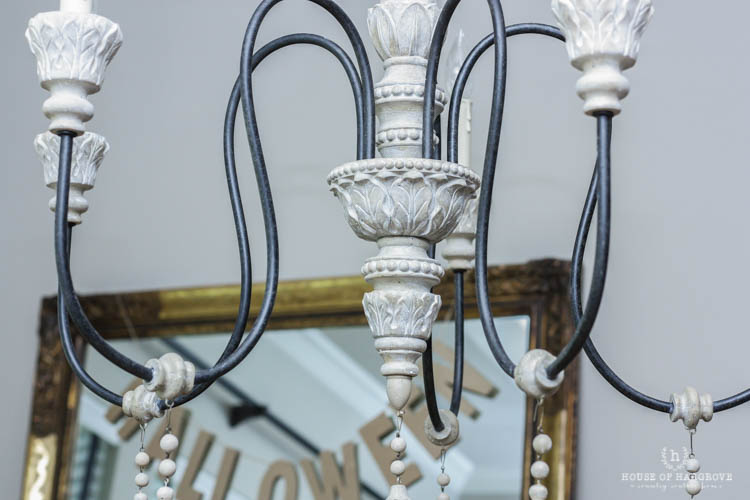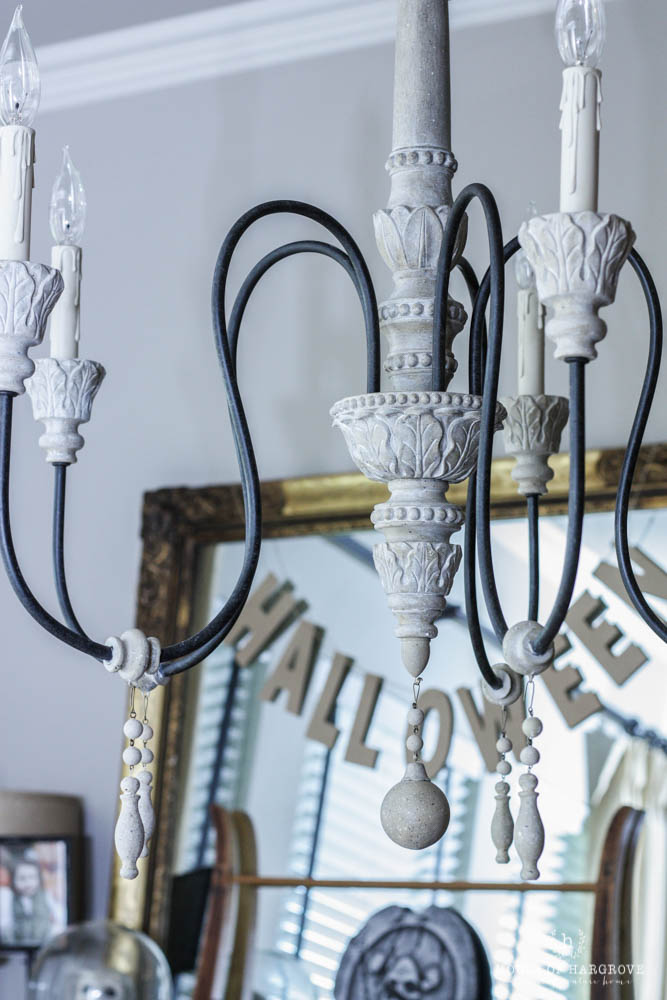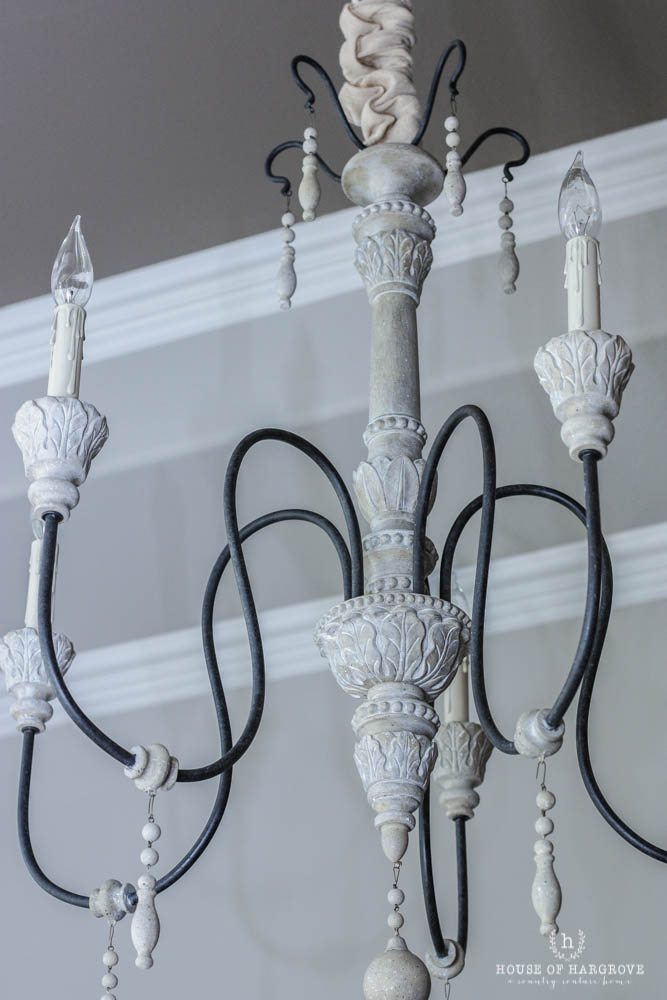 If anyone is looking for a chandelier I highly recommend this one!
So that is Part 1 of the update.  Next stop….updating the chairs!  They are so dark!  I cannot wait to see them go.  I also want to update the blinds.  Ideally I would love to have wood floors in this area, but it is attached to my kitchen and you can read why we don't have wood floor in our kitchen here.  When we build our farmhouse in the future we will have wood floors but for now, tile is the most practical.
I have my eye on these chairs.  Yes, I have small children and they will probably get stained, but I just love the way they look.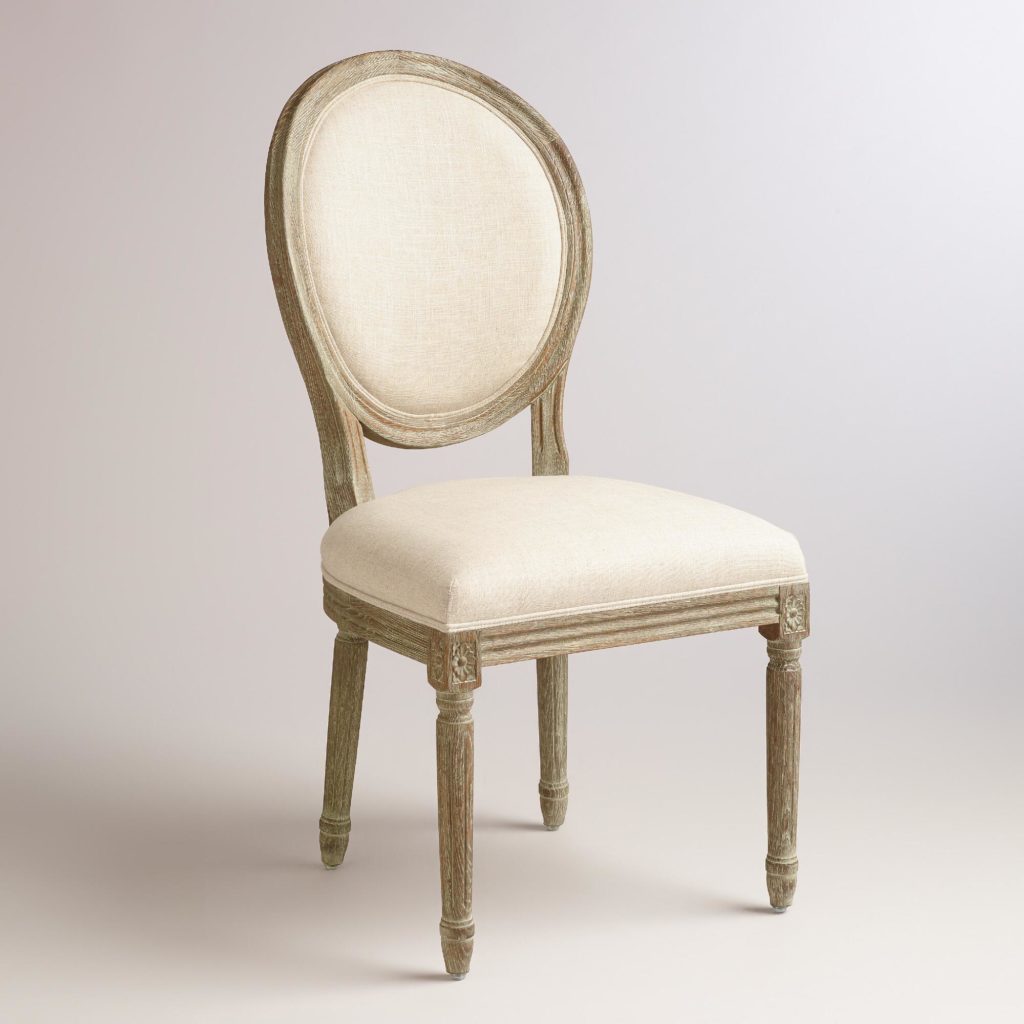 This nook from Milk and Honey home is my blind inspiration.  I may end up updating my curtains as well!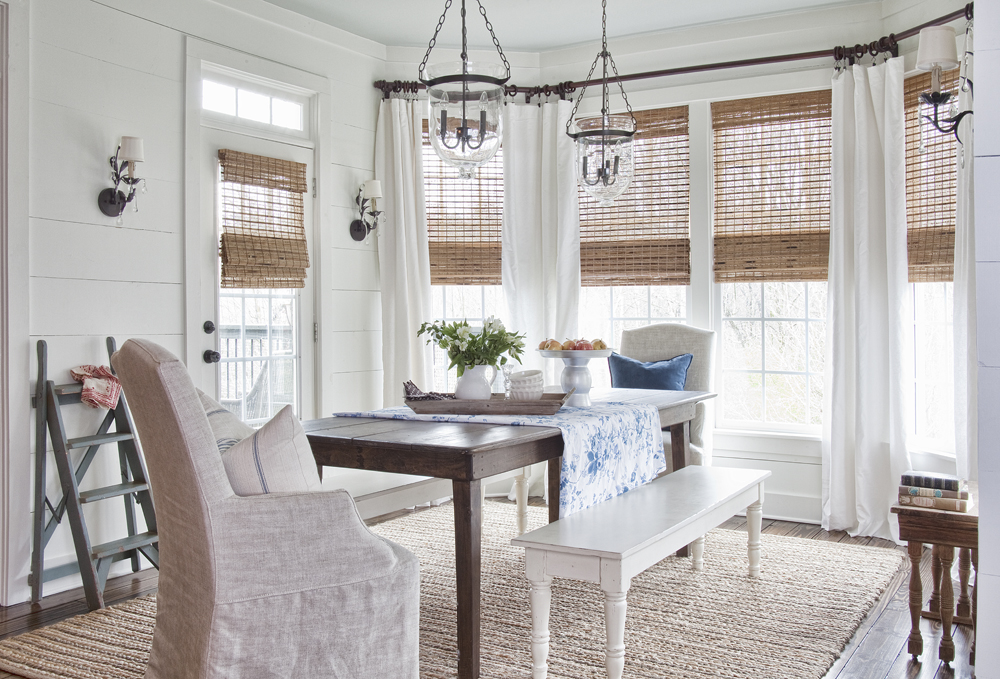 We still have a long way to go…(maybe a new rug)….but it is a start!  I love these small changes so I know when everything else gets complete we will enjoy it so much! Stay tuned for the final reveal!
Thank you Joss and Main for providing the chandelier.  I love it.  This post contains affiliate links.  If you purchase I may receive a small commission.  Thank you.