I cannot belive how fast this summer has flown by!  How is it already the end of July??!  School will be here before we know it!  I am both happy and sad about this.  I love summer and the laid back schedule, but Fall is my favorite season, I function better with a routine and there is just something so exciting about starting a new school year!  Back to school shopping, new school supplies, new teachers and friends in your classes, etc!  We have started doing some back to school shopping over here and I am excited to show you what we found!  Lots of budget friendly back to school finds!
I've shared before how much I love shopping at Walmart.  It is my go-to for amazing things at incredible prices.  I have been finding the best fashion fashion there lately!  I found so many great things for back to school and it was all shipped to my house for FREE in 2 days!  Winning!  I also want to share a little story about how incredible the Walmart customer service is.  We were out of town when my order arrived, we were literally in the car headed home from Austin, when my Blink Camera went off and showed someone steal my packages off my front porch!  Are you kidding me??!!!  (Insert lots of mad emojis here).  I have never had anything stolen off my porch before and felt so violated.  Anyway, that is a whole other story, but I contacted Walmart and yall, they replaced the entire order.  They were so sweet about the whole thing and had every single items shipped back out to me in 2 days for no additional cost!!  Walmart customer for life!
Walmart seriously has everything you need for back to school!  Backpacks, school supplies, cute on trend clothes, shoes and great staple items!  Both kids loved everything we found!  They were happy with the look and feel and I was thrilled with the price!
BUDGET FRIENDLY BACK TO SCHOOL FINDS
Avery's entire outfit is less than $35!  Cutest mixed pattern ruffle tank (comes in multiple colors) $7, Jordache Skinny Jeans $11.94 and the cutest booties (also come in black. . .not available online yet, only in stores, but will be online soon) $14.97 plus the cutest flippy sequin backpack for only $12.88!!
Braden's outfit is less than $26!  Long Sleeve pocket Henley (comes in multiple colors) on SALE $4.50,  Children's Place Straight Jeans $11.50, Canvas Sneakers $9.87!  I love these because they look like laces, but they actually velcro! His camo backpack was ONLY $4.96!!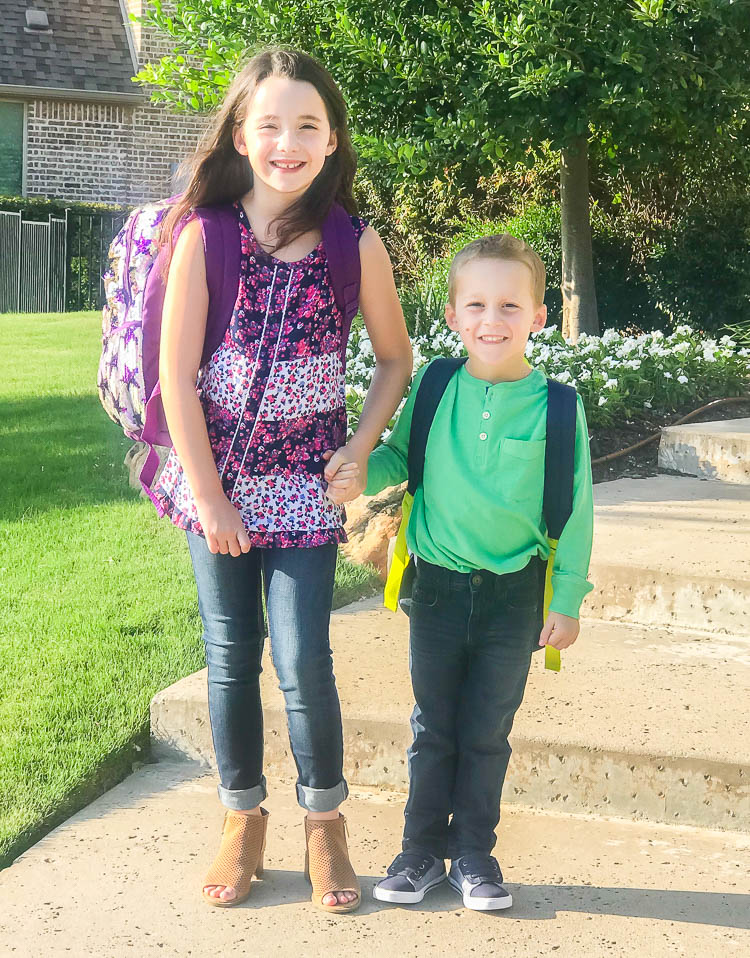 SHOP THESE BACK TO SCHOOL LOOKS:
(CLICK LINKS ABOVE OR PICTURES BELOW TO SHOP)

Avery is wearing the same jeans ($11.94) I shared above, but they are not rolled up.  I like buying a few staple items that can be worn different ways.  This long sleeve top ($8.92) was a total win.  Not only is it cute, but it is so soft!  Comes in multiple colors and I love the ruffle slit on the side.  It is hi/low so you could definitely pair it with leggings and it would cover the bum.   How cute are these metallic rose gold ruffle slip on sneakers (12.76)??!!  We had to have these!  She said they were very comfortable and so easy to put on!  Her entire outfit is less than $34.
Braden wore the same outfit.  He loved this one so much he didn't want to change, but I will share some other great boy finds below!
We found this great hoodie sweatshirt for less than $12!  Comes in multiple colors and I love the sequin detail down the sleeves.  This is great as the weather gets cooler for her to layer!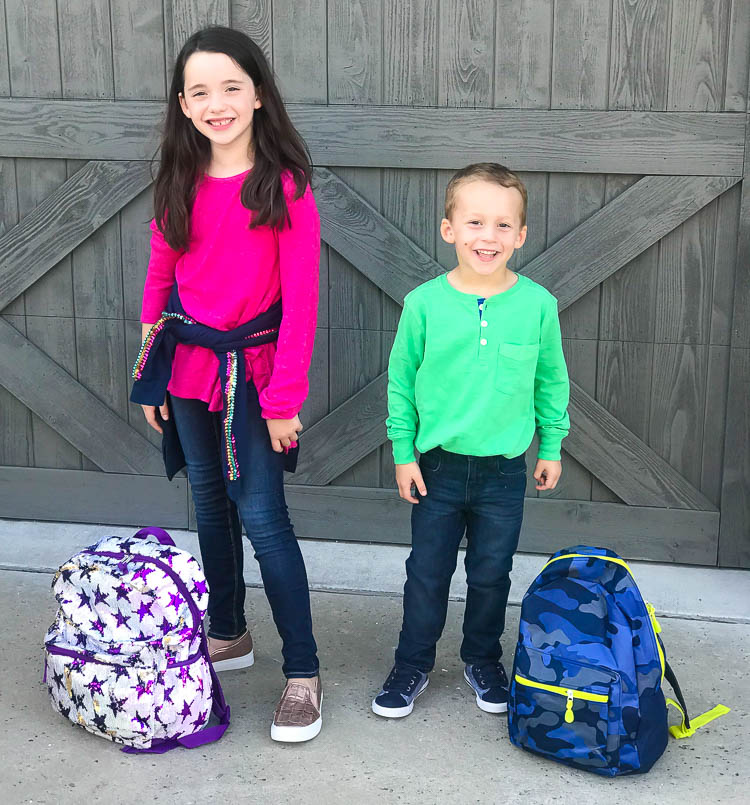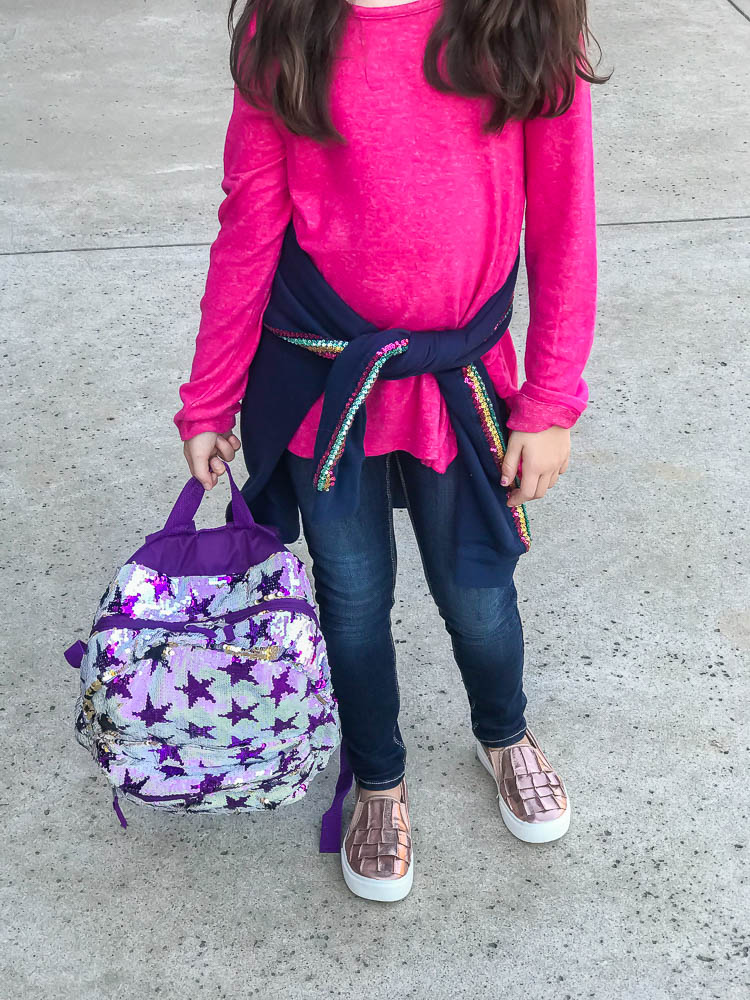 SHOP THESE BACK TO SCHOOL LOOKS:
(CLICK LINKS ABOVE OR PICTURES BELOW TO SHOP)

We have a jump start on back to school shopping, but I am sure we will be doing more and heading back to Walmart!  We also need to get some school supplies once the list from our school comes out!
MORE BACK TO SCHOOL FINDS we loved!
GIRLS:

BOYS:

Hope you found lots of great things you love for your kiddos!  Online is my favorite way to shop, but be sure to check your local stores too!  Lots of great finds in the store as well!  Now time to go soak up our last few weeks of summer!
Thanks to Walmart for sponsoring this post. All opinions here are my own.  This post contains affiliate links…if you purchase I may receive a small commission.  Thank you.