Do you want a beautifully decorated home, but have a tight budget?. . .Well, this post is for you.  The key is picking out specific pieces that all tie together and offer the biggest bang for your buck.  I have curated an amazing selection below that will make your home look very high end, but won't break the bank!  Check out all this budget friendly home decor!
One of the mistakes people make when they are trying to decorate on a budget is buying lots of little, inexpensive things here or there.  Problem is you just end up with lots of things that don't tie together so your space looks unorganized and doesn't have the feel you want.  Best thing to do is go in with a plan.  Buy substantial pieces that make a big impact.
KEEP IT SIMPLE:  You don't need a ton of stuff to have your home look decorated, in fact too much stuff hurts the look and your budget.  Spend your budget on things like lamps, pillows, throws and frames.  These items add color, texture, are functional and are large in scale.
BUY CLASSIC PIECES: If you are on a budget, buy classic pieces that will be in style even as trends change.  If there is a trend you love and want to incorporate do it in less expensive decor items.  The furniture you purchase should be timeless.
OLD BOOKS: Decorating with old books is a great way to add style to your home on a tight budget.  Hit up garage sales, Half Priced Books, etc and stack them through your home.  Large scale ones look great on a coffee table, or stacked with a small vase and flowers on top.  They also make great bookshelf filler.  One tip is to remove the covers.  Typically the book underneath is much prettier.  Also if you find some large scale books, but don't love the cover you can wrap the in craft paper or turn them backwards so you only see the pages facing forward.
BUDGET FRIENDLY HOME DECOR
All of these items coordinate well together and you cannot beat the price.  One important thing when buying inexpensive furniture and decor is to check the reviews.  You don't want to spend a limited budget on items that won't hold up or are bad quality because then eventually you have to replace them which hurts your budget.   All of these items have amazing reviews.  Everything is under $200 and most items are under $50!!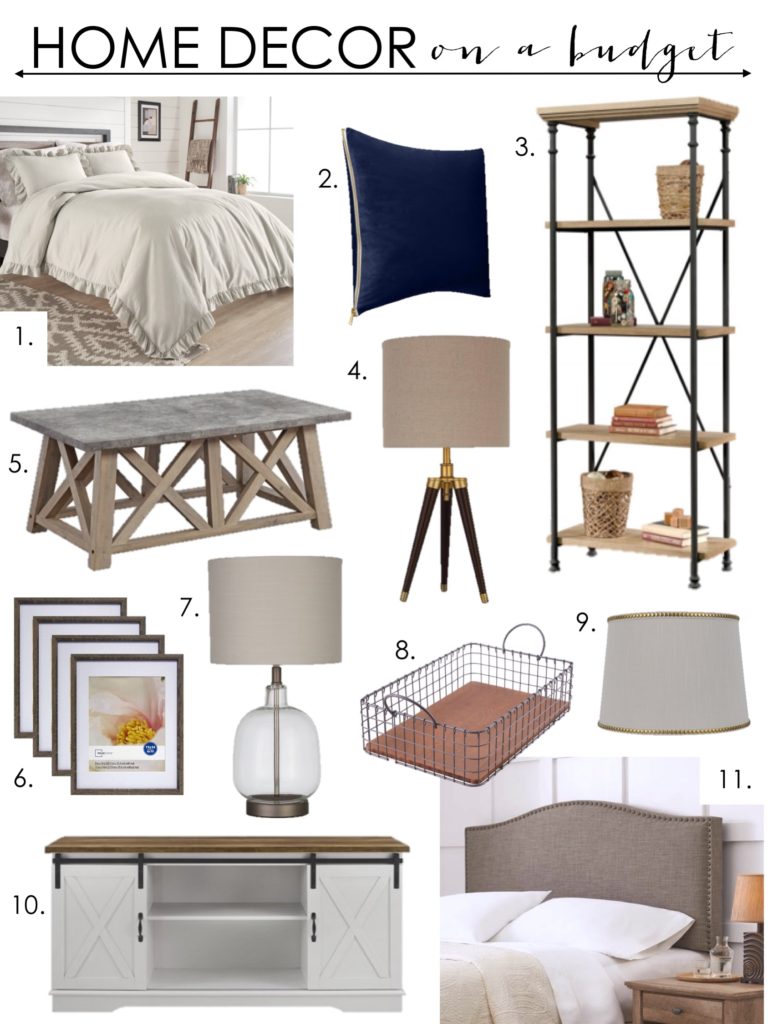 SHOP BUDGET FRIENDLY HOME DECOR
CLICK NUMBERS ABOVE OR PHOTOS BELOW TO SHOP

Hopefully you found lots of great things to decorate your home.  You could literally buy every one of these items for your home for under $675!!!  Time to get busy decorating because a small budget shouldn't be a limiting factor!  These items also have FREE SHIPPING!!
This post contains affiliate links.  If you purchase I may receive a small commission.  Thanks for supporting my blog.