Christmas season is here and there are so many people to buy gifts for.  Friends, Family, Co-workers, Neighbors, Teachers, etc.  I have searched high and low and have compiled my favorite Christmas gifts under $25 and under $50.  I also have a link below with Christmas gift ideas for Her, Him, Kids and Home.  Make this your one stop shop to get everyone crossed off your list!  Happy shopping!
I am linking up with Erika, Narci and Andrea for Friday Favorites.
Here are some great ideas ranging from $5-$25.  Combine a few to make a larger gift, break them up to make a smaller gift…many options.  If you have several girls to buy for you could buy the lip kit and the nail polish kit then split them up to make several lip/polish gifts.  Get creative!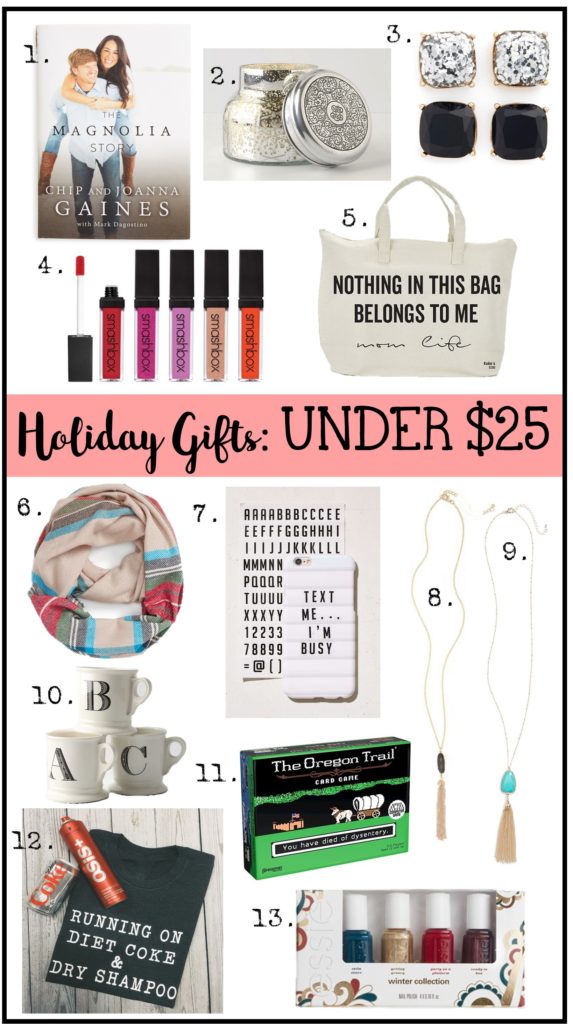 The Magnolia Story $15 | 2. Mini Capri Blue Candle in Volcano 4.5 oz (comes in several colors) $12 | 3. Pair of Square Stud Earrings (look just like Kate Spade…come in several color options) $9.98 SOLD OUT….similar NEW pair here | 4. Smashbox Lipgloss Set $25 ($90 value) | 5. #Momlife Tote $25 | 6. Plaid Infinity Scarf $25 | 7. DIY Letterboard Iphone Case $24 | 8. Bead and Tassel Necklace (comes in several colors) $19 | 9. Stone and Tassel Necklace (comes in 2 colors) $9.98 | 10. Monogram Mug $8 | 11. Oregon Trail Card Game $9.99 | 12. Diet Coke/Dry Shampoo T-shirt $22 | 13. Essie Winter Nail Polish Set $18
****The jewelry sold out fast….see other great accessory options HERE****
Can also shop Widget Below

Have a little bigger budget for your gifts…here is a great selection of gifts ranging from $26-$50.  Some great name brand items as well….Tory Burch, Kendra Scott, etc.  Also, don't forget yourself….there are some great deals in here that Santa may need to bring you 🙂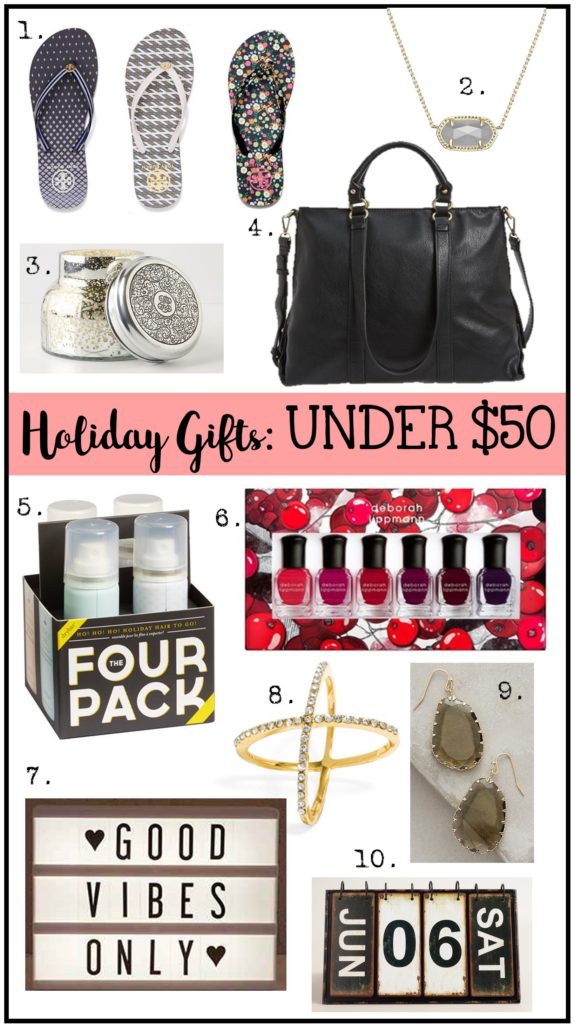 Tory Burch Flip Flops $35 | 2. Kendra Scott Elisa Necklace (comes in many colors) $50 | 3. Capri Blue Candle in Volcano 24 oz $28 | 4. Faux Leather Tote $49 | 5. Drybar Limited Edition Set $39 | 6. Lippman "Very Berry" Nail Polish Set$36 ($72 value) | 7. Mini Lightbox $34 | 8. Pave X Ring $32 | 9. Issoria Drop Earrings $38 (comes in 2 colors) | 10. Metal Perpetual Calendar $50 (Use code: SAVEBIG10 at checkout to save 10%)
***More amazing jewelry options under $50***
Can also shop Widget Below

Click HERE for my Holiday Gift Guides for Her, Him, Kids & Home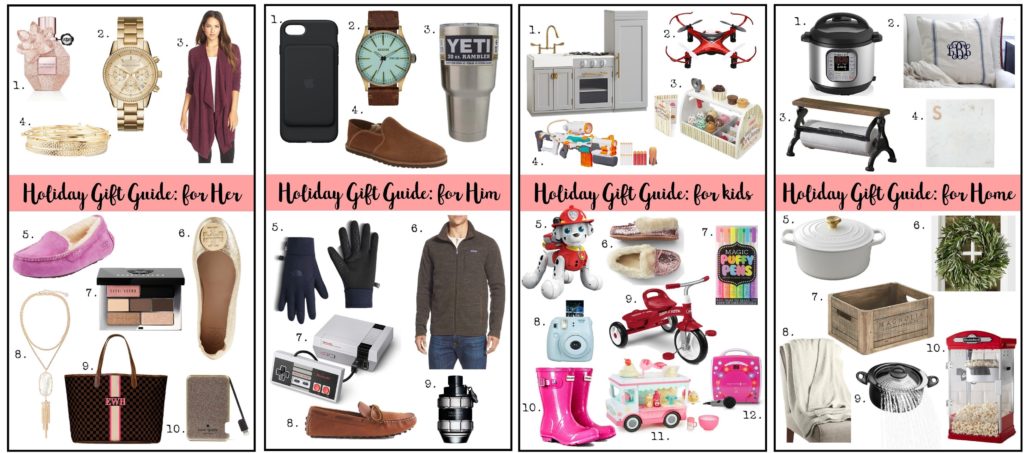 Hopefully you have found something for everyone on your Christmas list and maybe a little something for you too!  Happy shopping and Happy Holidays!
**This post contains affiliate links.  If you purchase I may receive a small commission.  Thank you**