I am so excited to partner with World Market today, one of my go-to stores, and share some of my favorite items with you.  All opinions here are my own.  This post contains affiliate links…if you purchase I may receive a small commission.  Thank you.
One of the things I love the most about the holiday season is getting together with friends and family.  When I was little I remember not wanting to sit at the kids table….I wanted to be with the adults.  Well, this year I want the kids table to be the place to be!   I headed over to World Market to pick up some amazing goodies and decor to make the kids table so much fun even the adults would want to sit there.  I also checked out their toys because World Market has the most amazing selection of toys!  It is one of my secret shopping places to find really fun, unique things…but now I am sharing it with you!
**Click on photo above to shop**
Who doesn't love a good dessert and candy bar?!  I mean….I definitely want the seat closest to that area :).  My favorite mug rack is perfect to hold all your Christmas mugs for some yummy hot chocolate.  This wreath fit perfectly in the top to make in fun and festive!  The tea towel with holiday bike and green ruffle is just adorable.  Cookies??…yes please!  I bought this gingerbread cookie kit and it came with the cookie mix and cookie cutter!  Avery and I baked cookies and they were delicious and super easy.  How cute is that red car cookie jar with the tree on top?!!  Probably my favorite item I found this season was this red retro scale.  It can be used year round, but is just perfection for the holidays.  I filled my candy jars with all kinds of goodies I found in the candy section of World Market.  They have a HUGE selection of deliciousness.  Finished off the look with felt garland and glitter bottlebrush trees!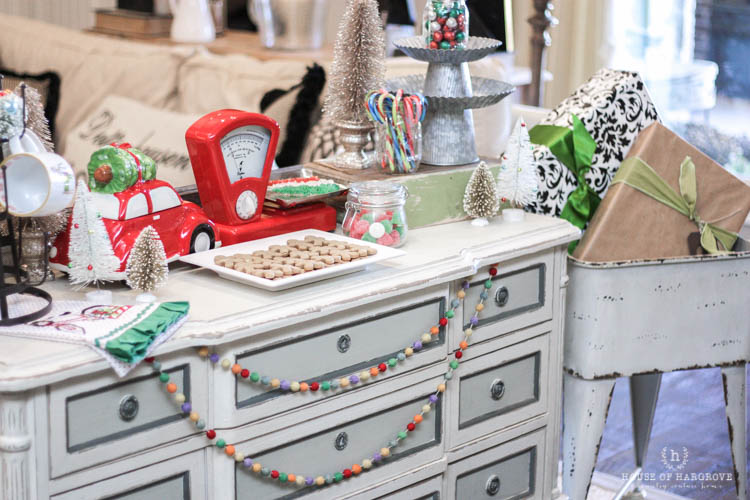 I really couldn't believe how perfectly this wreath fit!  Here is a better view of the kitchen towel.  There was a huge selection of precious holiday tea towels to choose from!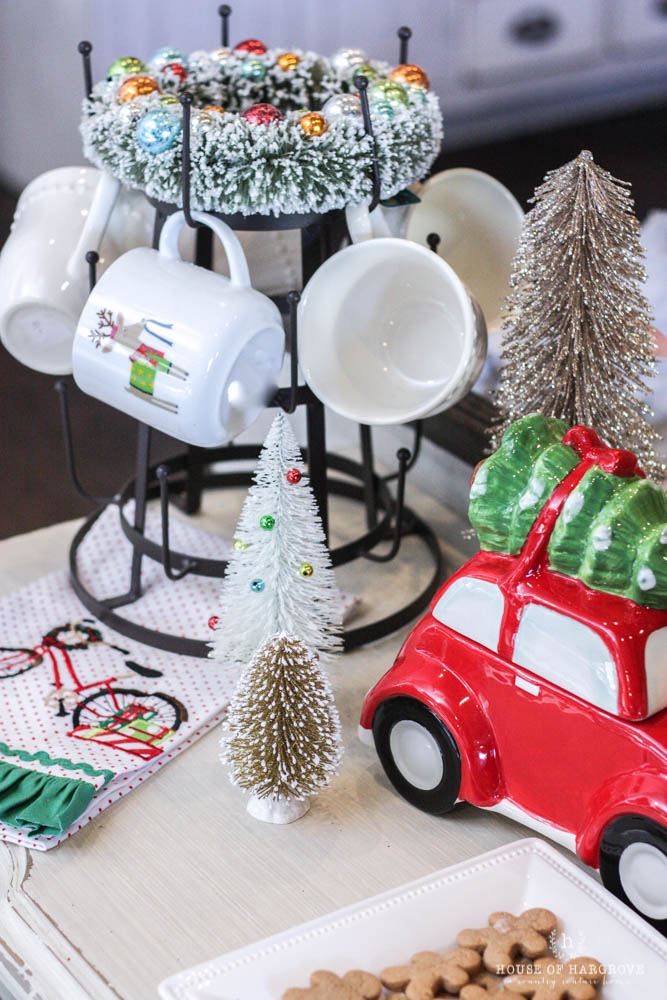 The kids table is right next to the dessert bar which I know they will love!  These kids Christmas plates are absolutely adorable.  I will show you a better picture below, but I tied the stuffed animal that matched the plate on each chair.  They are just too cute!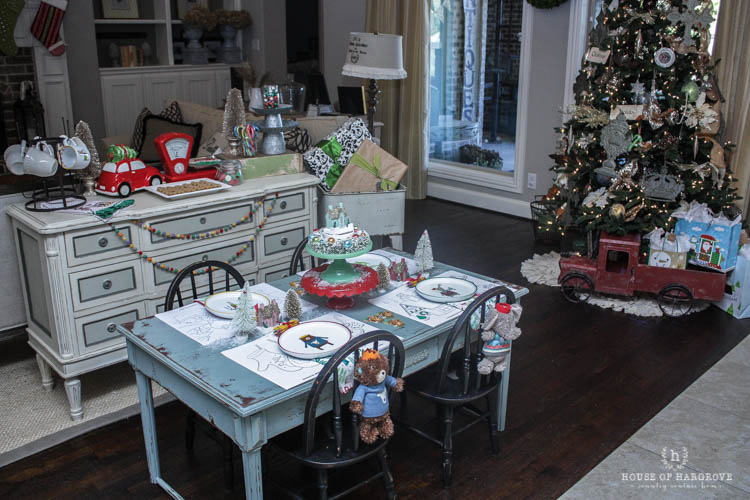 I got these amazing HUGE coloring books and used them as placemats.  They are cute and the kids can color them and be entertained while they wait for food or after they eat.  I bundled some crayons at each place setting so they had lot of colors to choose from.  Here is a better picture of the Christmas plates I mentioned above.  The alpine napkins are festive and whimsical.   I lined the center of the table with glitter bottle brush trees and mini village ornaments.  I love decorating with ornaments and these little houses did not disappoint.  The ones I used are not online, but here are similar ones.  I think cake stands are so awesome and here I stacked a red scalloped one and a green one on top of each other to add height and interest.  The same wreath I used on my mug stand worked perfectly here and I used the same village house ornaments I used below as the main center piece.
**Click on photo above to shop**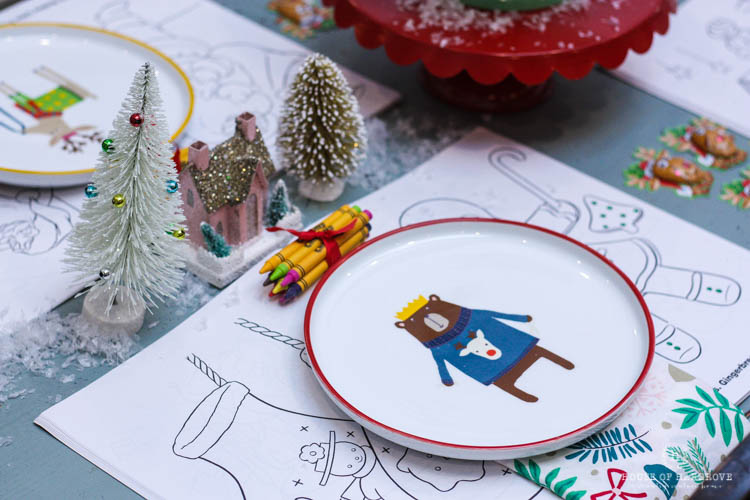 Kid approved.  They were dying to get their hands on the coloring books and definitely snuck some gingerbread cookies 🙂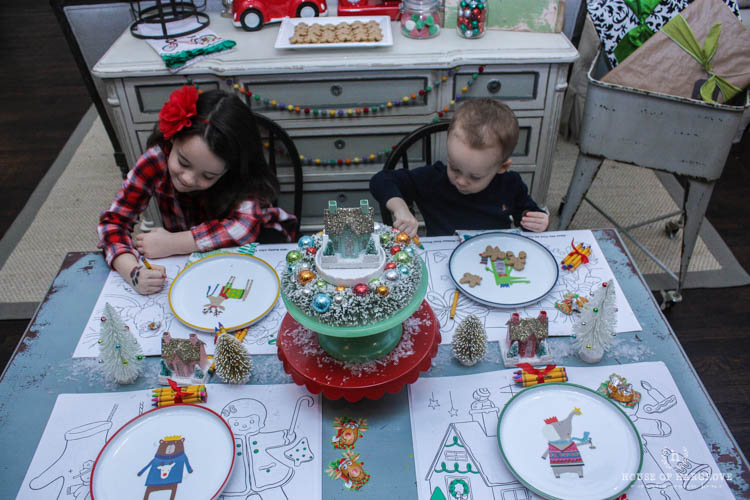 SHOP THIS KIDS TABLE LOOK BELOW…JUST CLICK ON PHOTOS

…TOYS…
I mentioned that World Market has the best toys and I am not kidding.  They have something for everyone!  I love buying gifts for hard to shop for men there because they always have some cool new gadget, but my favorite to buy for is kids.  There is the most amazing toy department full of fun, unique things you won't find many other places.  They have tons of vintage, retro games that are so much fun to see the new generations playing!  I seriously cannot say enough about the kids area.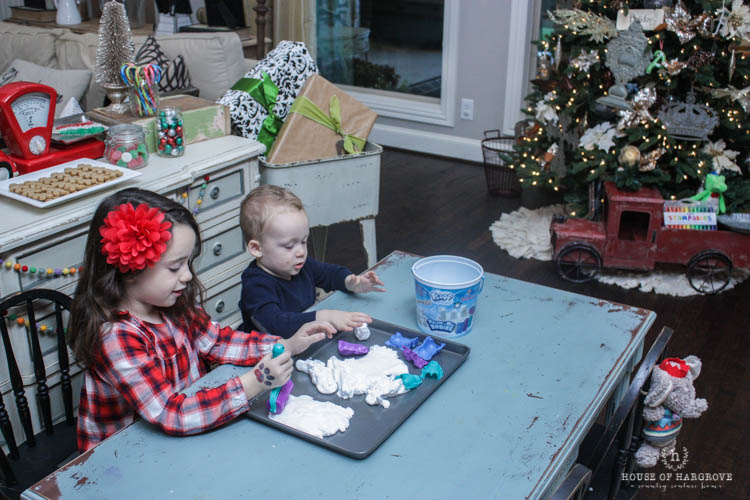 My kids had a blast playing with this "snow".  It is called Floof and it is really light weight and mold-able like snow..but not freezing.  It comes with molds and pattern rollers so you can set up your own little snow village.  My kids played with it for almost an hour!  Below are some of the other toys I got my kiddos.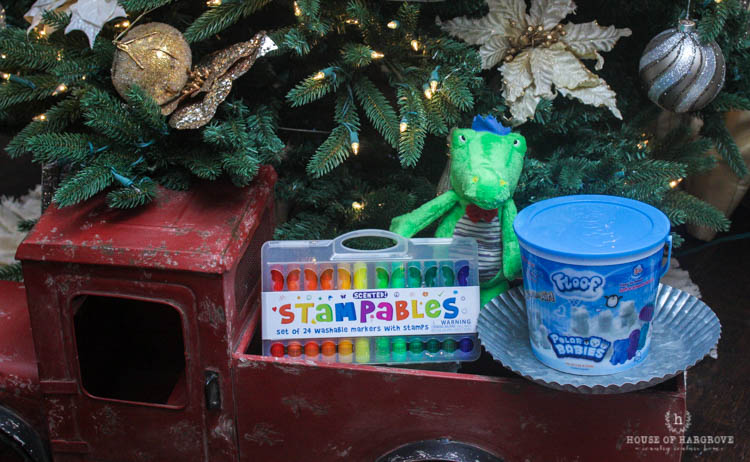 Check out this toy aisle in the store!  They have you covered.  Funny toys, loud toys, yummy toys, things for your little scientist, super hero or princess, etc.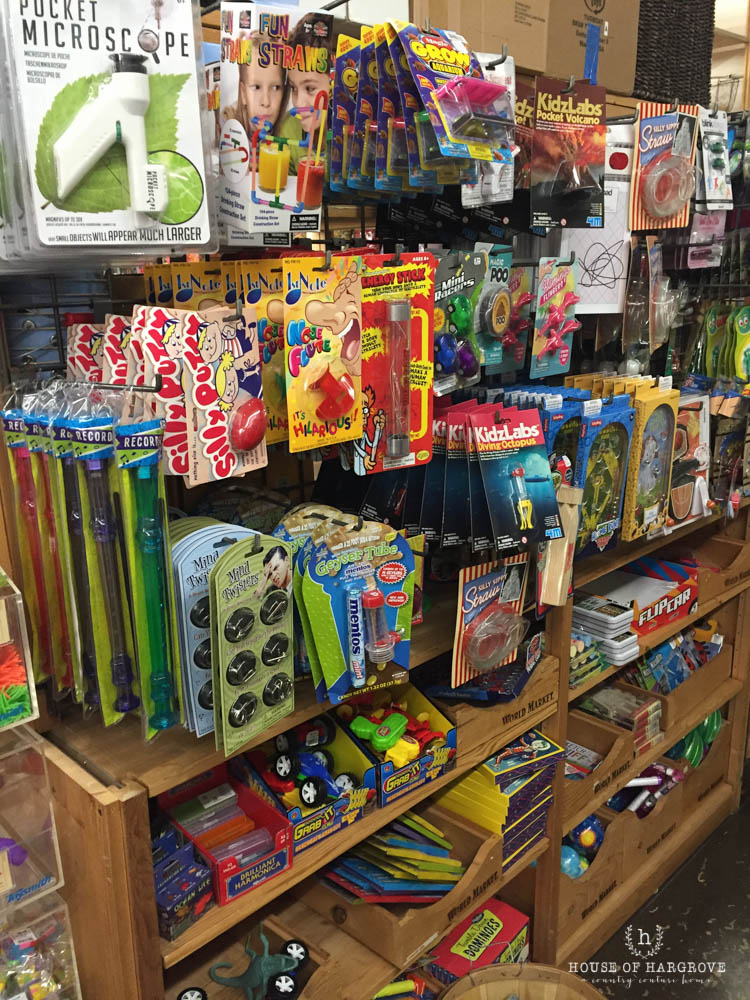 So many fun stocking stuffer ideas!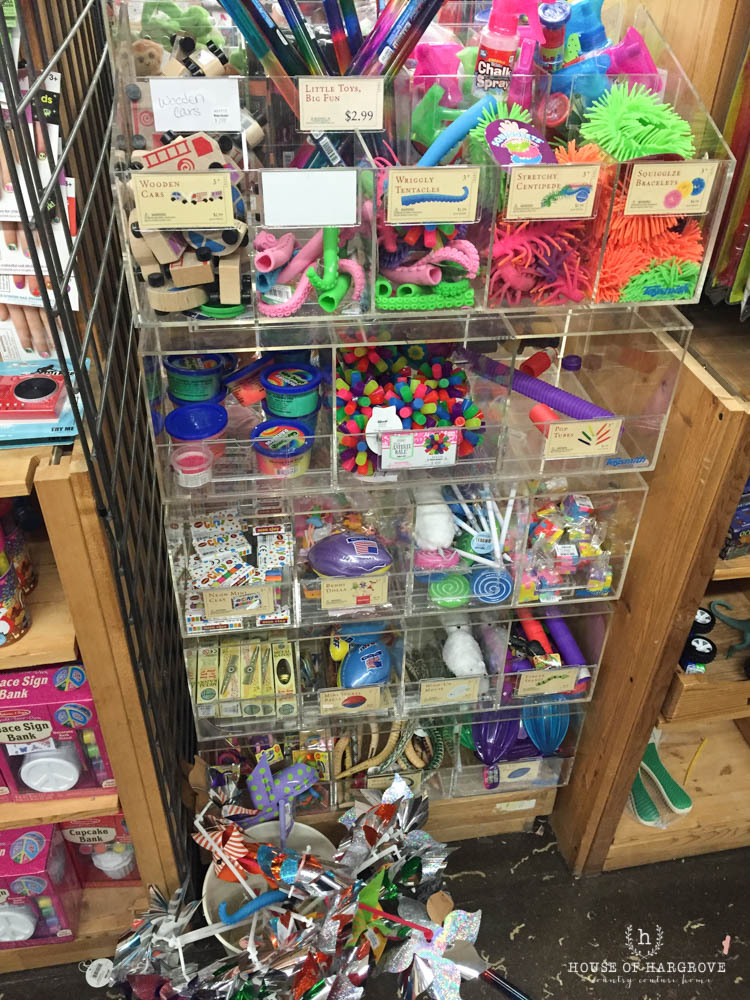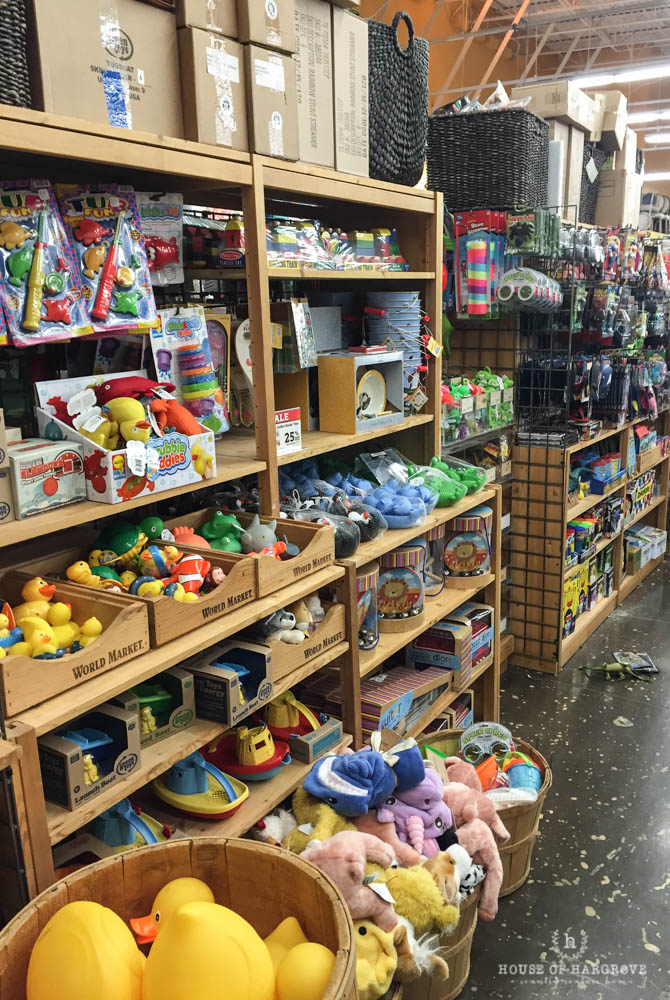 Once you hit up the toy section you have to go to the candy section because it is so much fun over there too!  They have HUGE Blow Pops that are the size of your fist, ginormous candy bars, advent calendars, gingerbread houses, gingerbread cookies sets, rock candy, themed candy, etc!!  This section of the store is dangerous 🙂
HERE ARE SOME OF MY FAVORITE TOYS
** Click on photo to shop or click on numbers/descriptions below**

I hope this gave you some great ideas for your kids table this year and some fun, unique kids toys!  Happy Holidays!
PIN THIS PHOTO FOR GREAT IDEAS

FOR OTHER FARMHOUSE DECORATING IDEAS CHECK OUT THESE POSTS:
Be sure to sign up for World Market Explorer.  You get a 15% off coupon when you sign up and lots of different savings and rewards!  I get free $10 coupons all the time!  Sign up HERE
To find the store nearest you click HERE
Follow World Market on Social Media for lots of inspiration!  Instagram/Pinterest/Facebook