Welcome to this week's Friday Finds.  Here are some things I found this week that I love and think you will too!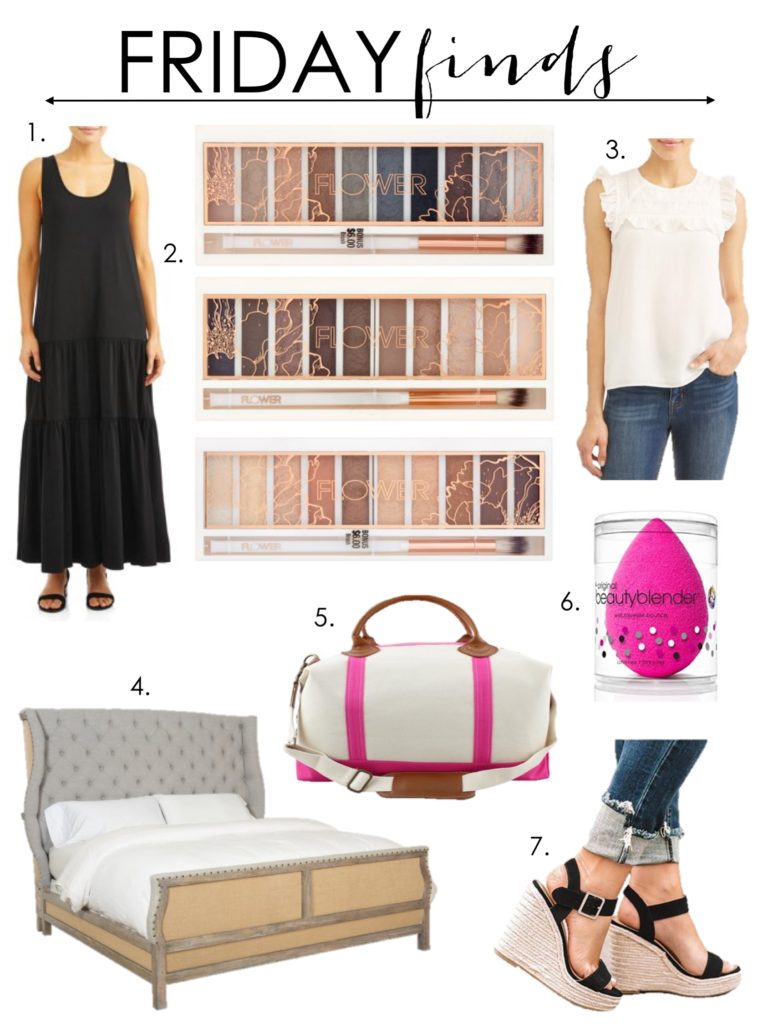 MAXI DRESS: Tiered ruffle maxi skirt.  Cute and comfy!
EYESHADOW PALETTES: Gorgeous eyeshadow palettes similar to Urban Decay, but UNDER $15!!  Has 10 beautiful colors in each palette. Amazing reviews and gorgeous colors!  Long lasting, blendable colors!
SLEEVELESS RUFFLE TOP:  beautiful ruffle top for a great price!  Pair with jeans or a skirt for a cute outfit.  Also comes in black
UPHOLSTERED BED: Yall, this tufted, upholstered wing back bed is absolutely stunning.  This is a true statement piece that wows in a room. I love everything about this bed.  Made by Hooker which is incredible quality!
WEEKENDER BAG: How cute is this bag?!  Canvas material with leather handle.  5 star reviews.  Would look amazing monogrammed.  Also, such a great price!
BEAUTY BLENDER: I have one of these and love it.  Blends your make up amazingly.  Its ON SALE!!  They sell this exact one at Nordstrom for $20, but get it here for $16!!
WEDGE SANDALS: These cute espadrilles are ONLY $23!!  Comes in several colors and amazing reviews!!
SHOP FRIDAY FINDS
CLICK LINKS ABOVE OR PHOTOS BELOW TO SHOP

This post contains affiliate links.  If you purchase I may receive a small commission.  Thanks for supporting my blog