Hi friends, I have a fun furniture find for you today.  When I saw this antique white farmhouse step back cabinet it was love at first site!  This piece is so cool.  Full of farmhouse goodness.  Pretty white chippy finish, incredible hardware and classic lines!  There is tons of storage and this could be used for so many things.  I would love to have this in my kitchen or bathroom, but just don't have the room.  This beauty is for sale and can be yours!
This piece comes in 2 pieces.  The top sits on it, but it could be separated if you needed it to be.
It is 67.25″ wide (68.5 at the widest part at the top molding), 22.75″ deep, 84″ tall.
If separated the base is 67.25″ wide, 22.75″ deep, 35.5″ tall and the top is 64″ wide (68.5 " at the widest part…the top molding), 12.25″ deep at the cabinet part (the deepest part is 14″ and that is at the top with the molding), 48.5″ tall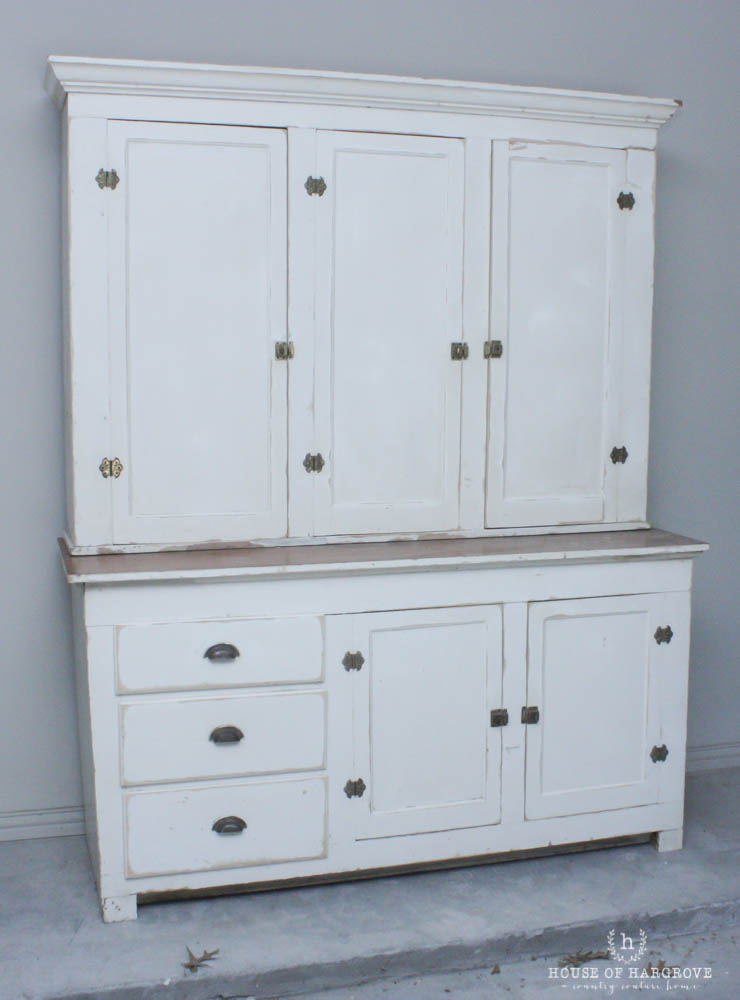 I mean, how amazing is this piece?!  I just love it.  The drawers glide great, the finish has an age worn patina that cannot be duplicated.
I love the chippy white with antique brass hardware and natural wood top.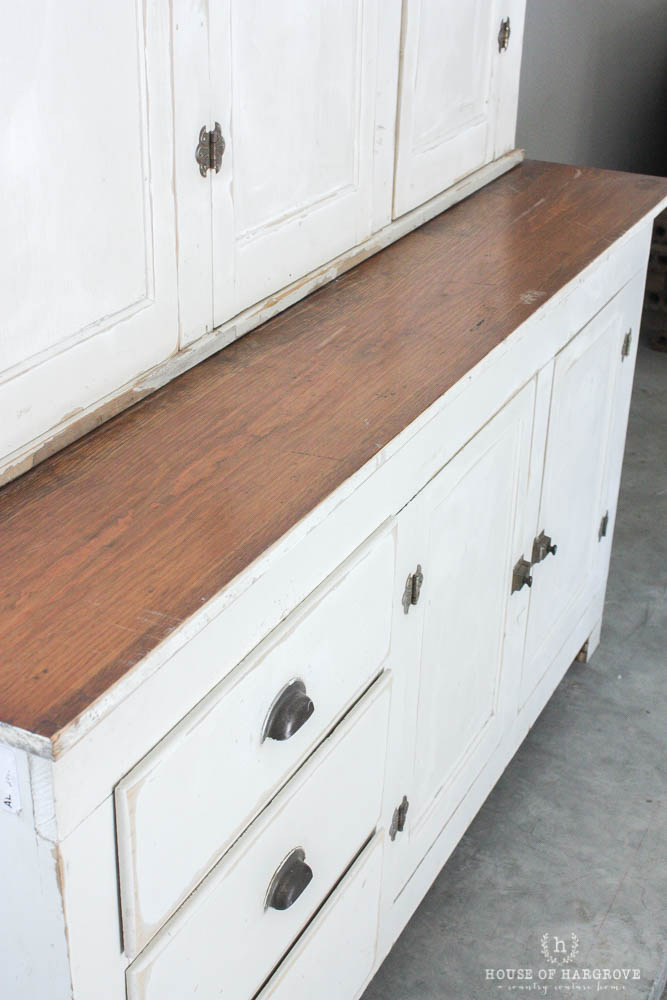 How great is this antique hardware?!
As you can see this piece has tons of storage.  I can just imagine it loaded up with dishes, cute baskets, food for a pantry, towels, crafts, etc.  Or the base would make the coolest media stand and the top could be mounted to the wall for amazing storage somewhere else in your home.
I just love the charm of vintage pieces!  If you love this farmhouse step back cabinet as much as I do email me at houseofhargrove@gmail.com for all the details.  It is local pickup so sorry if you don't live here!  I will be getting more pieces soon so stay tuned!  You can see all of my available pieces HERE.