Christmas is ONLY 16 days away!!  Do you have your gifts figured out yet?  Today I am sharing a gift guide under $25 and under $50 for those people on your list. . .or for you!!  So many cute things that don't break the bank!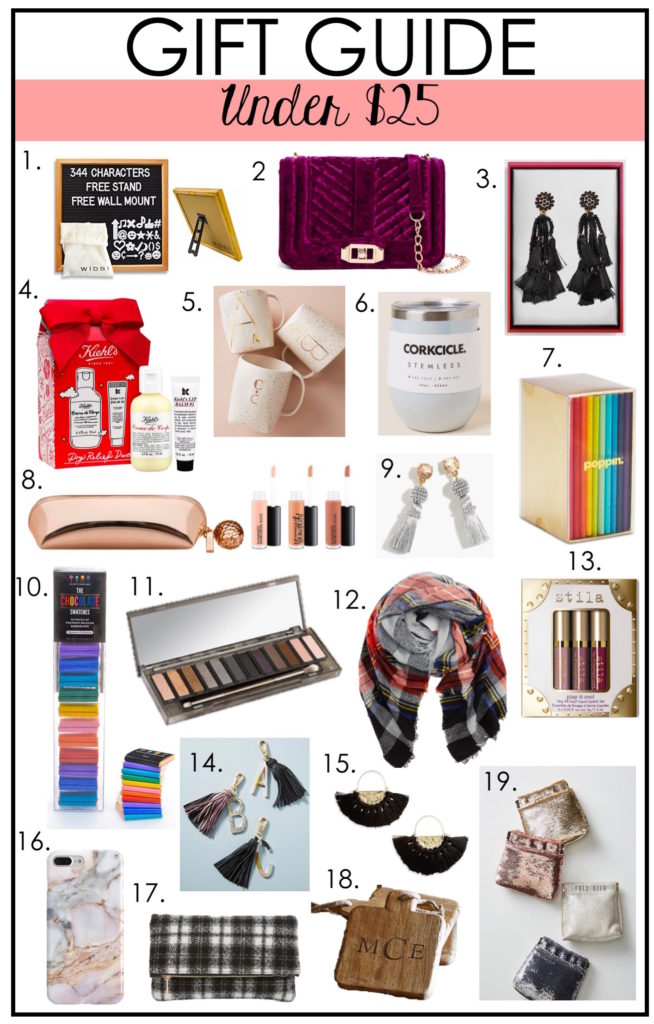 Felt Letter Board| 2. Velvet Crossbody Bag| 3. Tassel Earrings| 4. Kiehls Dry Relief Duo| 5. Gold Monogram Mug| 6. Corkcicle Unicorn Tumbler| 7. 10 Piece Colorful Notebook Set| 8. MAC Nude Mini Lip Gloss Set| 9. Tassel Ball Earrings| 10. Chocolate Swatches| 11. Urban Decay Smokey Eyeshadow Palette| 12. Plaid Scarf| 13. Stila Liquid Lipstick Set| 14. Monogram Tassel Keychain| 15. Oversize Fan Earrings| 16. Marble iPhone Case| 17. Plaid Clutch| 18. Monogram Breadboard Coaster Set| 19. Shimmer Pouch
CLICK LINKS ABOVE OR PHOTOS BELOW TO SHOP

Martha Stewart 2 Quart Dutch Oven| 2. Glitter Clutch| 3. Monogram Necklace| 4. Martha Stewart 7 pc Bar Tool Set| 5. Holiday Reed Diffuser| 6. Crossbody Purse| 7. Large Faux Leather Tote| 8. Ruffle Clutch That Charges Your Phone| 9. Voluspa Candle Set| 10. BaubleBar Tassel Earring Set| 11. Faux Fur Throw| 12. Crossbody Bag| 13. Kate Spade Earrings
CLICK LINKS ABOVE OR PHOTOS BELOW TO SHOP

Hope this helps you finish up your holiday list!  Happy Shopping
This post contains affiliate links.  If you purchase I may receive a small commission.  Thanks for supporting my blog.