Thank you so much T.J.Maxx  for sponsoring my guest bedroom refresh.  All opinions here are my own and I would never share products or companies with my readers that I did not truly love and shop at myself.
During the holidays we have lots of guests in town and I love it.  After the company left and all the Christmas decor got put away, I decided I wanted to update the guest bedroom and give it a little refresh.  I love my guest bedroom, but I just wanted to make a few budget friendly changes that would have a big impact.  I am loving all the blush and grey out there so I wanted to incorporate that into the room with touches of gold.  I am so excited with how everything turned out for our guest bedroom refresh!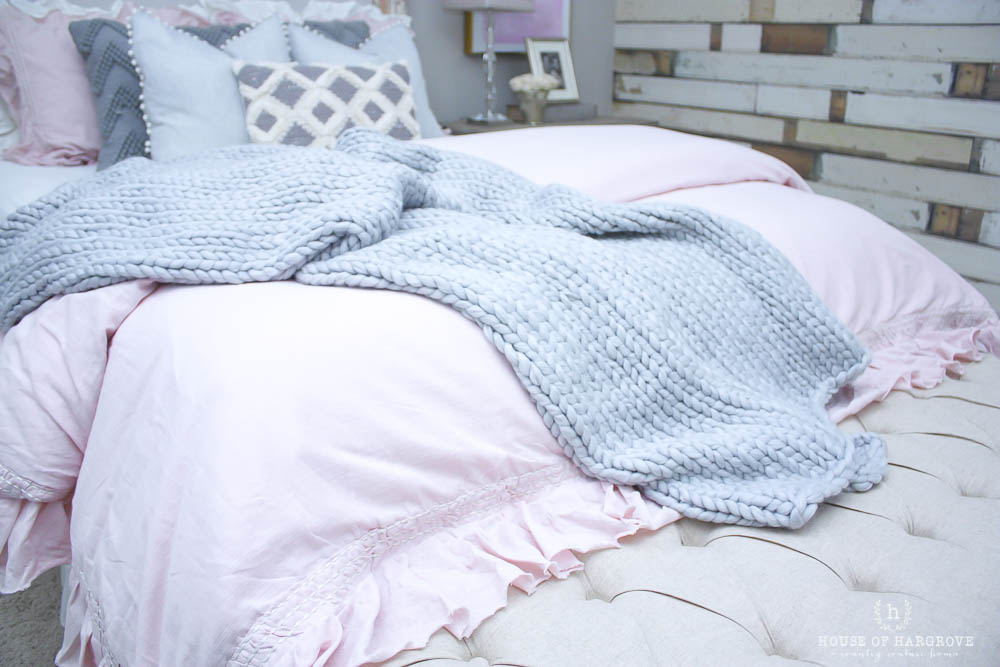 I knew exactly where to go to get everything I needed. . . T.J.Maxx.  It is one of my favorite stores because they offer a huge selection of incredible decor for a fraction of the price.  The best part. . .I was able to find everything from the comfort of my own home by shopping their website.  tjmaxx.com is the best thing ever!  You can find the most amazing deals on there and it is shipped right to your front door (for FREE if you spend $89+).   They add new items all of the time and I ALWAYS find things I "need" in my life!  Just when I thought T.J.Maxx couldn't get any better. . .tjmaxx.com  proved me wrong.  It is super convenient and had everything I could have wanted and more.
GUEST BEDROOM REFRESH
Welcome to my new guest bedroom.  This room was very white before with pops of blue and I wanted to add a few more pops of color.  Whenever I am looking to refresh a room I look for inexpensive ways to make a big change.  Here I focused on bedding, pillows, art and a few decor pieces.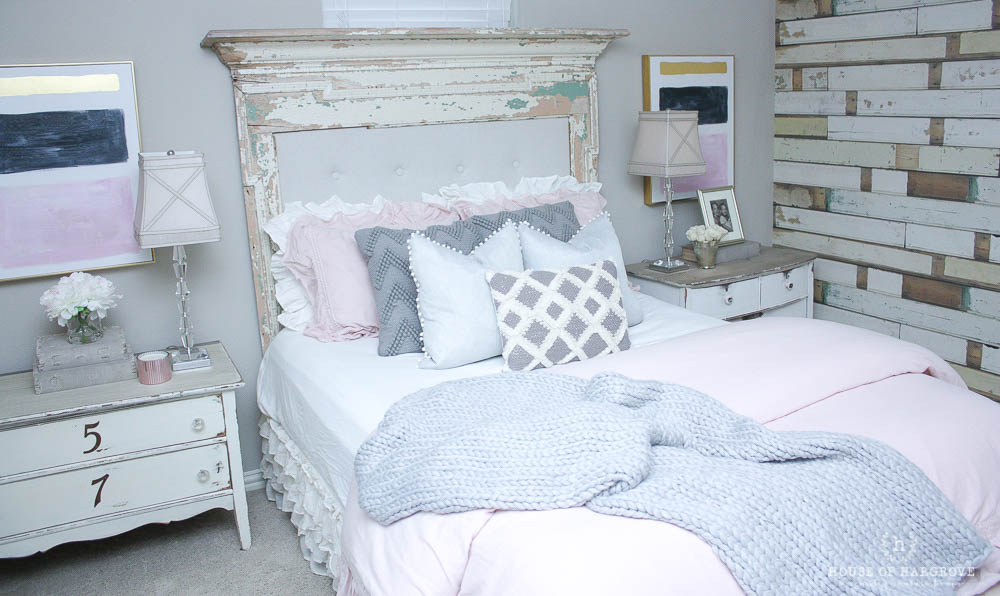 The first thing I saw that I absolutely fell in love with was this blush ruffle duvet set.  It came with the duvet and 2 matching shams.  I am telling you. . .it is even more beautiful in person.  Avery is asking for me to get one for her room now too.  The quality is incredible, there are so many details, it is so soft and the price was amazing! It also comes in a 5 piece comforter set.  There are so many beautiful bedding options, but this one really caught my eye.  I LOVE bedding with ruffles.  I already had white sheets, but if I didn't I would have bought this white ruffle set.
Look at the beautiful stitching detail. It was around the edges of the entire duvet and the pillow shams.  Such a pretty detail.
After I found the bedding I knew I wanted to add some pretty pillows.  I wanted to mix the blush duvet with grey pillows and I found some great options.  tjmaxx.com has the best pillow selection.  Every time I order and something arrives it is even better in person than it looked online.  The fabric and the fill is always such quality.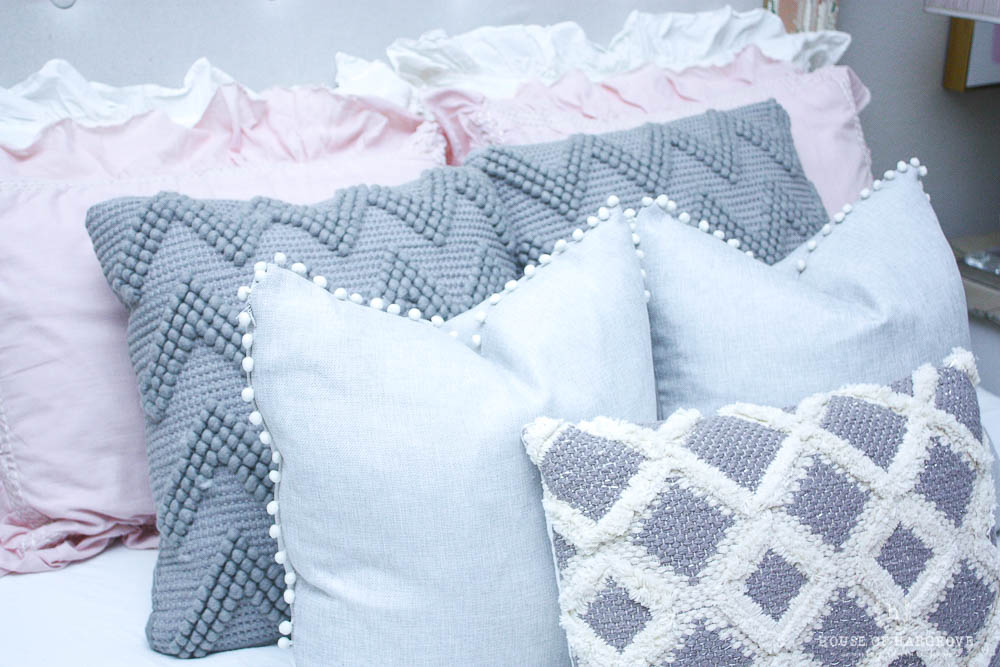 Look how beautiful these pillows are!  So much texture and detail.  I had some white ruffle shams from my previous bedding (similar ones here), then I used the blush ruffle shams that came with the duvet and next I layered these incredible grey knotted chevron pillows.  They are super thick and add so much texture.  I found these light grey linen pillows and loved the simple white pom pom details and finished it off with a fun grey and white pillow to add more texture and pattern.  When decorating with neutrals small details and texture help to make it interesting.  I just love the way all these pillows tie together and compliment one another.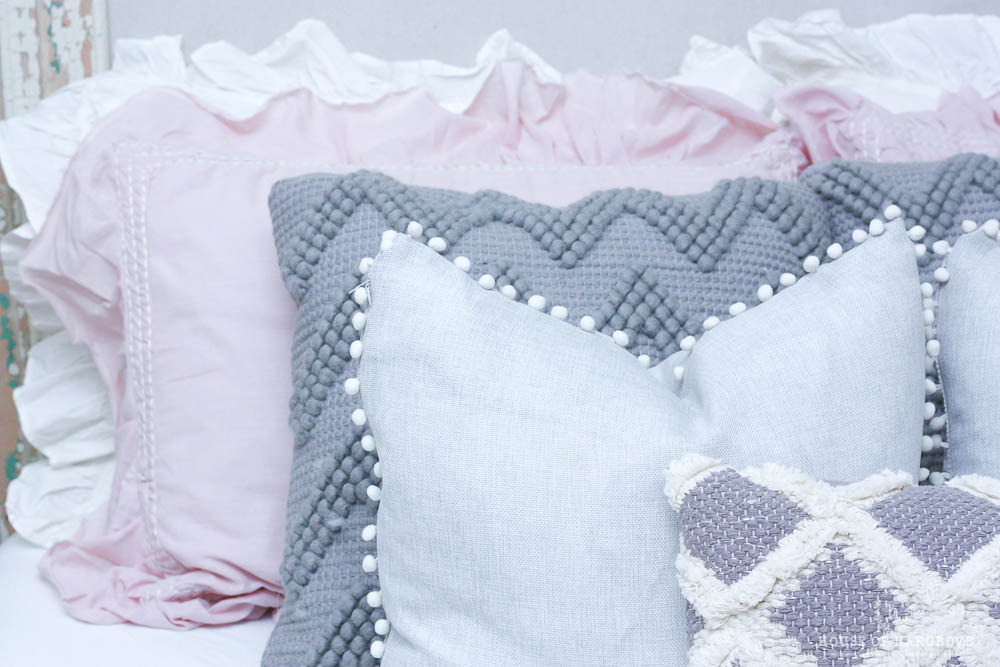 After finding the perfect pillows, I wanted a pretty throw blanket and this chunky braided grey throw was the perfect addition. It is so soft and just beautiful.
Now that all the bedding was complete I wanted some art work to compliment my color scheme and some decor to pull it all together.  I got these crystal lamps at T.J.Maxx years ago and they are still some of my favorites (here are some similar ones).  They have so many pretty lighting options!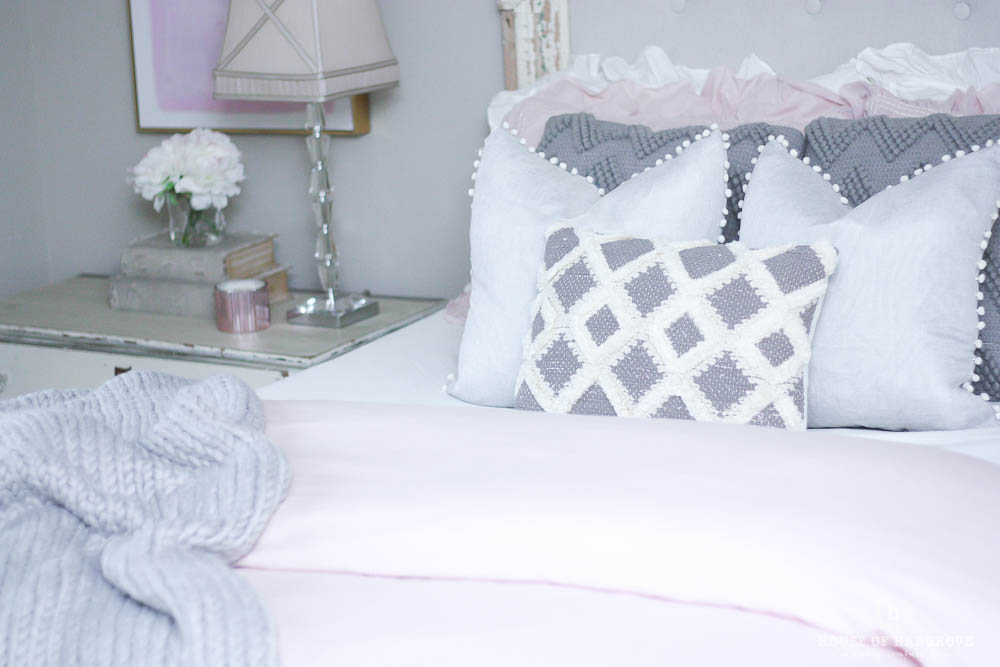 I picked up this metallic blush candle to carry the blush color into the decor and it smells delicious!  These faux peonies are perfect because they add a fresh, feminine touch and they are no maintenance!  That is my kind of flower!  They are so beautifully done that they look very real.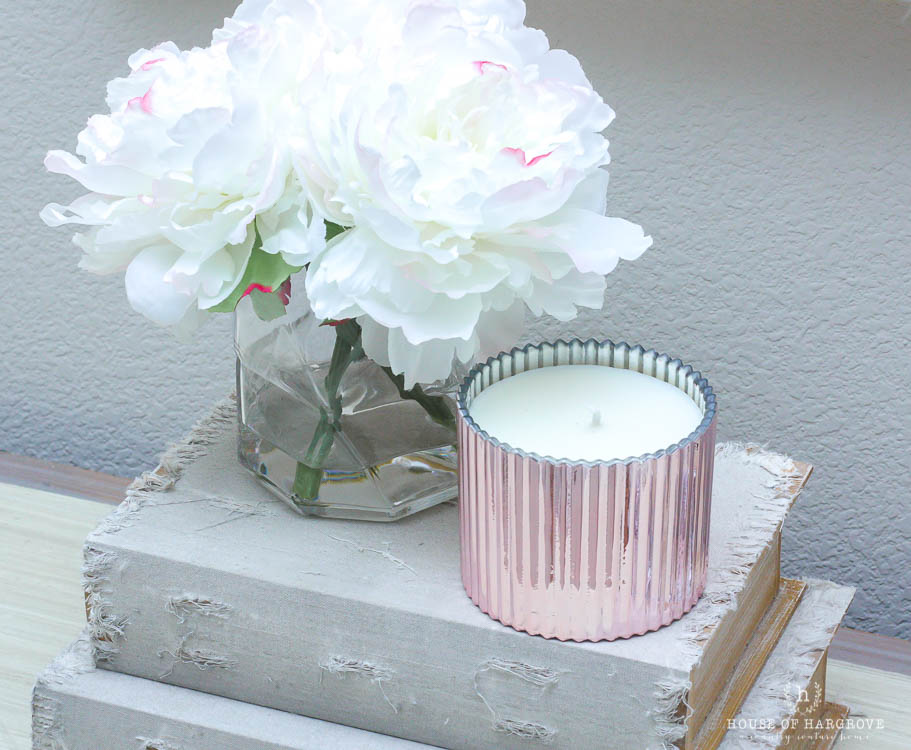 This abstract stripe artwork was the final touch to bring the entire room together.  It had all the elements and colors I needed.  Blush, dark grey and a hint of gold.  I love the simplicity and the size was perfect.  There were so many great art options it was hard to choose, but I truly love the one I chose.
This side of the bed I just used a simple frame, vase and book for added height.  I like to keep my nightstands simple!
I hope you love the changes I made to the room.  I am very excited to have a fresh new look as we head into Spring.  Now, we need some guests 🙂
If you have any room in your house you are looking to update I highly recommend shopping tjmaxx.com.  Great products, amazing quality and you cannot beat the price.  Not only do I shop tjmaxx.com for home stuff, but they have an amazing selection of clothing, accessories, shoes, mens clothing, etc.  Like I mentioned above it is free shipping with orders over $89 AND you can return anything to their stores for extra convenience. They truly have something for everyone!  They get hundreds of new items each week so every time I sign on it is like a treasure hunt and I LOVE bargain hunting!   Cannot wait to hear what treasures yall find!
SHOP OUR GUEST BEDROOM REFRESH:
DUVET| MATCHING COMFORTER SET| more HERE
THROW BLANKET sold out. . .more HERE
GREY KNOT PILLOW| POM POM PILLOW| GREY & WHITE PILLOW| more HERE
SHEETS similar HERE
STRIPE ART| more HERE
LAMPS more HERE
FRAME more HERE
BENCH more HERE
PIN PHOTO BELOW FOR INSPIRATION