Braden is still sleeping in his crib and honestly I want to keep him contained as long as possible, but I am starting to think of what I want his big boy room to look like (you can see his nursery here). I am playing around with some different ideas, but here is what I have currently….welcome to Braden's Industrial Farmhouse Big Boy Room.
I know I want a vintage inspired metal bed and neutral/plaid bedding. I am trying to decide if I want barn art or these awesome sports architectural type prints. I also found a striped rug I am thinking about too. The dresser is my absolute favorite! It is inspired by a printmakers cabinet and made of reclaimed wood! Not only do I love the look, but it is large so it will take up an entire wall and be the perfect piece for him as he gets older….tons of storage! I want to turn his closet door into a sliding barn door. I found some great priced barn door hardware HERE. The one I have my eye on is less than $50!! I will share everything once I start getting this room nailed down, but here is a mood board so you can get an idea of what I am thinking,
INDUSTRIAL FARMHOUSE BIG BOY ROOM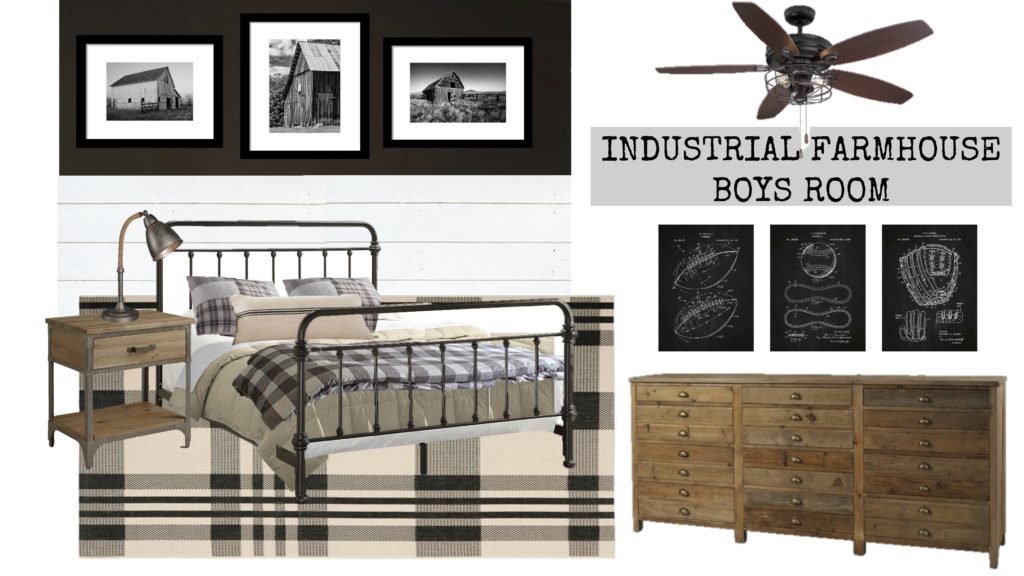 Grainsack Lumbar Pillow| Grey Gingham Quilt| Patchwork Plaid Shams|Khaki Down Blanket| Fan|Dresser|Bed|Rug|Barn Art| FootBall Art| Baseball Art | Baseball Glove Art | Lamp | Night Stand
Stay tuned….