IT is everywhere right now!!  It is the highest grossing horror movie of all time!  I mean WOW!  I saw the original IT when I was in High School, but I am not gonna lie…I am way to scared to see it now.  The new one looks crazy creepy.  I will probably see it eventually, but I have watched tons of clips so I kinda feel like I have seen it.  Anyway, I LOVE Halloween so I thought it would be really fun to put together an IT Halloween Party/Tablescape.  Kinda of a creepy clown/carnival theme.  Yall should totally throw one of these parties with your friends!  Welcome to my IT Movie Halloween Party.
IT MOVIE HALLOWEEN PARTY
Whether you are a fan of the original or the remake there are several iconic things that come to mind when I think of IT.  The red balloon, Pennywise the clown, the yellow rain jacket, the quote "we all float down here" and the origami paper boat that floats in the gutter.  I made sure to include all of those things and then I filled in with carnival inspired food, etc.  This was a very easy theme to put together and very inexpensive!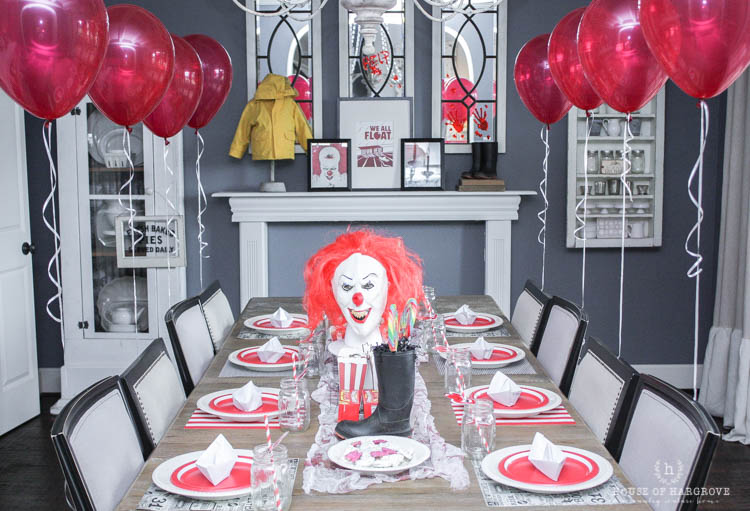 I used a Pennywise mask as the main centerpiece!  I used a cheap styrofoam wig head I picked up at Hobby Lobby to put the mask on.  I set it up on a cake stand so it would have a little height and really stand out on the table (not that you can really miss it).  Then I really wanted to play up the red balloons so that was a very easy/cheap way to set the scene.  I just put one at each chair.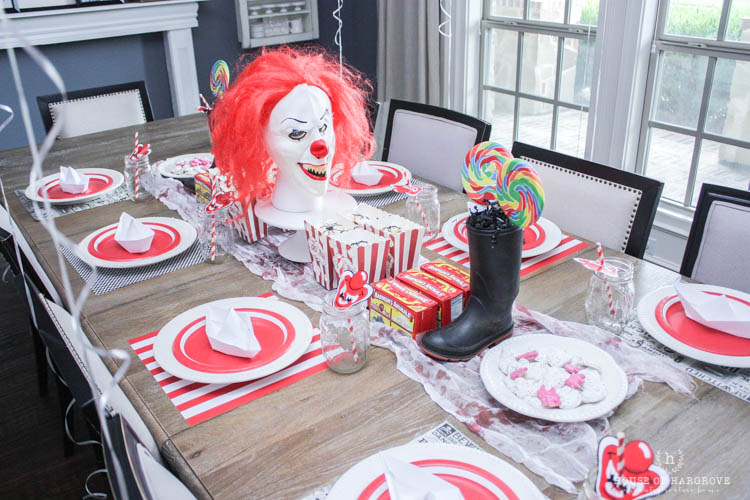 I got some fun scrapbook paper at Hobby Lobby, used my own personal white plates layered with red paper plates from target and made origami boats for each place setting.  For the table runner I used some cheese cloth and splattered red food coloring on it to look like blood (WARNING….if you saw my Instastories you saw my little food coloring mishap!  That stuff stains!  My hands were covered in red dye!)
FOOD:
For food I wanted to keep it a carnival type of feel.  I used popcorn with plastic spiders in them, classic animal crackers in the box and icing/sprinkle animal crackers.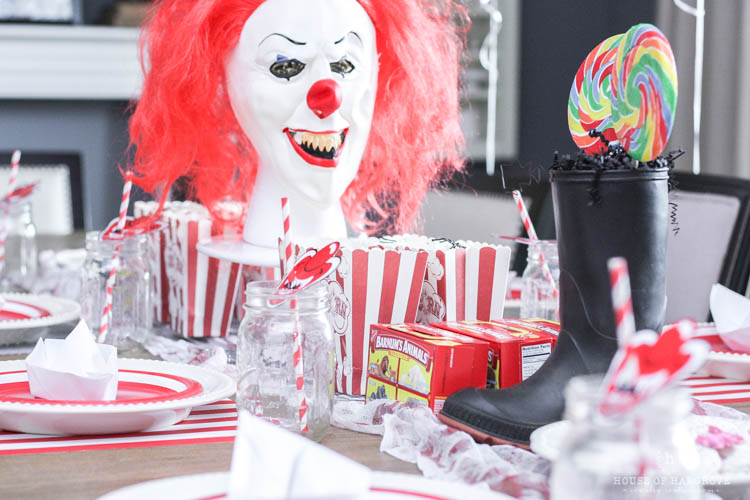 I used Braden's rain boots as decor on the table since Georgie was wearing rain boots during the famous gutter scene!  Then I added some colorful lollipops I picked up at Dollar Tree for a little fun.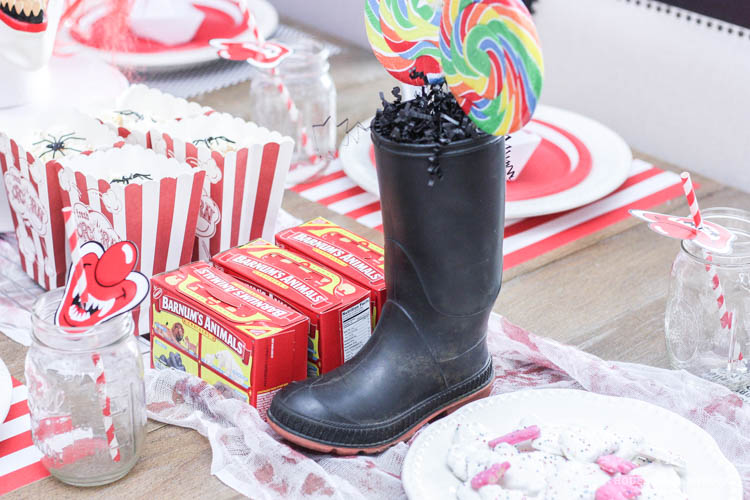 I really couldn't find any IT merchandise out there, but clowns are a popular theme for kids birthdays.  I found these clown straw toppers and they were perfect for my theme.  These were super simple to make.  Just grab a chalk marker and draw on creepy teeth!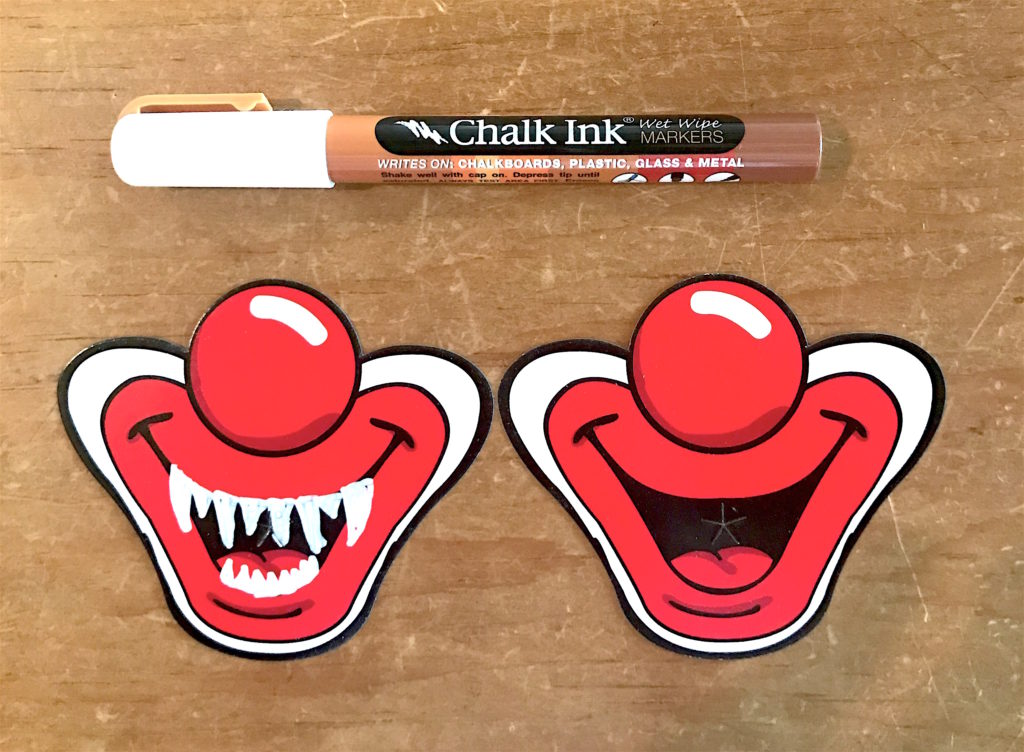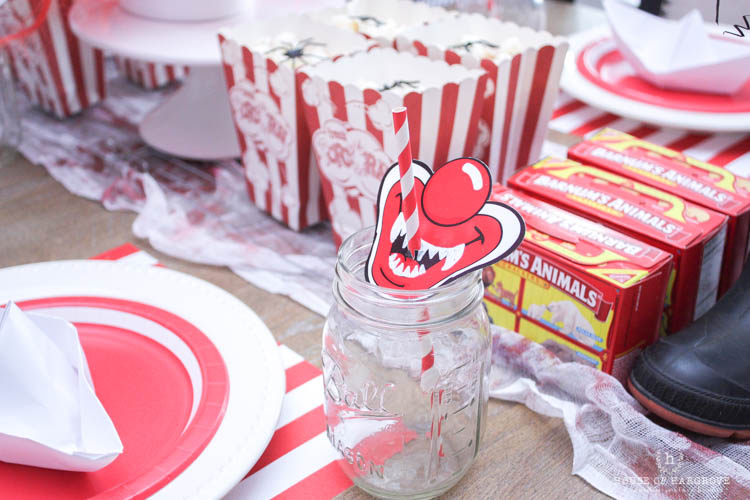 Here is a close up of the origami boats I made.  I wrote S.S. Georgie on them with marker.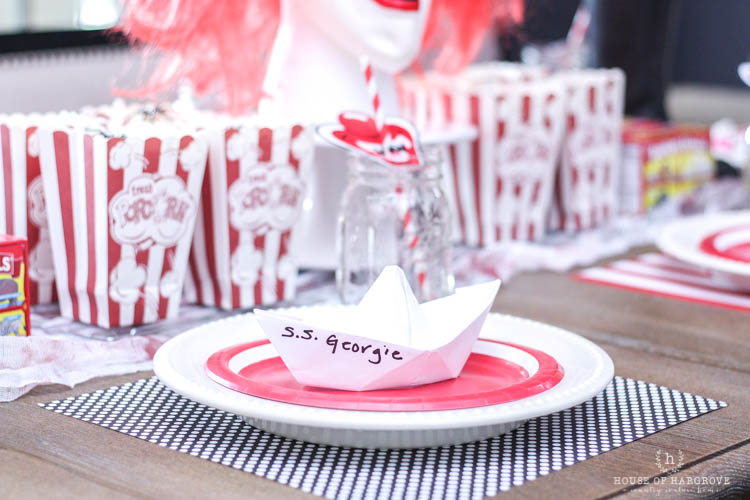 It is kind of hard to see here, but I bought oven cooling racks at Dollar Tree to use on the center of the table to represent the grate on the gutter in the movie.  Then I just set up everything on top of them.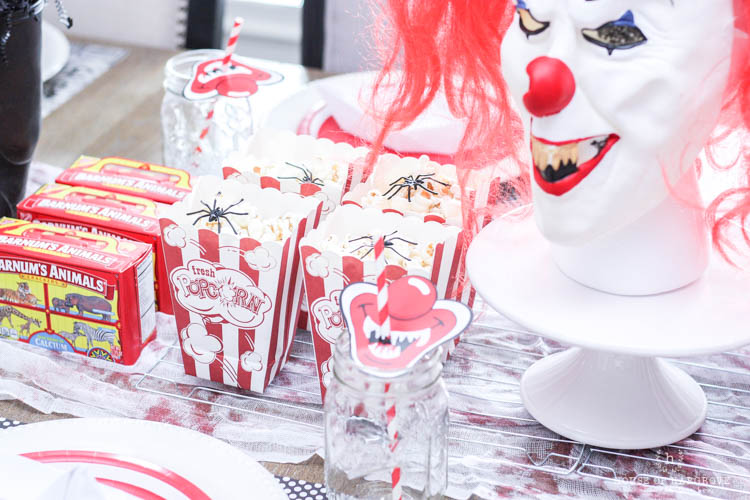 I found some pictures I loved online and printed them out and framed them.  There are soooo many different ones to choose from.  Click HERE to see lots of options!  Then I used another pair of rain boots that Braden has outgrown and I found this yellow rain jacket at a local kid resale store.  The bloody mirror decals are from Dollar Tree.
Then just for fun I made Geoff try on this mask and take a picture.  Not gonna lie…super creepy!!  I made him take it off very quickly.  Braden kept trying to sneak a peek, but I wouldn't allow him in this room.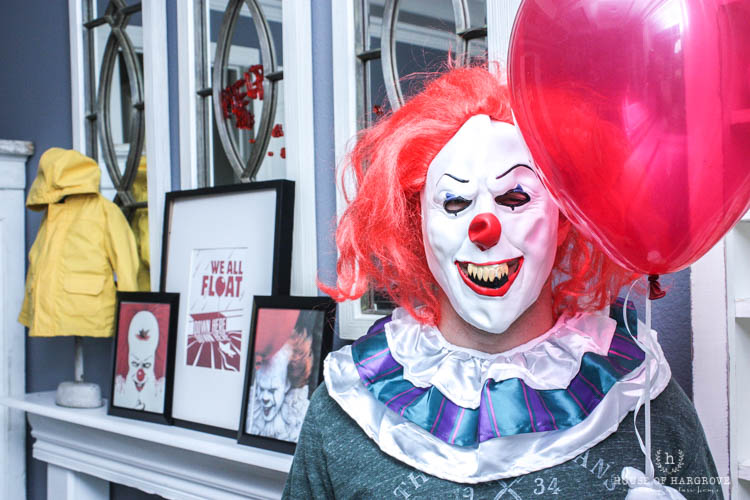 This is just such a fun theme for a Halloween party and it was very inexpensive to put together!  I got many of the things at the Dollar Tree and I linked several items above for convenience!  I love a good theme party and this IT Movie Halloween Party is perfect especially right now since the movie is everywhere!  Happy Halloween everyone!
PIN PHOTO BELOW FOR ALL THESE IDEAS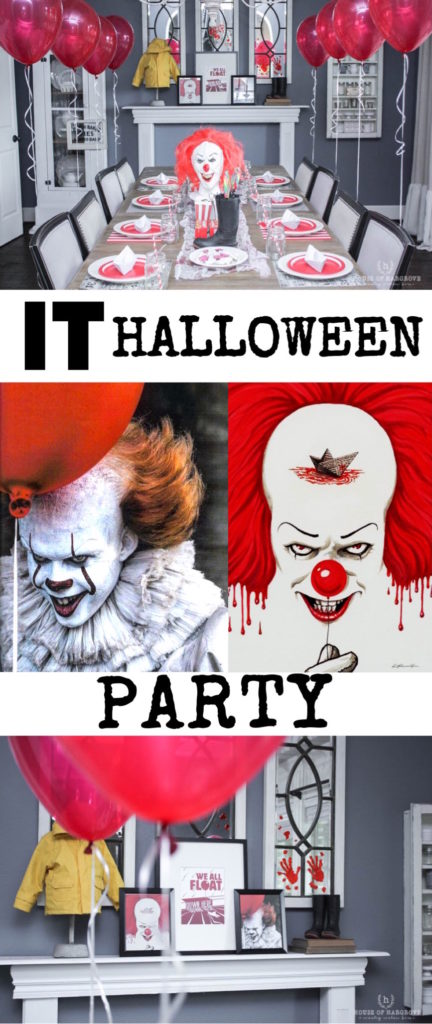 This post contains affiliate links.  If you purchase I may receive a small commission.  Thanks for supporting my blog.