As yall know we are in the process of selling our home and getting ready to start building our dream home.  Through this process we have been doing all the things over here from organizing, decluttering, selling stuff we no longer need, packing, donating, storing things. . .you get the idea!  While it was a huge undertaking, now that we have more of a clean pallet I have been able to really focus on specific areas of my home.  One of those areas was art.  I was looking for art pieces that really spoke to me and I am so excited with what I found!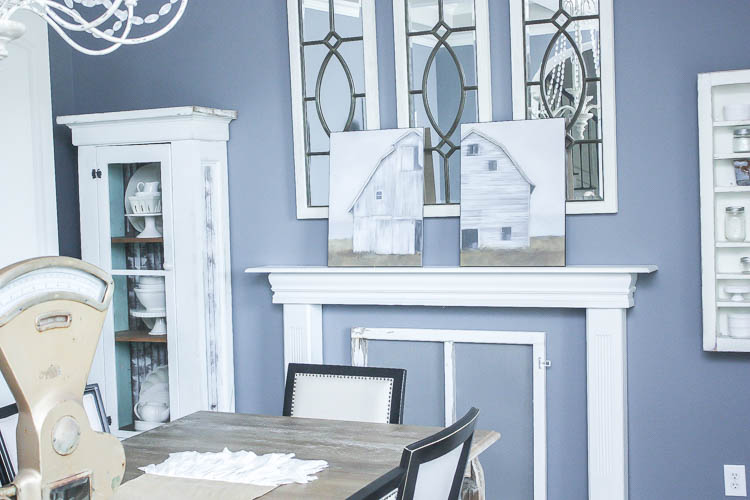 Several of the things we previously had in our home were items that I had purchased long ago, my parents had given to me, etc.  They weren't all cohesive and there was a lot of stuff!!  One of the things I am trying to do is streamline everything.  I want fewer items, but I want those items to make a bigger impact.
One of the areas of a home that can be difficult to decorate is bookshelves.  Keeping everything cohesive and not overly cluttered can be a challenge.  One way to do this is by adding larger size art pieces to each shelf and using smaller things to accent it.  I needed a new piece of art for one of my shelves and was looking for something that looked older and more architectural, kind of like a sketch.
Yall know Walmart is one of my go-to's for home decor and when I saw they carried a HUGE selection from Art.com I knew they would have exactly what I was looking for.  Art.com through Walmart offers the largest online assortment of art and one of the things I love is you can find an image you like and buy it in several different options like print, framed, mounted, canvas, etc.  You can search by type of art, color, theme, price point, size, style and even room to help you narrow your search.  It can be a little overwhelming with all the options so these filters definitely help!
I went to Walmart.com and searched "Elevation Art" (checked the brand box for Art.com) and got lots of great options.  When I saw this one I knew I had a winner.  I love how it is neutral, looks kind of like an old document or blueprint and has gorgeous script font at the bottom.  It ties in so well with my other decor.  I loved the wood mounted option.  It is sturdy and has a nice edge, but not as thick as a canvas and I didn't want any glass on it so the framed option was out.  I think it is so cool that they offer this print (and most of their prints) in all the different options so you can get exactly what you want.
I like how it adds height to the shelf and then I just put old books on either side of it to add more texture.  In front I have my grandfather and great grandfathers shoe shine brushes.  I love mixing old with new and neutrals are always a good idea!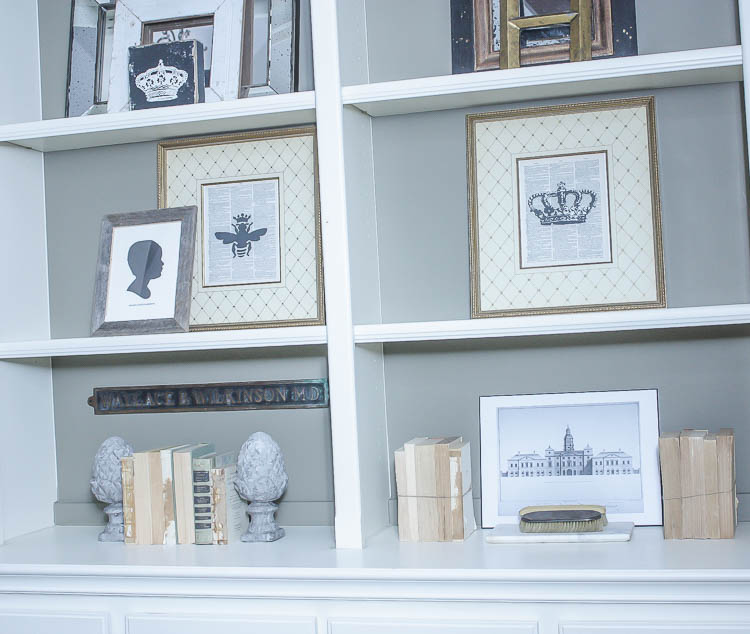 This shelf is now exactly how I want it to look and ties in nicely with the other ones.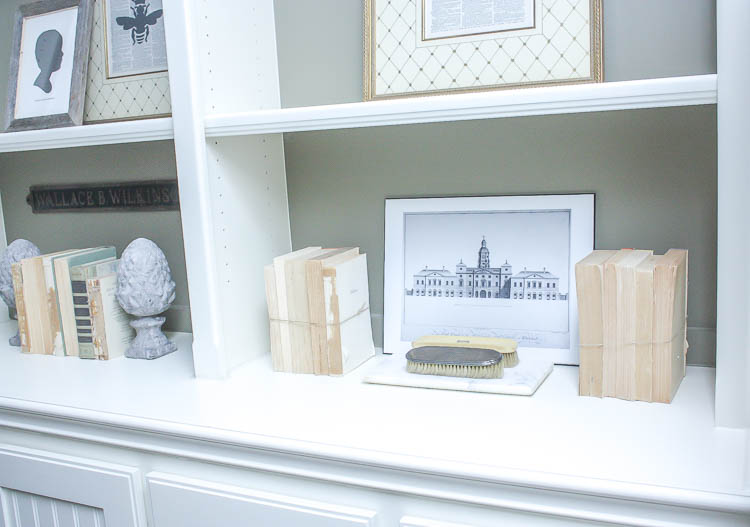 SHOP MY BOOKSHELF ART:
(CLICK ON PHOTOS BELOW TO SHOP)

Another room I needed some new art was my dining room.  My dining room is a little more on the formal side so I was looking for something a bit more rustic to blend the 2 styles and tie everything together.  I have a thing for barns and was so excited when I found these abandoned barn prints.  They aren't exactly the same, but go together so well.  I love how they look painted and almost like they are the same barn cut in half.
The colors tie in nicely with my dining room color and it makes my chippy vintage furniture and decor all come together.  I like layering mirrors and art and the scale of these prints was just right.  Again, I went with the wood mounted option.  Not only is it more of the look I was going for, but it is better for the budget.
SHOP BARN ART:
(CLICK ON PHOTOS BELOW TO SHOP)

I found lots of other art options that I loved before picking the ones I did so I thought I would share those with you.  Several of them are like the art I did in Braden's bedroom.  They are patent prints and I think they make the coolest art for any room!
SHOP OTHER ART I LOVED:
(CLICK ON PHOTOS BELOW TO SHOP)

Remember, if you find a print you like you can get them in several different options. . .wood mounted, plain print, canvas or framed!  Hope you found some things you love!  I was so impressed with the quality of the art I ordered.  I highly recommend Walmart and Art.com!
Thanks to Walmart for sponsoring this post. All opinions here are my own.  This post contains affiliate links…if you purchase I may receive a small commission.  Thank you.