Hey friends.  Yall know I love to share all my favorite finds with you and today I am sharing my new favorite lip gloss.    Not only is this gloss beautiful, but it is long lasting, moisturizing and ready for this….smells like cake!  I mean, come on!  I couldn't wait to share all the details with yall!
Here is the video I saw that first caught my attention…
Chloe Morello via Jouer.com 
She is wearing Rose Gold Liquid Lipstick and Rose Gold Lip Topper
I mean….how beautiful is that lip gloss??!!  Have yall heard of Jouer Cosmetics?  It was brand new to me and I had to learn more.  I LOVE finding fun new make up.  Back in the day (college) I was a free lance make up artist and then an Assistant Beauty Buyer for Neiman Marcus.  Make-up was my life.  I have tried many a lip gloss in my day and couldn't wait to try this one.  It is so hard to tell colors/texture from pictures online so I was thrilled to find out they sold it at Nordstrom because they are amazing with returns.  I ordered several colors and fell in LOVE!
Ok, for starters JOUER pronounced (zhew-ay) means 'to play' in French.  It was created to be fun and simple.  All formulas are filled with serious skincare ingredients, amazing colors and very creative packaging. There are grooves on the side of each cosmetic piece so they slide and click so its easy to take on the go.  While there are many amazing Jouer products, today I am talking about the Lip Color.
MY NEW FAVORITE LIP GLOSS
There are 3 lip formulas:
Longwear Lip Creme Liquid Lipstick: Long wear lipstick that offers full coverage, glides on and lasts all day.  In both Matte and Metallic finishes.  Lightweight & non sticky
Lip Toppers:  These lightweight, non sticky, moisturizing glosses can be worn alone or layered over Longwear Lip Creme Liquid Lipstick to add a beautiful shimmery finish.  You can layer and create your own color.
High Pigment Gloss:   Creamy full coverage gloss.  High pigment colors that are very moisturizing.
The 2 formulas I tried were Longwear Lip Creme Liquid Lipstick and Lip Toppers.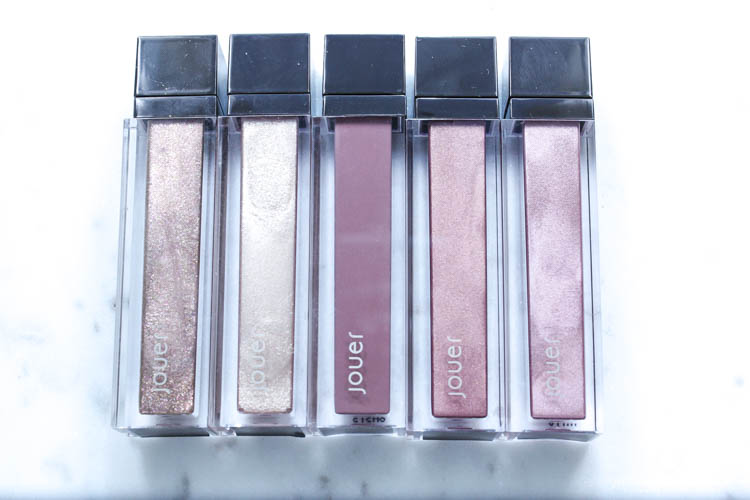 Left to Right: Rose Gold Lip Topper| Skinny Dip Lip Topper| Tawny Rose, Rose & Citronade Rose Liquid Lipstick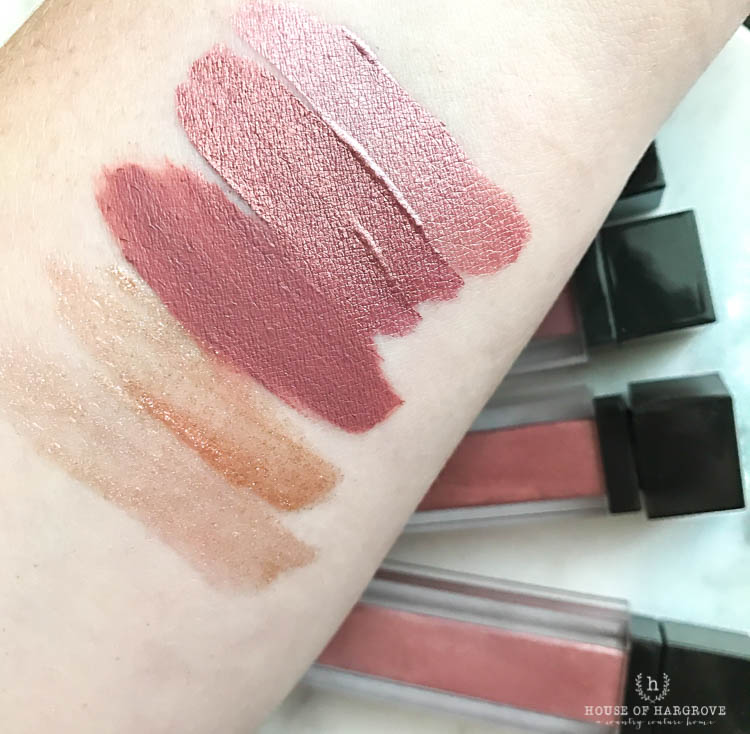 Listed Bottom to Top: Skinny Dip Lip Topper| Rose Gold Lip Topper| Tawny Rose, Rose & Citronade Rose Liquid Lipstick
FAVORITE COLORS:
My 3 favorites are Tawny Rose Liquid Lipstick, Skinny Dip Lip Topper and Rose Gold Lip Topper.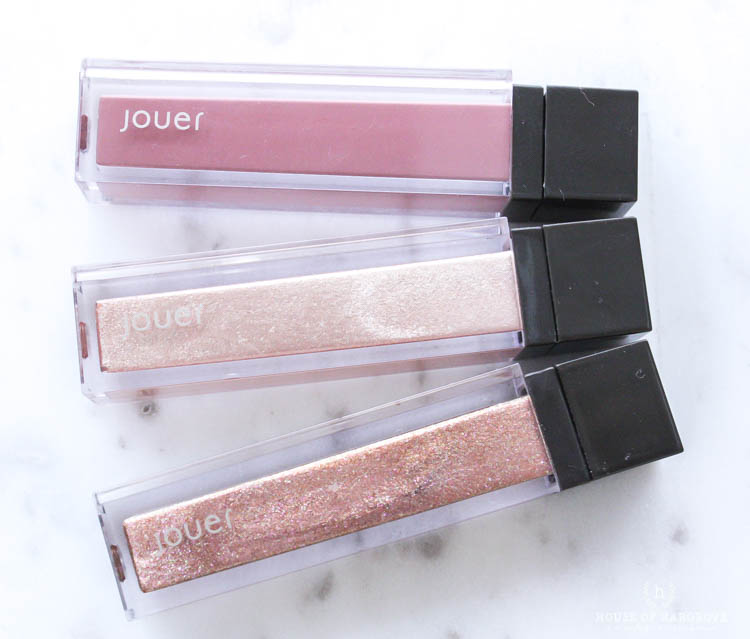 I am usually a shimmer gloss girl and I was surprised how much I liked Tawny Rose by itself.  It goes on very creamy and moisturizing and in about 30 seconds dries very matte.  It is a beautiful pink/brown color (seen below).  I love this for Fall.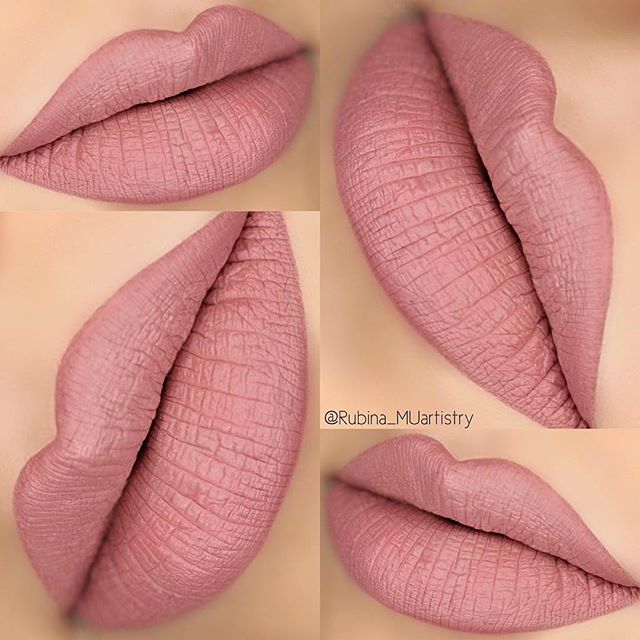 Tawny Rose Liquid Lipstick by Rubina MUartistry.
Both the Rose Gold and Skinny Dip Lip Toppers are amazing.  They are so beautiful and so shimmery!  I really cannot pick a favorite.  Skinny Dip is lighter gold and Rose Gold has a darker shimmer look to it.  I think everyone needs both of these.  I love that you can wear them alone or layer them over the Liquid Lipstick to create your own color.  Layer them over lipstick you already have at home!  They are super versatile and feel so good on your lips!
Below I took swatches of Tawny Rose on my arm and layered with the 2 different Lip Toppers so you could see the difference.  The Top Color is Rose Gold and you can see while it adds a bunch of shimmer it is a darker color and the Skinny Dip adds a lighter gold metallic.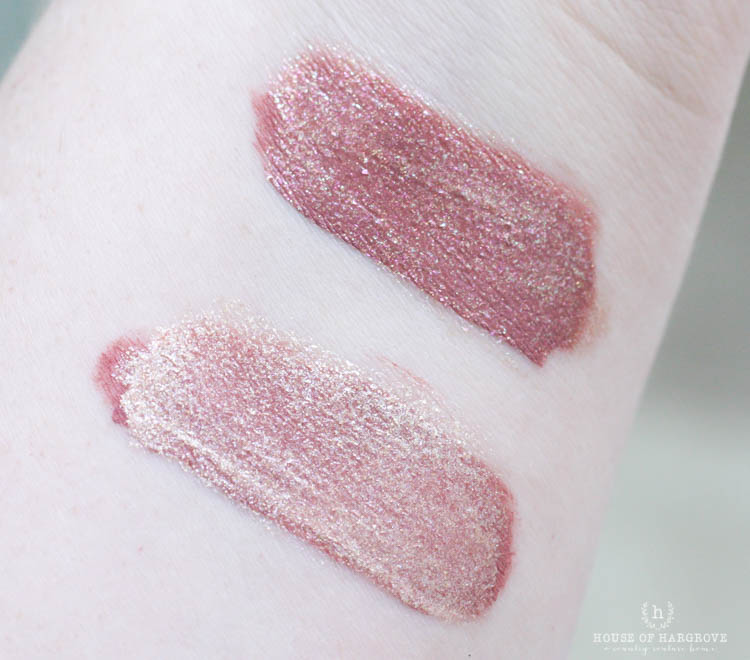 Below is a photo of my with Tawny Rose and Skinny Dip Lip Topper.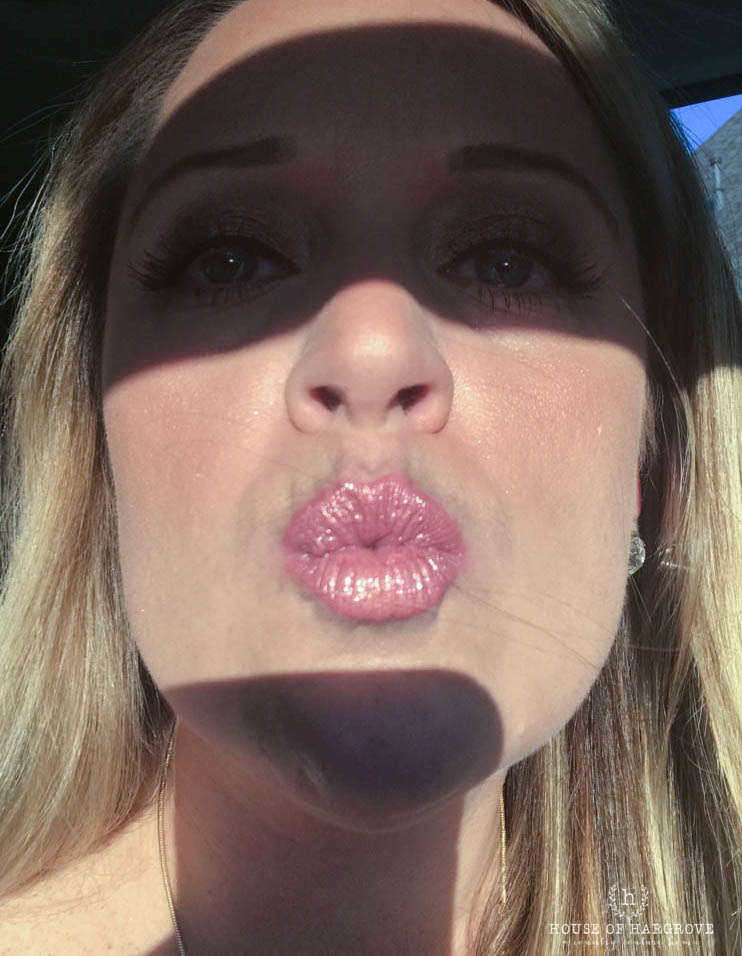 These photos below are from Jouer.com  They show the product very well!
Rose Gold Lip Topper by itself.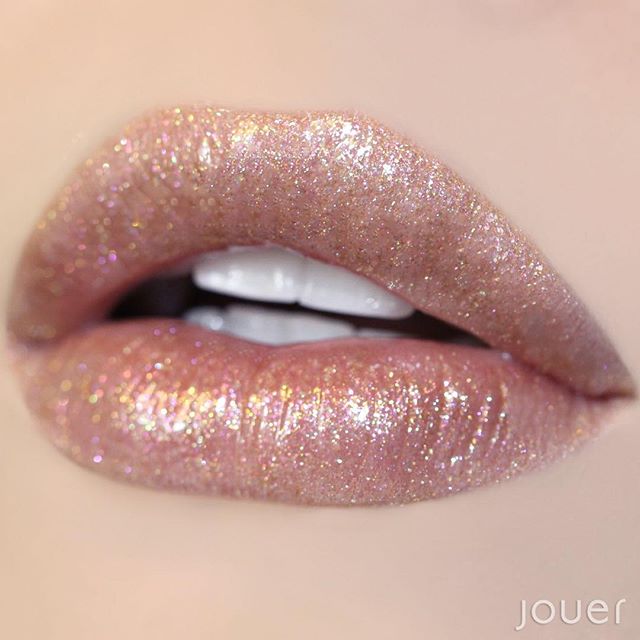 Below is Terra Liquid Lipstick with Skinny Dip Lip Topper.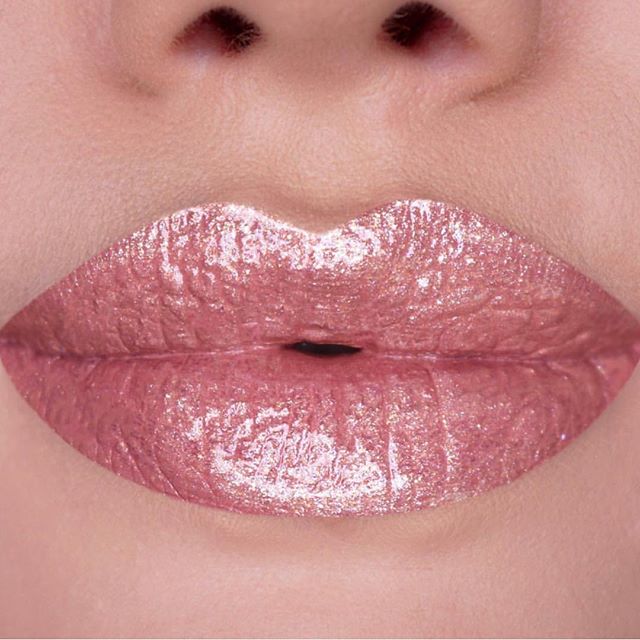 Below is Praline Liquid Lipstick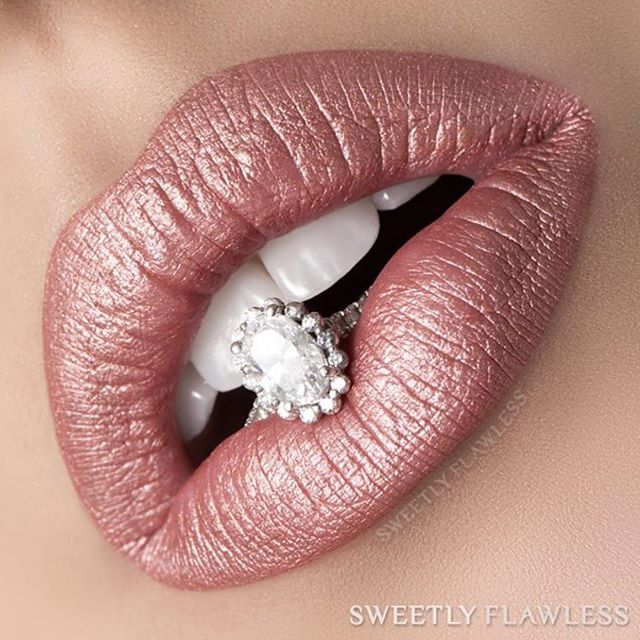 This combo below is Papaye Liquid Lipstick with Skinny Dip Lip Topper.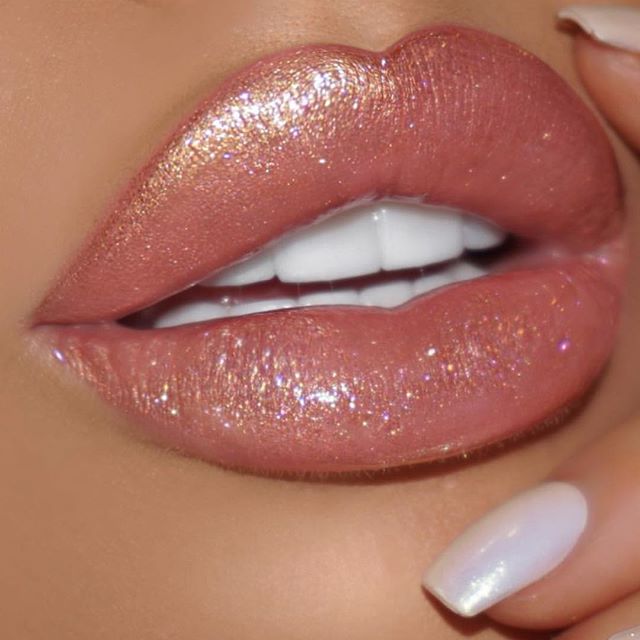 Below is the St. Tropez Lip Topper by itself.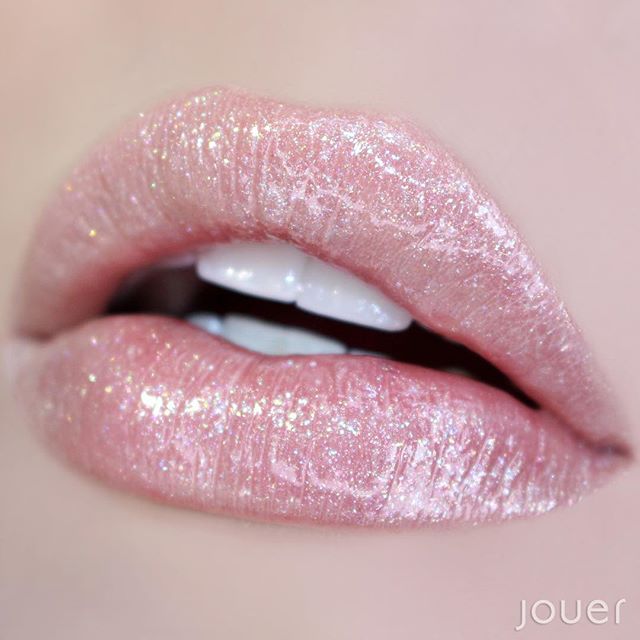 So amazing right??!!  And don't forget….they smell like Cake?!  There is truly a color for everyone.  You all need these lip colors in your life.  It is hard to order make up online, but ordering from Nordstrom makes it easy because its FREE SHIPPING and if you don't like the color you can return it very easily!

This post contains affiliate links. If you purchase I may receive a small commission.  Thanks for supporting my blog.