I am so excited to partner with World Market today, one of my go-to stores, and share some of my favorite items with you.  All opinions here are my own.  This post contains affiliate links…if you purchase I may receive a small commission.  Thank you.
I always knew when Braden got older and we were done with his pack n play, I would transform the bay window space in our bedroom into my office.  Well, the time has come and it is bitter sweet.  My baby is getting so big he no longer needs his pack n play.  I will ease the pain with a beautiful new bedroom office.  Honestly, the timing is perfect.  This is my busy season so I am excited to have a space to do my work and get organized.  I'm going to share everything that I used with you and some of my favorite farmhouse picks because there is a HUGE Friends and Family SALE going on right now where you save 30% and get FREE SHIPPING on orders over $200. It starts today so hurry before things sell out.  It is a great time to stock up!
FARMHOUSE CHIC BEDROOM OFFICE
We have these beautiful bay windows so I am loving working and looking out at our yard.  The natural light in this room is amazing.  I saw this Campaign Desk a few years ago and knew that as soon as I updated this space it was the desk I wanted.  I love the design, the size, the finish….it was just what I was looking for.  I didn't want a bulky desk in this space and didn't need tons of storage so this worked perfectly for my needs and the price was great!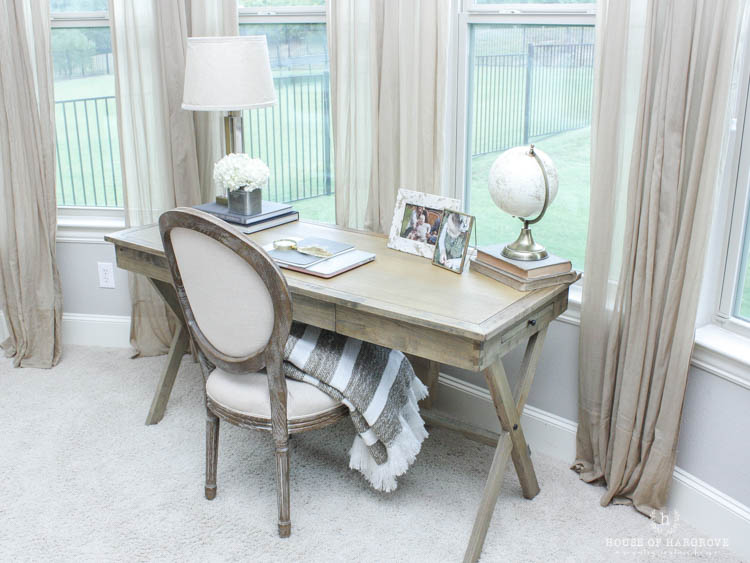 I LOVE the Paige dining chairs.  I have them in my breakfast nook and they are awesome.  They are beautiful, comfortable, sturdy and the finish coordinates perfectly with the campaign desk.  Because these chairs are so popular they have now come out with a Paige office chair on wheels.  It is beautiful and if I had wood floors I would have definitely purchased it (also comes in a charcoal square back).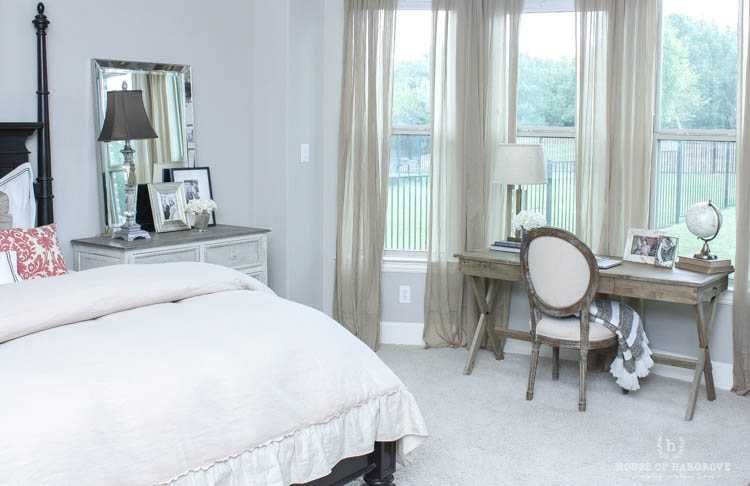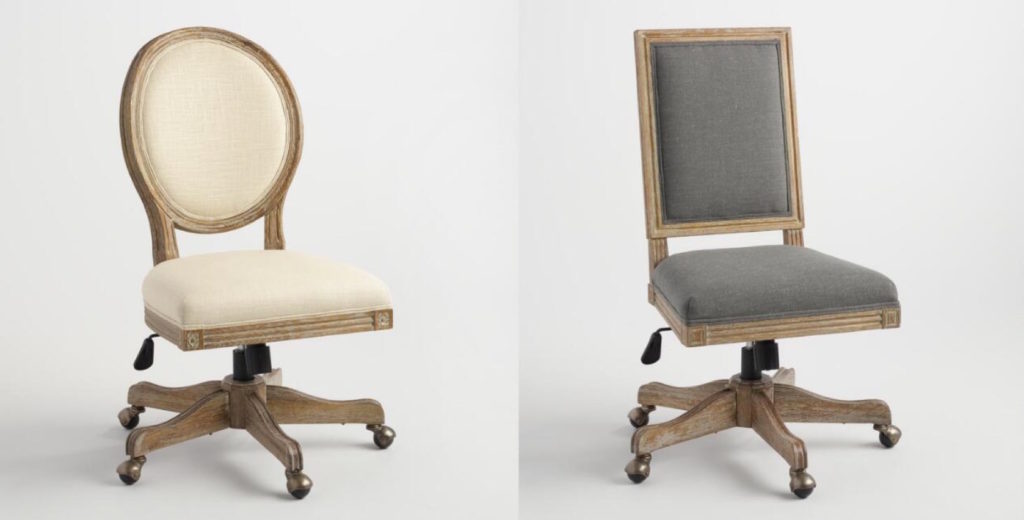 Paige Round Back Office Chair   |  Paige Square Back Office Chair

(click on items in photo below to shop)
I wanted to keep the space neutral so I added some interest by mixing textures and metallic accents.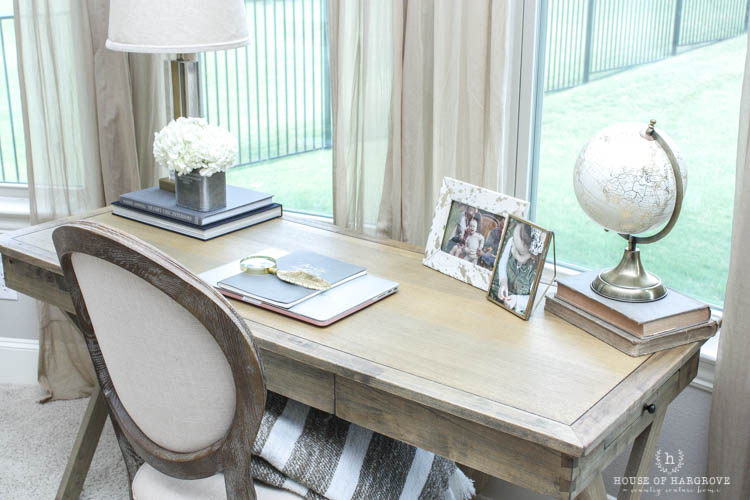 I LOVE this acrylic and brass lamp.  Its simple yet adds a lot of style.  Flowers always make me happy and I found this cool vintage inspired zinc pencil holder and used it as a vase.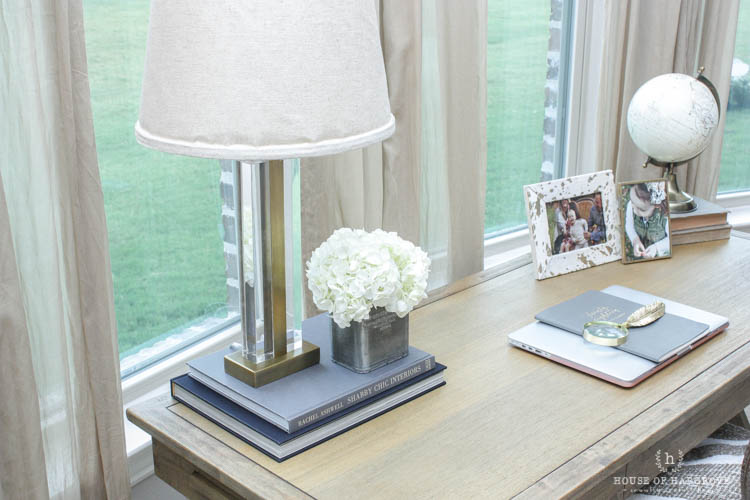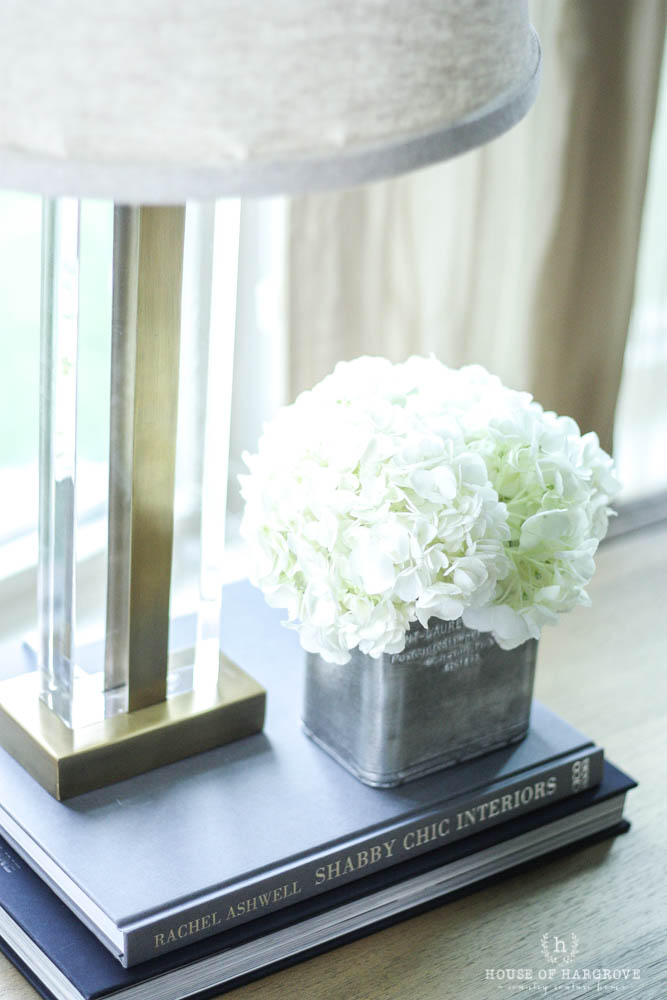 I think globes are such a fun accent in an office space and this gold and white one is a stylish spin on a traditional style.  I use books all of the time to add height and that is what I did here.  How cool is this gold cow hide frame?  It adds texture and fun with the pops of metallic.  This simple brass frame has a very cool vintage inspired lock that allows you to open the frame and add your photo.  Also the back has a geometric stand that adds a contemporary flair.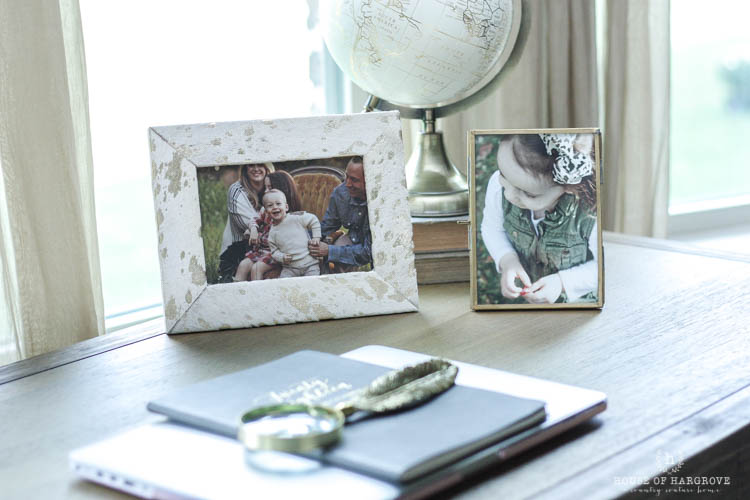 I think this planner is so pretty and so useful.  I love a good calendar on my desk.  How fun is this gold feather magnifying glass?  I had to have it!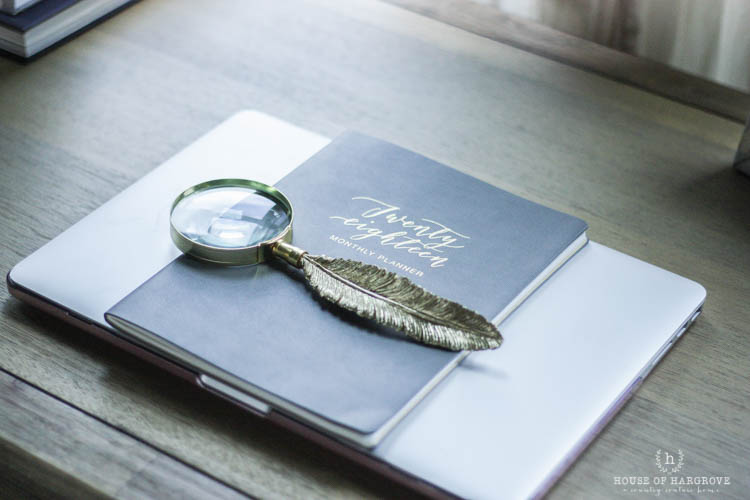 The other great thing about this Campaign Desk is it has these pull out trays on each side to add extra space!
The desk also has 1 middle drawer to hold anything you need and don't want sitting out on your desk.
This new bedroom office space is exactly what I needed.  I am sitting here now as I type this post.  My husband works out of our other office so this gives me my own little retreat.   I really couldn't be happier with how it turned out and like I mentioned above everything is on sale!  If you spend $200 you save 30% and get FREE SHIPPING.  That is an amazing deal!
SHOP MY NEW BEDROOM OFFICE
(Click pictures below to shop)

Here are some of my other top picks to grab during this sale!  Grab that furniture you have been having your eye on or stock up on some great decor.  Never too early to be thinking about Christmas gifts either!  These are some of the lowest prices of the year.
TOP PICKS TO BUY DURING THE FRIENDS & FAMILY SALE
(click pictures below to shop)

Thanks so much for checking out my farmhouse chic new bedroom office.  Hope you get lots of goodies at this amazing sale.  It ends this MONDAY so don't miss out!!  SHOP HERE.
PIN BELOW FOR ALL THE DETAILS OF MY FARMHOUSE CHIC OFFICE