**Thank you Mixbook for sponsoring this post.  All opinions are my own**
If you are like me you take approximately 1,247,522 pictures of your kids a year….ok maybe a bit of an exaggeration, but you get the idea.  There are so many amazing memories that I want to capture, but then the question is how do you keep them all organized and not just sitting on your camera/computer/iPhone?  Here is my family's solution to organizing family memories.
I was an only child growing up so my mom has tons of photos of me and they are all in these HUGE scrapbooks!  The photos are fading, they are so bulky to lug around, but I love having them and my kids love looking at them.  When I got pregnant with Avery I decided I was going to come up with a strategy on how best to organize family photos and stick to it.  This is when I discovered  Mixbook.  I had tried other photobook companies and they were OK…but, when I discovered Mixbook, I was hooked!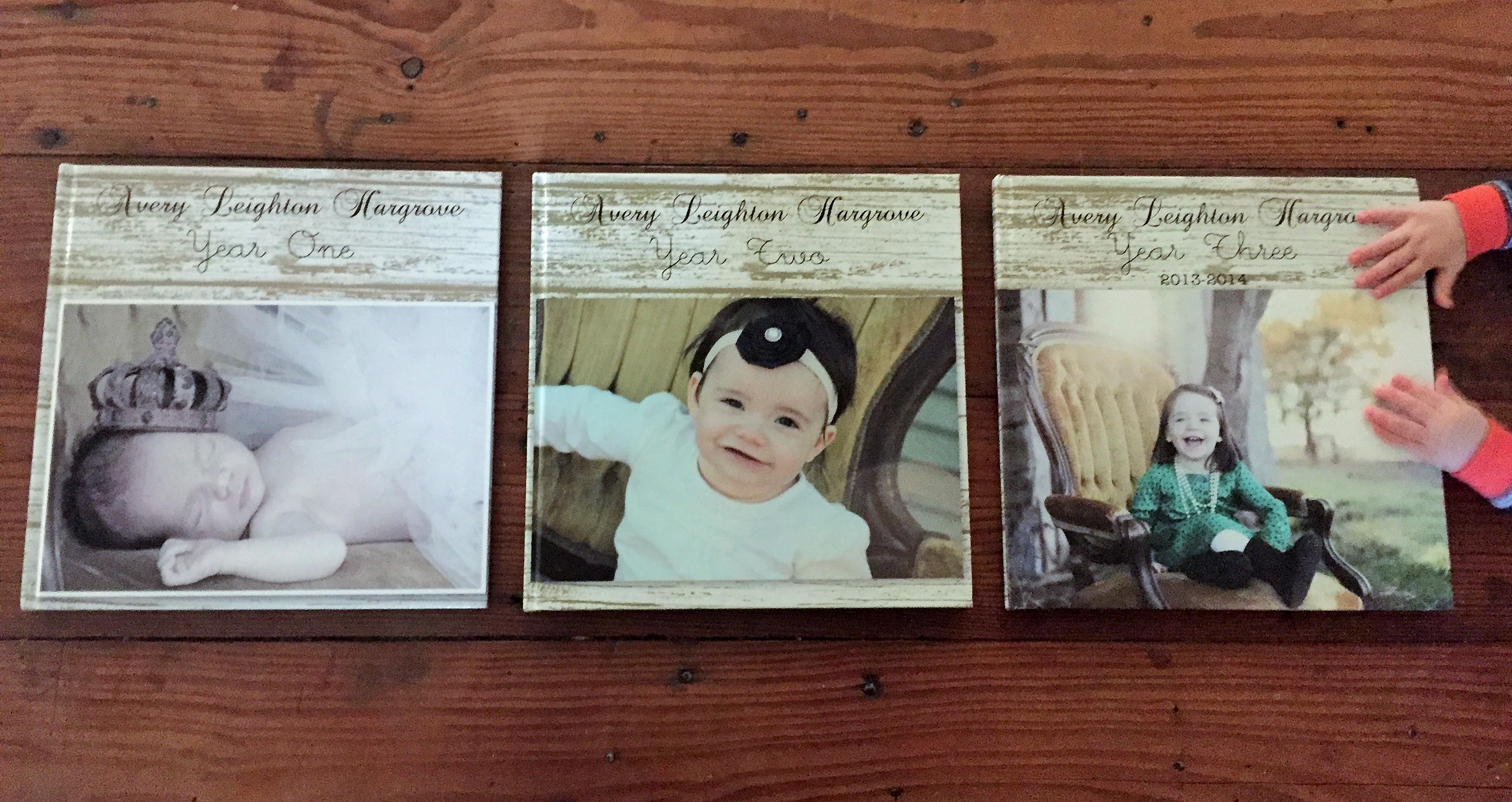 MY STRATEGY TO STAY ORGANIZED…
I have a Mixbook for Each Year of my kids lives.  It started out Avery year 1, Avery year 2 and went Aug-Aug, but now that Braden has come along I do it by year since they were born different months.  This year will be 2016, etc.
I have a Mixbook going at all times!  I start one at the beginning of the year and then every month or so I update it.  I have found this to be so so helpful!  The photos/memories are fresh and doing a couple of pages at a time isn't overwhelming.  It is fun reliving the memories and seeing how much the kids have grown in just a few months.  Right now I just finished up Jan/Feb for 2016.  If you wait until the end of the year to do it there is just too much!!  It is a CHORE rather than something fun for your family.
They make great GIFTS!!!  I finish our family books from the previous year in late Jan/Feb (same time I start my book for the next year) and then I buy one for myself and both sets of Grandparents.  I give it to the Grandparents at Mother's Day and they LOVE it!!  They look forward to it every year AND it is super easy for me.  I am already making one so I just buy some extra copies.
 The thing that really separated Mixbook from its competition for me was the design (I give a full review below).  They all look like stunning artistic books.  Books you want on your coffee table.  You can either use one they already have made or completely customize one exactly how you want (or take one they have made and tweak it).
Here are some examples of the amazing designs: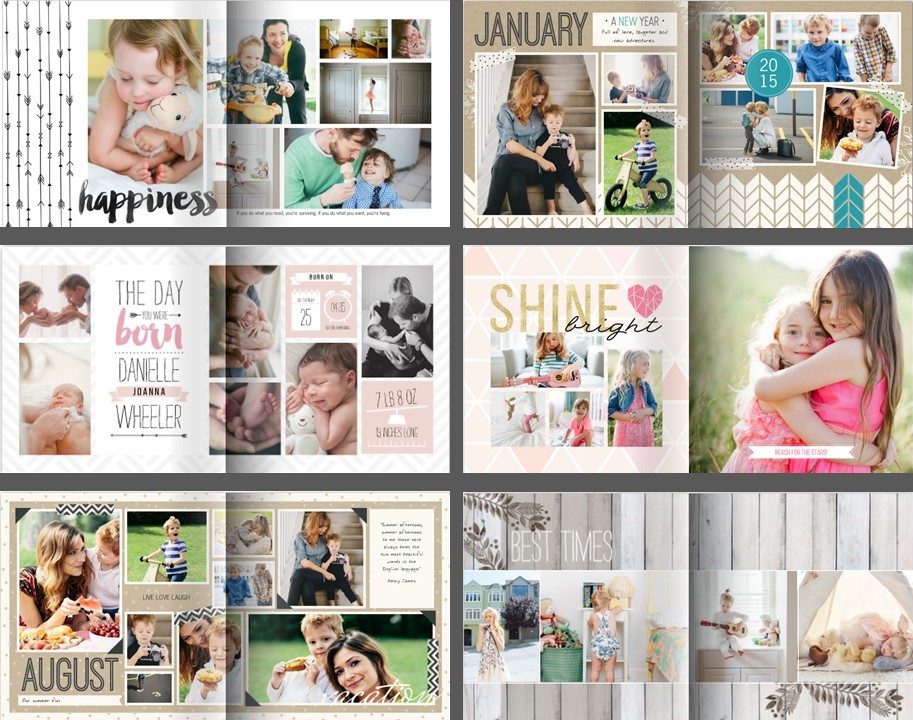 Here are some of my favorite books that you can select and just add your photos.  Everything is done for you.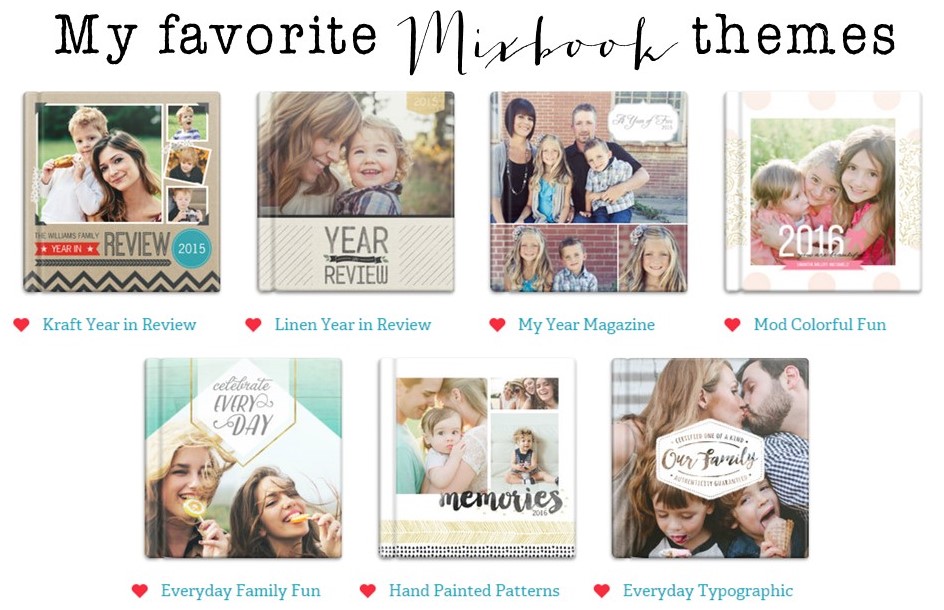 I personally do a combo of creating my own books and using pages from theme books I love.  Here are some examples my latest book covers and some of my pages (I like to include a lot of photos on a page so it is not 200 pages a book).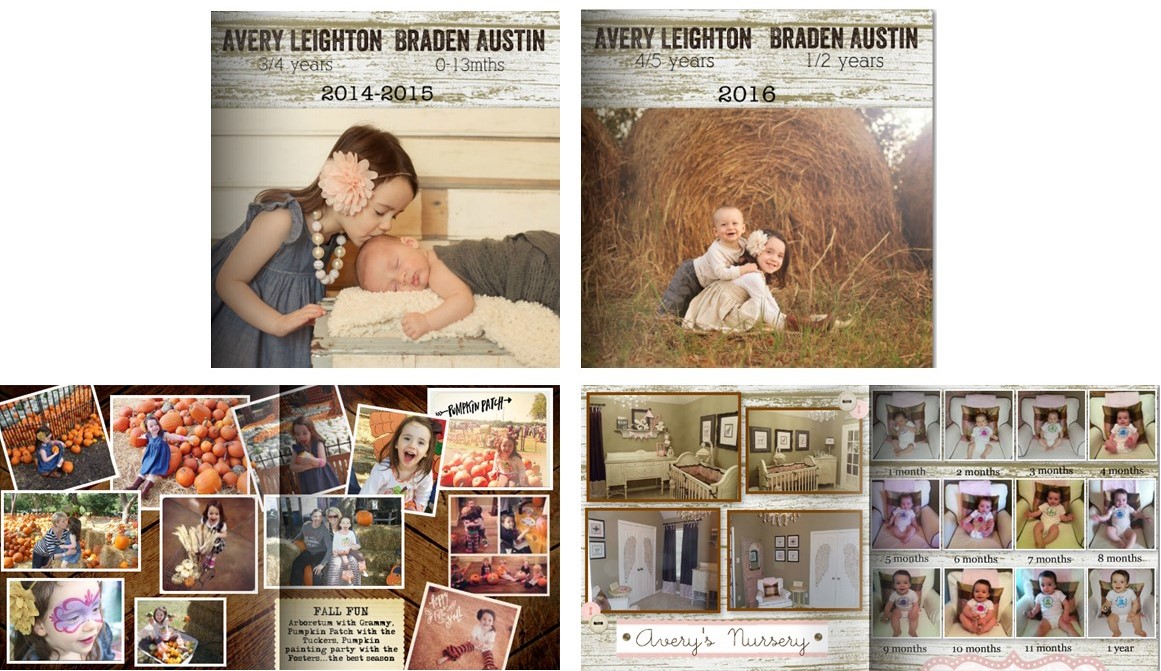 THINGS I INCLUDE IN MY MIXBOOK:
 I do my photos in order of the year.  I don't put dates unless it is something specific like a vacation
I put a photo of our Christmas Card and the kids invitations (their birth announcements, baby showers, birthday parties, etc)  This way I will always have a copy of them
At the end of every book I do a spread on each child with memories from the year (kind of like a year book), I list milestones and once they are old enough I do a questionnaire around their birthday.  I think this will be so fun to look back on as they get older.  I also want to put height and weight on this
Something I am going to start incorporating this year is a questionnaire for Mother's Day and Father's Day.  I did this with Avery this year and her answers were so funny I definitely want to have those recorded for the future.
The feature I just learned about is FLAT PAGES!!!  I will definitely do these in all my books going forward.  As you can see from this photo I don't have them and I need them!  I do a lot of photos from one page to the next and would love for them to lay flat so I can see/read them better! Look at the difference!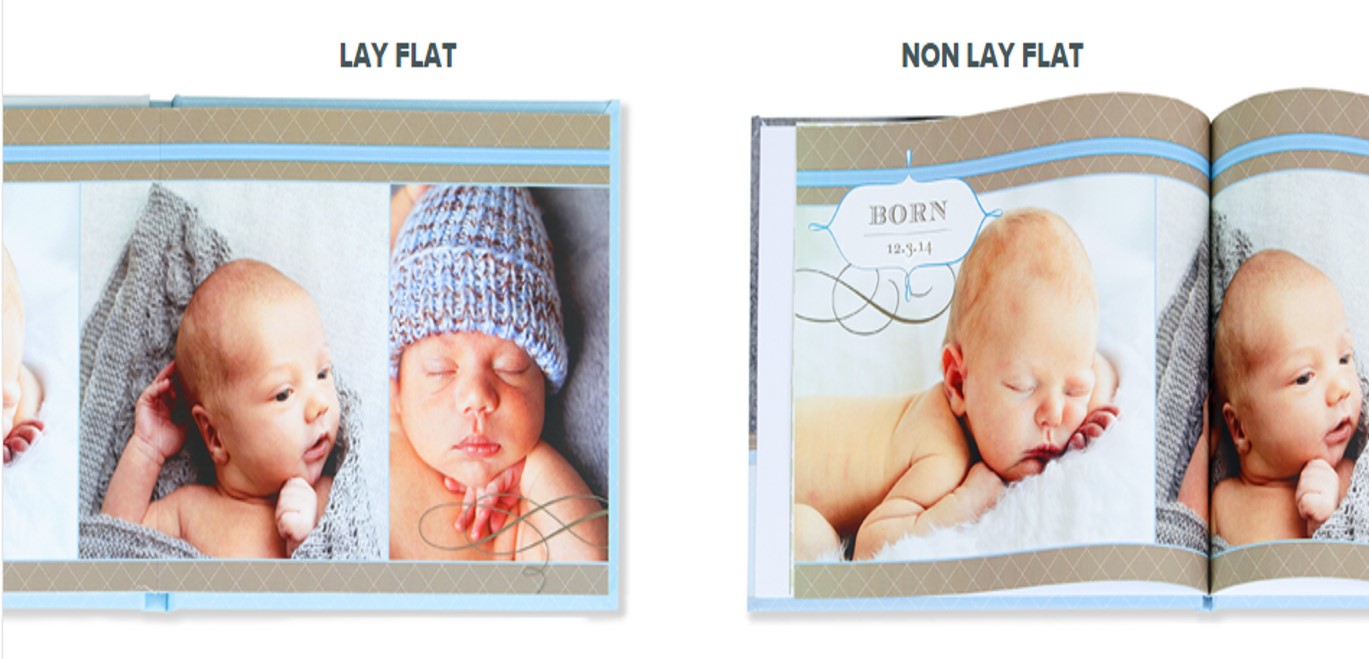 I sign all of the back of my books like this: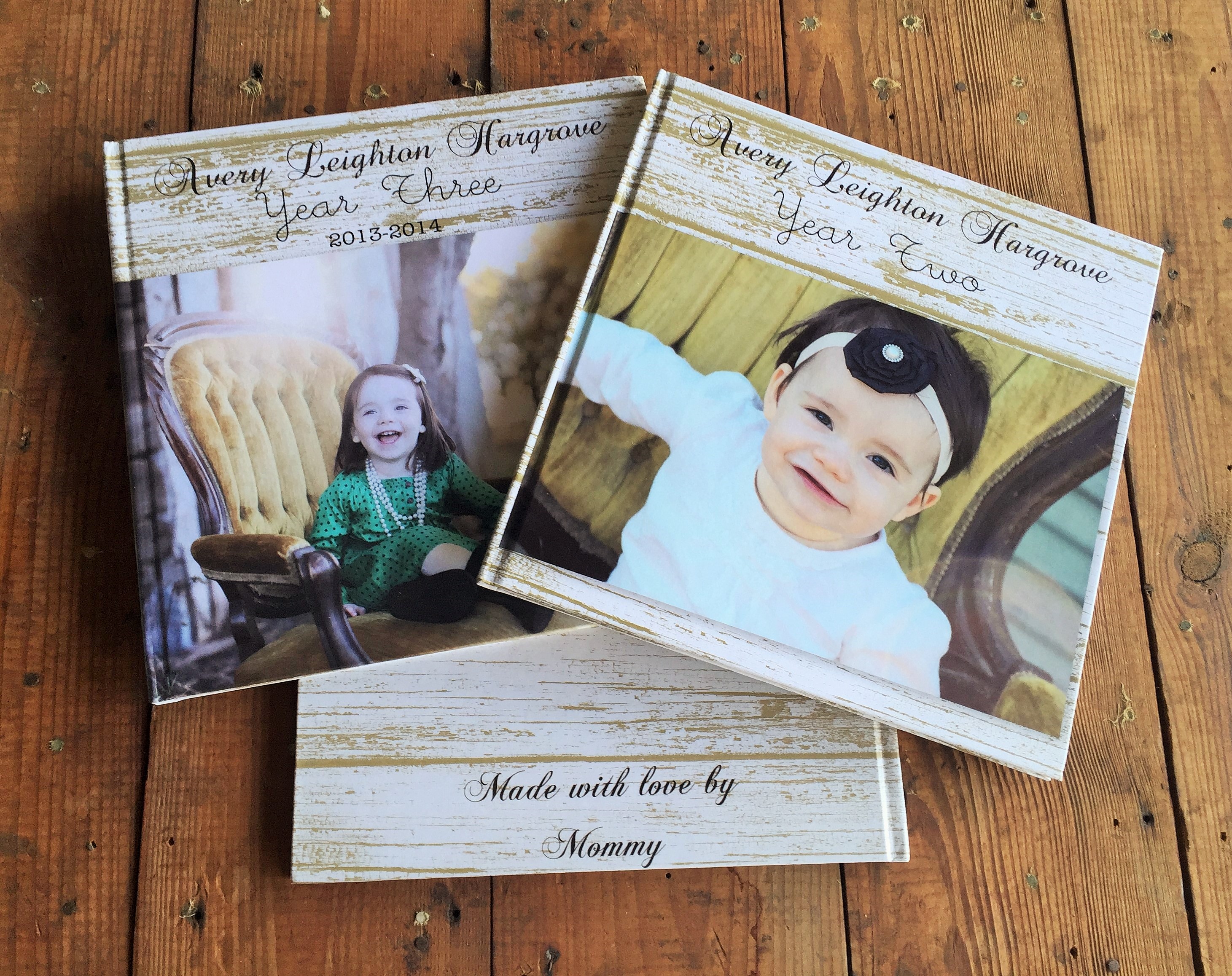 MIXBOOK REVIEW:
QUALITY: Incredible.  These books are so beautiful and truly can be coffee table books.  The pages are thick so even with my 4 year old looking at her baby pics over and over they are holding up great!
EASE OF USE: They have products for everyone.  If you just want a quick beautiful book put together then Montage is right for you.  You pick the photos you want, a theme and then Mixbook places everything together for you in seconds!  It is that simple.  It is like hiring a designer to make it for you.  You can approve everything and tweak before you order. If you want to create your own the tools are SUPER easy to use…which is great for me.  I use this feature because I like to personalize everything, but I am no techie and I have never had a problem.
OPTIONS: WOW, this is what sold me.  There are so many options to choose from when customizing your book.  Themes, stickers, fonts, borders, sizes, cover options, you name it, they have it.  It is digital scrapbooking without all the mess and glue!  You can completely design your own page or use pages already made that you love and tweak them if you want.  They have tons of inspiration books for you to look through and get ideas.  You can pick different covers, sizes, etc ( I shared some of my favs above)
COLLABORATE WITH FRIENDS: Multiple people can work on the book.  For example I went on a family cruise with my Uncle, Aunt, Parents, etc….they were all able to access the book, make their own pages, add their own photos, etc.  This is a great feature
PRICE: The price per quality is unbeatable!  They are always running deals too for up to 50% off!
All and all I cannot say enough about Mixbook!  I have used it for years, I recommend it to everyone I know and it really takes the stress out of keeping family memories organized and documented!
If you are like so many and have tons of pictures on your computer and are overwhelmed….have no fear!  Start with a Montage Book.  Pick the photos you want, let them do all the work and then you are up to speed.  Then going forward if you want it to be more customized you can start fresh.  There is truly an option for everyone.
Mothers Day, Fathers Day, graduations are coming up!  Mixbook is a great option!!! My daughter has a monkey lovie she is obsessed with and I am planning on making her a personal story for her birthday with Monkey.  I am going to take him to her favorite places and then make a story for her.  I think she will LOVE it!  There are so many great reasons to make a photo book.
Get started  on your own Mixbook HERE
If you have some fun ideas leave them in the comments.  I love hearing how others organize and document their memories!  I hope this helped many of you be able to tackle those projects you have been putting off.  I promise you…you will be so glad you did!
If you like these tips be sure to pin this photo below so you have all the info for later!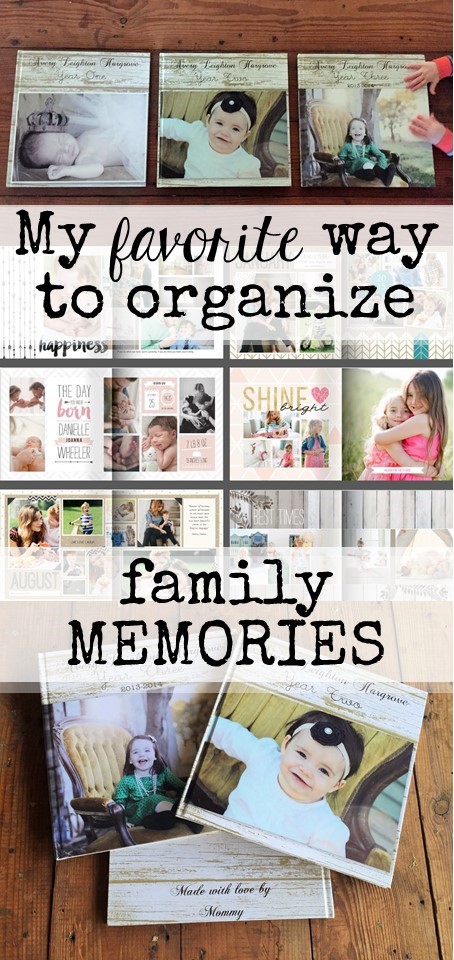 **Thank you Mixbook for sponsoring this post.  This post contains affiliate links.  If you purchase I may receive a small commission.  Thank you**