I absolutely LOVE walking through Restoration Hardware, drooling over their catalogs, etc. but I don't like paying those prices.  Don't get me wrong…I have a few of their pieces in my home that I love and occasionally if I find a "must have piece" I will splurge, but for the most part I like to get inspired by them and then find the look for less.  Today I am sharing several pieces side by side so you can compare!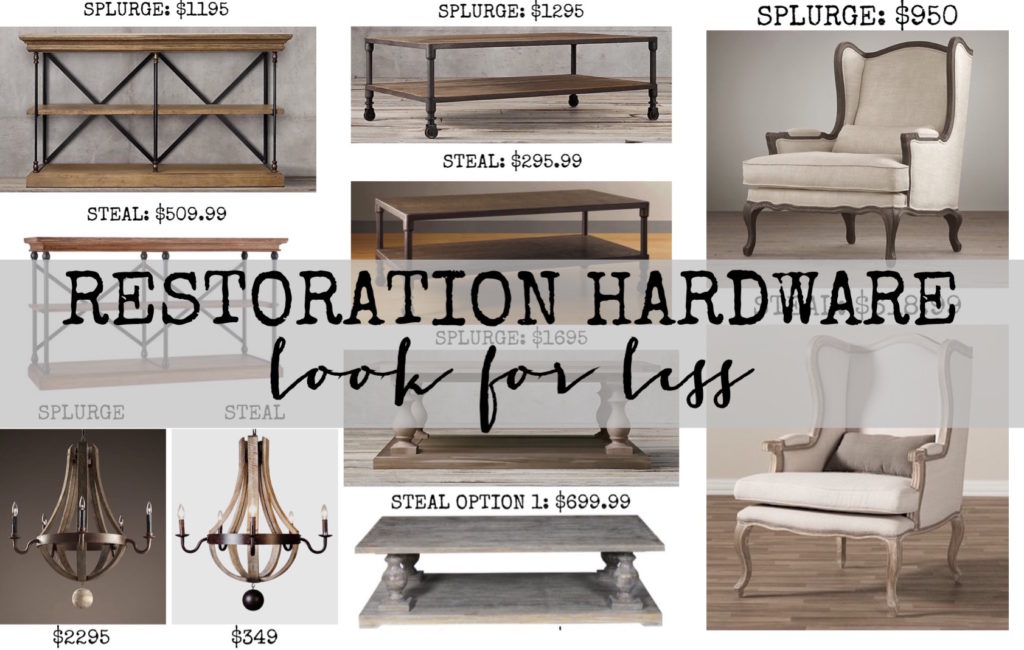 LOOK FOR LESS: RESTORATION HARDWARE

SPLURGE: Dutch Industrial Coffee Table  $1295
STEAL: Remy Coffee Table $295.99

SPLURGE: Balustrade Salvaged Wood Console Table  $1950
STEAL: Levittan Reclaimed Wood Console Table  $529.99

SPLURGE: Printmakers Sideboard  $1950
STEAL: Brenda Double Credenza $999

SPLURGE:  17 c Monastery Coffee Table $1695
STEAL OPTION 1: Daria Coffee Table $699.99
STEAL OPTION 2:  Nettie Coffee Table  $469.99

SPLURGE: Lorraine Chair  $950
STEAL:  Baxton Studio Auvergne Wing Back Chair $618.99

SPLURGE: Wine Barrel Collection $2295
STEAL: Vintage French Country Wood/Metal Wine Barrel Chandelier $349

SPLURGE: Parisian Cornice Console  $1195
STEAL: Barnstone Cornice Iron and Wood Entryway Console  $509.99

SPLURGE:  Chesterfield Fabric Sleigh bed  $3195
STEAL:  Upholstered Sleigh Bed  $1080.99
Having beautiful furniture and decor doesn't have to break the bank.  I love getting inspired by catalogs, magazines, design shows, etc and figuring out how to get the look for less.  Hope you found some great items today!  If there is something specific you are in love with, but don't want to pay the price let me know in the comments and it might make the next edition of "look for less".  Recently I shared my new linen ruffle bedding and it is definitely a high end look for a fraction of the price!  It would go great with any Restoration Hardware inspired furniture.  Be sure to check it out!
SHOP THE LOOKS FOR LESS BELOW
(JUST CLICK ON THE PHOTO TO SHOP)

**This post contains some affiliate links.  If you purchase I may receive a small commission.  Thank you**