I LOVE the holidays.  They are such a special time of year that bring on an amazing feel.  You start reminiscing about old memories, creating new ones, family time, laughter, baking, cozy fires, etc.  While they are an incredible time, they are also VERY BUSY.  I try really hard to do all.the.things while soaking it all in and enjoying it.   I love finding simple ways to add the holiday feel to my home.  One of the ways I do this is with yummy holiday scents…..and what do I do a ton this time of year??!!….CLEAN.  So, Mrs. Meyer's Holiday Scented Cleaning products are one of my simple tricks where I can kill 2 birds with 1 stone and right now you can get a set for FREE!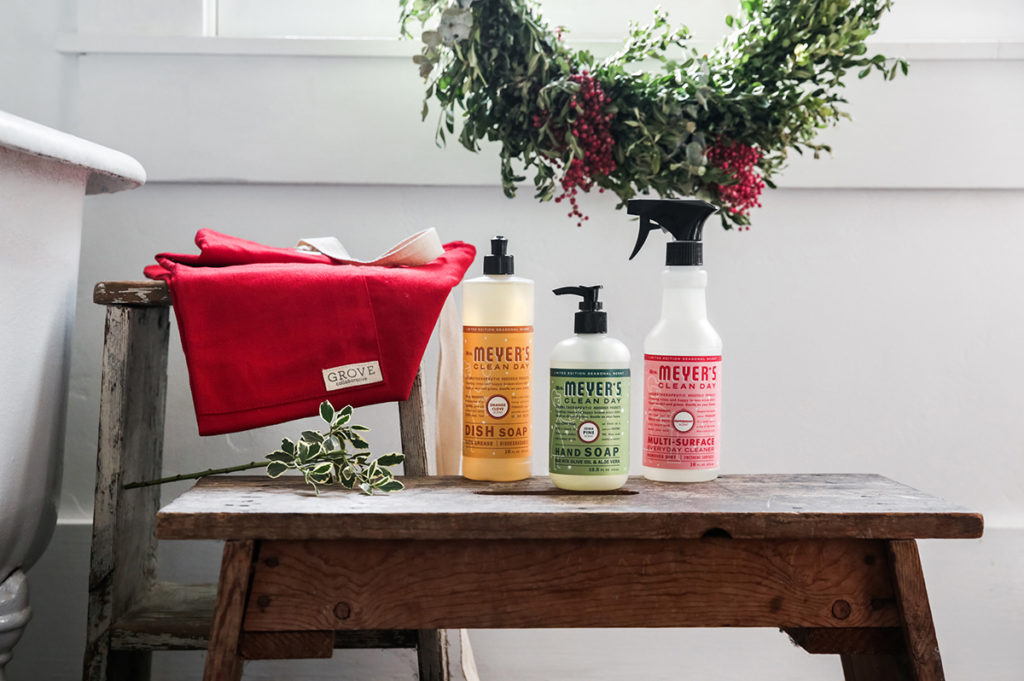 Cleaning products?!!….YES!  I know it sounds funny, but this time of year I clean a TON!  We are constantly entertaining, cooking, baking and wiping up pounds of glitter (anyone else?)….so using holiday scented cleaning products that work amazing and make my home smell incredible is a win/win!  Seriously, Avery will ask me what I am baking or what candle I am burning when I clean.  YES!!!  Total win.  Also, the packaging is so pretty!  Just setting the bottles out on my counter makes my kitchen look more festive.   I also add Mrs. Meyer's hand soap to my guest bathroom so they can enjoy the holiday scents as well.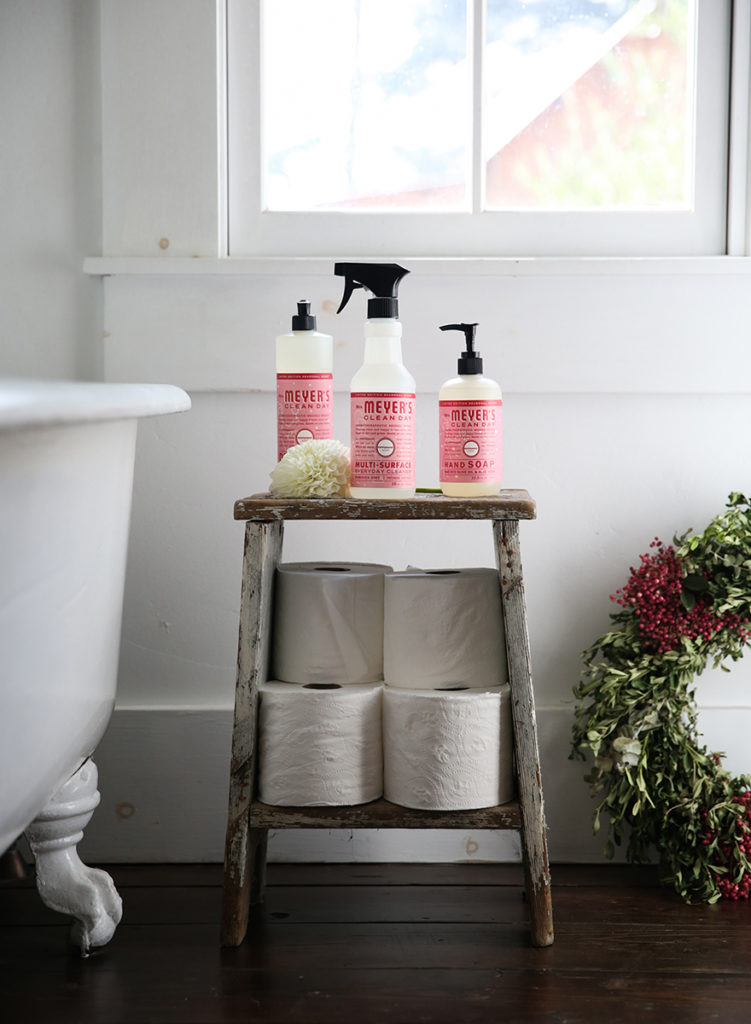 SPECIAL OFFER FOR HOUSE OF HARGROVE READERS
So…how do you get all this goodness for FREE?!   For a limited time you can get a FREE Mrs. Meyer's Holiday Set from my friends at Grove Collaborative when you place your first order of $20 using my link HERE.
You get all the items below in the holiday scent of your choice: Iowa Pine, Orange Clove, or Peppermint.
Free Holiday Mrs. Meyer's hand soap

Free Holiday Mrs. Meyer's dish soap

Free Holiday Mrs. Meyer's multi surface spray

Free Grove apron

Free Shipping & 60 Day VIP Trial
Existing customers will get a free set of Grove walnut scrubber sponges. They're super effective and so much prettier than your average sponge!
All of the scents smell amazing, but my personal favorite is orange clove.  It smells so fresh and "Christmasy" (is that a word?  ha)…really helps get that holiday feel.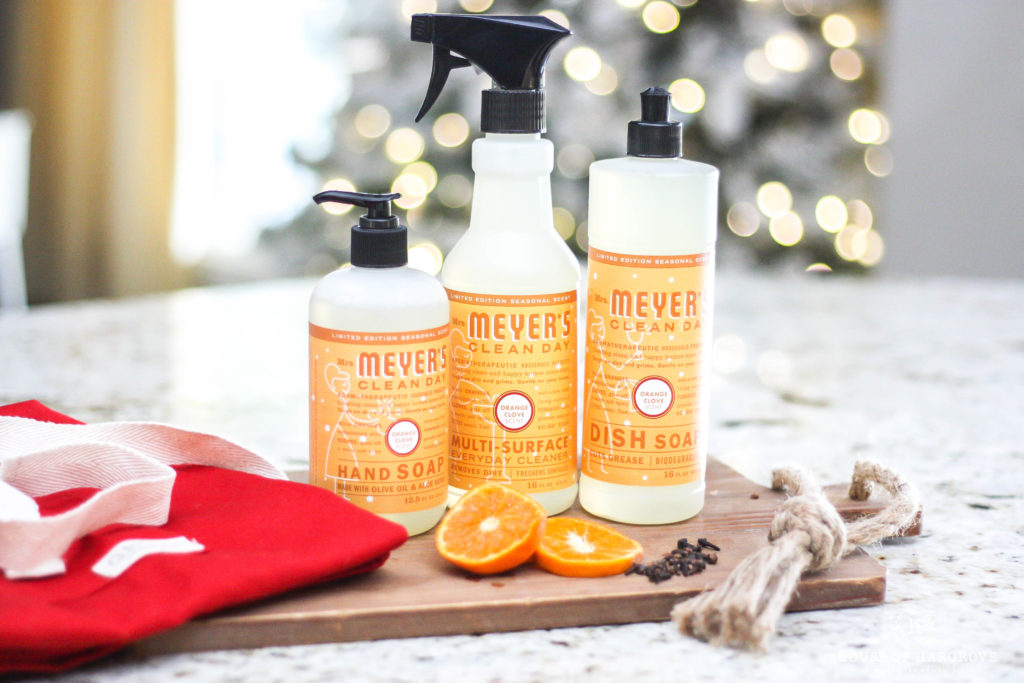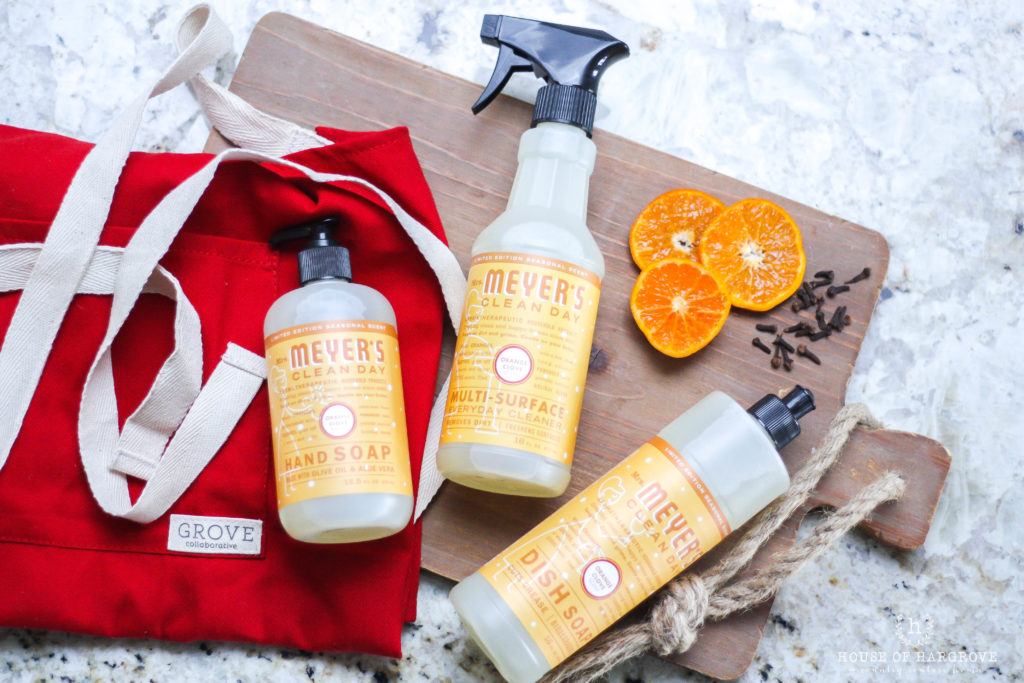 We go through hand soap and dish soap like crazy over here and this counter spray is the best ever!  It cleans everything, all the ingredients are plant derived so I feel better about having it all over my house with my kiddos around and it smells like a yummy room spray!  What is not to love?  And how cute is this red apron?!  Super festive for the holidays.  I will definitely be making my famous shortbread in it!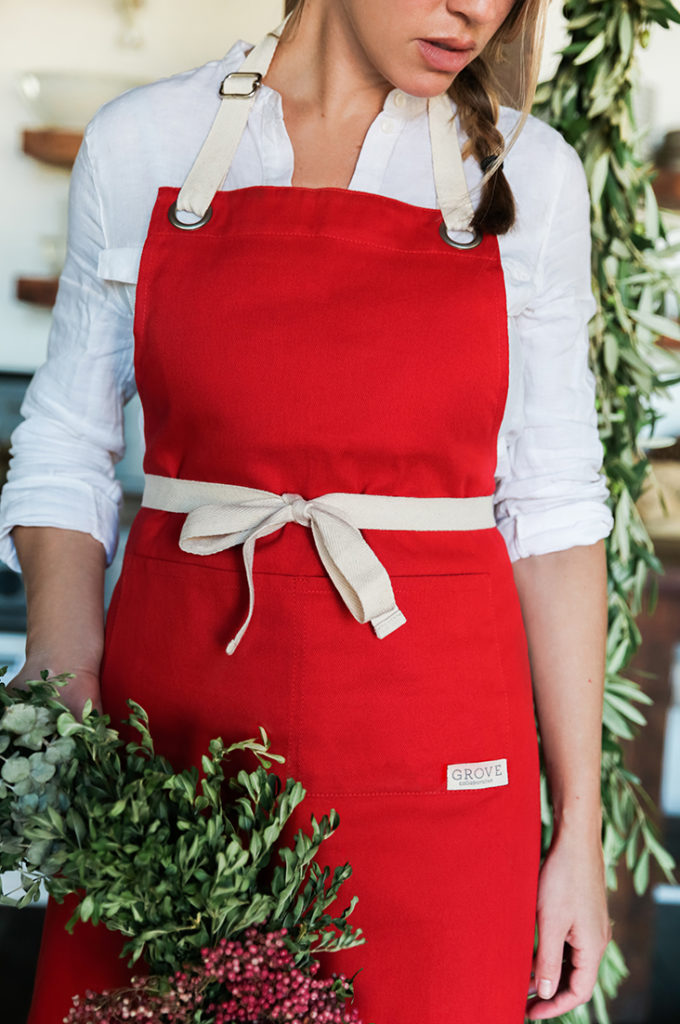 So like I mentioned….this time of year we are BUSY.  I like to simplify everything I can.  One thing that helps me do this is having my household products delivered from Grove Collaborative. Grove ships the best natural products from brands like Mrs. Meyer's, Caldrea, and Method to my doorstep on my schedule. 
If you haven't tried Grove Collaborative, this is the perfect time to do it. You'll be signed up for the free 60 day VIP trial when you place your first order using my link HERE. For 60 days, save even more with free shipping, free gifts, price matching, exclusive sales and personal service.
This offer is only available until 11/12 or while supplies last, so don't miss out! Here's how it works:
Sign up for Grove Collaborative here. You will receive the Holiday Offer for free when you sign up!

To receive this offer, your order needs to be a minimum of $20. Choose the combination of products and scents you love and receive your first box within a few days.

You made it! Click Finish & Pay and place your order.
IF YOU ARE THINKING…THIS IS A GREAT DEAL…BUT THEN WHAT?
There is no obligation at all.  After your first order you will receive an email from Grove each month seeing if you need anything else.  This is super helpful so you never run out of anything you need around your house.  You can order toilet paper or any of the essentials we all need each month.  Grove will also suggest items they think you will love.   You can cancel at anytime, but I think you will love GROVE as much as I do.  Products are great, prices are cheaper than you can find other places and it is just so convenient!
Save yourself some time this holiday season so you can spend it doing what you want to do.  Think of ways to simplify.  Let GROVE deliver the things you need every day so you don't have to go to the store.  Use GROVE to order some gifts….Caldrea Linen Spray is amazing!!  Most of all be present and make memories that will last a lifetime!!  Holidays (and holiday messes)….we are ready for you!
Disclaimer: This is a sponsored post by Grove Collaborative and includes affiliate links.  All opinions are my own & I only recommend products or services I use personally and believe my readers will enjoy.  Please note that we currently do not ship to Canada, Hawaii, or Alaska