Thank you so much T.J.Maxx for sponsoring my Spring patio makeover.  All opinions here are my own and I would never share products or companies with my readers that I did not truly love and shop at myself.
Texas has had the most beautiful weather lately (minus a couple of hail storms).  We are spending tons of time outside and this inspired me to give my patio a make-over.  It was in need of some freshening up and I want to enjoy it as long as possible before the 110 degree weather hits!  We actually spend lots of time enjoying outdoor living around here because our weather is pretty mild most of the year.  We love having friends over and entertaining outside so the adults can eat/talk and the kiddos can play in the yard!  I wanted to add some comfort and decor, but didn't want to spend a ton of money so I went to one of my favorite places to find everything I needed….T.J.Maxx!  They seriously have the most amazing decor that won't break the bank (yall know I love the look for less) and you can shop everything ONLINE (entire source list below)!!!  Did yall know that?  You don't have to go to the store and shop around….you can do everything from the comfort of your own home at tjmaxx.com.  How amazing is that?! Beautiful items, amazing prices and super convenient…win, win, win!
Spring Patio Makeover
I love pillows!  They add a large impact, are not expensive and you can change them out easily to change the entire look of a space!  Tjmaxx.com has the most amazing quality pillows.  They are large, plush and all of the ones I chose were down filled.  These particular pillows are not "outdoor pillows", but we have a large covered patio so they don't get wet or anything.  I am loving blues and greys lately and these pillows were exactly what I was looking for.  The Ikat and dots (similar) add color and pattern that really brighten up the space!  I still need to add a rug, but I'm holding out until I find exactly what I am looking for.  Tjmaxx.com is constantly getting 100s of new arrivals each week so I can just hop online real quick and see the latest.  Such a time saver!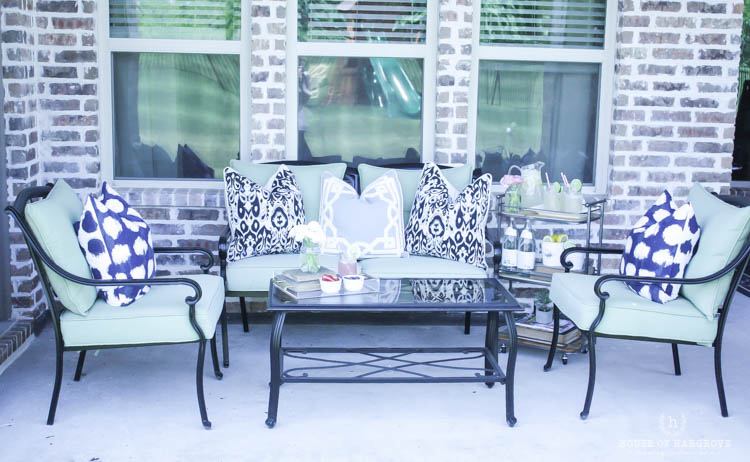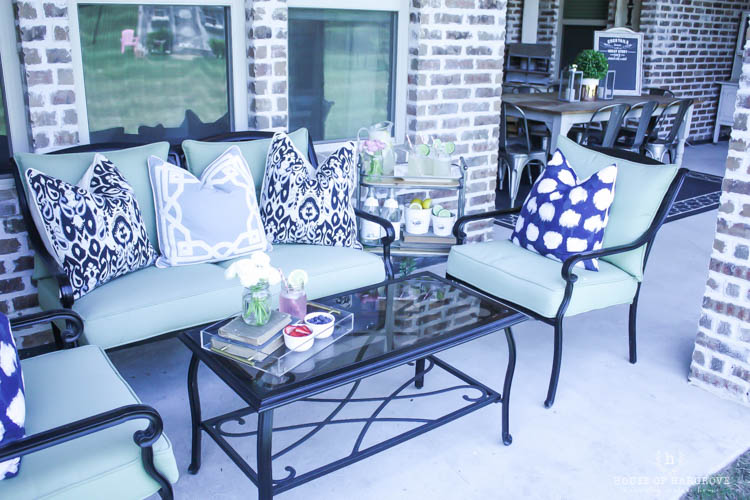 I love a good serving tray.  They are pretty and super functional.  Cut up some yummy fruit, add some drinks and it is very easy to carry from inside to out so you can enjoy some treats!  This clear acrylic (similar) tray with gold handles is so pretty and very durable for outdoors.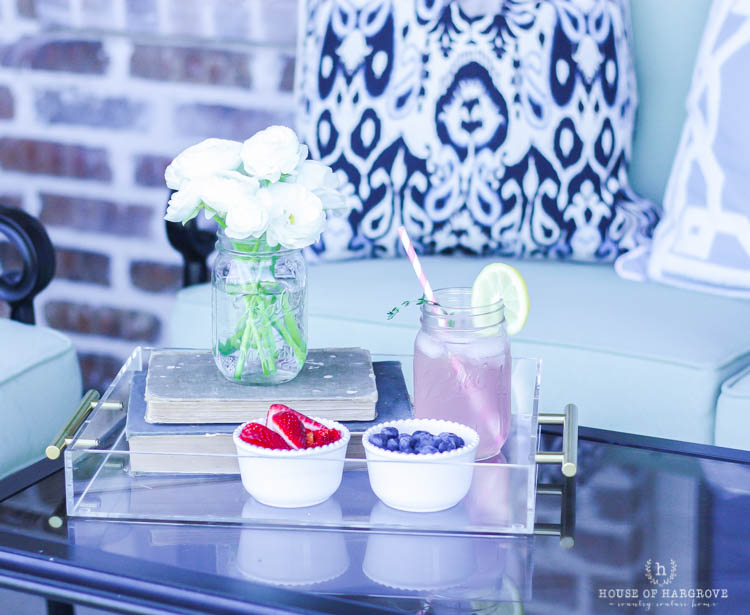 Bar carts make great extra storage for an outdoor space.  You have extra shelves to store what you need and it wheels around so you can move it to different areas if your guests move.  Our patio is divided in 2 "sections".  The cozy area with these chairs/sofa and then we have a "dining" area with a large table and chairs.  This cart will be super functional because it can come with us as the party moves.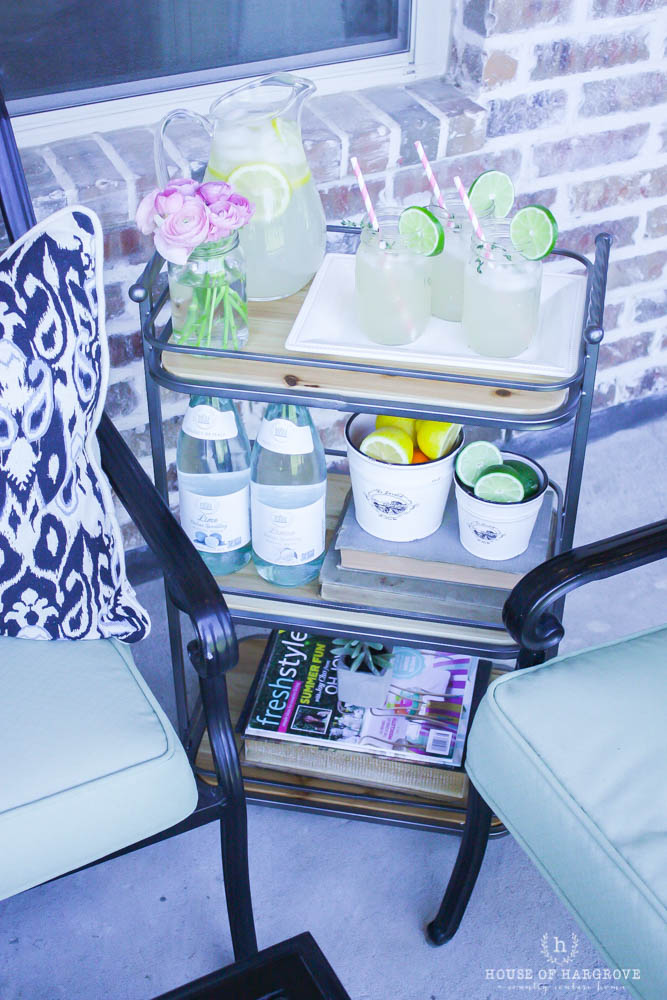 I just had to focus on the pillows one more time….I mean how beautiful are they?  I grouped them all together so you can see the color and the textures.  The polka dot pillows (similar…grey color) are reversible so one side the background is blue/dots white….and the other side is the opposite!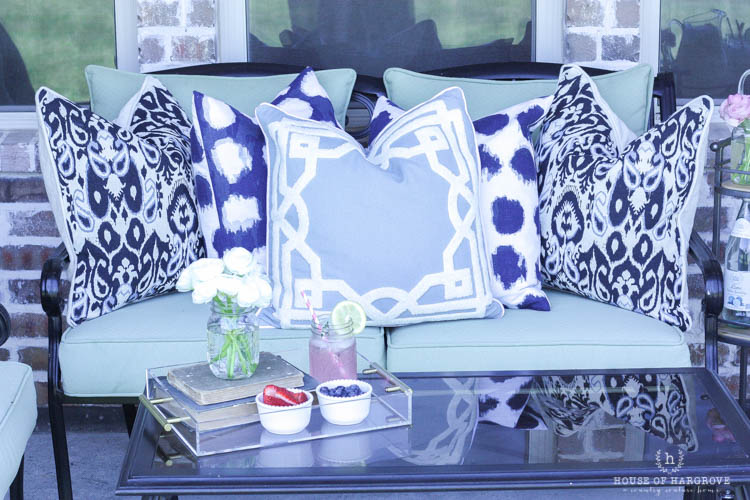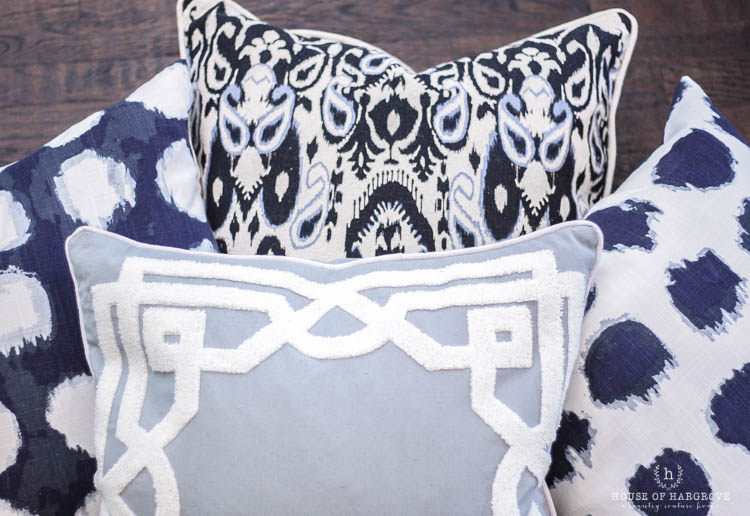 Welcome to the "dining section" of our patio.  This is where we like to entertain when the weather is nice.  When I saw this chalkboard sign I had to have it.  How funny is that?! "Cocktails, because no great story ever started with a salad".
I like a simple centerpiece so it is pretty, but can be moved easily if we need the space on the table.  These LED candle lanterns are perfect because at night they add nice light and the topiary is so pretty.  It was bigger than I expected and looks so real!  I love a plant that is no maintenance and this does the job.  The rose gold metallic base also really caught my eye.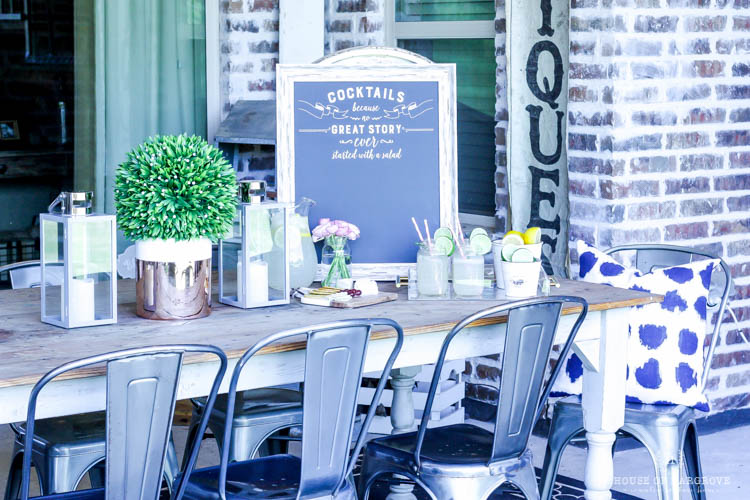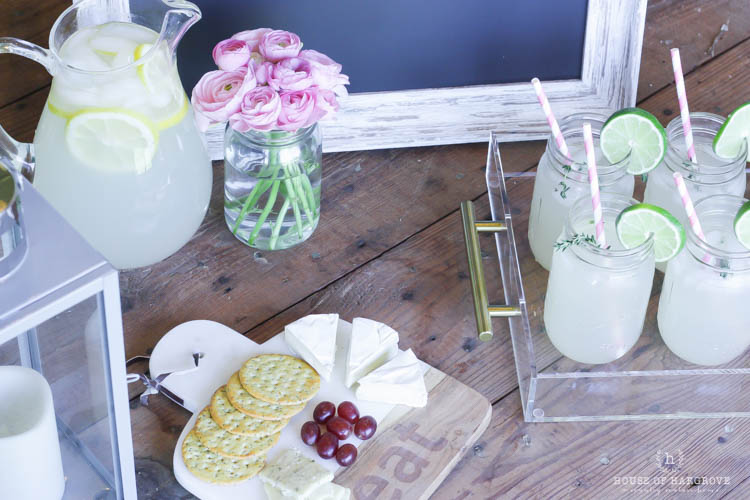 How adorable is this cheese board?!  I love marble and wood mixture and its perfect for some snacks while enjoying our cocktails!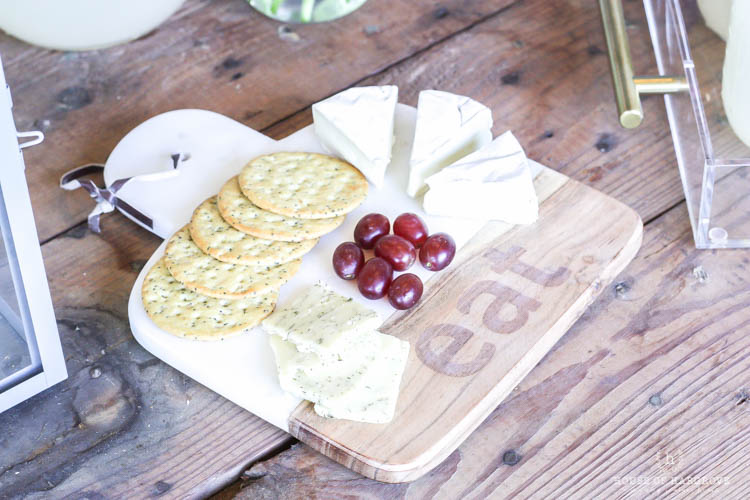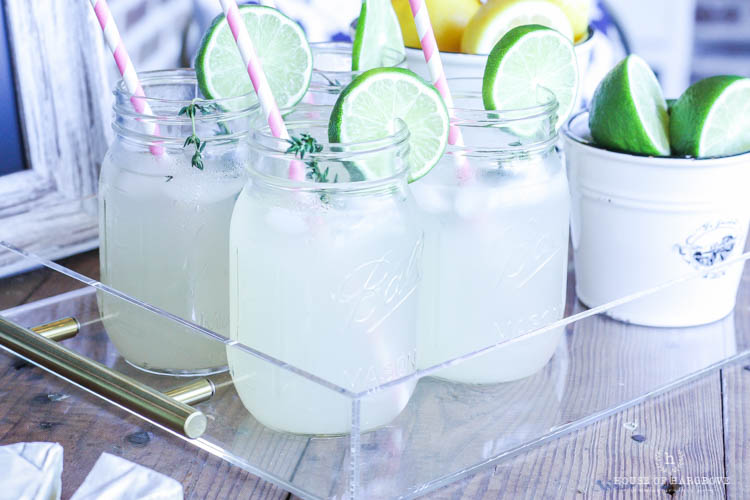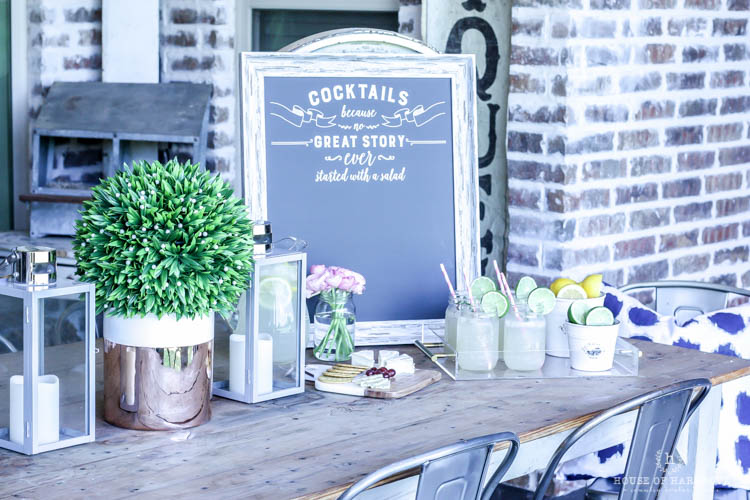 We have already been enjoying our new patio…just had dinner out there last night.  It is amazing how a few new touches can transform the entire space.  Hope you enjoyed our Spring patio makeover and I highly recommend shopping online at Tjmaxx.com!  They have brand name items at the best prices, you get free shipping when you spend $89+, you can return anything to the store so you don't have to mess with return labels, etc. and they constantly get new items.  I love hopping on and seeing the great new finds….it is like a treasure hunt!
Below is the entire source list from my Spring patio makeover.  Hope you find some amazing things to update your home or your wardrobe…they have great clothes/accessories too!
SOURCE LIST for our Spring patio makeover:
Acrylic Tray (mine is sold out….similar here)
Ikat Pillow| more here
Polka Dot Pillow (similar)| more here
Grey Bordered Pillow| more here
Faux Succulent (mine sold out….similar here)
White & Black Planters (mine sold out….similar here)
Faux Topiary| more here
Chalkboard Sign| more here
OTHER ITEMS I LOVE @ TJMAXX.COM