Valentine's Day is around the corner, but don't worry…I have you covered!  Here are some cute gift ideas for the ladies in your life!  Whether you are shopping for your wife, girlfriend, the sweet friends in your life, a treat for yourself, etc there is something for everyone in this Valentine's Day gift guide.
VALENTINE'S DAY GIFT GUIDE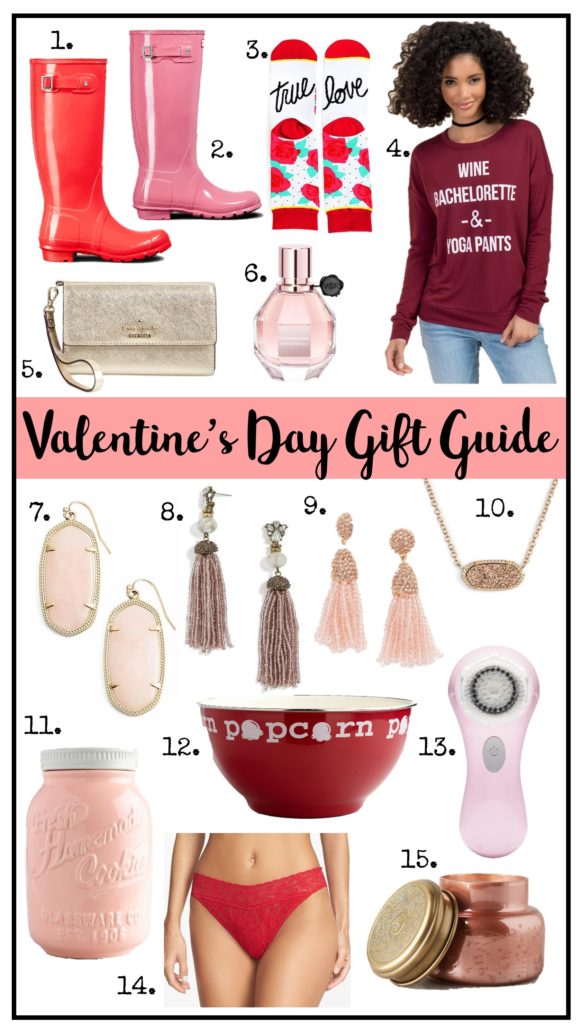 1. HUNTER BOOTS: Coral (ON SALE) | 2. HUNTER BOOTS: Pink | 3. CUTE SOCKS | 4. WINE, BACHLORETTE & YOGA PANTS SHIRT | 5. KATE SPADE IPHONE WRISTLET  Every girl needs this | 6. FLOWERBOMB PERFUME | 7. KENDRA SCOTT ELLE EARRINGS: Rose Quartz & Gold | 8. TASSEL EARRINGS | 9. PINATA TASSEL EARRINGS: pink | 10. KENDRA SCOTT ELISA NECKLACE: Rose Drusy/Rose Gold | 11. MASON COOKIE JAR: pink. Fill it up with some of her favorite cookies (use code: savebig10 at checkout to save 10%) | 12. POPCORN BOWL: add some movie tickets or a movie/candy and make it a movie date night gift in the bowl (use code: savebig10 at checkout to save 10%)  | 13. CLARISONIC MIA: Pink | 14. HANKY PANKY PANTIES: best selling most comfortable underwear | 15. CANDLE-Capri Blue in Volcano, beautiful jar
click IMAGES BELOW to shop

These earrings also make a great gift if you are looking for something inexpensive for your friend/daughter/daughter's friends, etc.  They are from Nordstrom, look just like the Kate Spade earrings, BUT they are ON SALE for ONLY …
$9.98 a PAIR…get them HERE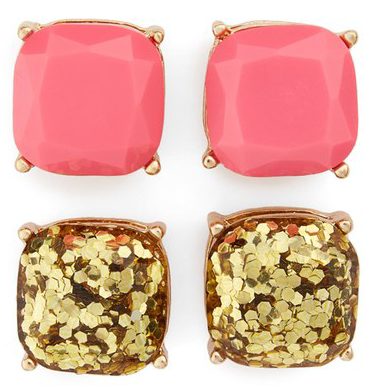 Hope everyone has a wonderful Valentine's Day!!