Happy Sunday! I hope everyone has had a great week! Today is our last day of Spring Break and I am worn out! We took the family to San Diego to see all of the fun family attractions! First up was LEGOLAND, the boys are really into Legos so this was a fun treat! The next day we went to SeaWorld and we all agreed that was our favorite day of the whole trip! The next day we went to the San Diego Zoo! It was a beautiful day and we all enjoyed seeing so many unusual and beautiful animals.  That evening, we went to the World Baseball Classic game at Petco Park.  What a stadium and what a game! The boys loved it and so did my husband! I am happy to be home though, there's nothing better than sleeping in your own bed! I had a fun "Changing Room Chat" session at Athleta before we left on our trip and I found lots of great athleisure wear to take on our trip! I will show you my favorite finds from Athleta, some great shoes that are on sale, a roundup of my favorite clutches right now and other random finds! PS – ANTHROPOLOGIE is offering 20% off full price items for Anthro members with code: SPRINGPERK and today is the last day!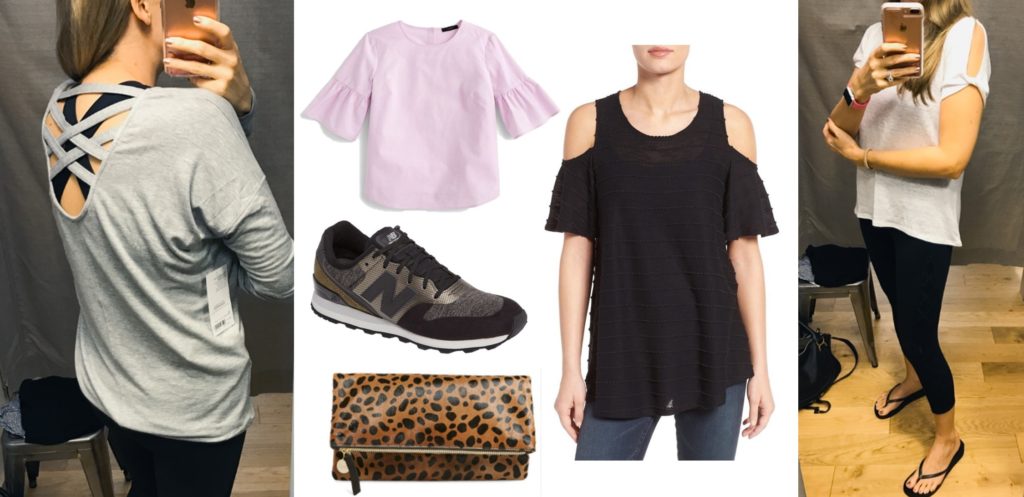 Lets start with my Athleta finds! I have a mini Changing Room Chat for you guys with some of my favorite athleisure wear from Athleta right now.  I LOVE this TEE so much, the twist detail on the sleeves is so cute! I wouldn't work out in this top, it's a lightweight washable, linen.  This is the white and it's available in lots of other colors! It's also available in a navy and white STRIPES that would look so cute with white denim! It runs true to size.  I tried it on with these LACE CAPRIS and I love them! They have a high waist and I love the lace detail up the sides.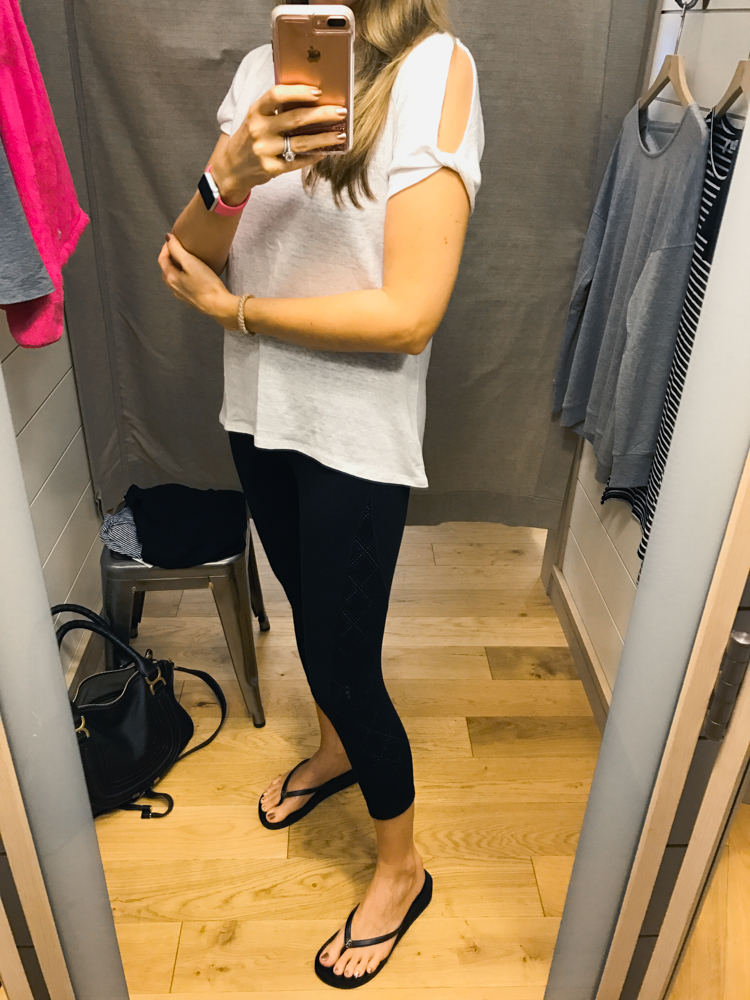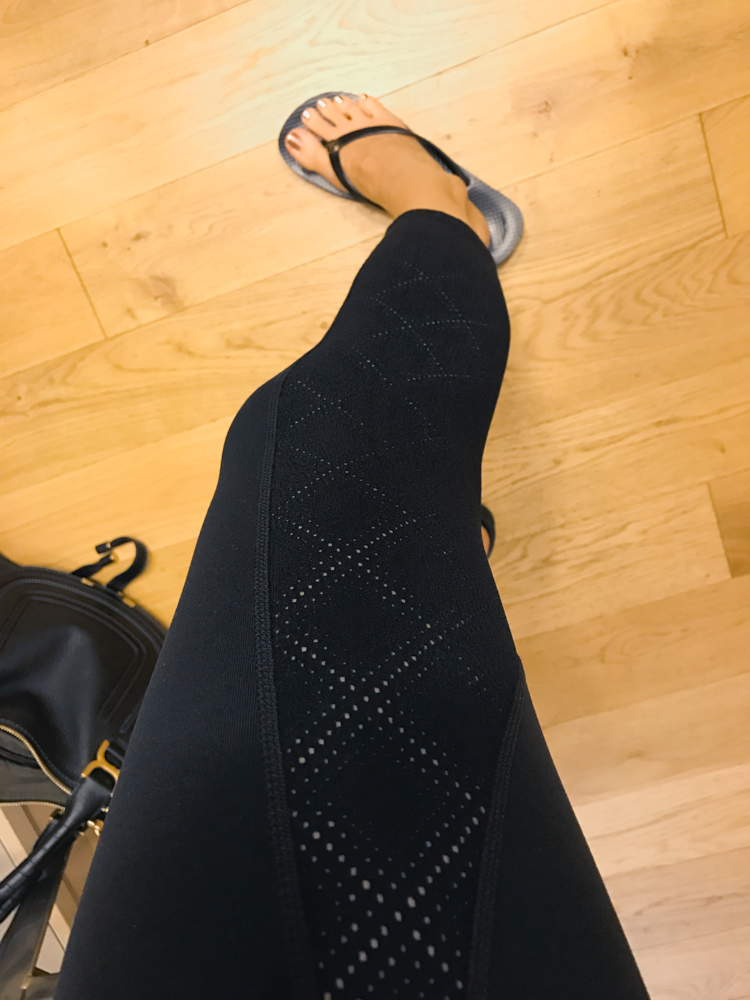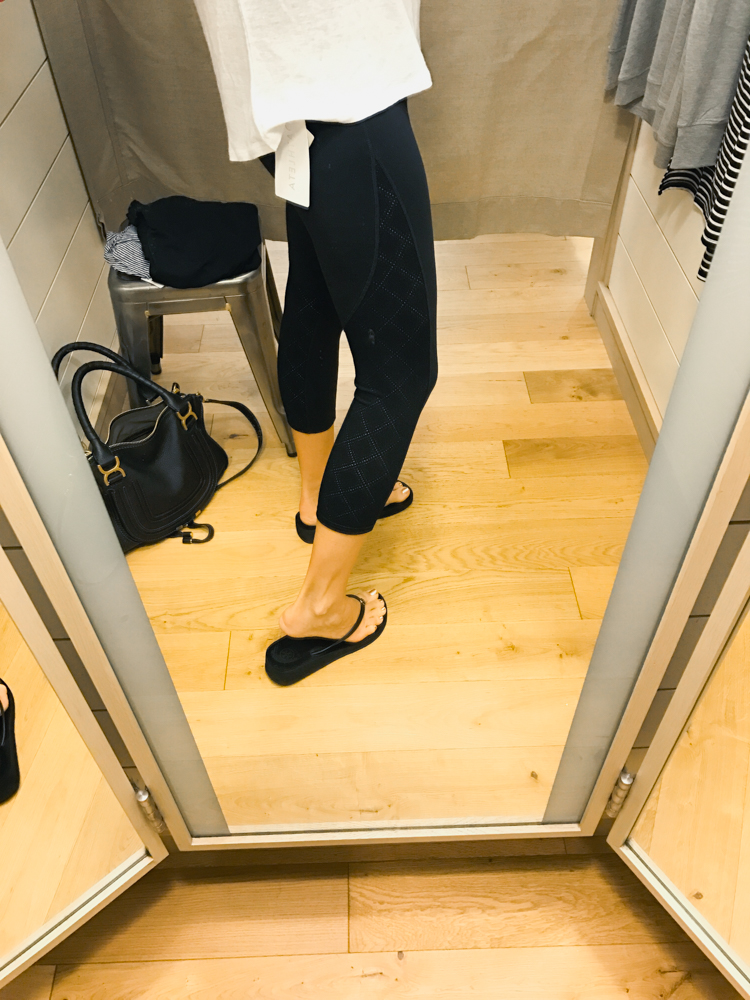 I also love these MESH 7/8 TIGHTS! The lines are great up the side and flattering on the backside. 😉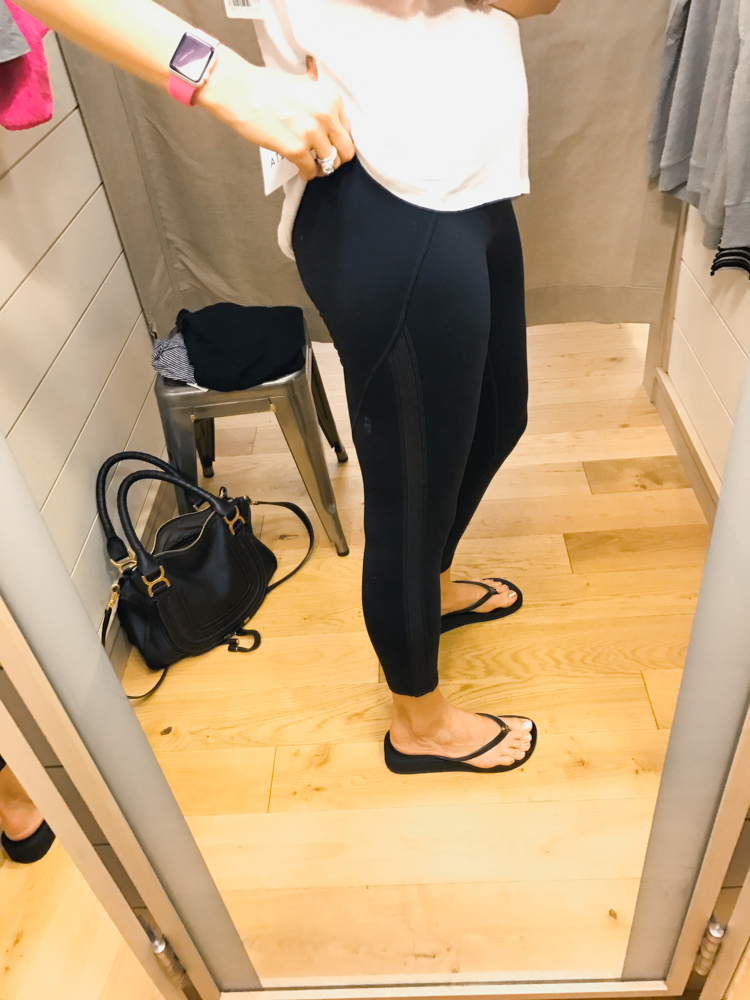 I'm sure you all appreciate my fancy photography in the changing room!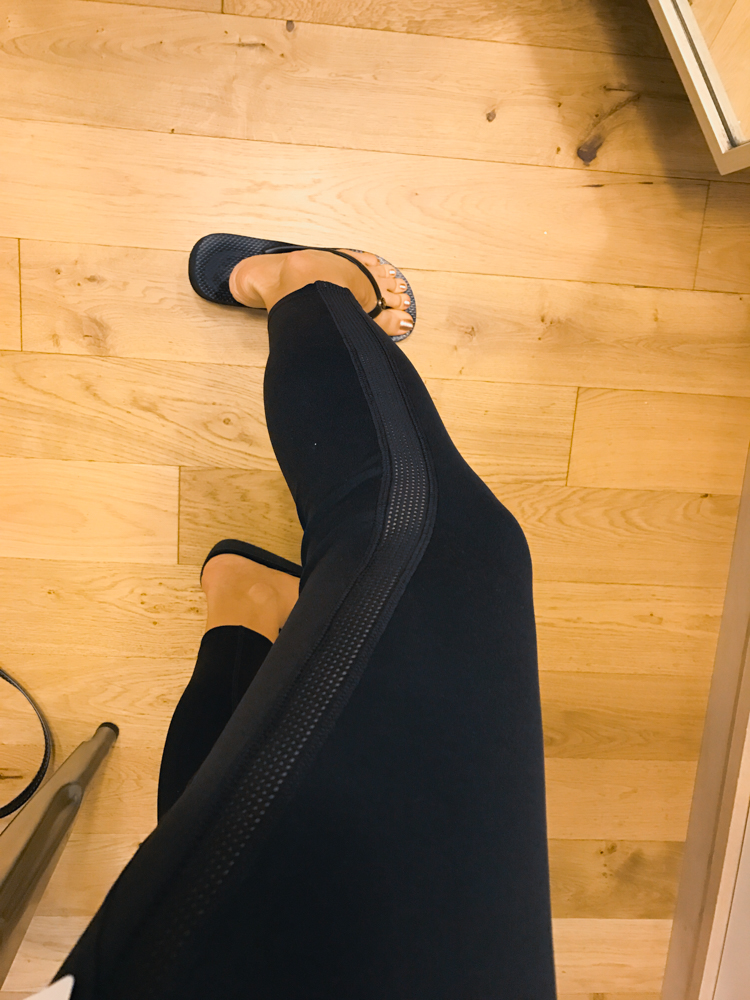 I'm not usually one for sleeveless shirts, but this SIDE SPLIT TANK is sooooooo cute! The fabric is soft and the fit is great! Sizes are already selling out! I appreciate that the arm opening doesn't gap too low on this tank, meaning that you can't see my bra.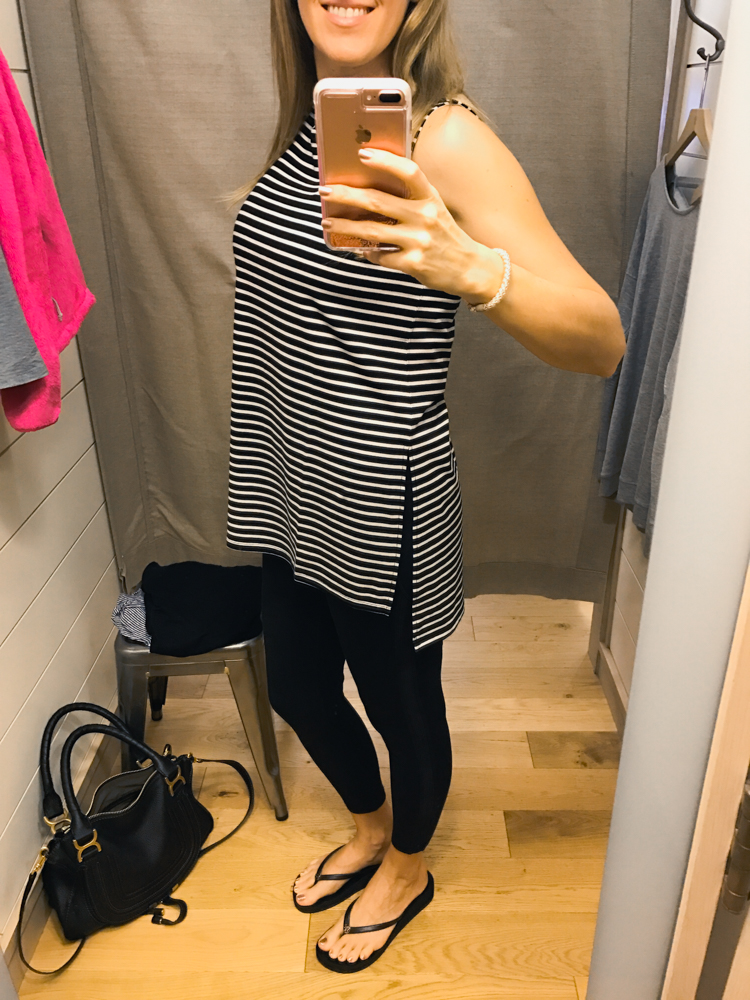 I loved this one so much that it came with me to San Diego! Here I am about to get on the gondola ride at the San Diego Zoo! I wore it with my favorite DENIM JACKET because it was chilly in the shade.
Athleta has my favorite lightweight sweatshirts! They typically run large, so I do size down one size in these.  This SWEATSHIRT has the cutest cross back! I'm not the only one who loves this sweatshirt, check out the reviews, 4.7 stars out of 113 reviews! I love how they call it the CYA Sweatshirt because it "Covers Your Assets"! Ha ha! It comes in Navy, Black or this Grey.  These TIGHTS are amazingly compressive and you just feel like everything is smoothed out and held in place with their Sculptek fabric.  They have really cool mesh details.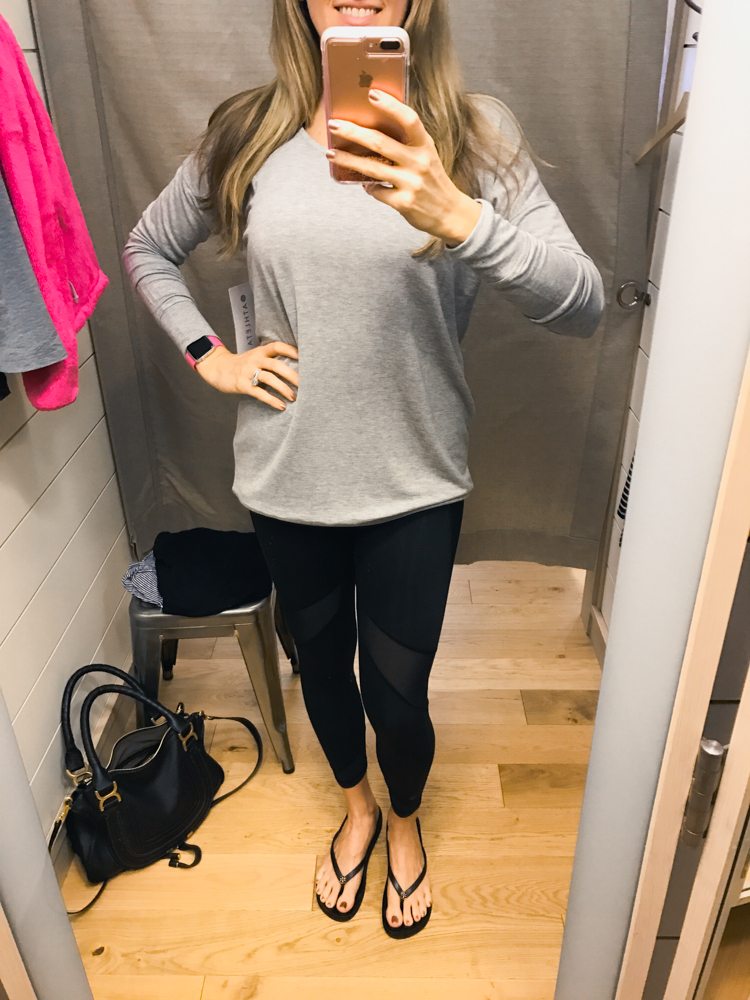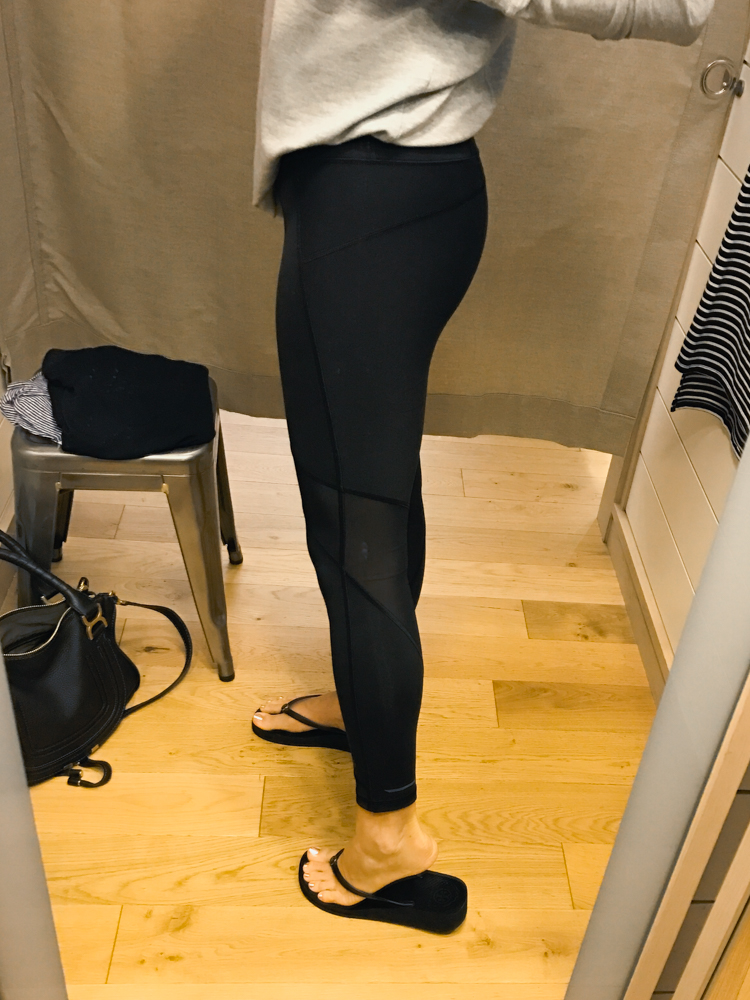 Here's the back of the sweatshirt! So cute!!!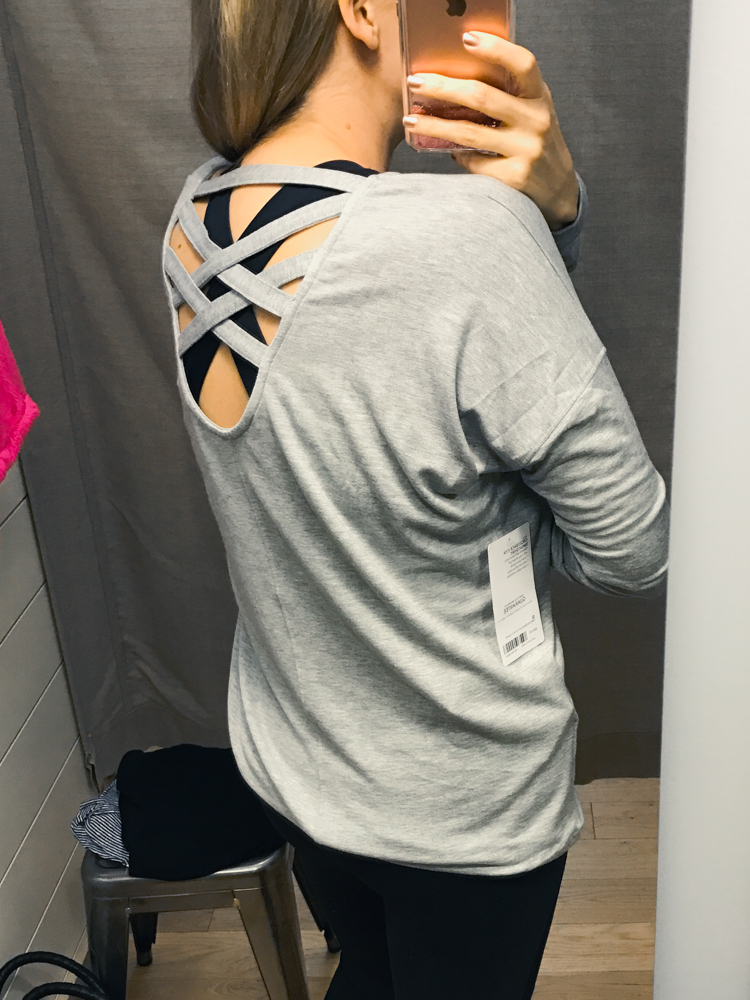 This is the other really cute SWEATSHIRT they have right now! The sides are cinched, I love how it fits.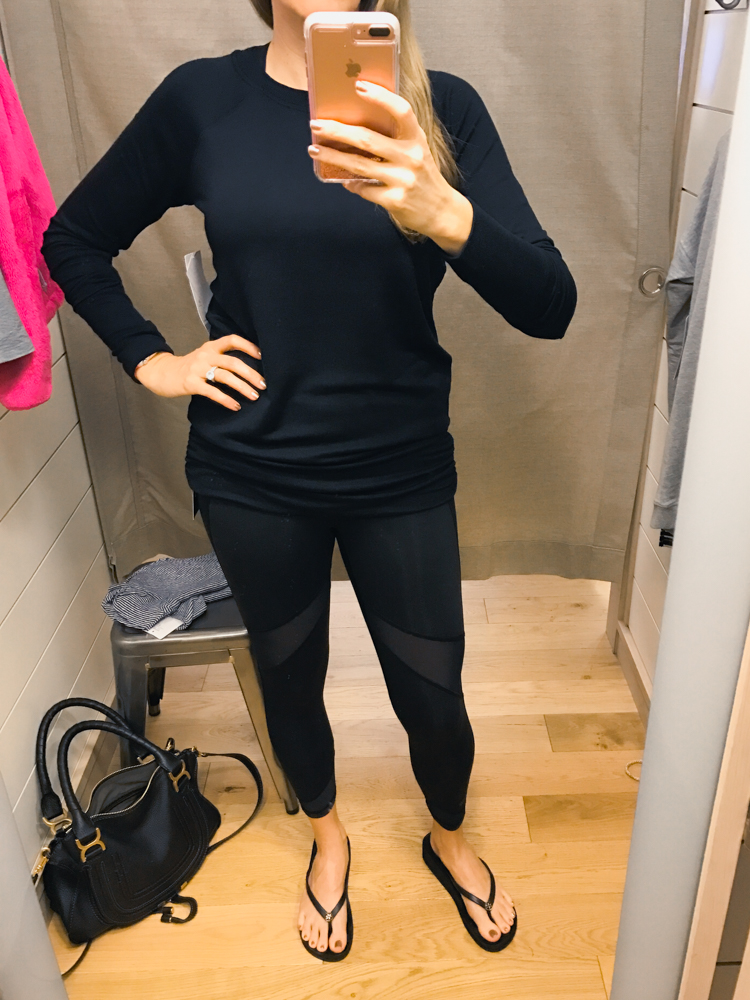 Remember this cute TOP that I featured a while back? It's on SALE! Grab yours quickly, sizes and colors are selling out quickly.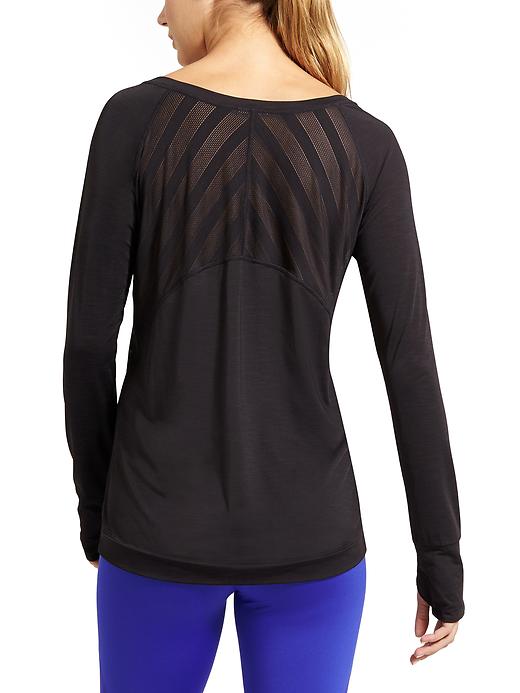 I even wore it on vacation at LEGOLAND, it was perfect for a sunny, cool day! I thought it would be funny to pose like the Lego statue, please don't judge me! 😉 I did have a light jacket on because it was pretty chilly in the morning.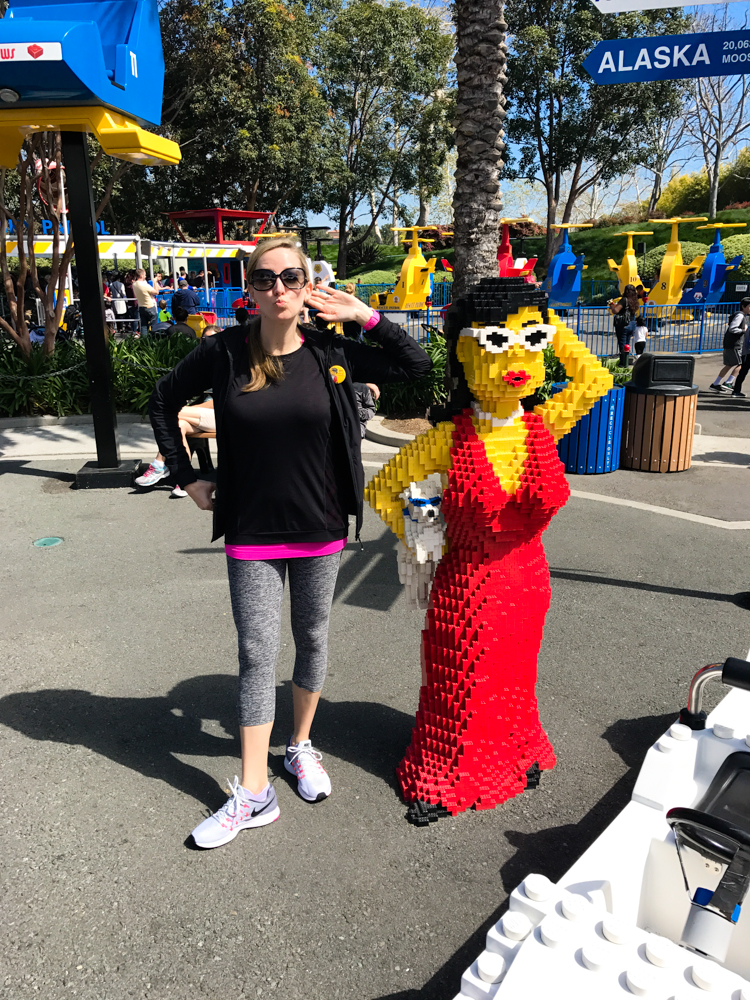 I ordered this TEE, so I'm sorry that I don't have a picture in it to show you! I love the cut of this and the length of the sleeve! It's available in lots of great colors!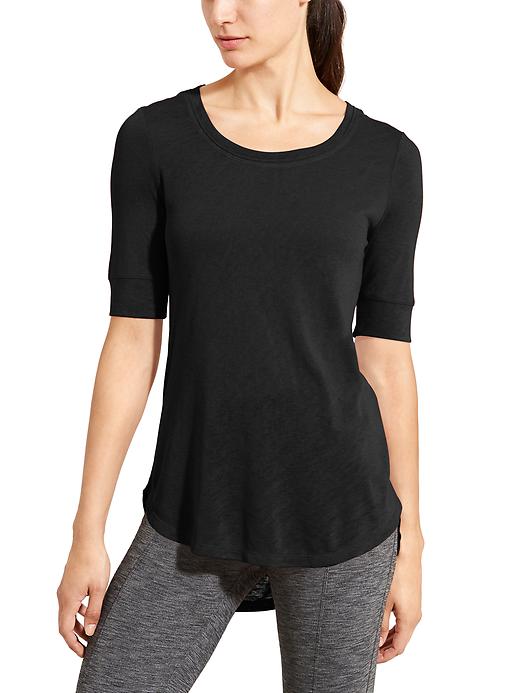 They didn't have these in the store for me to try on in my size, but these TIGHTS are really cool with the shiny snake pattern!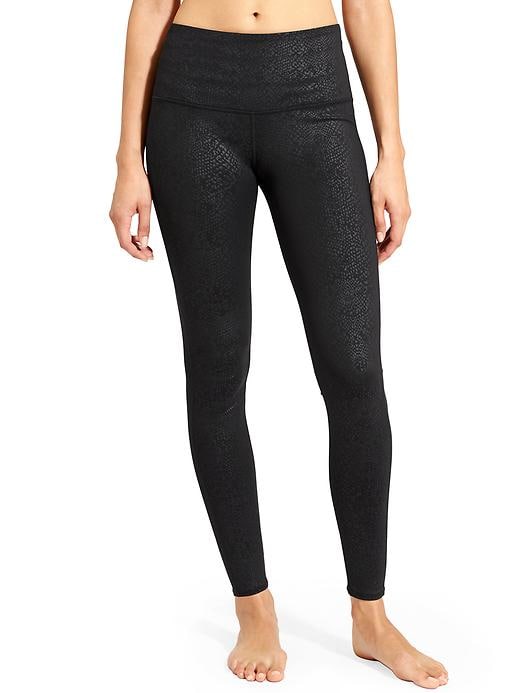 Since we are on the topic of Athleisure wear, I also wanted to show you these LEGGINGS! They are sooooo cute and the price is great!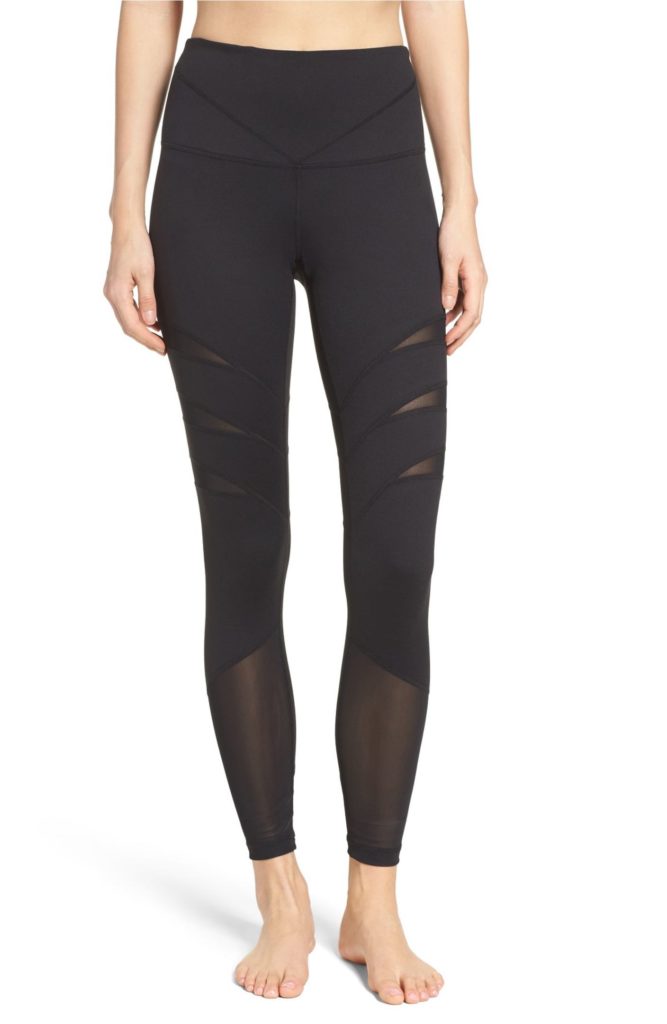 Here's another SALE ALERT for you! Remember these Spanx Faux Leather LEGGINGS??? They are on sale right now, so snatch them up while you can! They hold everything in and are still comfy!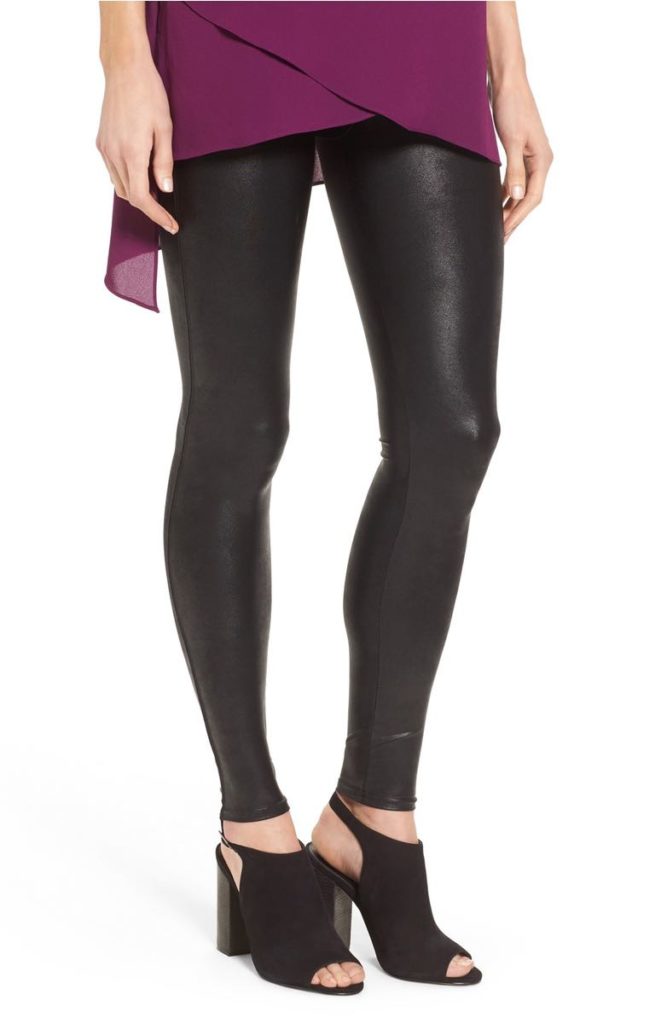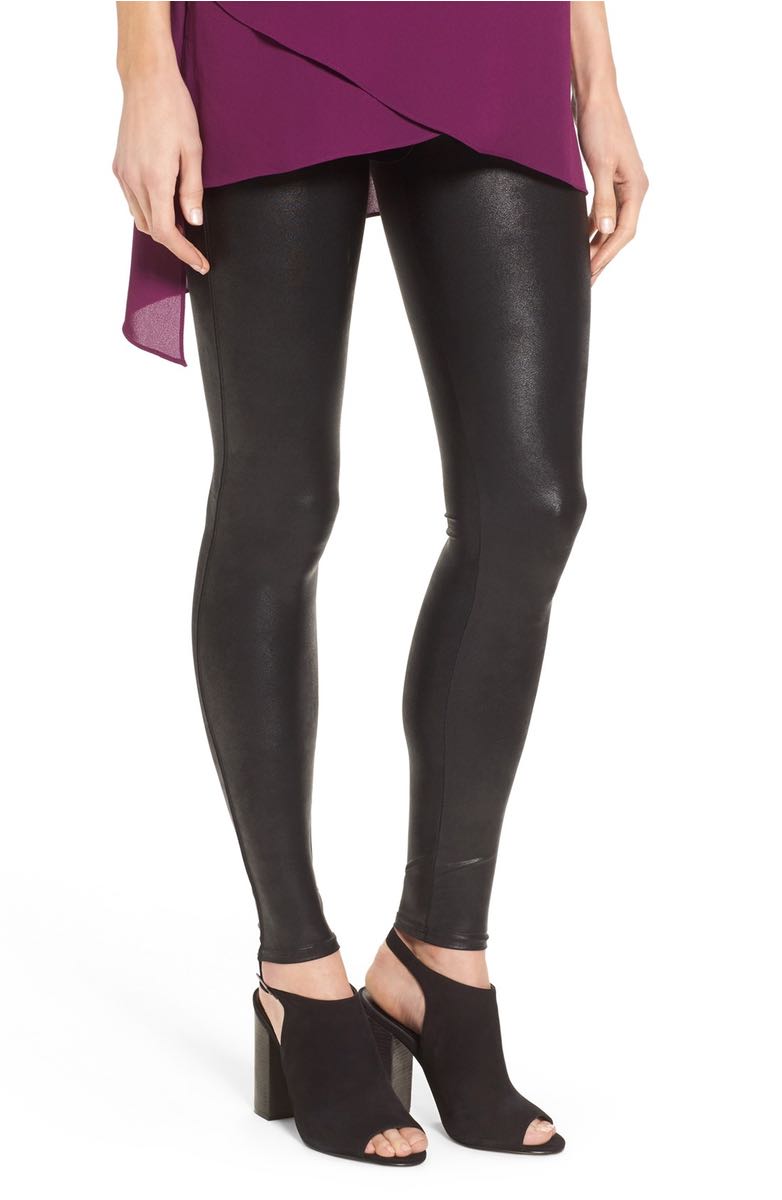 Here is a random fun find for you! My hair stylist told me about these awesome HAIR TIES and they just started carrying them at Nordstrom! Yippee! They are also available in an extra strong grip POWER version now and they are fantastic at holding my hair up without damaging it! They come in lots of great colors and would be great for your daughter's hair too, if applicable.  They remind me of the old phone cords!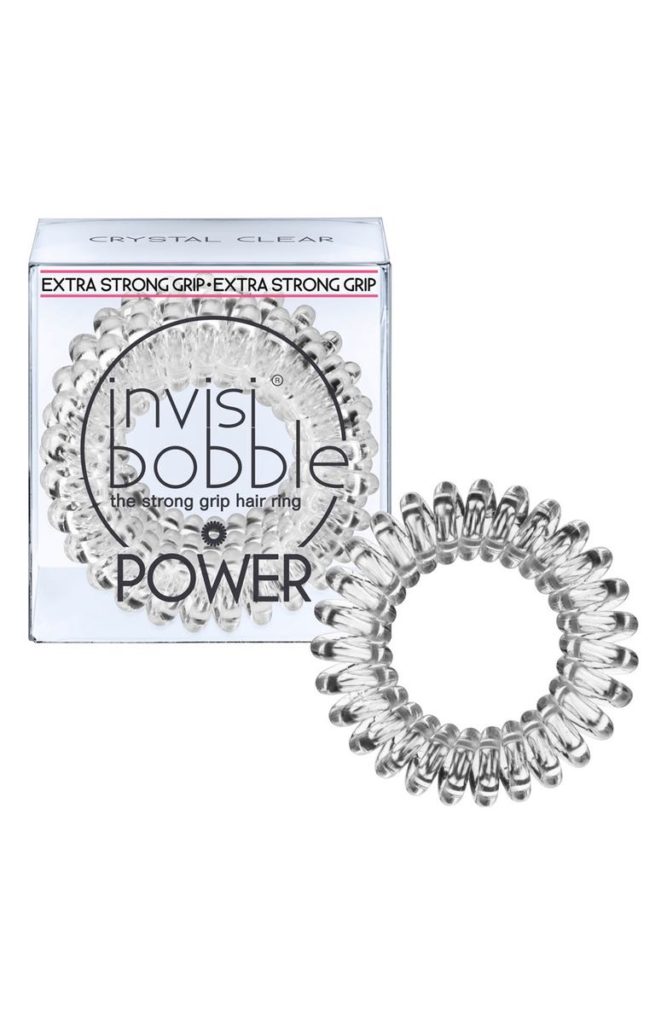 This is the perfect transition into shoes because these would look super cute with any of the athleisure wear above! I love New Balance Tennis Shoes and THESE are the cutest I have seen in a while! These aren't on sale, but they are selling out!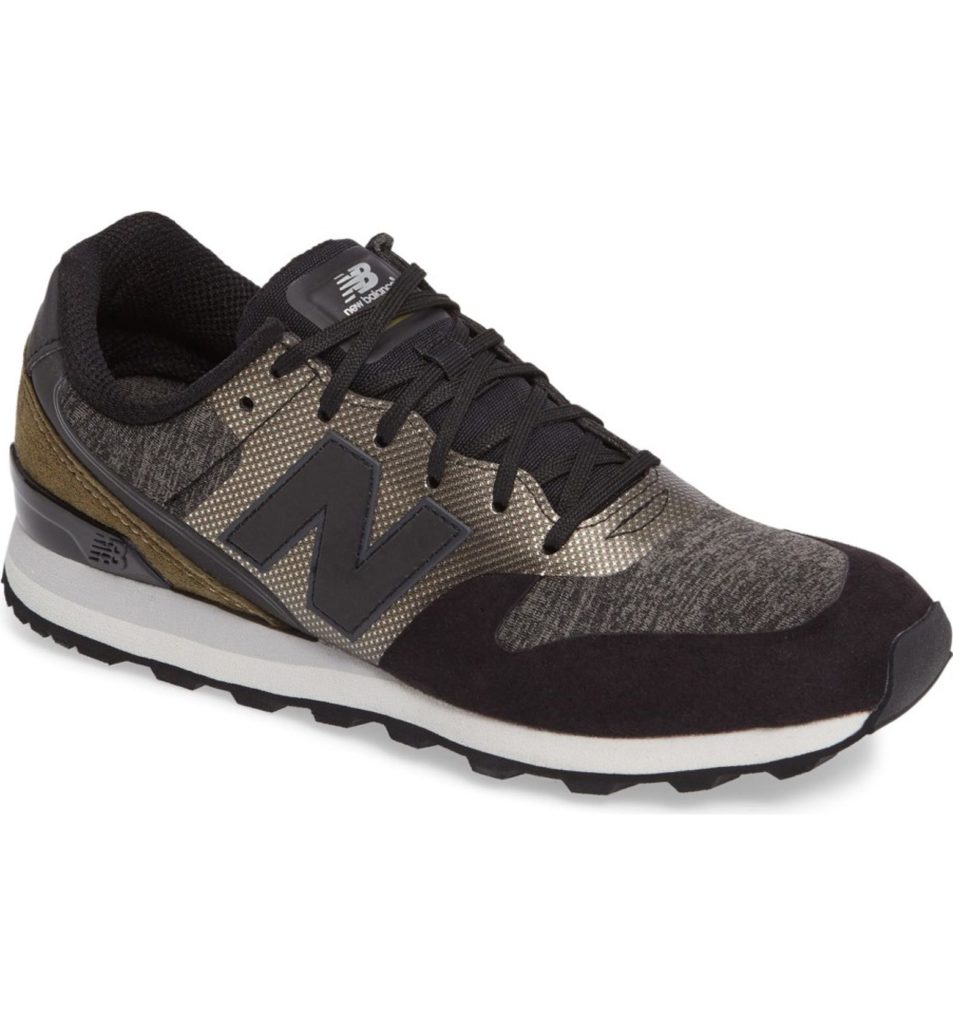 One more pair of shoes that aren't on sale, but these might as well be because the price is amazing for BIRKENSTOCKS! They are available in 5 fun colors and you can bet your bottom dollar that I ordered them in pink! They should be here soon, so I will be sure to share a picture when mine come in! I can't wait! They have been backordered for months.  They will be so cute for the Summer to wear to the pool or run errands in!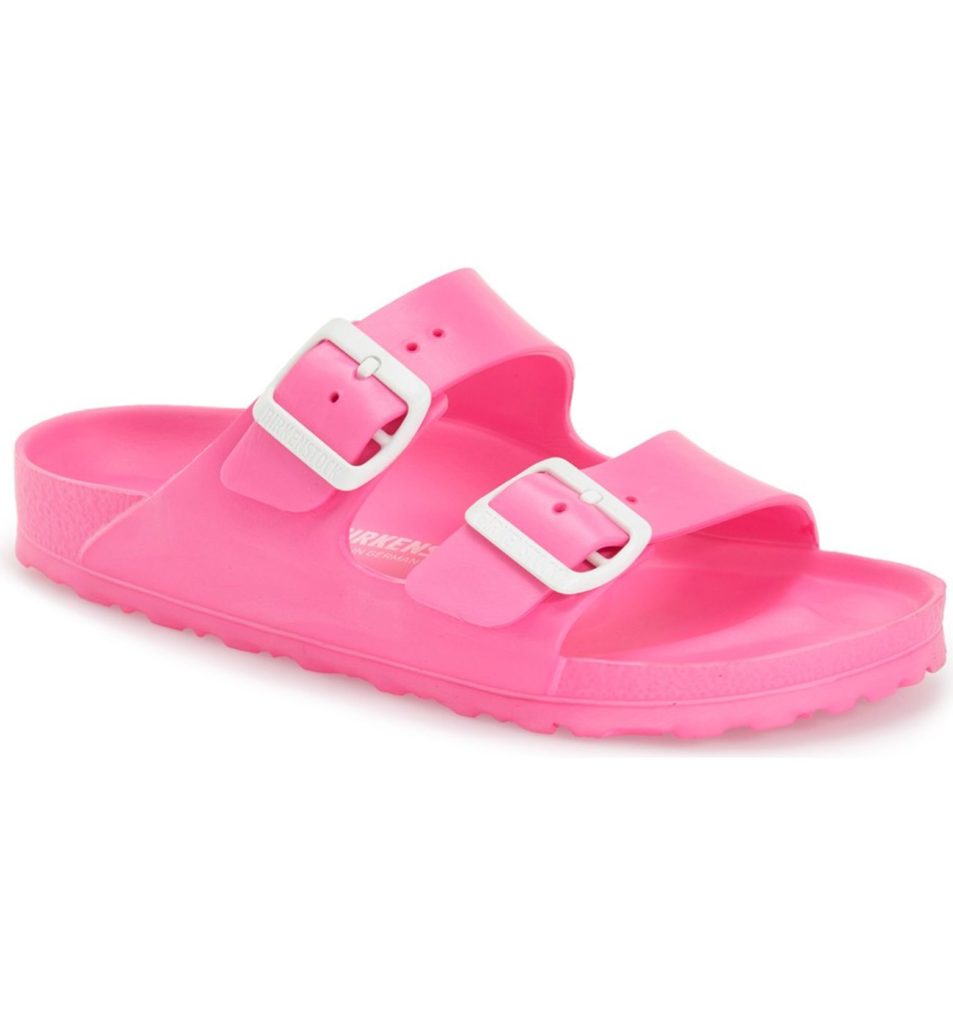 Here are some great shoes on sale right now! I loved these SLIP-ON SNEAKERS and I love them even more for this price.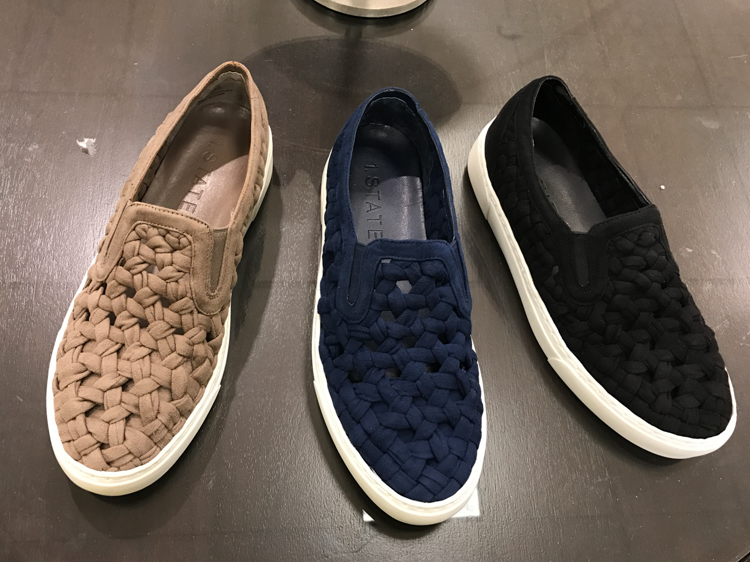 These T-STRAP SANDALS also went on sale! They are perfect to wear with dresses or skinny jeans! Other colors are available too, I am just really partial to this luggage color right now.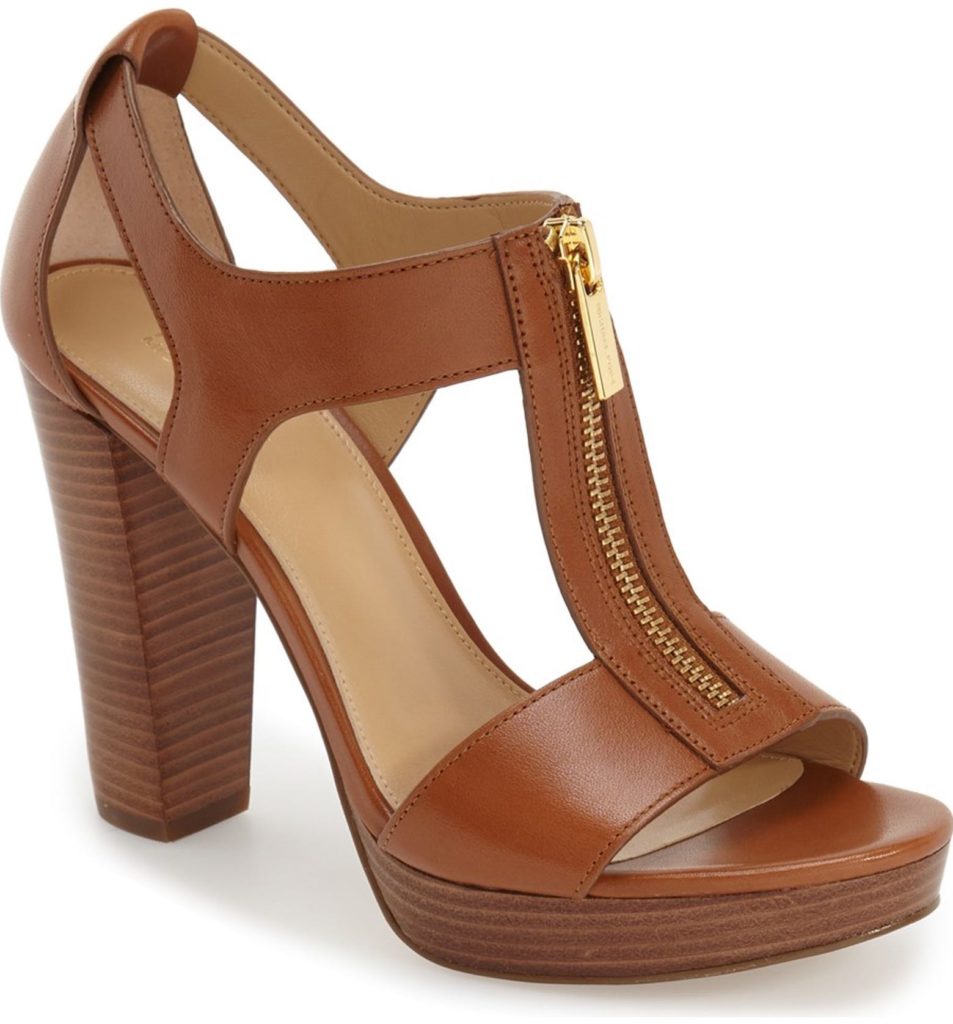 There are 3 clutches that I am loving right now! They are all versatile and will go with just about anything! The rose gold one is a metallic, shiny bag with cool zipper edges.  The leopard clutch is fantastic quality and is genuine calf hair.  The blush suede clutch is so cute in person and has those cute gold rings that you can use as a handle.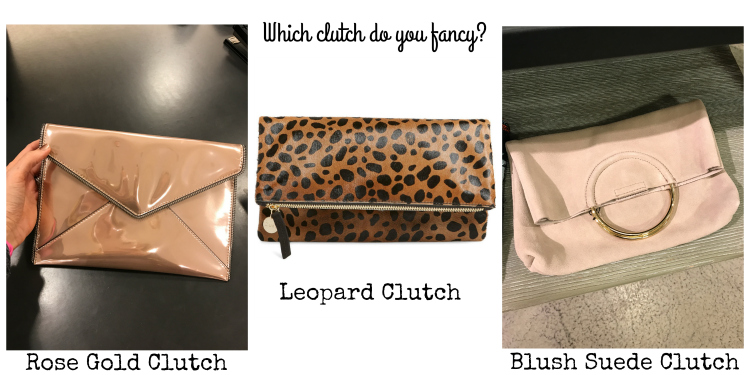 ROSE GOLD CLUTCH | LEOPARD CLUTCH | BLUSH SUEDE CLUTCH
I have two more random finds for you guys today, thanks for hanging in there! I always have this problem, I have too much to share! Did you know that Nordstrom is carrying some J Crew items now? I was so excited to see their classic clothes in my local Nordstrom! How cute is this pink, BELL SLEEVE TOP?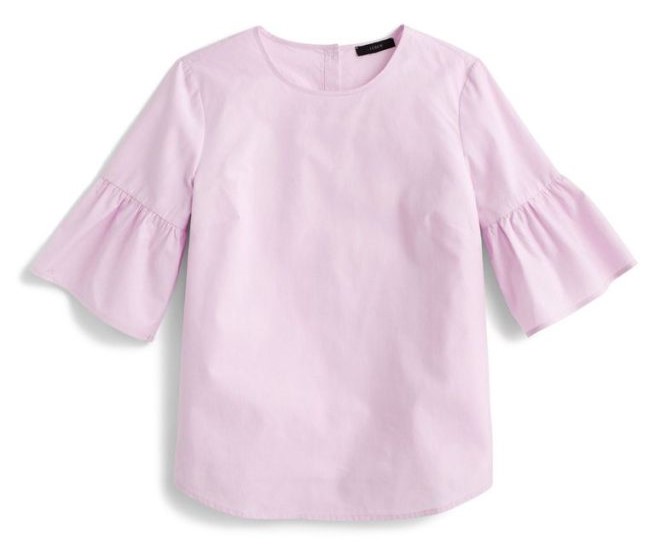 I've saved the best for last again! I am obsessed with this OFF THE SHOULDER TOP!!! They also offer it in ivory, orange, black with white stripes and navy with ivory stripes.  This trend isn't going anywhere anytime soon and this is my favorite option yet! I like it because you can still wear a normal bra with it without the straps showing.  The fit is fantastic and it has a great texture.  It is on the sheer side, so especially in the ivory, you might want to wear a camisole underneath it.  The black one is fine without anything extra underneath.  I love this top and the price is great too!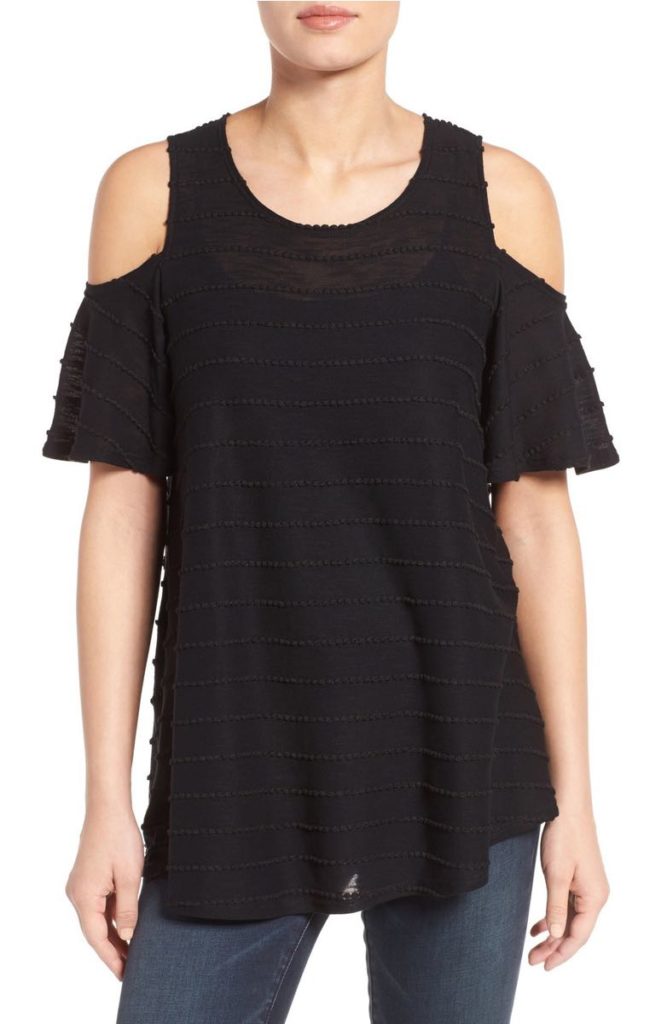 That was a lot of athleisure, sale shoes, clutches and random finds! So many cute things and so little time! Thanks for reading all of my shopping ramblings and I hope everyone had a great Spring Break.  I'll see you next week!

Learn more about Barrett & see all of her posts HERE.
Follow Wear it with Barrett on Instagram and Facebook.
**This post contains affiliate links. If you purchase I may receive a small commission. Thank you!**