Hi Everyone! I hope you all had a wonderful Thanksgiving! I really enjoyed the time with family and the lack of our normal routine! This time of year is so busy! I have also been spending lots of time shopping so that I can bring you guys some amazing deals this weekend! I have had waaaaayyyyyyyy too much fun shopping! Things are selling out really quickly, so clearly I am not the only one shopping this Holiday weekend! I have been on the hunt for new boots.  From over the knee boots, to cold weather boots to some versatile cognac booties.  I'm going to review my favorites from each of those categories and style them for you with some new AMAZING jeans and other must have finds! Lets begin with over the knee boots.  By the way, if you missed my ULTIMATE GIFT GUIDE last week, please check it out because a lot of my favorites are on sale this weekend! I also rounded up the best deals from Nordstrom, Vineyard Vines, Athleta, Kendra Scott, Tory Burch and Madewell! So buckle up, there is a lot of good information!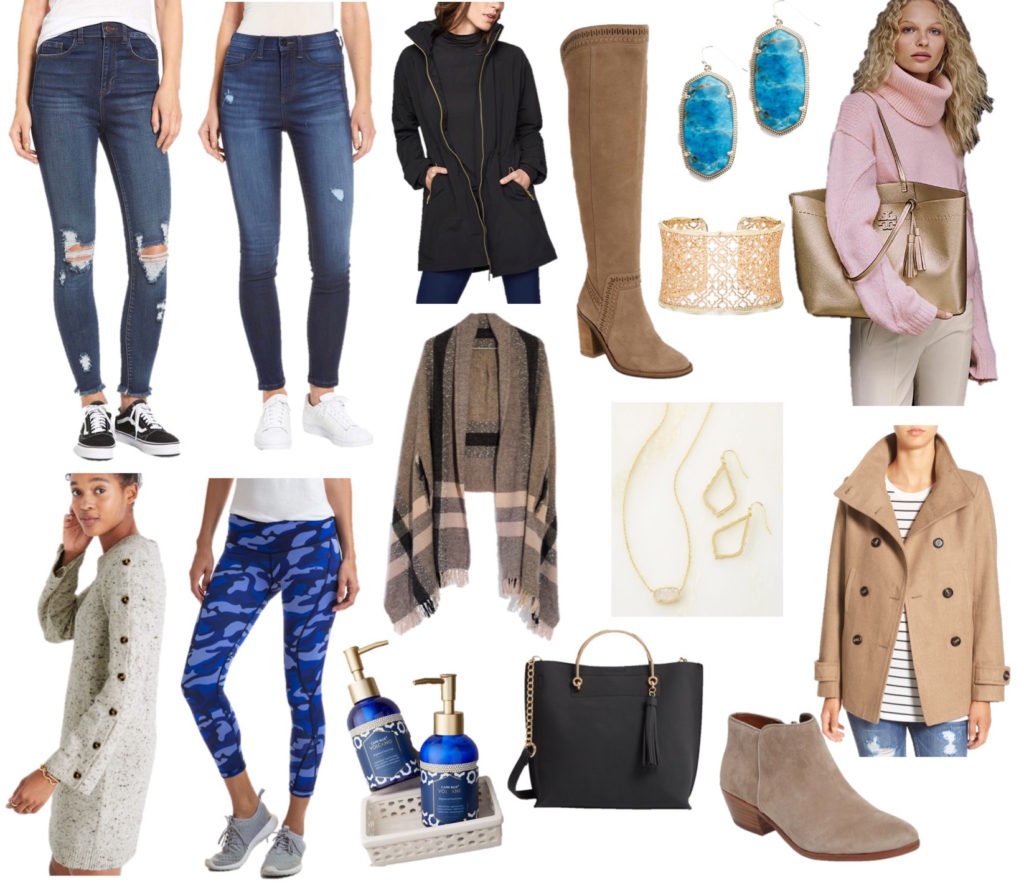 Over The Knee Boots
Since over the knee boots are everywhere these days, I decided I needed some new over the knee boots that I can wear with dresses, jeans, leggings, tunics, etc.  I was on the hunt for a taupe/tan pair and a dressier, black suede pair.  I love all of these options, so here we go… first up, these adorable OVER THE KNEE BOOTS in mushroom! LOVE the tassels on the back of them! Such a cute touch! The color is the perfect neutral! They also come in black! The heel on these provides a little lift, but they aren't too high! This Free People TOP is so pretty for the Fall! I love the colors and it is so soft! It's selling out in sizes, so hurry! It also comes in a different plaid that is also so cute!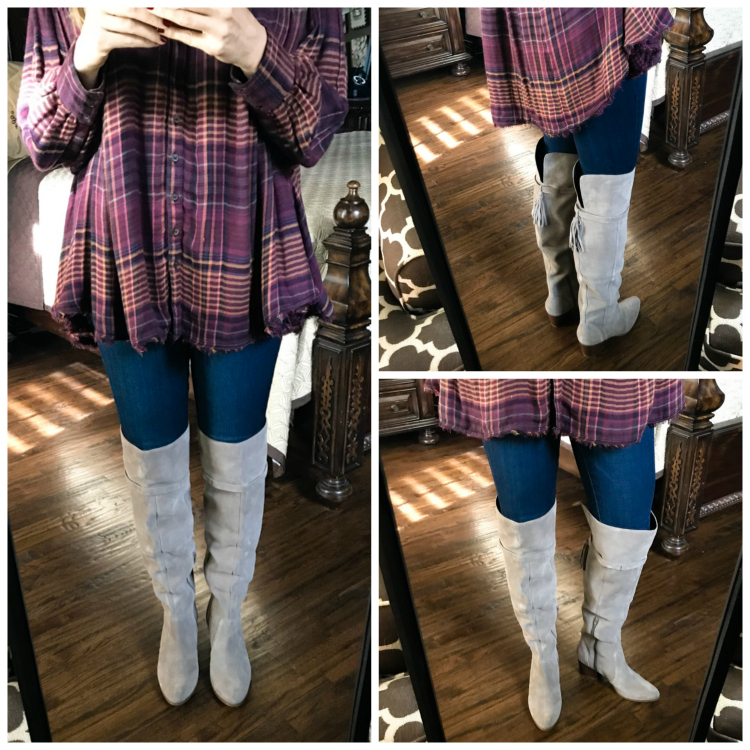 Here are some other pictures of me in the top, it is so cute! Oh, and these JEANS are so awesome, only $54! They are stretchy and really high waisted so they hold everything in! I love this pair because they are barely distressed.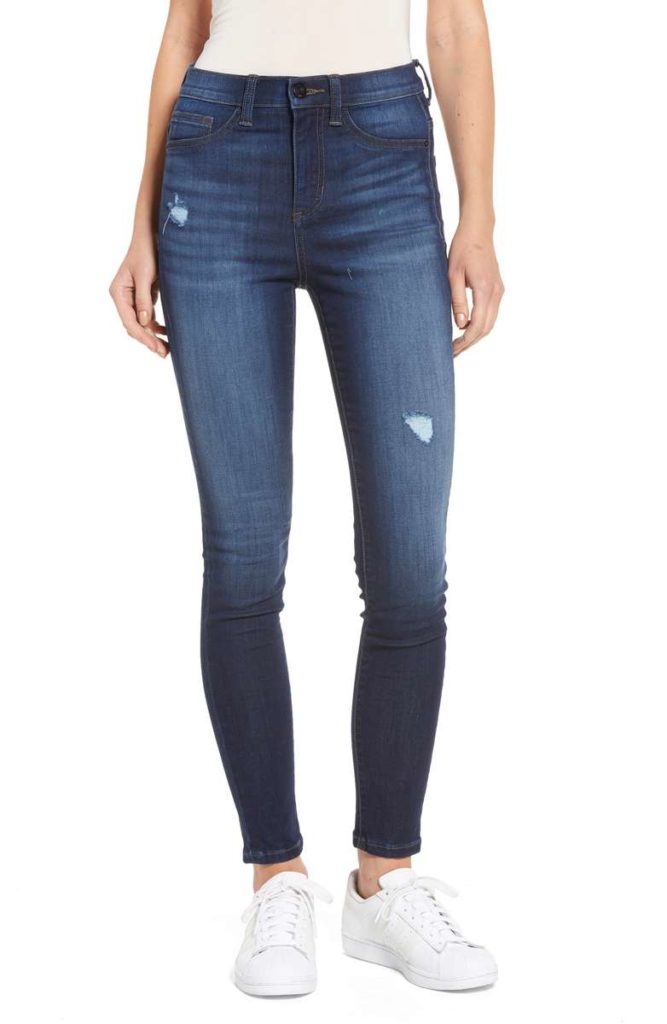 They also have a really cute pair that are more distressed, HERE.  The reviews are outstanding, you should give them a try.  I would say they run a tad big, so size down if you are on the fence.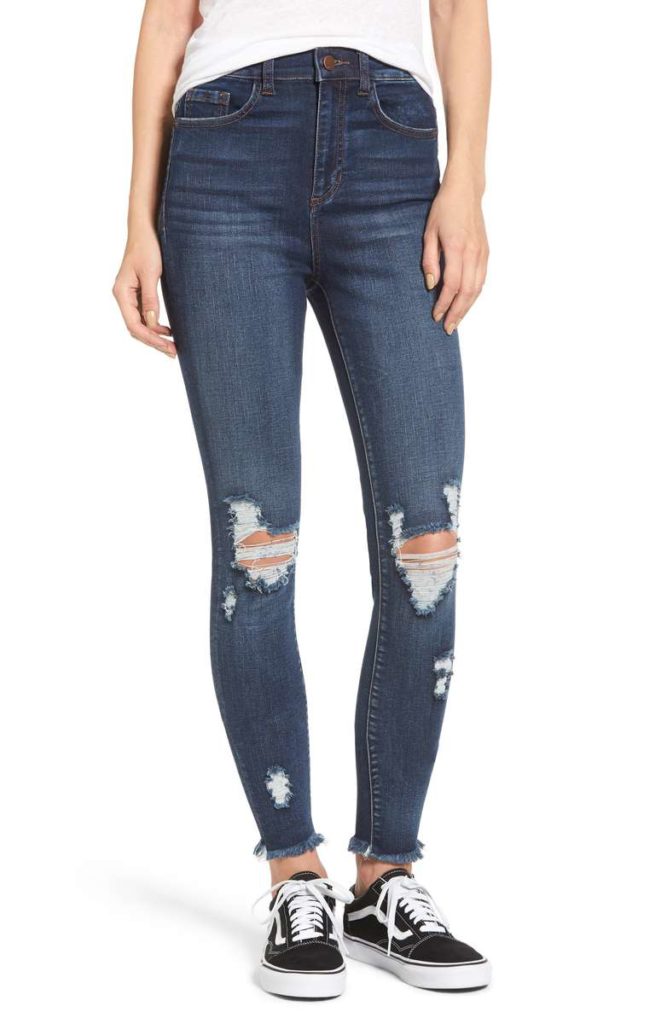 By the way, my favorite BOOTIES are on big time sale right now and they just got restocked in the foxy color that I have on.  I seriously love these!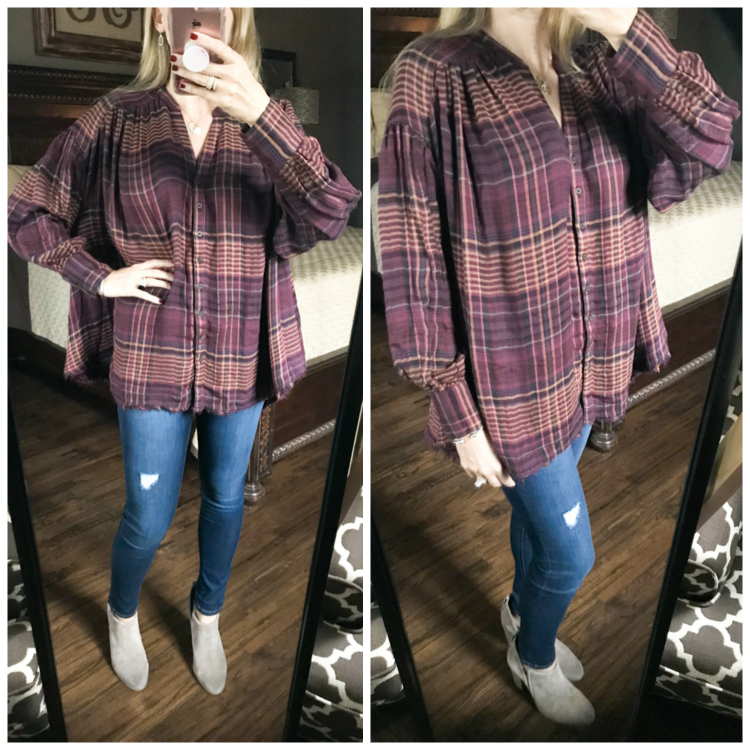 Check out this gorgeous CHENILLE SCARF in wine.  It's technically a cowl, but I prefer to refer to it as an infinity scarf! 😉 It's one piece and you just throw it over your head and voila, instant cuteness!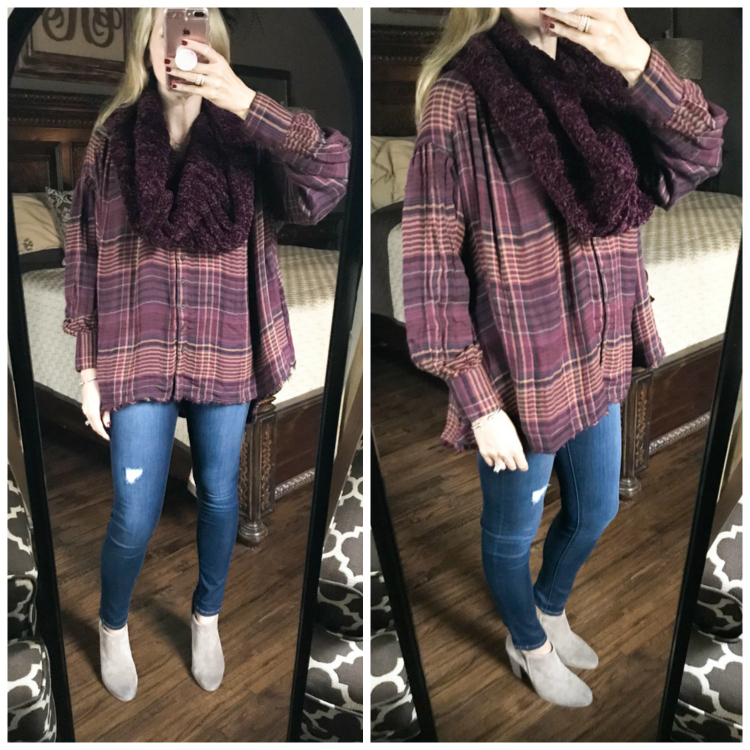 OK, back to the boot reviews, I also really like these OVER THE KNEE BOOTS in light brown! They have a little more of a heel and are more on the tan side.  They are very comfortable and look great with so many different outfits! Wait until you see the price! I literally can't decide which pair I prefer! Decisions, decisions!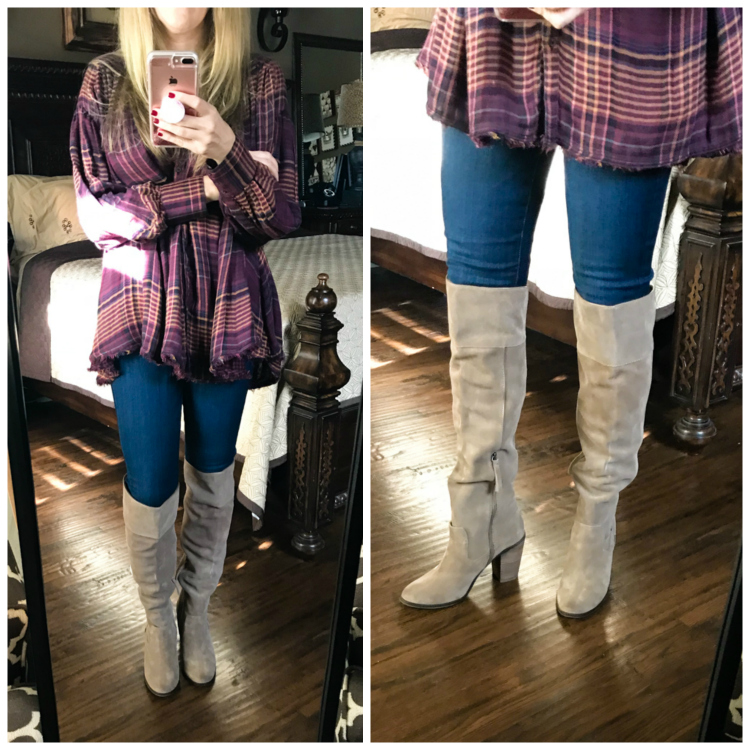 Here are the boots I reviewed that are black suede.  Lets begin with these sassy OVER THE KNEE BOOTS by Marc Fisher.  As soon as I saw them, I knew I loved them! They are also available in grey and light grey!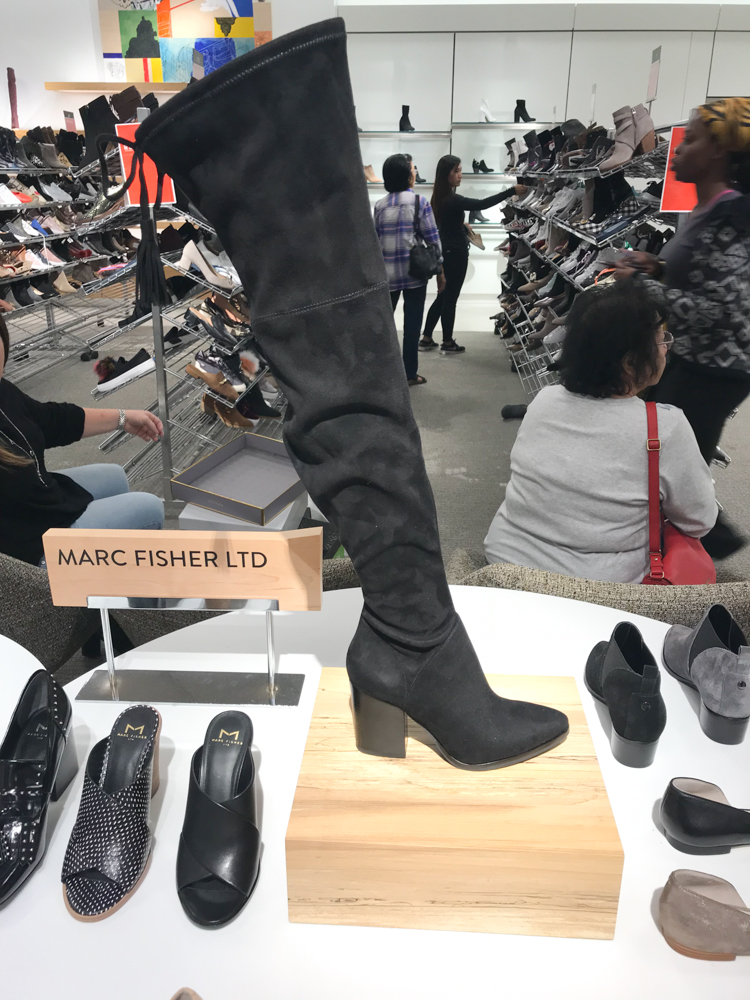 Here they are on me… They stay up really well because of the ties, that have little tassels, on the back of the boots.  They have a slightly pointy toe and the perfect heel! The zipper is on the inside of your leg as you can see in the pictures.  I highly recommend them and they have fantastic reviews! Can we talk about this CARDIGAN for a second? It is chenille so it is so soft and cozy! Love the pockets and the length! It's available in other pretty colors too!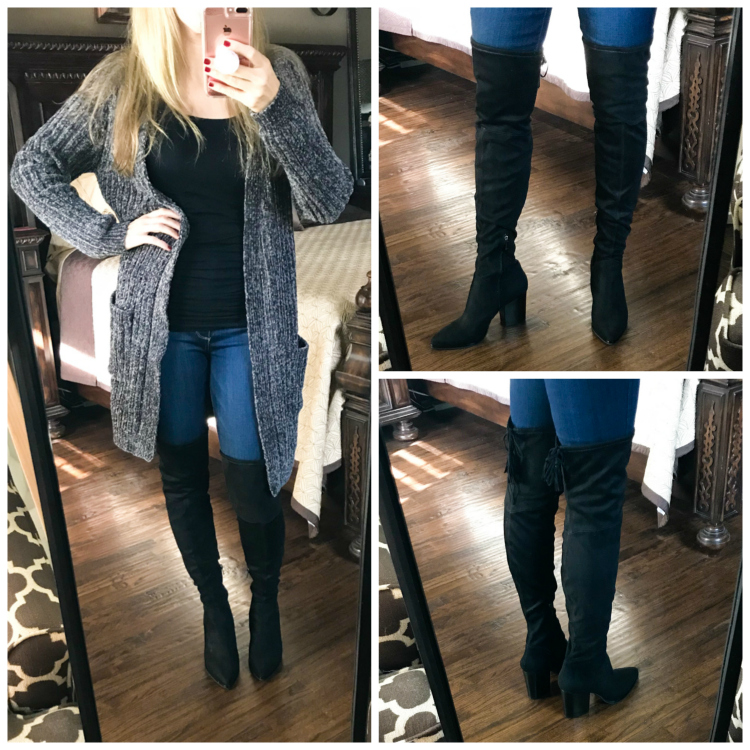 For the price, I don't think you can beat these OVER THE KNEE BOOTS! They are also available HERE or HERE.  I like how the zipper goes up the back of your leg on these.  They are plain at the top, no ties or tassels.  I styled them with one of my favorite dresses that is on sale! The embroidery on this DRESS is so pretty!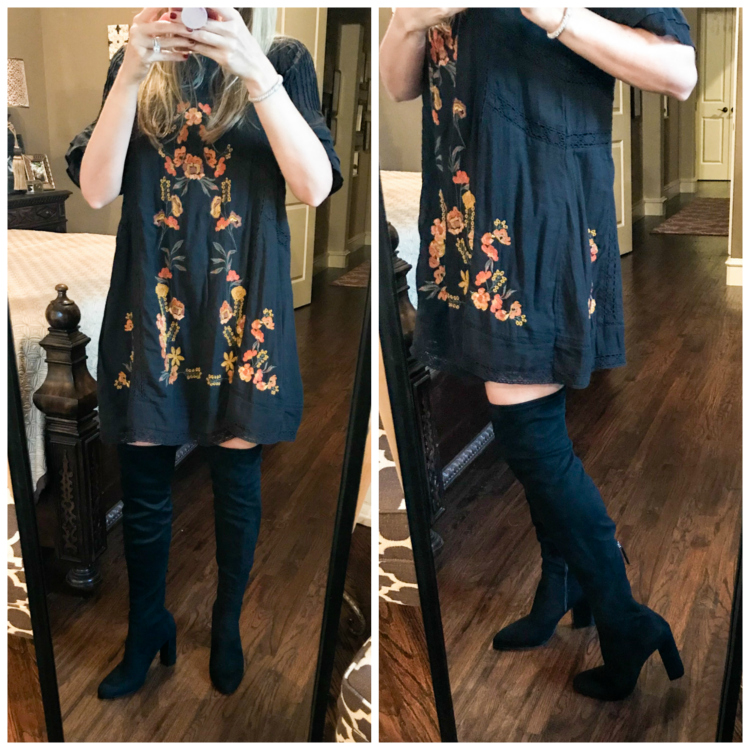 Here is a comparison between these boots and the Marc Fisher pair I shared above.  The toe is a little more rounded on the Steve Madden boots and they are not quite as tall, but they are pretty close! Steve Madden boot on my left leg and Marc Fisher boot on my right.  Again, I'm struggling with which pair to pick! I really like both of these!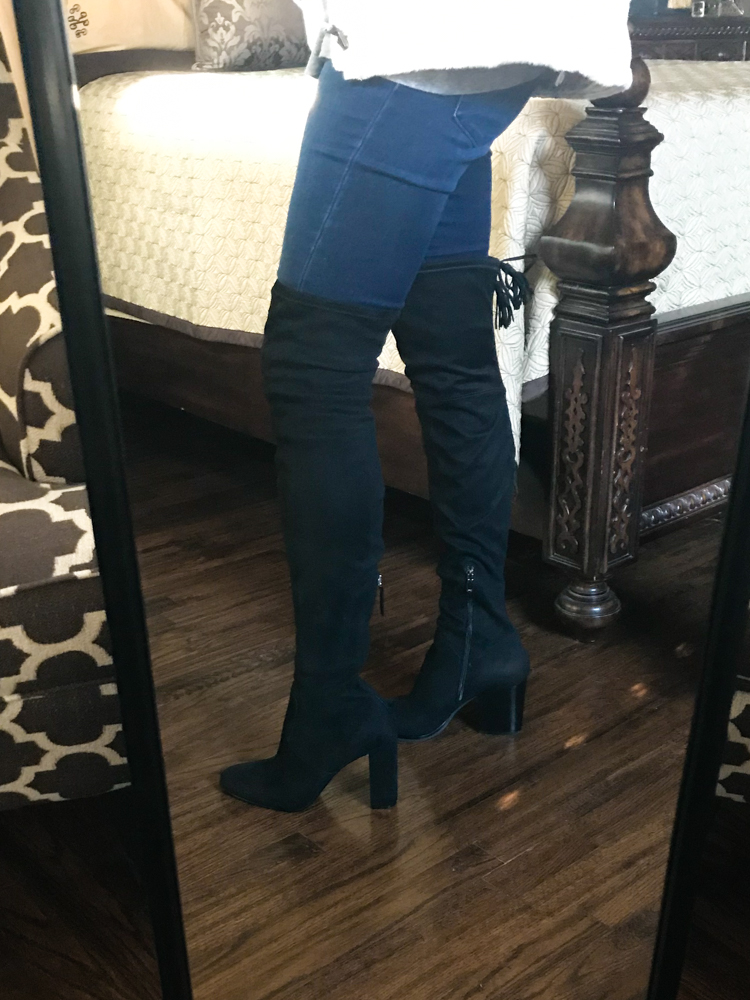 Here are a couple of other pairs that I really like too! THESE are really pretty, under $100 and look very similar to a much more expensive designer pair! They come in two other colors too!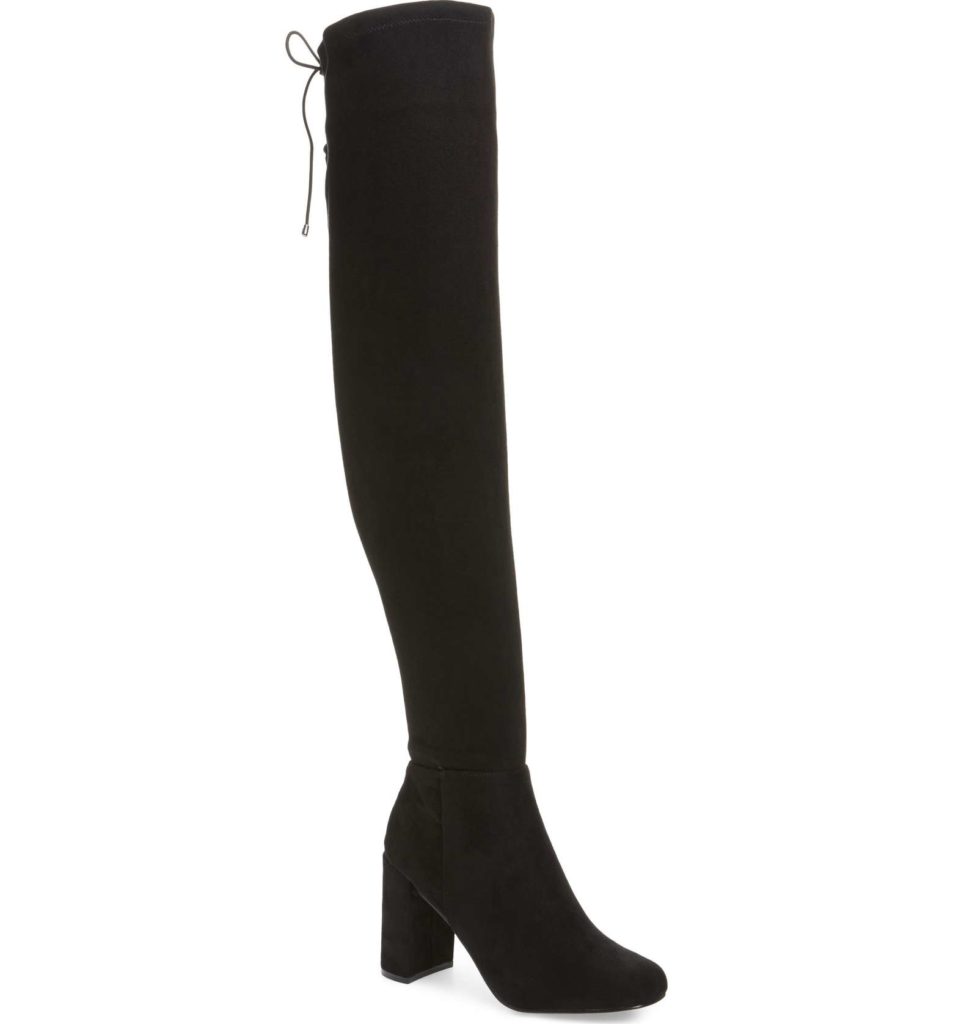 These THIGH HIGH BOOTS have a lower heel and they are really a great price right now!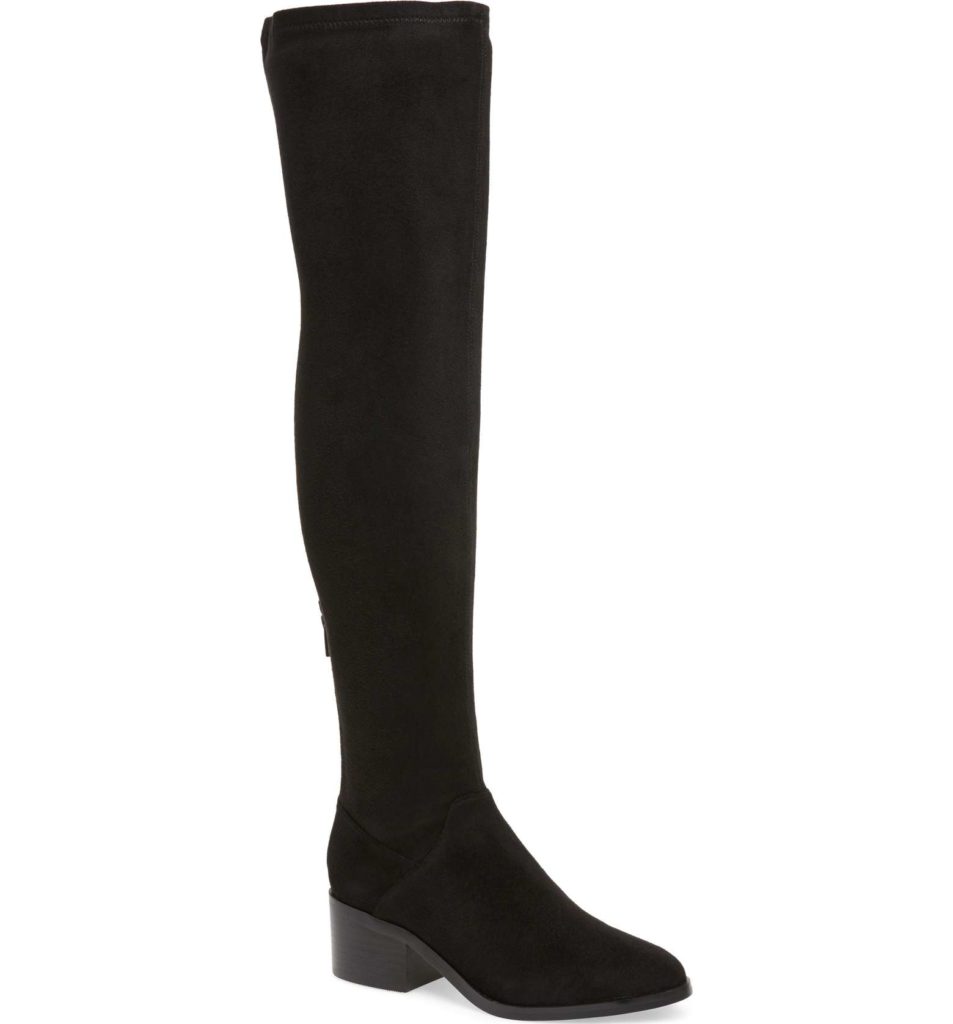 These SOCK BOOTIES are really pretty and are very on trend right now! They look great with leggings, dresses, jeans, etc.  They are available in blush too!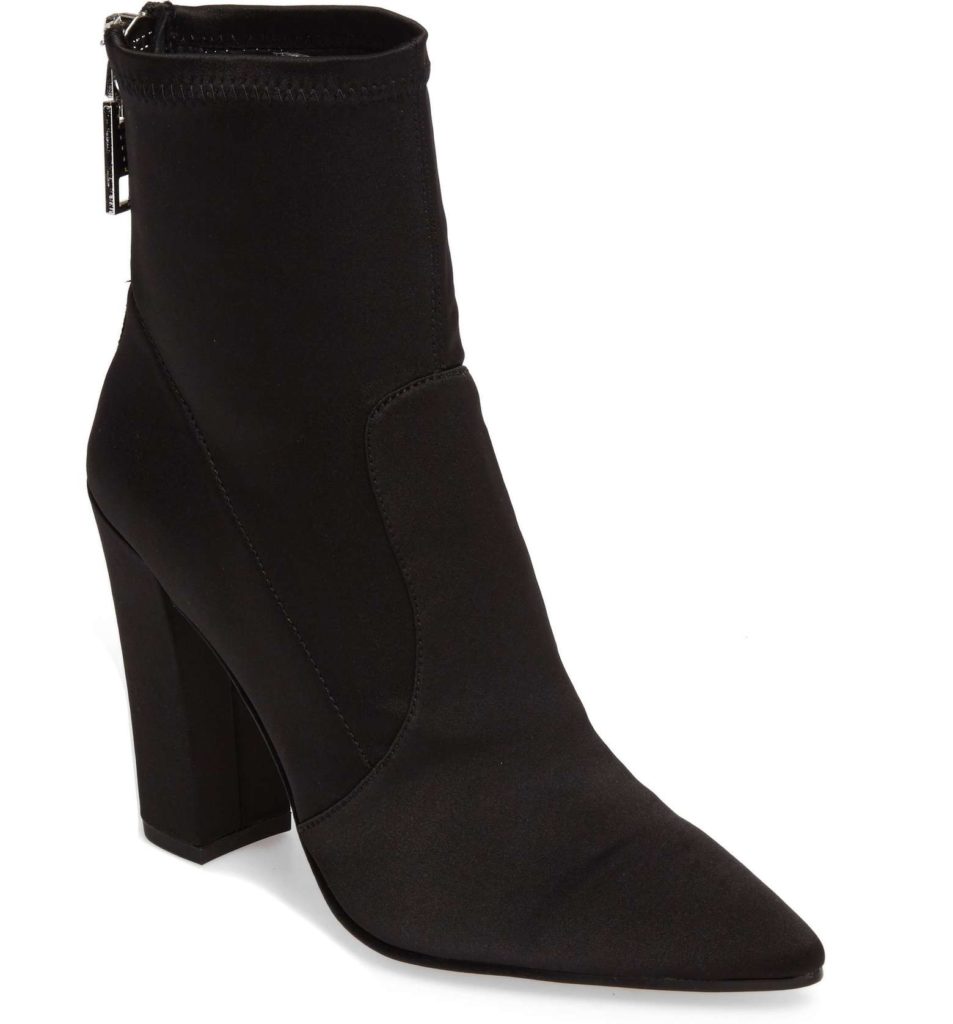 These OVER THE KNEE BOOTS are another one of my favorites, especially in this color (foxy).  They are available in other colors and they are on sale right now too!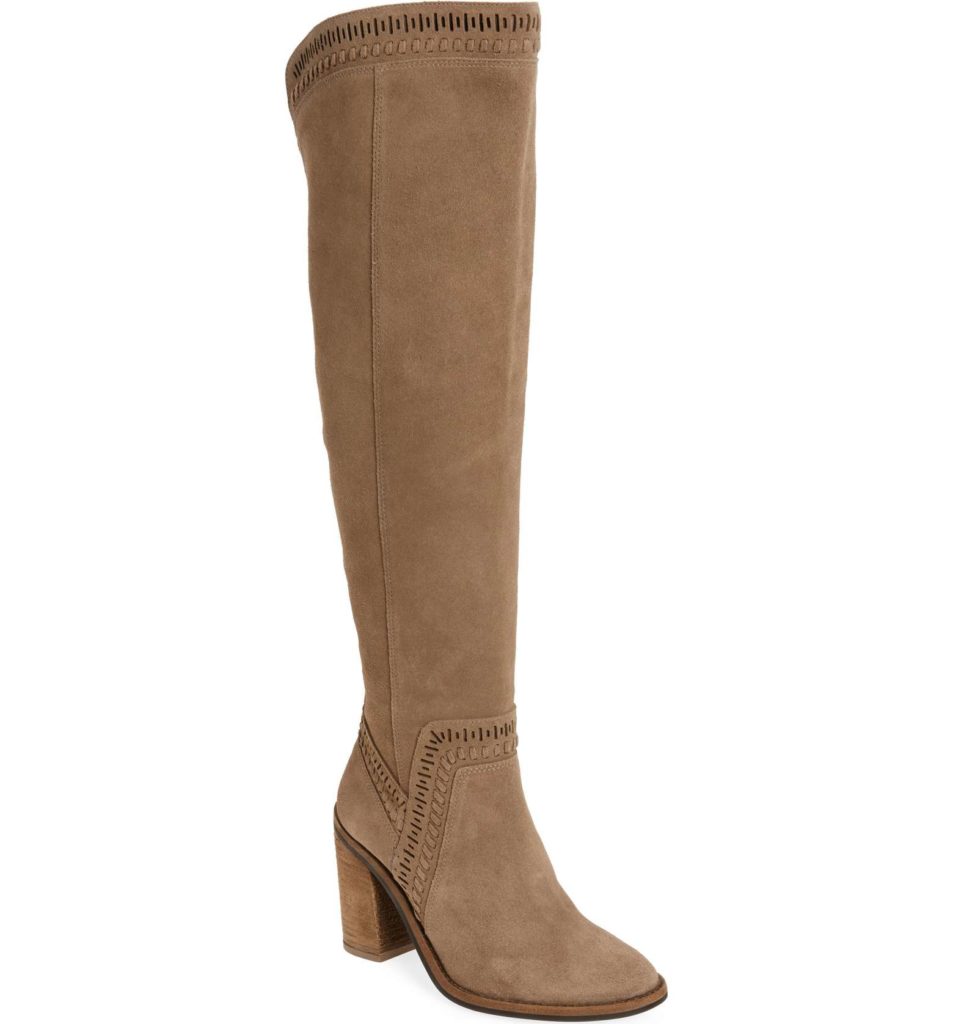 COLD WEATHER BOOTS
I literally bought these SOREL BOOTS the minute I saw them! I need more boots for cold days and these are the cutest I have ever seen! Pink is my favorite color and the bottom of these and the laces, are pink! Yipppeeee!!!! I just found them HERE on sale right now with free shipping! Oh happy day!!!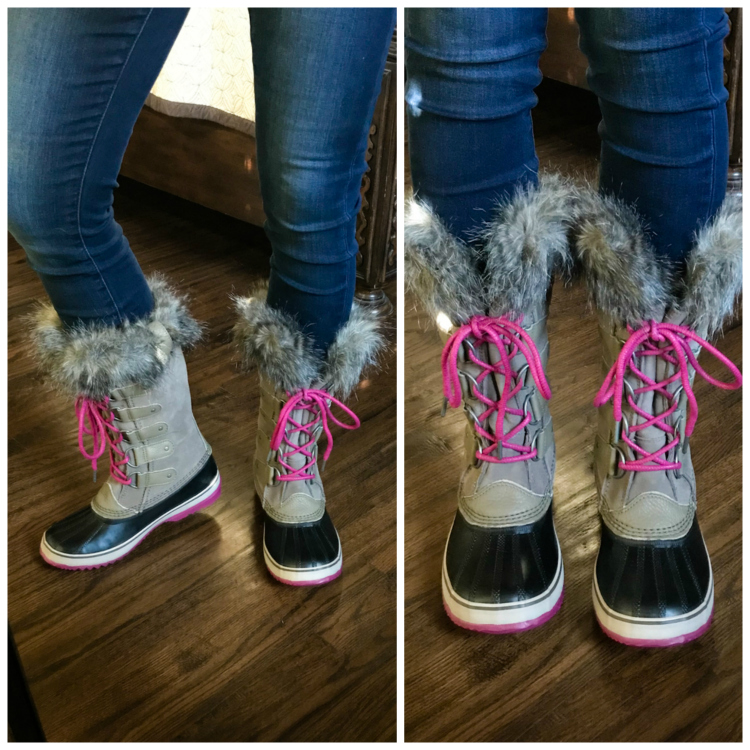 I got really excited when I saw that my favorite HUNTER BOOTS are on sale in the navy color! I love these so much and I wear my boots when it's cold outside, and not just when it is raining! 😉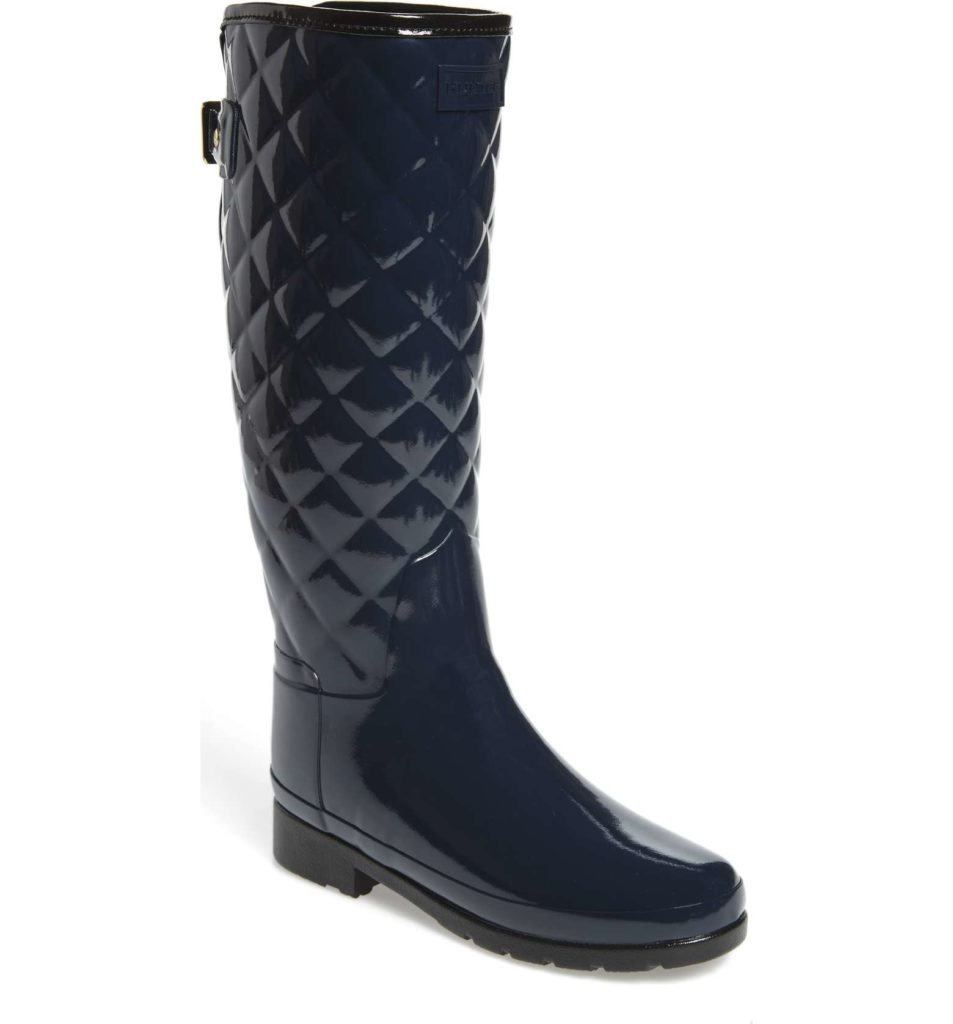 COGNAC BOOTIES
I went on a mission to find the best cognac booties because they go with everything!!! I found three amazing choices and yet again, I am having a hard time picking my favorite! There are some great deals this weekend, so if you are in the market for cognac booties, I would snag them now while the prices are so low! These BOOTIES are super cute and a great price! Here is their picture (which is clearly better than my awful in store shots)! Ha ha! Aren't they cute? I am a big fan of the lower front, actually all three of the booties that I am reviewing have that in common!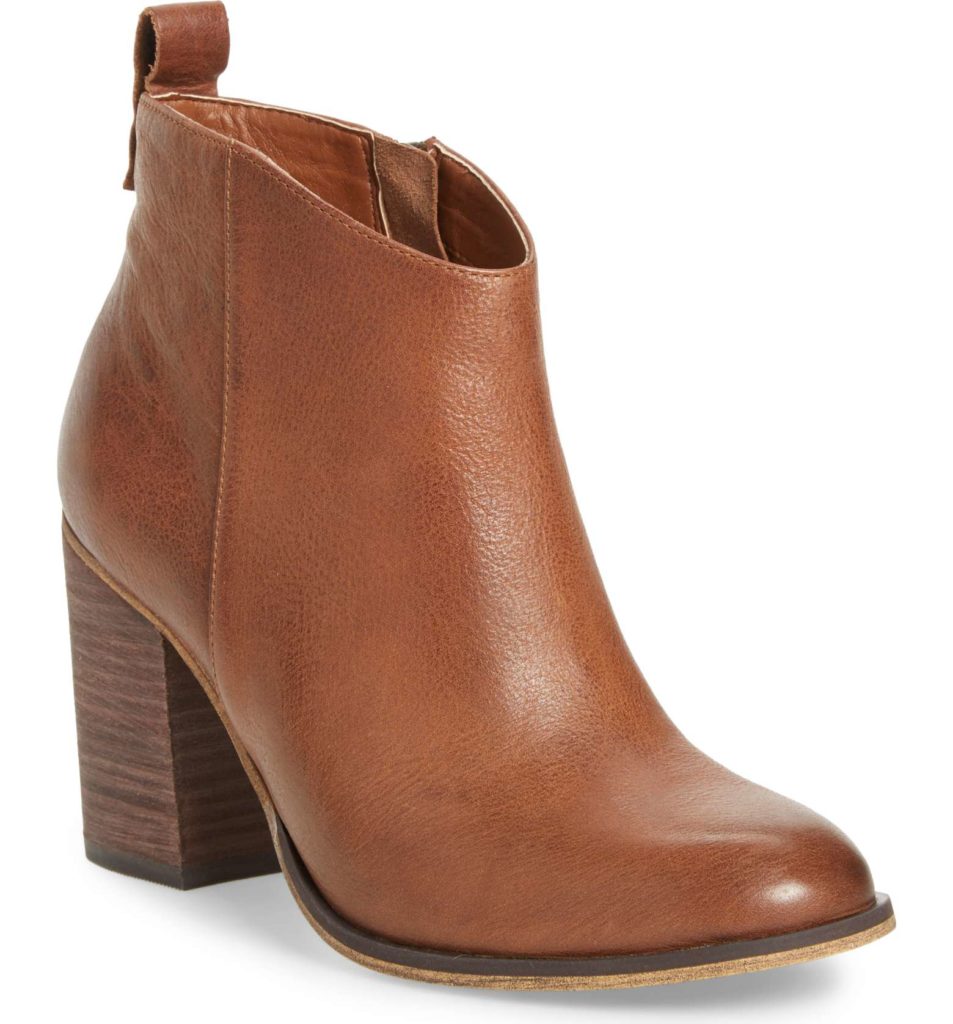 Here are my amazing photographs of them on me! 😉 The website says they run small, I did not find that to be the case though.  I like the rounded toe on these!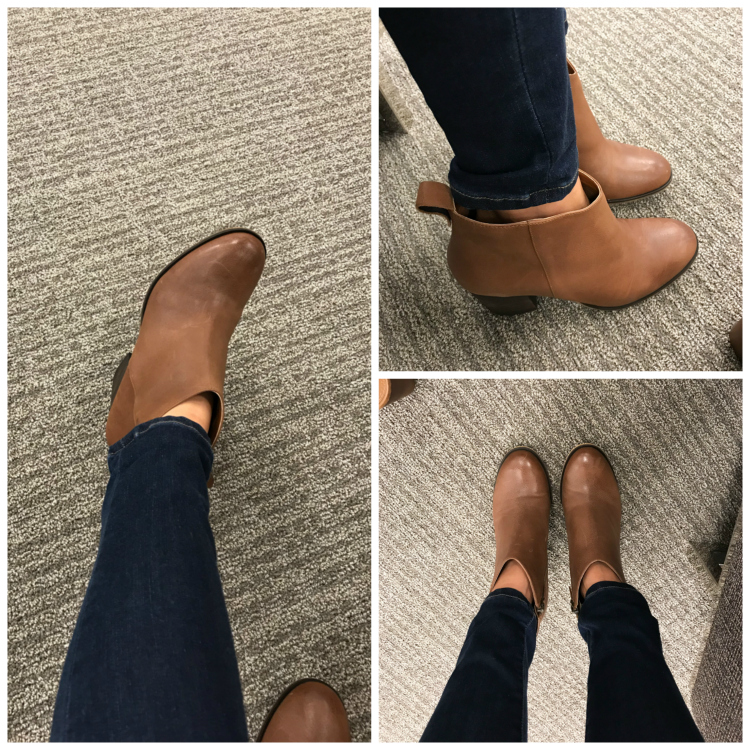 I haven't seen THESE in person, but they might be coming to my house very soon! They are so pretty! Love the V shape notch in the front of these, so flattering! Use code: BLACKFRIDAY40 to get 40% off! That promo ends today and is good for any VINCE CAMUTO items! I love their shoes!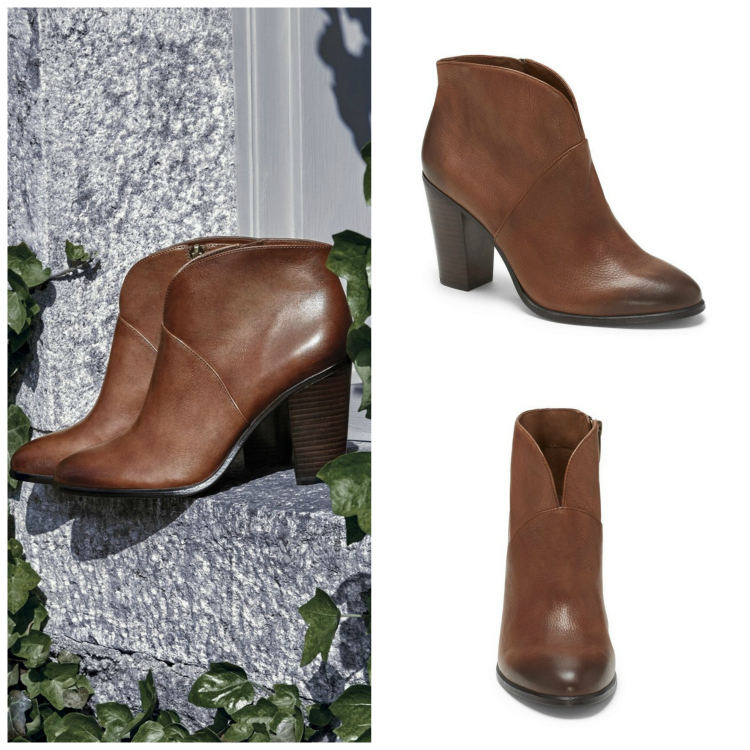 These adorable BOOTIES are in my closet right now and they are on sale!!! I think the laser cut details and the zipper on the back makes them more interesting! They run true to size.  Click on the link to see better pictures of them on their website.  These are exclusive to Dillard's, so you won't find them anywhere else.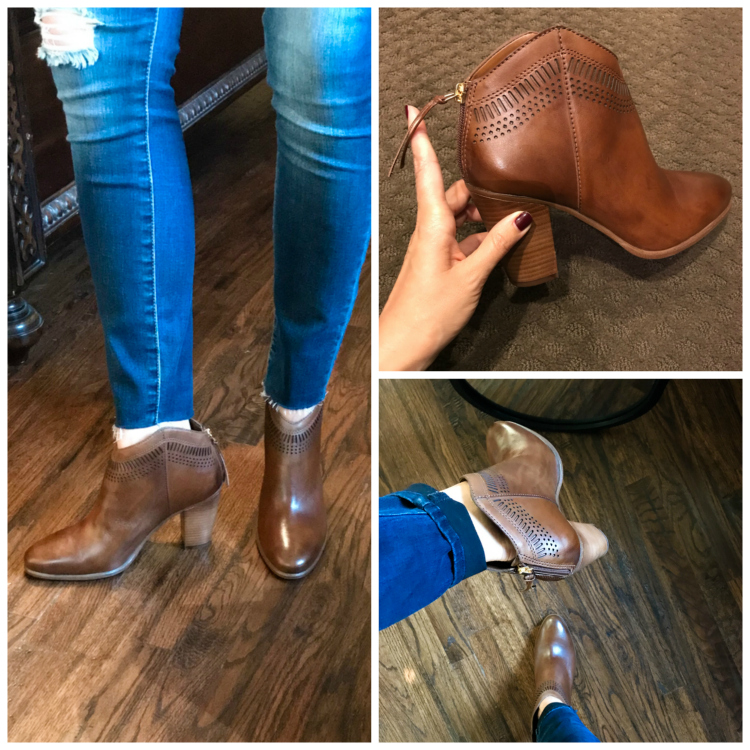 BLACK FRIDAY WEEKEND STEALS & DEALS
KENDRA SCOTT
I can't get over all of the amazing deals available this weekend! Today is last day for a lot of these promotions though, so get it while you can! I got so many gifts knocked off my Christmas list this weekend and you can too! We should start with one of my favorite places to buy cute bling! KENDRA SCOTT is offering 20% off of everything with code: YELLOW20! Say what??? I don't recall seeing this before! That means you can get their beautiful HOME items (frames, jewelry stands, trays, boxes, etc.) on sale! They all make fantastic gifts! Have you seen the new geodes that they just released? They look beautiful in your home on top of a stack of books or on a tray! Here is the ROSE GOLD GEODE… so pretty! They also have them in platinum or iridescent drusy.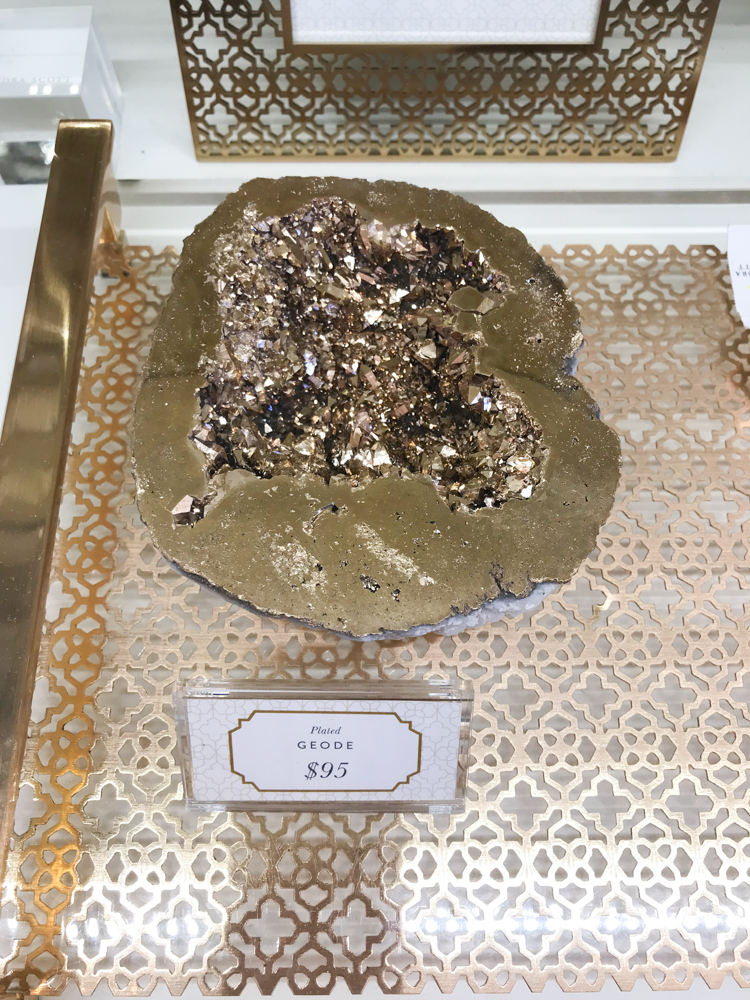 Their JEWELRY STANDS are so pretty and functional! They would look great on your dresser or in your closet! It would feel like you were in a Kendra Scott boutique while looking at your beautiful bobbles on display! They are now available in rose gold, antique silver or antique brass! This picture also shows the new PYRITE FRAME and PYRITE TRAY.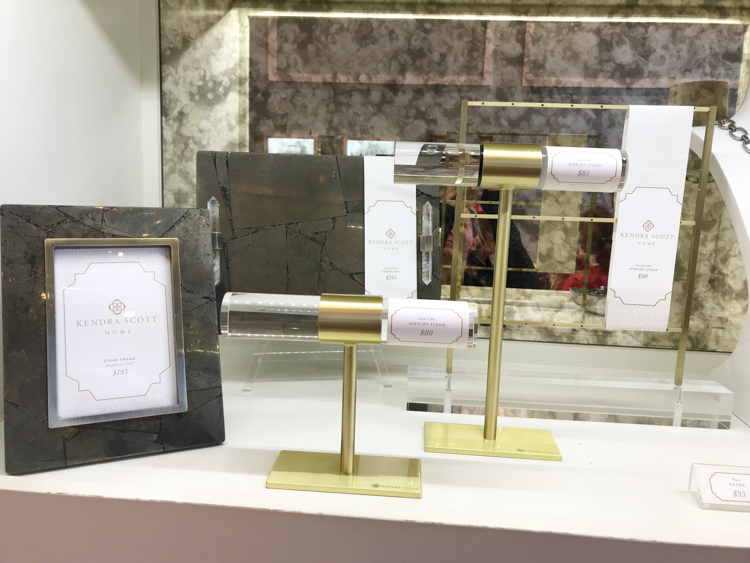 That even means that their beautiful FINE JEWELRY is included in the sale! Yes, diamonds are on sale!!! I am a huge fan of their fine jewelry and have a few pieces that I wear all of the time! What an amazing gift for yourself for Christmas… am I right? 😉 This new NECKLACE is so pretty!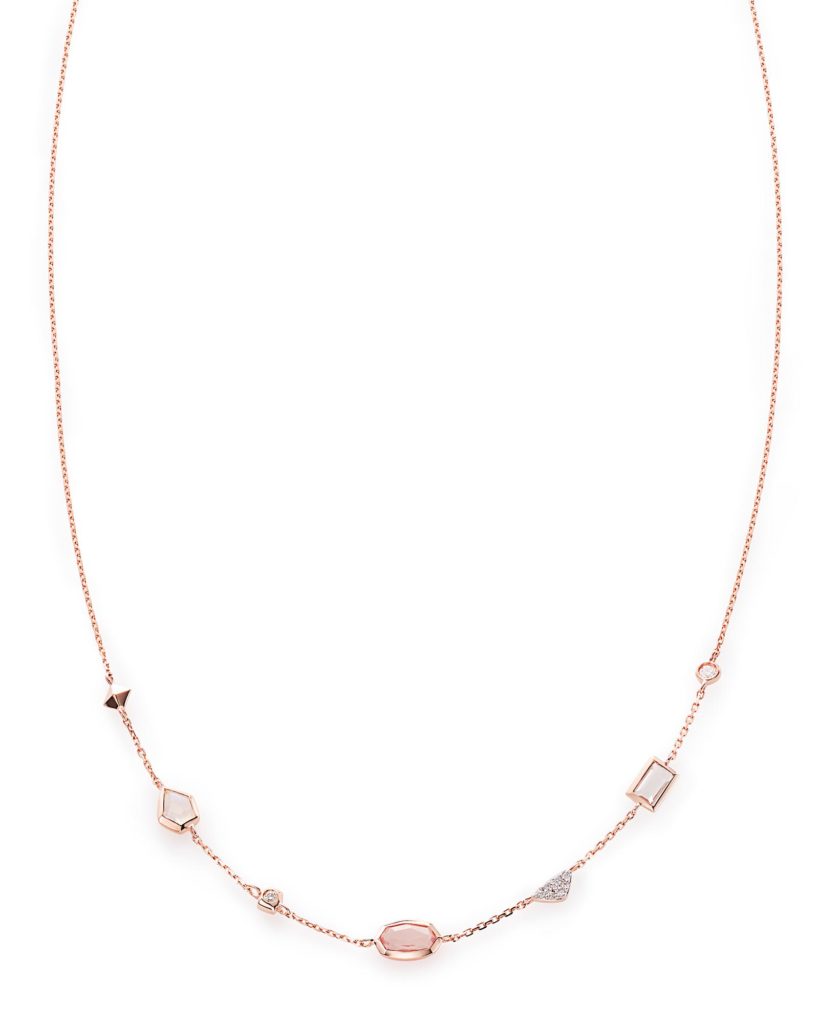 They also released some great choices for your special Holiday events! Look at these amazing STATEMENT EARRINGS! Wowza!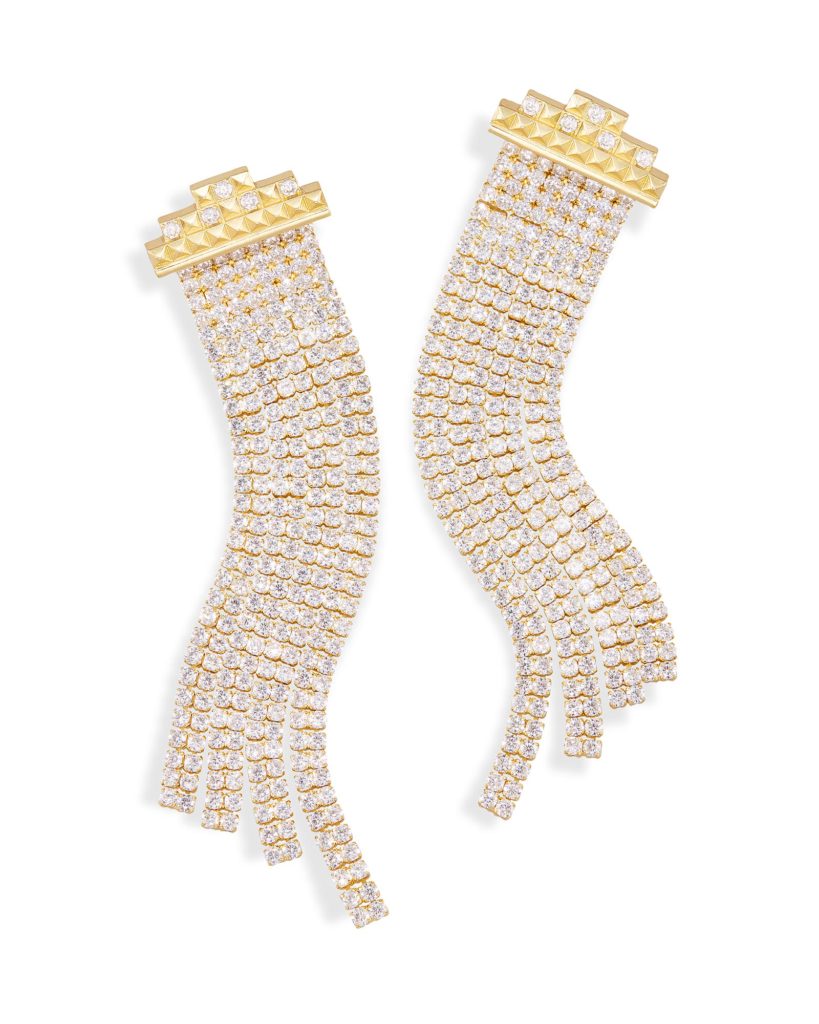 Kendra Scott always has exclusive GIFT SETS for the Holidays! They are already a great value and you can get them now for 20% off! Love this SET! You could get this set for only $76!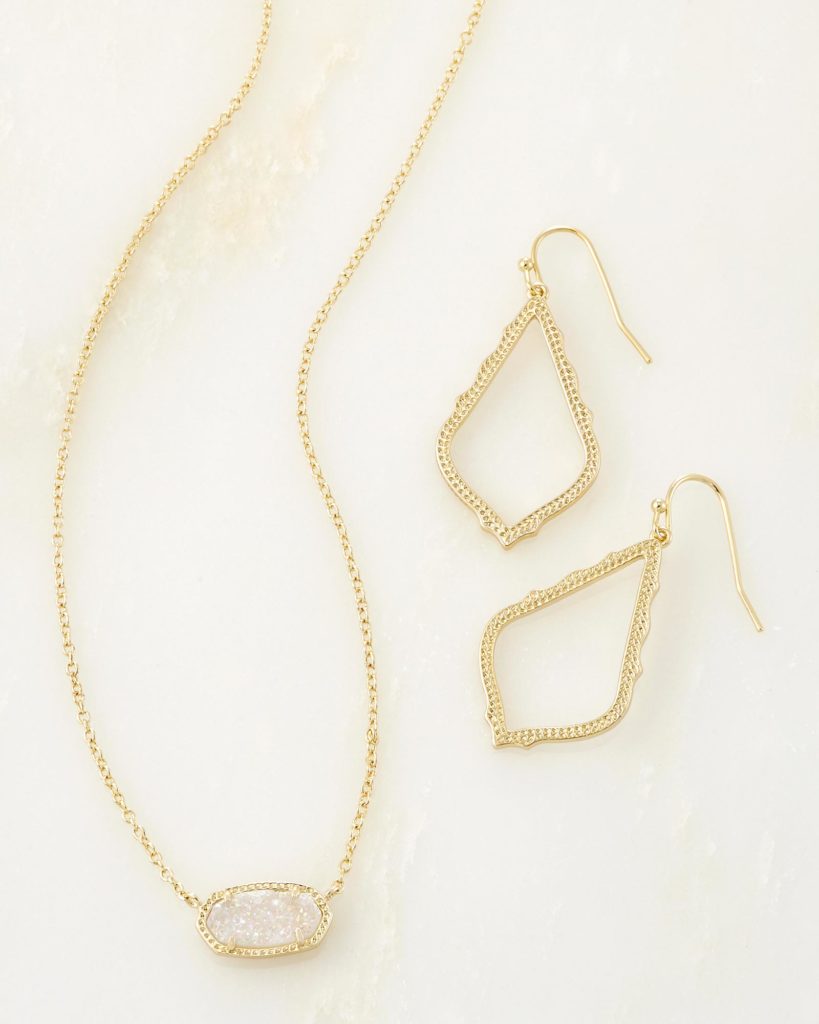 ANTHROPOLOGIE
ANTHROPOLOGIE has a fantastic promotion right now, 30% off of everything! I included a lot of their amazing gifts in my ULTIMATE GIFT GUIDE, and all of those picks are 30% off now! For example, my favorite CANDLE scent is also available in this adorable HAND SOAP AND LOTION SET! It's only $26.60 right now after the 30% off!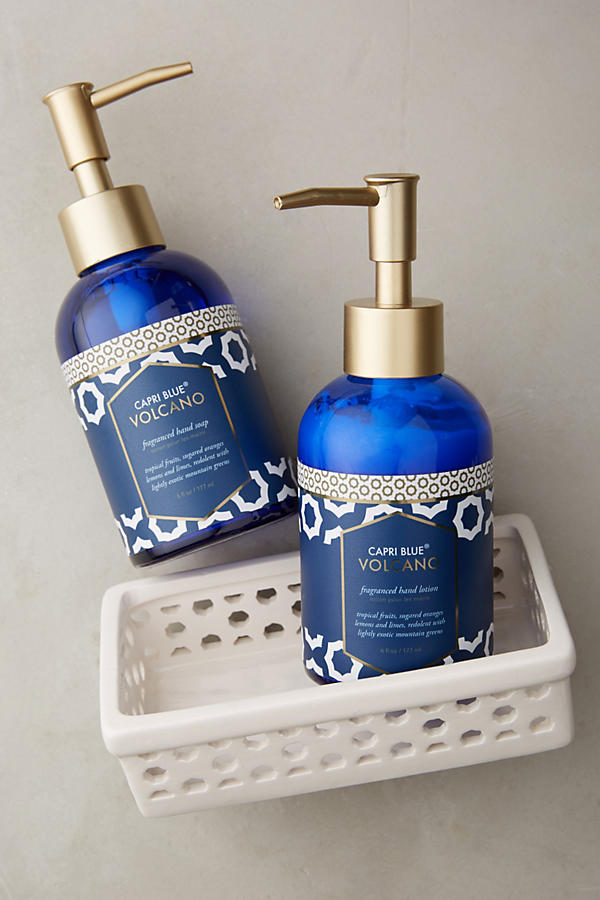 It also comes in this top rated HAND CREAM! I hope Santa puts one of these in my stocking! It smells so good! It's only $12.60 right now!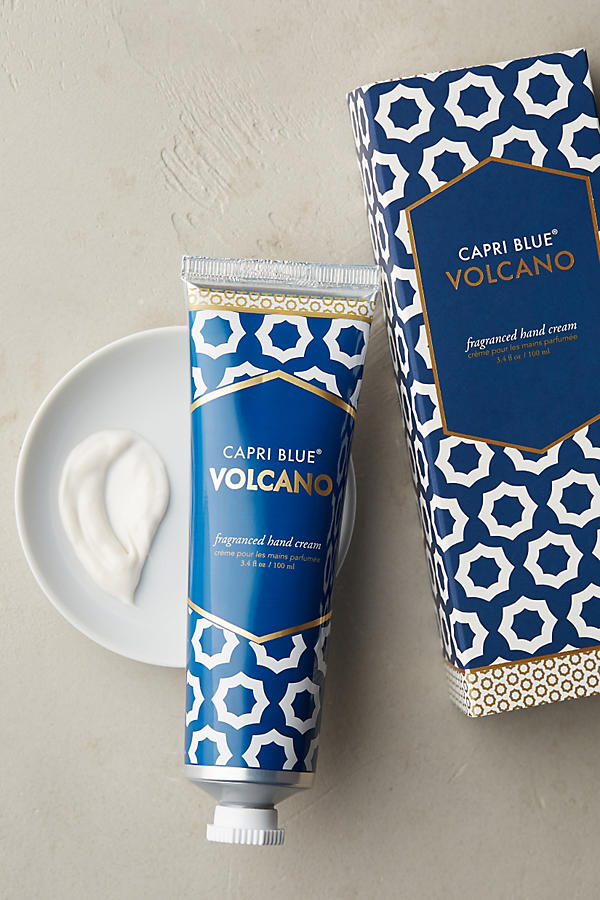 VINEYARD VINES
I could go on and on with more of my favorite things at anthro, but I better move on! Next up, VINEYARD VINES has 25% off of everything with free shipping! Use code: HOLIDAY17  This rarely happens and I loaded up on gifts for my boys, my husband and myself! I love their clothes and well, everything! Their quality and customer service are excellent! I snagged this adorable black CAMO PUFFER JACKET and I can't wait to get it!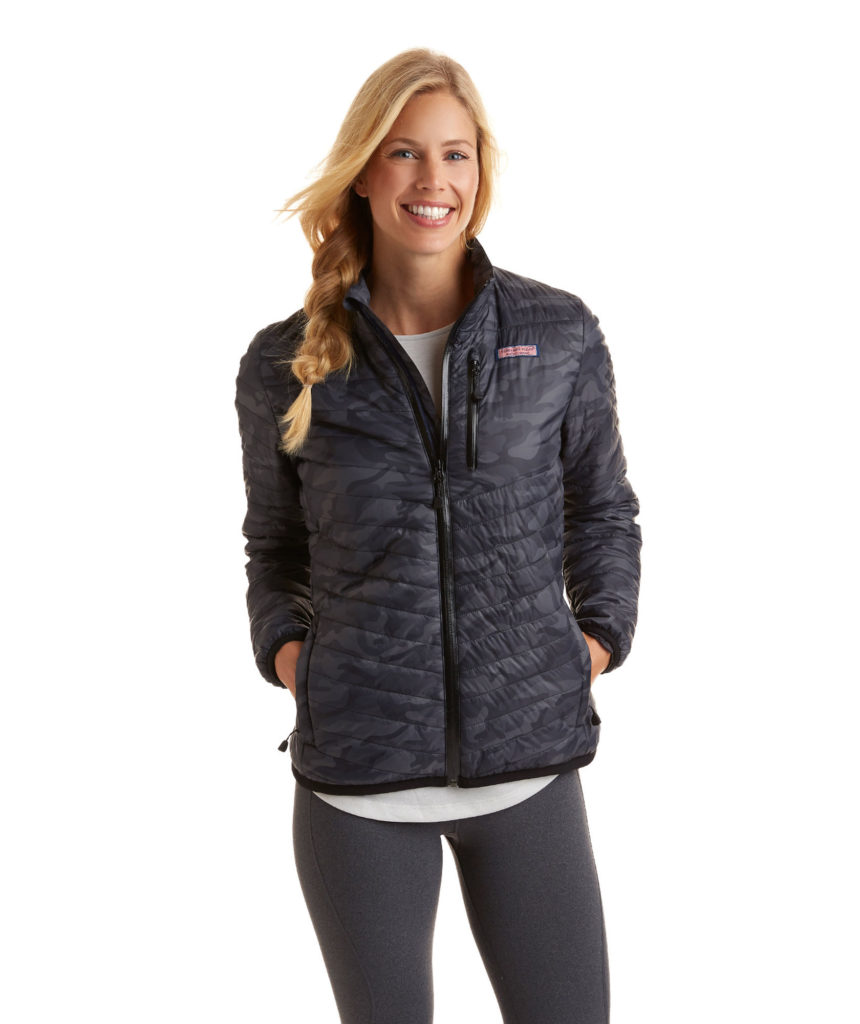 My boys love to wear their whale shirts, they are popular with the boys at school! I love this Christmas GINGERBREAD WHALE SHIRT and ordered it for my oldest son! Perfect for pics with Santa!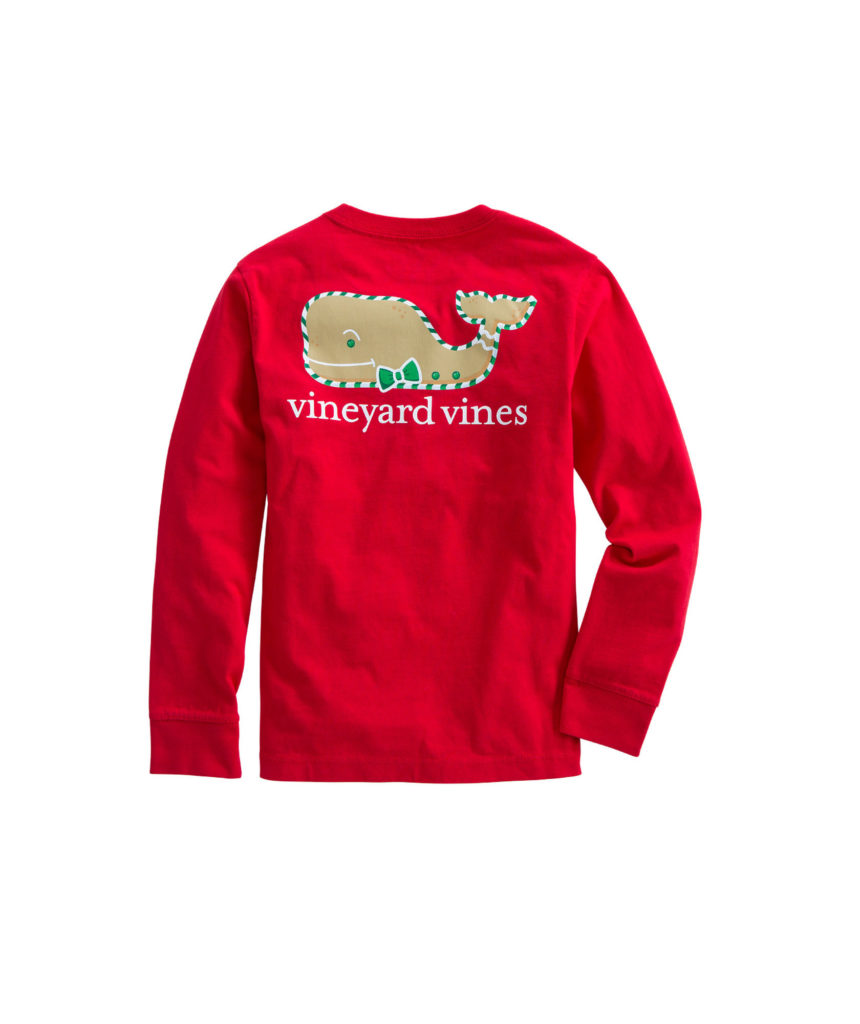 You guys know that I live in workout clothes and they have a performance line that has really cute leggings.  I ordered these BLUE CAMO LEGGINGS and they are reversible and the print on the other side is just as cute! They come in black came too! I might need both???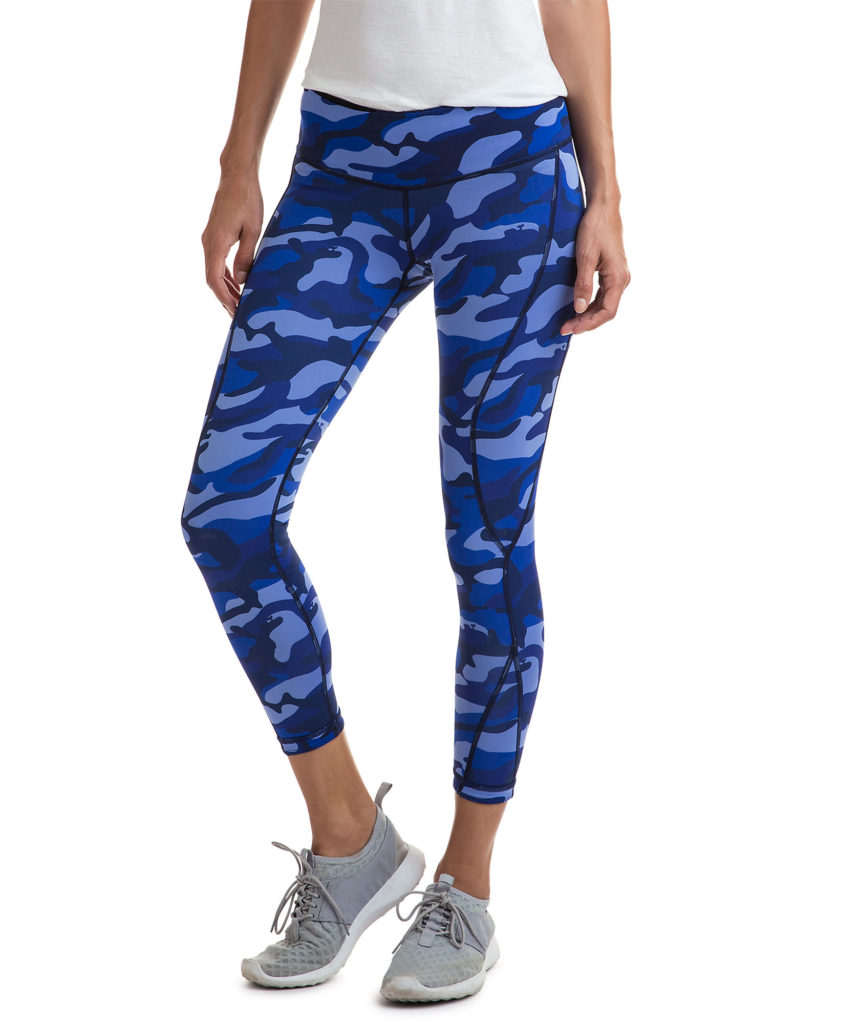 ATHLETA
ATHLETA is offering 20% off with code: BLISS and it ends today! Remember my favorite LEGGINGS? Yep, 20% off! They are the best! They are super soft and hold everything in!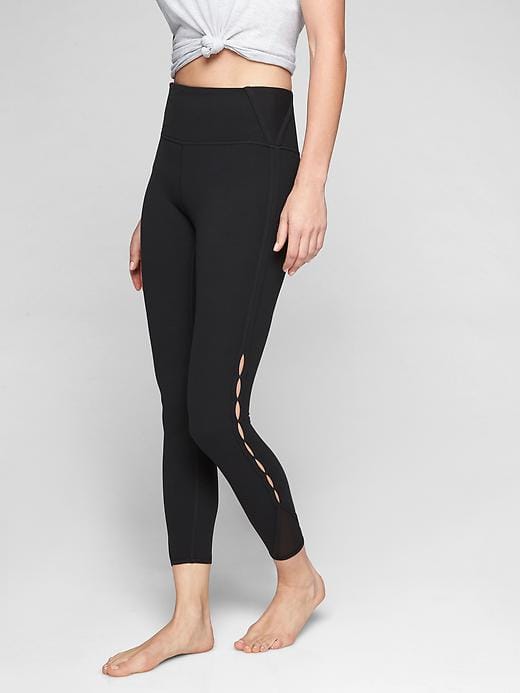 This is also a great time to buy the best RAINJACKET ever! it is so cute, I get compliments every time I wear it! I love all of the colors it comes in too! I chose black because I wear so much black and I love the gold zippers!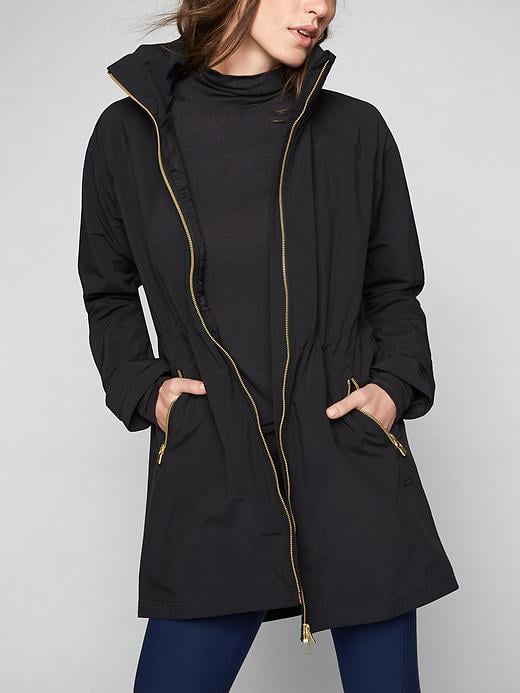 TORY BURCH
TORY BURCH has 30% off when you spend $250+ and free shipping with code: THANKS There are a million things that I could share from Tory Burch, but here are my top 3! I love this new TOTE and it comes in other gorgeous colors too! I am a huge fan of metallics, so I love this gold one! The blush is really pretty too!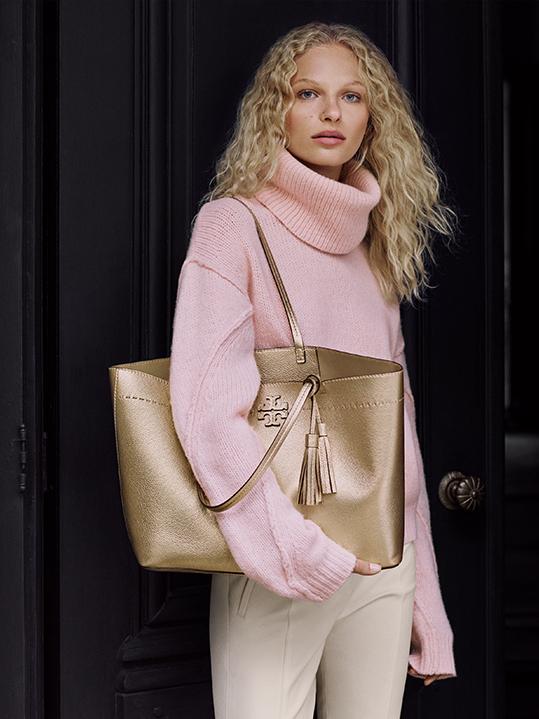 How cute are these new PEARL FLIP FLOPS? You can get them 30% off!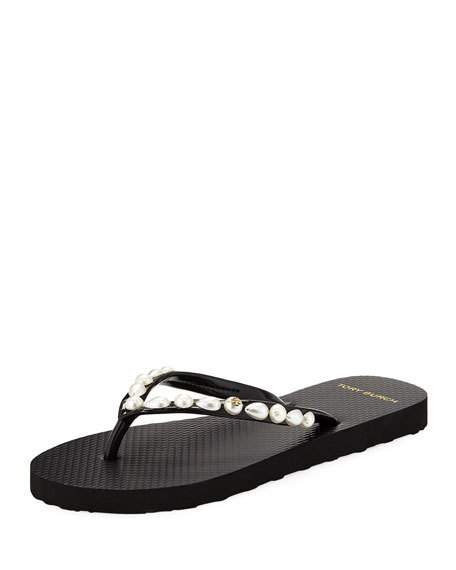 These Tory Burch OVER THE KNEE BOOTS are stunning and they are already on sale, so you can get an extra 30% off! They come in black and an olive green too!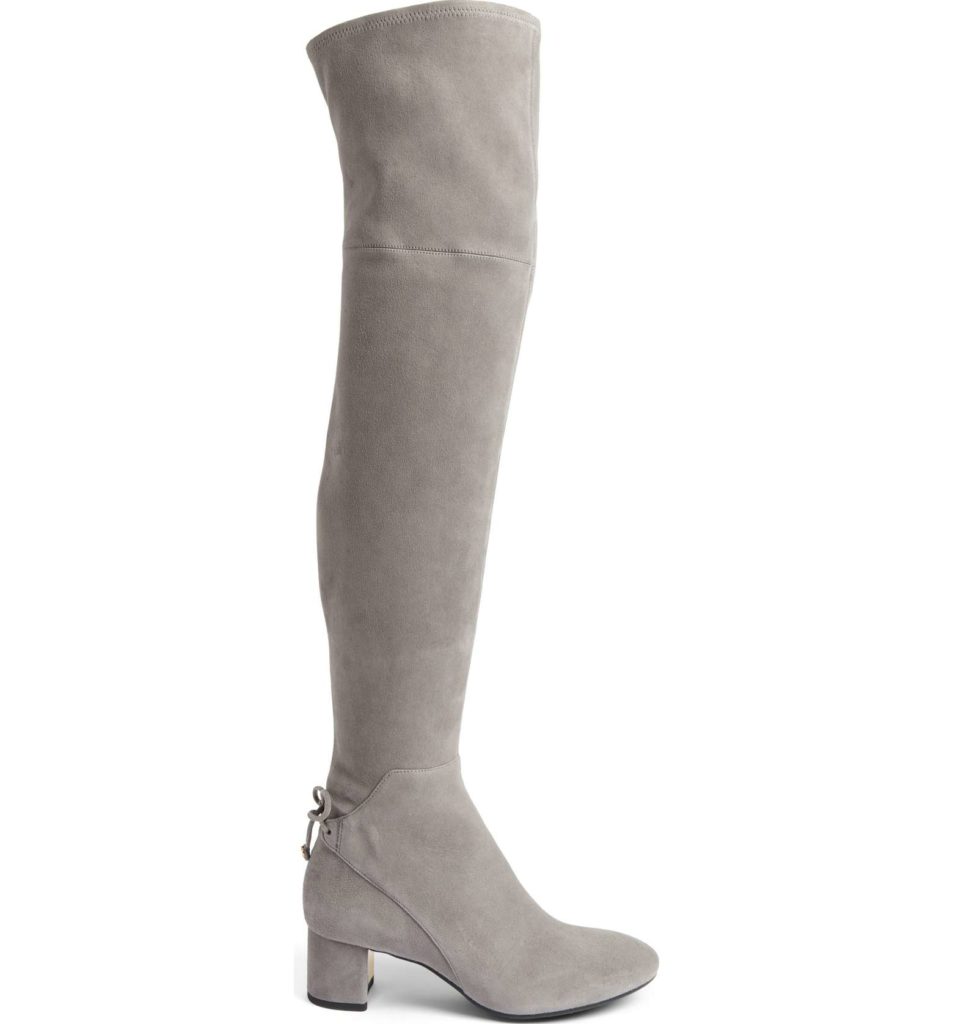 MADEWELL
MADEWELL is having a great sale too, 25% off of everything with code: DONTSTRESS  These are a few of my favorite things… This necklace is so cute and is a best seller! It's only $24 with the promotion!
I love the buttons down the sleeves on this best selling SWEATER DRESS! Adorable!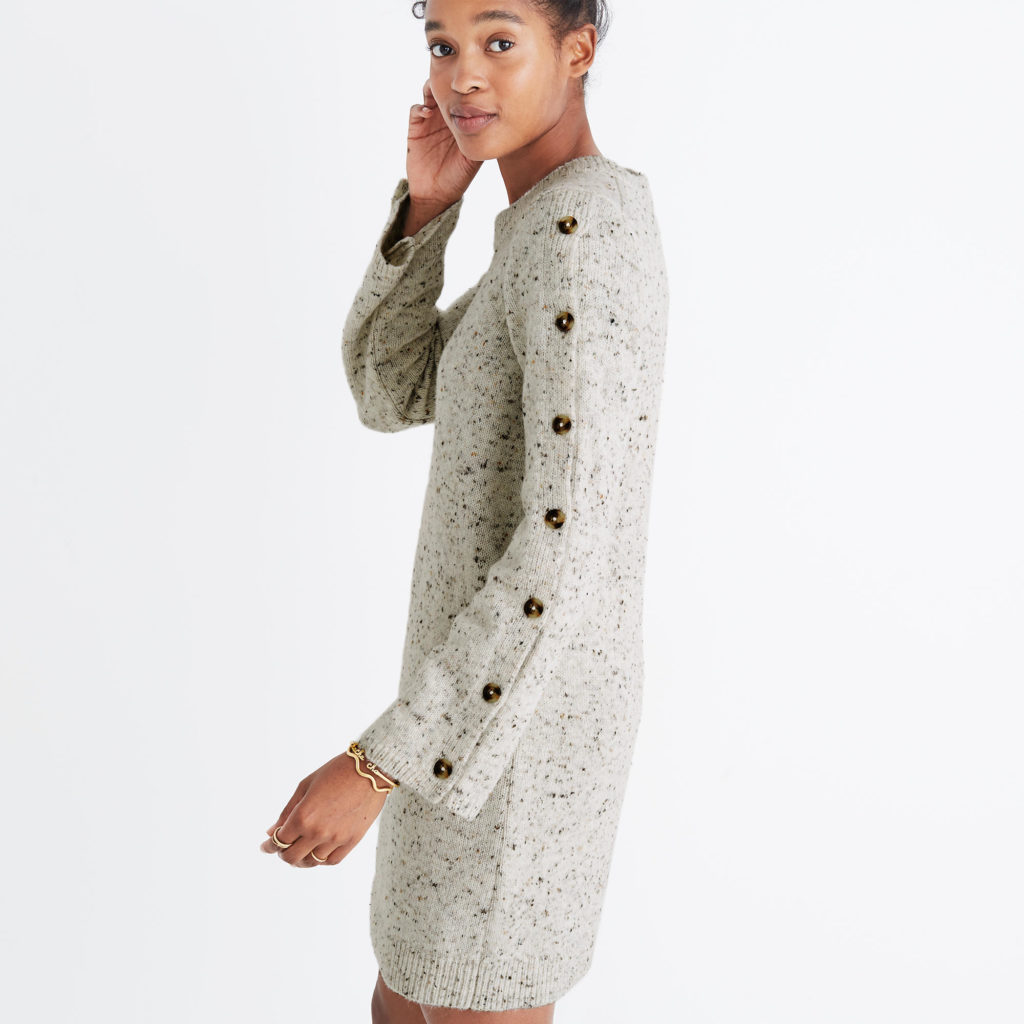 This is one of my personal favorites of the season! This CAPE SCARF is beautiful and neutral enough to wear with lots of things! It's on sale plus an additional 25% off!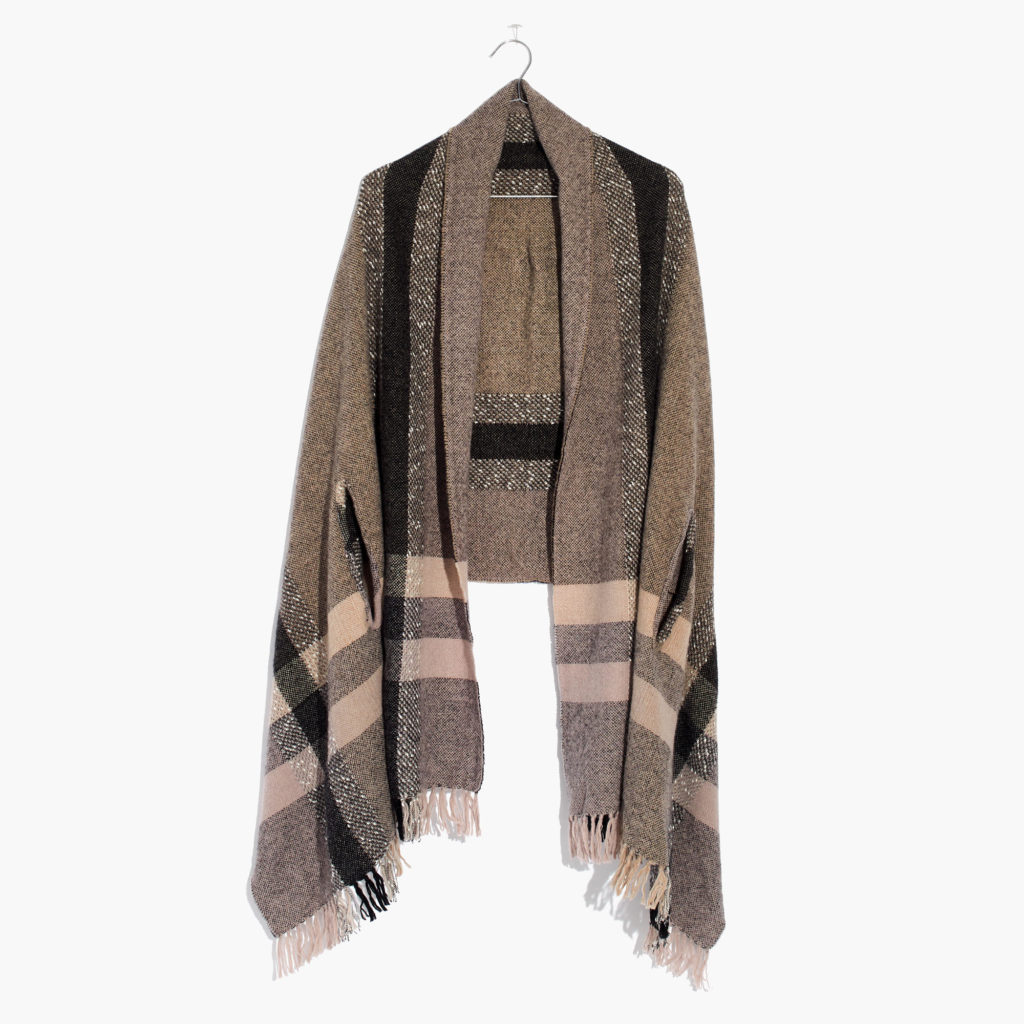 NORDSTROM
Finally, NORDSTROM is having a crazy good sale too! A lot of their sale items are an additional 20% off! You can click directly on the item to shop! They have some special beauty deals that I am sharing too! Hurry, things are selling out in record speed! There are some amazing deals and all of KENDRA SCOTT'S items are on sale here too!
SaveSave
SaveSave
SaveSave

Whew! My fingers might fall off from all of that typing and your eyes might be crossing if you made it all the way to the end of this marathon of a post! Thanks for shopping along with me and I hope you found some amazing deals! Happy Holidays!

Learn more about Barrett & see all of her posts HERE.
Follow Wear it with Barrett on Instagram and Facebook.
**This post contains affiliate links. If you purchase I may receive a small commission. Thank you!**
SaveSave
SaveSave
SaveSave
SaveSave