Hello friends! It has been a busy week shopping for all of these fun items! I have some great finds to share with you all today! If you haven't noticed yet, I have a thing for camo! Wait until you see how cute and affordable this camouflage jacket is! Burgundy is a very popular color for Fall and I'm sharing the cutest dress that's only $46! The chenille cardigan I found is scrumptious and an absolute must have for the Fall! I'm also going to show you my favorite athleisure outfit including my new buttery soft wrap! I'll show you how I styled things to give you some inspiration! Heck, you can order the whole outfit and call it a day! Easy Peasy!
We must begin with my favorite find this week! This Camouflage JACKET is so cute and such a good deal! I styled it with my very affordable jeans and $8 t-shirt! Yes, $8!!!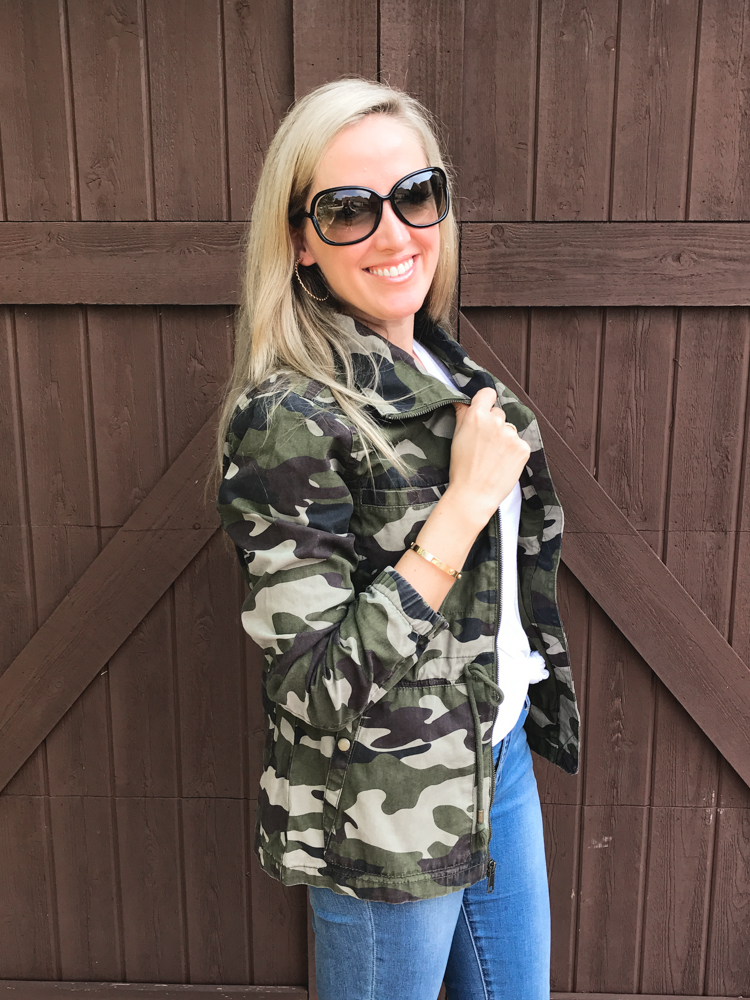 It even has the strings on the sides that you can tighten to help give you a flattering shape! I am a huge fan of camo and for this price, I had to have it! I've styled it for our weather here in Texas right now, but it will look adorable with cute tennis shoes or booties! These espadrilles are on SALE and I can't tell you how much I love them and how much they go with! They also come in other colors, including black! If you like them, snag them now while they are on mega sale!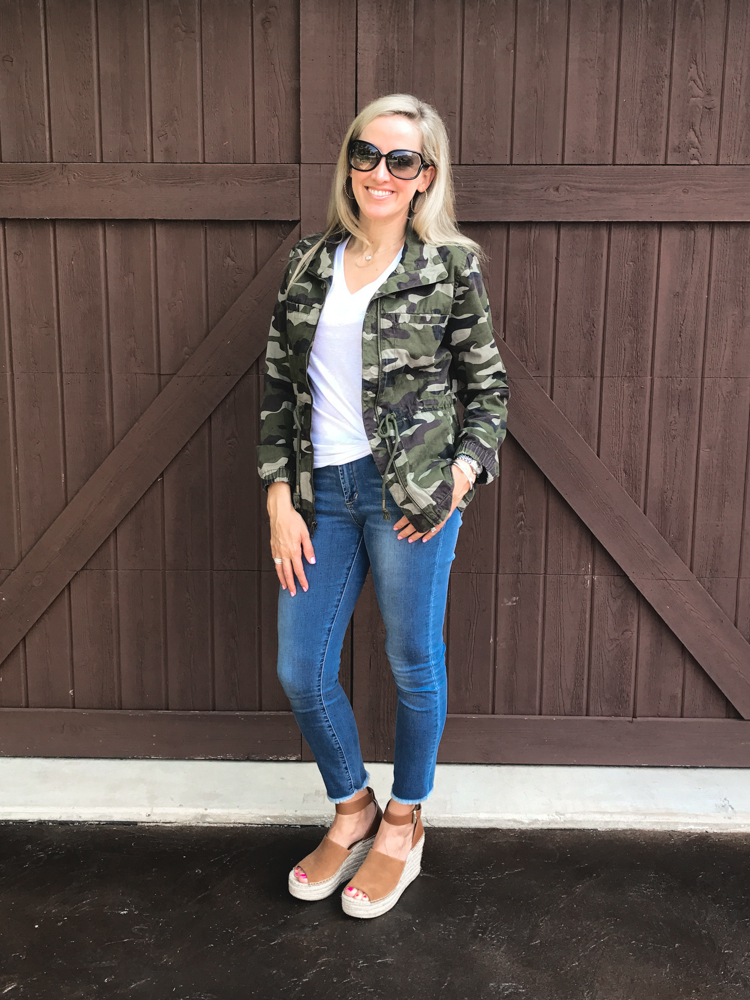 JACKET | T-SHIRT | JEANS | SHOES | NECKLACE | BRACELET
My other favorite find from this week hasn't arrived yet, so I will be sure to share a picture of me in it when it arrives! I was shopping and this cardigan caught my eye and I knew I had to have it! Then, I touched it and fell in love with it even more! This CHENILLE CARDIGAN comes in three gorgeous colors and it is the softest thing! I just want to sleep in it! I had to get the nude color which really looks like blush to me, but what do I know? =) Can you see the contrasting camel color inside the pockets? Eeeekkkk! It's amazing!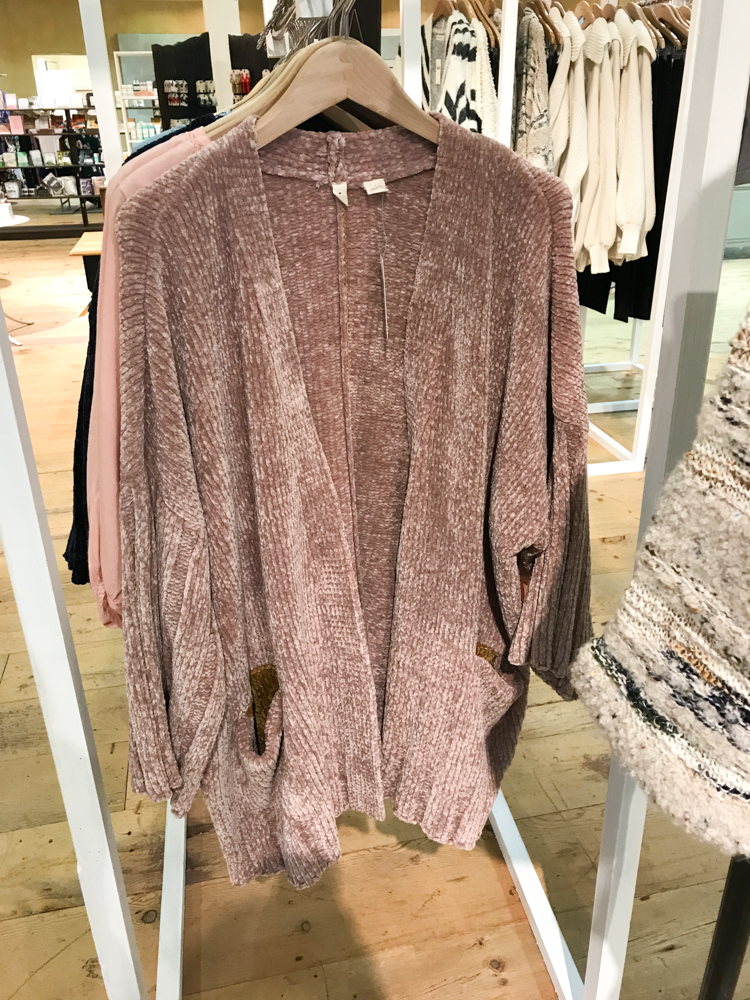 I probably shouldn't have ranked my favorites from this week because I am equally excited about this wrap! This whole outfit is perfect for barre or yoga class, followed by a girl lunch or running errands.  I'm wearing my favorite sports bra that has the cutest straps in the back and a great tank top tied with a knot.  I have shared these leggings before and I am sharing them again because they are that amazing.  Powervita is the softest fabric and the leggings and the sports bra are both made out of that material.  Hence why these are some of my favorites for exercise.  I'm wearing my go to flip flops, my good ol' black Tory Burch wedge flip flops.  The wedge really is so much better for your feet, so I try to keep my feet happy since I insist on going to Zumba several days a week! 😉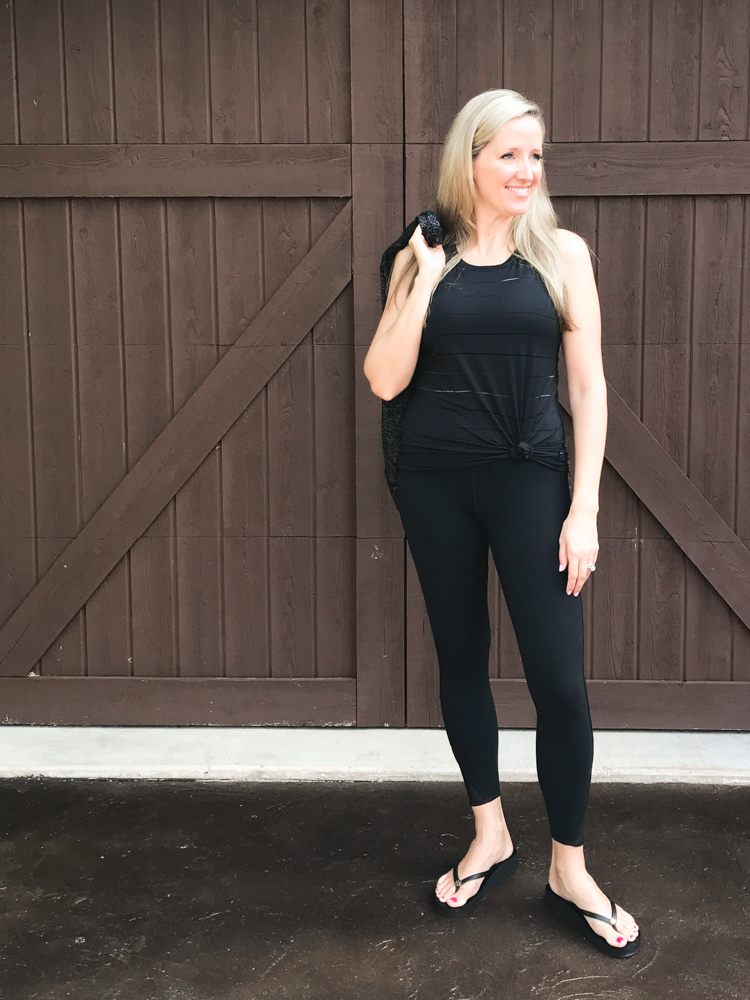 SPORTS BRA | TANK | WRAP | LEGGINGS | FLIP FLOPS
Here's the infamous wrap, it's called the Luxe Pose Wrap (it wont let me link??  Click HERE and then search Luxe Pose Wrap)! It is so buttery soft, my son asked if he could sleep with it! Ha ha! It really is that soft though.  I plan on wearing it ALL THE TIME! It also has thumb holes if you like to use those.  It's longer in the back, which I love! You can see the details on the leggings in this picture and they also have mesh at the bottom.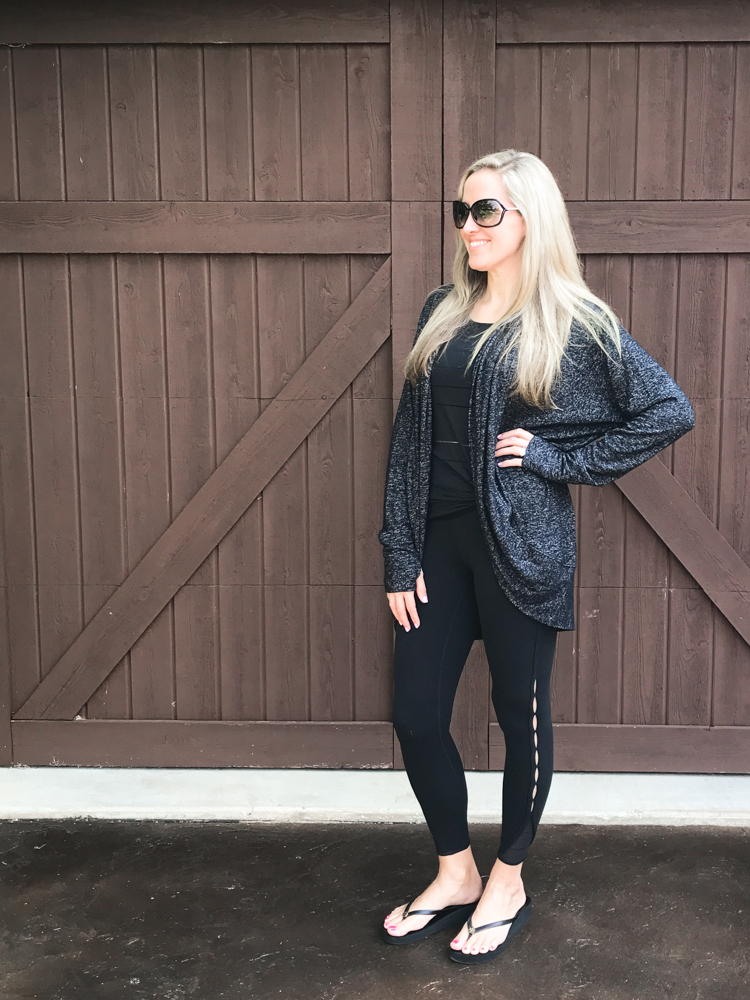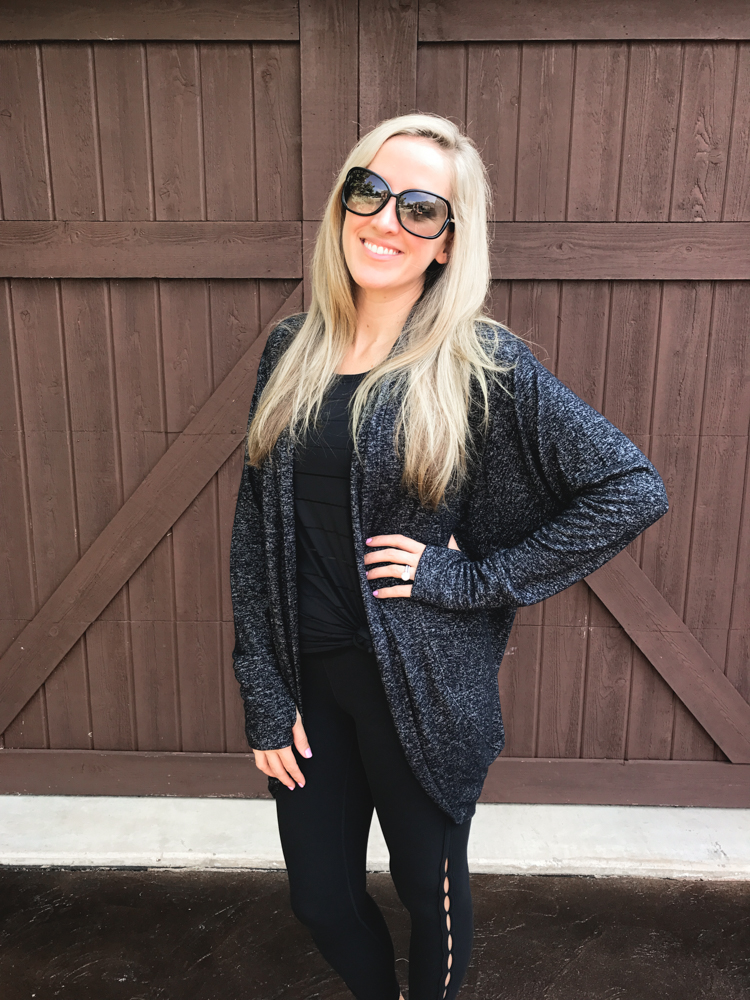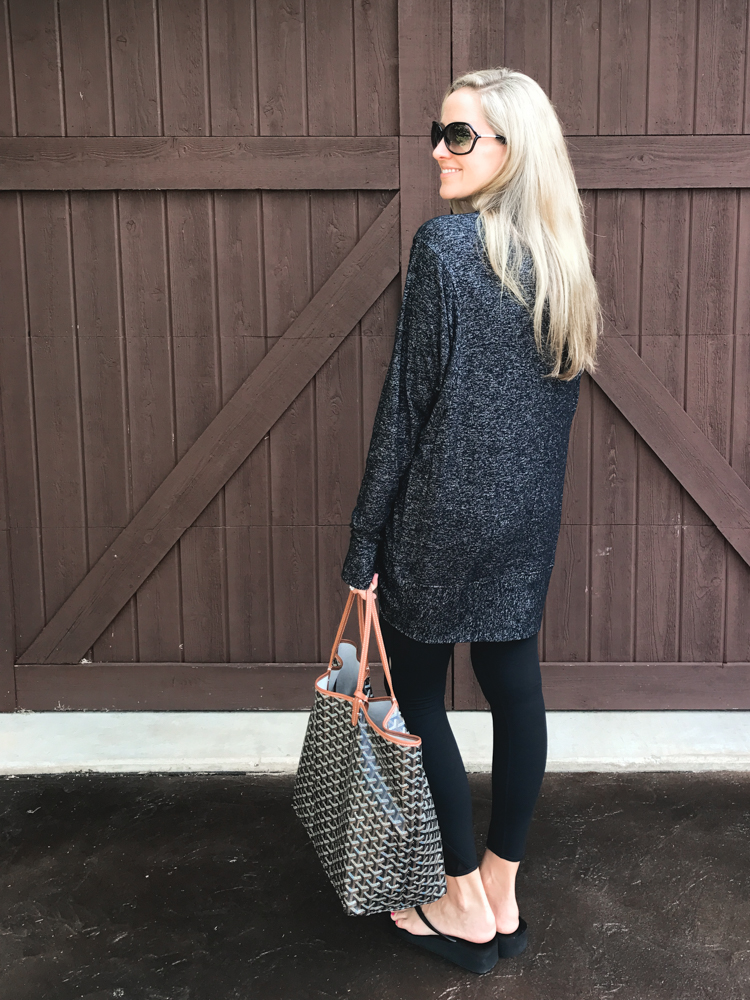 The wrap also comes in a TOP, I might have to have it too! There are several colors that the wrap and the top come in, but I am partial to the black.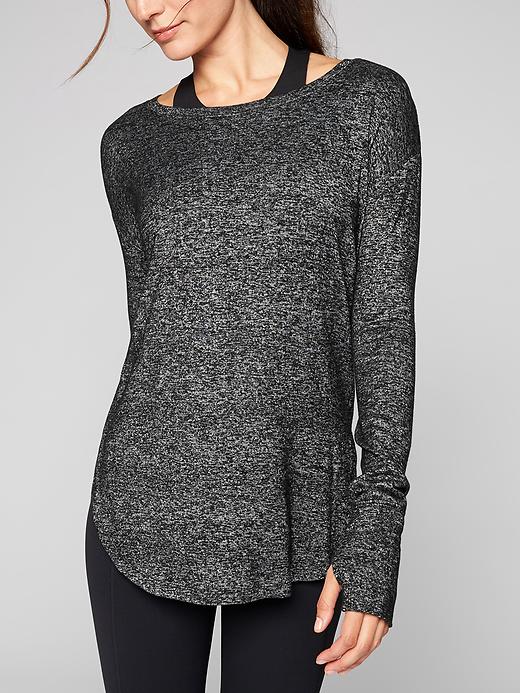 This TWIST TOP is such a great top that you can wear to the gym or with jeans! It comes in several colors too! What's really cool is that you can reverse it and wear the twist in the back! I should probably mention my favorite sunglasses since I am wearing them in just about every picture! I have gotten my money's worth for sure! I still love these SUNGLASSES! Again, I don't mind investing in good classics that will be in style for a long time and are made well.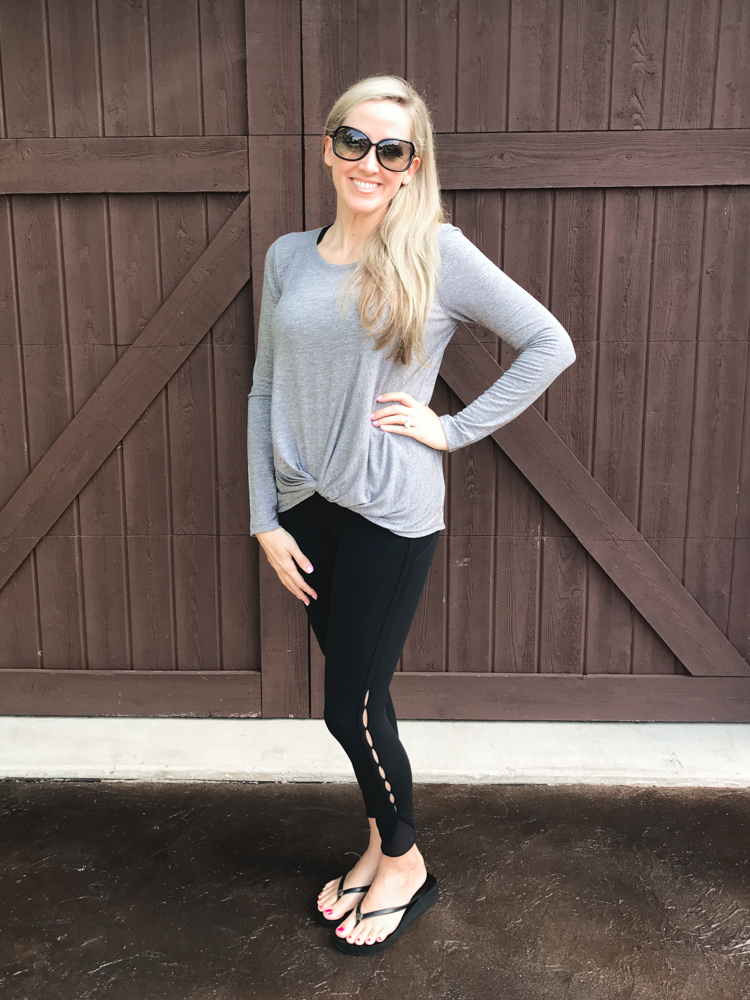 I shared this adorable $46 CREPE DRESS last week, but wanted to show you a picture of me wearing it with my favorite BOOTIES in the Foxy color! I love this dress to wear to church or anywhere for that matter! This is the wine tasting color… the perfect shade of burgundy.  It comes in tons of great colors, black would be a great basic to have! It also comes in blush, olive and mustard… all great colors for the Fall! These EARRINGS are so fun and versatile! I love the gold pair with my necklace!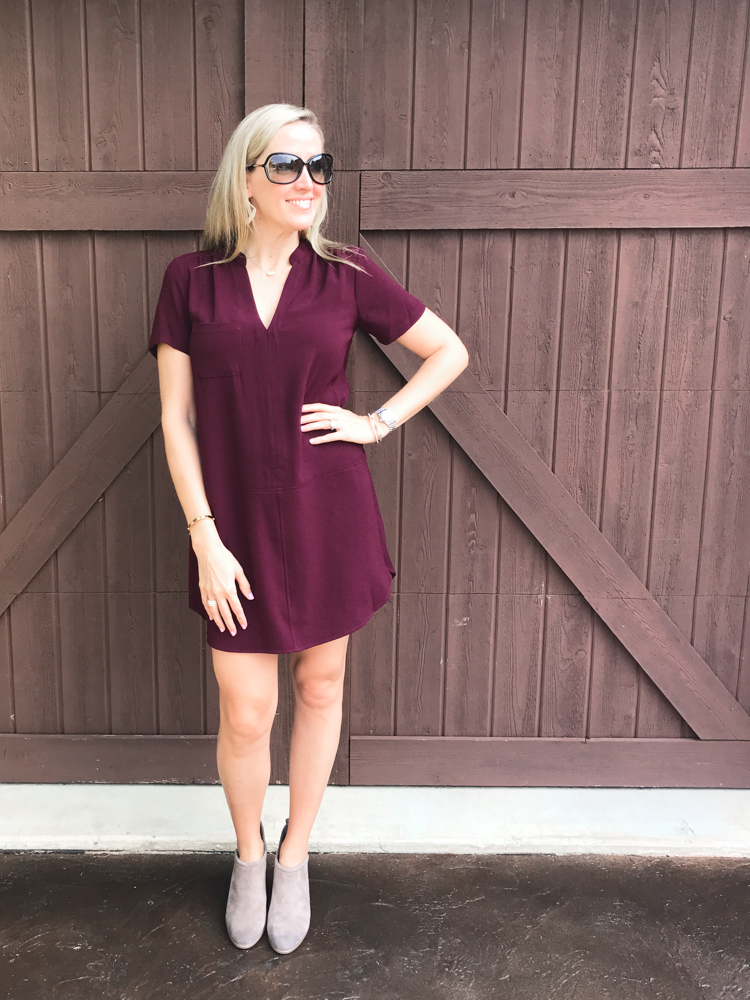 This dress will be so cute with leggings and tall boots too! Throw on a chunky scarf or a cute jacket and you are ready for the Fall!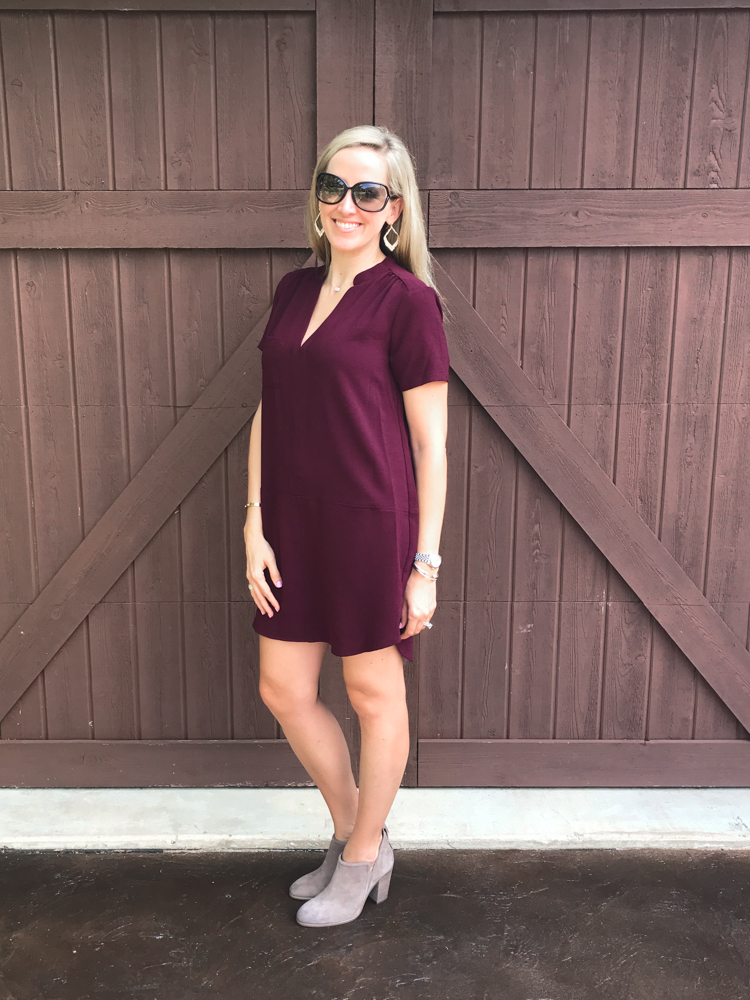 I hope everyone has a great week! I'm not used to posting on a Monday, but what better way to start the week then with the joy of shopping! It's exciting when you order it and even more exciting when they deliver it to your door! It's like a two-for-one!


Learn more about Barrett & see all of her posts HERE.
Follow Wear it with Barrett on Instagram and Facebook.
**This post contains affiliate links. If you purchase I may receive a small commission. Thank you!**
SaveSave
SaveSave