I am so excited to share a new series with all of you! It's called "Changing Room Chat" and I plan on doing these every so often so that you guys can see all of my favorite finds in that particular store.  Since I can't buy every single thing that I want (my husband wouldn't be very happy with me), this will be a great way for me to share more of my faves in person!
changing room chat-Anthropologie
Since Anthropologie just got in a lot of beautiful new things, I thought it should be the first in this series! Perfect timing too because they are having a Spring sale on all full price clothing and it ENDS TODAY! You get 20% off and free shipping on orders over $150 and no code is necessary.  Please excuse my photos, but at least the changing room had great lighting! Ha ha!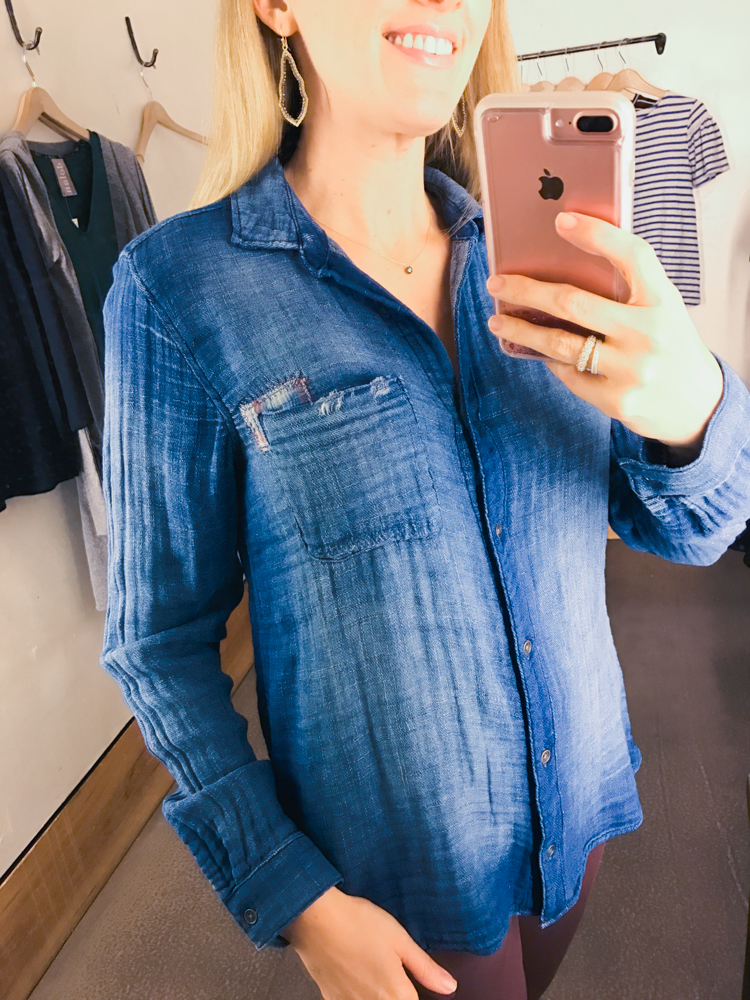 First up is my favorite shirt! Oh my gosh, it is the softest shirt! It feels like one of those super soft dishcloths or something.  Take my word for it, it is AMAZING! It's a really pretty blue and has these cute little "patches".  I am in love! PS, sneak peek for the beautiful jewelry that I will be sharing with you guys next week! Check back this weekend for a giveaway too! Eeeeekkkkkk!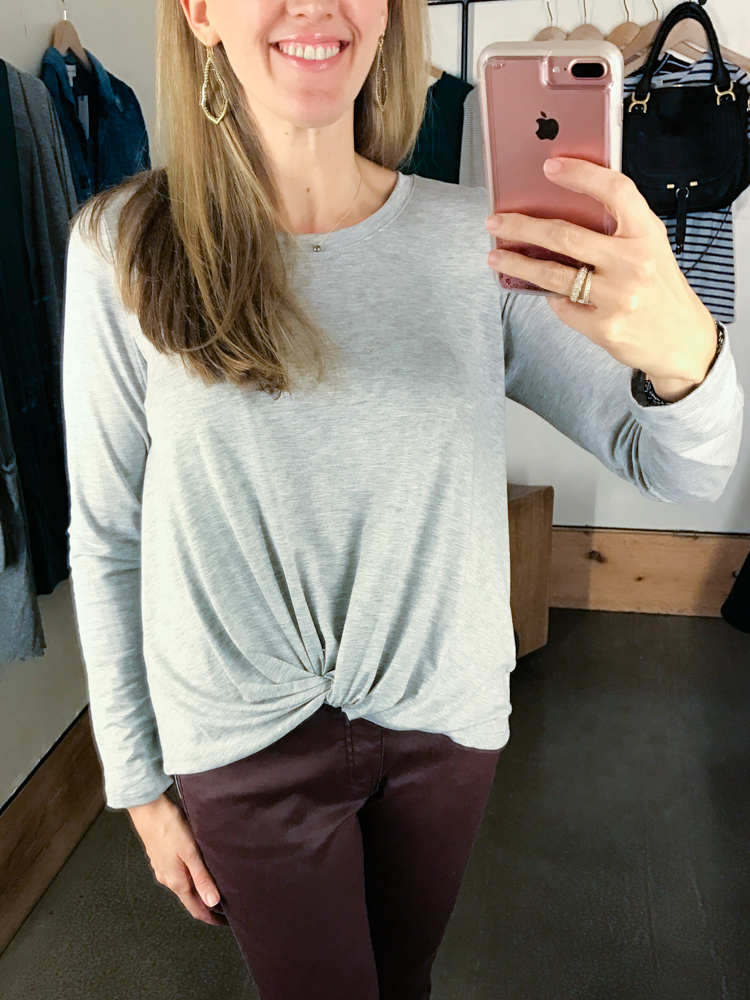 This twist-front top is super cute and available in 10 different colors! I'm wearing these pants in both of these pictures but I didn't get a great picture of the bottom of them, so here is the one from their website.  I know you are disappointed that it isn't another picture of me! 😉 They are available in wine or black.  The bottom has a fun lace-up detail and they are coated.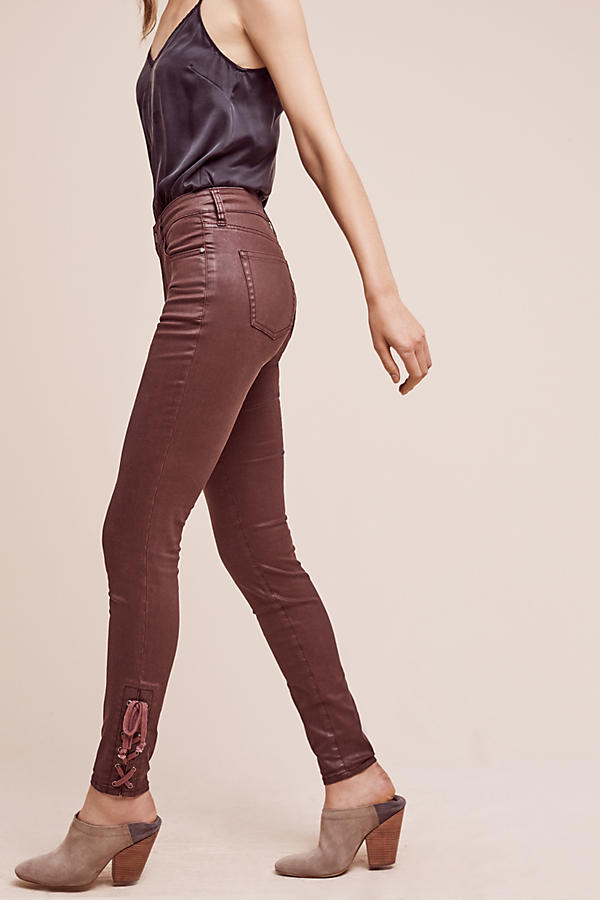 This dress is beyond comfortable and I think it is really cute on! I thought it would be really boring when I saw it on the hanger, but I loved how it fit when I put it on.  I did size down one size.  It is available in four different colors.  This green was really pretty and different.  I also really like the black one because you could get a lot of wear out of it.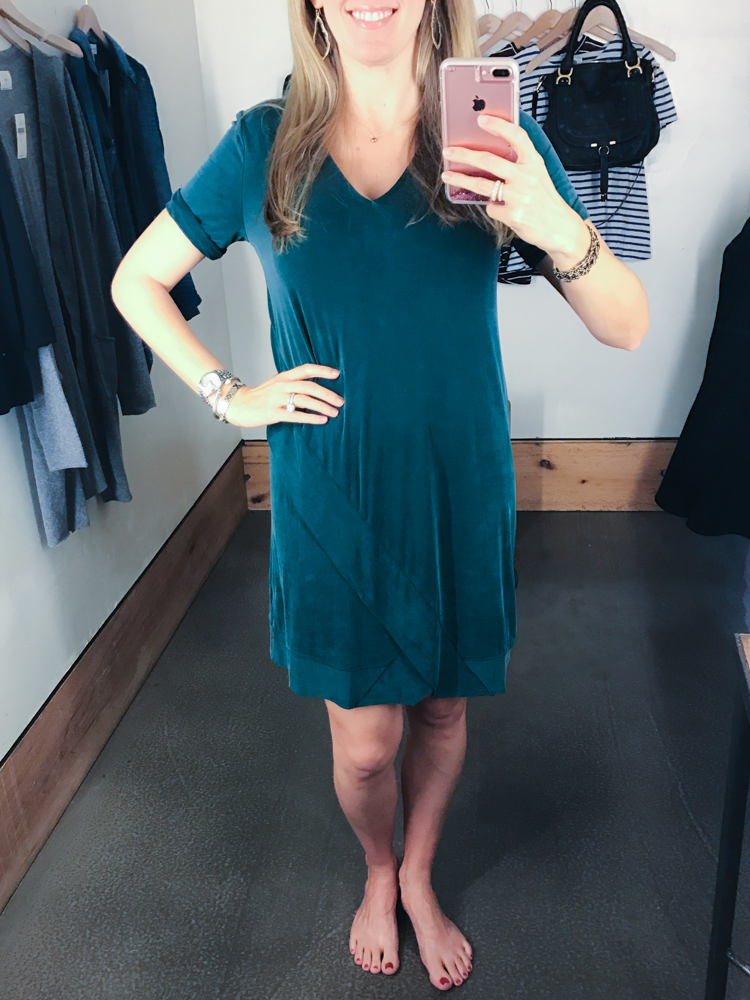 Here's the detail of the interesting lines on the dress.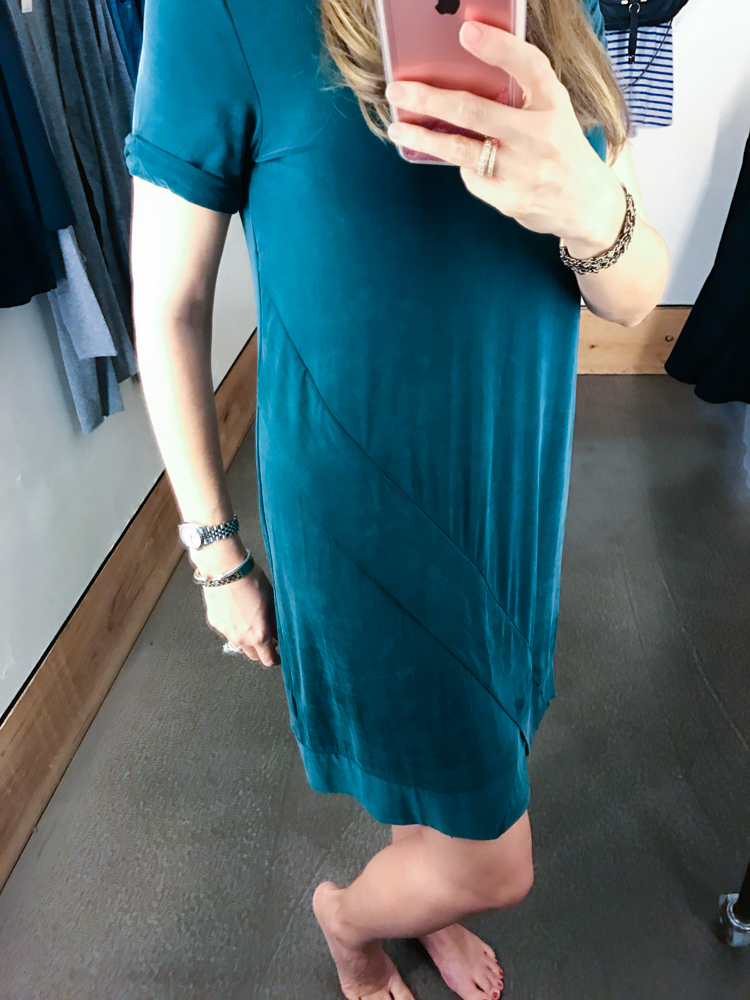 I just got this Chloe bag for Christmas and since I had it with me, I thought I should try it on with this dress! There aren't words to describe how much I love this purse! It is the perfect size and can be carried on your shoulder, on your arm or cross body! The leather is scrumptious and the quality is impeccable! It's the perfect winter bag! It's available in 7 different colors and has 100 5 star reviews!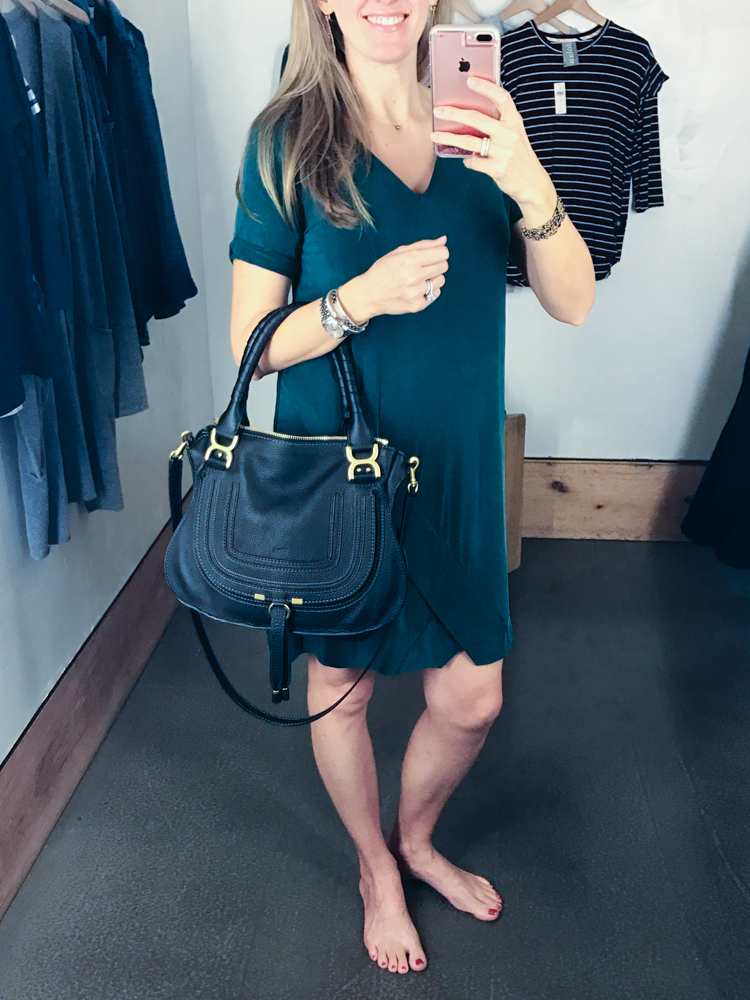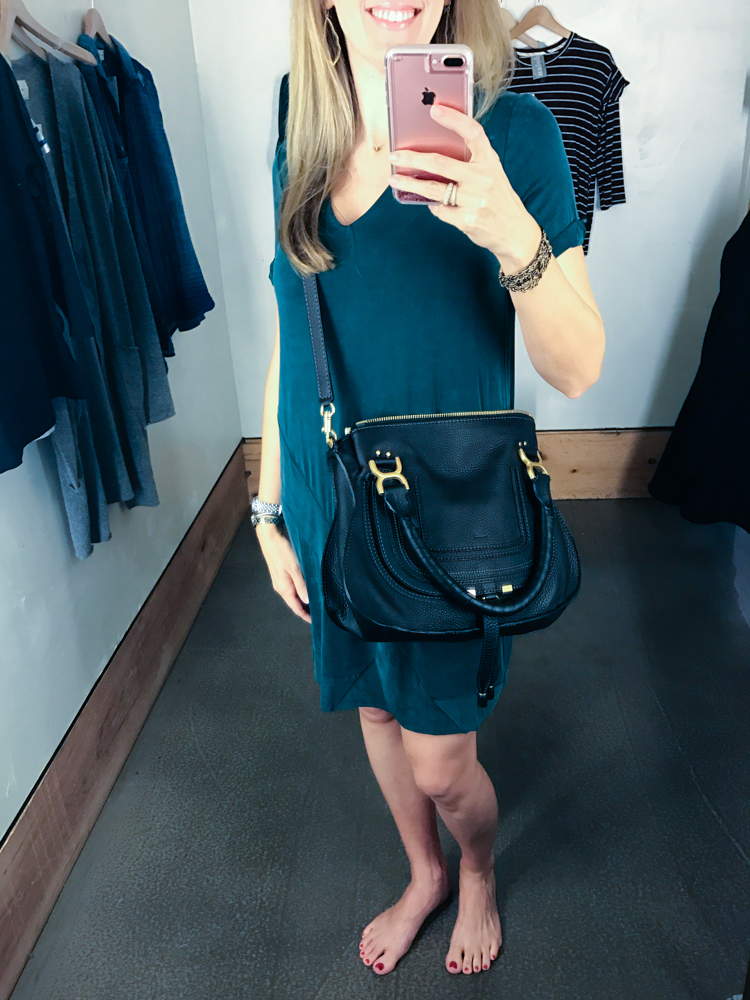 I'm also wearing this bracelet and let me tell you how often I wear it! It is so versatile and I am happy with the black thread and gold chain option.  I like how the magnetic closure stays on the bottom of my wrist so I don't have to mess with it.  The thread and chain part stays on the top of my wrist.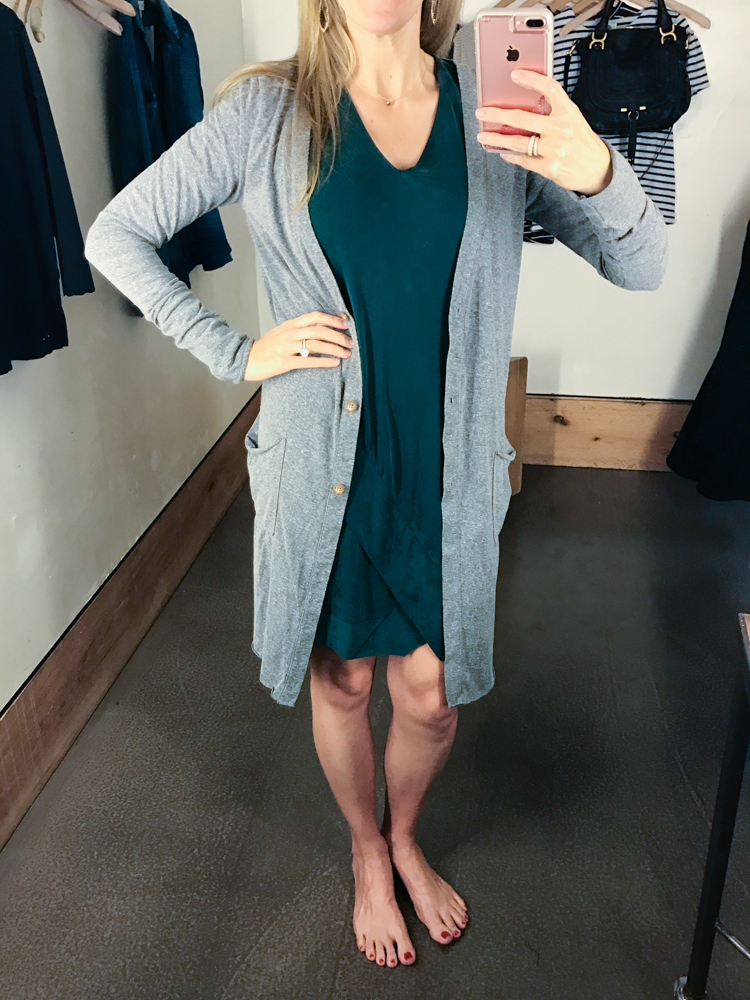 I really like this lightweight cardigan over this dress during the winter.  It's very versatile and comes in 4 colors.  It's a great price too!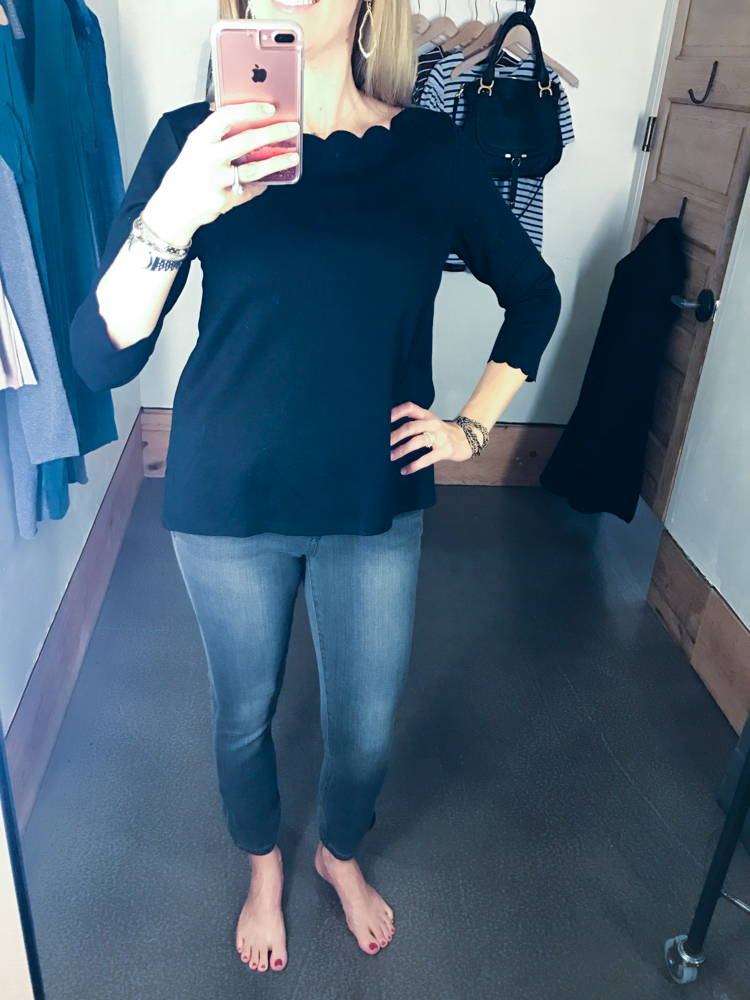 Next up is this awesome scalloped top! It is available in ivory or black.  The fabric is really comfy and I like how it hangs.  I must tell you that I am noticing a shift in the length of shirts! Say it ain't so, but I'm afraid a shorter shirt is in style ladies! Yikes! I hope the booty covering shirts don't go away or I might be in mourning.  I'm going to have to embrace the shorter shirts again and if I have to, then the next couple of tops will make me happy!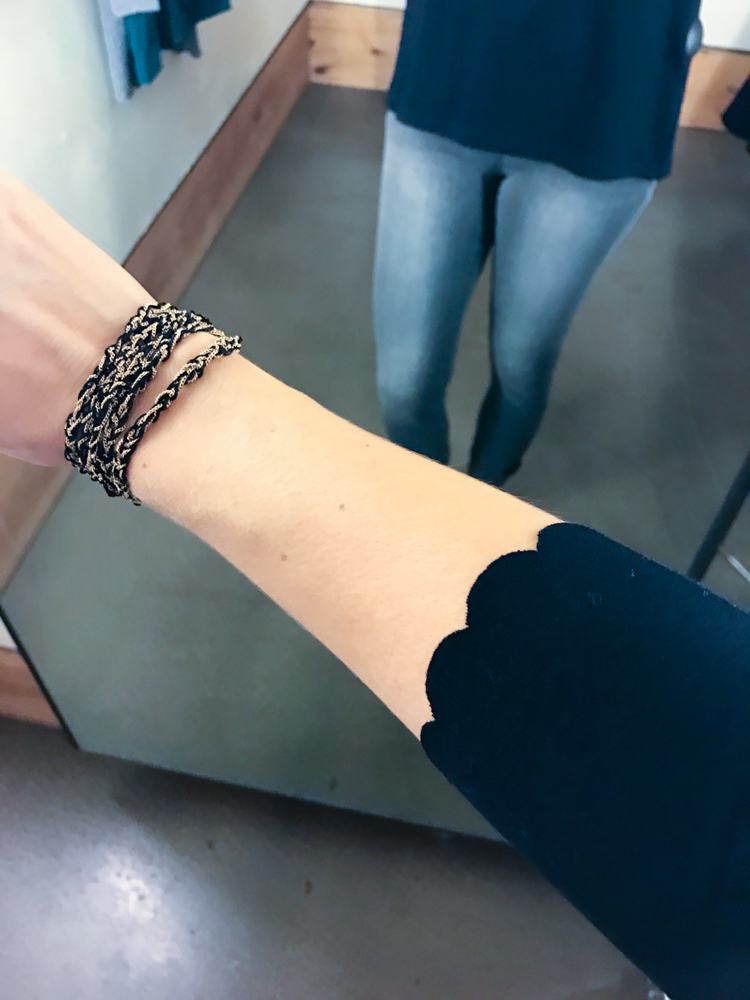 The scallop detail is on the neckline and the sleeves.  I really love this shirt and I think everyone needs it in black. The price is right on this one too!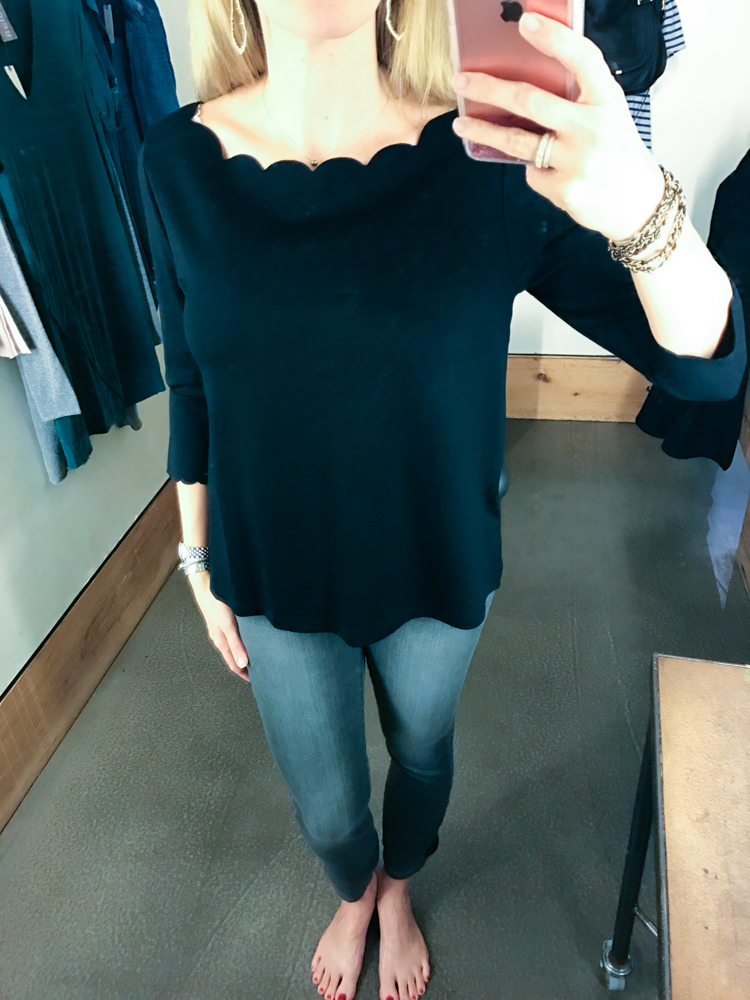 These gray mid-rise ankle jeans are fabulous! I love this Anthropologie exclusive brand of denim! They are great quality and won't break the bank.  I am on the hunt for the perfect gray jeans and these are on the top of my list! Stay tuned!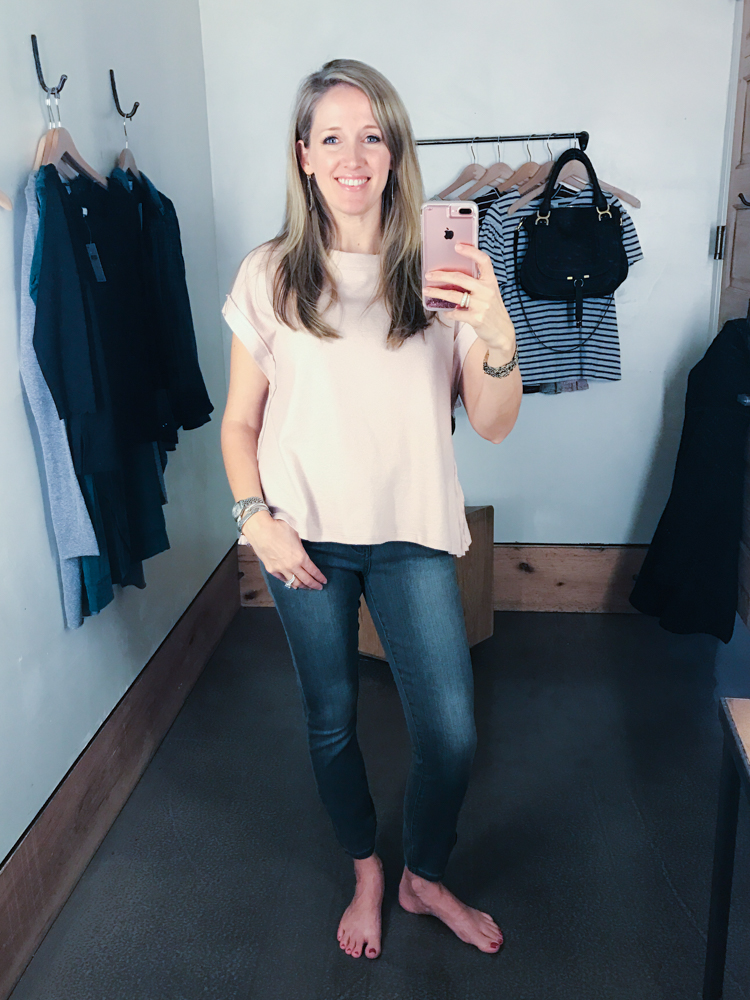 This tee is so fun because it has shimmer in the fabric.  Love how it fits! I tried on the rose color and it's available in navy (yes, please) and cream.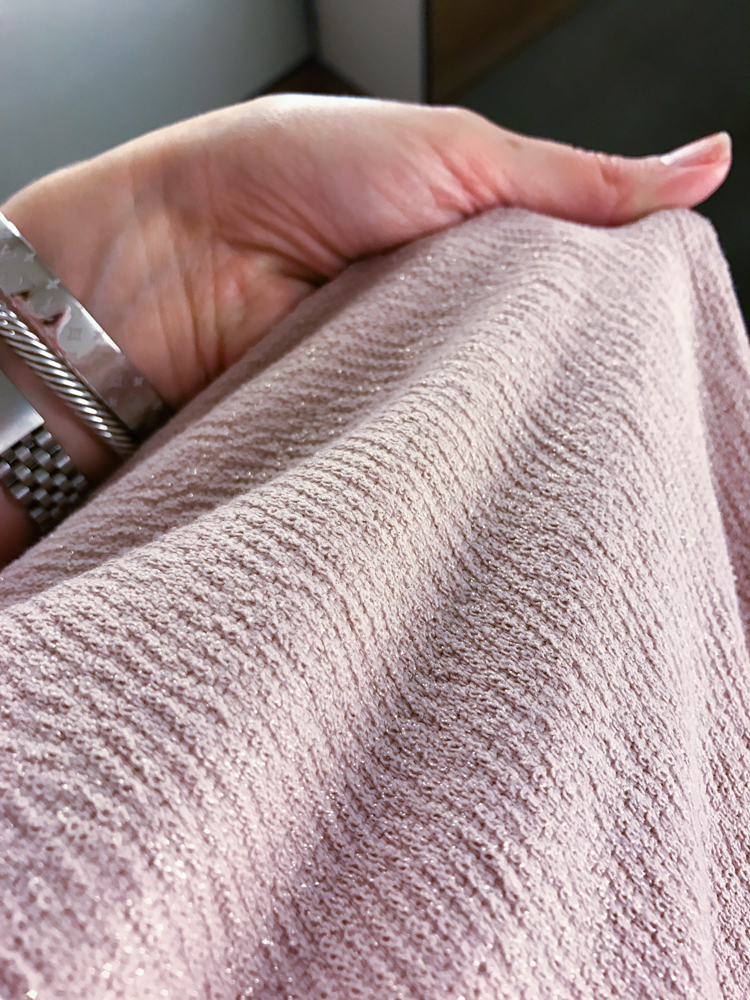 I tried to capture the shimmer for you!
Love, love, love this bell-sleeve shirt! I'm wearing the red and it's available in black too! It's a great casual shirt with some pizazz!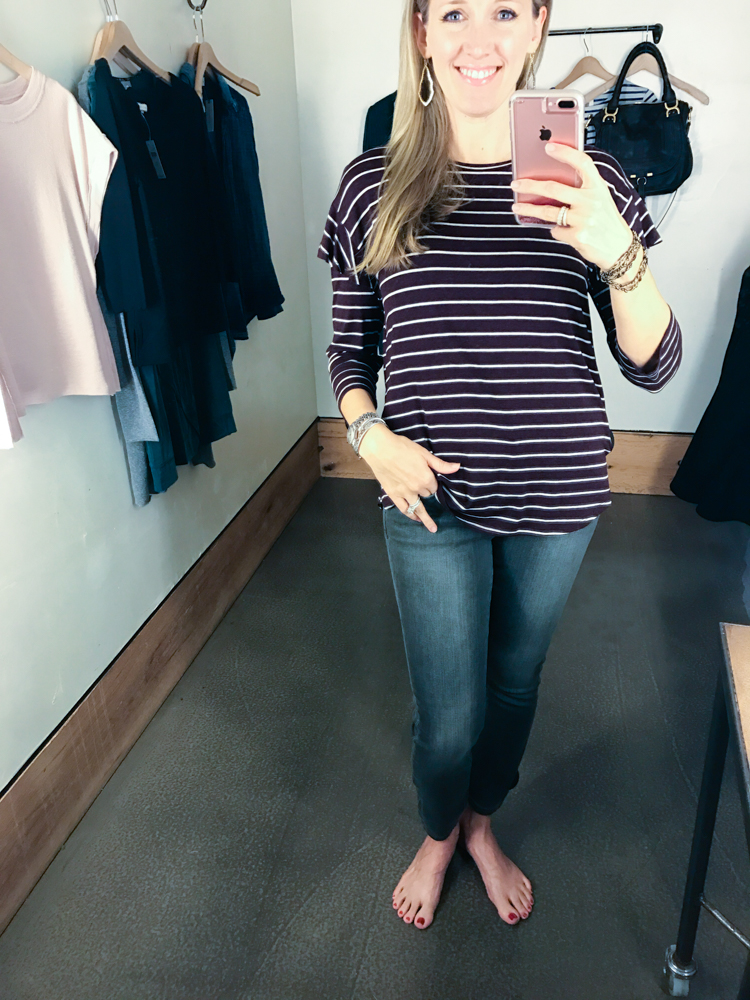 Last, but not least, is this fun shirt! It's also available in grey with black stripes.  I can't decide which one I like more? Maybe I need both of them! The shoulders have cute ruffles that add some fun to this comfortable shirt!
My store didn't have this amazing wrap top when I was there, but I think it's so feminine and pretty! Love it with long tassel earrings! It comes in black too.  I can't wait to bring this one home, I mean try this one on! I'm telling you, I have a shopping problem!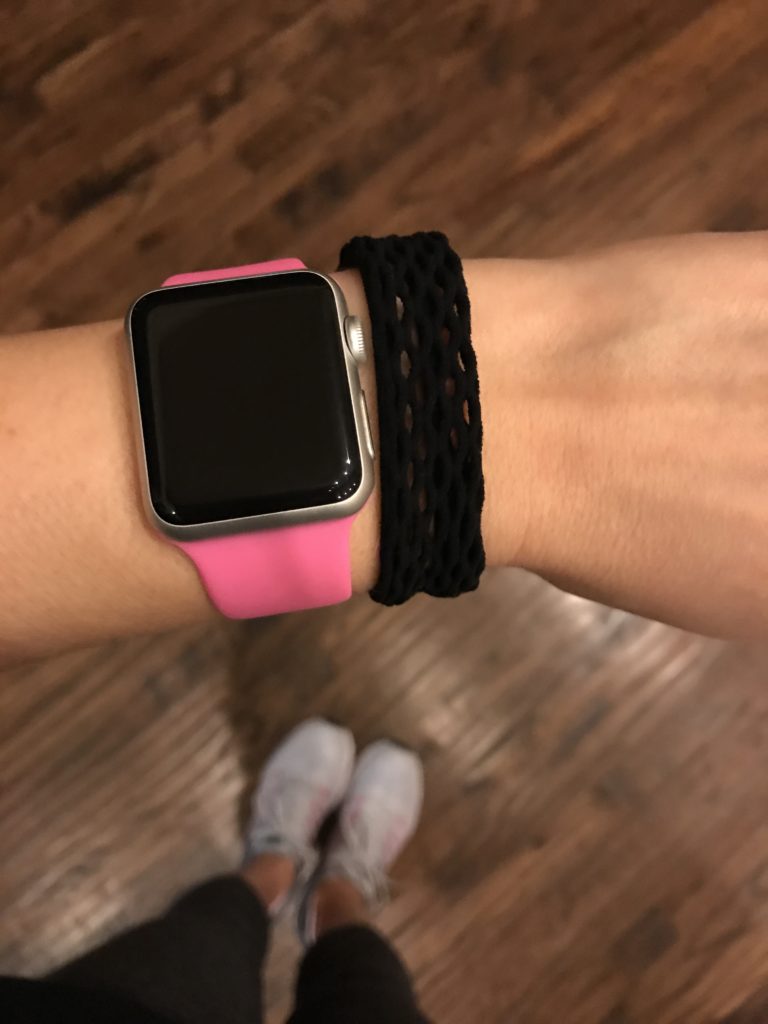 I'm also excited to tell y'all about my second favorite pony tail holders! My number one pick is still these! I ordered these in the black set and I have been really impressed with how they hold up my hair when I workout! I think they are really cute too! Here's the black one on my wrist.  And let me tell you how excited I am to finally have a hot pink band for my Apple Watch! I found this sport band on Amazon and so far so good! I am impressed with the quality, especially for the price.  The color is spot on, Barbie Pink! Just what I was looking for! I have the 38mm watch and this band has almost 1,800 reviews with 4&1/2 stars! Wow! I felt comfortable trying it and I'm so happy I did! Wait until you see the price! You just might do a happy dance! There are tons of color choices so even if you don't want Barbie Pink, there might be a color you love if you are looking for an inexpensive alternative for your Apple Watch.
Thanks for joining me for the first edition of Changing Room Chat! Lets chat again really soon!

Learn more about Barrett & see all of her posts HERE
**This post contains affiliate links. If you purchase I may receive a small commission. Thank you!**