Good Morning! I am so excited to take you guys along with me to shop Kendra Scott's NEW Fall Collection!  There are so many beautiful new pieces to add to your wardrobe that it makes it hard to choose! It feels like Christmas in August! You guys would have laughed at me, I went to my local store and I was moving pieces around on the forms so I could show you how I would pair things! Don't worry, I put everything back the way it was! The new collection is inspired by Kendra Scott's trip to Florence, Italy.  There are new colors that are so rich and perfect for Fall! KENDRA SCOTT is also having a huge SALE! There are tons of great pieces that are marked down! Things are already selling out, so snag your favorites while you still can! They offer free shipping and returns too! I'll also show you some great new shoes and some sale finds from this week!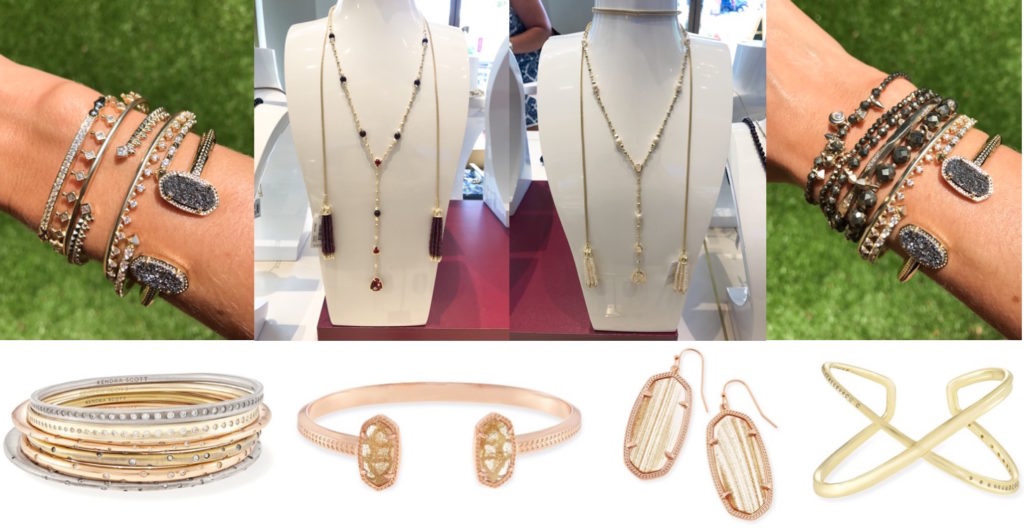 KENDRA SCOTT: NEW FALL COLLECTION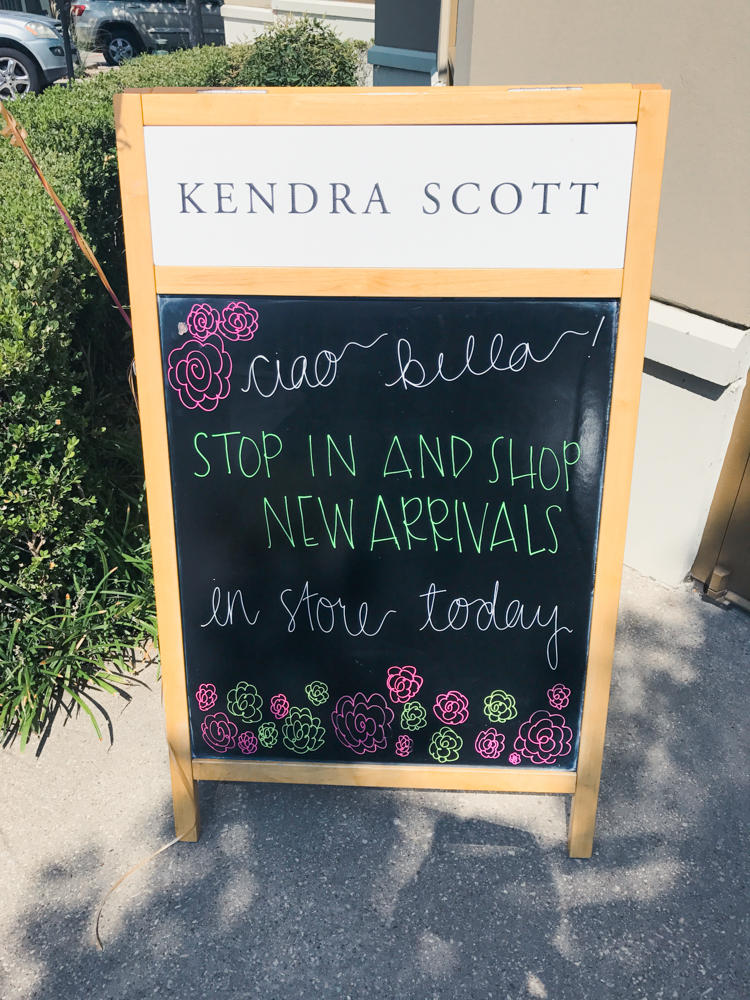 I have to say that I am smitten with a lot of the new bracelets! I love a good arm party for my right arm and there are some great new choices that layer well with other bracelets that I already have! My very favorite thing from the new collection is this BRACELET SET! It includes 4 pinch bracelets and they are so versatile! You can wear them all together or pick and choose which ones to wear with other bracelets! I like to wear mine with two of them turned around so the opening is on the bottom, and two of them with the opening facing up! They are adjustable, you just gently open and close the bracelets! I am wearing them with my other favorite BRACELET and CUFF in platinum drusy.
In other news, the coveted bronze veined TURQUOISE is back in stock in the Elton cuff! This is one of my favorite stones because of the richly saturated turquoise that has bronze veins running through it.  You could also layer this cuff with the stack pictured above!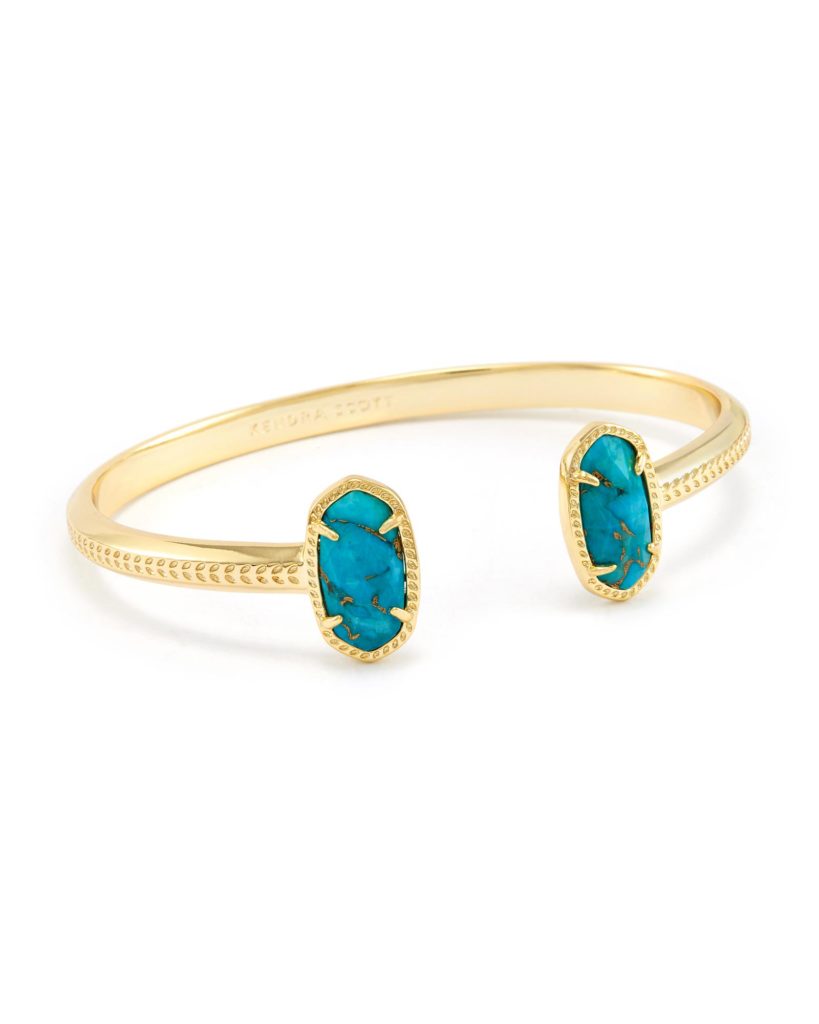 My other favorite BRACELET SET comes in several color choices.  I am partial to the brown pyrite! I think it looks great with just about anything because it's so neutral! It includes 5 stretchy beaded bracelets so you can mix and match and layer accordingly!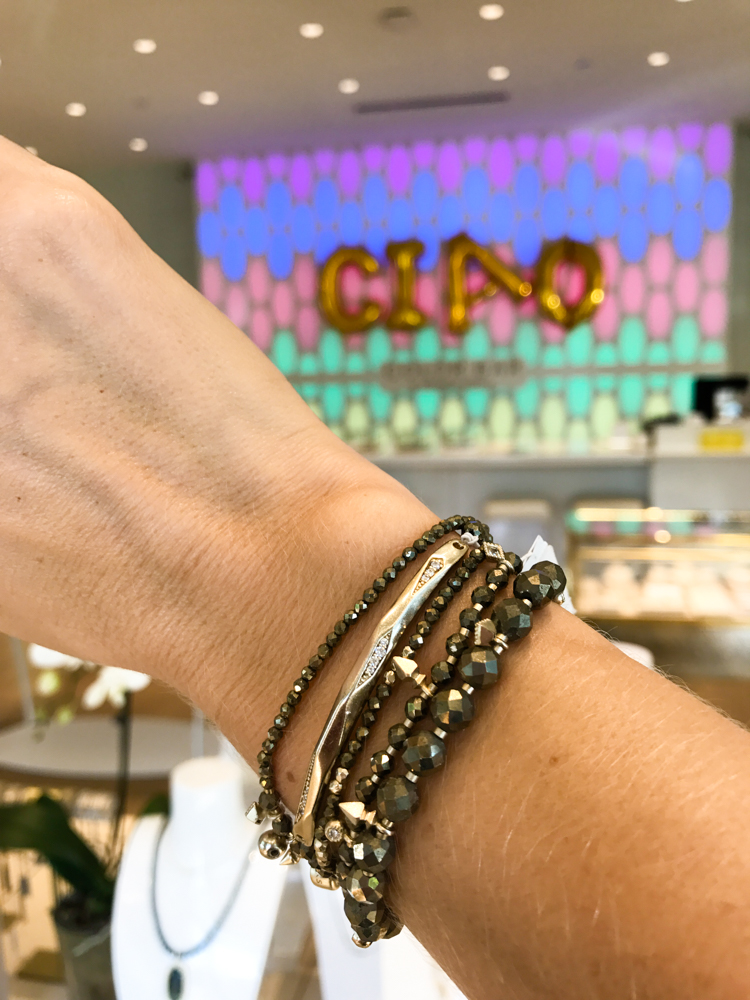 Here they are with two of the bracelets from the first set and my platinum drusy cuff! I think this color stone looks great with the platinum drusy!
This LARIAT NECKLACE is so beautiful! It has a thinner chain which means it layers so well with other necklaces! My favorite color is this green ocean jasper, but it comes in other beautiful colors too! You could wear it with anything because it almost looks grey or maybe black in person.  The color is so rich and the stones sparkle! You could wear this in lots of different ways!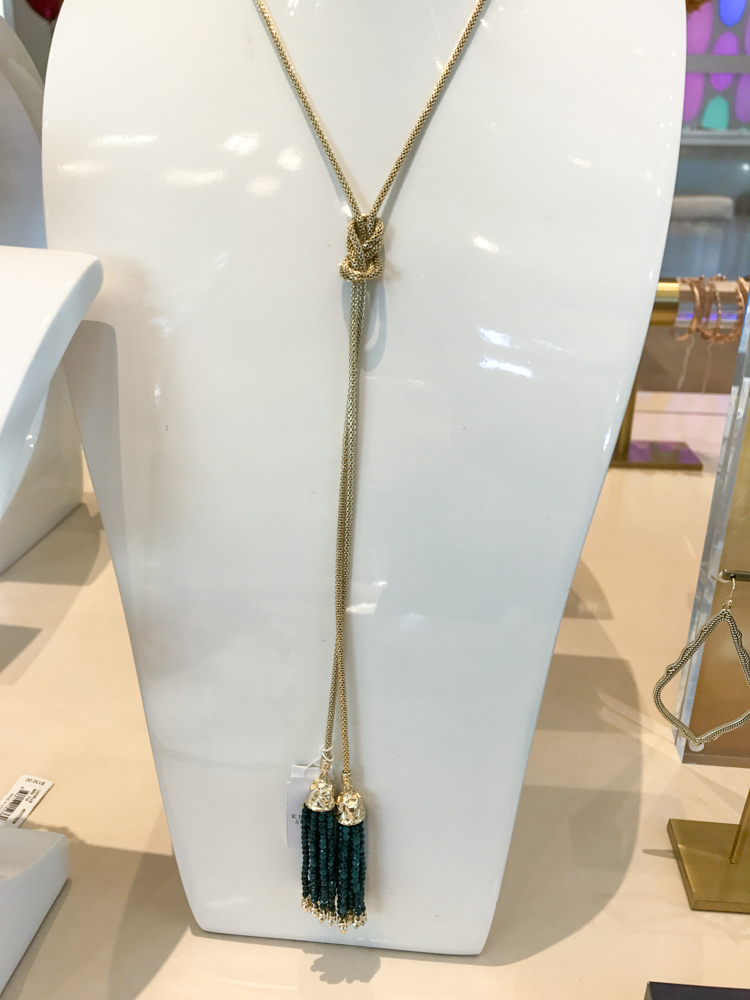 I would layer it with this BAR NECKLACE! I love this one!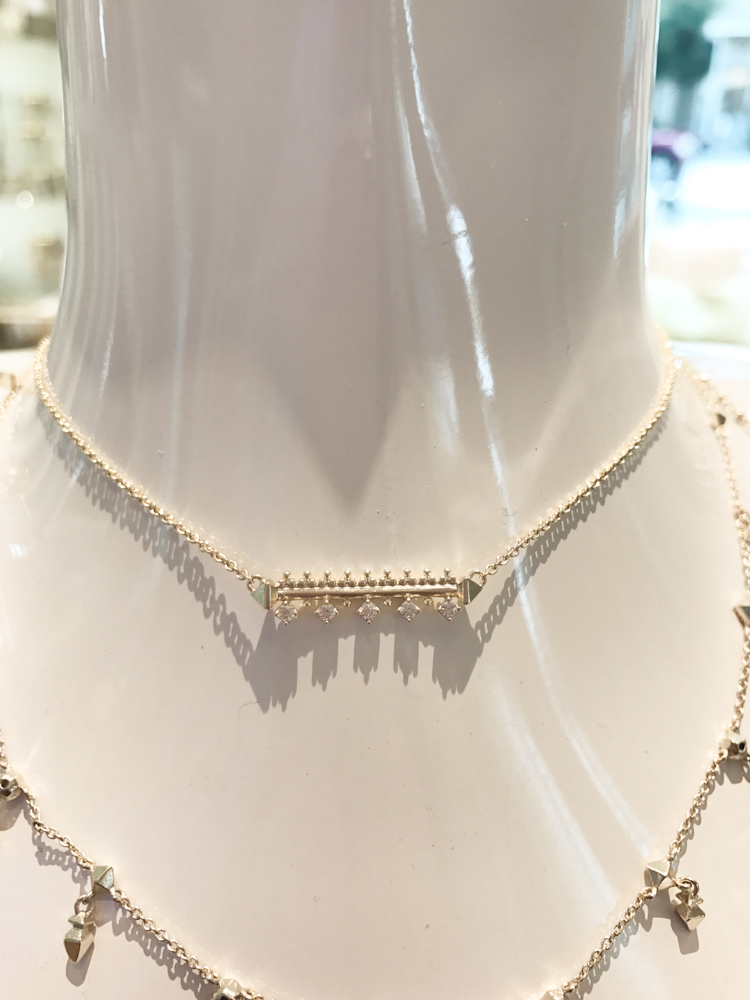 It also looks gorgeous with this Y NECKLACE, this is the bordeaux tiger's eye color. Swoon!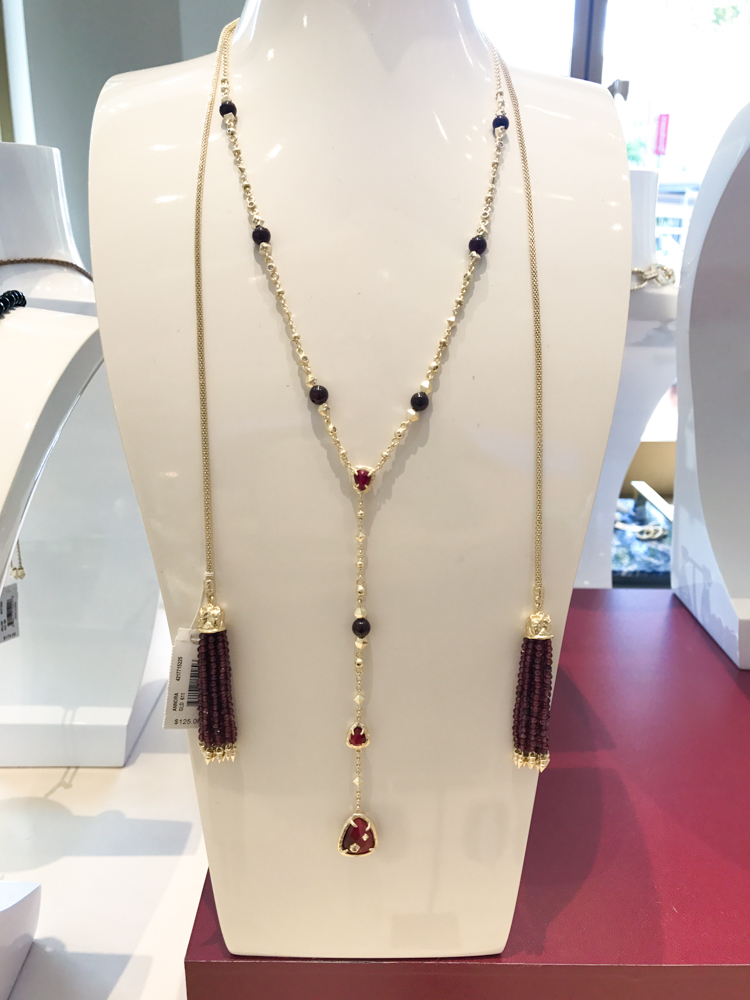 Here it is in the crystal ivory illusion, such a great neutral to wear with everything!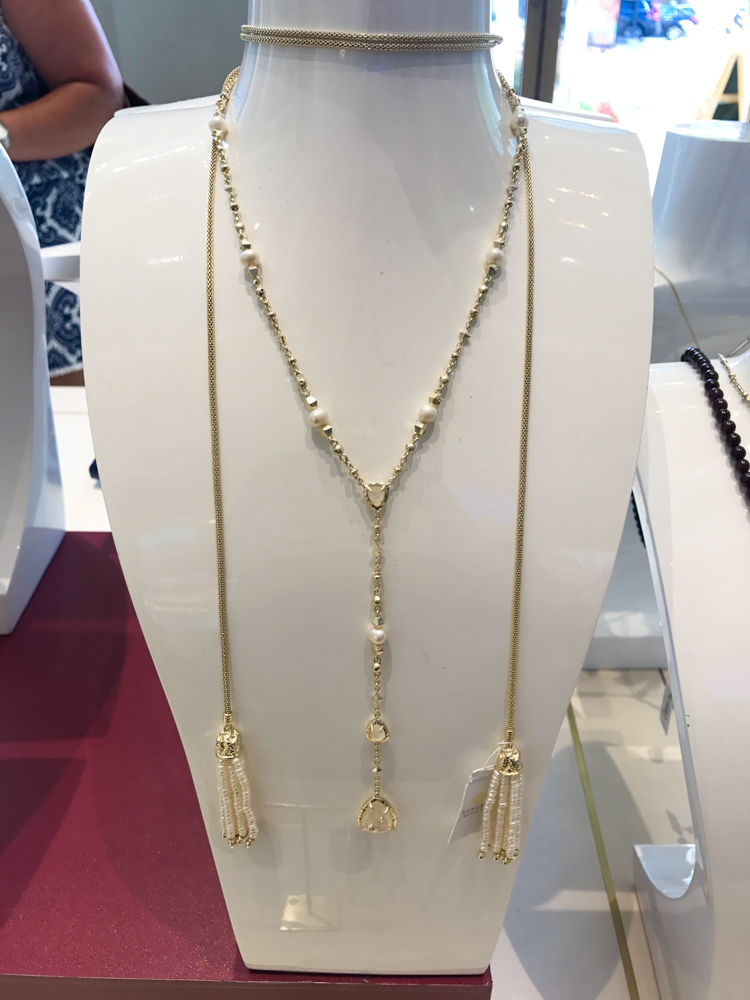 This is the Y NECKLACE in crystal gray illusion with the BAR PENDANT in rose gold! Soooooo pretty!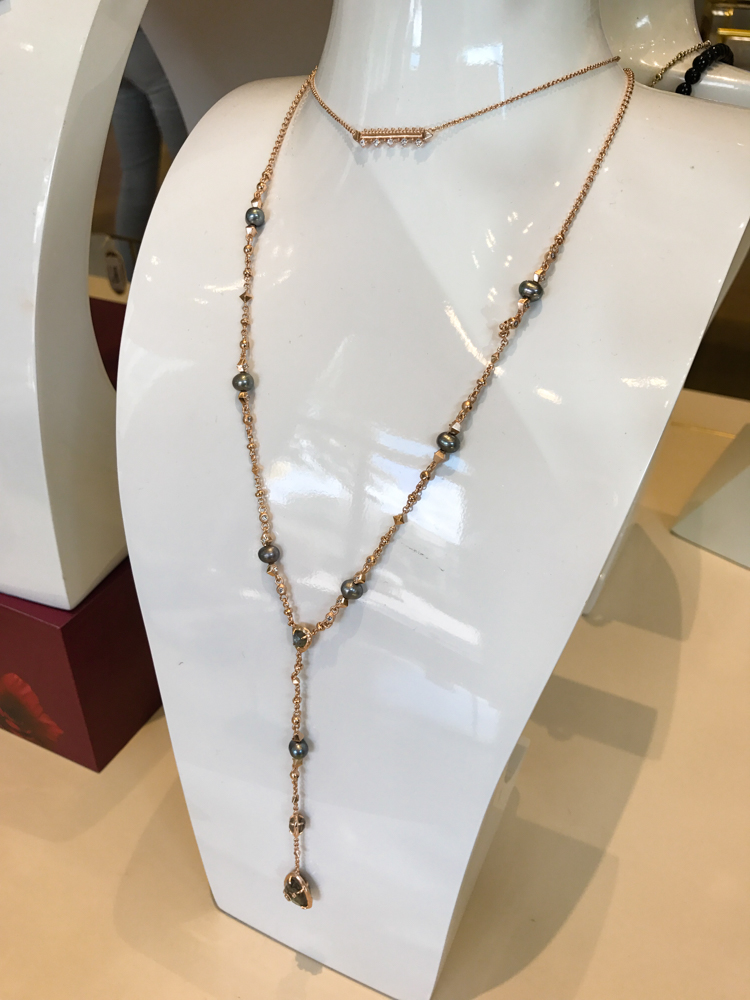 If you love rose gold, I think the pinch BRACELET SET looks amazing with the Rose Gold Drusy CUFF!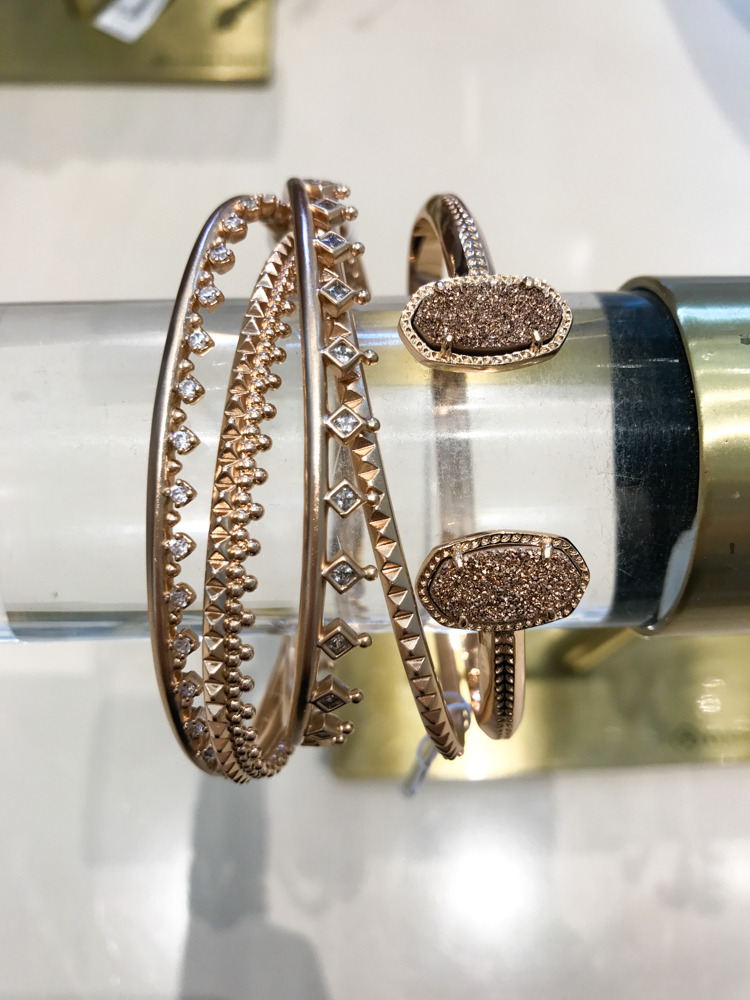 This shows you the new stones for the Fall collection, so many pretty colors! This is the LONG PENDANT NECKLACE.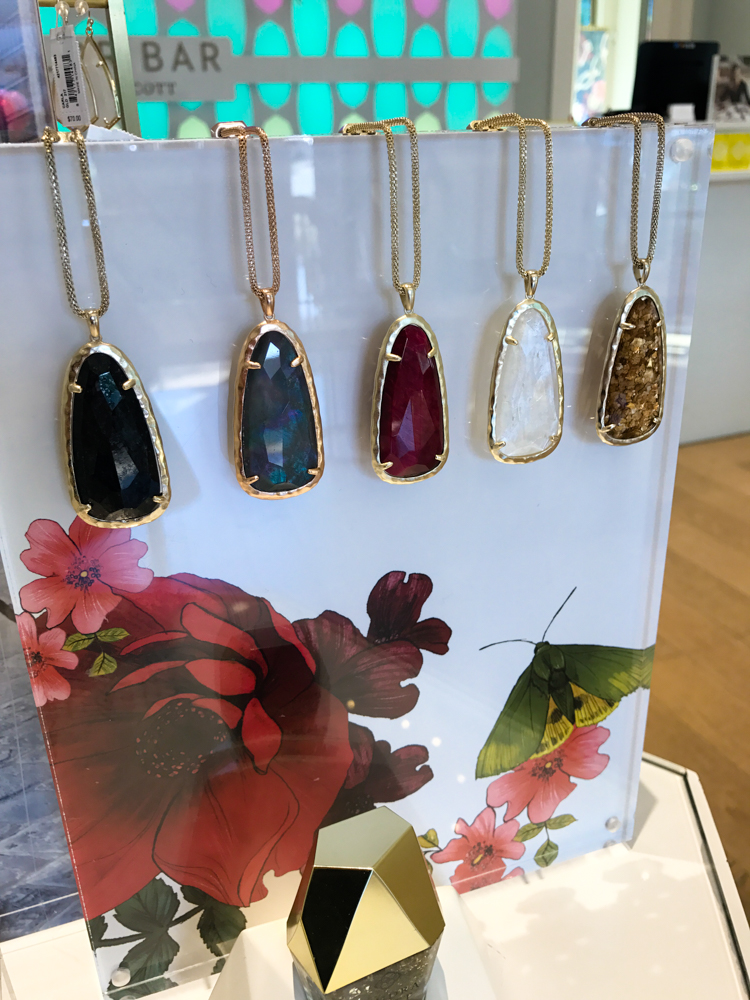 These STATEMENT EARRINGS are amazing in person! I like these so much and they come in four of the new colors.  Starting with black granite on the left, then bordeaux tiger's eye in the middle and crystal ivory illusion on the right.  They also come in green ocean jasper (not pictured).
These EARRINGS are such a fun statement piece! Love the floral filigree and the fringe!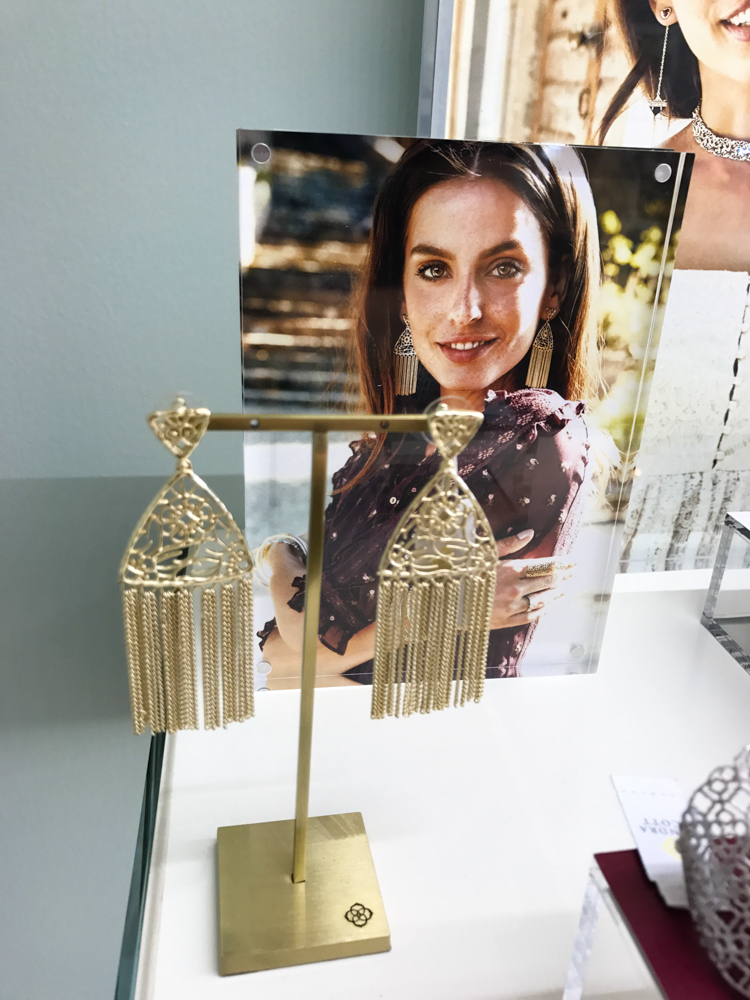 Kendra Scott: Sale Picks
There are literally tons of great items that have been marked down! To see everything on sale, click HERE.  These are my personal picks from the sale! I love the gold dusted glass stone, it has the perfect amount of sparkle! Lets start with one of my favorite necklaces that I wear a lot! This NECKLACE is dainty, while having the prettiest bars of pave CZ's! I like to layer it with a shorter gold necklace too! I'm wearing it in a picture further down in the post. =)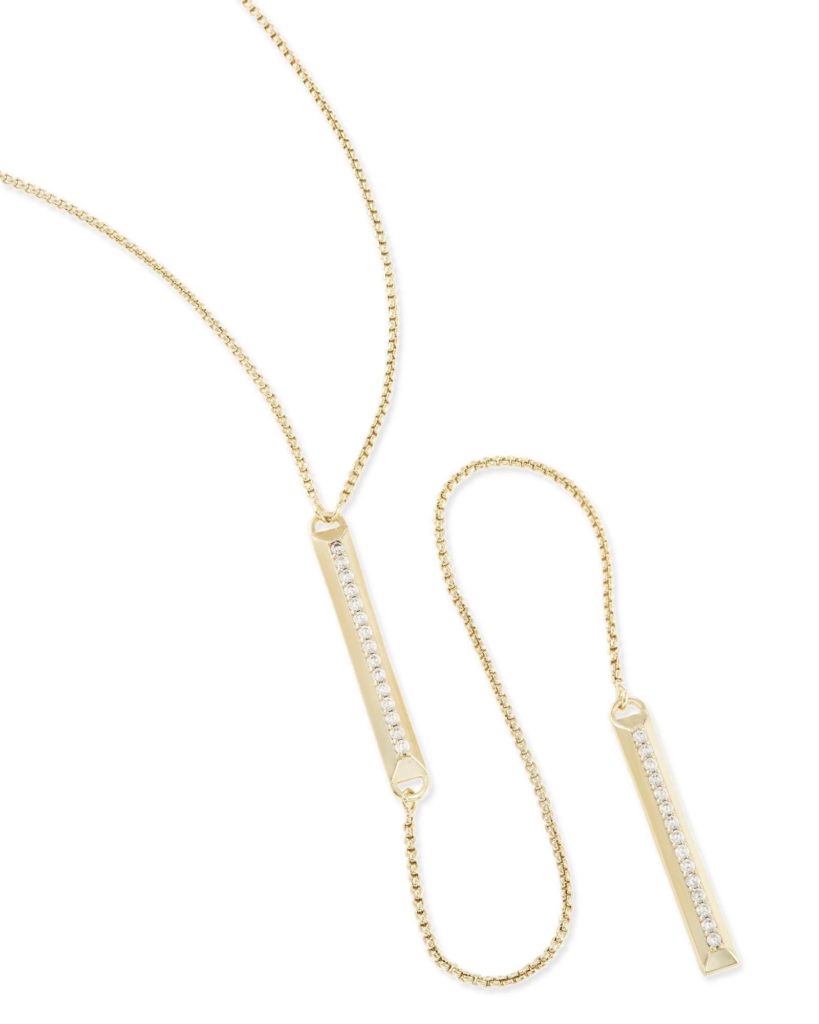 This CUFF is so versatile and easy to throw on by itself! It also comes in other metals.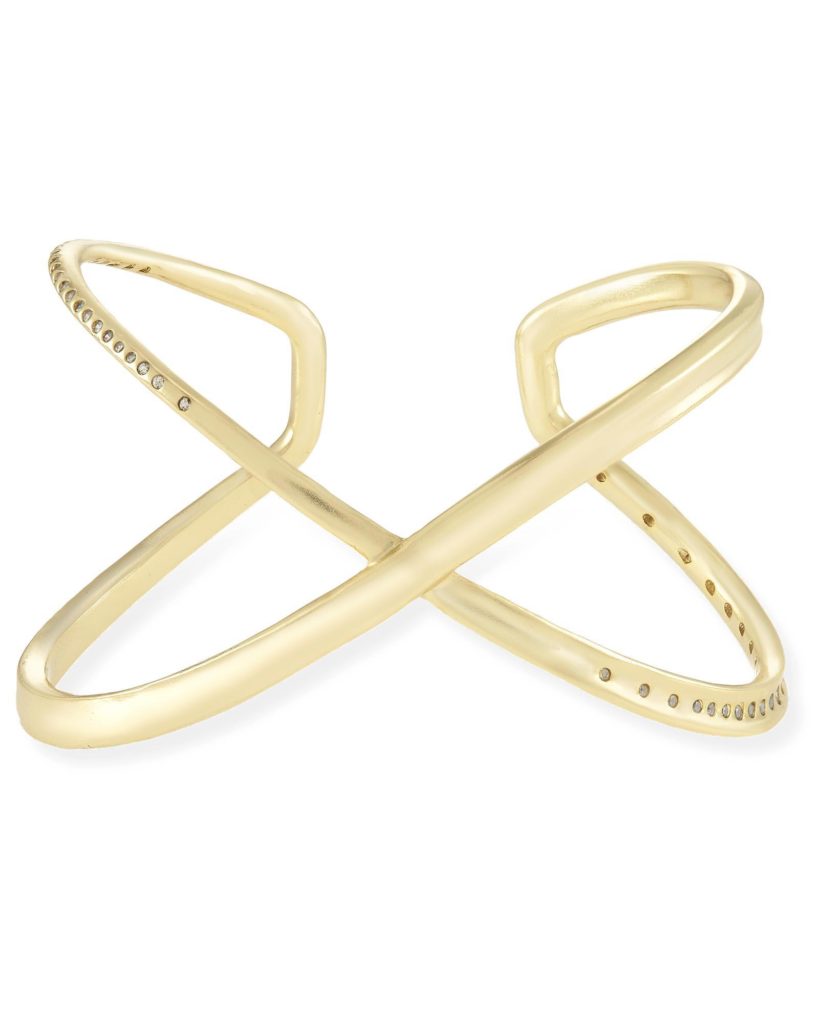 I haven't ever seen one of the fine jewelry pieces go on sale like this before? It's a great price for 14kt yellow gold and real diamonds! This CUFF is so beautiful!!!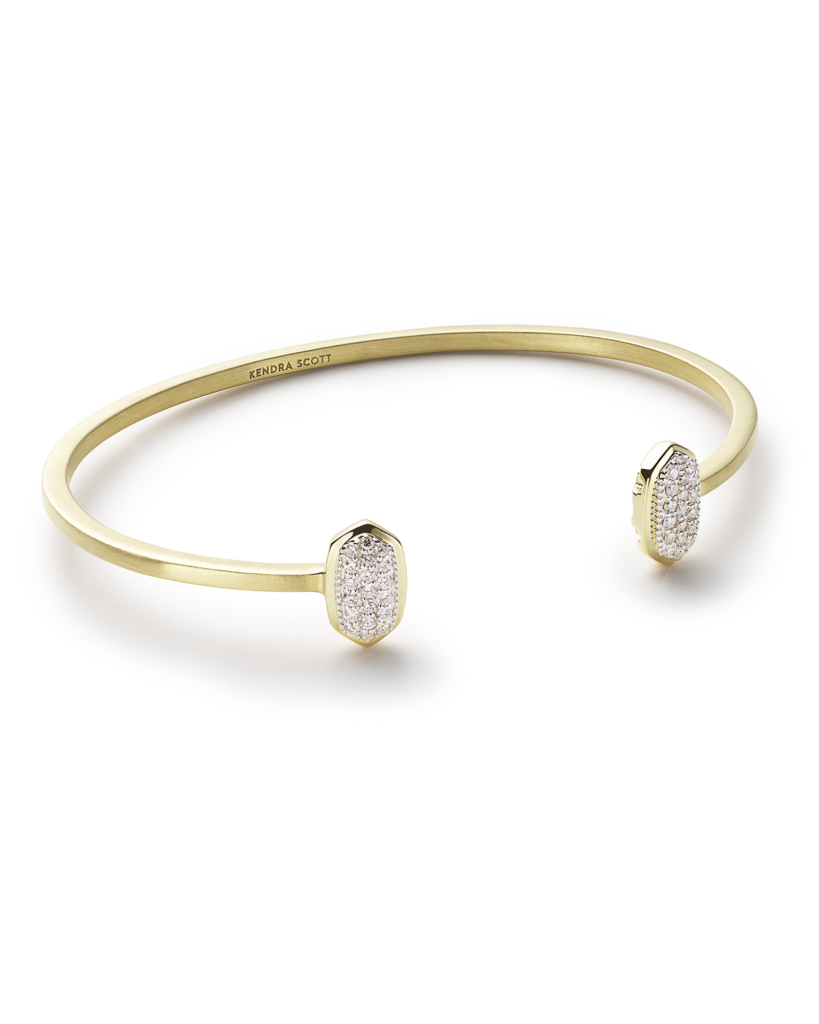 This is a gorgeous mixed metal BANGLE BRACELET SET! This is a great set because you can take out certain metals and only wear the ones you want! They look fantastic all together too!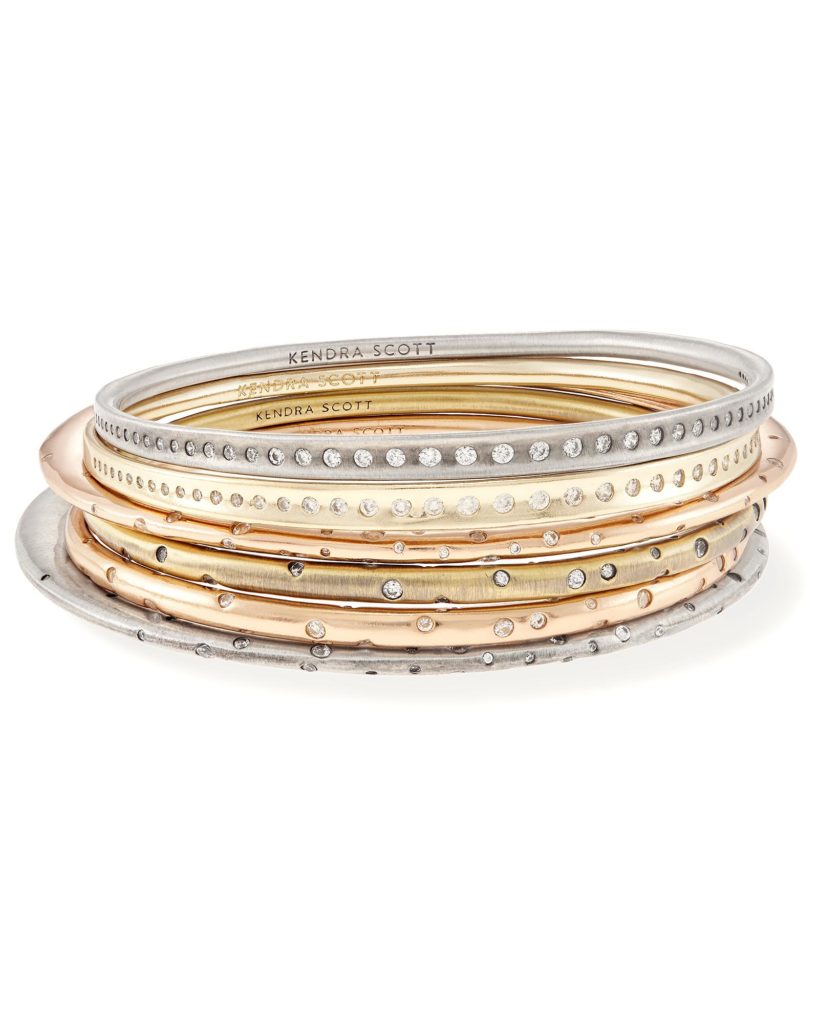 LOVE this CUFF! I can't believe all of the great pieces that are on sale! Yay!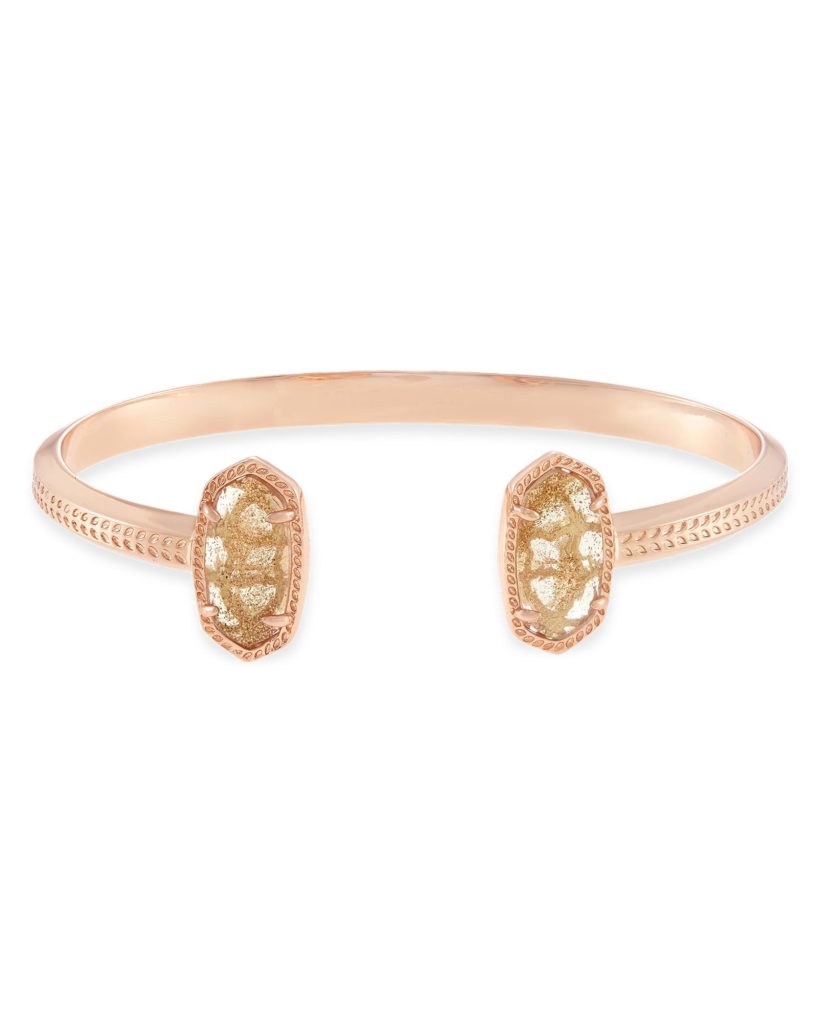 This is one of my favorite earring sizes because they are still big enough to make a statement without being heavy! So pretty in the gold dusted glass, find them HERE.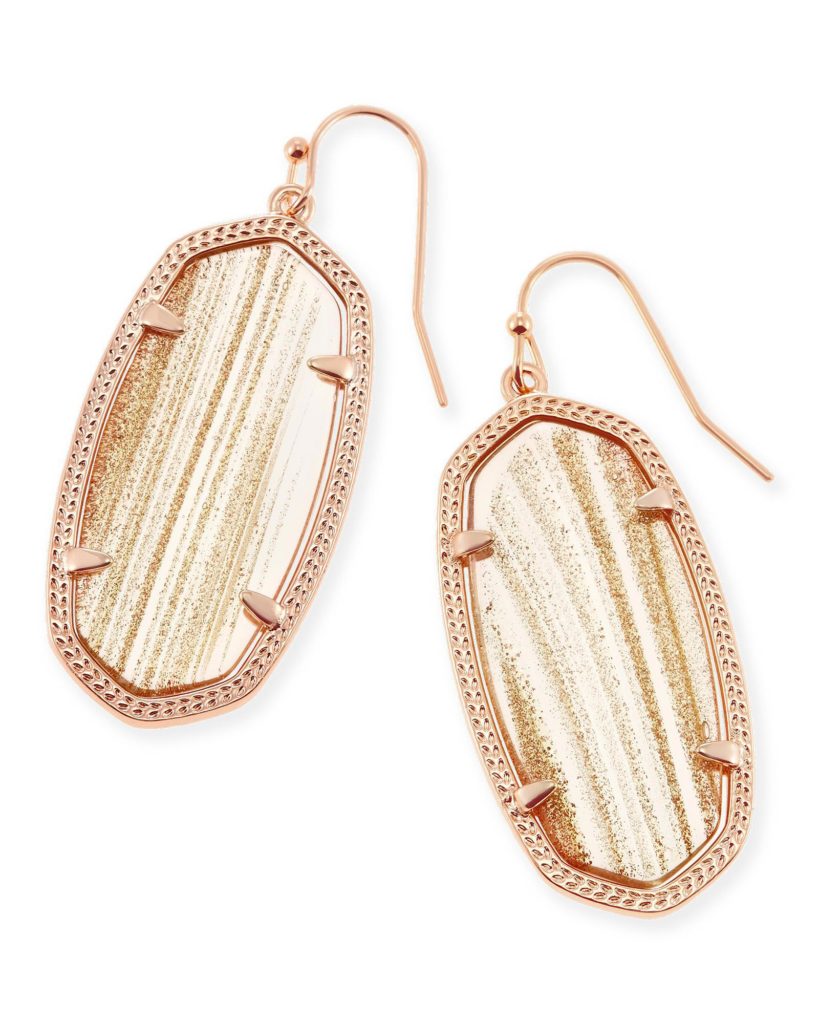 This is the best GIFT SET that is already a great value but now it's on sale!!! I like the iridescent drusy set in gold and the rose gold drusy set! These make an excellent gift for yourself! 😉 I appreciate that the bar on this necklace moves on the chain so that it hangs straight.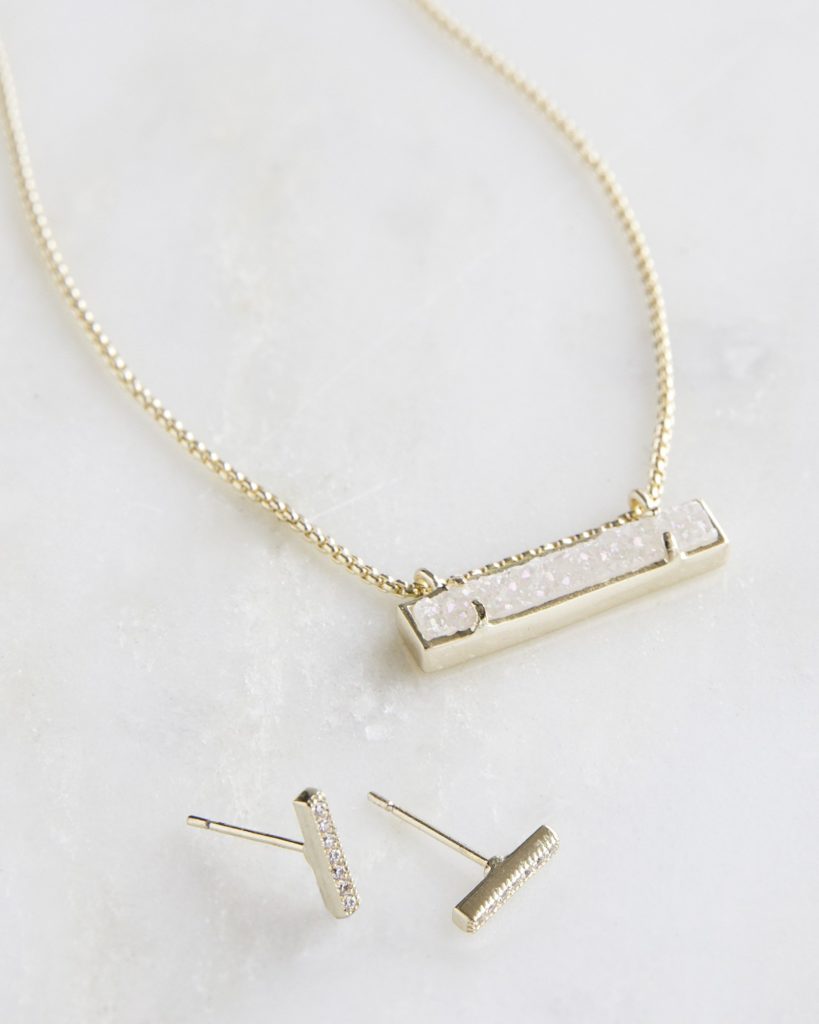 Here is the set in ROSE GOLD.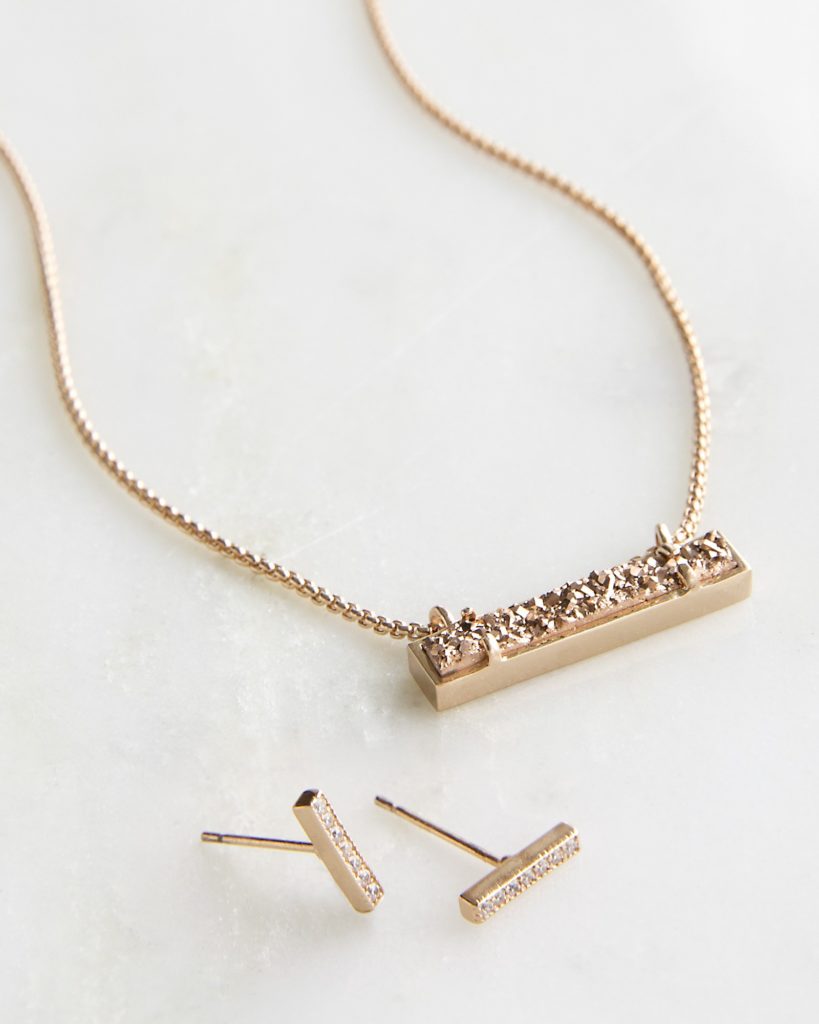 These drusy STUDS are so pretty and they are only $24.97!!!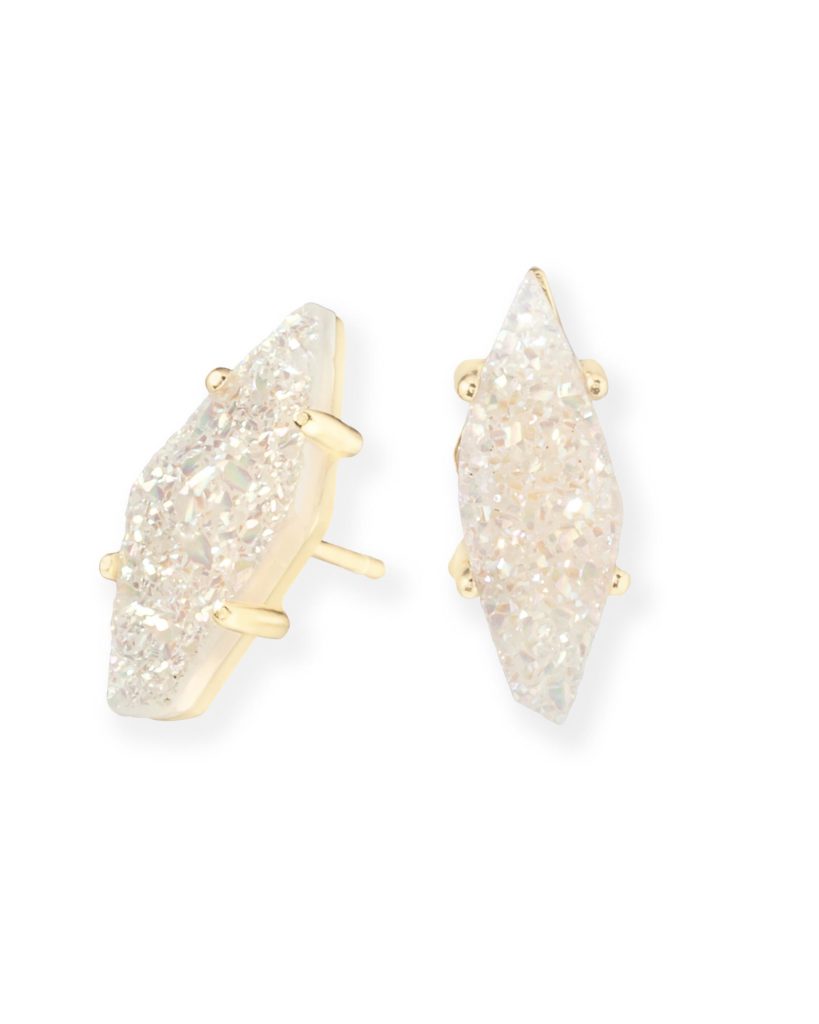 Outfit Ideas & Sale Finds
There are some great items on sale this week that I wanted to share! Anthropologie is having a sale on sale items, they are an additional 30% off! See everything on sale HERE.  I've styled a couple of outfits featuring some great sale items! *TIP FIT* Order one size down in these jeans.  These jeans might as well be on sale because they are only $64! I really like these blush booties and they are 50% off!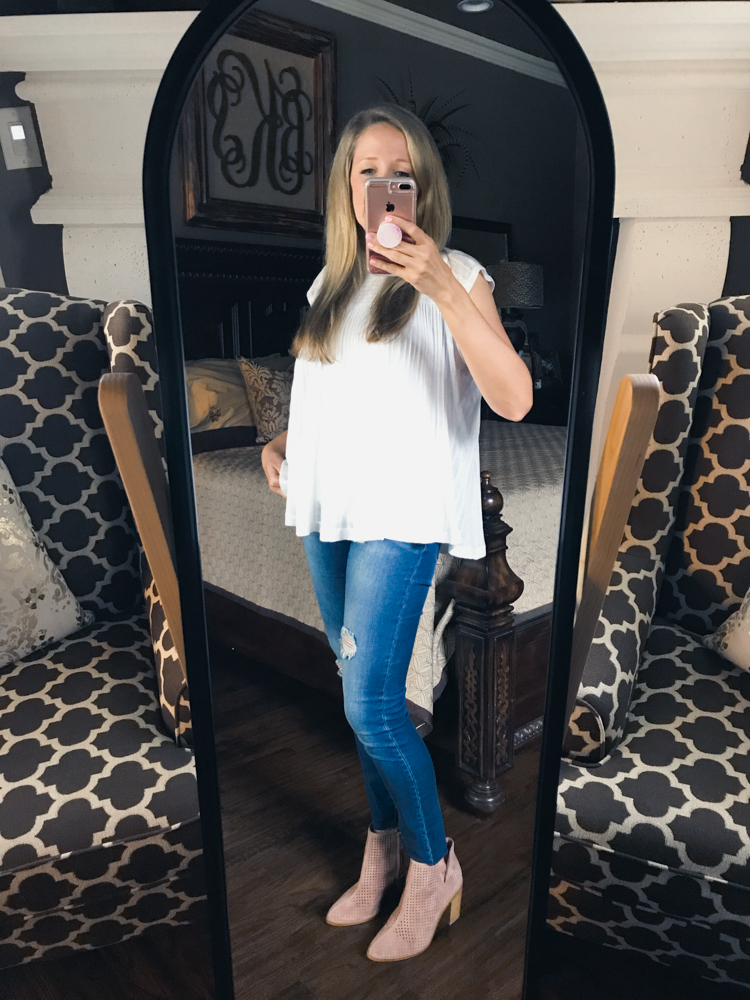 TOP (sale) | CAMISOLE | JEANS (must have) | BLUSH BOOTIES (sale)
Here's the same outfit, but I changed up the shoes to show you what the jeans and top would look like with these leopard Tory Burch sandals!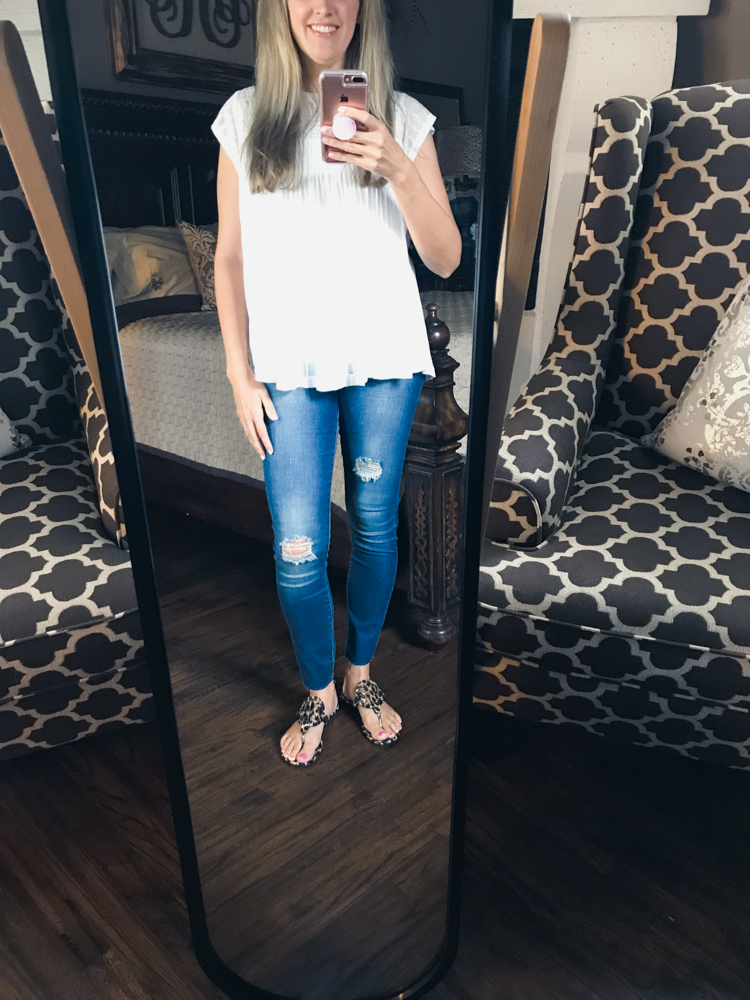 You guys are loving these NEW Leopard FLIP FLOPS as much as I am! They are so fun with the black accents on top of the straps!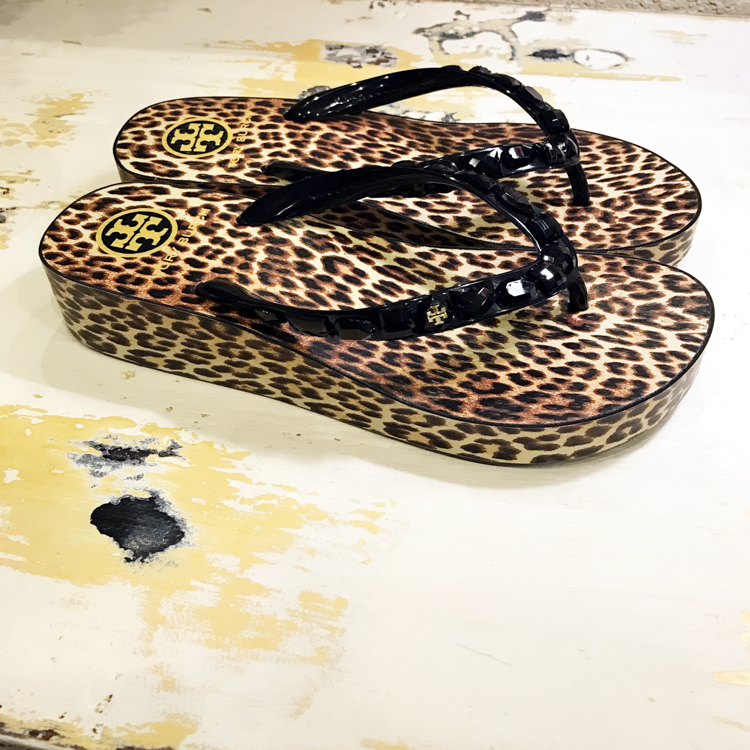 I also have to show you the cutest ROSE GOLD SLIDES that just came out! They are also available in black or white.  Slides are really in right now and I think these are the cutest ones I have seen! The price is right too, especially with the fact that DSW offers FREE SHIPPING and today is the last day they are offering a $10 gift certificate on your next purchase with any purchase of $30! No code needed! WOWZA!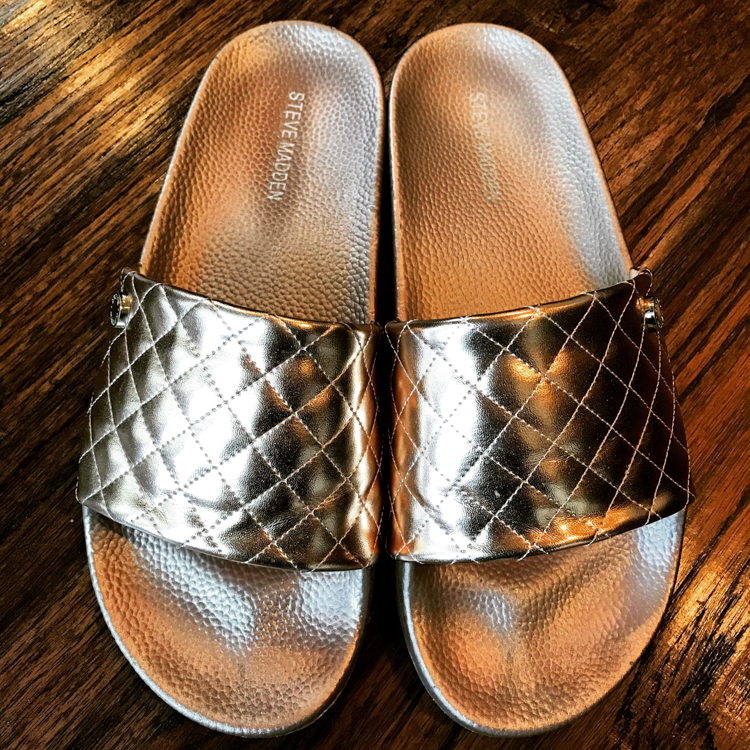 Here they are with my favorite denim shorts and another sale shirt! I'm wearing the Kendra Scott NECKLACE that's on sale, the new pinch bracelets, my favorite NECKLACE and EARRINGS.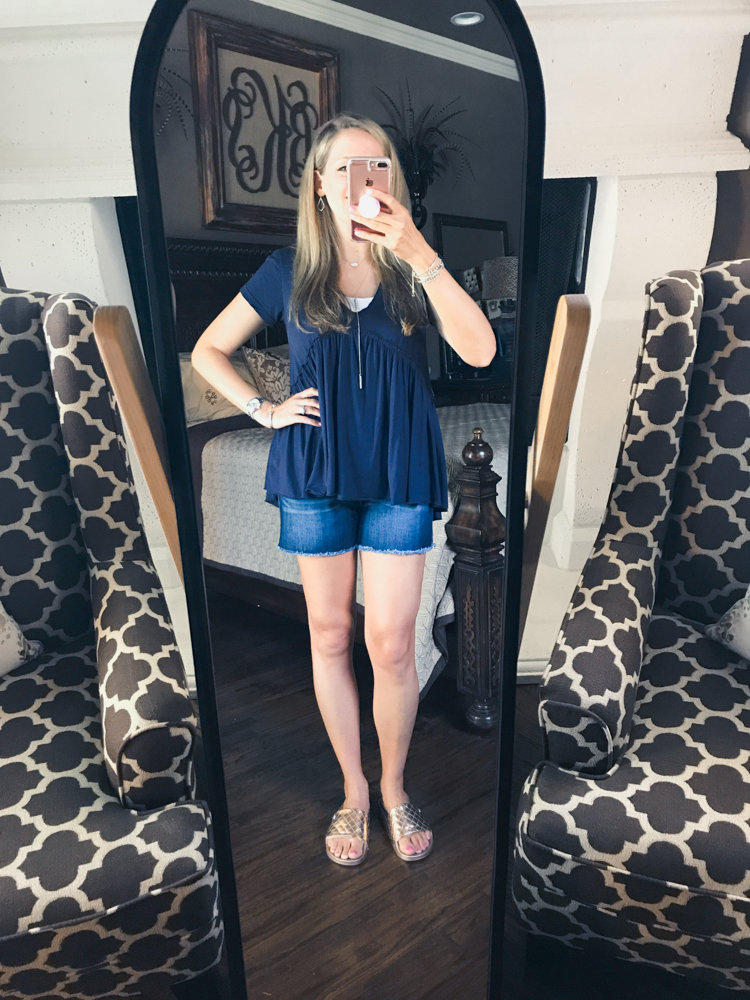 SHIRT (sale) | CAMISOLE | SHORTS | SLIDES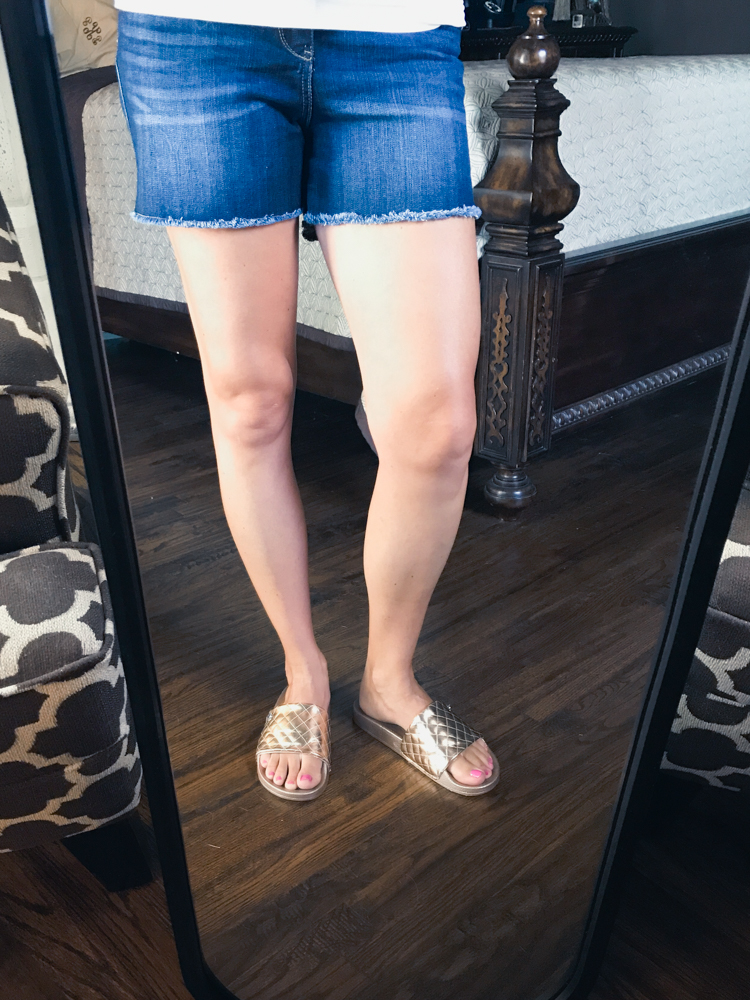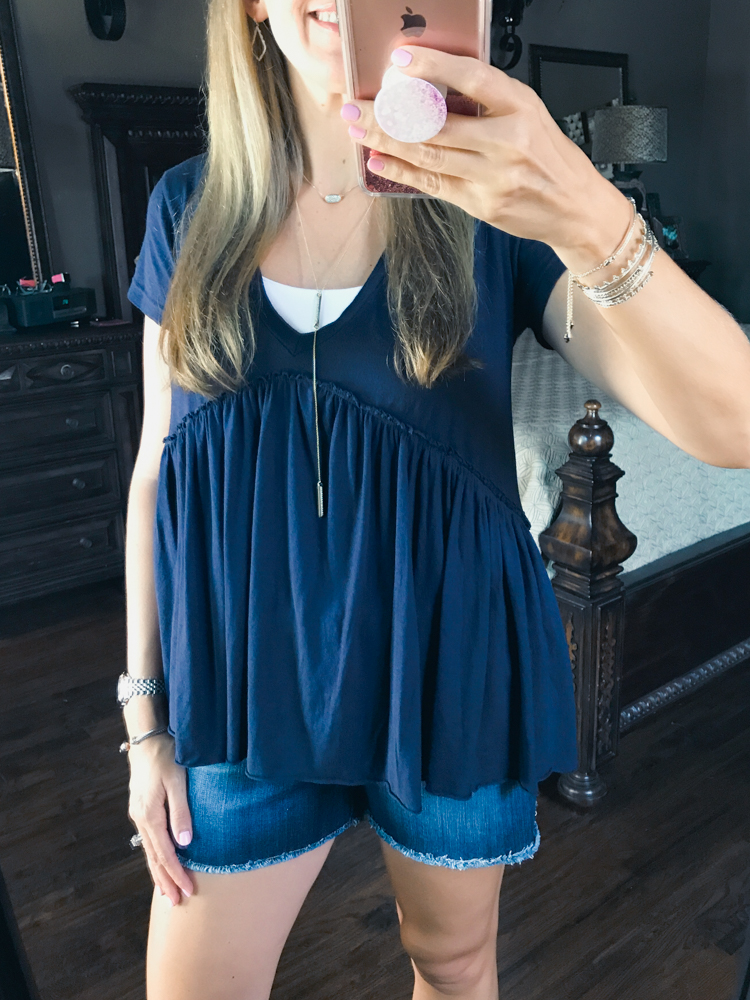 We went to San Antonio for a quick little vacation before school starts and it was perfect weather to wear this DRESS and these ESPADRILLE SANDALS.  Remember, free shipping on the shoes and you will earn a $10 gift certificate too! 😉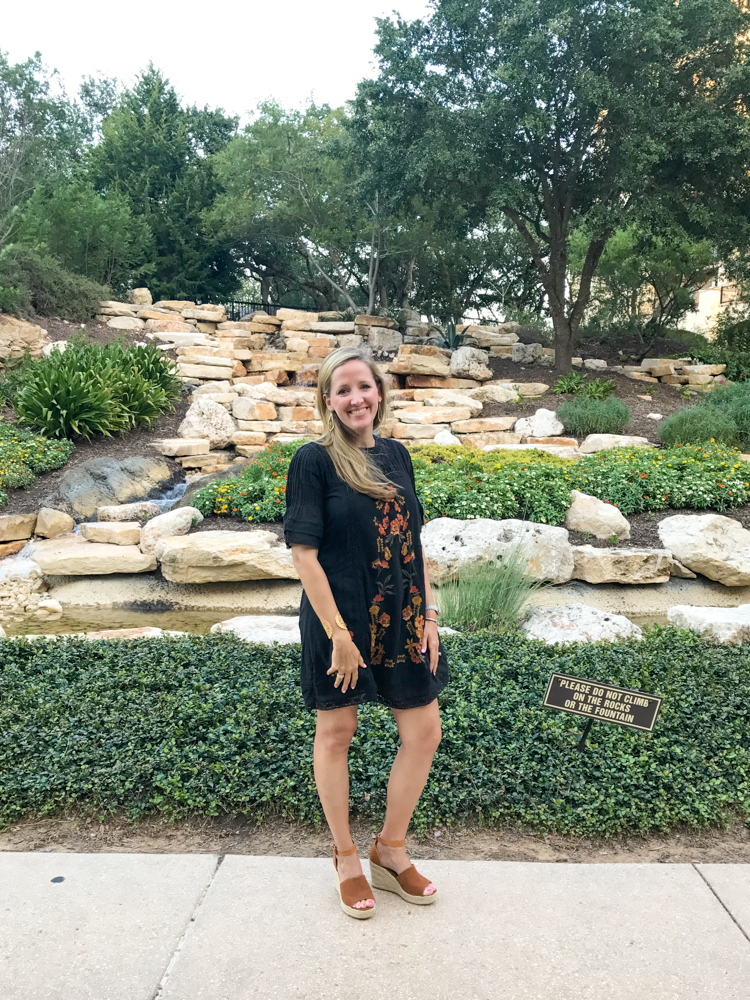 Remember this awesome TOTE BAG I shared before? Well, it's on SALE! It's only $34.97!!! I love the silver one!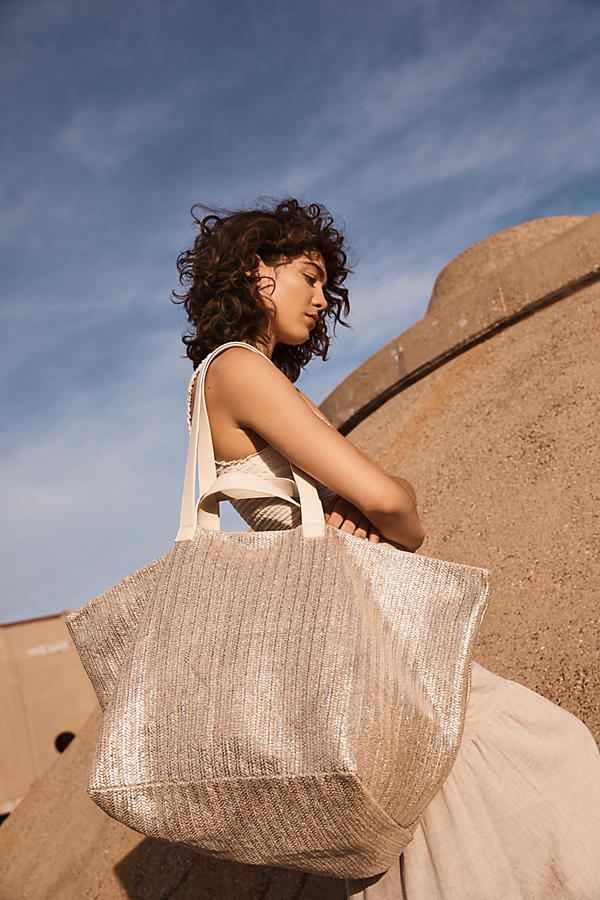 This DRESS is also on sale and it is so cute on! The material is so thick and soft! It's only $55.97!!!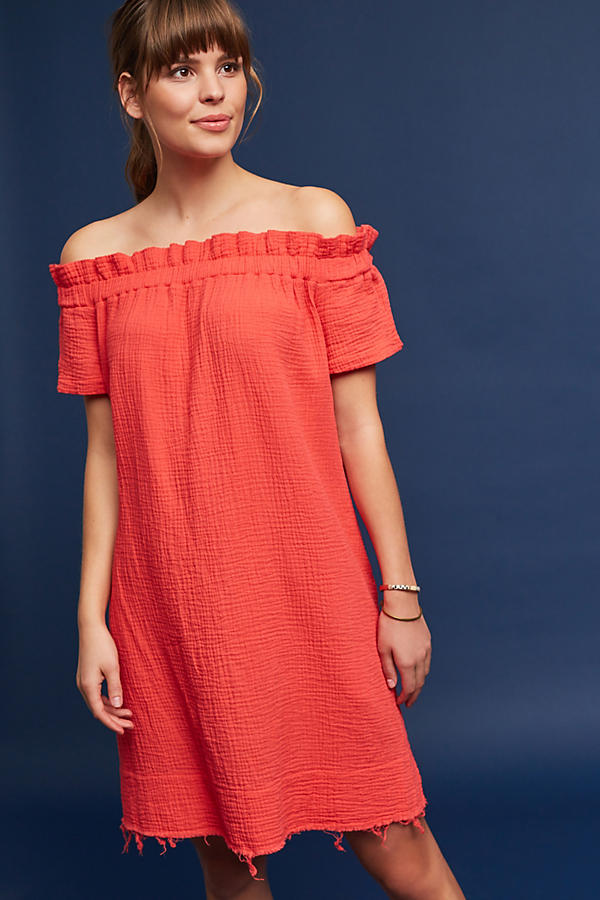 Las, but not least, these fun mini tassel stretch BRACELETS are on sale now! These are a fun way to add some color to a basic outfit!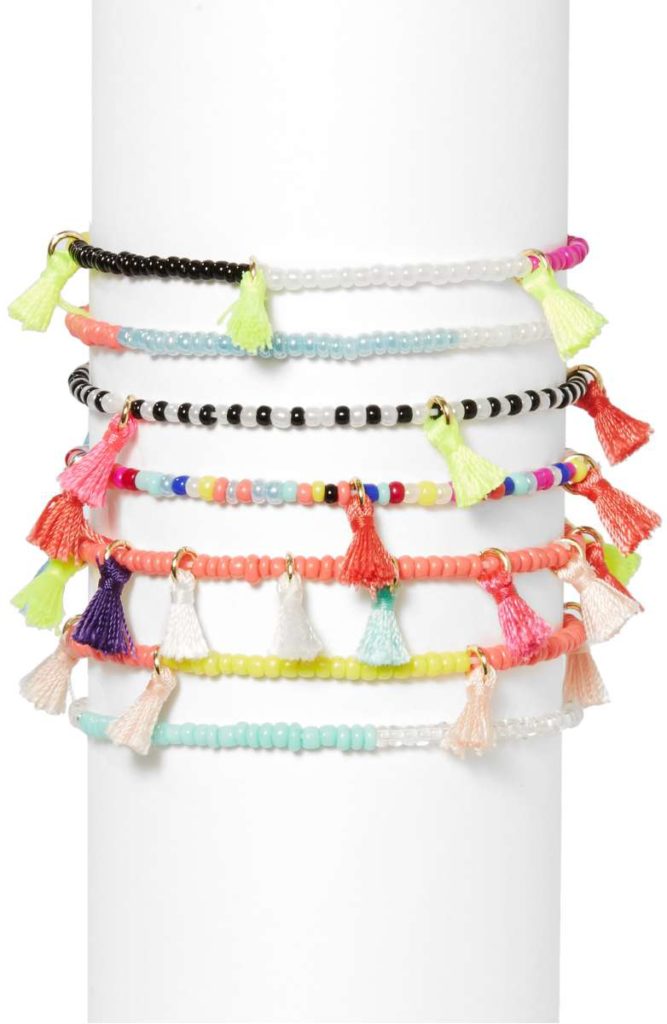 Okie dokie, I think that's all I can muster for this week! 😉 I hope you loved Kendra Scott's new Fall collection and found some new pieces to add to your collection! There are so many great choices in the Fall Collection and on sale! Enjoy the rest of your weekend!

Learn more about Barrett & see all of her posts HERE.
Follow Wear it with Barrett on Instagram and Facebook.
**This post contains affiliate links. If you purchase I may receive a small commission. Thank you!**
Thank you so much to Kendra Scott for giving me the delphine pinch bracelets and the supak beaded bracelet set! As always, all opinions are my own, thanks for supporting the companies who contribute to Wear it with Barrett! xoxo
SaveSave
SaveSave
SaveSaveSaveSave
SaveSave
SaveSave
SaveSave
SaveSave
SaveSave
SaveSave
SaveSave