Hey Guys! I am so excited to tell you about the cutest boutique in the heart of historic downtown McKinney, Texas and they are offering a $100 GIFT CARD to one of our lucky readers! Historic downtown McKinney has lots of great restaurants and shopping and Landry Kate is one of my favorites because they have the cutest clothes and accessories.  They offer a wide range of fashion forward clothing to enhance every wardrobe… from the most basic of tees to show stopping dresses, their passion is to make every woman feel both timeless and trendy in their fun and fresh pieces. LK style is always changing, embracing the newest and hottest trends. The owner is as sweet as she can be too! I always find clothes I like when I go in there and the store is precious! Lucky for all of you, they have a WEBSITE and an INSTAGRAM page where you can order their clothes no matter where you live! I am also going to show you my favorite DSW deals right now! They have tons of great Spring shoe options and I was impressed with the prices!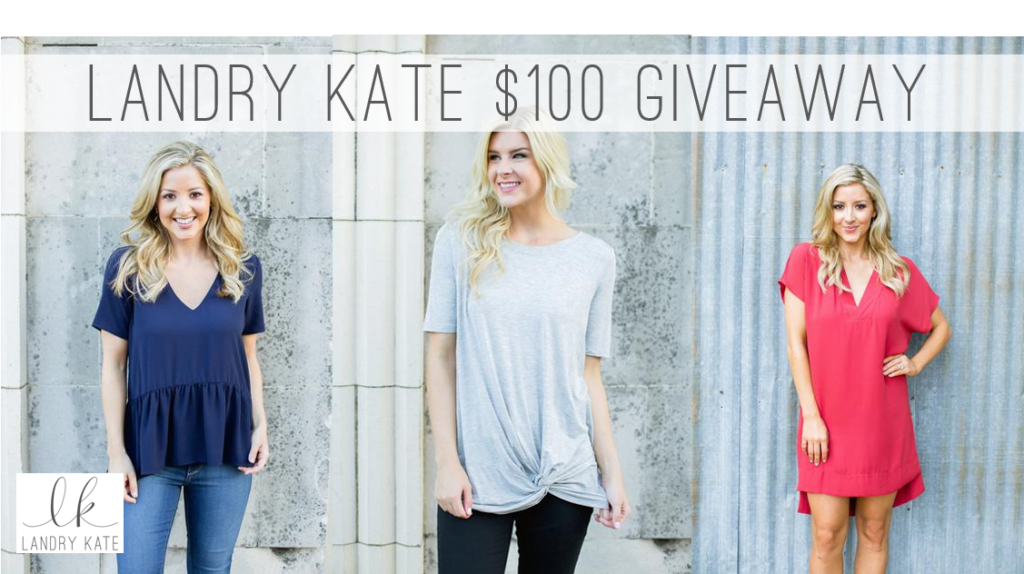 Landry Kate offers 10% off of your first purchase with code: LK10 and they always offer free shipping over $50! Woohoo! Here are a few pictures of the store.  If you are local, you should go in and check it out in person because they also sell some home decor! They also carry great jewelry from brands like B.b.Lila and Summer Ellis, both of which are Texas brands, along with other cute lines.  I am wearing a pair of B.b.Lila earrings in all of my pictures and a beautiful necklace from Summer Ellis.  I found both of them at Landry Kate, they aren't on their website, but you can call them at 469-307-3770 to see about ordering them and they can ship them to you!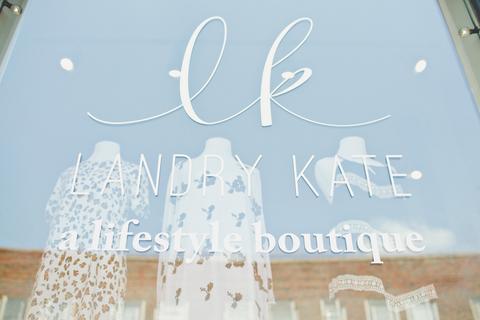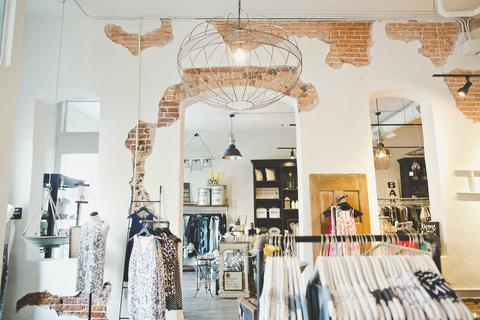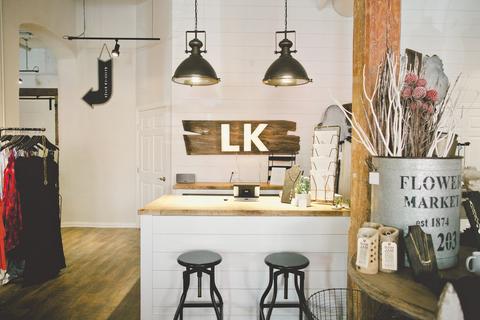 I'm going to show you some of my favorite things from the store this week! Everything is so cute and  affordable! When you couple affordable clothes with affordable shoes, I call that a win-win! I'm going to show you lots of cute clothes for the Spring and great DSW deals! All of the clothes I am sharing are so new that they aren't on their website yet, but you can call 469-307-3770 to order.  Also, check out their INSTAGRAM page because they sell a lot of their clothes from their IG page.  I'm going to share some of my favorites from the website that you can order directly if you wish.
I'm sharing my favorite dress first because I love it soooooo much! The Chloe Ponte Dress is only $52.00! I can wear this to church or out for a date night or just to the grocery store! Ha ha! They have it in black or navy… I really want both of them, but decided on navy.  It has pockets and I LOVE pockets on a dress! It fits true to size and it is made with the best fabric, nice and thick!

I'm wearing the cutest COGNAC ESPADRILLES with several of the outfits, they are only $59.95! They look great with dresses, skirts or skinny jeans! I sized down half a size in these.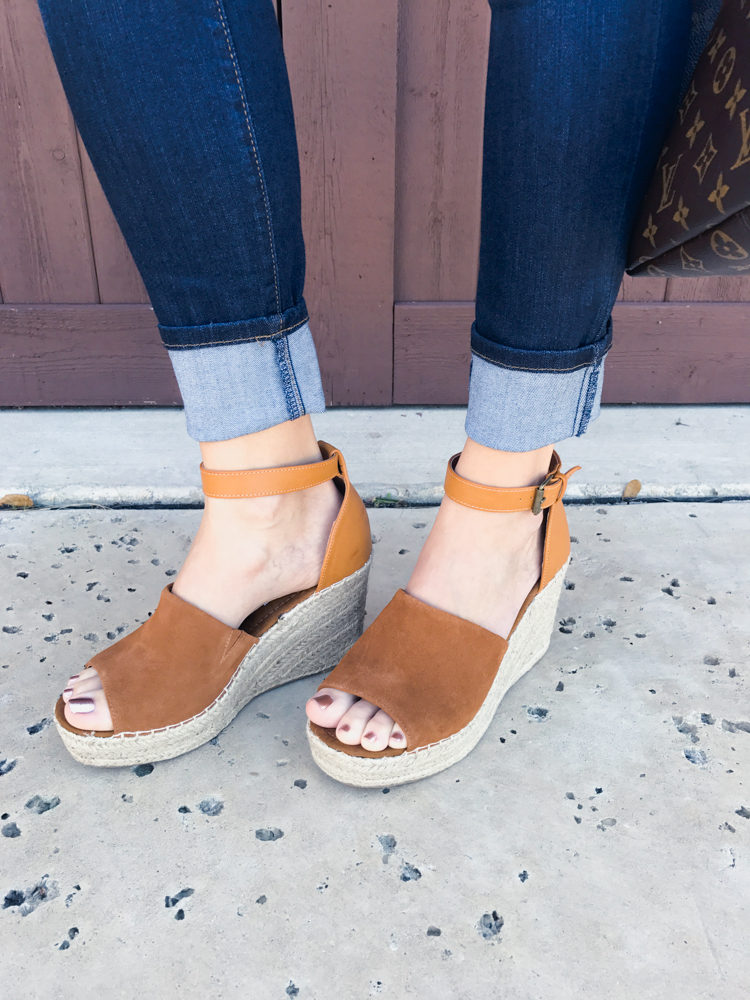 Next up is the Sonya SUEDE DRESS in olive.  It's like a snazzy t-shirt dress! So easy and comfortable for $54.00! This one is available on their website, yay!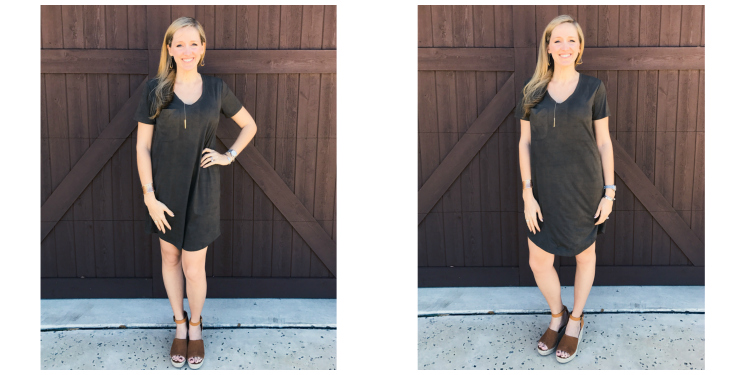 Landry Kate also has fantastic denim, I love these distressed dark wash skinny jeans ($52.00).  They are stretchy in all the right places.  Love them! I am wearing them with the BEST off white shirt ever! The Krystal Top is only $48.00 and fits true to size.  Don't get too excited, these TORY BURCH SANDALS aren't available at DSW.  Sorry! I thought they were perfect with the outfit because they add a pop of my favorite color!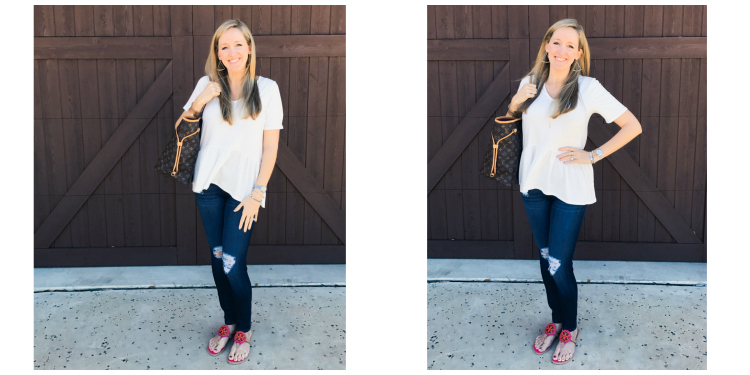 I'm also showing you the same destroyed denim jeans ($52.00) with the Marcie Top in Sage ($38.00)! Perfect for the Spring! The fabric is so soft on this top and they have it in multiple colors.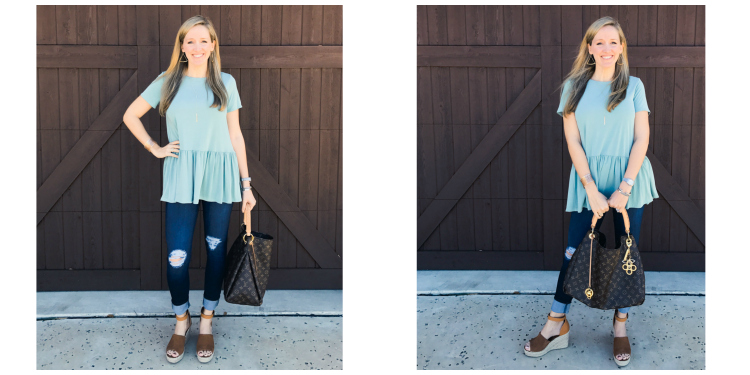 You all know that I live in my athleisure wear and I thought this cold shoulder top, called the Willow Top ($52.00), from Landry Kate looks perfect with these 7/8 TIGHTS since they have a "cold calf cutout"! (I hope at least one of you laughed at my really bad joke.) I am still obsessed with these tights, this new fabric is super soft and so thick! I'm wearing this with my favorite FLIP FLOPS, of course!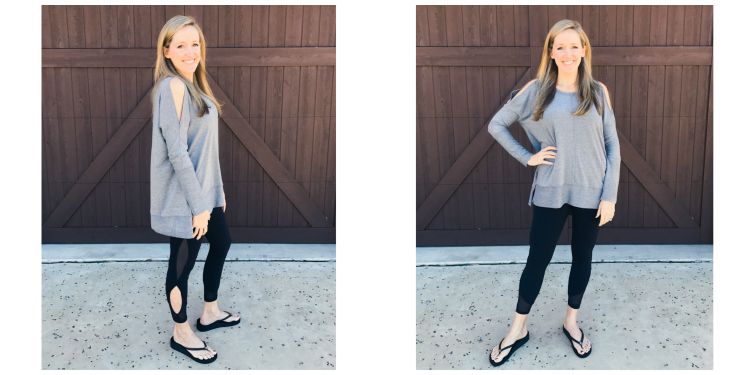 This look will be perfect for carpool or brunch! I love the Veronica top ($38.00) and especially in this dusty plum color.  These Trinity white jeans are perfect for the Spring and the Summer because they are thin and lightweight.  The best part is they are only $38.00!!!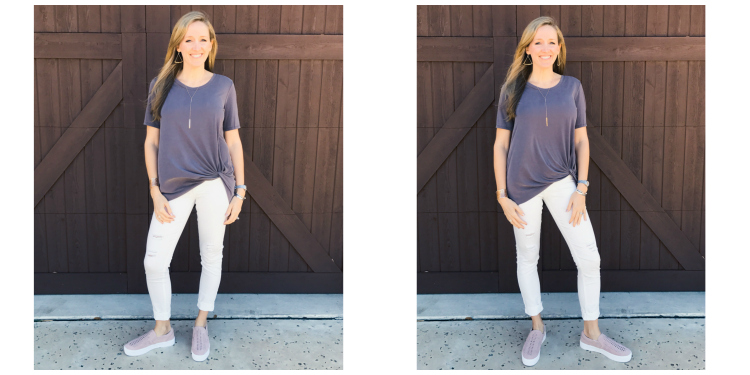 I have been on the hunt for some really comfortable SLIP-ON SNEAKERS and these pale pink suede ones are amazing! They are available in other colors too!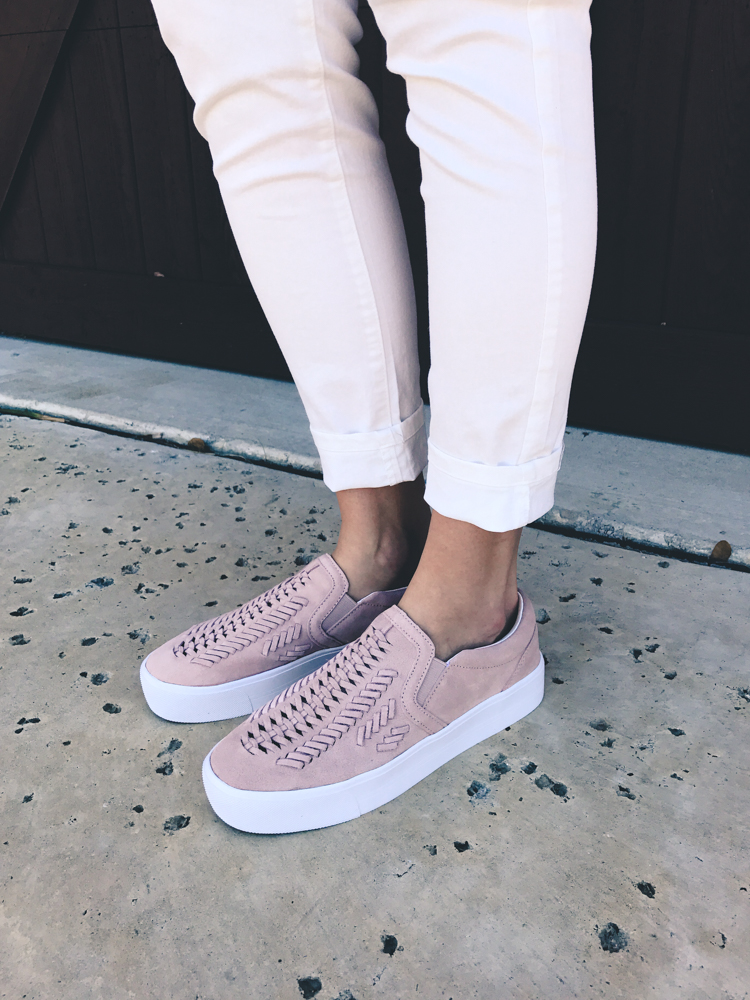 Here are some other great picks that are available on their website… this TOP is super cute! $42.00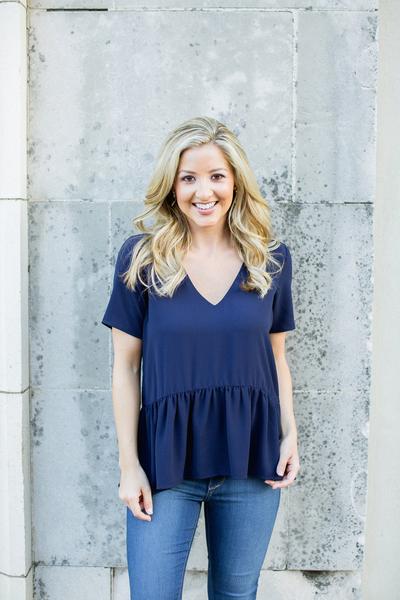 I also love this DRESS! This one is great on and can be dressed up or down AND it's only $52.00!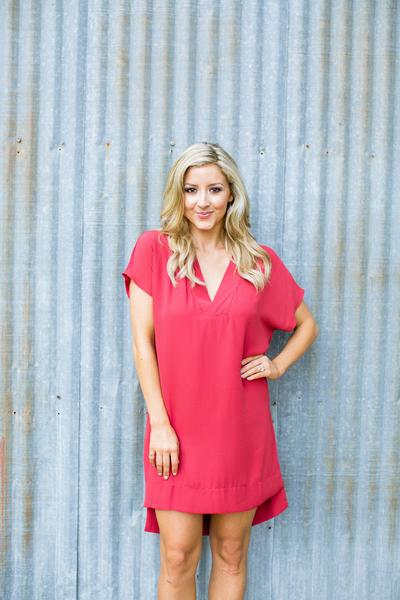 This is a great TOP with a knot detail! $32.00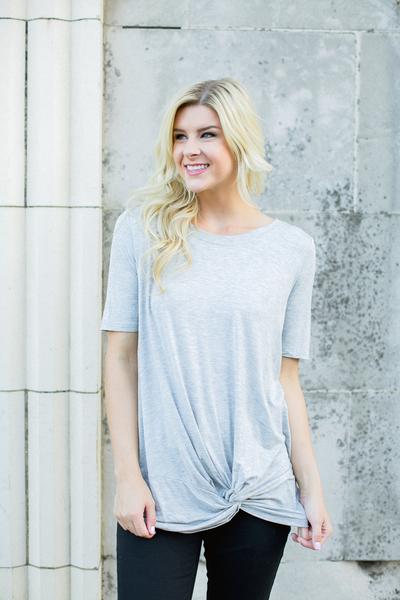 Landry Kate also has the cutest PURSE! It's the perfect size and it's so functional and it's only $54!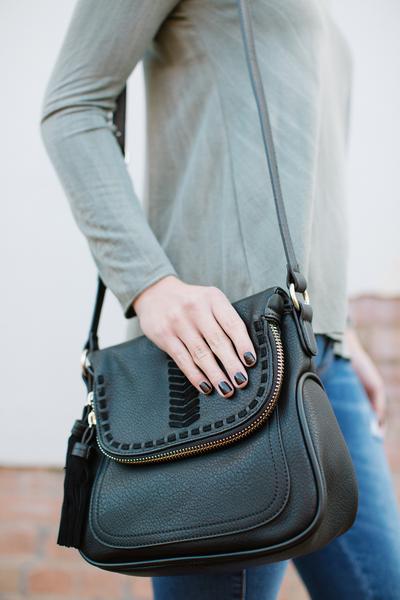 There were so many great DSW deals on shoes going on, so I will highlight the rest of my favorites! These WEDGES are under $60 and they are available in several colors.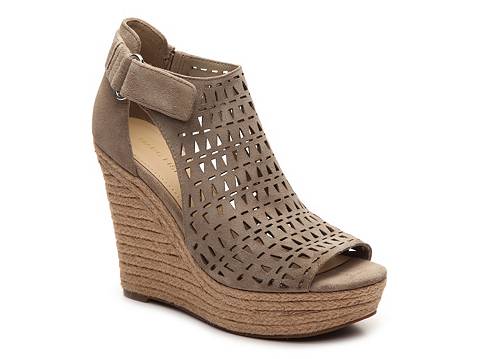 I think these SANDALS are so pretty! They would look great dressed up, or with denim for a sassy look!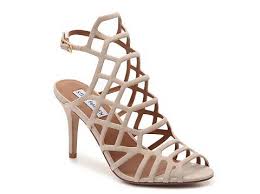 These SANDALS are adorable and they are also available in black.  LOVE these!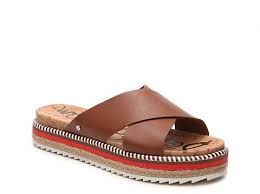 Here's a picture of the black ones that I took in the store…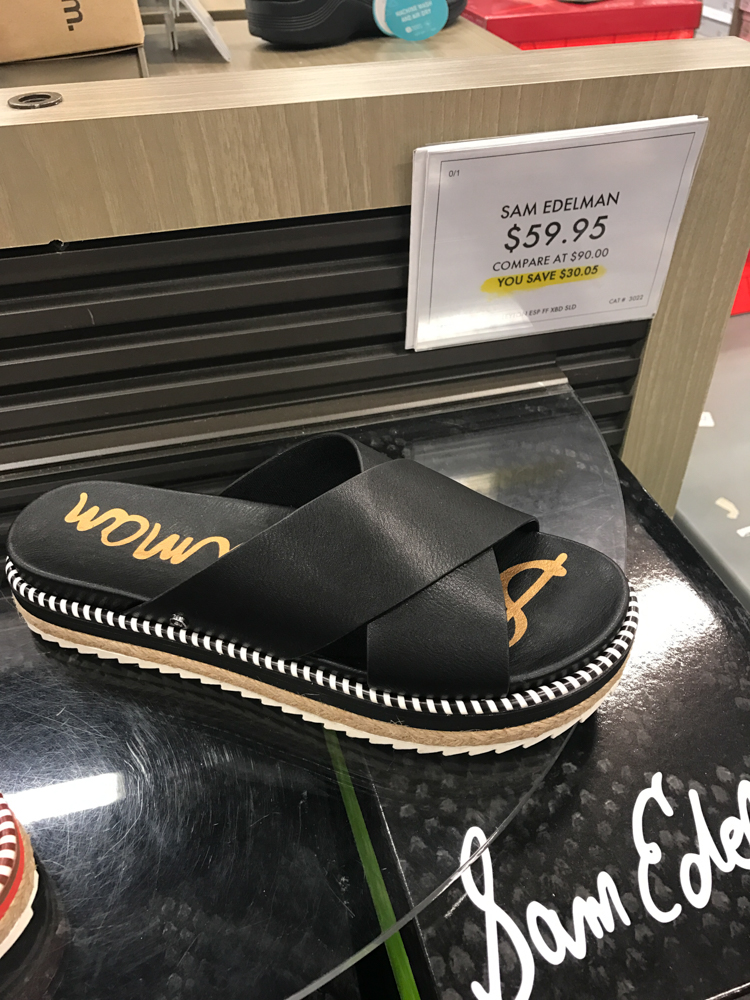 Thank you SO much to Landry Kate for the fabulous clothes and jewelry and for giving one of our lucky readers a $100 gift card! I absolutely love your store!
GIVEAWAY-$100 Landry Kate Giveaway
Hope you all found something you like from Landry Kate and some great DSW deals! Thanks for reading!

Learn more about Barrett & see all of her posts HERE.
Follow Wear it with Barrett on Instagram and Facebook.
**This post contains affiliate links. If you purchase I may receive a small commission. Thank you!**