Happy Sunday! I found tons of goodies to share with you guys this week! That's the good/bad thing about clothes and accessories, there is always cute new stuff coming out! Oh well, I guess that means we HAVE to keep on shopping! I have been on the hunt for some new scarves and I found so many great ones! A scarf is an easy addition to your wardrobe that you can wear lots of different ways.  I wanted a good neutral and some more colorful scarves too! I am so excited about the arm holes that a few of them have now! What a genius invention! One of them has arm holes and pockets!!! I also found some very exciting new arrivals in the jewelry department that I think you will love! Did you guys see the sequin clutch that we shared on House of Hargrove's InstaStories the other day? Oh my gosh, it is the cutest and we all need one! You guys loved it and it comes in two color ways.  I will share them below along with lots of great purses and clutches.  I also have a couple of fun new shoes to share with you at the end of the post, so be sure to check them out!  Purses, Jewelry and scarves…enjoy!
PURSES, JEWELRY and SCARVES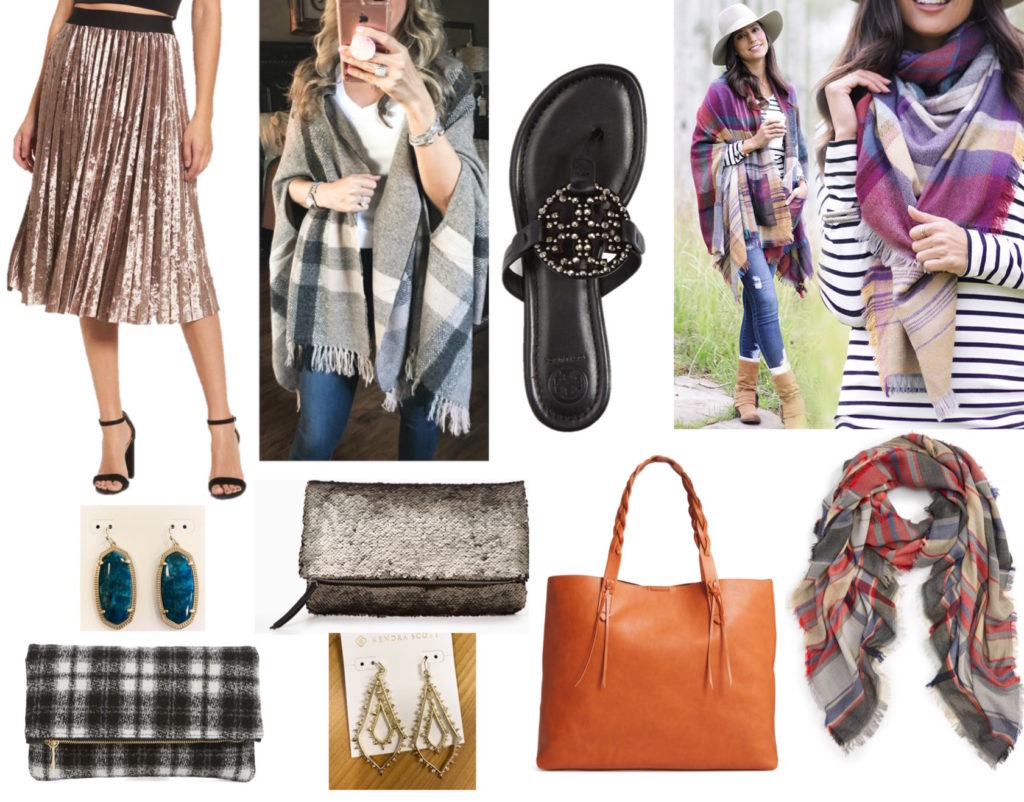 Purses
This little beauty just makes me happy! I'm sure you have seen the sequin craziness on everything from pillows to t-shirts lately.  The fact that I can play with these sequins on my very own grown-up clutch, makes me giddy! I chose the gold/oyster color and you can see that you can "flip" the sequins to choose which color you want to show.  It's a foldover clutch so you can carry it tall or folded over.  It has built-in credit card slots and a little pocket on the inside which is also fully lined.  This clutch is perfect for a girls night out and will certainly come in handy over the Holidays!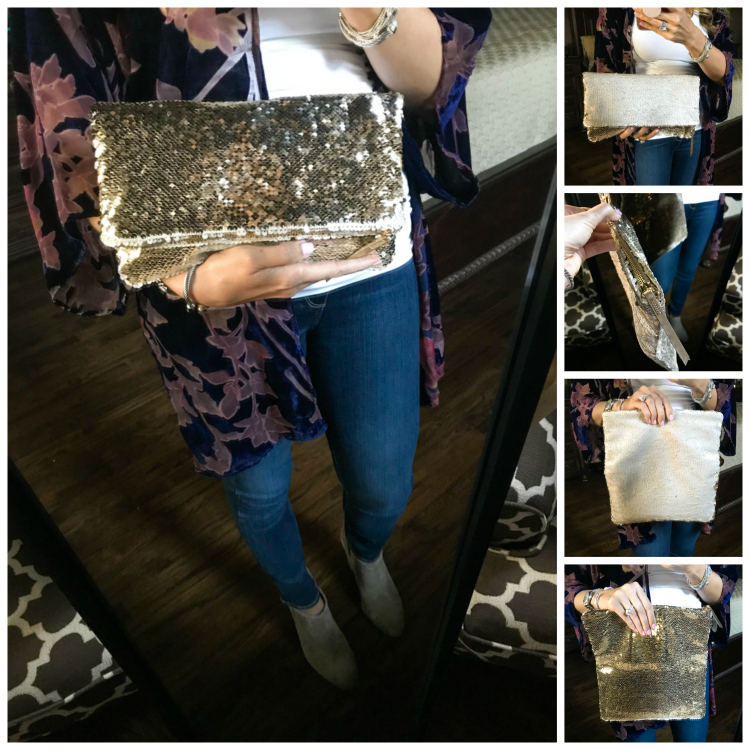 GOLD CLUTCH | KIMONO | JEANS (SALE) | BOOTIES (SALE)
You can even write messages on your purse! Ha ha!!!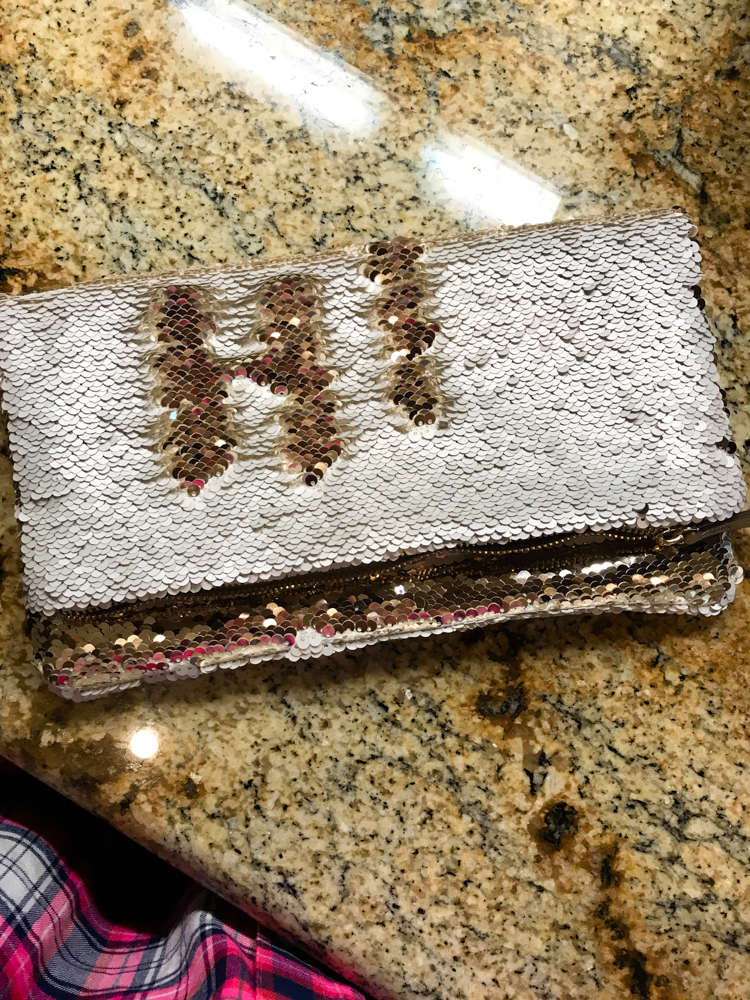 The CLUTCH also come in pewter/jet which would also be a fantastic choice! This picture shows the pewter option and you can "flip" the sequins for jet black.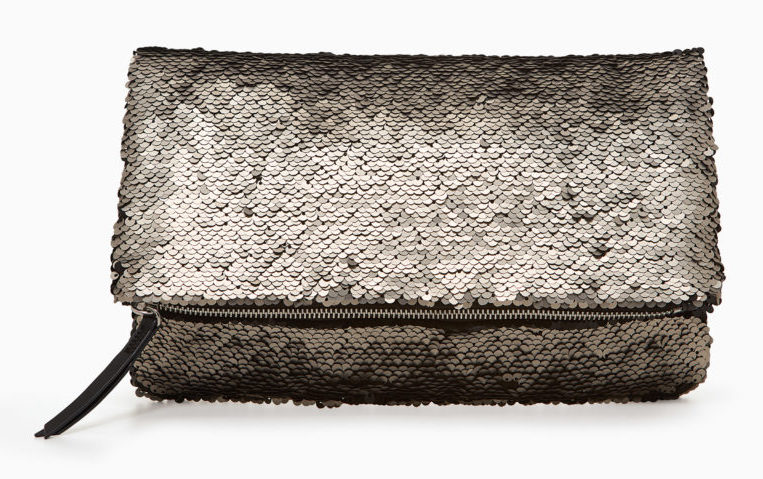 If you are looking for a really high-quality leather CROSSBODY wallet that will hold your phone, lipstick, etc., this is my favorite! The straps are convertible, you can wear it long for crossbody, or double up the chain to carry it on your arm! It is also available in blush, cabernet and BLACK! The leather is so pretty on this bag and it should last you for many years!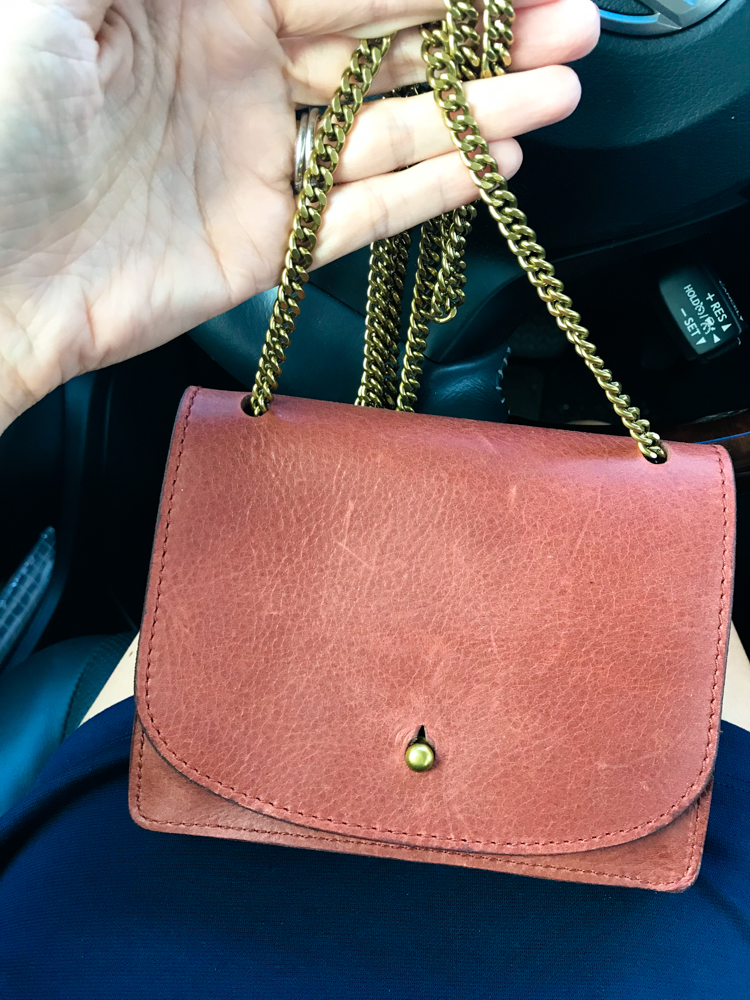 I like how it has little dividers to keep things organized!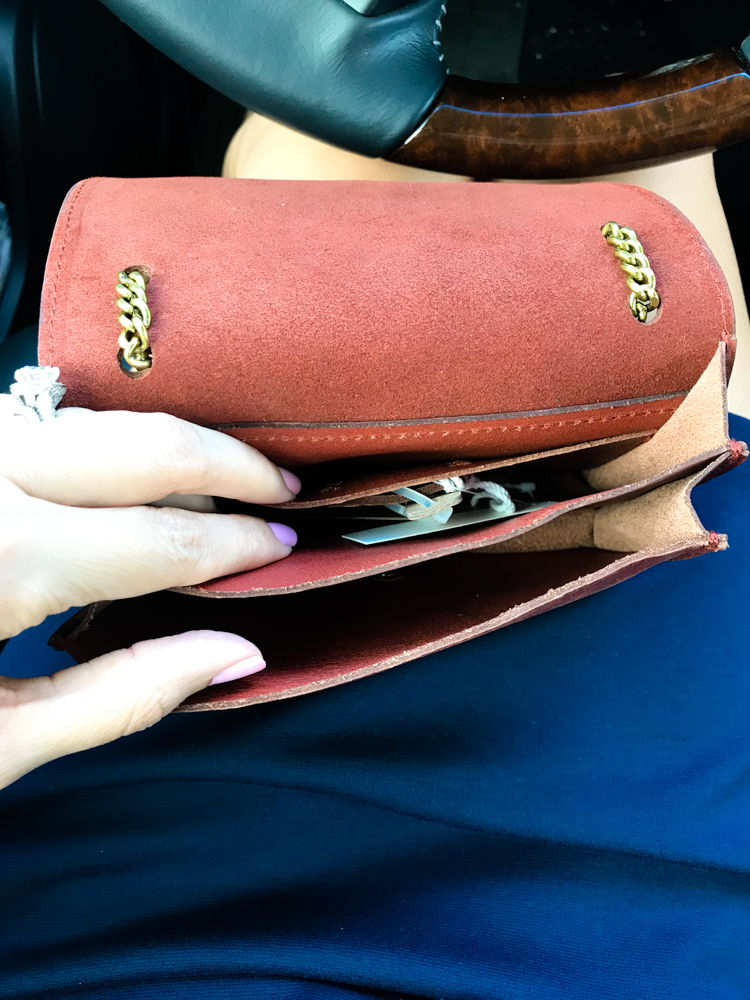 This isn't a purse, but I think this is the cutest travel BAG for your toiletries! I left the white packing paper inside so you could see the details better.  It's really thick, clear vinyl and it has a brass zipper that's pretty!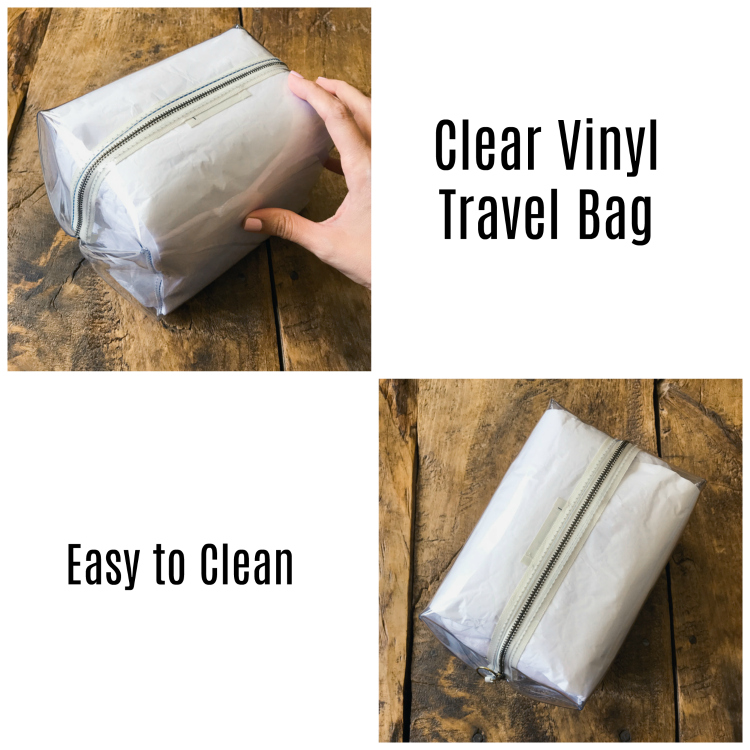 Here are other great purses! Click directly on the picture to shop!
SaveSave

Jewelry
You guys know how much I love Kendra Scott's jewelry and they just released some new pretties! Here are some of my favorites! This new Aqua Apatite stone is gorgeous!!! This picture is of the ELLE EARRINGS.  I love this size because they aren't too heavy, but they still make a statement!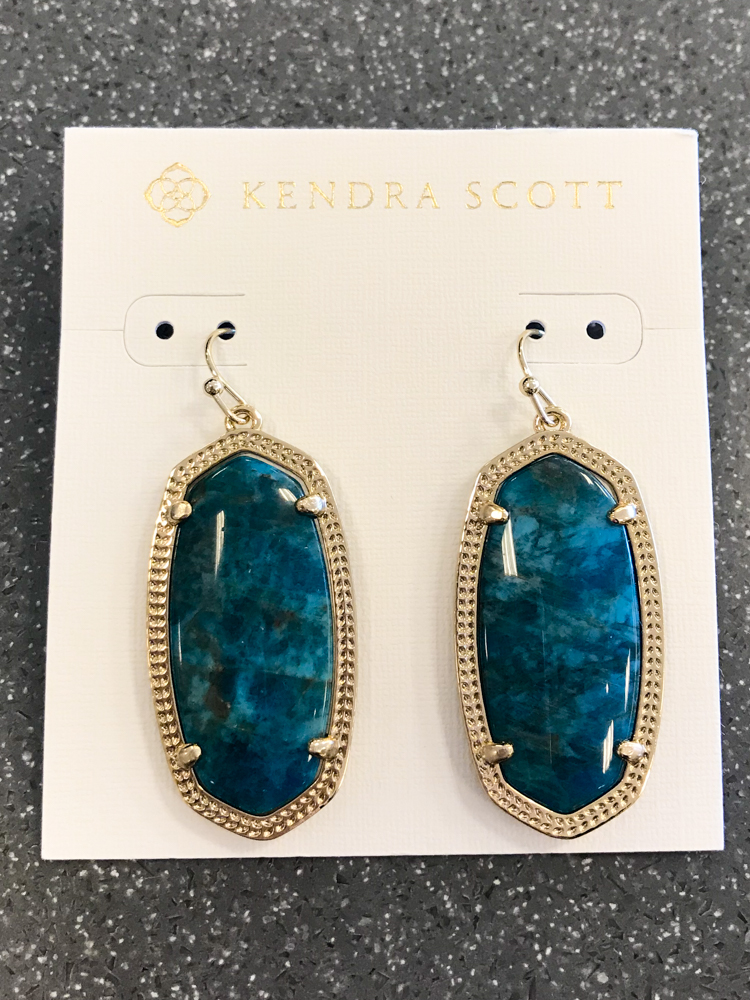 Here is that stone in the DANIELLE EARRINGS which are the bigger version.  So pretty!!!
I really like this new shape EARRING in brown pyrite with antique silver! The picture doesn't do them justice!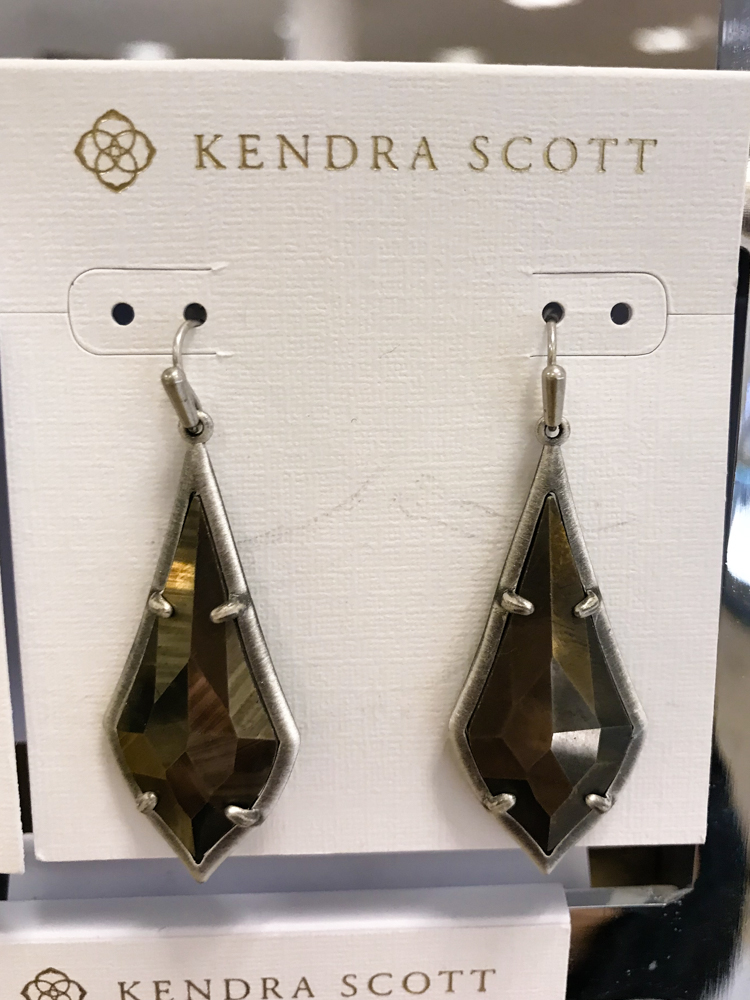 This is another new EARRING silhouette that comes in several metals.  I am partial to the gold.  They are really pretty on, the hoops face forward! They have a normal post back and the diagonal line adds some interest to your ear lobe.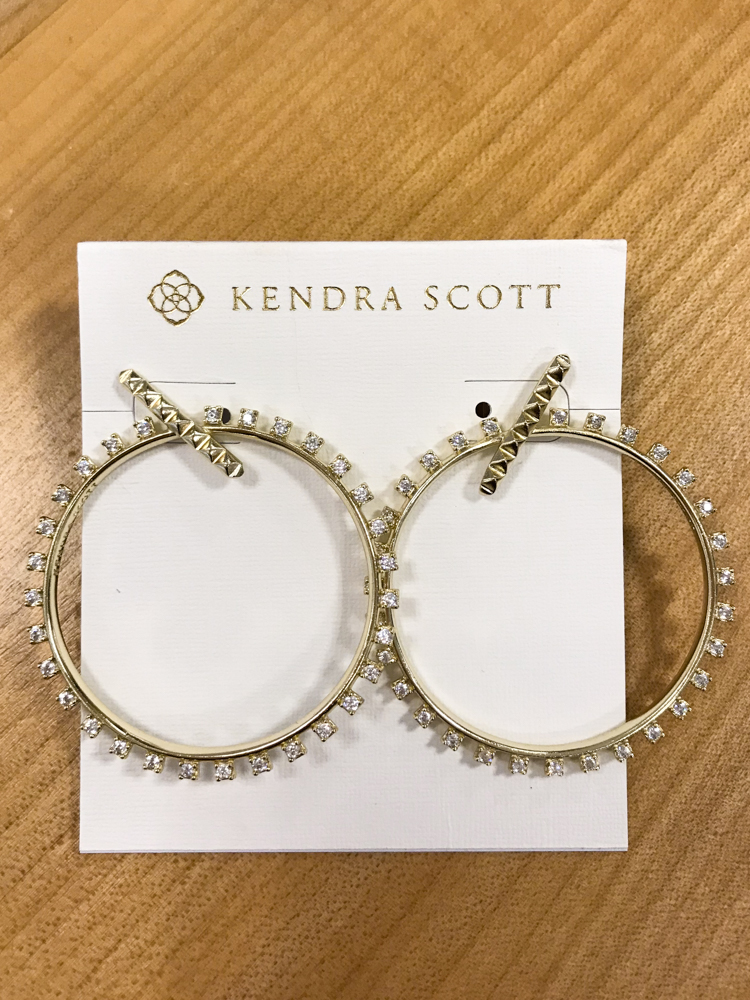 I think these EARRINGS are really pretty too and they come in 3 different metals.  It's always exciting to get brand new earring designs! Oops, I just realized that the earring on the left is flipped over, sorry about that.  The one on the right is how they look when they are on your ear. =)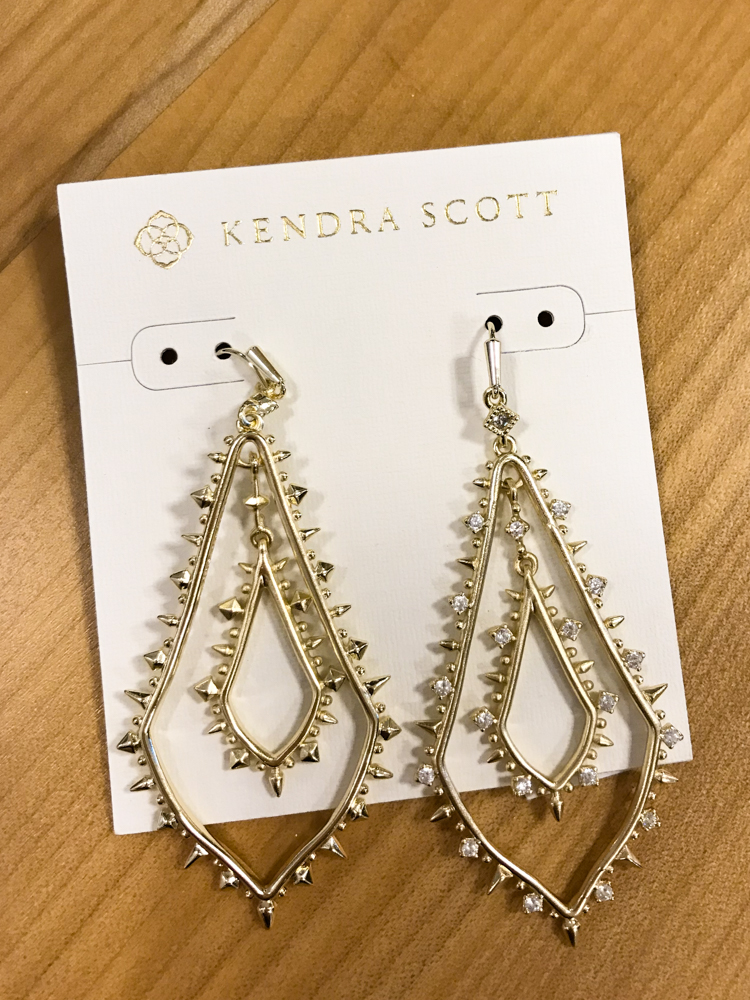 These new stacker RINGS are so pretty and versatile! Love the gold!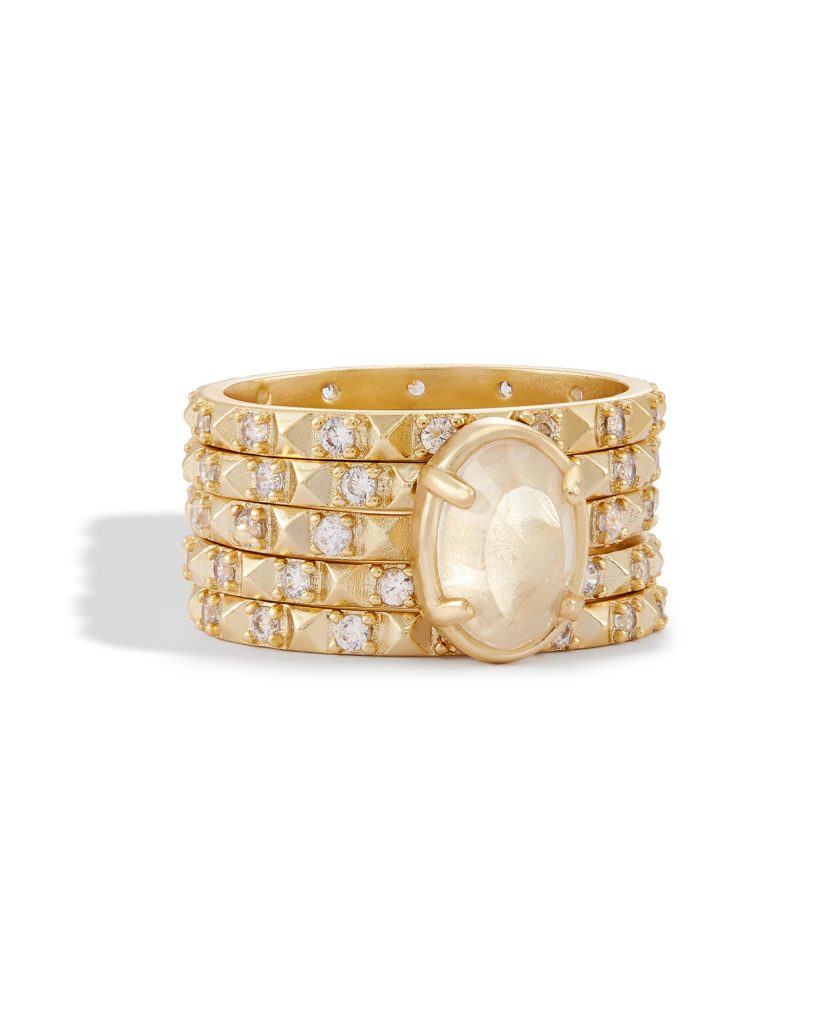 They also released a new drusy pendant NECKLACE that's available in gold, rose gold or silver!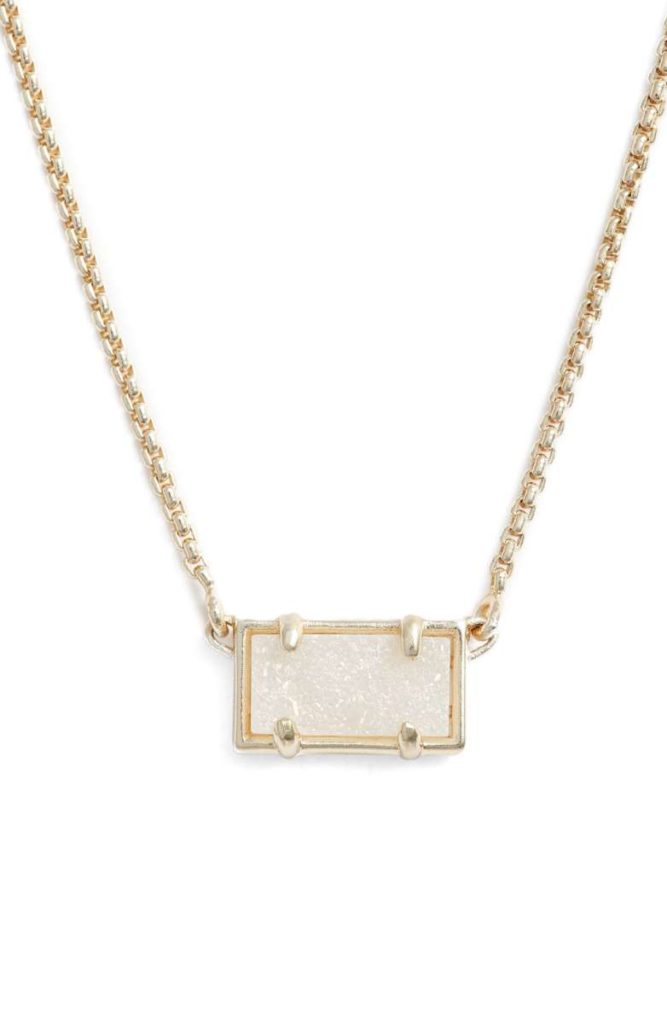 I love this brand because if anything ever goes wrong with your jewelry, they can fix it and they have a great guarantee! These initial NECKLACES are so pretty! You could stack two or three or wear your initial by itself! They come in silver, gold and rose gold.  My picture is terrible, they are hard to photograph.  Click on the link to see better pictures! =)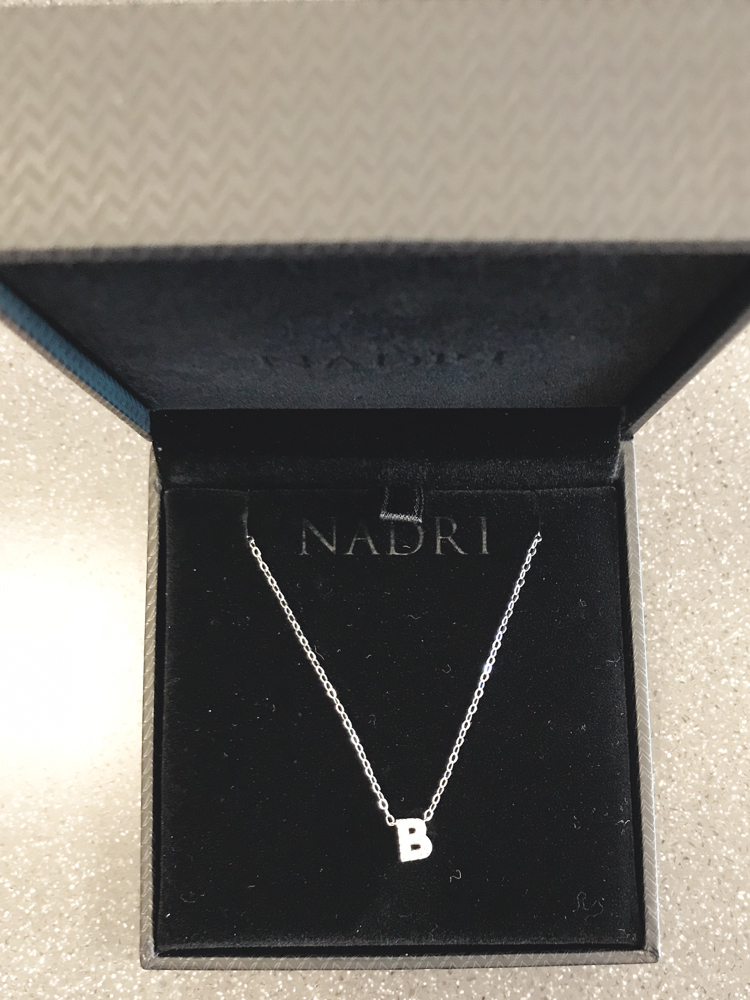 I discovered this really beautiful HORN NECKLACE! This is the natural one and I love the black one too!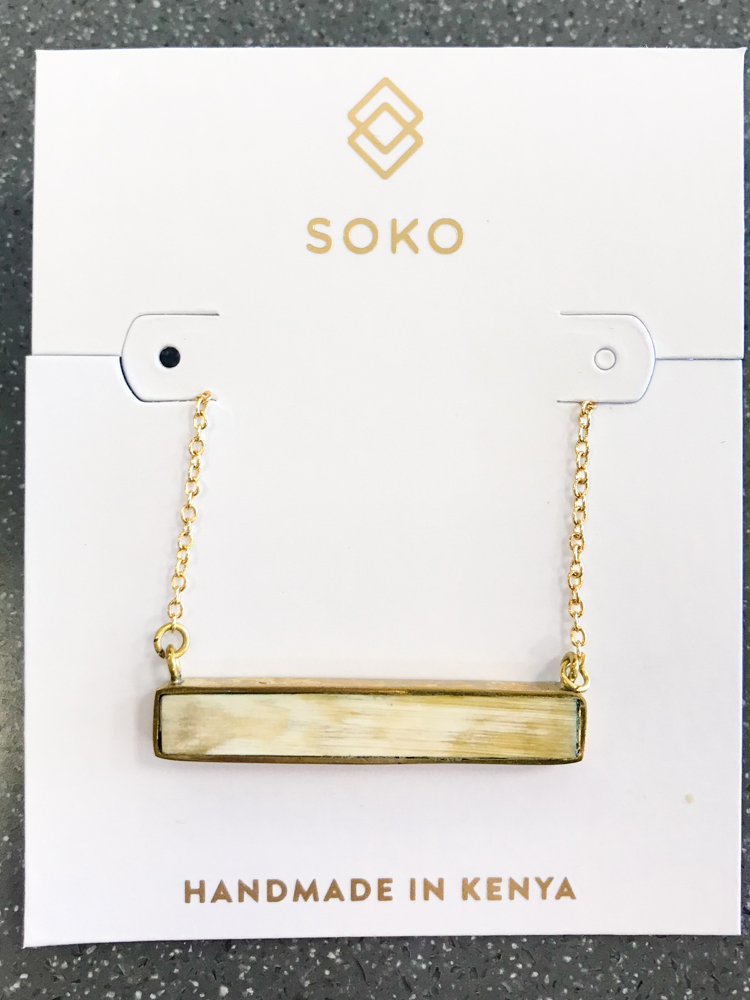 You guys know how much I love pink, so when I found this limited edition Lokai BRACELET, I knew I had to have it! Here's a description from the website… "Remind yourself to find balance during life's peaks and lows with this limited-edition bracelet containing elements sourced from the highest and lowest points on Earth—the white bead is infused with water from Mt. Everest and the black contains mud from the Dead Sea. Like the pink awareness ribbon, it's also a symbol of hope, support and solidarity for breast cancer. With every Pink Lokai purchased through October 31, 2017, Lokai will donate $1 to the Breast Cancer Research Foundation." I love that this bracelet helps support the Breast Cancer Research Foundation too!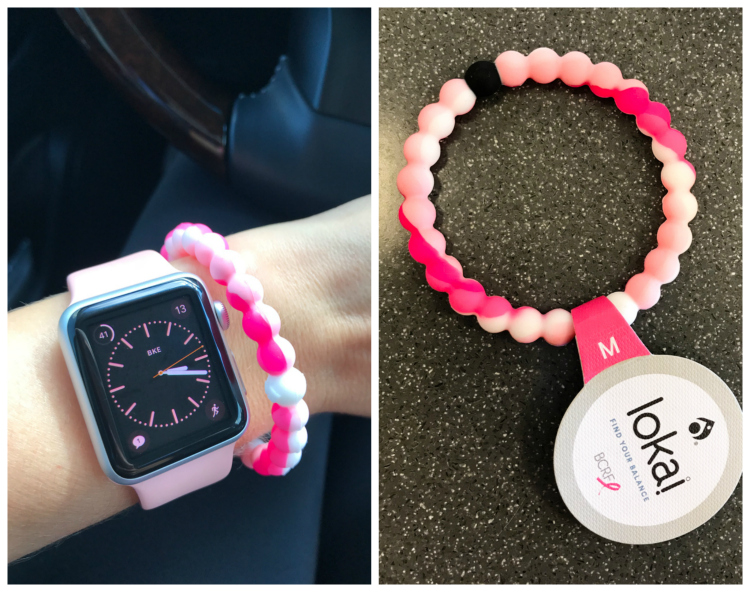 SCARVES
We should begin with my favorite neutral, plaid cape scarf! I love the colors and the plaid pattern.  It has arm holes as you can see in the picture on the left.  You can also wear it around your neck like a simple U shape as I am showing you in the top right picture.  (It doesn't have pockets, I just put my hand in the arm hole.)  You can also wear it wrapped around your neck with both ends sticking out.  That's what I did in the picture on the bottom right.  Now, this scarf has sold out and come back in stock at Nordstrom so I am linking it HERE, but if it's sold out, you can also get it HERE.  This is a hot commodity because it's awesome! It is listed as a best seller! FYI, I am wearing the same jeans and booties from the first outfit I showed above.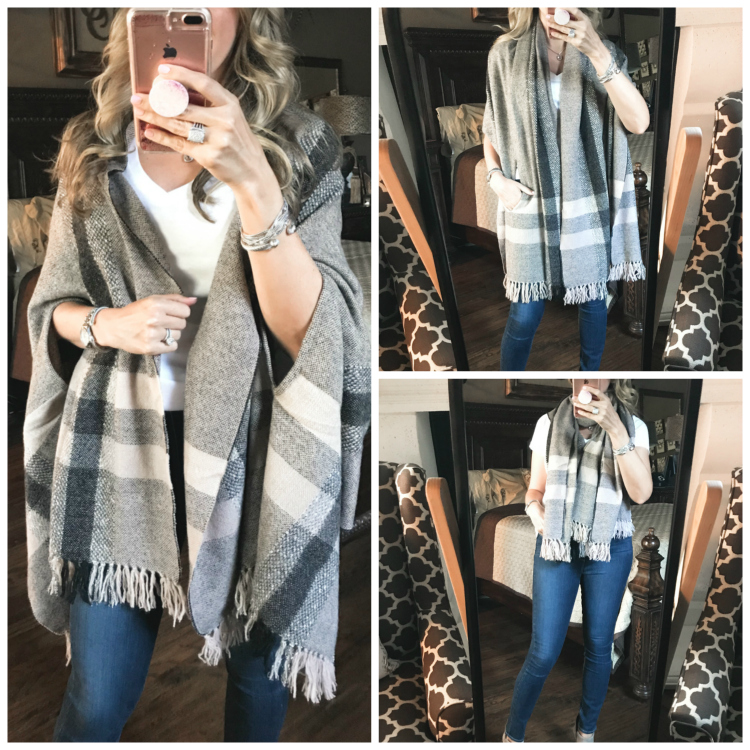 Look how pretty the colors are! You could wear this with a black shirt, or a white shirt, or a gray shirt… you get the idea! You also get what you pay for, the arm holes are well done and reinforced!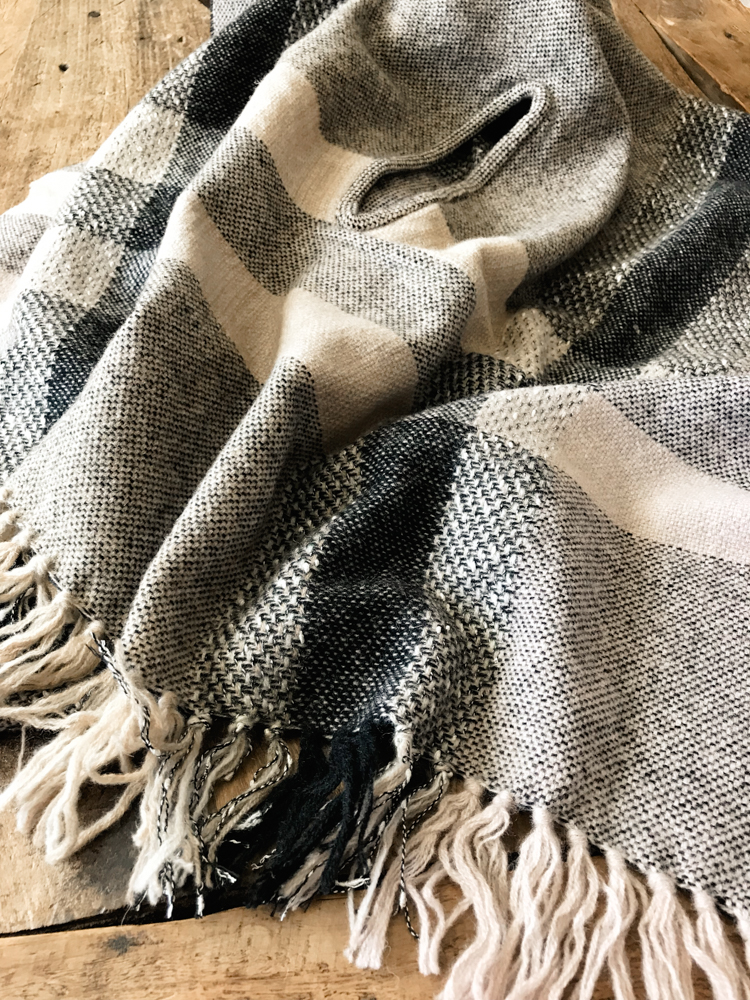 This cute patchwork SCARF is only $19! Such fun colors and patterns!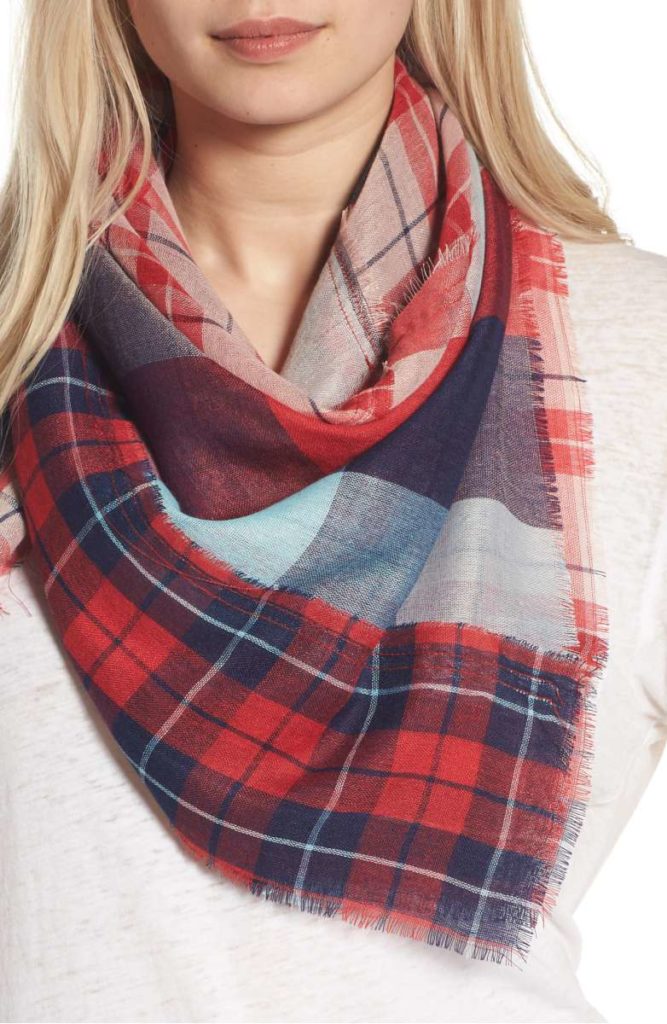 I can't tell you how excited I am about this SCARF!!! The jewel tones are gorgeous and it has arm holes and POCKETS!!!! Genius! This is a must have!!! I love a plaid scarf paired with a black and white stripe SHIRT.  This is a great one! It's one of their perfect fit tops!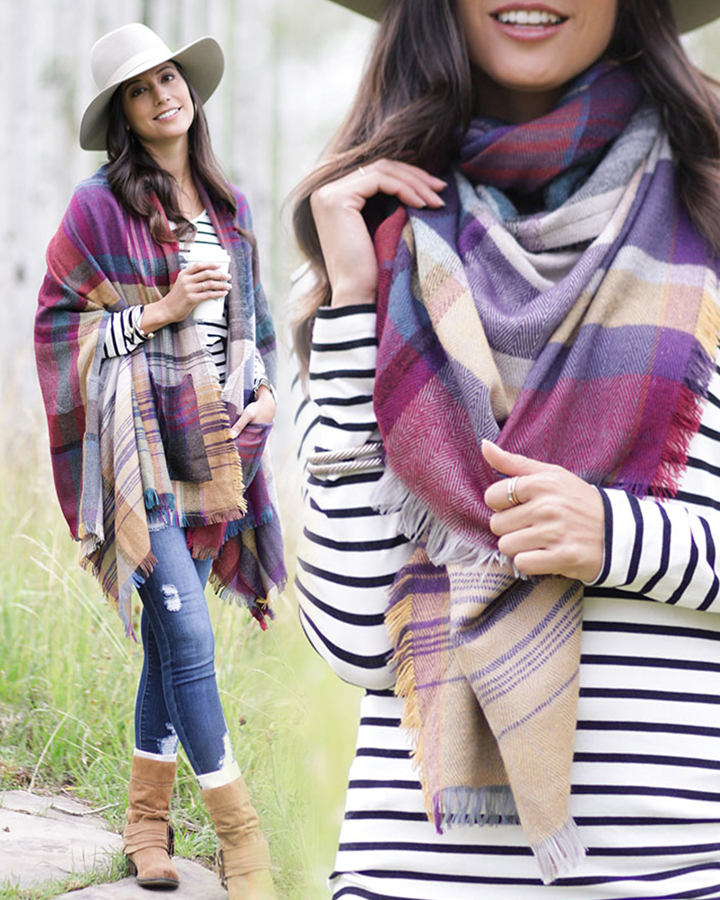 This is a grey plaid infinity SCARF that's only $19! Great gift idea too!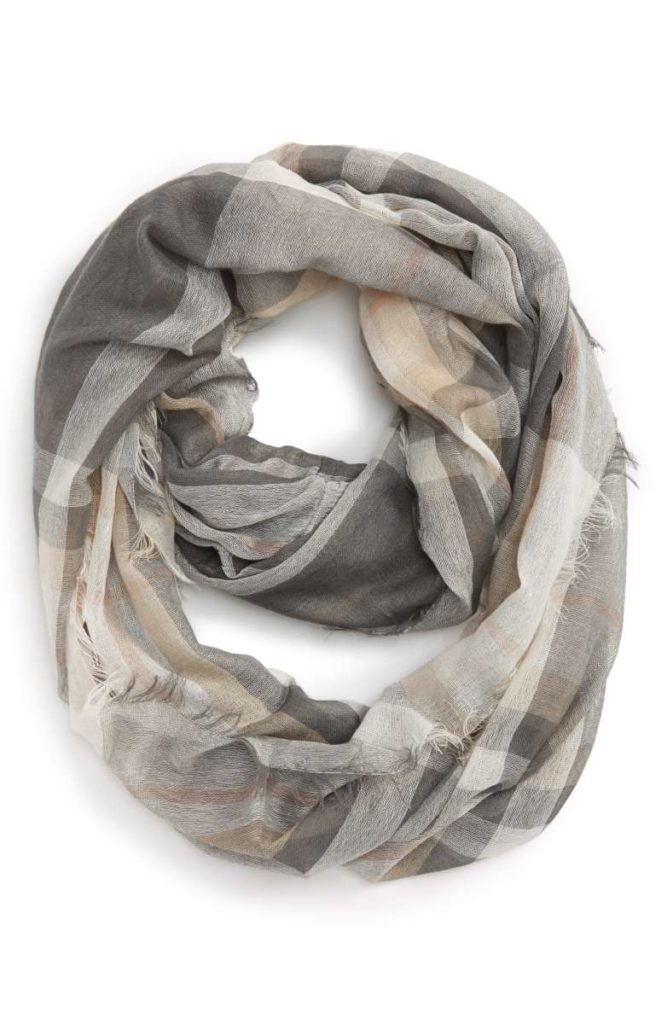 Last, but not least, is this awesome tan multi color oblong SCARF! Love it and it's only $22!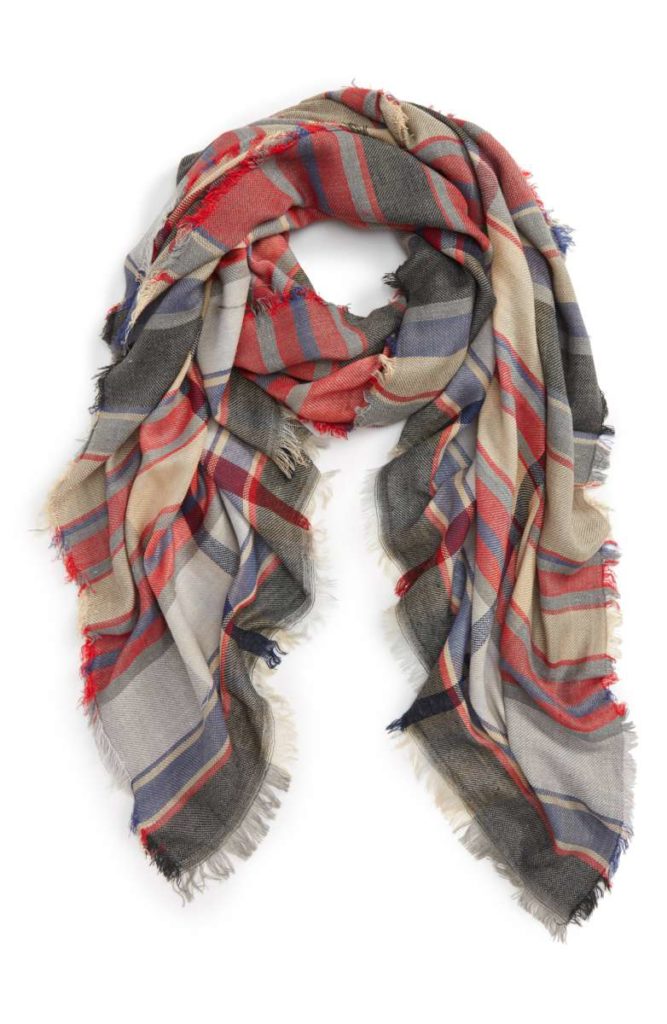 Remember how I mentioned there are some fun new shoes? Well, they are Tory Burch (some of my favorite shoes) and they are brand new!!! They just came out with embellished MILLER SANDALS! Here they are in silver.  They also come in navy and garnet.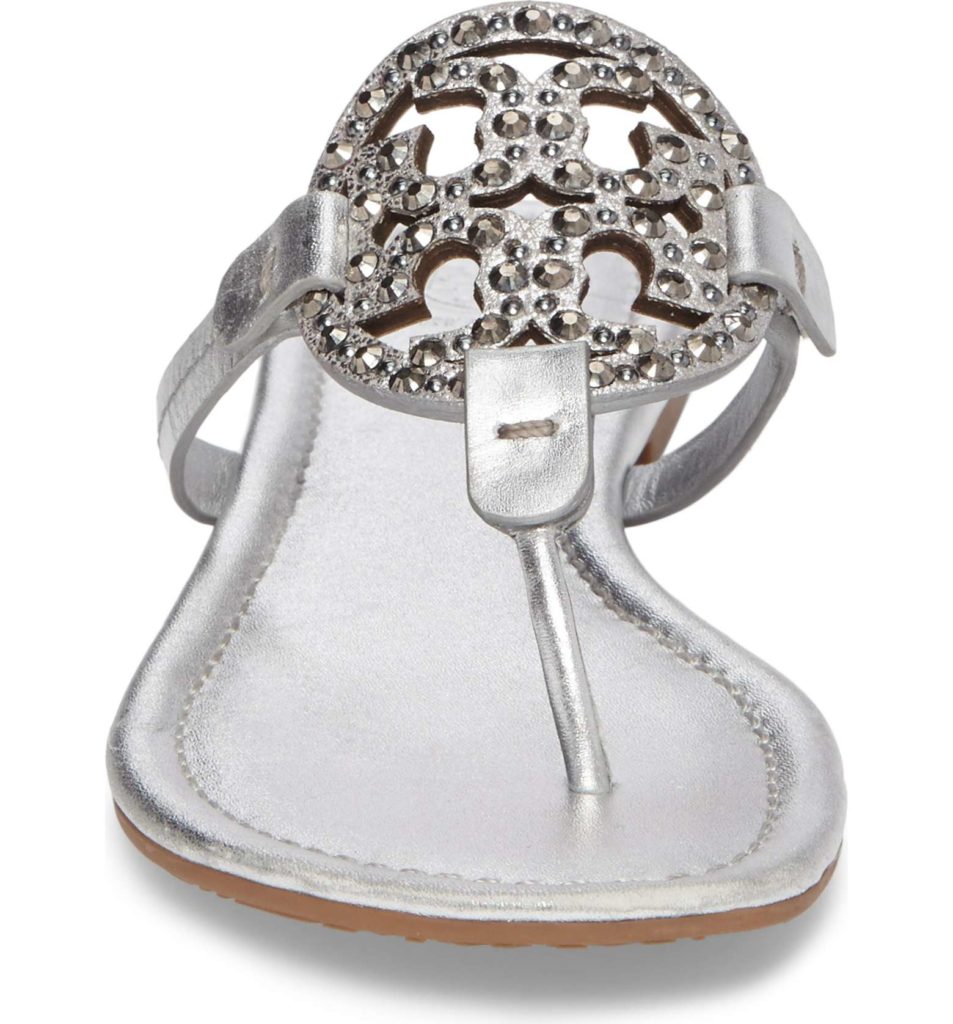 But they also come in BLACK!!! So fun!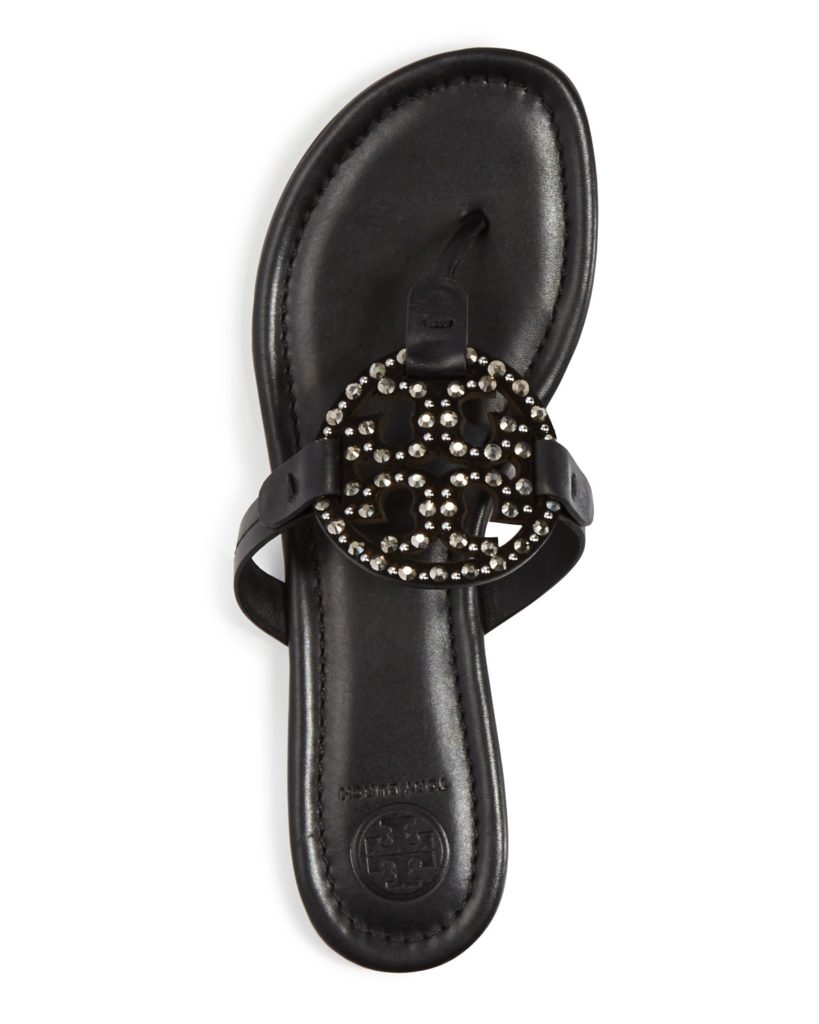 Oh, I almost forgot… as I am typing this, the amazing velvet pleated SKIRT has been restocked! I am crossing my fingers that it is still available as you are reading this! It's gorgeous and so many of you were sad that is sold out so quickly when I shared it before!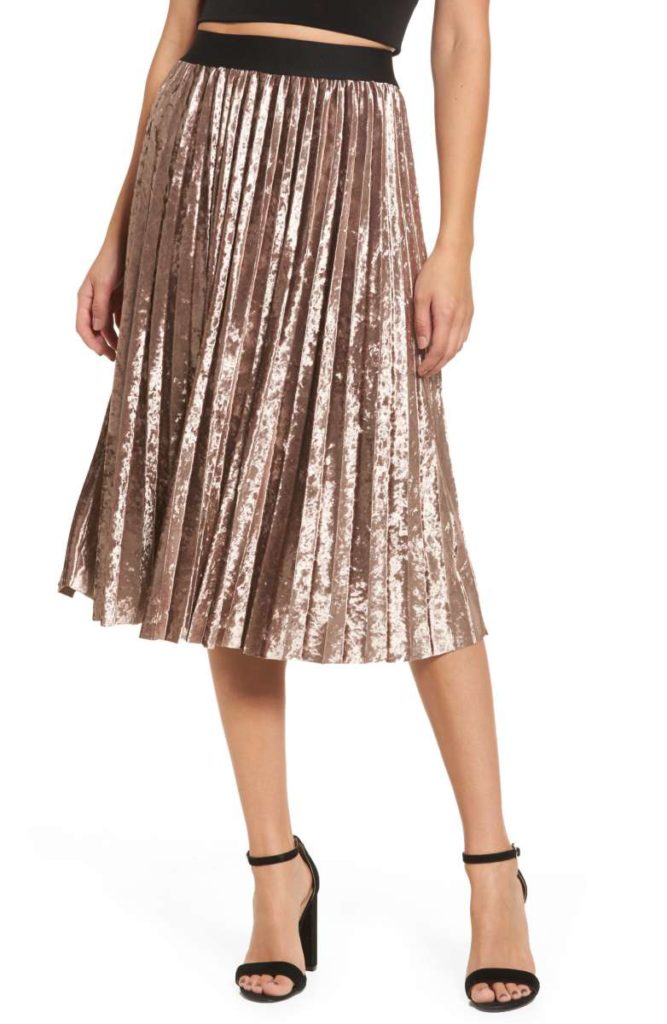 Whew, that was a lot of cuteness in one post! Thanks for shopping along with me! Hope you enjoyed all these purses, jewelry and scarves and found some goodies that you love!

Learn more about Barrett & see all of her posts HERE.
Follow Wear it with Barrett on Instagram and Facebook.
**This post contains affiliate links. If you purchase I may receive a small commission. Thank you!**
SaveSave
SaveSave
SaveSave
SaveSave
SaveSave
SaveSave
SaveSave
SaveSave
SaveSave
SaveSave
SaveSave
SaveSave