A few weeks ago I shared one of my beauty secrets….I wax my nose!  I took you along with me on Instastories and y'all had tons of questions.  Many of you had never heard of it, wanted to know where I go, does it hurt, etc.  Today, I am sharing all the details including a video of me having it done.  Welcome to Beauty Diaries: Nose Waxing edition (video toward the bottom of post)!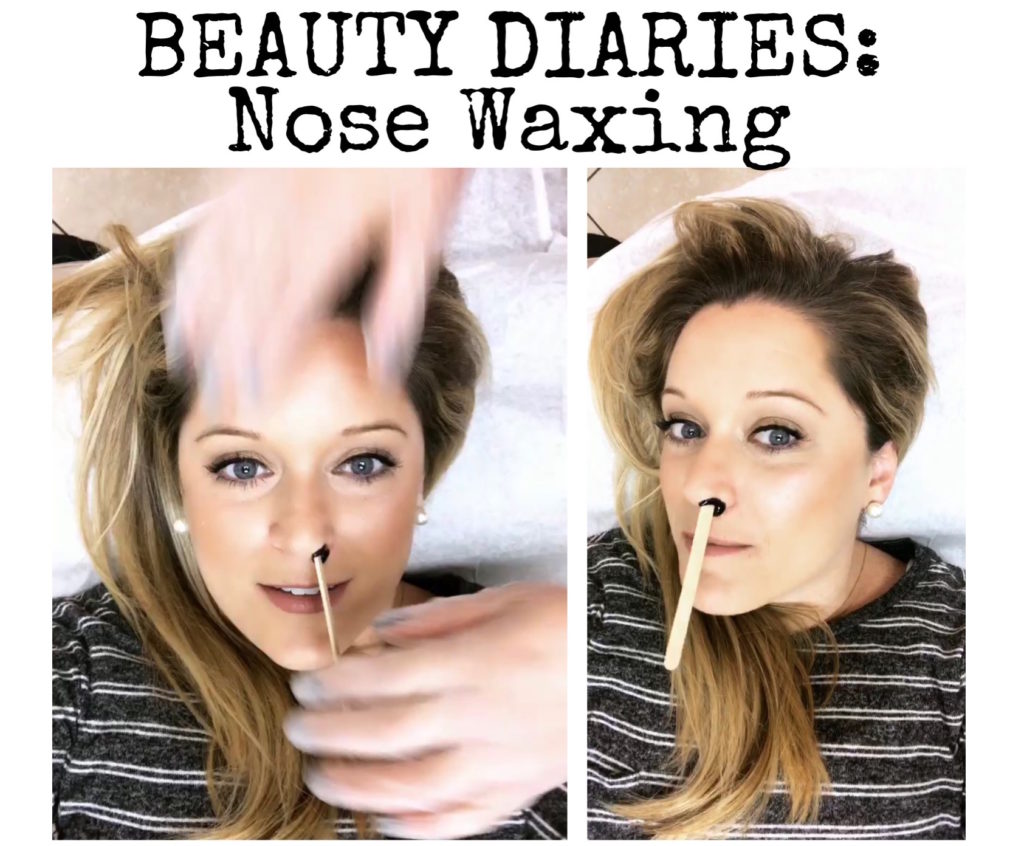 One thing very important to me is I like to keep it real over here.  I so appreciate each and everyone of you who take the time to read my blog, comment, etc.  I LOVE women.  I just think women are awesome.  I don't know what I would do in life without my girlfriends.  I am also an open book so I want my blog to be an area where you can come, relax, be inspired, find some good sales, etc.  Basically I want it to feel like we are out on a girls night, having a margarita (or two) and sharing life together.  All that being said I share some personal stuff over here.  You may have never heard of nose waxing because people don't typically talk about it….but you need to know about it….so I am your girl!  I will take one for the team ;).
This whole topic actually came up at a girls night.  My friends and I were talking about crazy beauty things we all do and I mentioned nose waxing!  GASP…haha they had no idea what this was, sounded horrified, so I shared all the details and now several of them do it and love it.
How did I discover nose waxing?  Ok….this is a funny story.  When I was studying abroad in London my friends and I camped out to go to the premiere of James Bond….the one with Halle Berry (yes, it was a long time ago… I am dating myself).  Anyway, we ended up getting front row seats to the premiere.  It was incredible.  Halle Berry was literally 2 feet from me and I noticed she had no nose hair?!  I know that sounds ridiculous, but we were literally sitting down directly underneath her while she was being interviewed so as we stared at her we were looking up her nose.  (Remember my open book comment above…haha, well here you go).  My friends and I were all like…how is that possible?  Is nose hair something we should add on our forever long list of things to think about?!  Well, the next time I had my eyebrows waxed I asked my lady about it and she said many people get their nose waxed.  I thought that sounded like some medieval torture.  If you have ever had the unfortunate experience of having to pluck 1 nose hair it is absolutely excruciating…like it must be attached to your brain….so the idea of having hot wax put in your nose and pulling them out sounded like some sick joke.  Also, luckily I have been fortunate in this area and don't really have a bunch of nose hair, however….none sounds even better!
Fast forward a few months later and I gained the courage to try after the waxing lady swore it didn't hurt and you know what….she was right!  It literally does not hurt!  Listen friends, I am a total wimp.  I do not like pain, I do not have a strong tolerance, etc.  So when I say it doesn't hurt….it doesn't.  It feels strange having a popsicle stick of wax stuck up your nose….but no pain!
NOSE WAXING
WHAT: Nose Waxing.
HOW: Hot wax is inserted into your nostril usually with a popsicle stick type of thing and then when it hardens it is pulled out removing the hair.  Some technicians do one nostril at time, some do at the same time.  My tip, breathe through your mouth.
WHY:  Removes all the unwanted nose hairs.  It gets them all so you don't have to trim.  It may be a mental thing, but I swear I can breathe better afterwards.
WHERE:  Most waxing people offer this service.  I personally go to European Wax and they have locations all over.
WHEN:  This is a personal preference thing.  I usually do it about every other month
WHO: Anyone.  I made my husband do it and he really liked it too.
PRICE: I think I pay $12 for it?  It is around there.  I have a waxing package so it comes off there, but I am pretty sure it is $12
Ok, so there you have it.  If I have missed any questions please let me know and I am happy to answer.  No, it doesn't cause more hair to grow back.  I know that was a question people had.  Another question was do you need nose hairs?  Yes…we do need them….the ones way up high in your nose.  Waxing does not get those.  It just gets the ones at the base that are annoying and many people trim.  Let me know if you do this too….or if you try it!  
PIN BELOW FOR NOSE WAXING DETAILS