I love having  Christmas trees up in our home.  They are so beautiful and I love the extra light.  It is like one big beautiful lamp.  We switched to a flocked tree this year and I couldn't love it more.   I have had lots of questions about flocked trees.  Below I am sharing the trees we have in our home and I have rounded up the best flocked Christmas trees in different styles.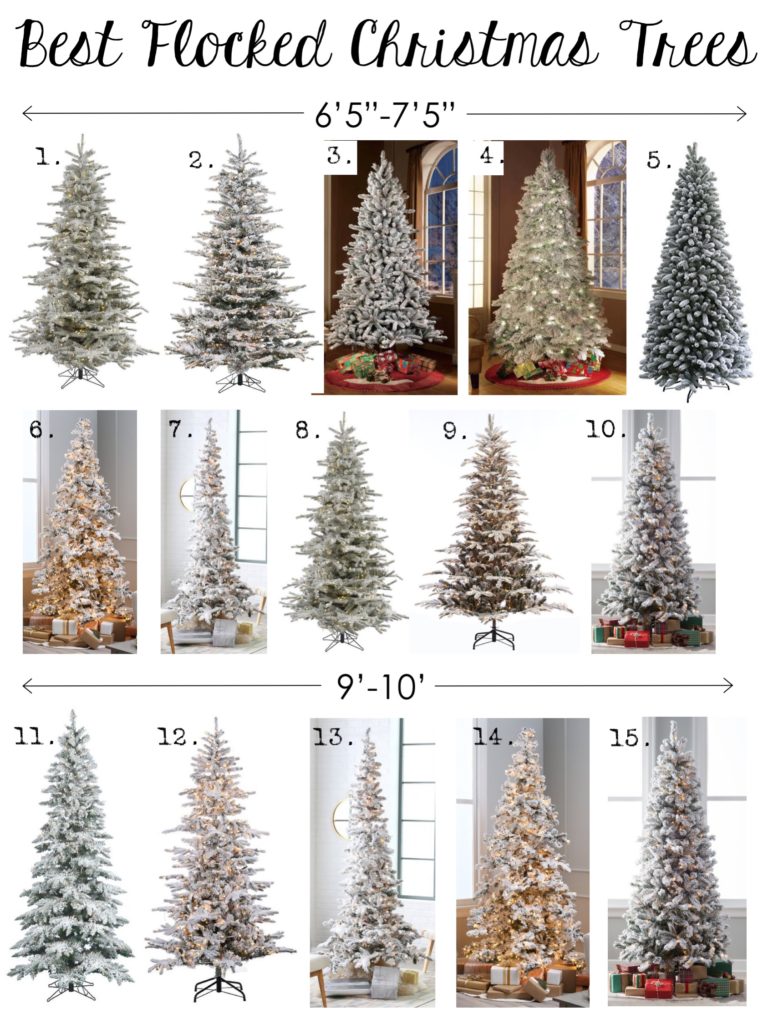 These Christmas trees are all flocked and pre-lit.  They have different styles, heights, widths, amount of lights, amount of points/branches and amount of flocking.  These are all the things to consider when picking your tree.  All of these trees have amazing reviews.  If you are considering one of them be sure to read the reviews because they always give great info when trying to decide!
**Prices subject to change based on sales.  These were the prices the day post went live**
6′.5″-7′.5″ TREES
9′-10′ TREES
11. 9′ SLIM Utica Fir| 49″ wide| 495 LED lights| 1455 tips| $379.99| 5 star review
12. 9′ White Fir| 61″ wide| 900 lights| 1961 tips| $459.99
13. 9′ SLIM Austin Pine| 51″ wide| 600 lights| 1218 tips| $533.49| 5 star review **Same as tree #7.  Comes in multiple sizes**
14. 9′ Spruce| 62″ wide| 750 lights| 1569 tips|$549.99| 4 star review  **Same as tree #6.  Comes in 2 sizes**
15. 9′ SLIM tree| 51″ wide| 600 lights| 1355 tips| $309.98| 4.5 star review **Same as tree #10.  Comes in 3 sizes**
I hope this was helpful in finding the best flocked Christmas trees for your home and family.  There are so many different things to look at when picking your tree.  I tried to make it simple so you could compare!
I have been getting lots of questions about my specific tree.  I have a King of Christmas Flocked 7′.5″ King Pre-Lit Tree.  I absolutely LOVE it.  The quality is amazing.  It isn't messy.  There are multiple sizes and widths to choose from!  Just click HERE to see all the options.  Here are some pictures of my tree.
I also added this tree to my dining room.  It is a 6′ slim unlit tree for ONLY $30!!  I really like it.  I then added 300 white lights from Walmart for about $7.  This tree worked great for what I needed and the price was great!.
SHOP ALL FLOCKED CHRISTMAS TREES HERE

This post contains affiliate links. If your purchase I may receive a small commission.  Thanks for supporting my blog.