One of my favorite things to do is grab a diet coke (or wine…depending on the time of day) and curl up with a catalog.  I go through and dog ear all the items I love and then go back through the catalog.  I am constantly looking for decorating ideas, paint colors and must have items.  I just got some new Pottery Barn catalogs so I am sharing my catalog crush items with you today!
****Right now save 25% off one regular priced item and get FREE SHIPPING (excluding furniture) with CODE: SURPRISE****
CATALOG CRUSH: POTTERY BARN
Let's be honest.  I LOVE Pottery Barn.  They always have the cutest stuff and I love their catalogs!  Below I am sharing my some favorite things that stood out….but they have so much great stuff!
One of my tricks to save a little money is I take some of my favorite stores and shop their kids/teen collection for things like bedding, curtains and lighting.  Typically they offer stuff that looks very adult, but is cheaper!  The curtains in my dining room are from RHBaby & Child and they are absolutely amazing…and were a much better price.
When I came across this ruffle, ticking stripe bedding from PBTeen it was love at first sight!  I mean I cannot say no to ruffles and the stripes give it that farmhouse charm.  Sometimes bedding in the Teen stores doesn't come in king sized, but luckily this one does!!  The price is great and you can save 15% if you sign up for PBTeen emails!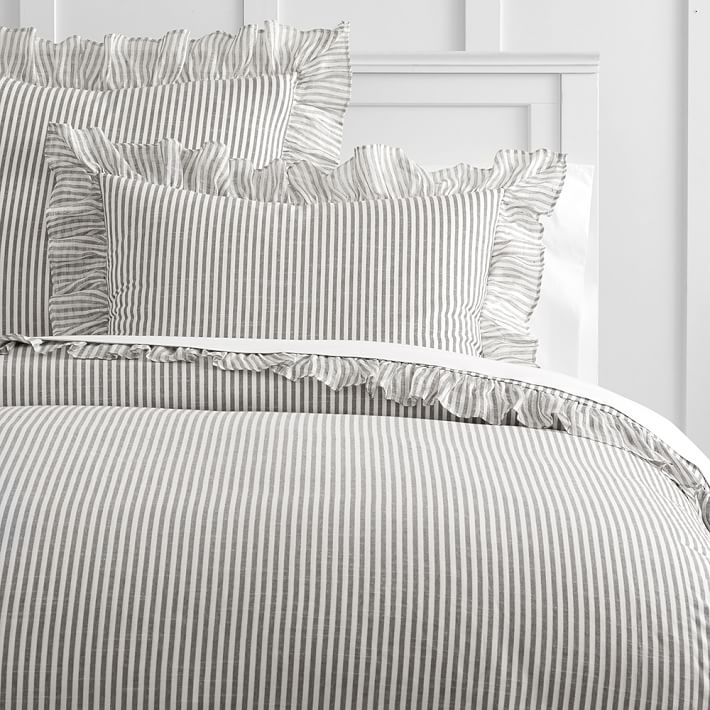 As much as I love a good farmhouse stripe….I love a crisp solid ruffle bedding.  This beautiful bedding below comes in white, gray or soft rose. You know what else is amazing about this bedding….it is wrinkle resistant!  Such a great feature. I would love to have the white solid ruffle bedding with the striped ruffle Euro shams above!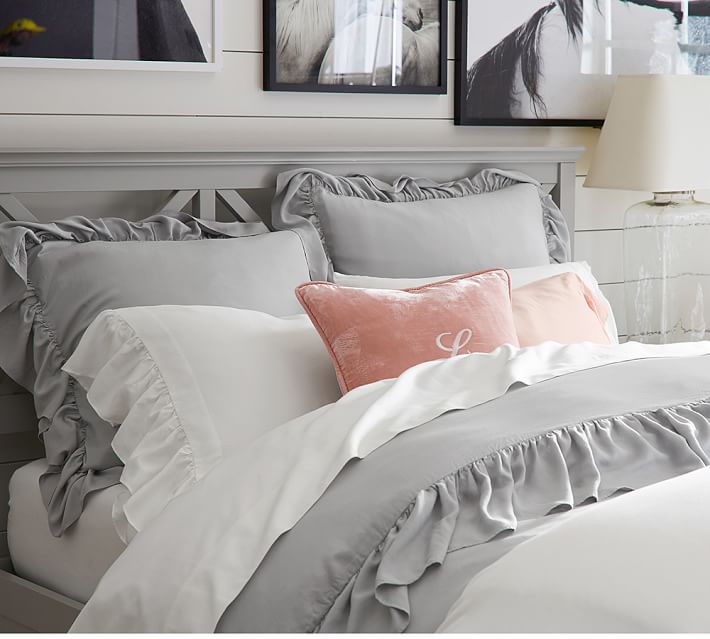 This shower curtain basically coordinates with the first bedding I showed you which is funny because that bedding is brand new and I bought this shower curtain for our bathroom 4 years ago.  I LOVE it.  It is so pretty and really makes our upstairs bathroom.  Better yet….it is on sale!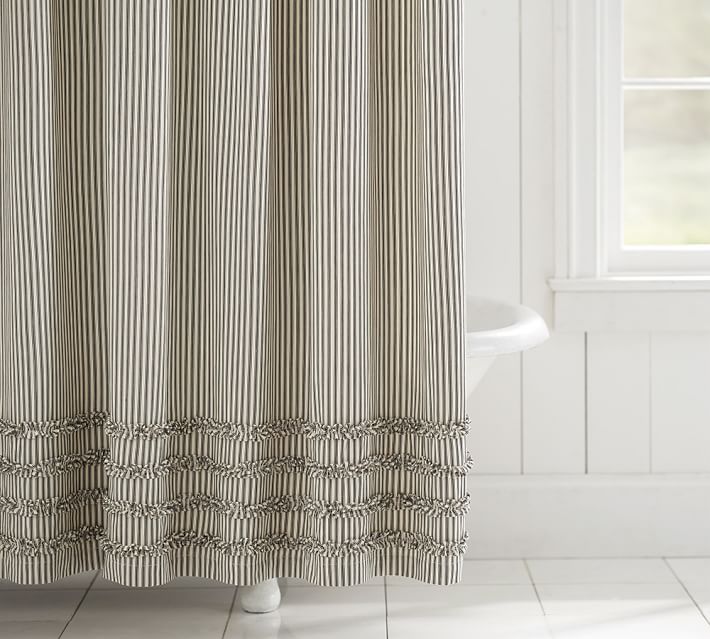 This is one of my all time favorite shower curtains.  It comes in white, gray or this linen color.  Joanna Gaines used it in an episode of Fixer Upper and I fell in love.  It is on sale right now so it is the perfect time to buy!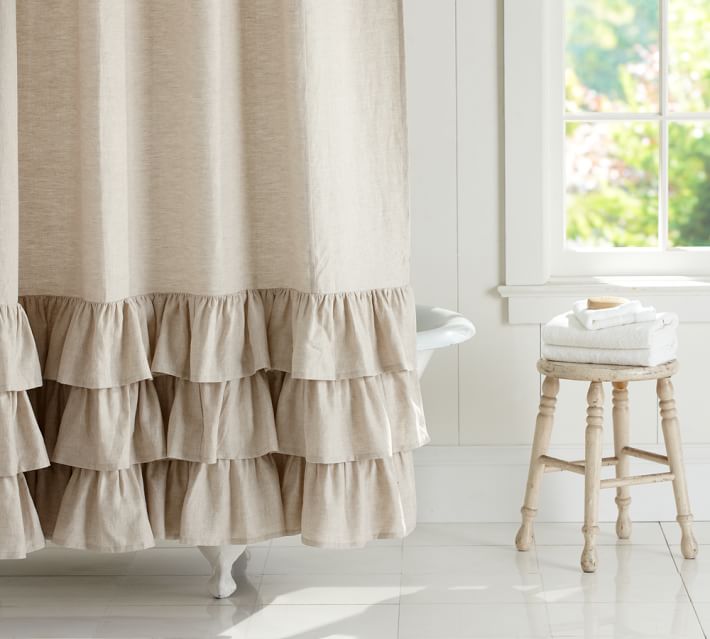 How cute is this little bath mat?  Tassels are such a trend right now and I think this is a fun way to add them to your decor without being over the top.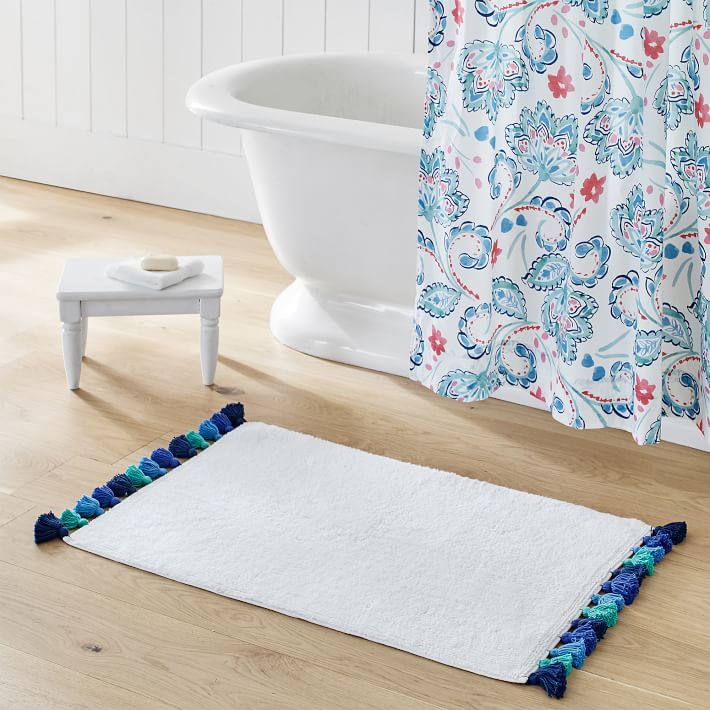 Pottery Barn sells my favorite dishes.  I got a complete set of the Emma Dishes when I got married and they are still my favorite…classic with that beautiful white beading.  Now, new for Fall, they are introducing this Cafe line that I love as well.  It screams French farmhouse with the simple stripes and each plate has a number on it that indicates the price of the meal.  I love little details like that!  There are dinner plates, salad plates, bowls, mugs and oval plates.  You can shop all of them here.
How fun would this beverage stand be at a party?!  I love the look and that it is on casters so you can move it around easily.  It is on sale right now!  I also like to think outside of the box and use fun things like this for storage in a playroom, laundry in a boys room, hold a bunch of balls, etc in a mud room.  There are so many uses and ways to make fun items like this functional in your home!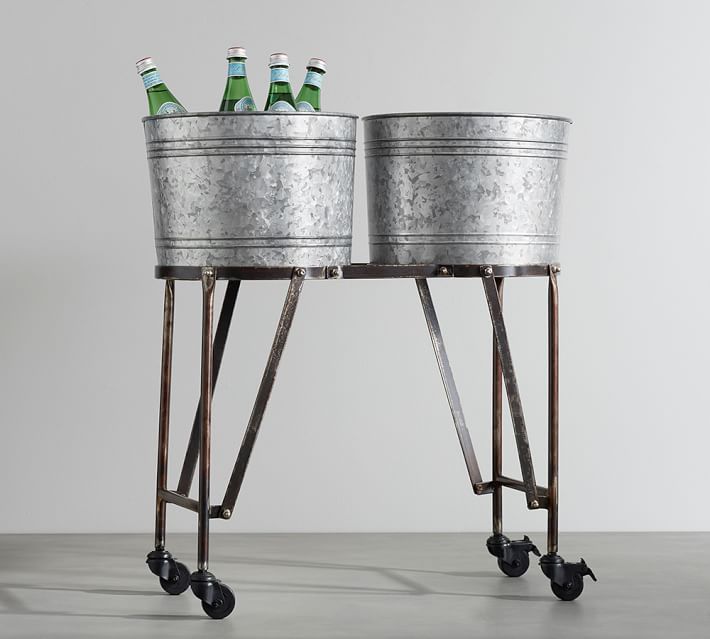 Who doesn't love a good galvanized metal tiered stand?!  There are so many uses for these.  Again, think outside of the box…yes….great for food, entertaining, but also great for laundry room storage (add some detergent in a cute jar, some clothes pins, etc), as organization in your bathroom (make up, skincare, etc).  You can use this for so many thing and it is also on SALE!!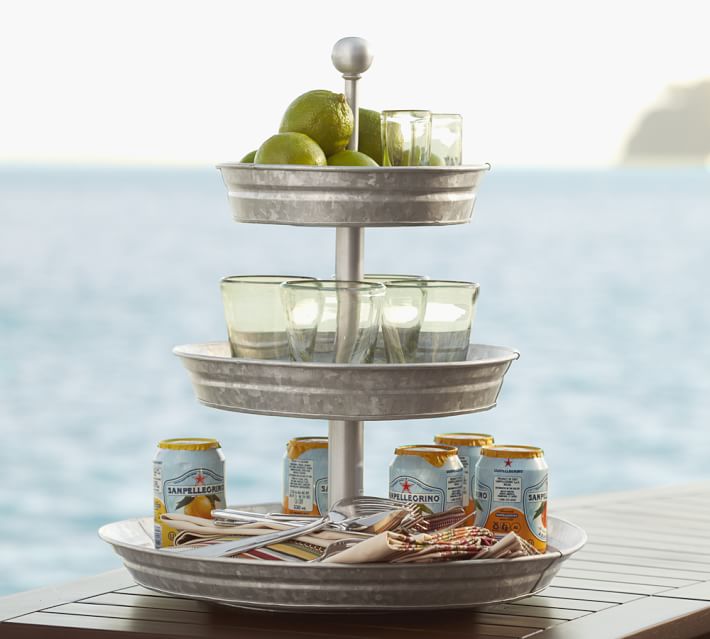 The first thing I thought of when I saw this shelf with hooks was how amazing it would be on a patio if you have a pool!  You could hang your towels below, put sunscreen on the shelf, etc.  Again, this could have so many uses, but it is a pretty functional item that we could all probably use!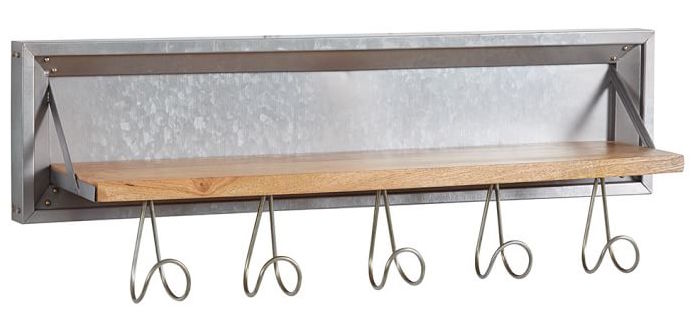 I love a good lumbar pillow…add grainsack stripes AND it can be used outdoors….I am SOLD!  This beauty can be use indoor or outdoor and is made of special material that will not fade in the sun over time!  That is awesome!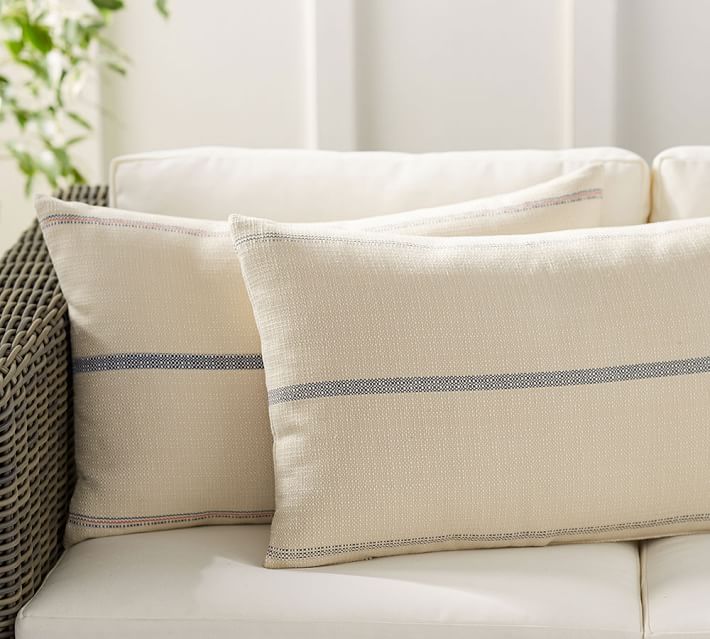 After getting the pillow above you need another great pattern to coordinate with it and what better than and indoor/outdoor gingham pillow?  These would look so great together on your patio!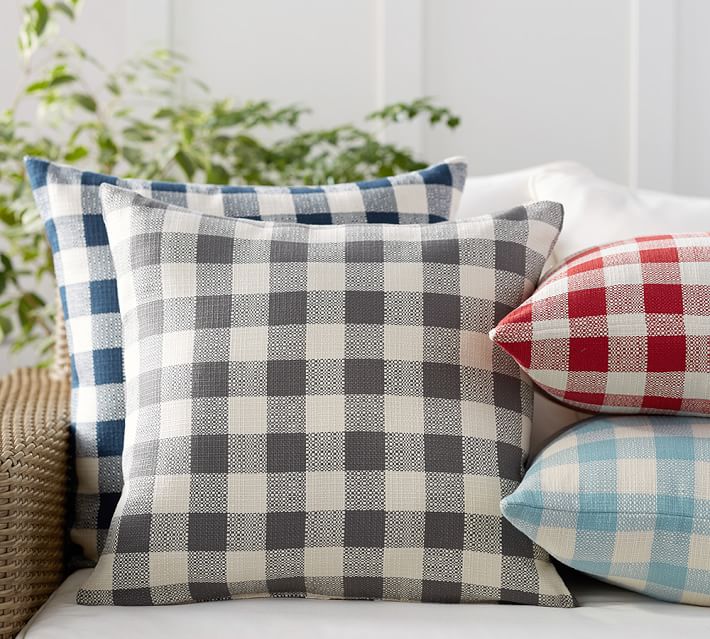 Last, but not least I had to share this chair.  Avery has the pink ruffle one with her name monogrammed on it and she loves it.  Now they have this metallic linen one and it is on sale!!  It is so hard to tell how amazing it is from this photo, but I have seen it in person and it is beautiful.  It really does shimmer!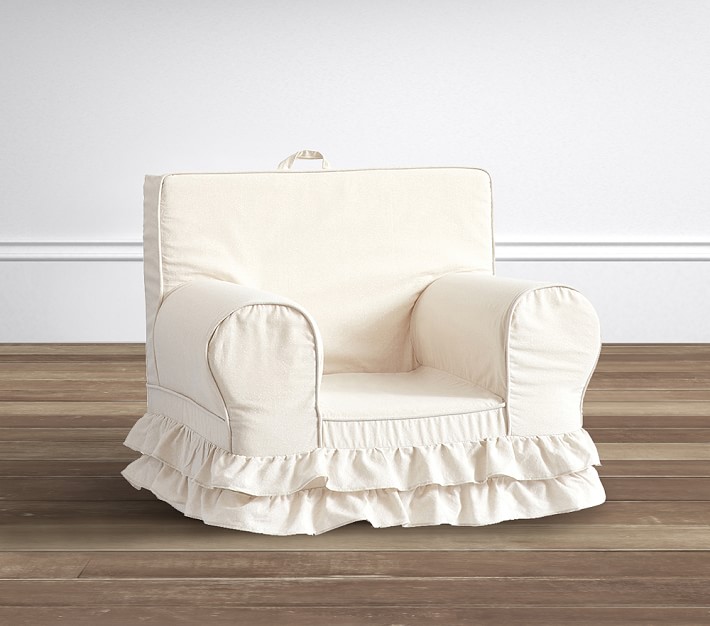 So…I hope you loved my catalog crush items and maybe found something you cannot live without!  Stay tuned for the next catalog that comes in my mailbox!
SHOP ITEMS BELOW

This post contains affiliate links.  If you purchase I may receive a small commission.  Thank you for supporting my blog.