Pumpkins are the #1 quintessential item of fall decorating.  I gotta share a secret.. some of these pumpkins make me think about Cinderella and her carriage! There sure are some beautiful pumpkins out there, and not all of them are real. You can do so much with any size, shape, or color pumpkins- and I wanted to share some ideas of Decorating with Pumpkins. Use them everywhere, on the front porch, in the entry hall, on the dining table, and even the living room! Or go a little crazy and find spots for them in every room of the house.
Make a gorgeous setting with pumpkins and dried hydrangeas on a wood tray in just a few minutes!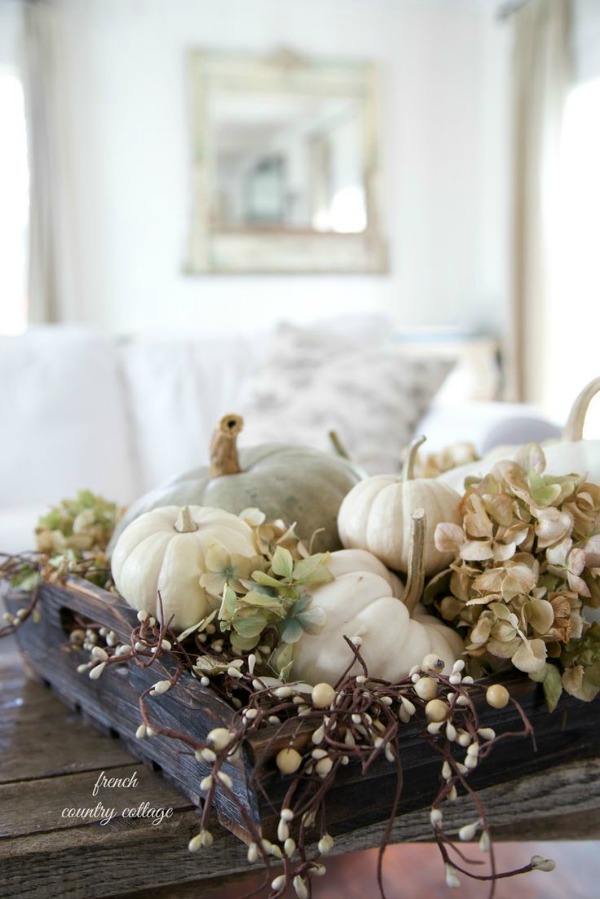 Autumn Vignette
This house tour of Craftberry Bush's is just stunning. Check out how she used pumpkins for her dining table!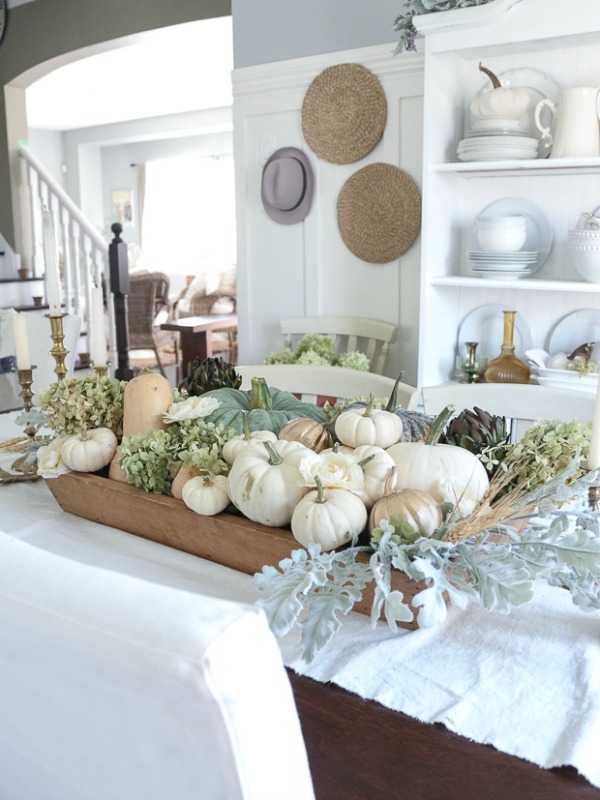 Bounty of Pumpkins
Use your collectibles to display different kinds of pumpkins. The milk glass looks beautiful with all the textures.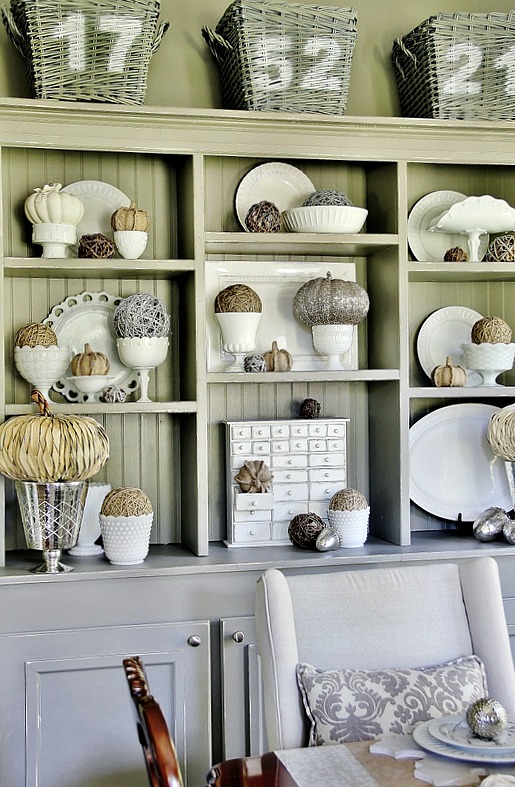 Different Pumpkins Displayed in Milk Glass
Faux pumpkins make great vases, especially for a centerpiece with fall blooms.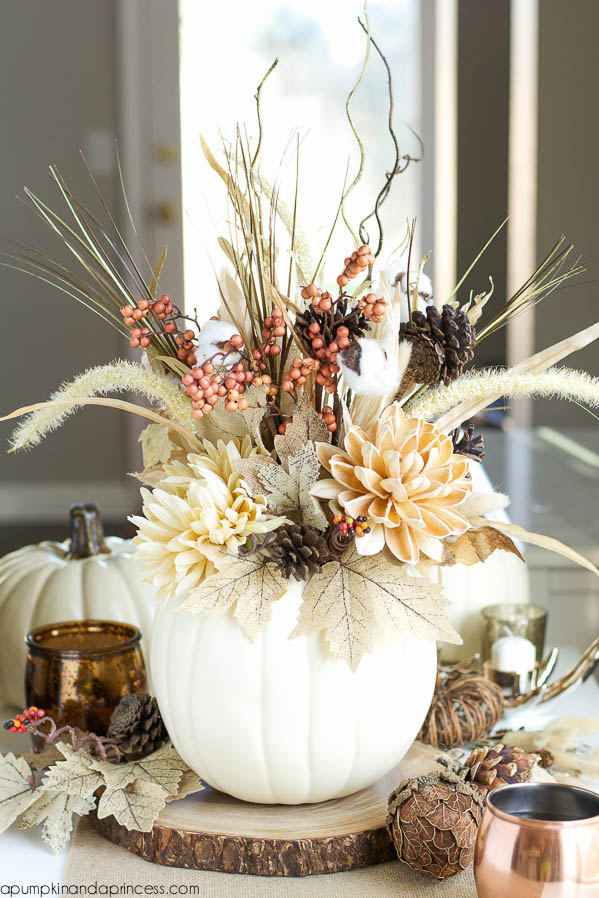 DIY Pumpkin Vase
Add a backdrop that is like no other to all the beautiful pumpkins you pick!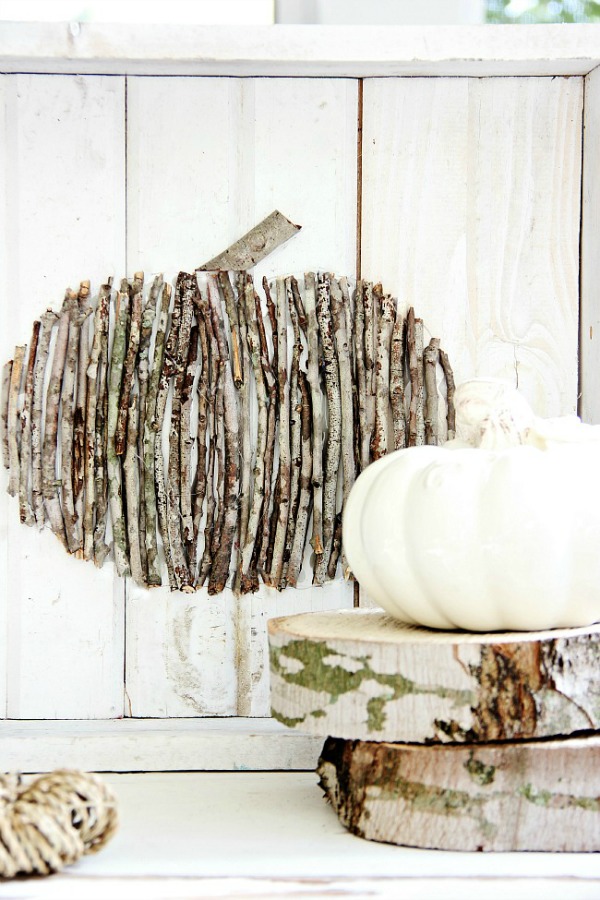 DIY Wood Stick Pumpkin 
I am in LOVE with the black and white fabric pumpkins. Those truly do add a little glam to the rusticness of a chicken feeder.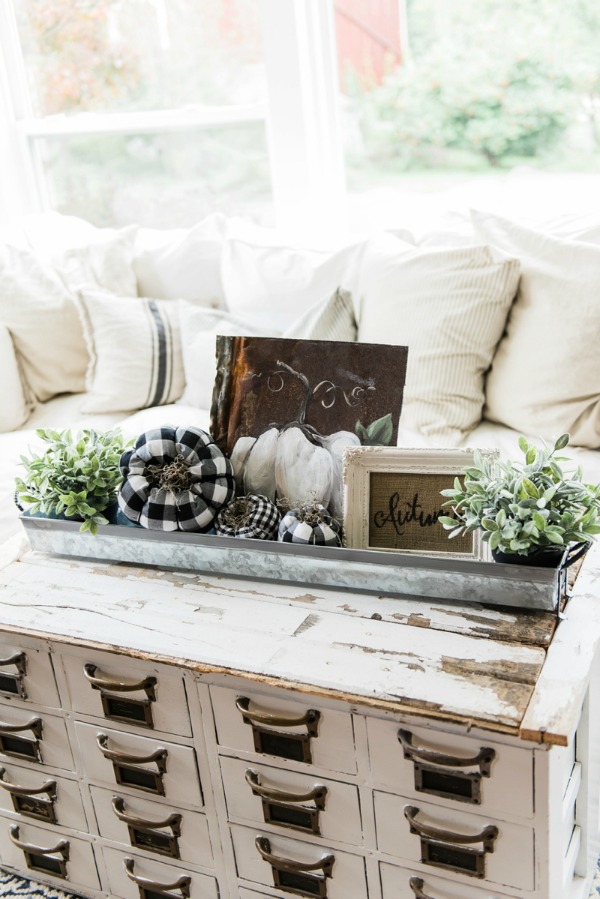 Chicken Feeder Centerpiece
This is a fresh take on harvest style that will welcome your guests this fall.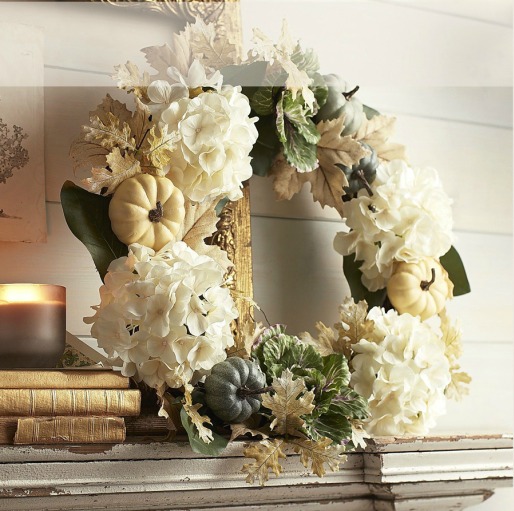 Faux Cabbage Hydrangea Wreath
Keep it simple with a bushel of wheat and a few mini pumpkins on a tray.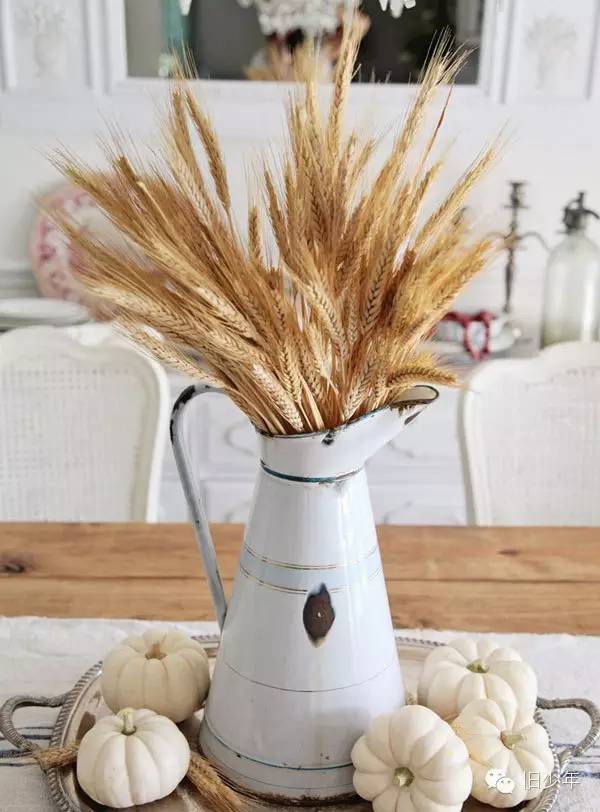 French Farmhouse Fall Centerpiece
White pumpkins inside glass spaces give the space a rustic luxe feel!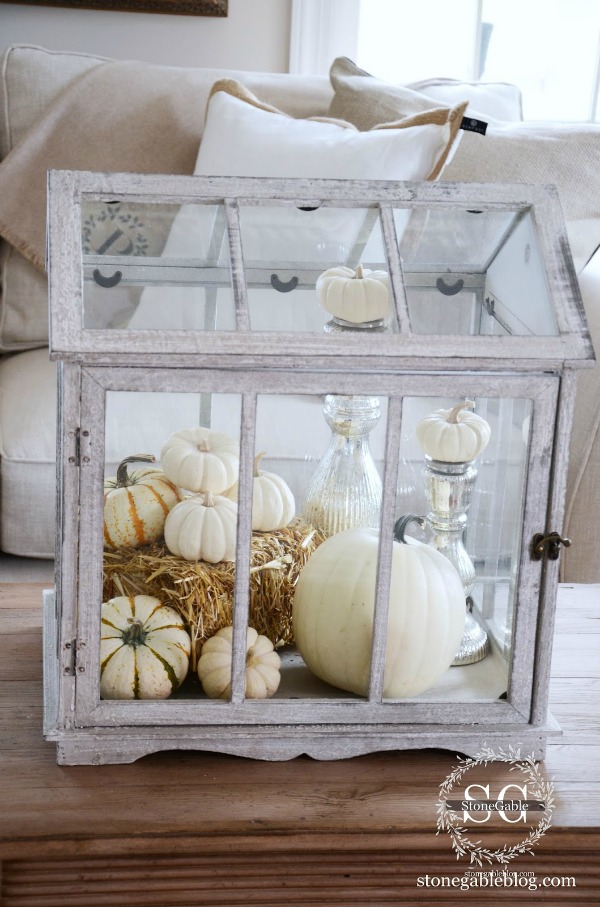 Glass Greenhouse
Add a metallic effect by way of paint to some of your pumpkins and place them on a tiered tray for height.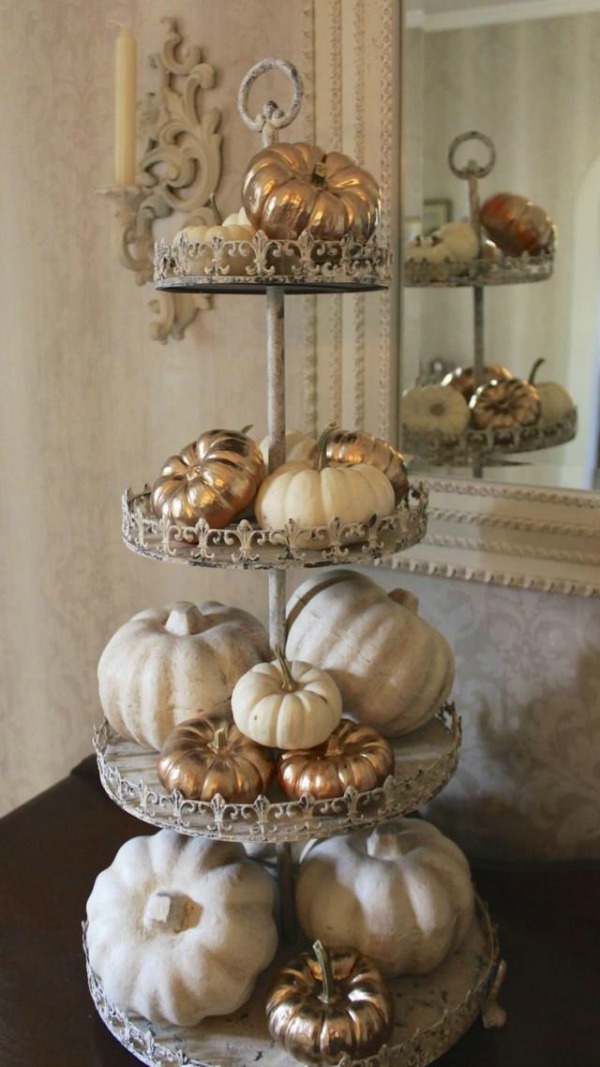 Gold Painted Pumpkins
Set up a gorgeous tablescape using a little gold paint on pumpkins and pine cones. I'd eat at this table any day!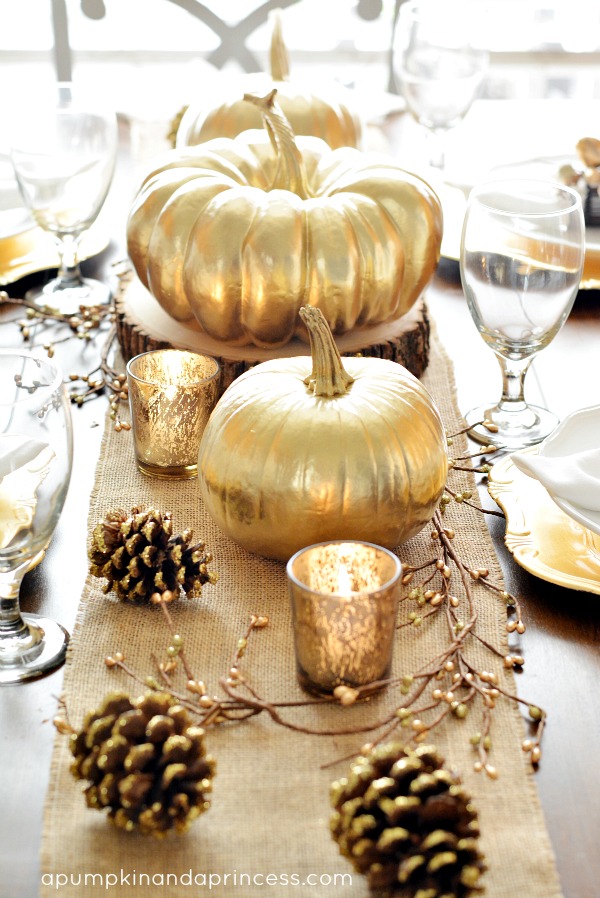 Golden Pumpkins
Granted, the copper is what shines in this centerpiece, but I love how everything is placed on a plaid blanket to give more of a fall feeling.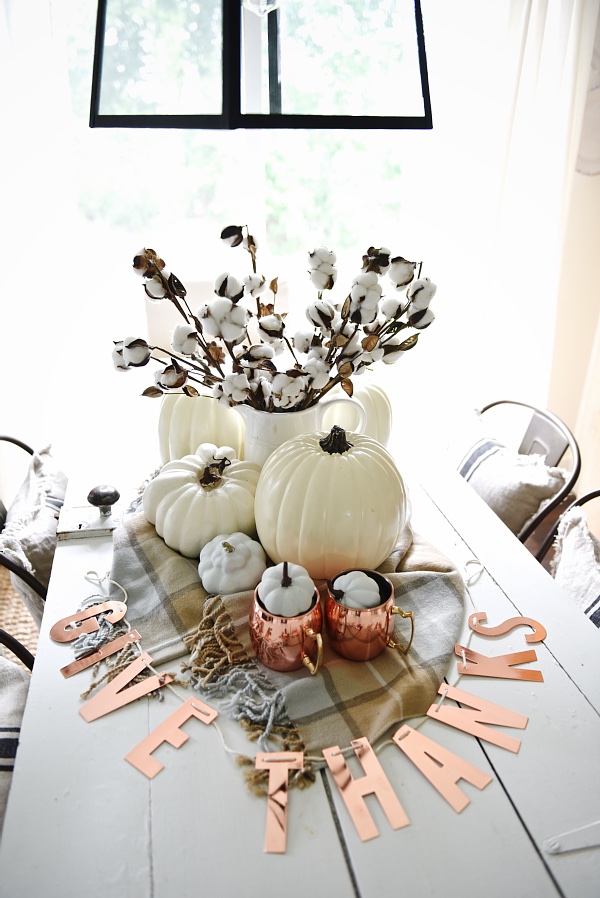 Neutral Copper Fall Centerpiece
How awesome does this porch look? My favorite part- the pumpkin topiaries and how they used different types of pumpkins to create them.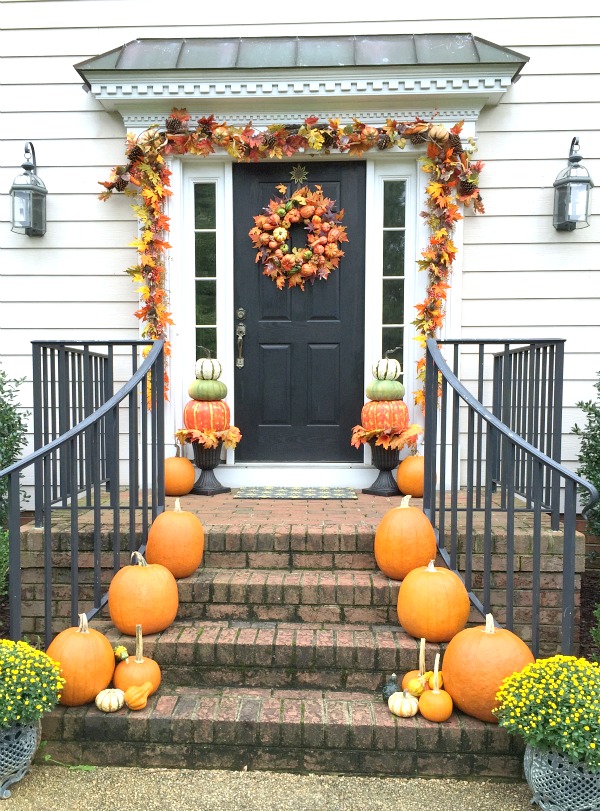 Pumpkin Topiaries
It could be as simple as stacking up a bunch of pretty pumpkins on a tray and placing them where everyone can see.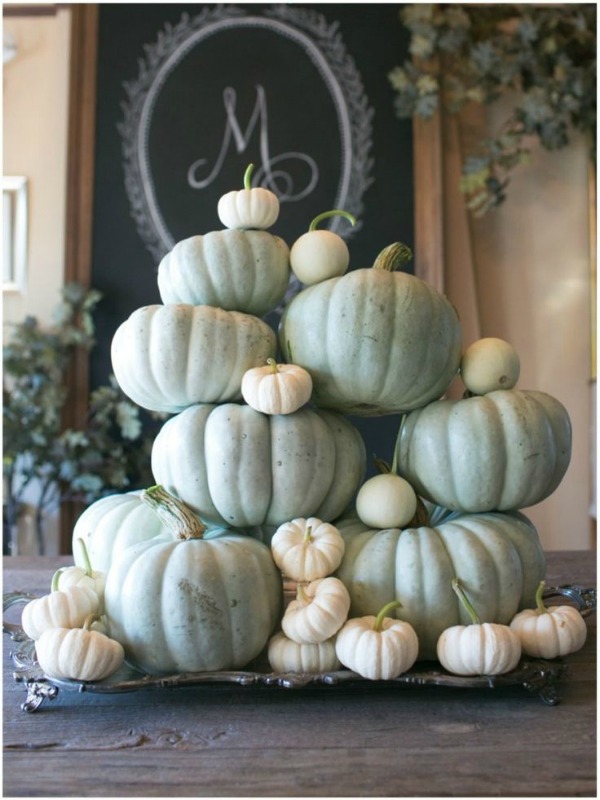 Pumpkin Tray Centerpiece
Find an assortment of pumpkins that will fit in your glass cabinet; and make a few of those Jack o Lantern jars too! I really love the bowl of pine cones and mini pumpkins.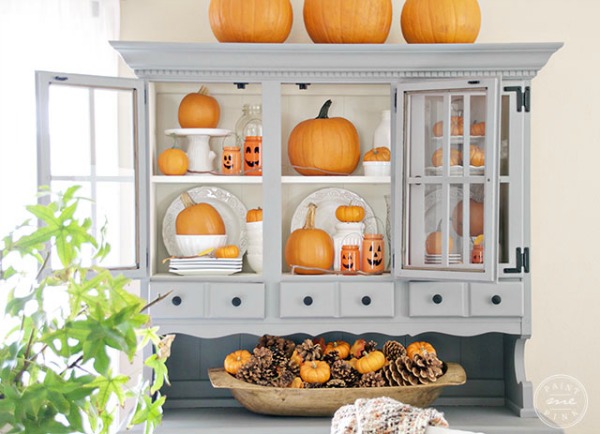 Display Pumpkins in a Glass Cabinet
Stack little pumpkins with pine cones and add a few sprigs of cotton branches in pretty glass vases.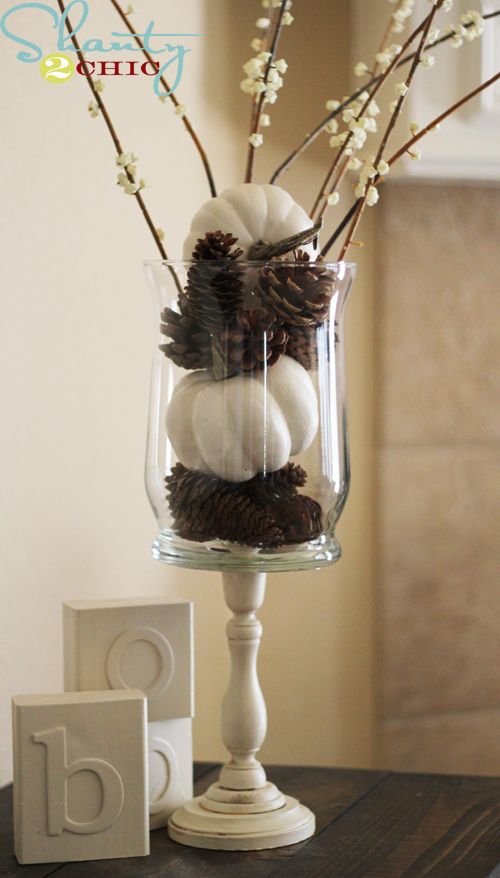 Pumpkins in Vases
Using vintage wheelbarrows or any vintage piece like this would be a great display for those beautiful pumpkins and fall leaves.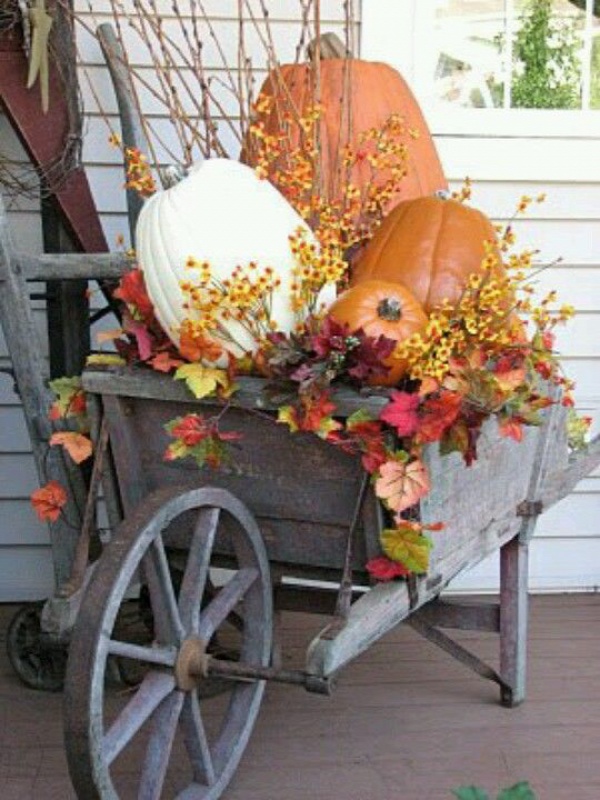 Wheelbarrow Display
Replace those candles with a nests of pumpkins on the side tables.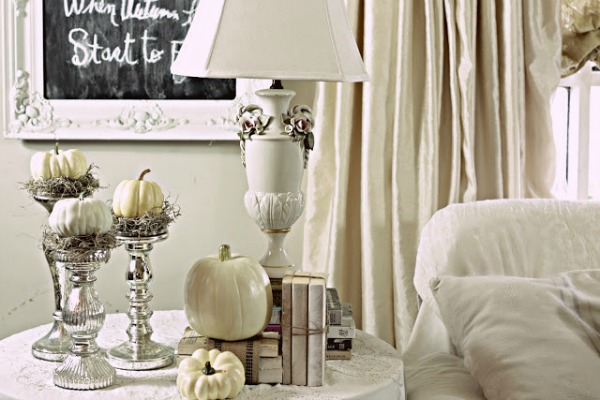 Pumpkins and Candle Sticks
Mod Podge and spray paint can spruce up those faux pumpkins and add a unique pop of color and texture.
Thrifty Fall Decor
Use an old urn or giant clay pots to display those gorgeous different colored pumpkins.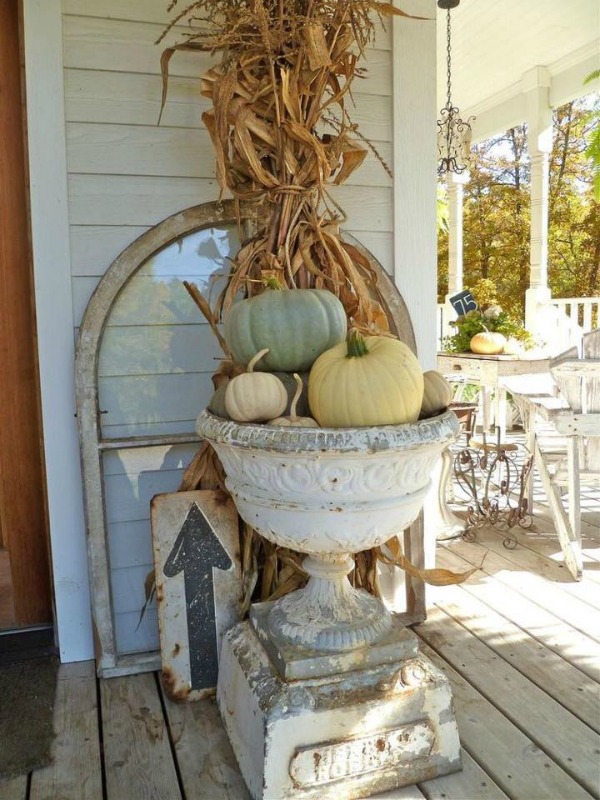 Urn of Offbeat Colored Pumpkins
Decorating with Pumpkins can be as unique and fun as you make it. I think I'm going to go buy a lot of pumpkins and find a way to use them in every room of my house, especially the mini white ones!
Get inspired with more Fall Decorating Ideas