Thank you so much AtHome for sponsoring this post.  I love your store.  All opinions are my own.
I love decorating for each season, but always want the decor to fit into my home and style.  Seasonal decor should enhance your home…not take away from it so I was thrilled when I found all these amazing Farmhouse Fall decor items at my local AtHome store!  They had everything I needed to add Fall charm and keep my farmhouse flair!
I started by adding Fall touches to my entry.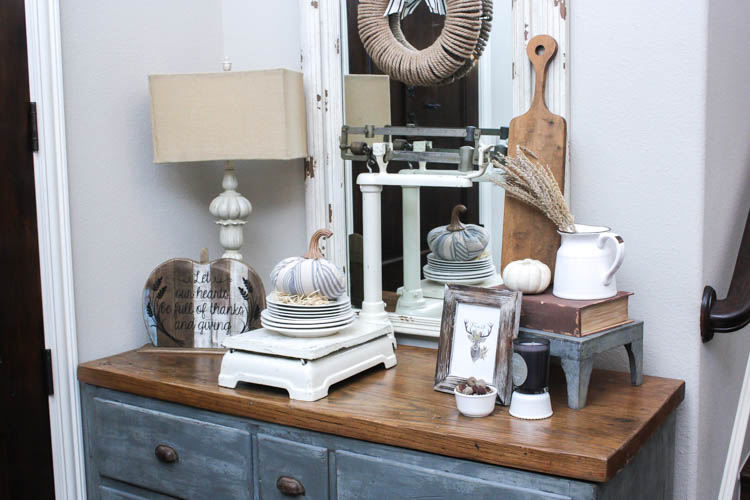 During the Fall I love keeping my decor neutral with lots of textures.  This rope wreath is awesome and can be used year round or change it up by adding new ribbon for each holiday.  Layering a wreath on a mirror adds extra character to a space.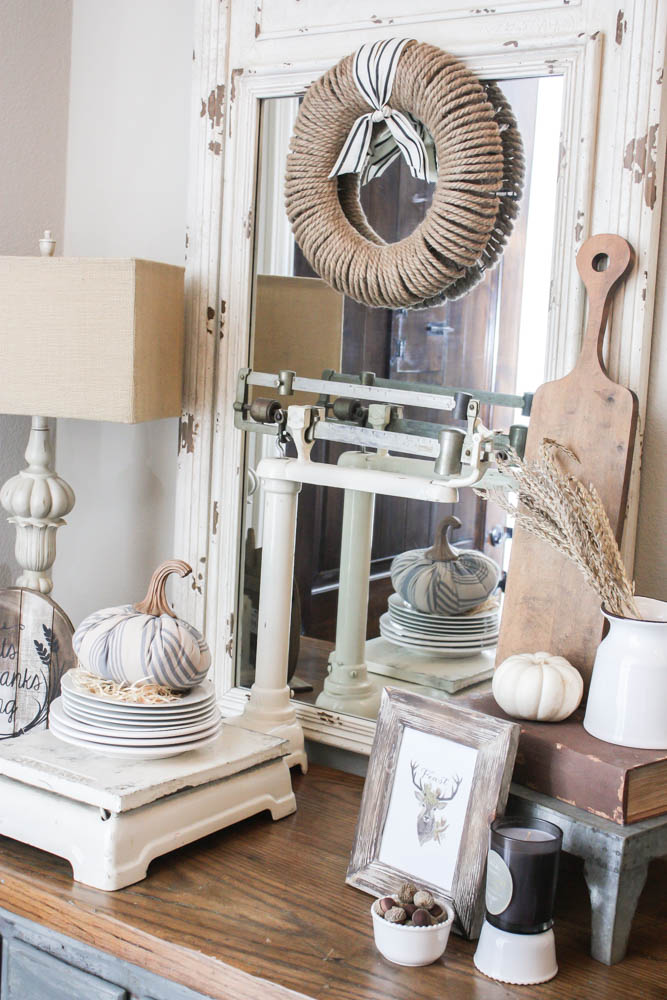 This rustic wood frame is my favorite!  I used a free printable from Unskinny Boppy in it for some quick, cute, cheap Fall art.  This white  pumpkin & ginger candle smells amazing and the acorns are great Fall fillers!  The grain sack pumpkin is the most perfect farmhouse pumpkin!  It was in the coastal section and had seashells on it, but I removed them and I couldn't love it more!  Add a white pumpkin and some wheat to complete the look.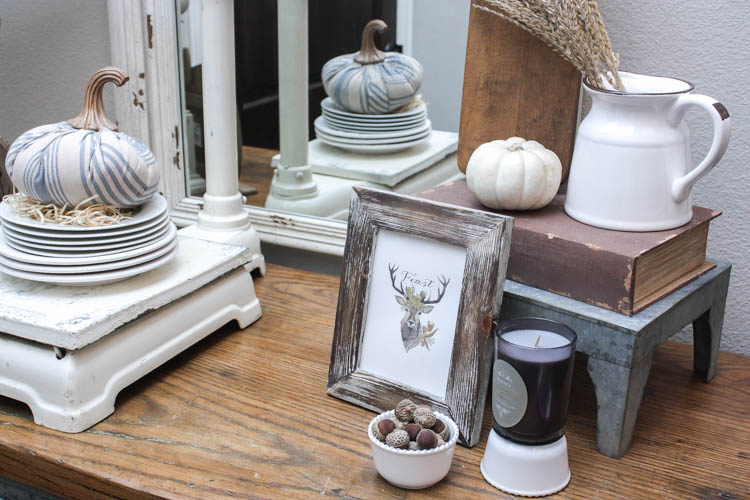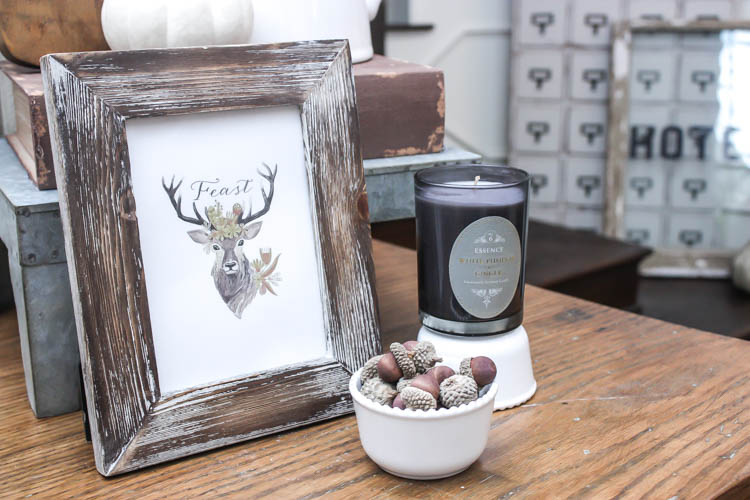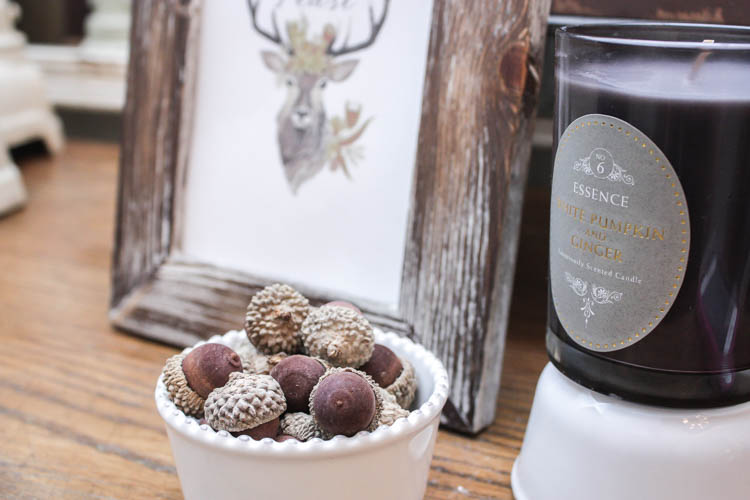 This barnwood pumpkin adds the perfect mix of farmhouse and Fall!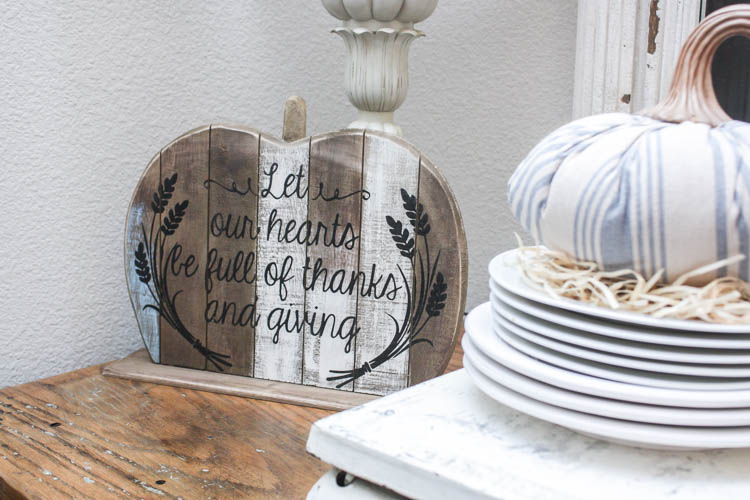 I got this terrarium at At Home last year and I have used it so many times.  It is amazing and can be used in many different ways.  Here I just added white pumpkins inside.  I love the scale of it!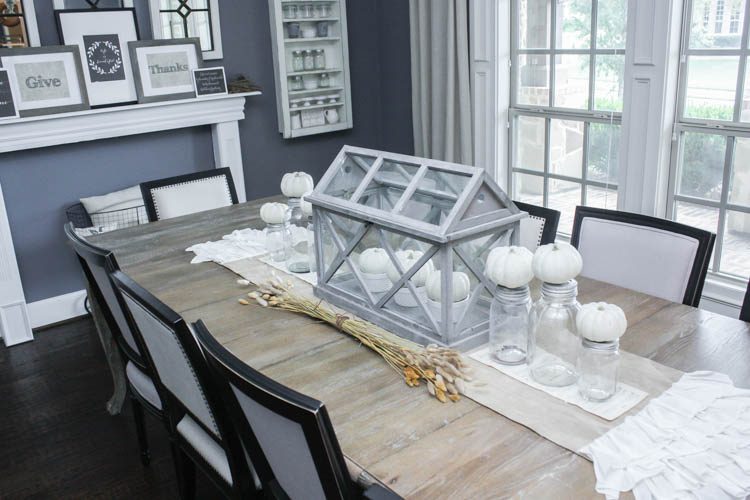 Again, sticking with neutral, natural elements these dried wheat bundles jumped out to me.  There is a huge selection of faux floral/wheat/leaves, etc at At Home, but these were exactly what I was looking for.  I just tied a bit of twine to hold them together,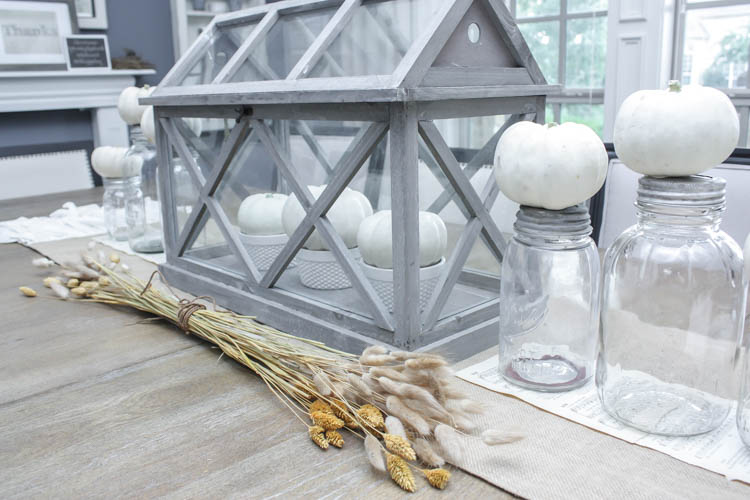 I used some of the same elements from my entry way in the dining room so you can see them displayed another way.  Here I set the grain sack pumpkin on a stack of books, used the wheat in the same farmhouse pitcher, added wooden pumpkins to a fruit bowl and used the same frame.  There are so many different ways to decorate with these items.  The FALL sign was actually ornaments made of wood chips.  I just lined them up to spell out Fall.  I like using items made for something else to decorate with.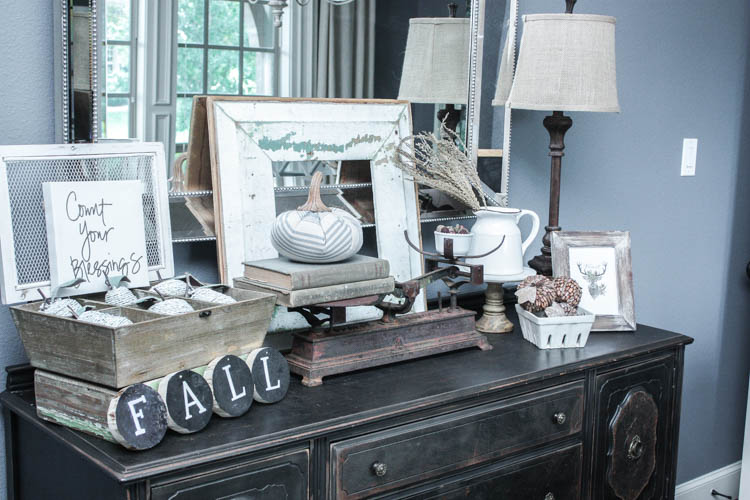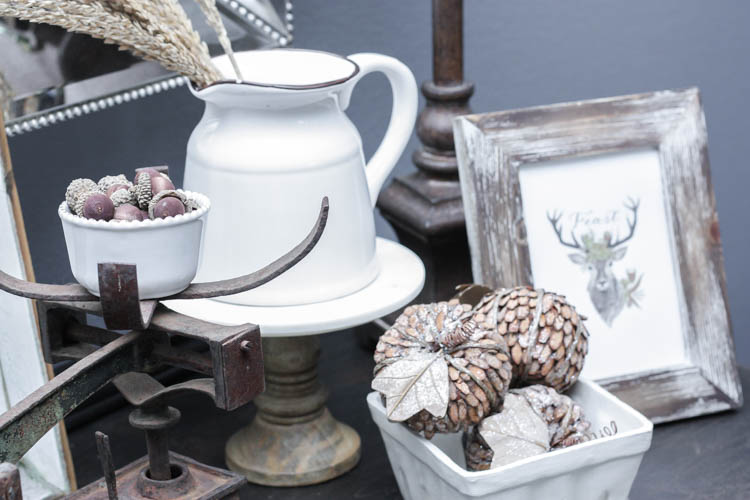 This "count your blessings" canvas was so cute for this time of year.  The gold writing added some sparkle!  I am IN LOVE with this wire box full of cubbies!!  I mean how cute is that??!!  I wanted to fill it with fruit and when I saw these textured apples and pears I knew they were perfect.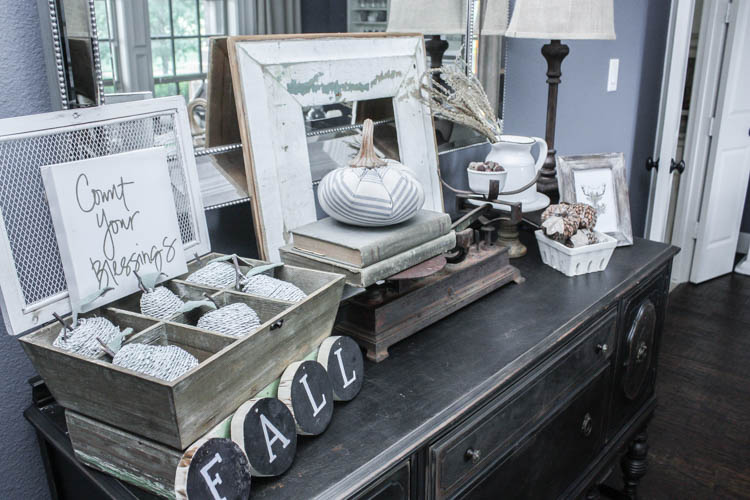 They started out green which was not the neutral look I was going for so I just spray painted them white and they were exactly what I wanted.  It was a 5 minute project.  The sticks pulled right out the top so it was mess free and the burlap leaves absorbed less paint so it made them a super light green for a nice subtle contrast.  Tons of texture and fruit for Fall.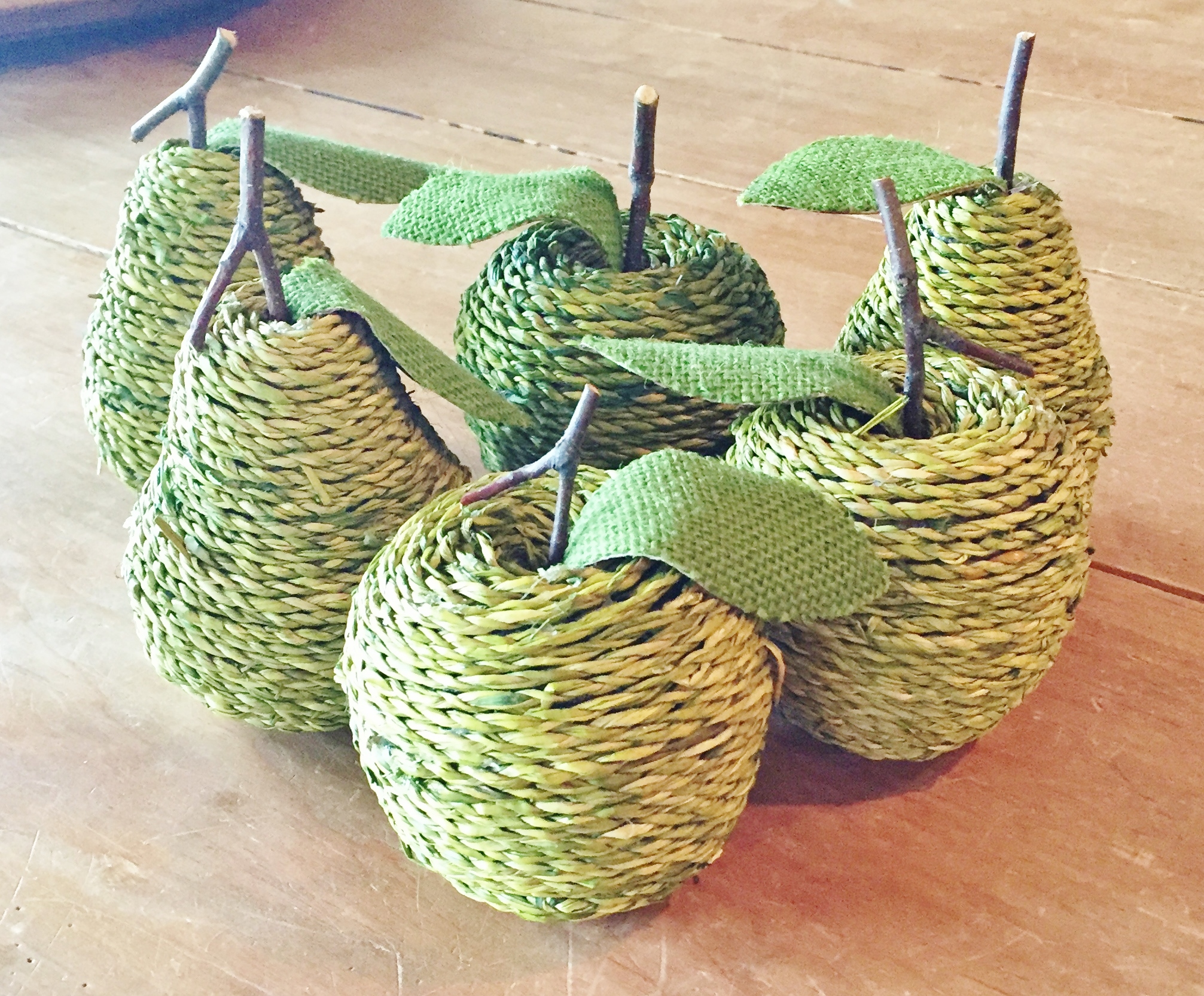 Here is the after….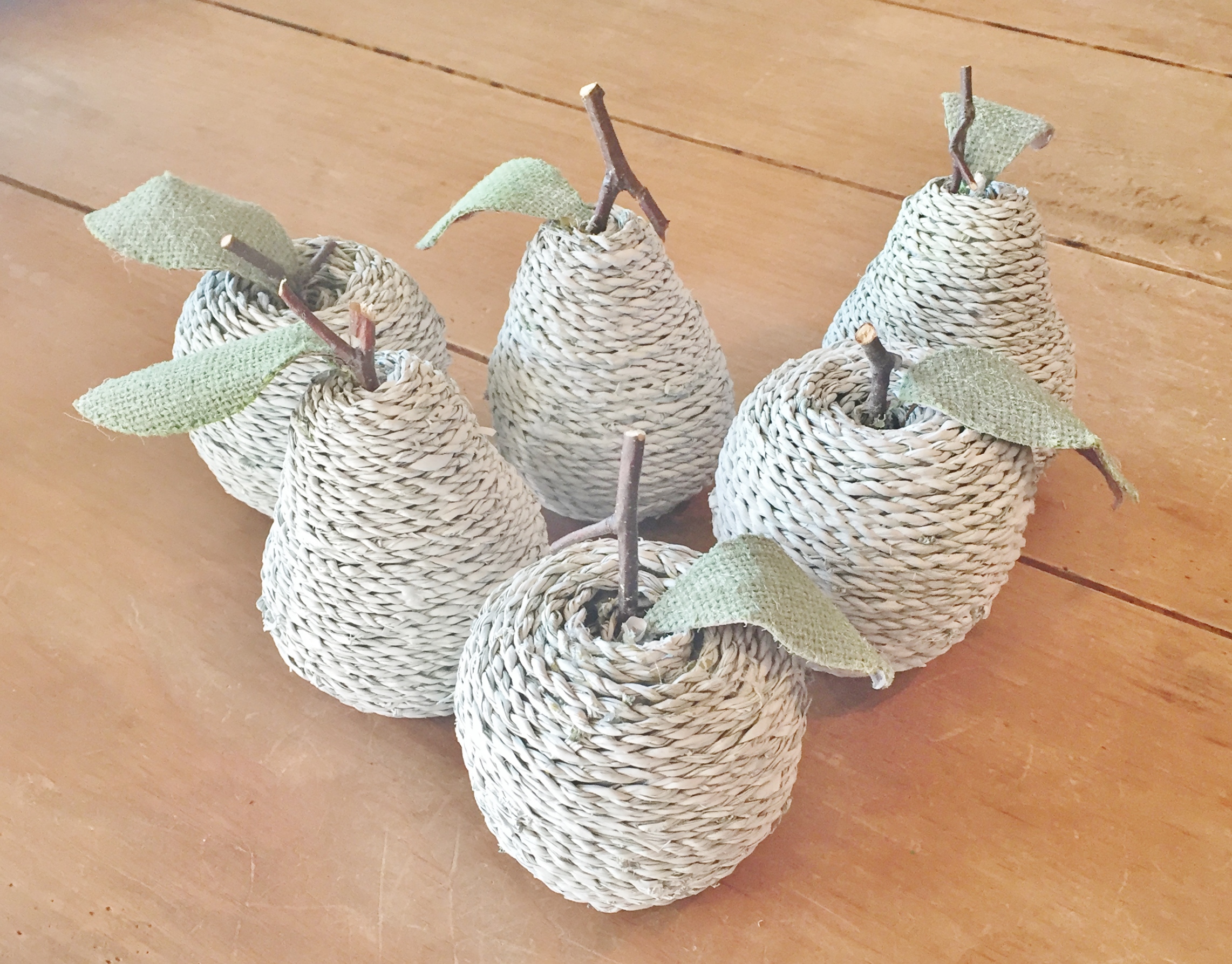 And here they are in my favorite little cubbies!  Again, these can be used year round.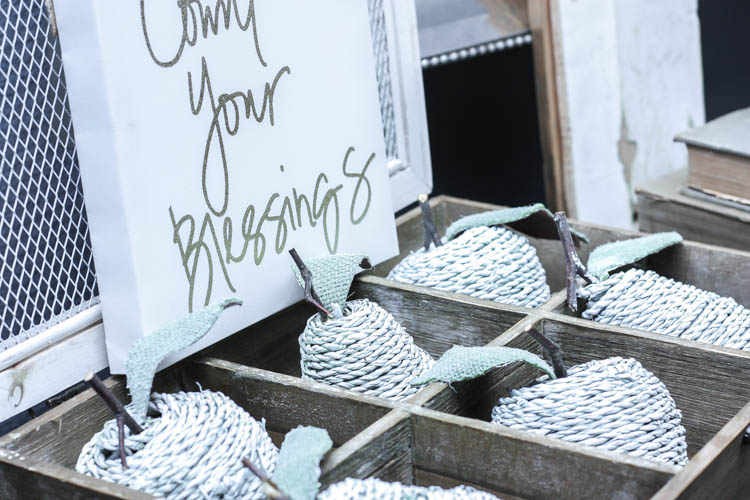 I hope you found lots of great Farmhouse Fall Decor that would work in your own home.  At Home has so many great things to choose from.  Definitely stop in your local store to get your home ready for the holidays!  I am dying to get my hands on their Christmas items.  WOW!!!  To find the store nearest you click HERE. Be sure to follow At Home on Instagram to get lots of inspiration!
DETAILS:
ENTRY:
Wreath: $19.99
Grainsack Pumpkin: $9.99
Wood Pumpkin with saying: $9.99
Wood Frame: $9.99
Acorns: $5.99
Farmhouse white pitcher: $8.99
Candle: $6.99
DINING TABLE:
Terrarium: $39.99
Wheat: $4.99
BUFFET:
FALL sign: $2.99 each
Count your Blessings Sign: $4.99
Apples & Pears: $3.99 each
Wood Pumpkins: $12.99
Wire Box with cubbies: $24.99
If you loved this farmhouse Fall decor be sure to pin the photo below