I LOVE mudrooms!  In our first home my husband used to walk in and sit all his stuff on the kitchen table (it was right where you walked in the garage) and it used to drive me crazy!!  I always said…next house….a mudroom!  When we built our current home we did add a mudroom and I am not even kidding it is one of my favorite rooms in our home.  Especially now that we have kids!  It stores all of the "stuff" we need and helps keep us all organized.  You can use the front entry of your house to create a beautiful space for the essentials, or use the area at the back of the house where the garage or backdoor is. Let these Farmhouse Mudrooms inspire you to dream a little more than just a plain shoe bench stuck by the wall.
 The built in lockers add a fun touch to this mudroom.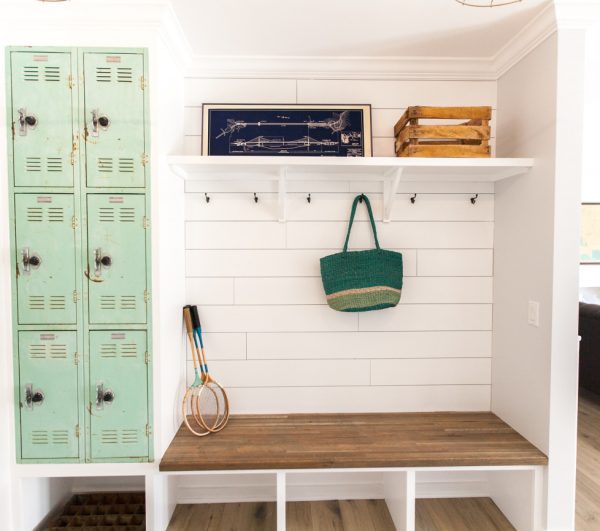 Rafter House via Eclectically Vintage
This wood exudes the perfect rustic appeal and looks beautiful with the floors.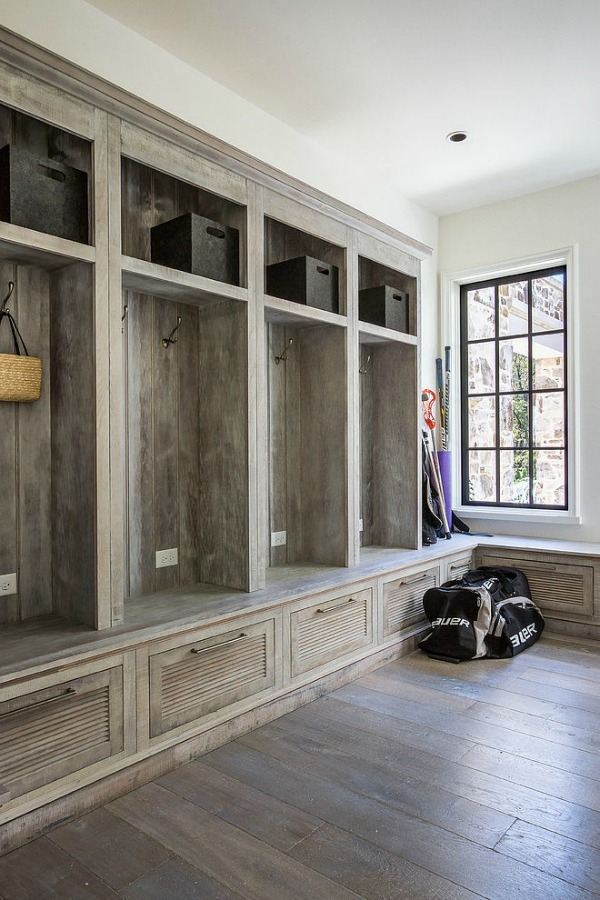 Home Adore
The addition of a beautiful beaded chandelier brings some elegance into a room that will end up being cluttered every now and then with jackets and shoes.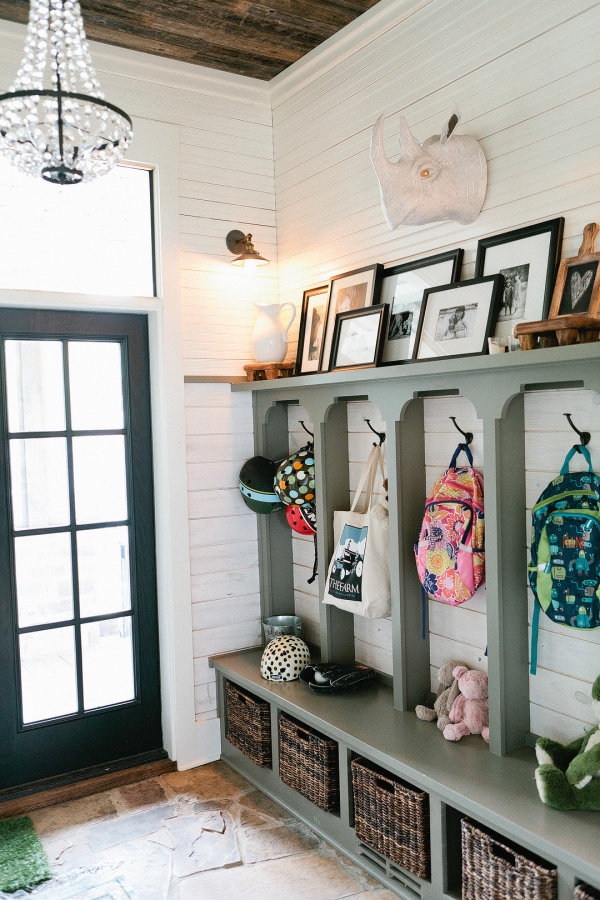 Style Me Pretty 
This is a great place to add some fun.  A pop of color brightens up the entire room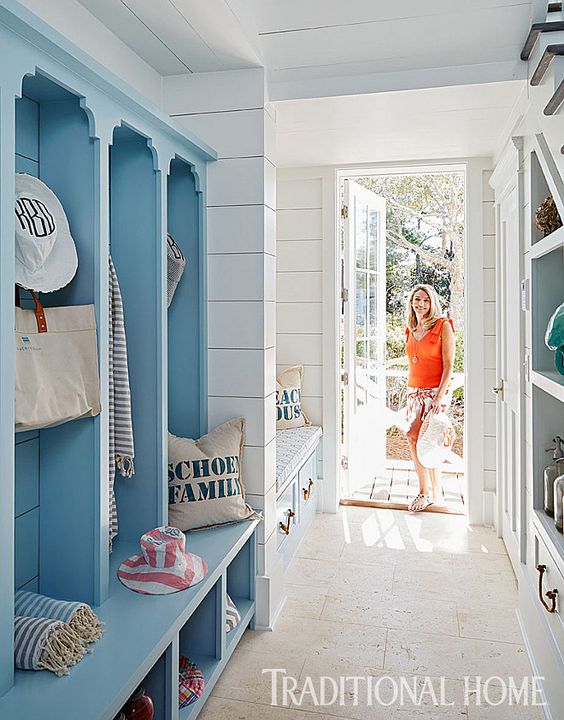 Traditional Home via Home Bunch
These vintage lockers make such a statement in this room.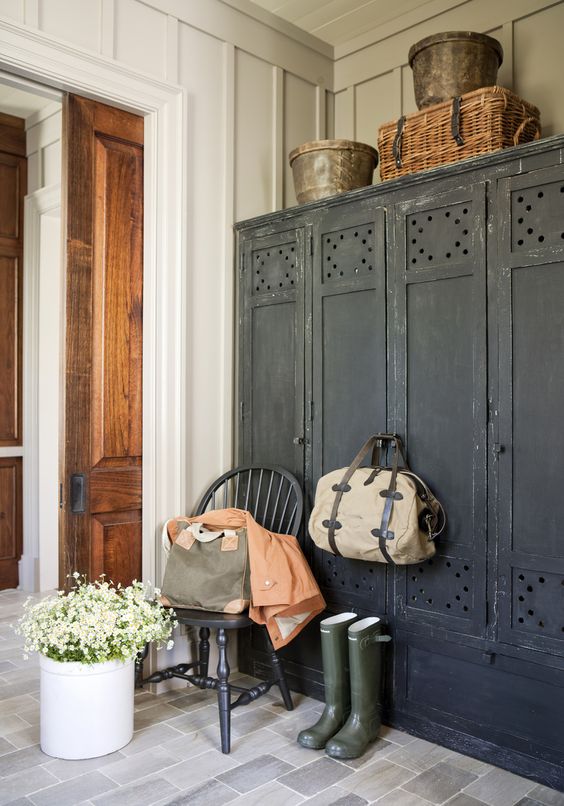 I love how this mudroom is designed like a greenroom.  So much light makes it feel bright and airy.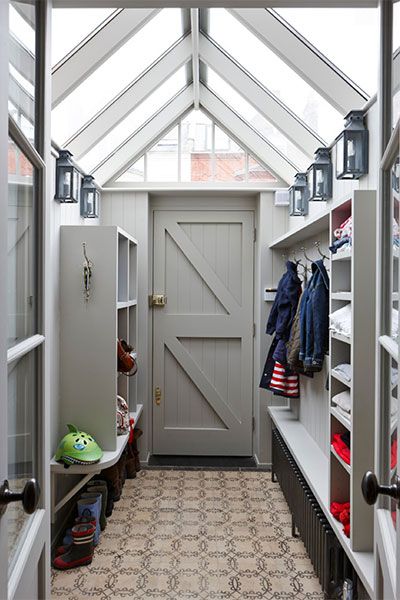 Small space…no worries.  Create a mudroom space in a small nook or small wall in your home.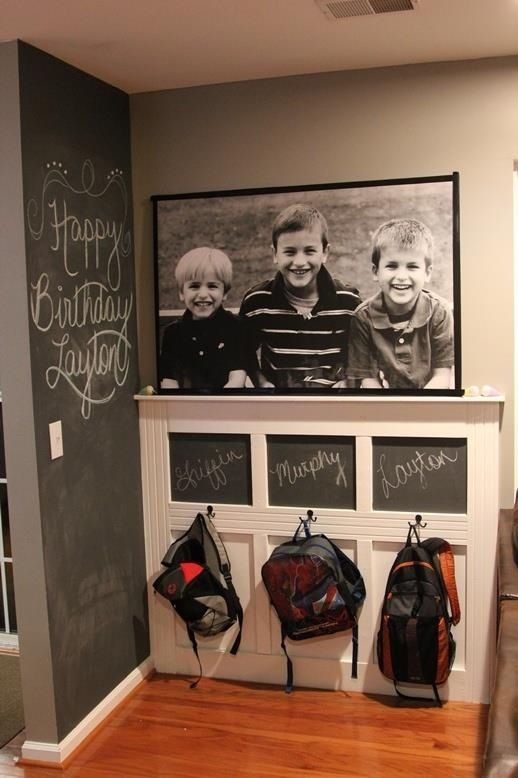 I love the numbered cabinets and fun retro floor.  The mudroom is an area you can get a little more adventurous in because it is a small room that doesn't have to flow with the entire home.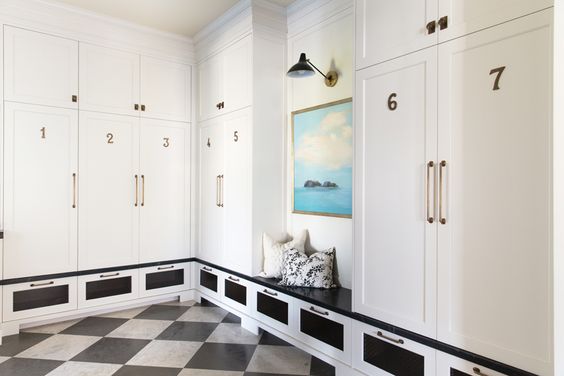 Like I mentioned above you can be bold with your decor in this room.  I love the chevron pattern flooring they choose for this room.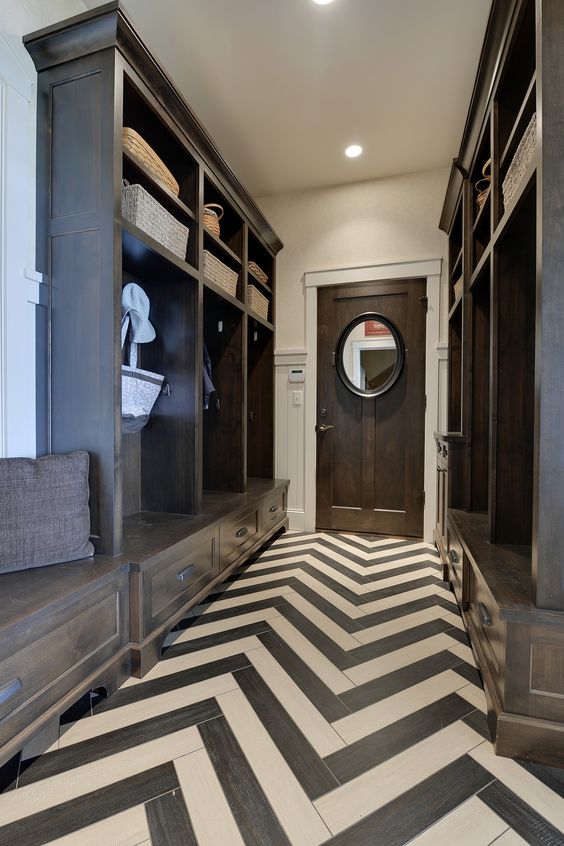 Source Unknown- Found via Pinterest
No room for a bench or cubbies? Go with some old crates stacked up- they store books and shoes just as well!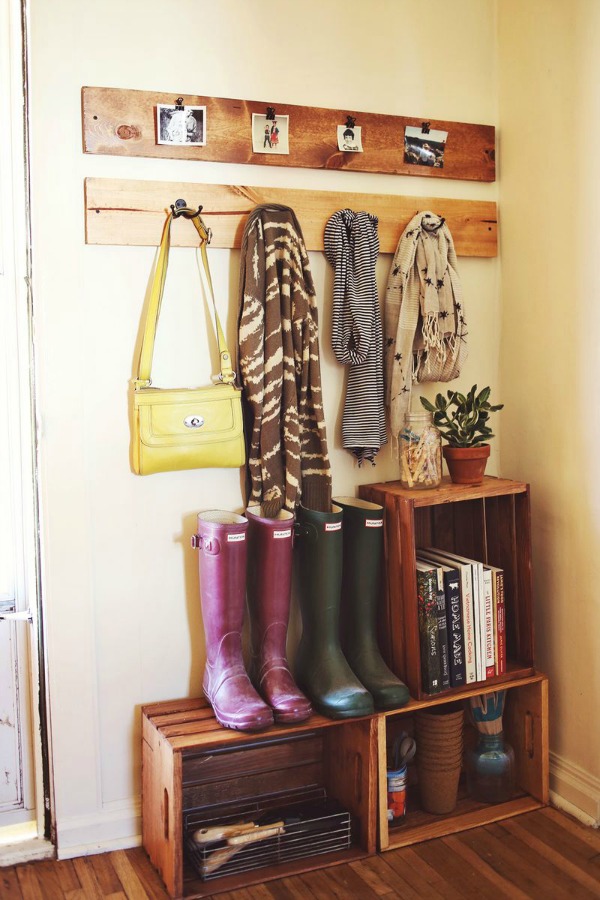 A Beautiful Mess 
Those metal bins are so perfect for the bench, and having a chalkboard is a great backdrop rather than a plain wall.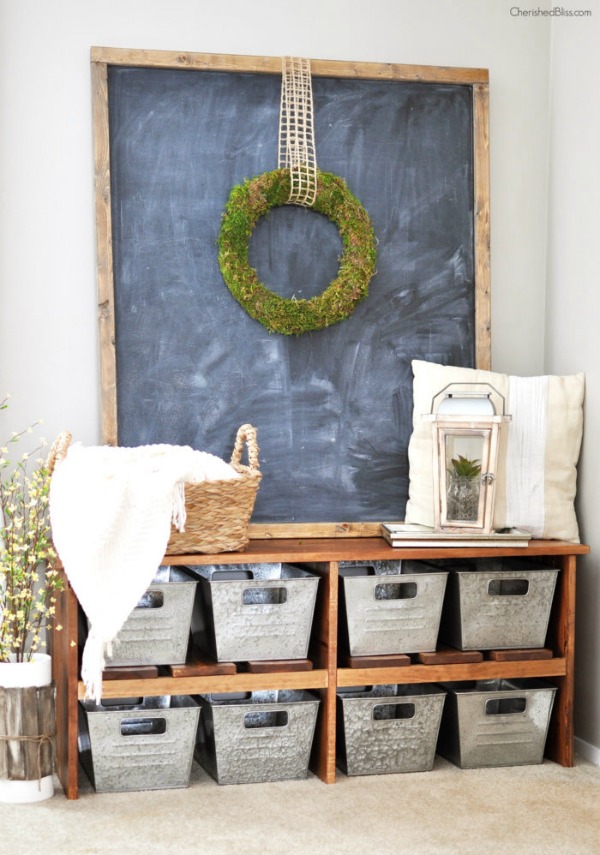 Cherished Bliss
Gorgeous wainscot walls helps the flow of the room match the rest of it, but then the simple bench adds just what you need.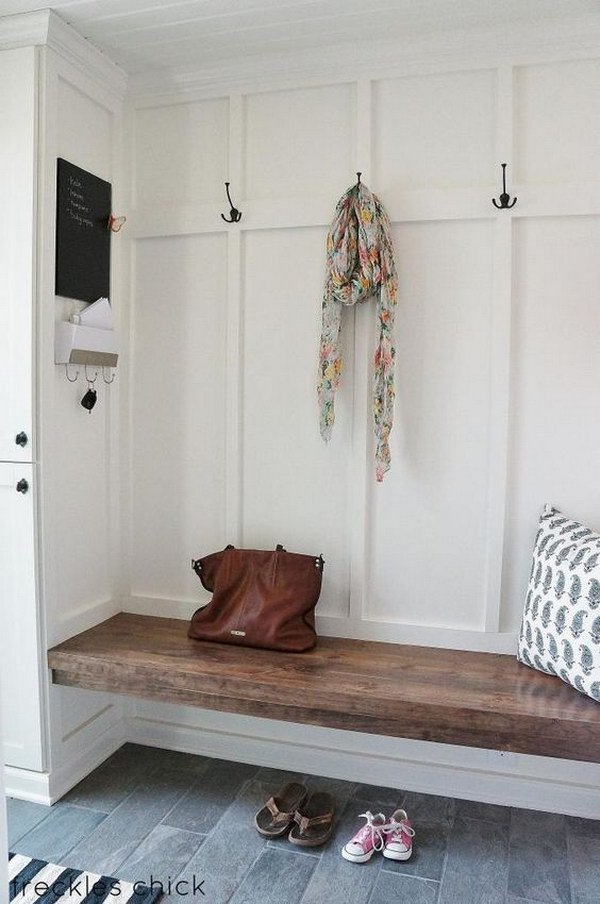 Freckles at home
This truly speaks to my heart- ship lap walls and vintage chicken nesting boxes.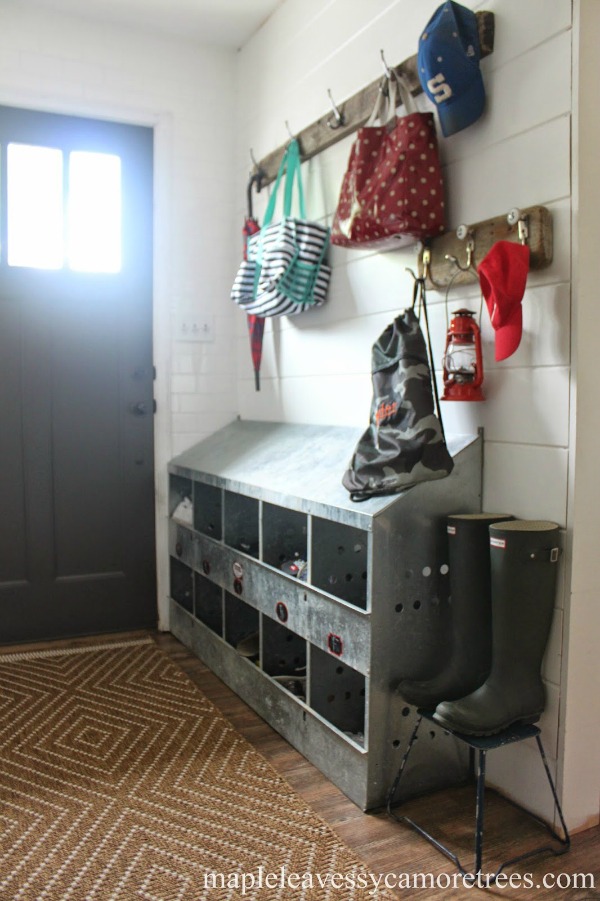 Maple Leaves Sycamore Trees 
A bench is nestled in between 2 build in cabinets and a shelf hangs above the coat hooks.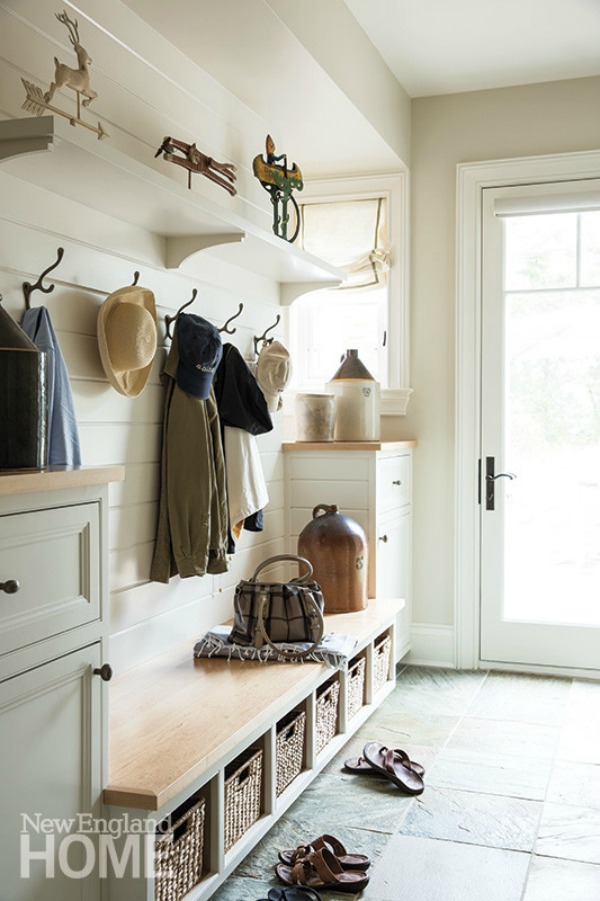 New England Home 
This is a dream for anybody who has more than 2 school age kids! Bench, cubbies, drawers, and cabinets!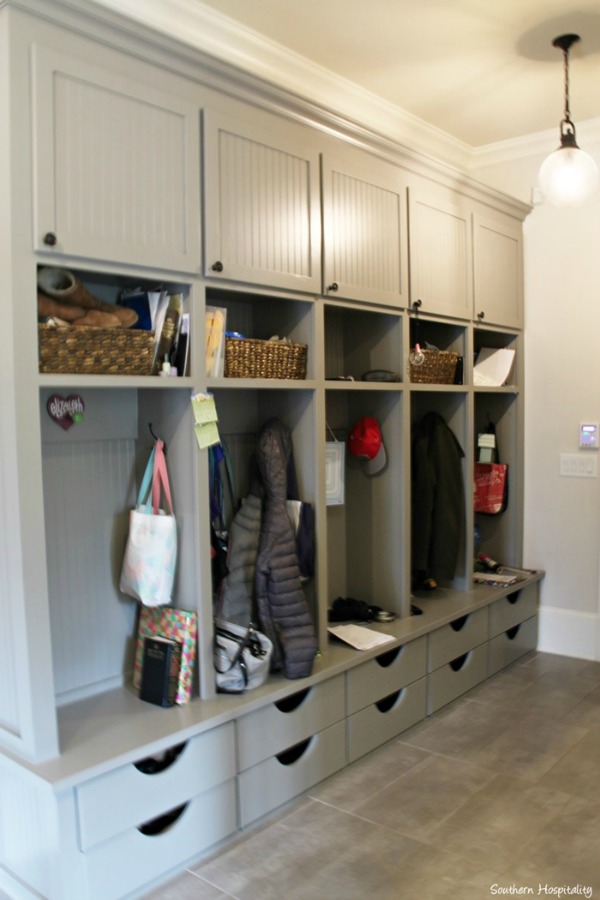 Southern Hospitality 
Tall sloped ceilings and beautiful brick floors create this cozy room.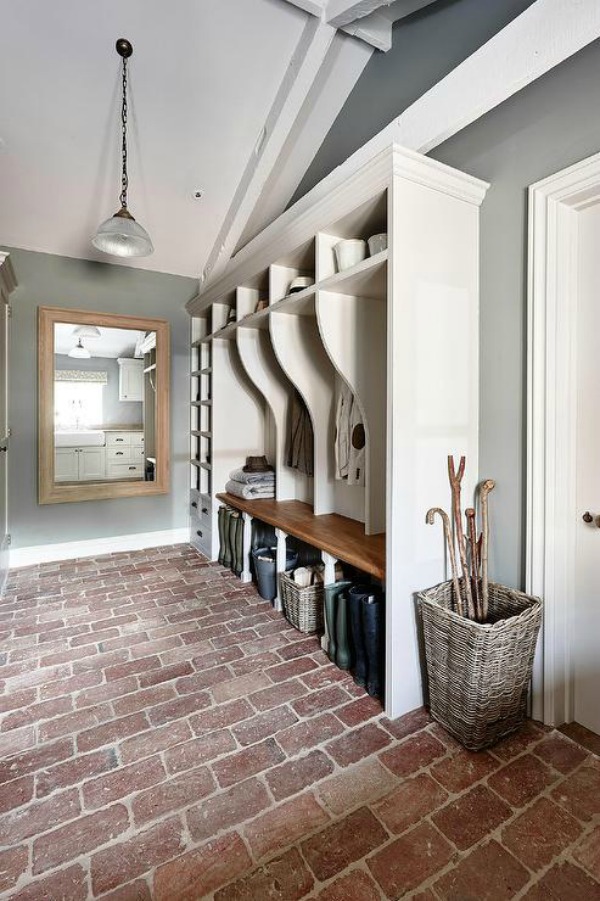 via Decor Pad 
I am in love with that herringbone tiled floor! And the built in benches with cabinets work perfectly in this corner around the doors.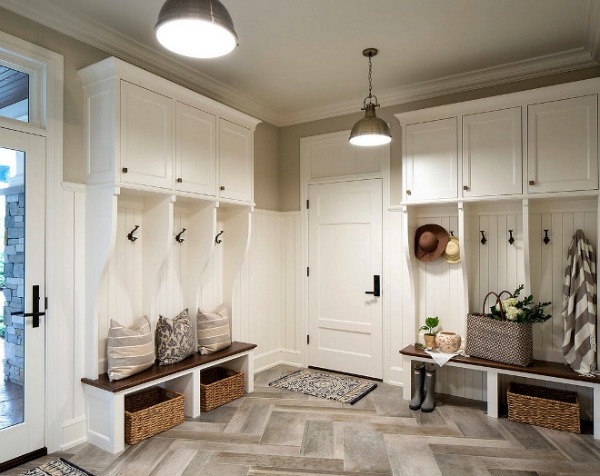 via Home Bunch 
2 chandeliers hang in this one! And a sliding ladder is perfect for those hard to reach areas- I can see my kids playing in there all day.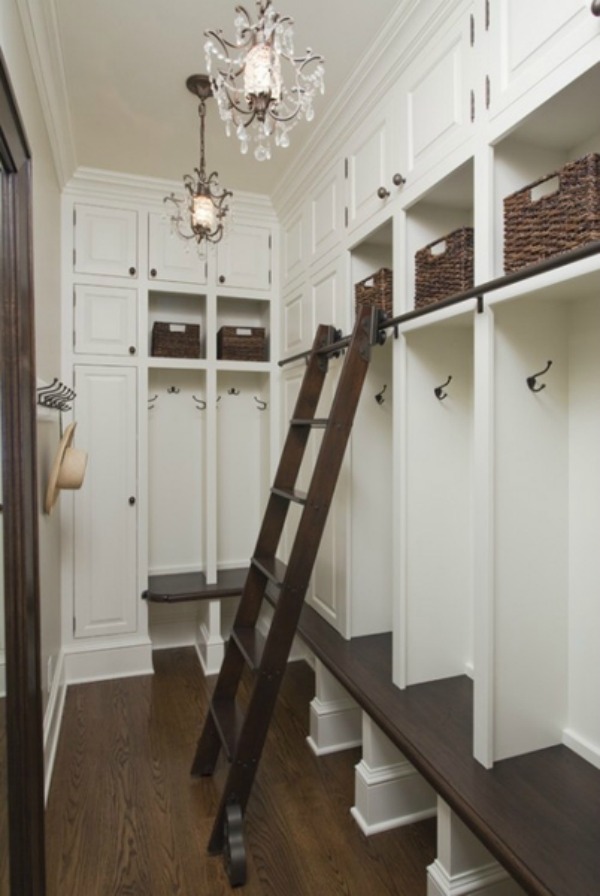 via Pinterest 
This back entry has all the essentials you need- an easy to clean floor and someplace to put your shoes and jackets.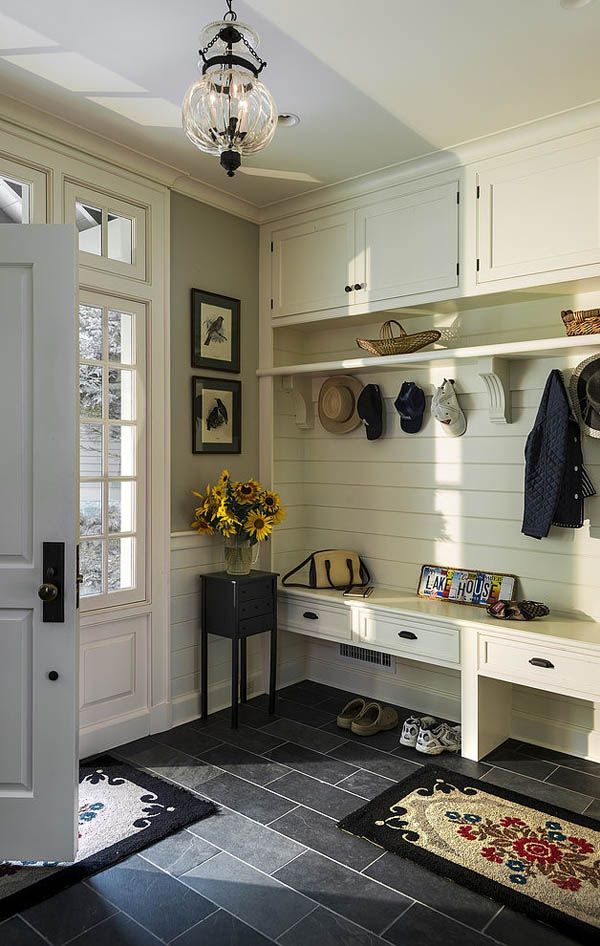 via Crisp Architects
Such gorgeous Farmhouse Mudrooms to be inspired by!