I am so excited to partner with World Market today, one of my go-to stores, and share some of my favorite items with you.  All opinions here are my own.  This post contains affiliate links…if you purchase I may receive a small commission.  Thank you.
I LOVE award show season.  The red carpet, the speeches, cheering for your favorites in each category, etc.  My favorite of all the award shows is the OSCARS!! After the Golden Globes I make a list of all the movies I need to see and then try to see them all before the Oscars so I can really get into each category.  If I was in charge this year it would be very short because everything would go to The Greatest Showman!!  Haha. . .this is one of many reasons I am not in charge.  Anyway, this is such a great night to have friends over!  It is fun seeing everyone all dressed up walking the red carpet, but even more fun when you can talk about it with your girls!! So, today I am sharing some fun Oscar party ideas.  Call up your best girlfriends, pop the champagne, come hungry and have lots of fun!
OSCAR PARTY IDEAS
While it would be fun to get glammed up and walk the actual red carpet in Hollywood, they have to watch everything they eat for weeks. . .we don't!  So since we don't have to worry about fitting into an amazing dress we can indulge our little hearts out at the party!    Delicious food and tasty beverages help make the night!  I love going to World Market for treats because they always have the best, most unique food!  The Everett Foyer table is my absolute favorite and it was perfect for setting up my spread!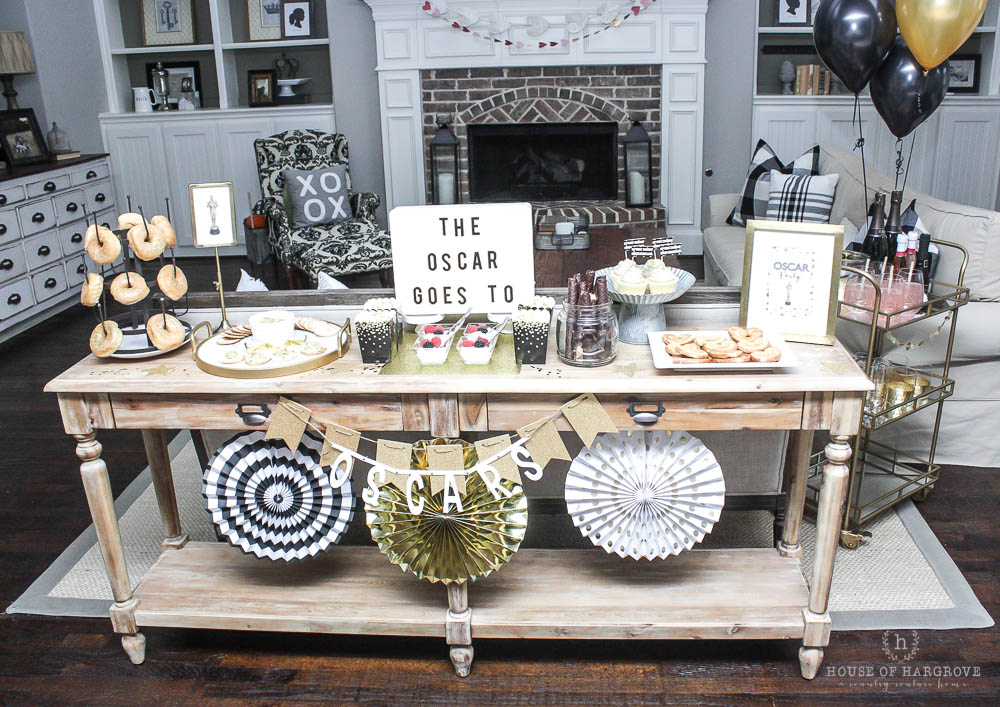 Something sweet….and something savory.  For starters. . . GLITTER DONUTS!!  How do you make a donut taste better?  Add some pretty edible glitter to it!  This drying rack serves as the perfect donut rack!  Then this marble and gold tray is perfect for my delicious savory treat.  These Carr's crackers  layered with Brie cheese and the most delicious artichoke bruschetta  spread are to die for!!  I am telling you World Market has the best spreads.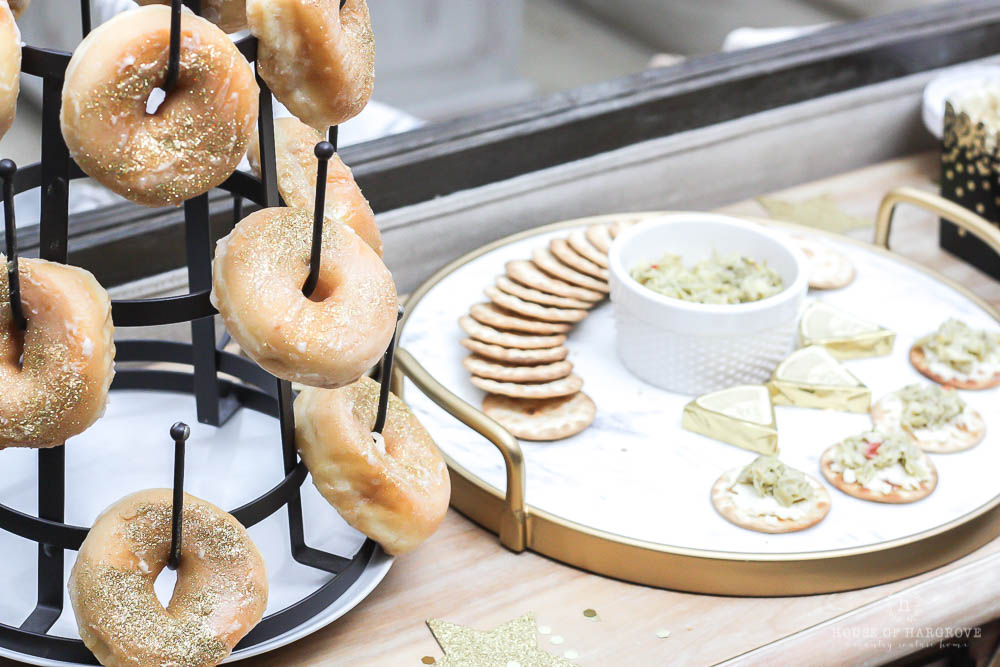 You cannot have an Oscar party without popcorn!  But since its the Oscars. . . add some more of that edible glitter to the top for some glitz and glam.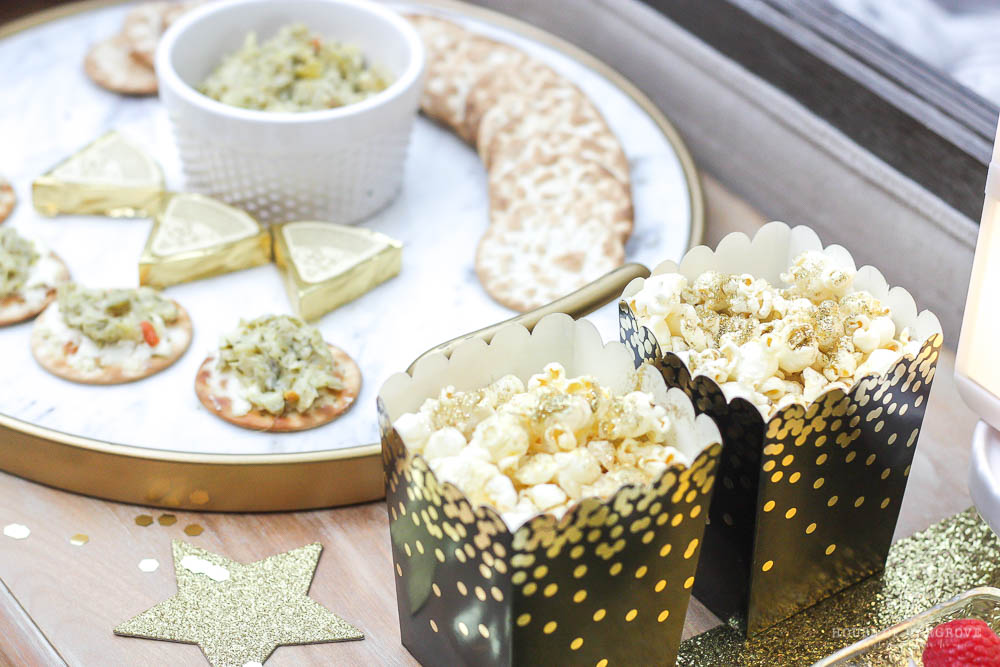 I love these cute little tasting dishes they were perfect for a yogurt parfait!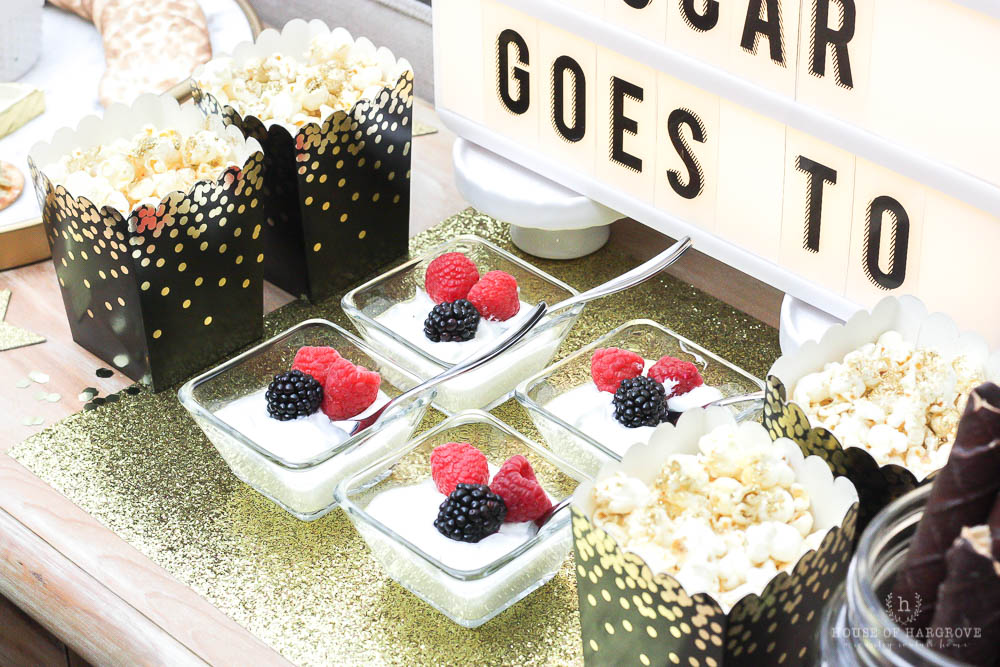 Now onto some more yummies!  These chocolate cigar wafers are so delicious!  They are one of my kids favorite treats!  You can pick those up in the World Market store.  I have 3 of these galvanized metal cake stands in all sizes and use them all the time.  Here they were perfect for gold star cupcakes!  Flaky Mini Palmiers are a delicious compliment to any spread.  I fell in love with this beautiful gold metal frame!  It is so pretty and the gold went perfectly with the theme!
This die cut banner was so easy to make.  The box came with all the letters and some fun symbols and you put it together to make exactly what you need.  This can be used time and time again.  Great thing to have on hand for any party!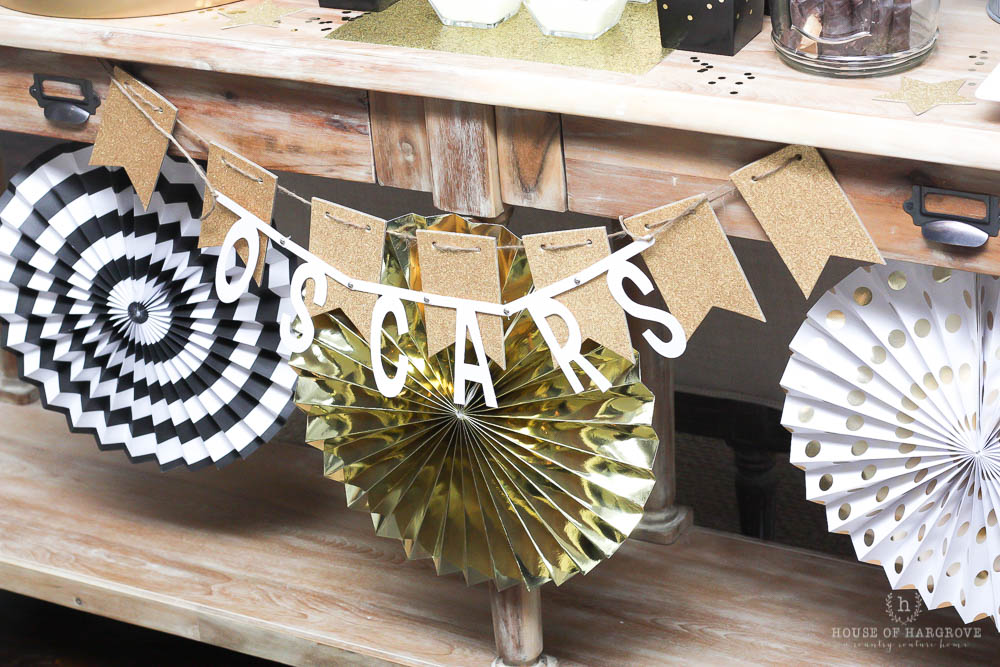 Now that we have the food covered it is time for drinks.  World Market has an amazing selection of beverages!  All kinds of unique juices, flavored waters, coffee, wine, beer, champagne, etc.  It is a one stop shop!  I got this cute bar cart to set up our drinks so we don't have to leave the couch!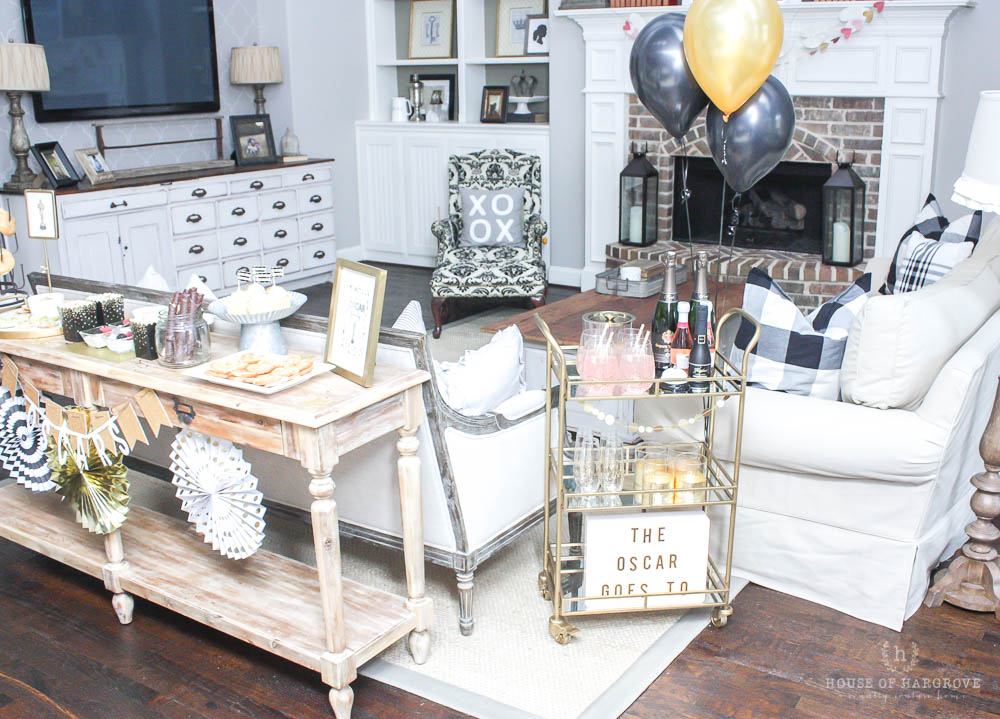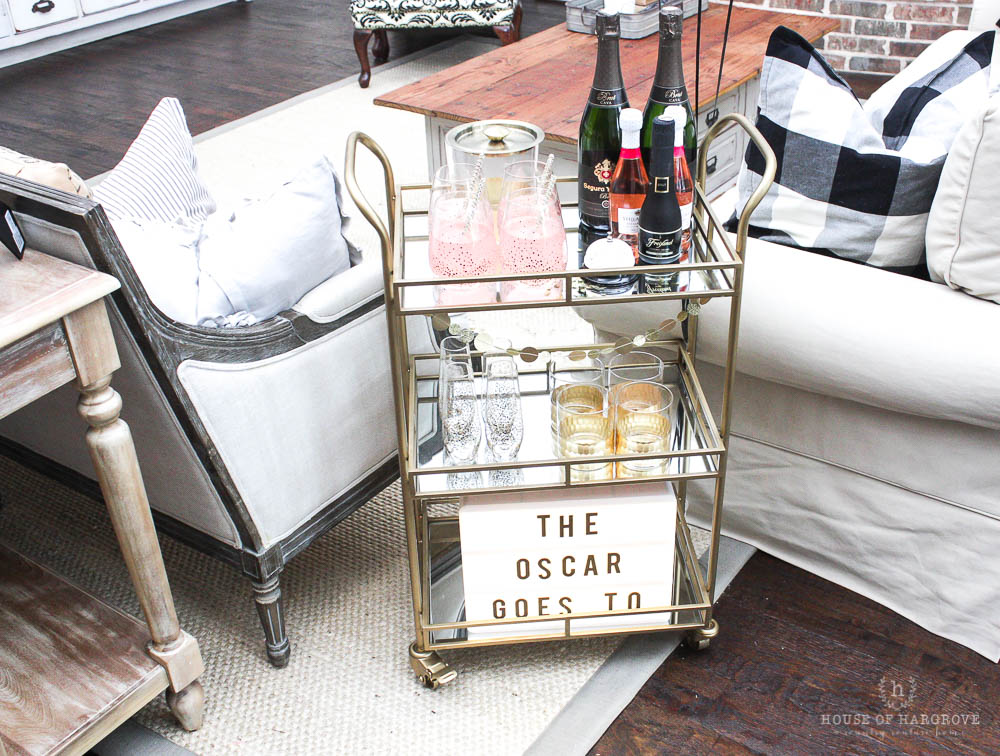 I am loving all things gold right now and there was so much to choose from at World Market.  These confetti glasses are so much fun.  I have them in both wine and champagne glasses.  I think they coordinate so well with these glasses and ice bucket.  I like that they all have gold, but are a little different.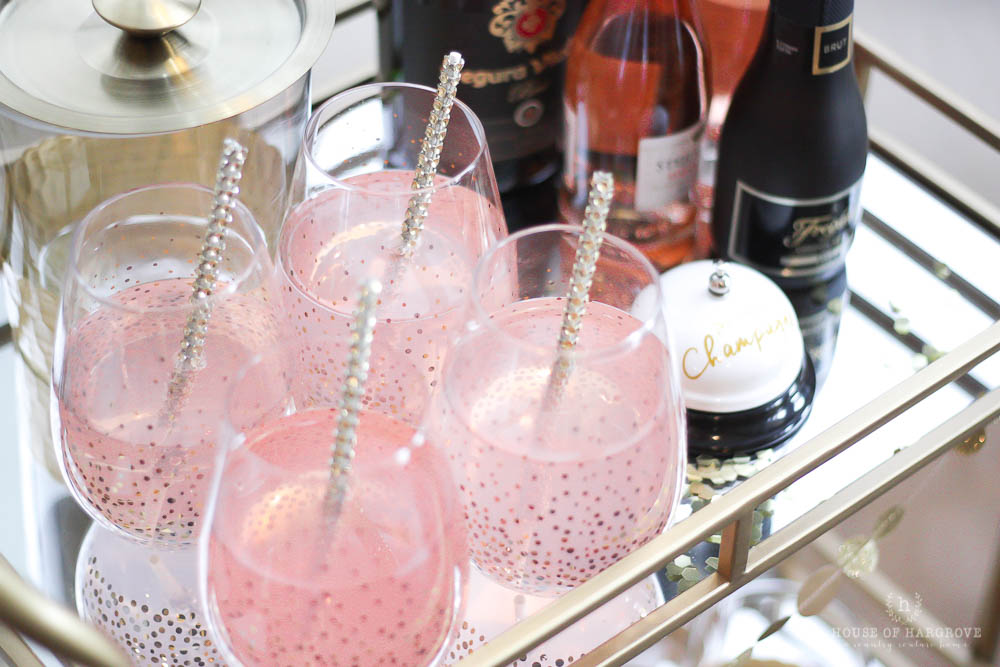 This bell says "press for champagne" and I got it in the store! 
Now that everyone has food and drink it is time to test their skills.  I found this adorable printable ballots at PureWow.com and they are just what we need to complete the party.  Give these to your guests before the show starts and have them pick their winners.  Then at the end of the night see who got the most right!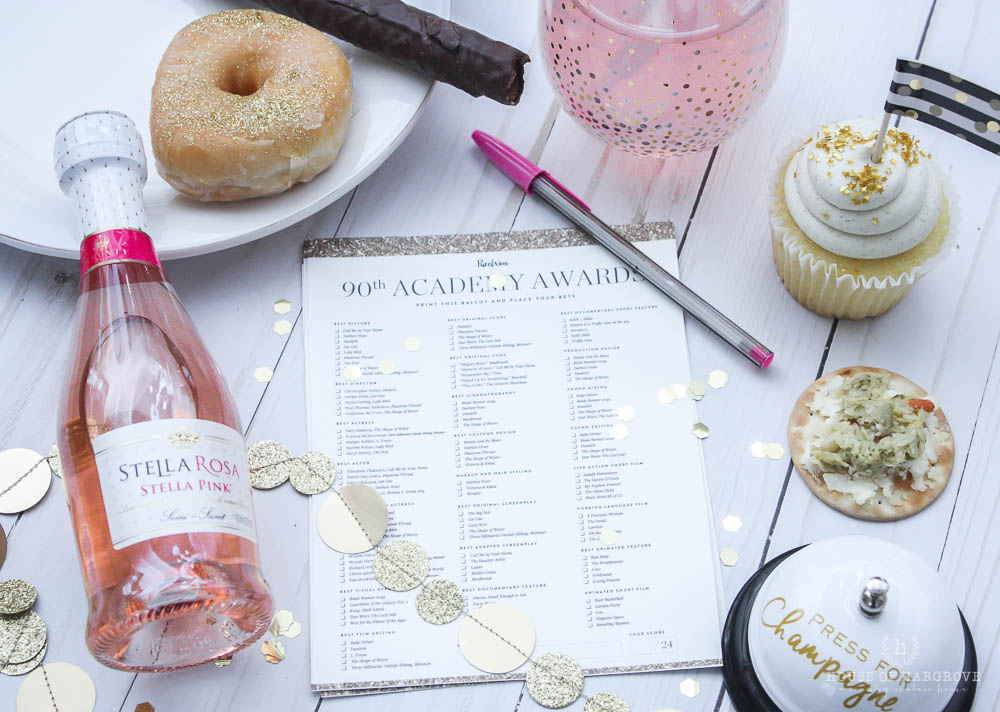 Are you ready for the Oscars?  Who do you want to win?  I cannot wait to celebrate the fun night!  Hope you got lots of ideas to throw your own Oscar party.  Seriously, World Market makes it so easy. . . it is your one stop shop!
 The 90th annual Academy Awards airs on Sunday, March 4, at 8 p.m. ET / 5 p.m. PT on ABC.
SHOP MY OSCAR PARTY