Hi guys.  I just wanted to share a story that touched my heart this holiday season.  I know we can all get so busy with the hustle and bustle of the holidays and lose focus on the true reason for the season and every now and then God does something that just stops you in your tracks.  For me, it is usually the little things that are so glaringly obvious and one of those happened to me this week.  I call these God winks and I know many of you do too based on the messages I received from my Instagram stories.  So today I am going to share my holiday God wink with you.
Last week I volunteered at Avery's school during recess and while I was out there I saw a little girl crying.  I went over to check on her and make sure she was ok and she told me she missed her Mommy.  She said that her Mommy lives in another state and she doesn't get to see her often and she just misses her so much.  All she wants for Christmas is to see her Mom.  She doesn't care about any presents. . . just being with her Mom.  I mean gut wrenching. . .my heart broke!  Poor sweet girl.  She and I talked a little bit and she gathered her emotions and went off to play with her friends.
That night I wanted to use this as a learning for Avery and so we started talking about it because she had seen her classmate crying and I gave her a very brief explanation and we talked about being extra nice, having compassion for what others are going through, etc and how the holidays are really all about family.  That even though we get presents, and talk about Santa, etc the true reason for the season is Jesus, family and doing sweet things for others.  After we finished talking Avery ran off and I see her talking to "Elfie" her Elf on a Shelf.  Just a little back story. . . Avery LOVES Elfie.  I think she loves him more than Santa! I asked her what she was doing and she said she asked Elfie if he could bring her a snow globe with a spot for a photo so her class mate could put a picture of her mom in there and when she shakes it she would see the snow and it would look like Christmas with her Mom.  Cue me choking up here. . .I mean, I was so so proud of her and her sweet heart.  It is amazing how God can work through a 6 year old!
So as sweet as this request was it was very specific.  I am not sure how Avery even knew these existed?  We don't have snow globes, we haven't really every talked about them, etc, but she was insistent that this was exactly what she wanted to give her.  I add it to my list to go out and find one, figuring they probably had them somewhere, but I had never actually seen one.
The very next day my mother in law comes over to the house and she is carrying a bag.  She tells me that Great Grandma was cleaning out some closets and wanted to know if we wanted to have this. . .guess what she pulls out of the bag. . . a brand new snow globe that has a slot for photos!!!!!  Are you kidding me?!  You can tell the packaging is older and Great Grandma has had it awhile, but it was PERFECT!  I mean, EXACTLY WHAT AVERY ASKED FOR!!!  I start freaking out and tell my MIL the story.  I just couldn't believe it.  It was such a God wink moment for me.  I love that God is using Avery to help brighten this little girls holiday and he made it so so clear!
Elfie brought her the snow globe last night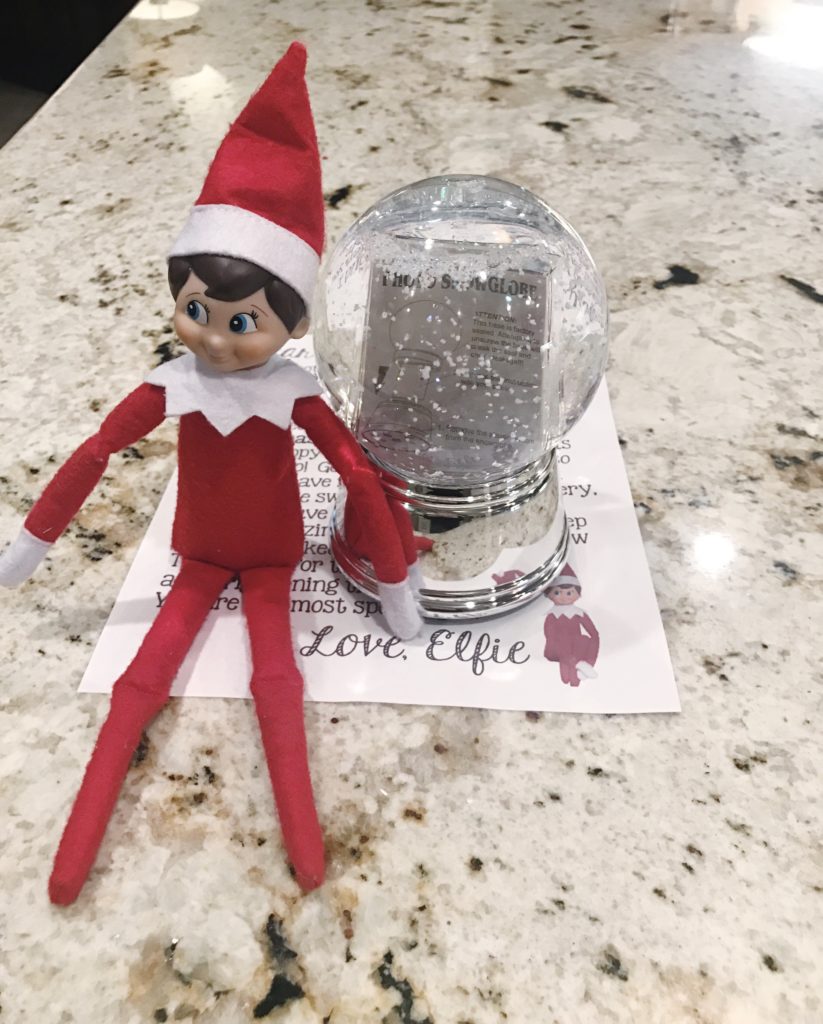 Here is the video I shared on Instagram stories!
Hope you enjoyed this little God wink story that happened to our family and I hope you all have a magical holiday season!
Merry Christmas!