Halloween will be here before you know it! I love throwing dinner parties and celebrating different holidays by having parties with the kids. It only takes a few items to turn your table into a perfectly spooky scene for your dinner guests. And if a party is more your scene, there are so many ways to set up a backdrop, the table itself, and gorgeous ways to display all those yummy treats that you are thinking about! These Halloween Tablescapes and Party Ideas involve lots of ghoulishly fabulous set ups, from having dinner with a few friends, a girls' night in, kid friendly parties…and so much more. Now who wants to come over and help me throw some great parties over the next few weeks!?
Make your dinner party intimate with lots of pretty votive candles and lanterns. Set the table, for real- with nice silverware and all your place settings such as pretty glasses and linens wrapped with a skull ring. You can even get custom Halloween plates!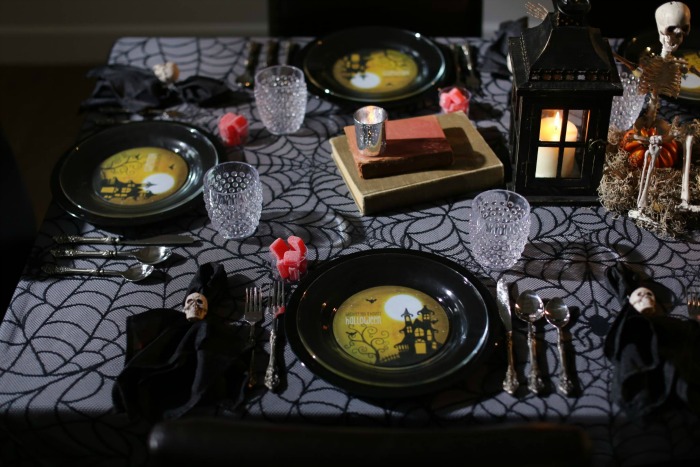 Candlelit Dinner Party
For the love of everything candy corn! This is a super sweet party with fun games and treats! You can find several game ideas and decor pieces that you can do yourself.
Candy Corn Carnival
You don't have to go all out to please your guests- they'd be thrilled with the simple spiderweb backdrop and paper spiders. Have the kids decorate a haunted house to set as a centerpiece for the dessert table.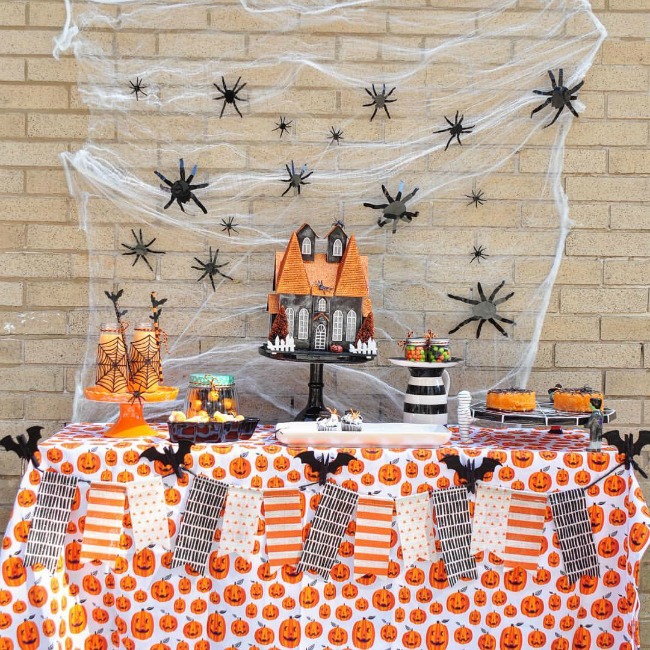 Creepy Crawly Halloween Party
A party that truly celebrates the dead- of a celebration of life.  This one gets its idea from the movie Book of Life and it is all about color, glitter, ad shine!  You will find sugar skulls throughout the dessert table.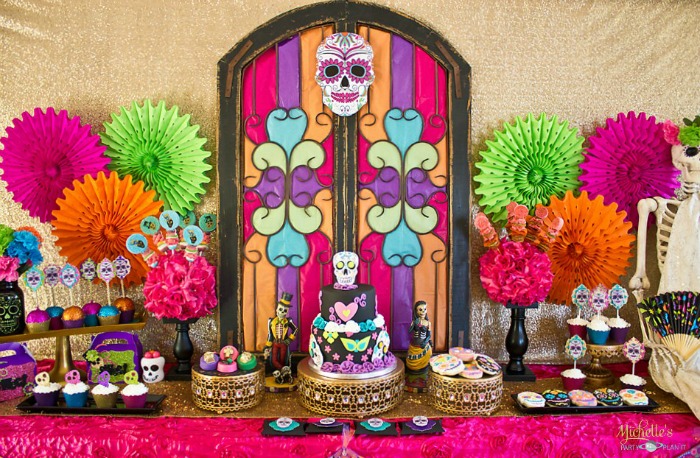 Day of the Dead Party
This elegant party has a lot of creative elements that exudes a spooky feel. The dessert table was set up with all sorts of Halloween treats that are simple to make! You can make the party a potluck so that you don't end up making all the food.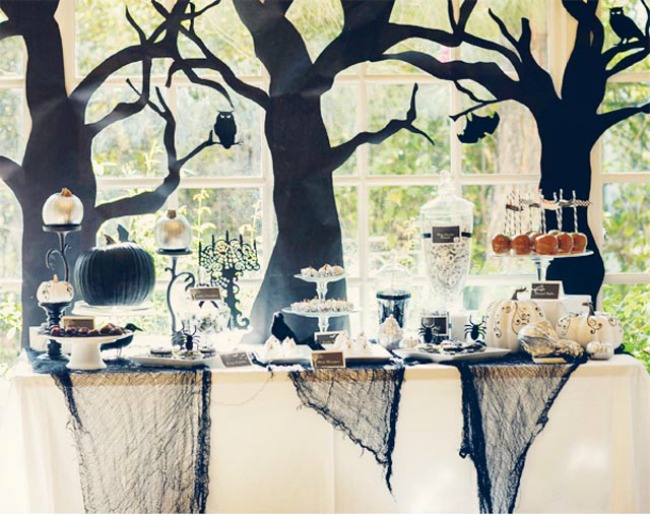 Elegant Spooky Forest Halloween Party
This tablescape has the right touch of glam and elegance with all the gold. Use chargers and linen napkins to make it seem more fancy, and you can add your own gold painted pumpkins and ravens for added decor.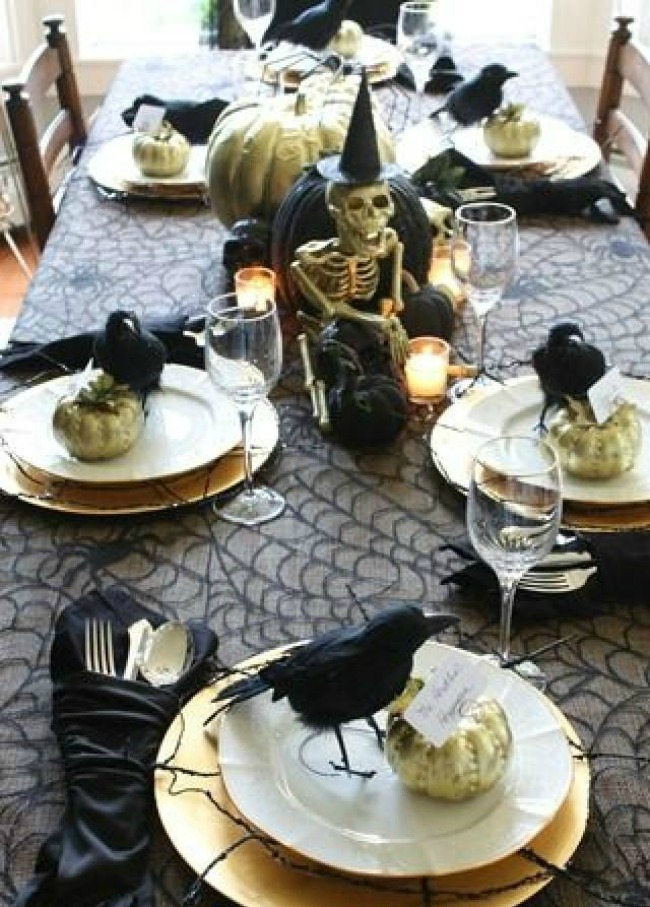 Elegantly Spooky Halloween Tablescape
What better excuse to have a Halloween party than an October birthday? It is a great way to celebrate BOTH occasions- This was set up with beautiful purple ruffles, lots of white details and an amazing printable suite!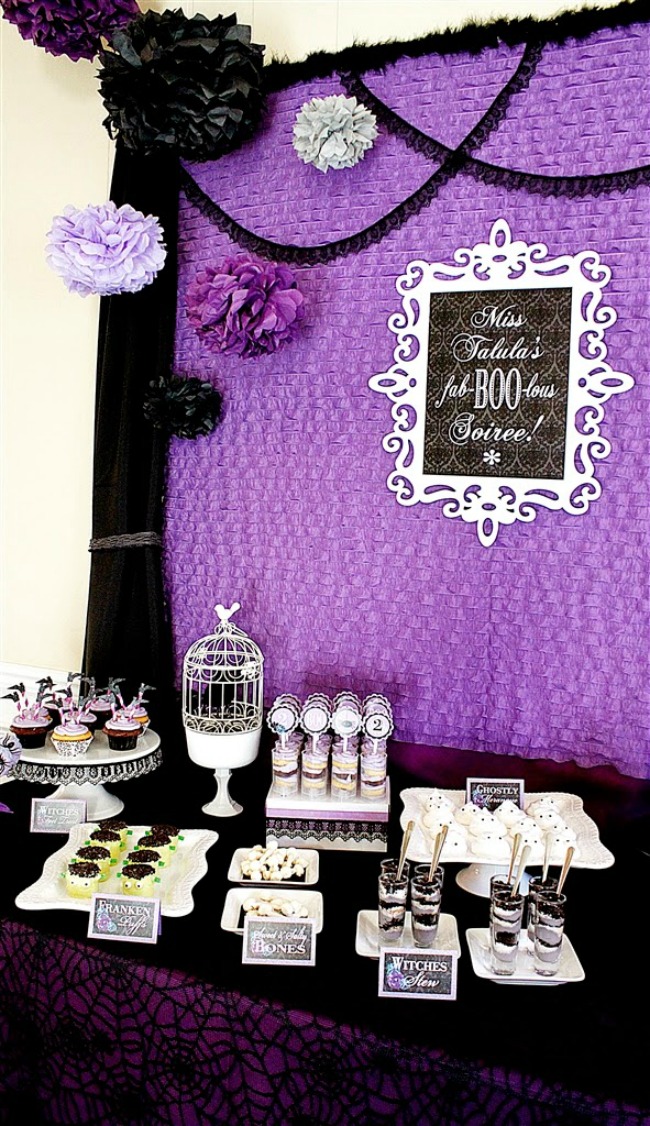 Fab-BOO-lous Halloween Soiree
When it comes to a party, stick to one theme to help save some pennies! There are a lot of ghost party ideas and they are all so cute and kid friendly!

Ghost Party
Host a dinner party with a few of your friends and surprise them to a ghoulishly set up tablescape. Throw a piece of mesh spiderweb fabric on top of a white tablecloth and set the table with some beautiful Halloween colored dishes and top them with a creepy coffin (with a surprise inside) and a spider.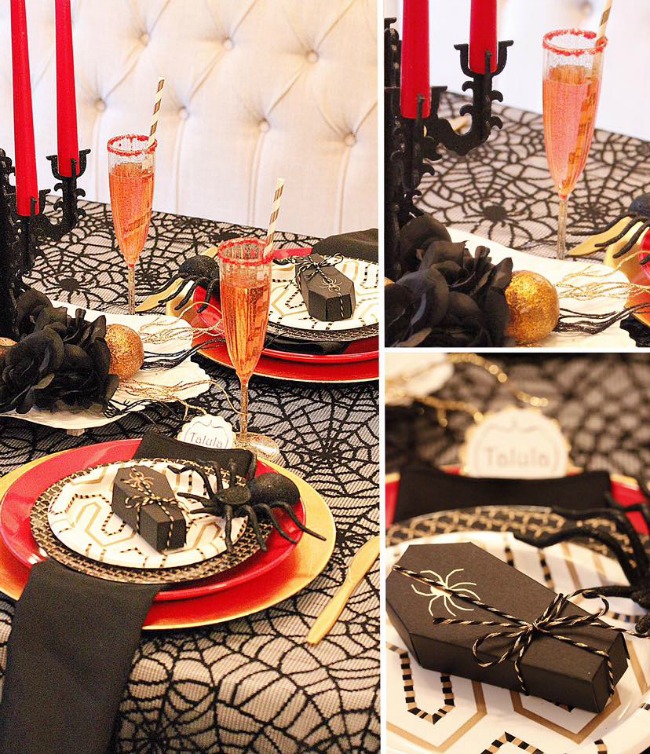 Ghoulishly Fabulous Dinner Party
Do a girls' night in with a few of your favorite friends! Keep it simple with a few drinks, a specialty cocktail, and some great themed snacks. It is easier than you think to put together.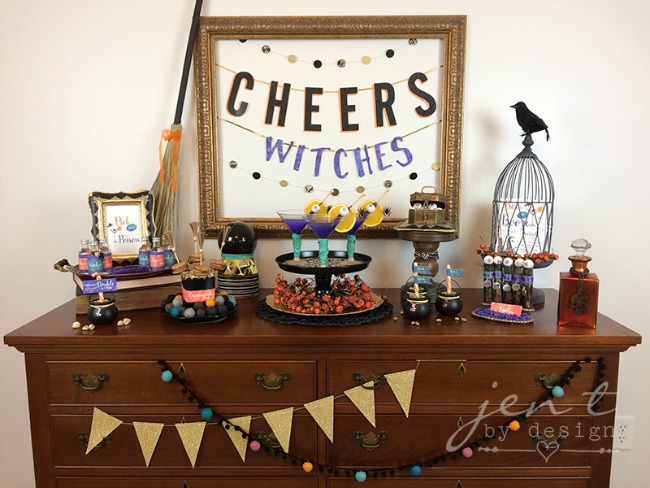 Ghoul's Night In Boos or Booze Party
A black sequin tablecloth really makes the whole table shine and shoes off all the fun details here! Gold chargers, black and white striped napkins, and a gold framed chalkboard are a few to look at.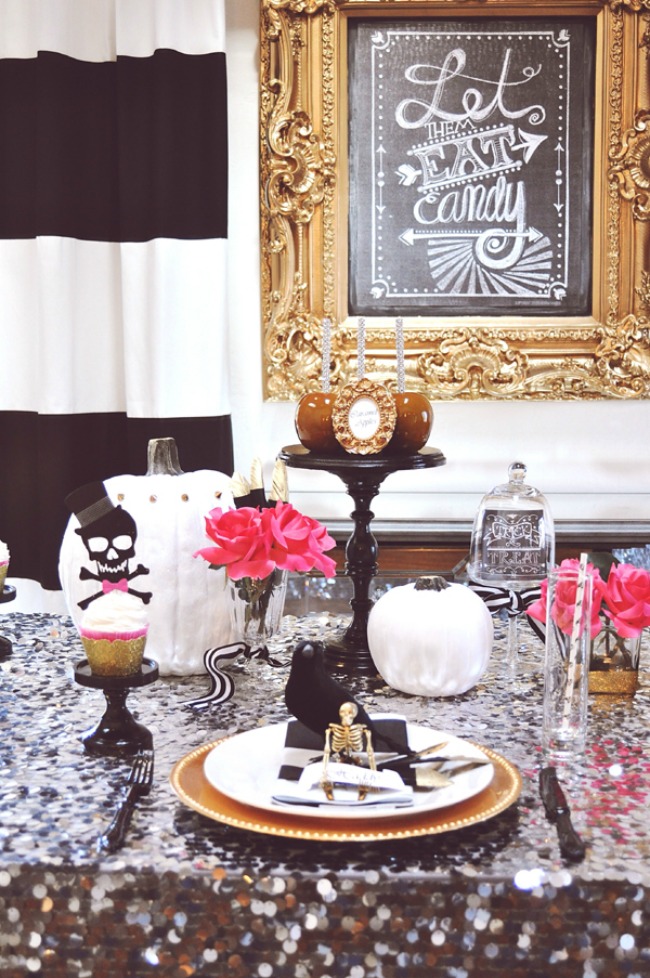 Glam Halloween Tablescape
This is one fabulous table for your guests with some great free printables! You can find some great serving dishes and glasses at thrift stores, the flea market, and even the dollar store to help jazz up your Candy Table for less.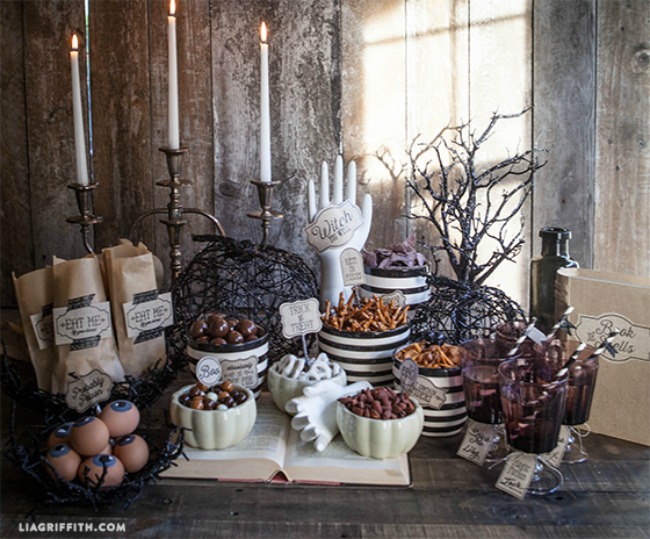 Halloween Candy Favor Table Set Up
Though this tablescape is similar to one in the beginning of this post- it has a few details that are fabulous. I love the gold glitter dipped feathers and the gold skulls under the clear plates and how they were turned into pirates with a small spiderweb. The faux cake centerpiece is a must see!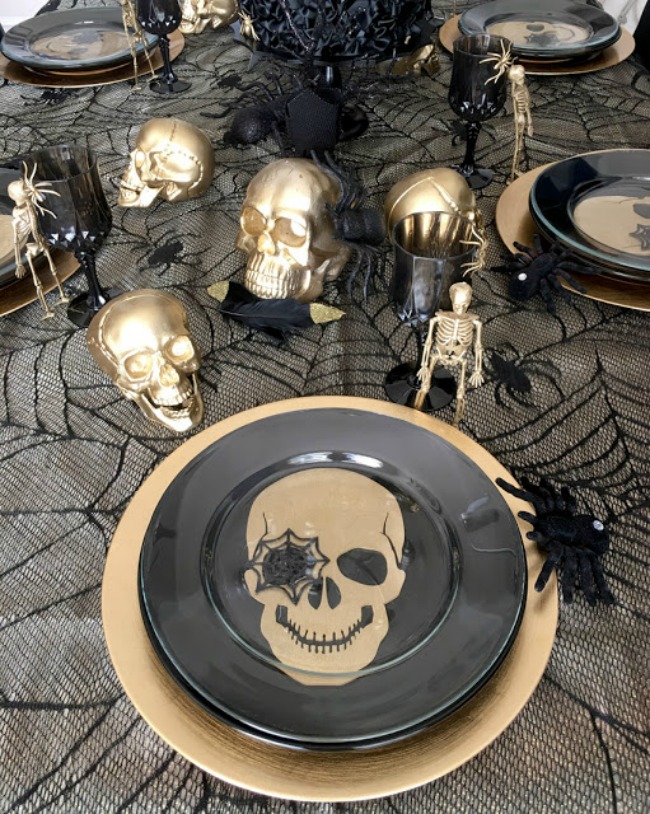 Gothic Chic Halloween Dinner Party
Use the classic Halloween colors and set the scene with stripes and polka dots! Paper fans, a black and white bunting, and tassel garland decorate the treat table. Any kid would be delighted to come up to this at a party!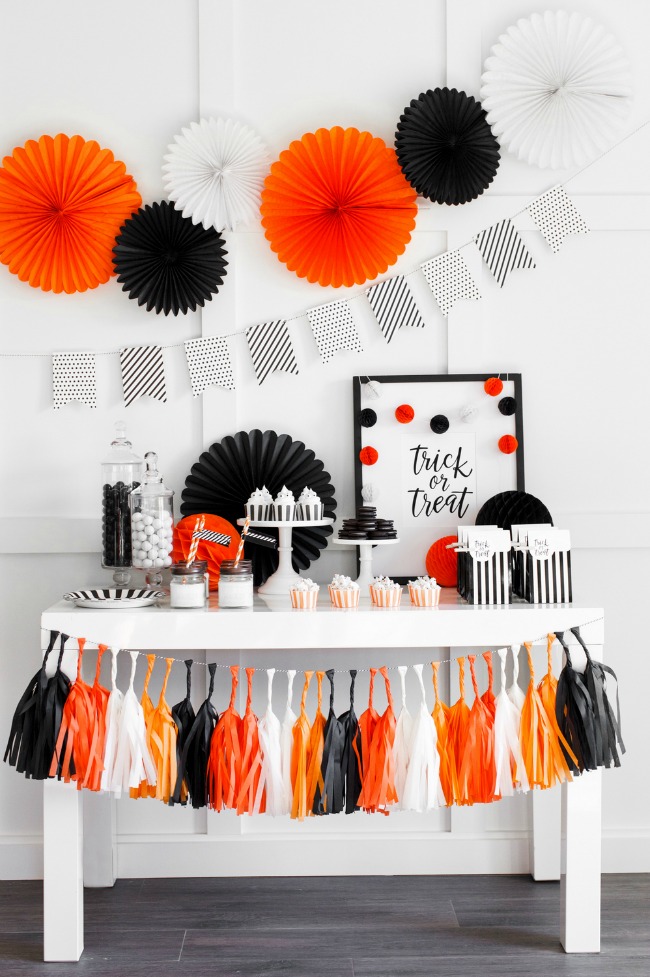 Halloween Party Table
I love all the ideas used here for this not too gruesome party! Little test tubes hold soda for the kids to drink and amazing cookies made to look like flasks and beakers sit on black cake stands. This Science party looks so much fun to set up!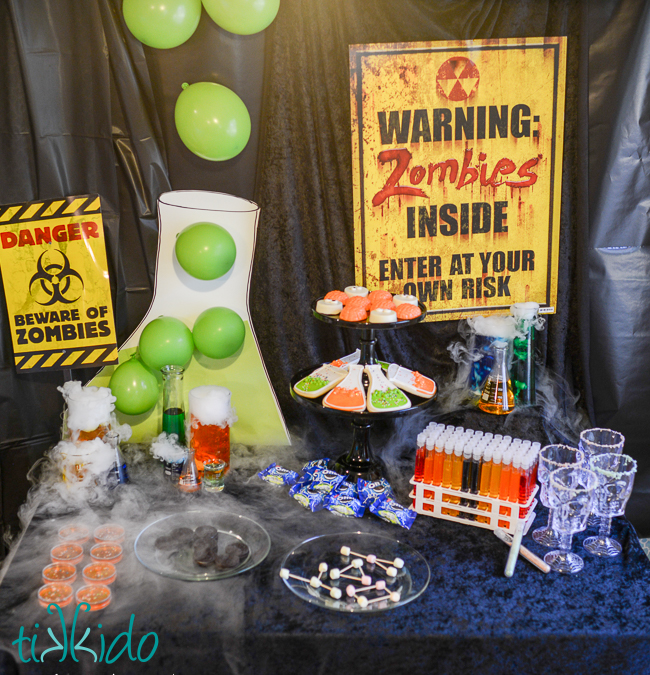 Halloween Zombie Science Party
Set up a Pirate themed party table! Use billowy and torn cheesecloth and satin fabric for the tables to resemble sails on the ships and use candles on black candlesticks and candelabras placed on top of books about pirates.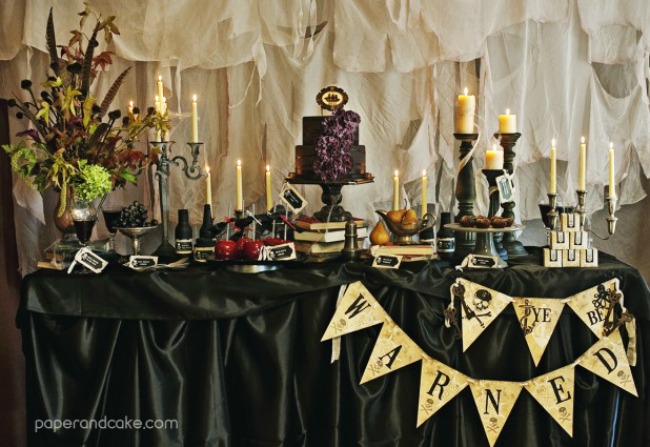 Haunted Pirate Halloween Party
What is better than a Glow in the Dark Party? A Glow in the Dark Halloween Party! You can find so many decorations that glow in the dark, and even paint!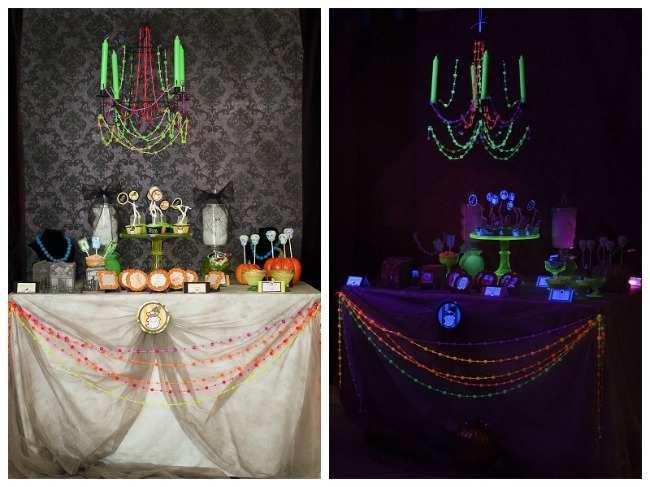 Let the Ghoul Times Roll- Glow in the Dark Black Light Party
If kid friendly is on your agenda, go with a cute monster mash party theme. Include friendly ghosts, witches, Frankenstein, and warewolves. These colors are just so fun and perfect! And it is so easy to put together at the last minute.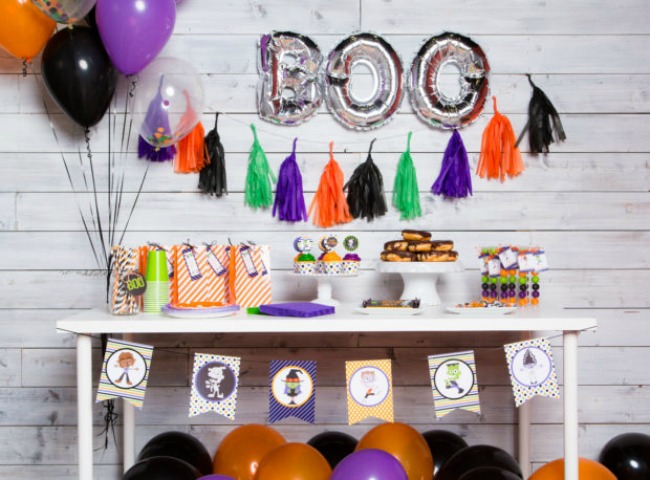 Monster Mash
Still 'summertime' in October where you live? Or so it seems? Do an outdoor dinner party! Even if the evening is a little chilly, have your guests bring blankets to snuggle with and set up an outdoor fire pit to keep them warm. And some strong drinks too.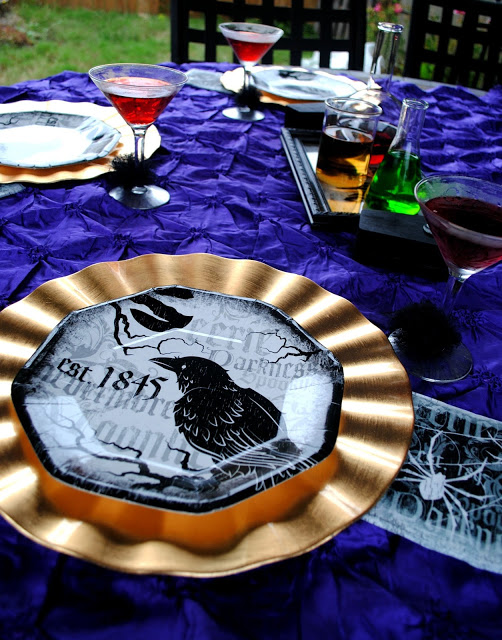 Outdoor Halloween Dining
This set up is just right for an adults only party! Use what you have at home and simply decorate with spiders, black mesh webbing, and be sure to have some great treats with those drinks.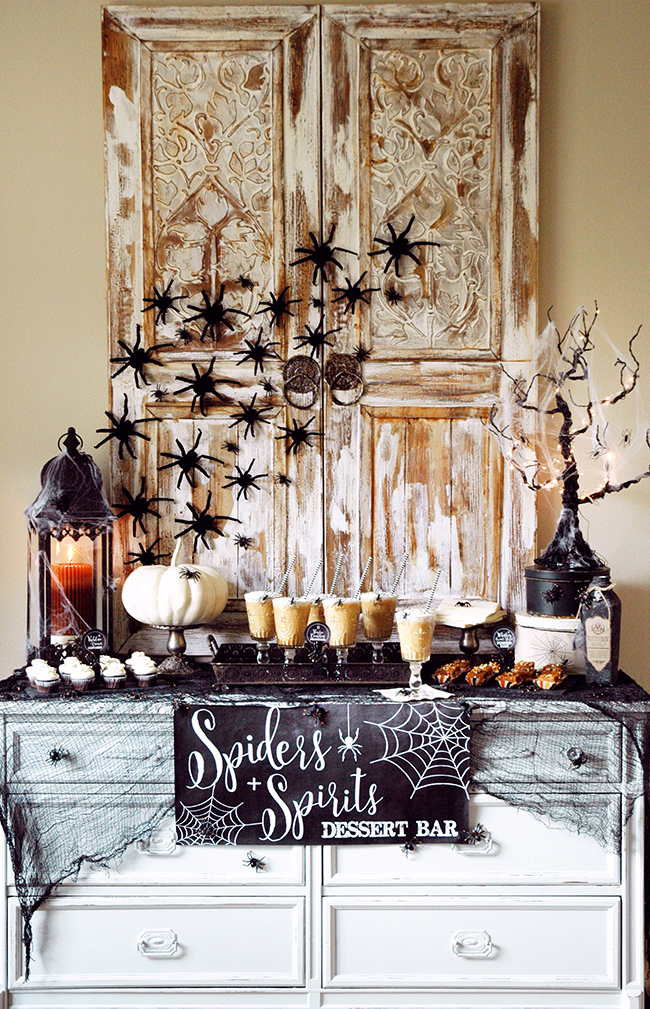 Spiders + Spirits Halloween Dessert Table
Use your existing Halloween decor when it comes to decorating your dinner table for a party! Add some mood setting candles, and for a little fun- some masquerade masks! Lots of fun things are placed in the center to add texture and color.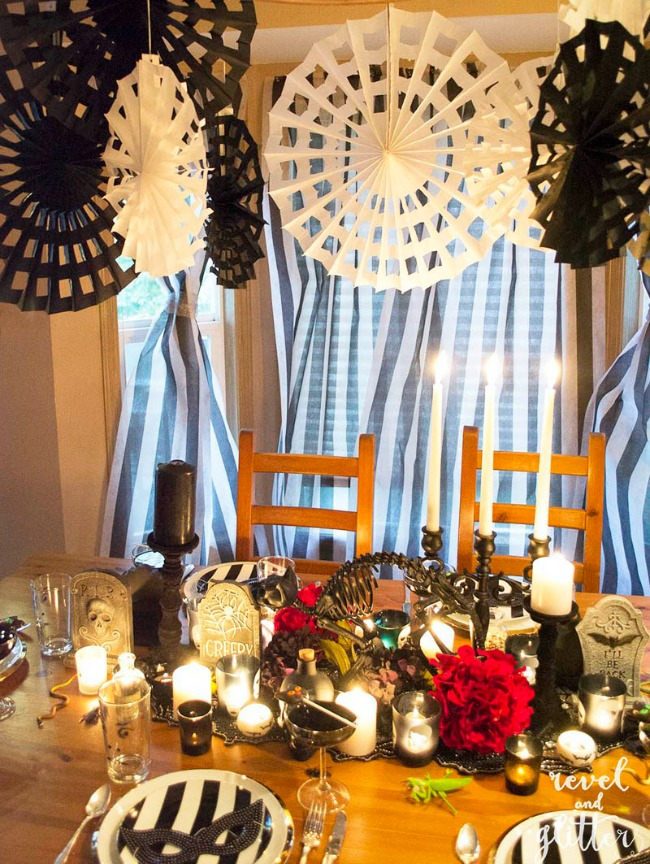 Spooky Chic Halloween Table
Talk about glam and fancy! All black and white, with lots of glass. Your dinner party can be just as chic as this one. I have seen some great black wine glasses and dinner plates at a dollar store!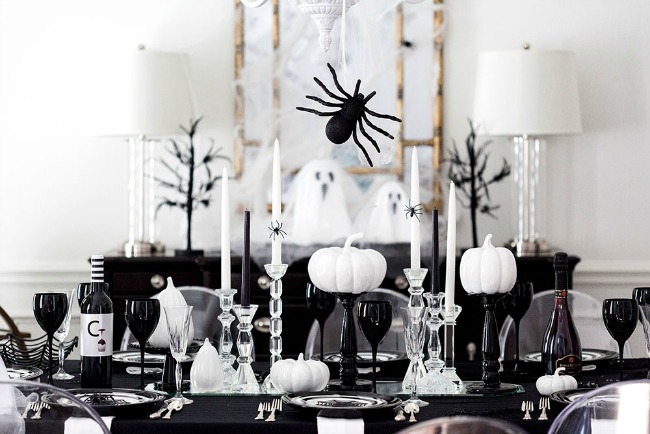 Spooktacular Halloween Dinner Party
What a beautiful set up for the center of a table! Don't be afraid to use Halloween themed paper plates, you can always dress them up by placing them on black chargers. When your centerpiece is as elegant as an old pair of witch's boots and pretty purple pumpkin vases, your guests will love their place settings.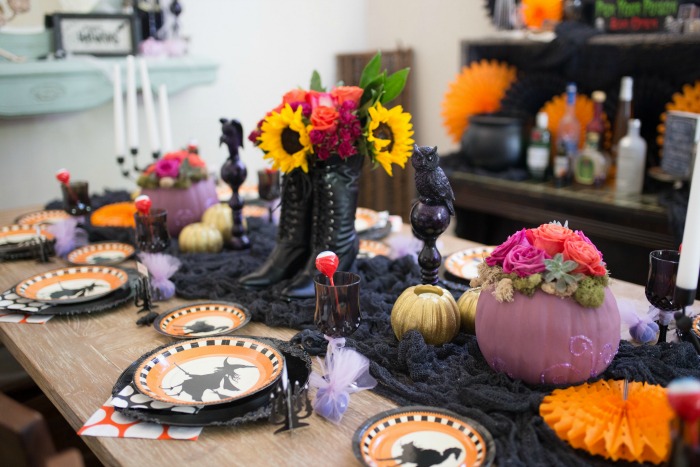 Witches Brew Girls' Night
Get all your girl friends together for a fun crafting party! Halloween just makes it even more fun with themed treats and perfect colors that go together. You could even do this for the kids too. I am in love with those amazing cookies!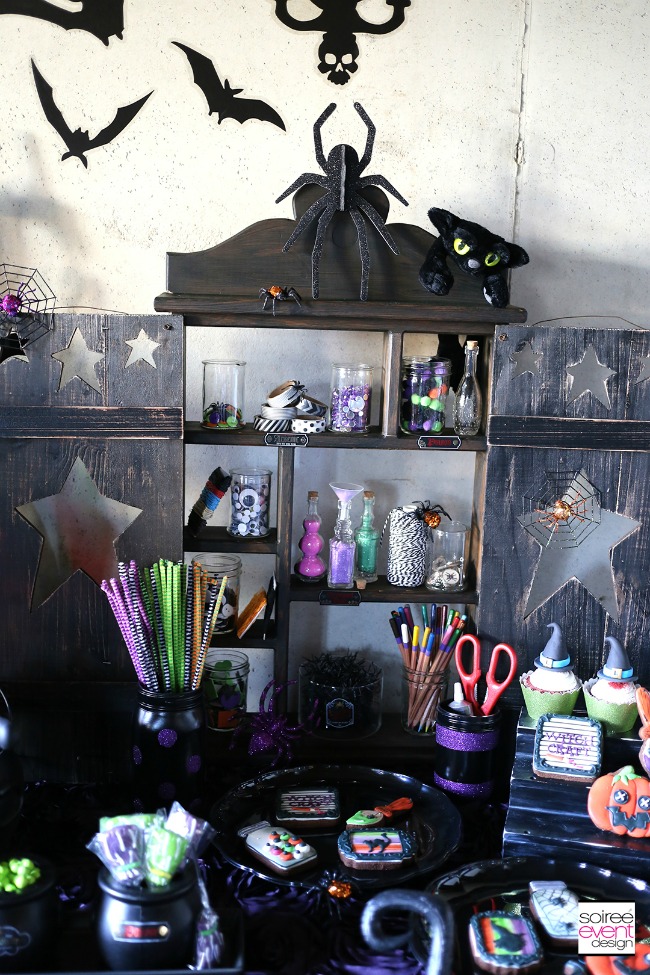 WitchCRAFT Halloween Party
Polka dots and stripes, especially in Halloween colors, is a great way to decorate a party table. Shop around the Halloween aisles at different stores and find cute little containers that go with the theme that you're looking for.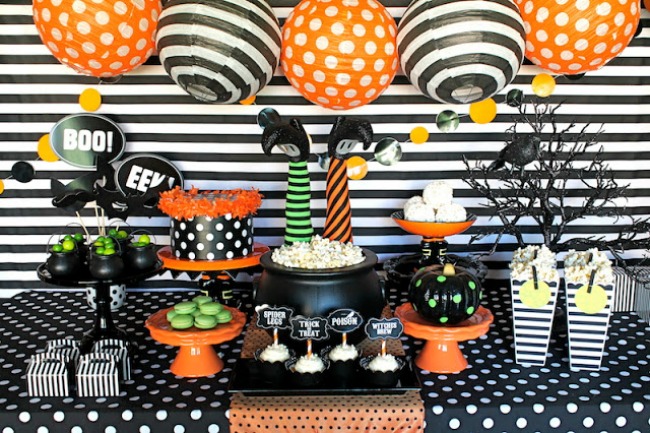 Witches Soiree
Even witches drink tea! Elegant tea parties aren't just for Spring. Decorate the chairs with black boas and stripe ribbons. And don't forget the tea pots and lots of tea party finger foods.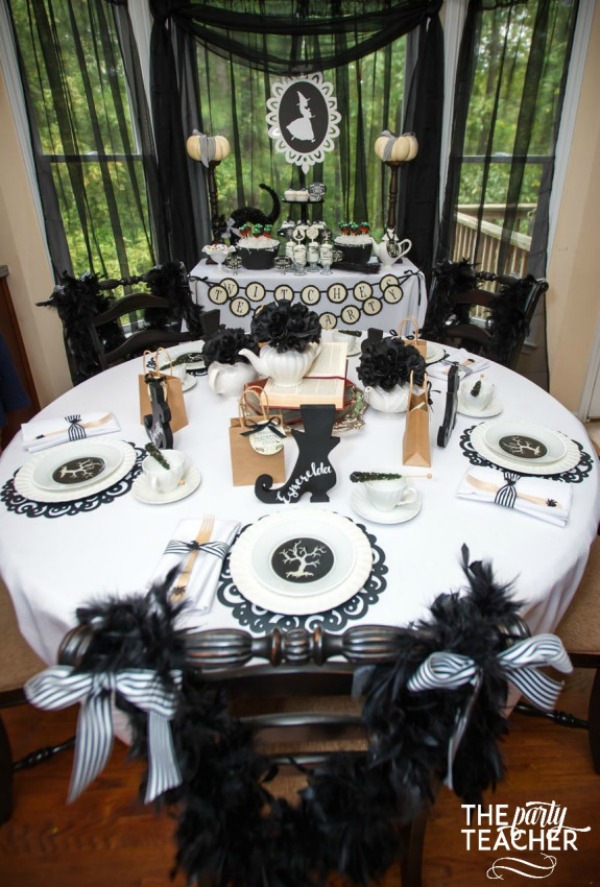 Witches' Tea Party
If you're having a dinner party or Halloween party, I hope some of these Halloween Tablescapes and Party Ideas have inspired you! I can't wait for Halloween!