It is so cliche to say that time just flies…but you know what…it does.  My sweet baby girl is starting Kindergarten this year.  I mean how is that even possible??!!  To celebrate we had a Kindergarten Kickoff party this weekend and it was soooo much fun.  If you have a child going into Kindergarten or will be going in the next few years you should totally do this.  Avery is so so excited.  Here are all the details!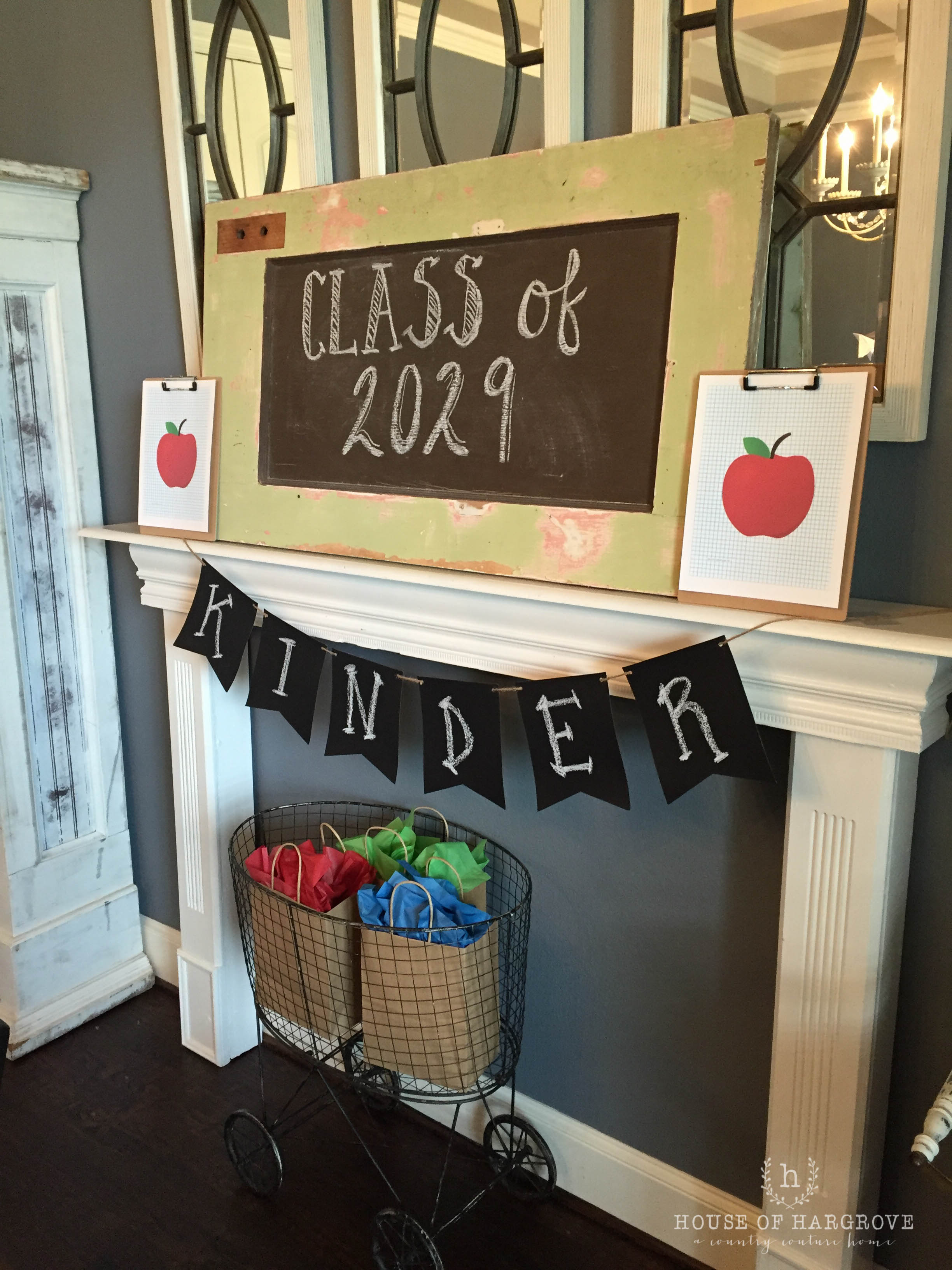 Here was the invitation I sent out…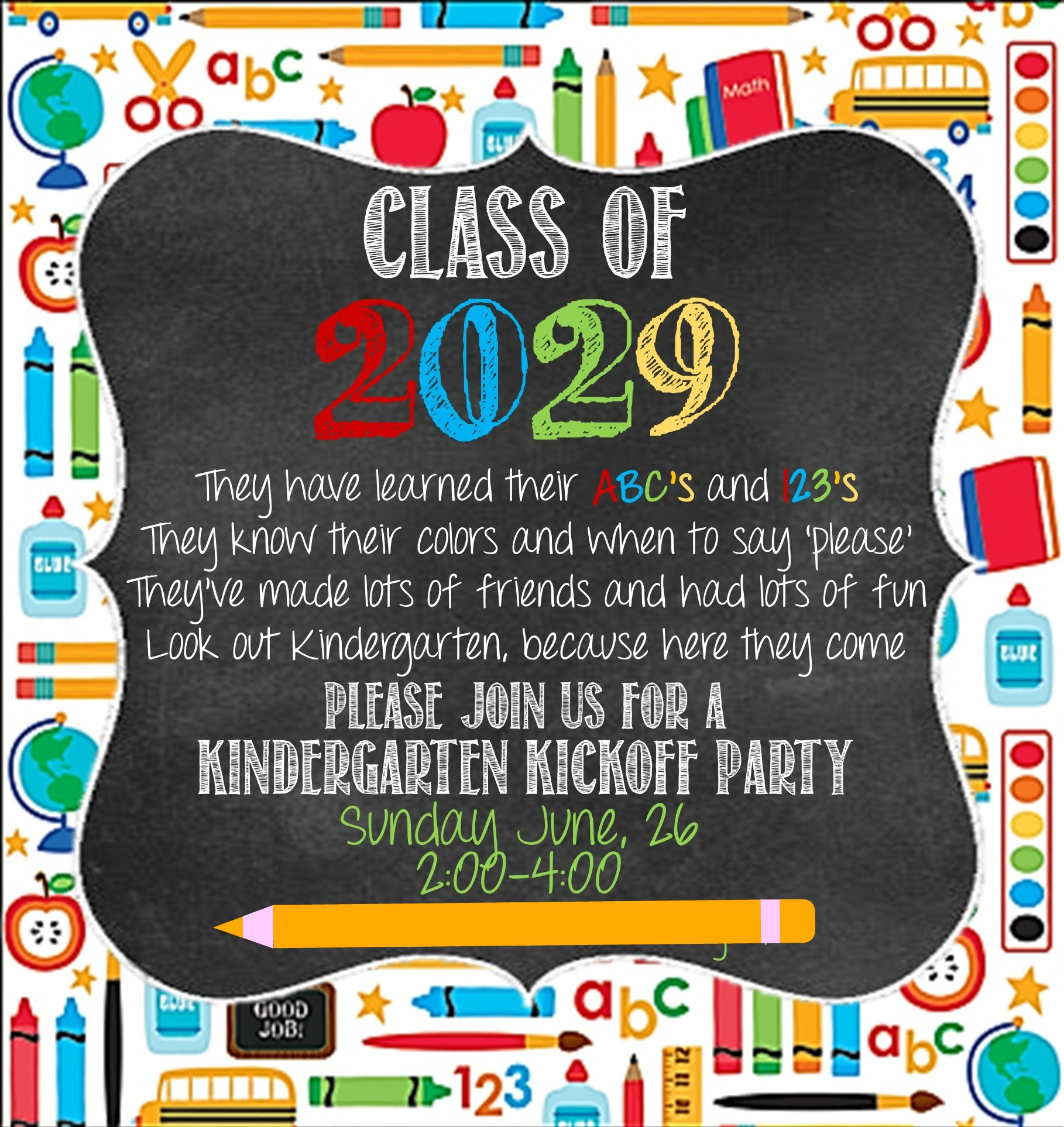 Typically I would have had this party in August before school started, but that is Avery's birthday (the first day of school actually) and I will be out of town some that month so it was just too crazy to get it all together…also I can share this with yall now and you have time to get your own party together!  I have always loved school and school supplies!  Seriously…so how fun is a party where you decorate with lots of school supplies?!  Thanks to the Dollar Store and the Target Dollar Spot there was an endless supply of adorable things.  Right now Target is loaded with the cutest banners, binders, folders, stickers, vases, etc!  Go stock up!!
I started talking about the idea of a Kindergarten party almost 5 years ago when several of my friends and I had kids at the same time and realized they would all be going off to Kinder at the same time.  We laughed about having a "boo-hoo" brunch on the first day of school and a big party to celebrate….well crazy enough…we are here!
We had 6 friends over to the house and I turned my dining room into a class room!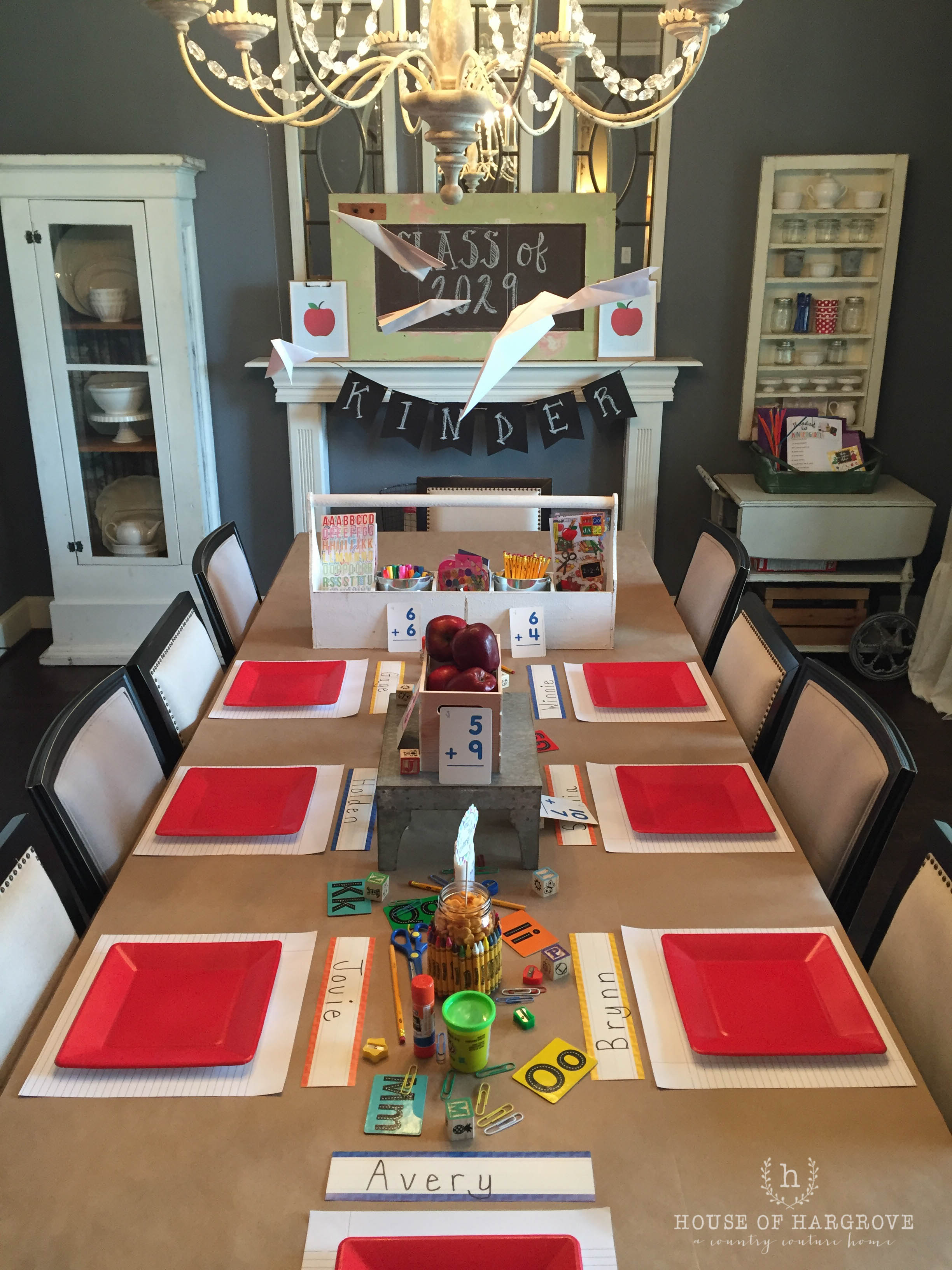 I had that old door chalkboard so I just wrote Class of 2029 on there.  I got clipboards at the Dollar store and made apple on graph paper art.  Then I made paper airplanes and hung them from the chandelier.  The Chalkboard banner was from the Target Dollar Spot and I wrote Kinder on it.  I covered the table with craft paper from the Dollar Store for Easy clean up.  The wooden caddy is one of my favorites.  I have several in our home and they are awesome for school supplies.
Dollar Tree: Red Plates, paper clips, crayons, jars, flashcards, pencil sharpeners, pencils, scissors, clipboards, craft paper
Target: Glue, name cards, letter flash cards, blocks,  ruler box holding apples, chalkboard banner
Notebook Paper Placemats (scrapbook paper): Hobby Lobby
Metal Stand: Curtis Creation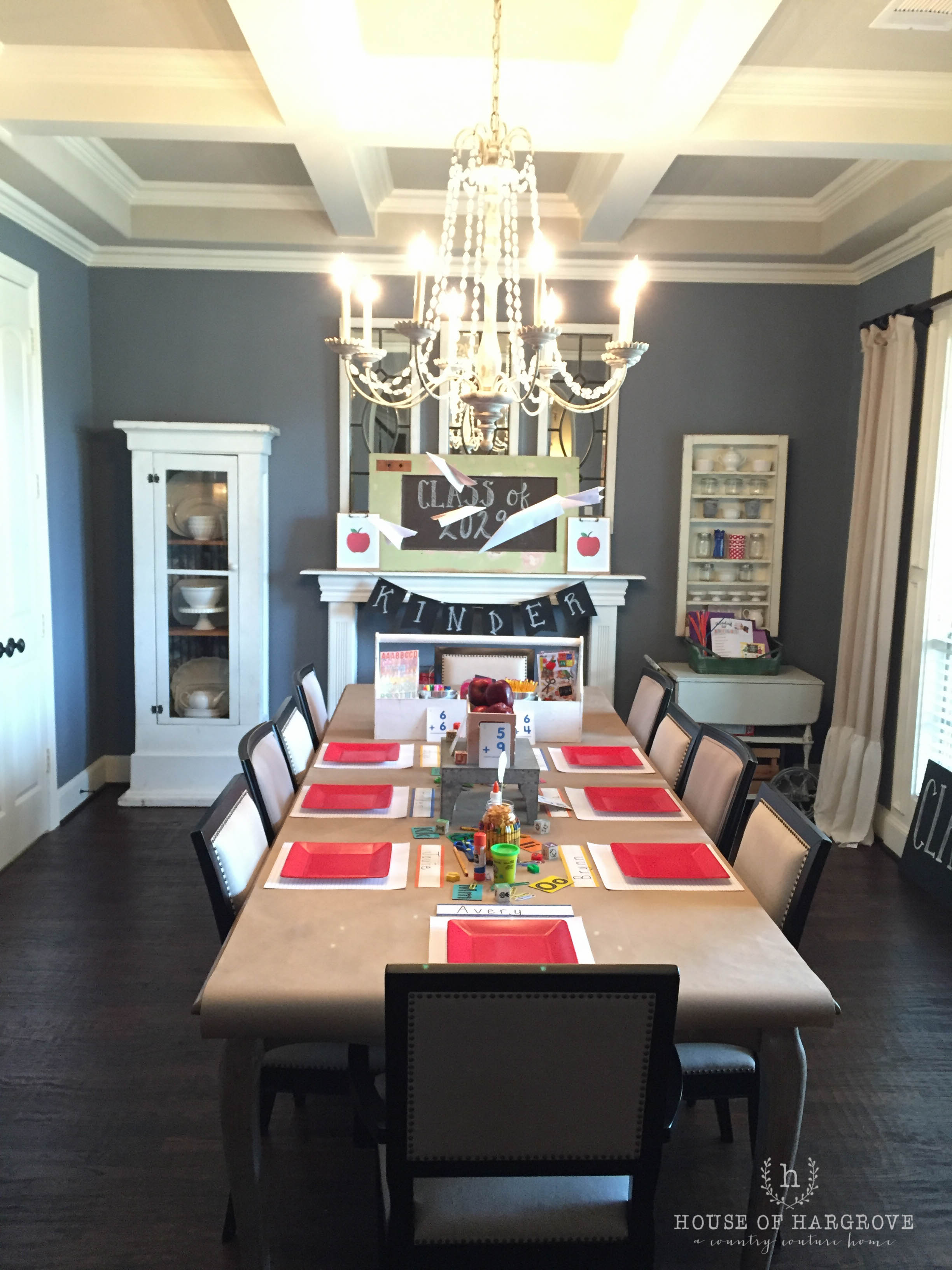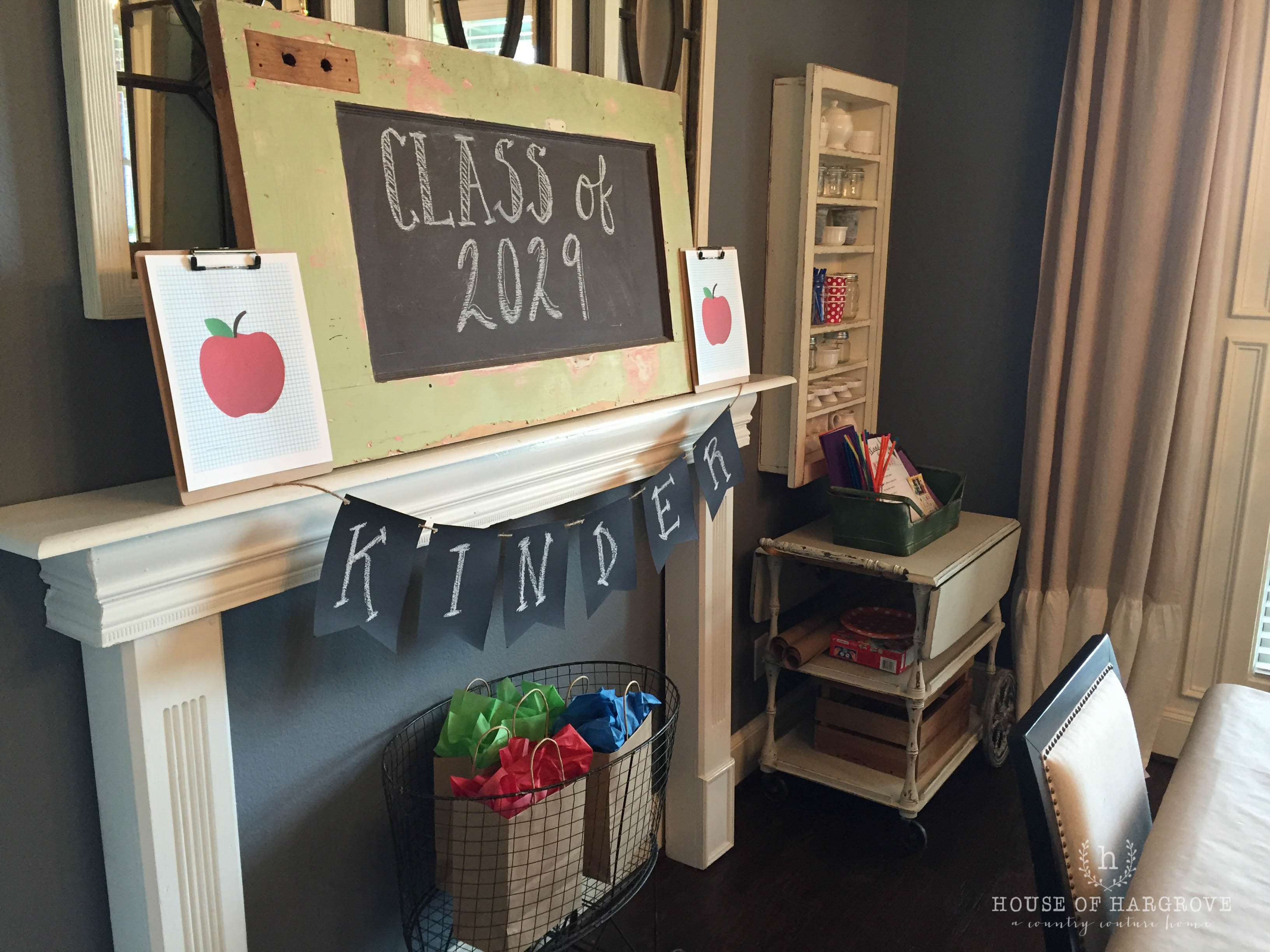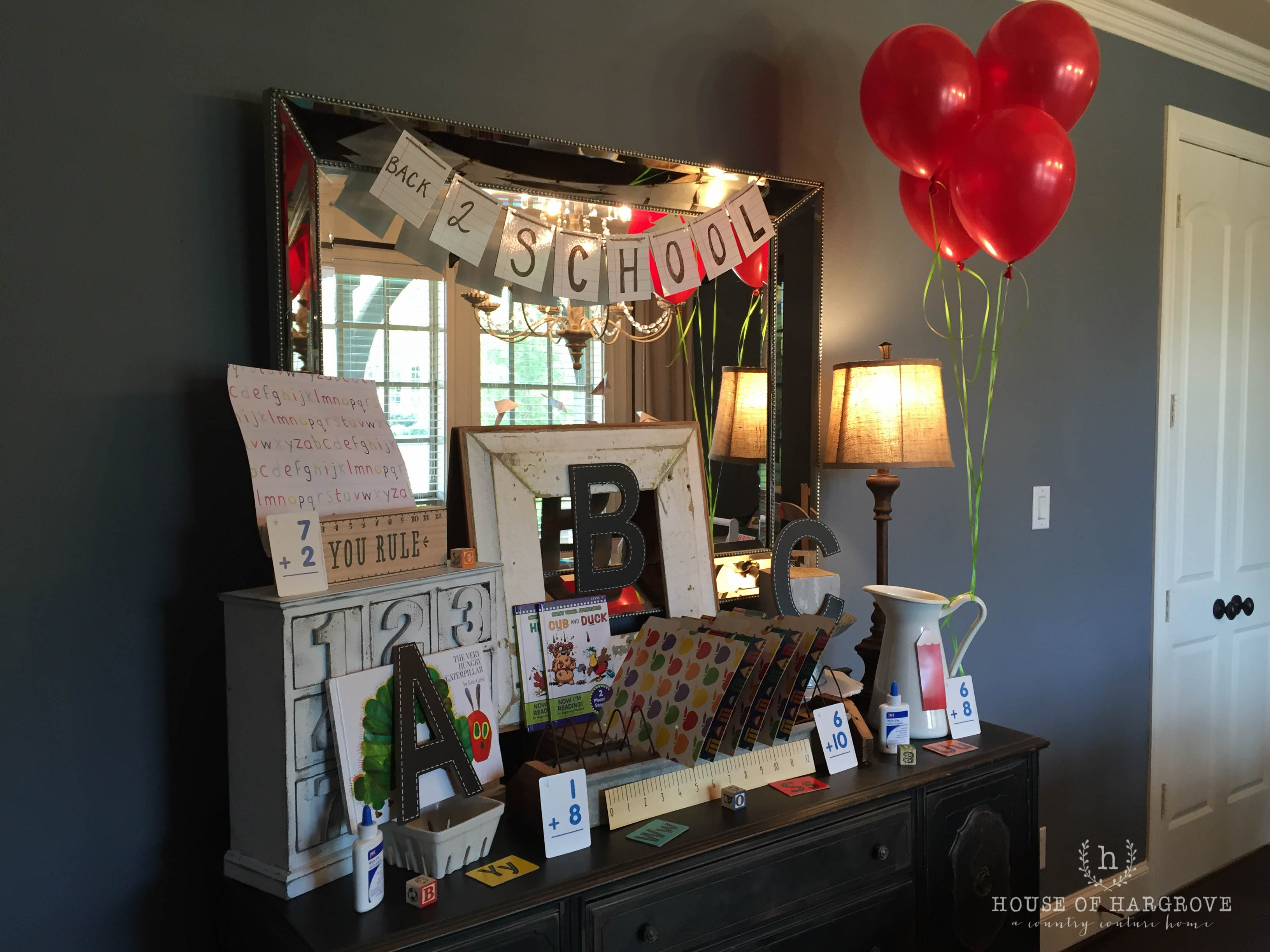 Target: ABC Letters, Your Rule sign, Back to School Banner (plain but I wrote that on there), paper ruler
Dollar Tree: Supplies, apple/pencil file folders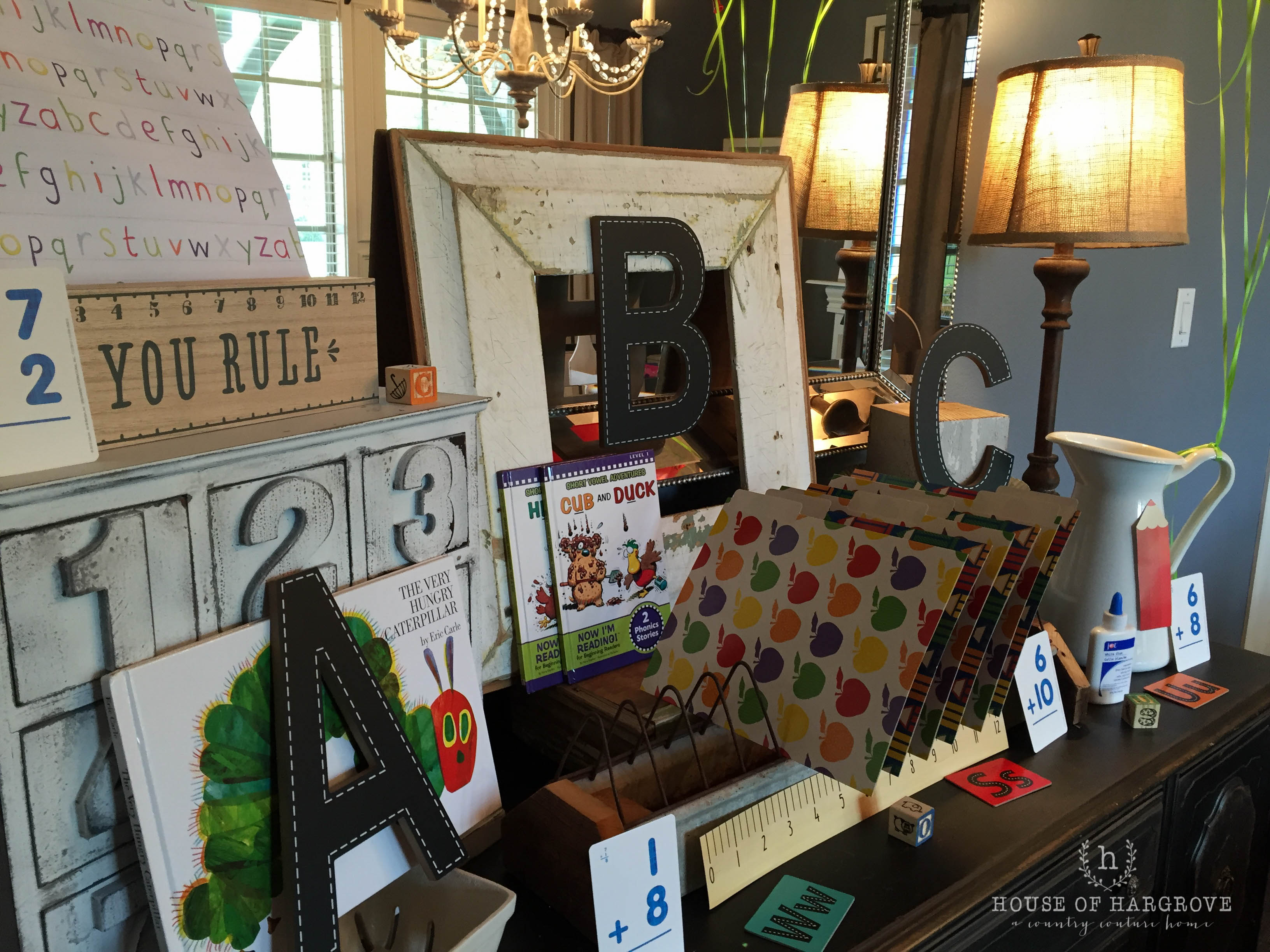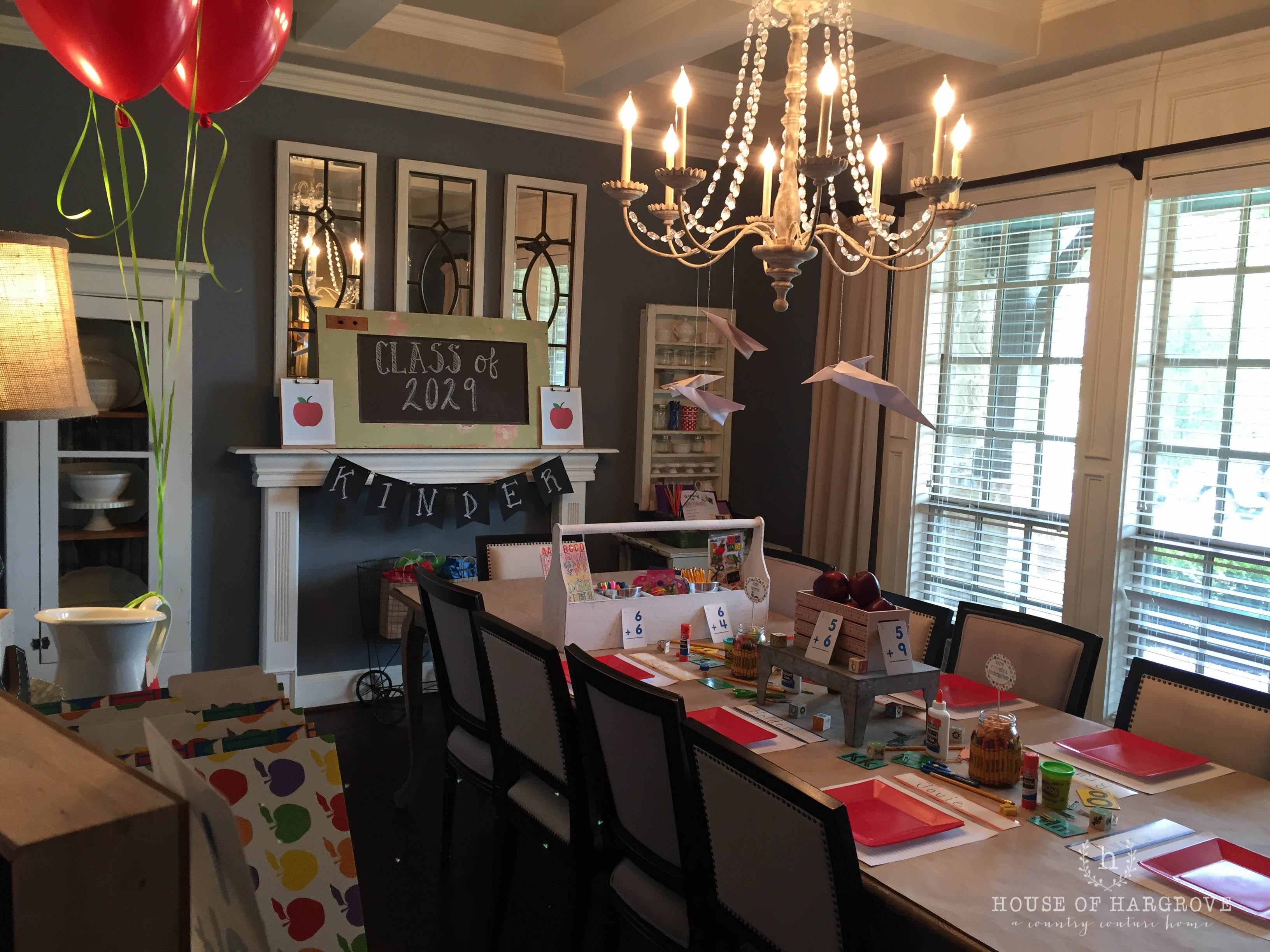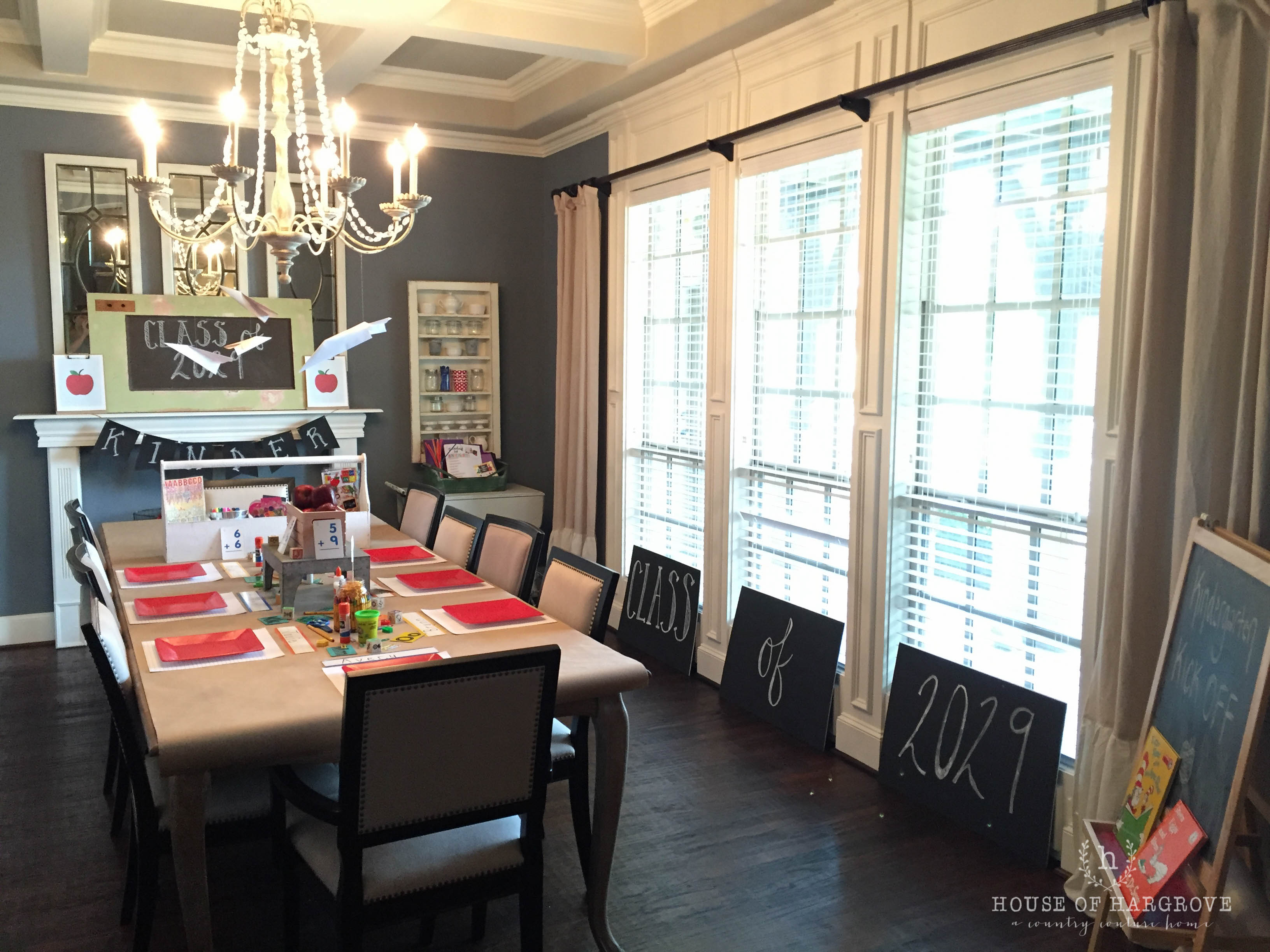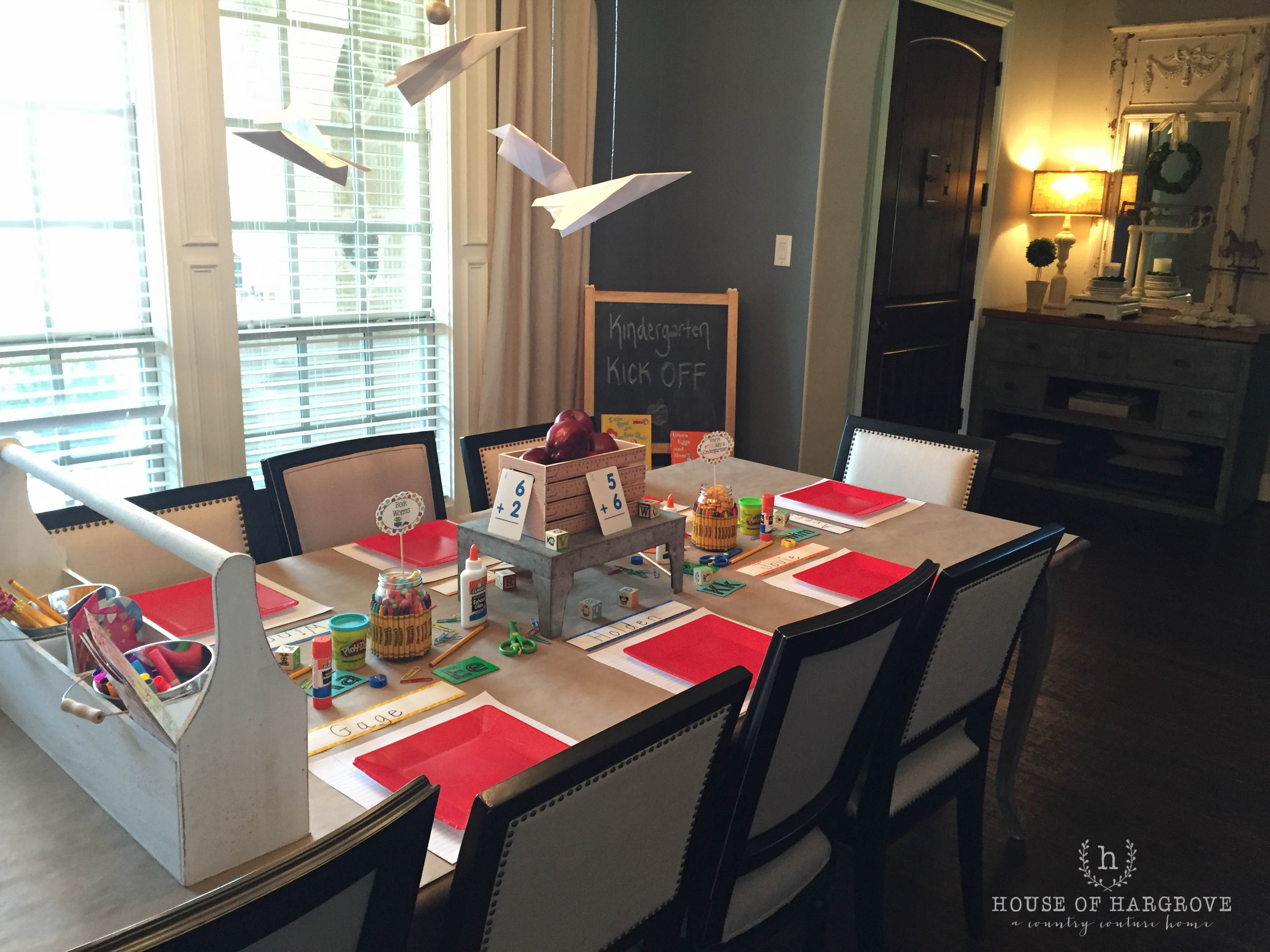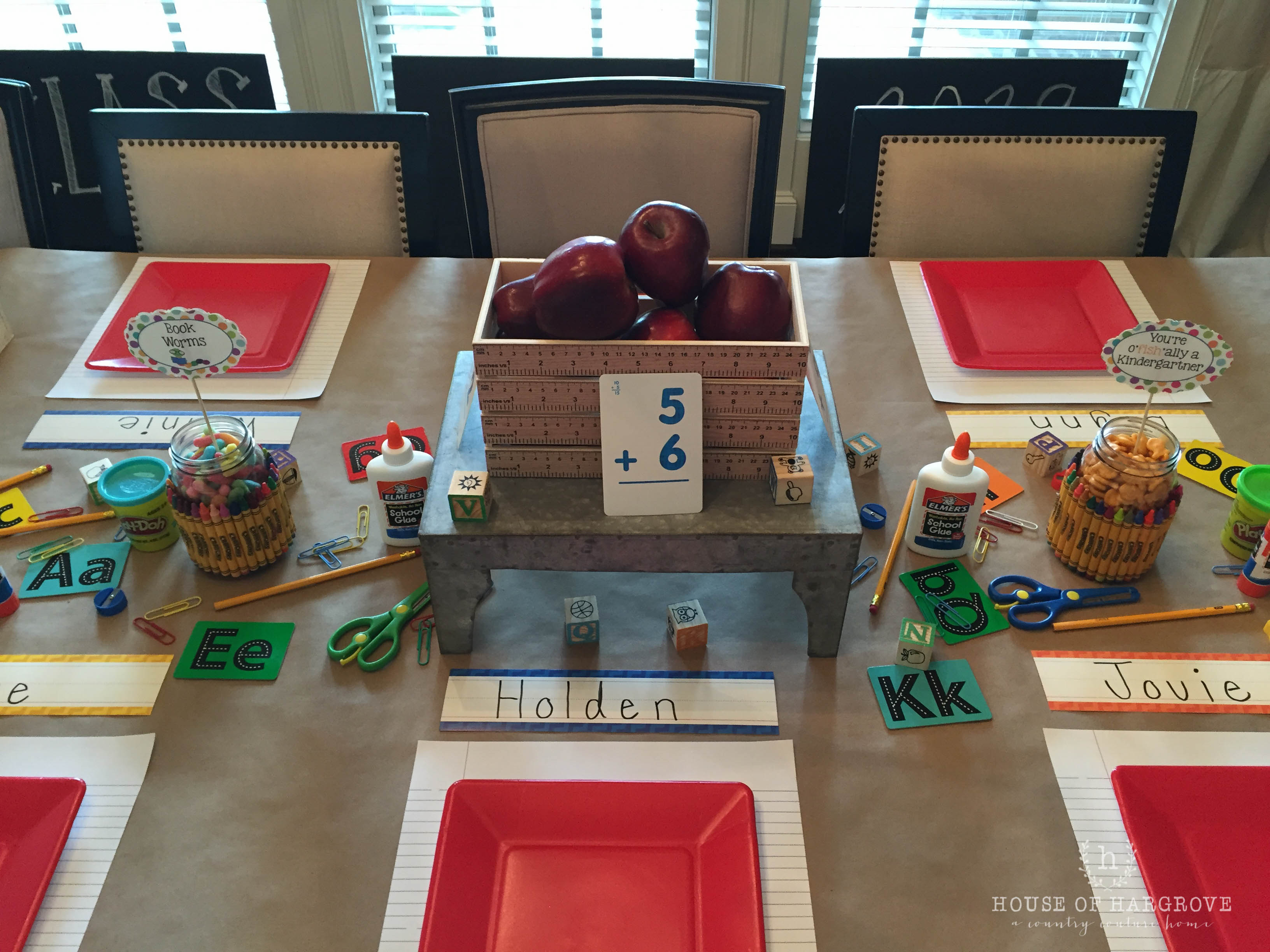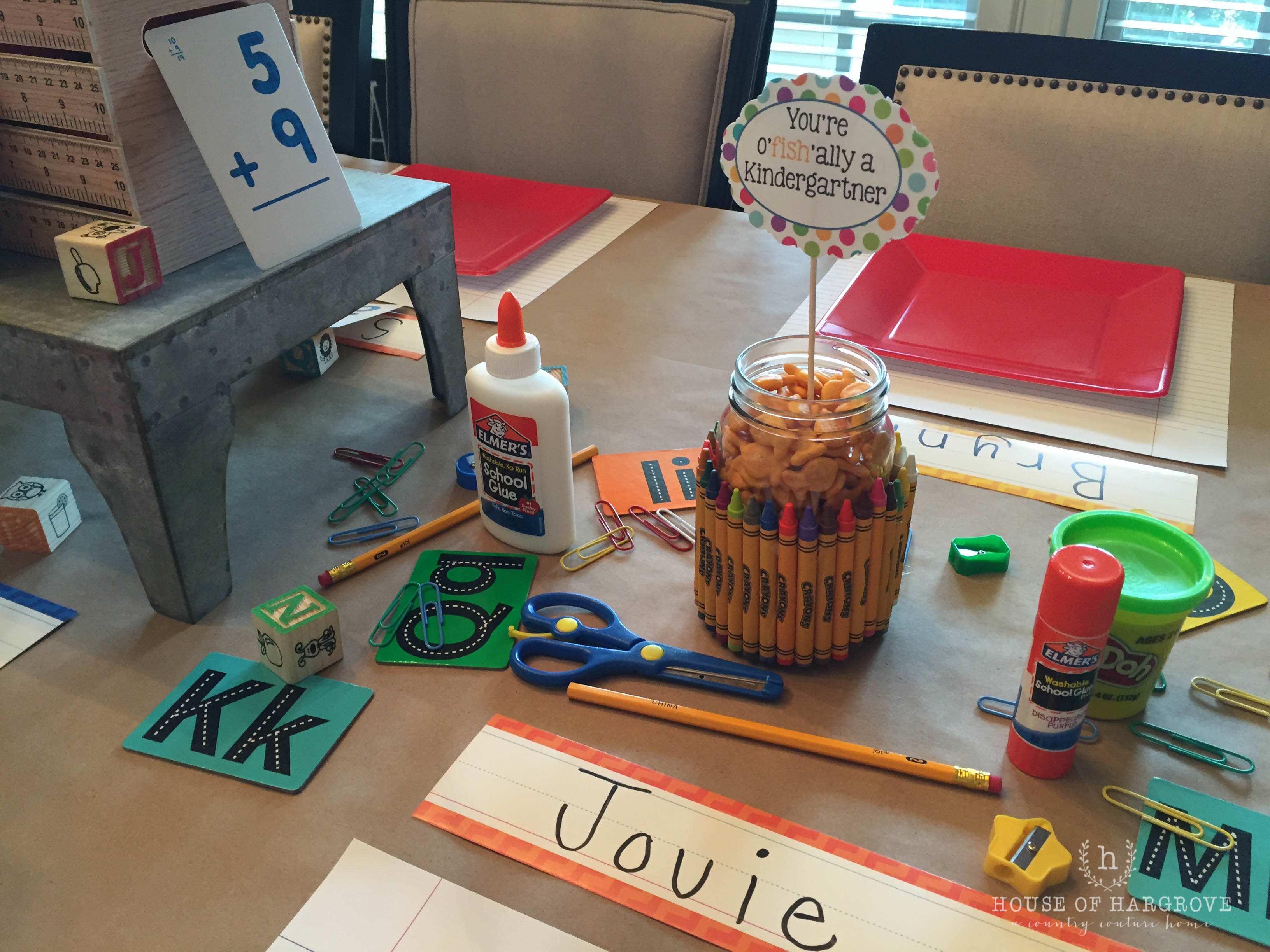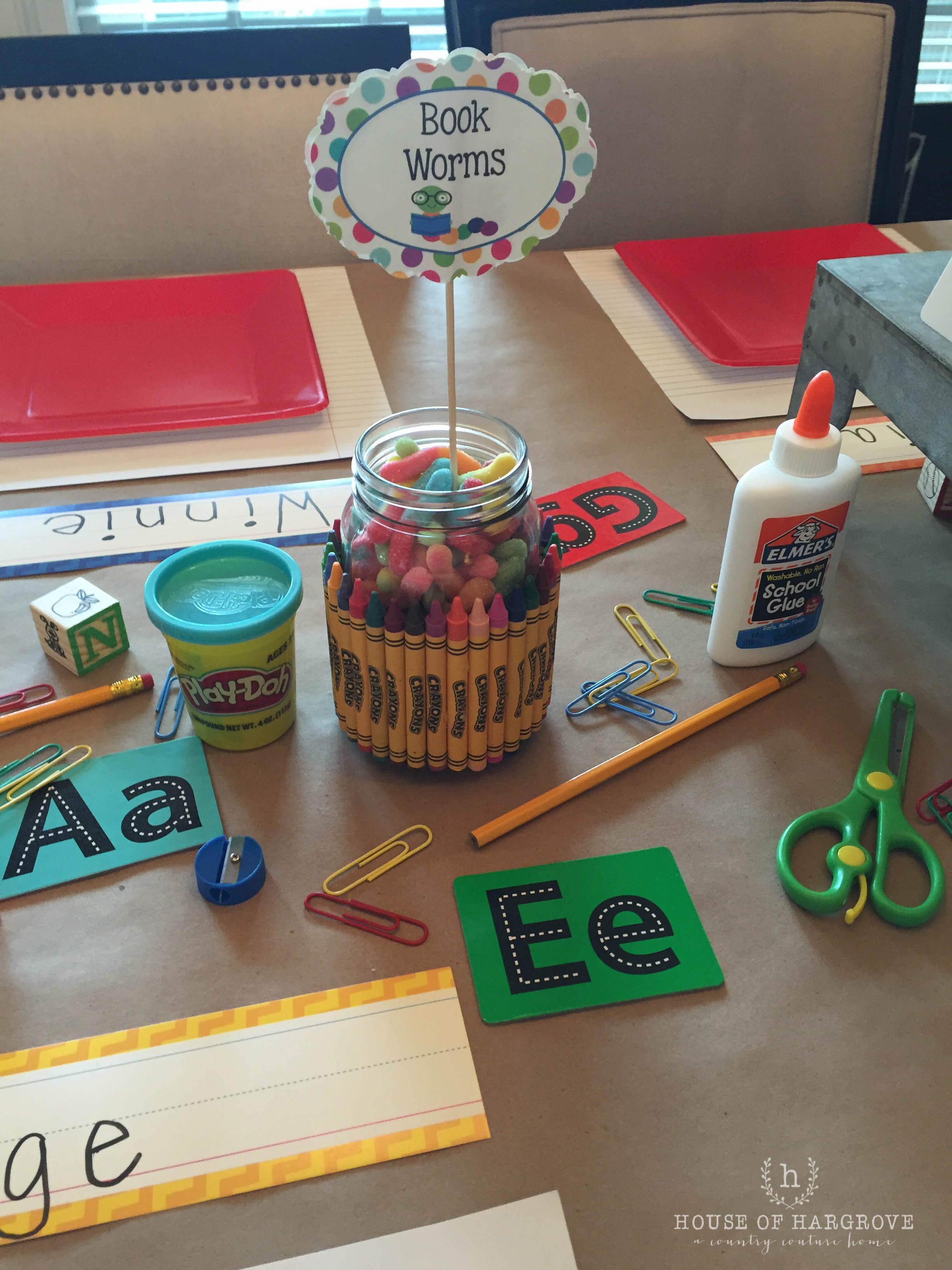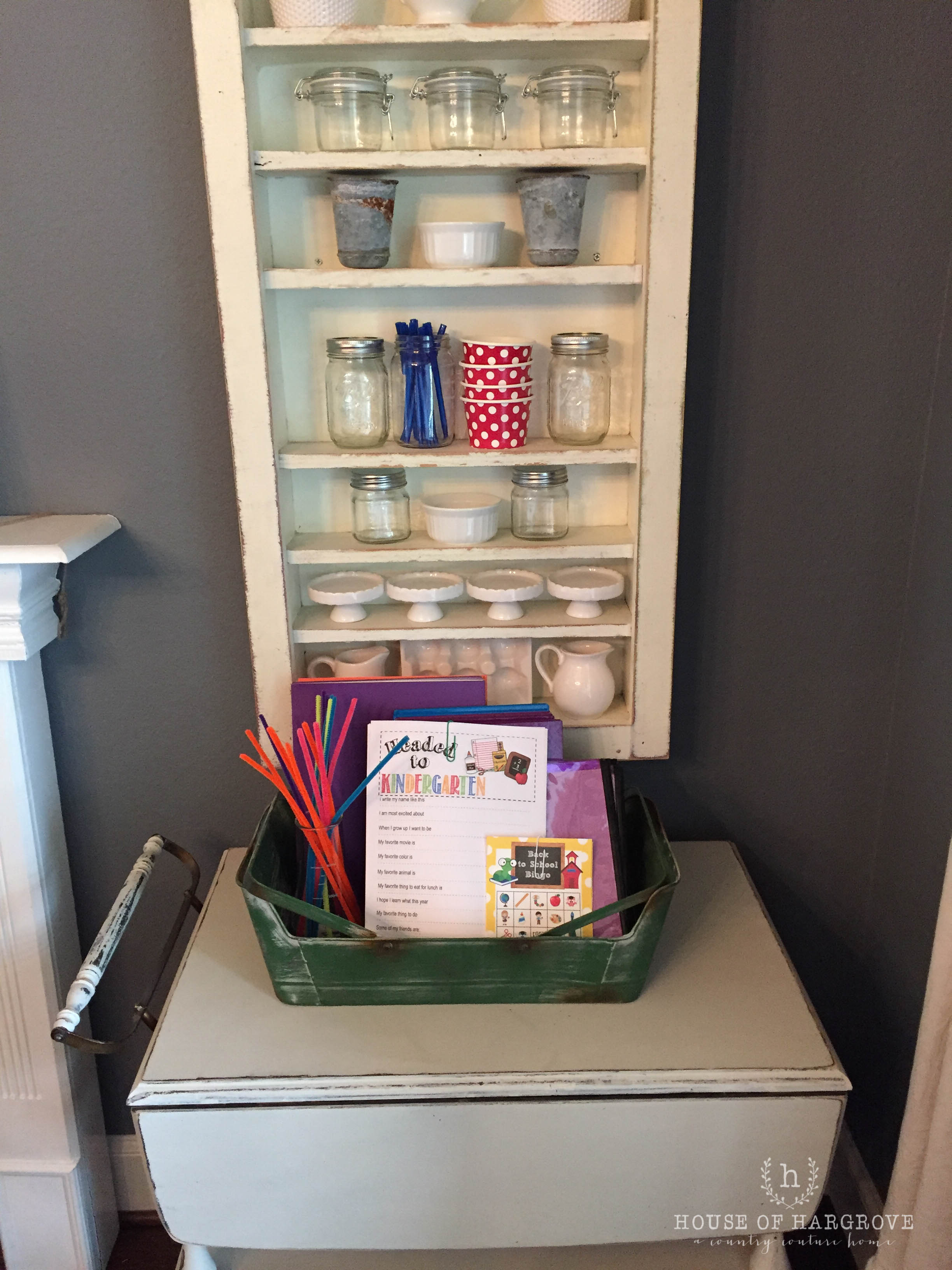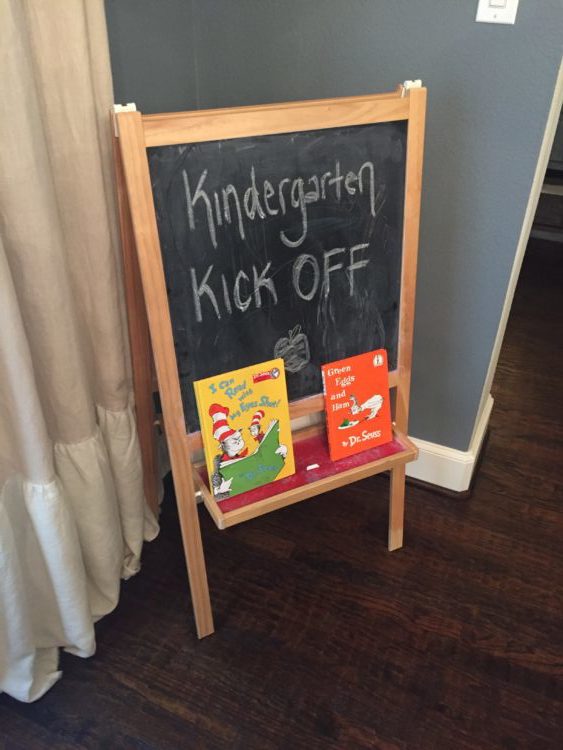 Then I turned my Kitchen into a fun cafeteria….
USA Map art is something we have in our playroom so I just moved it out here for some fun decoration.  I made the banner out of cute back to school things I found in the Target Dollar Spot.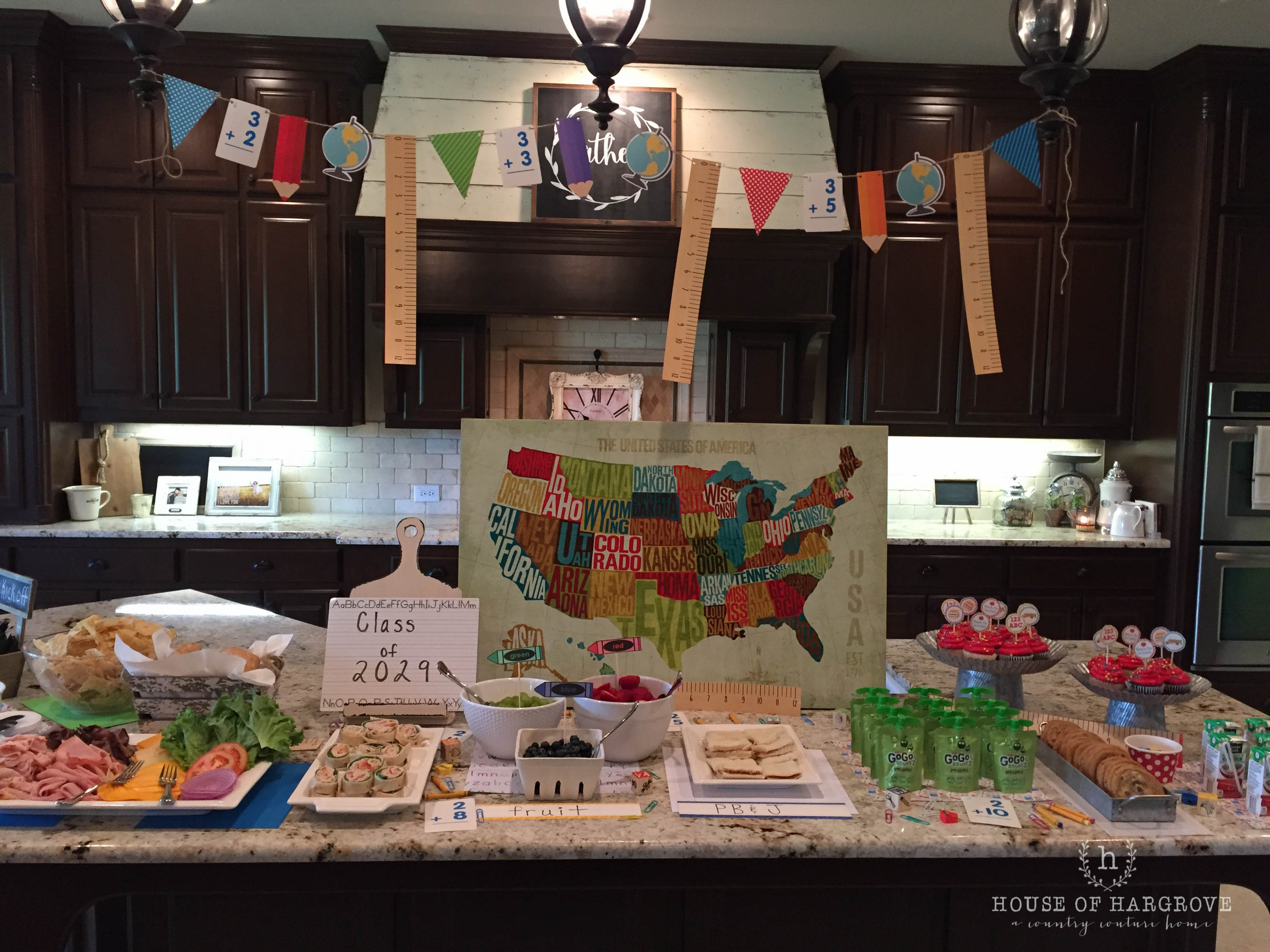 MENU:
Spinach Artichoke Dip (my favorite & a crowd favorite)
Deli Platter & Wraps
Fruit: Grapes, Blueberries, Strawberries, PB&J, Apple Sauce, Cookies, Cupcakes and Apple Juice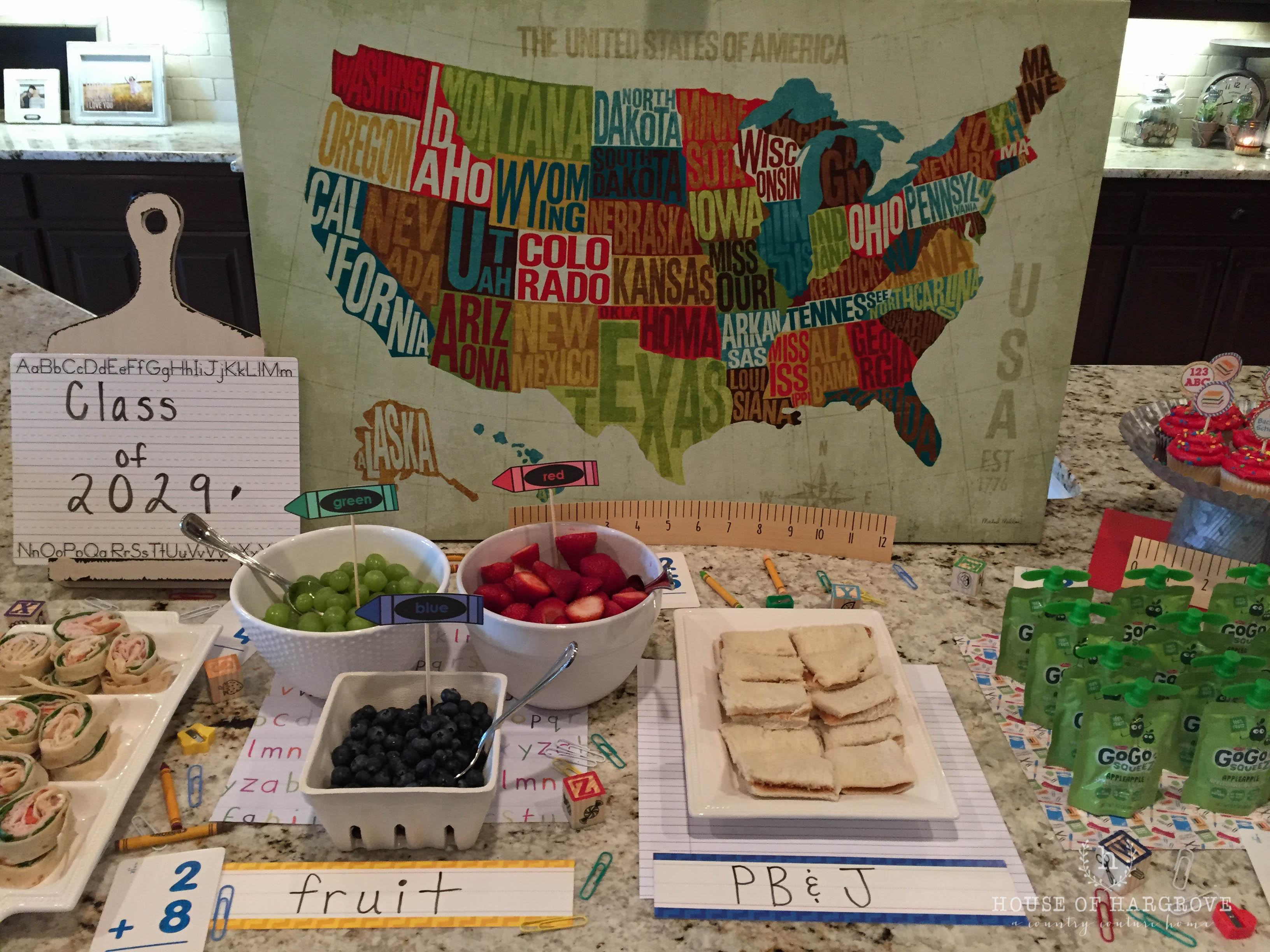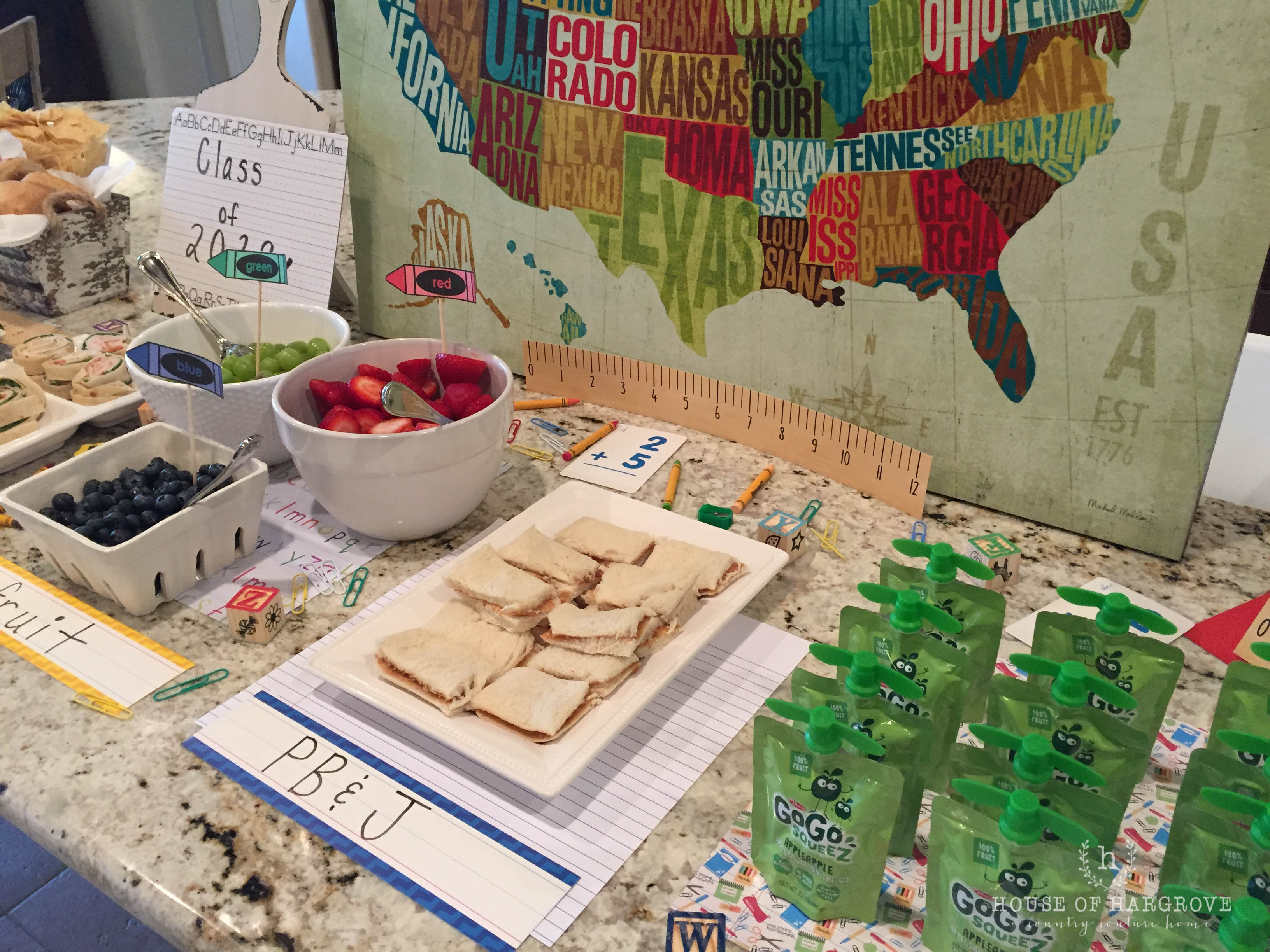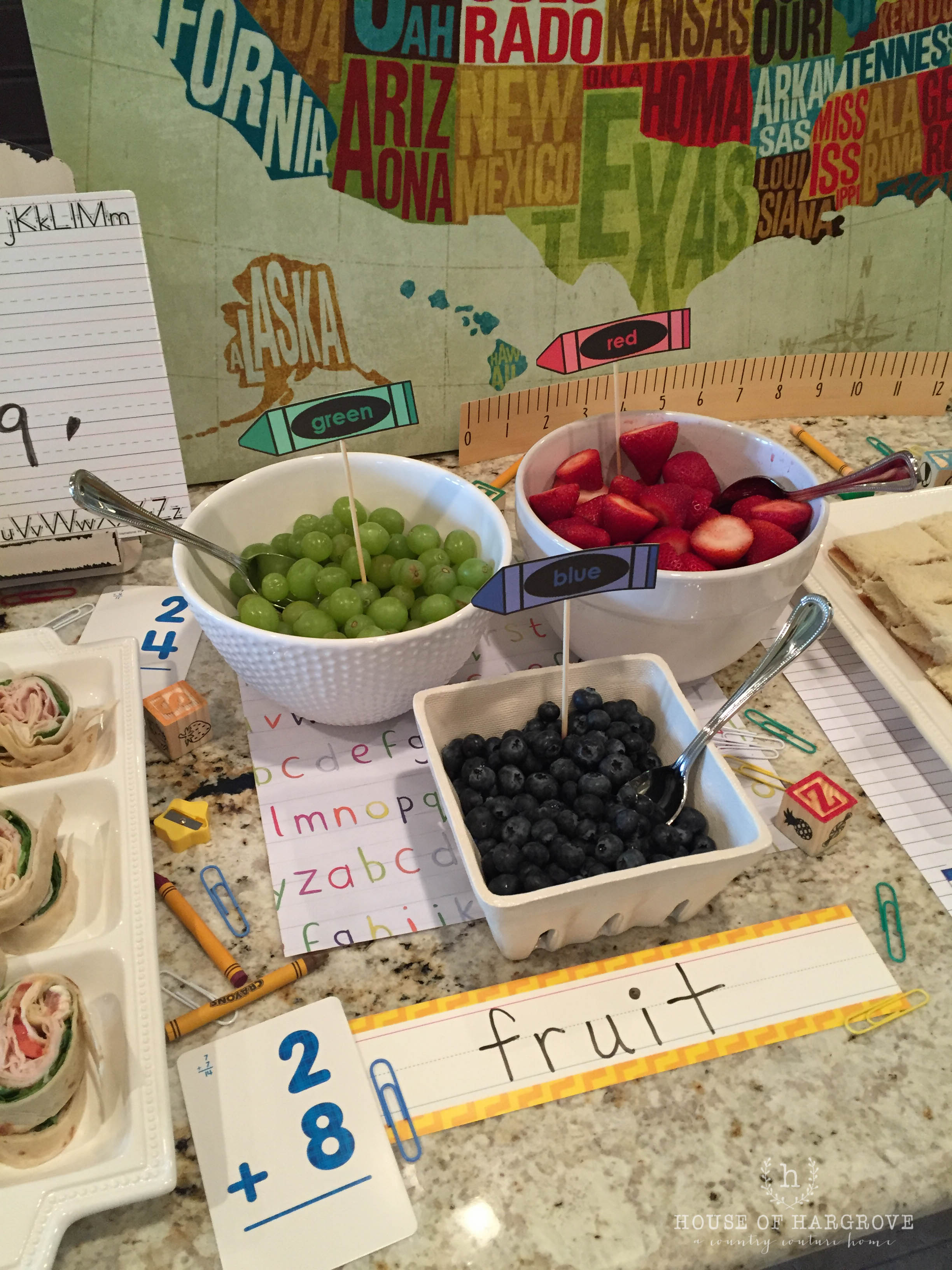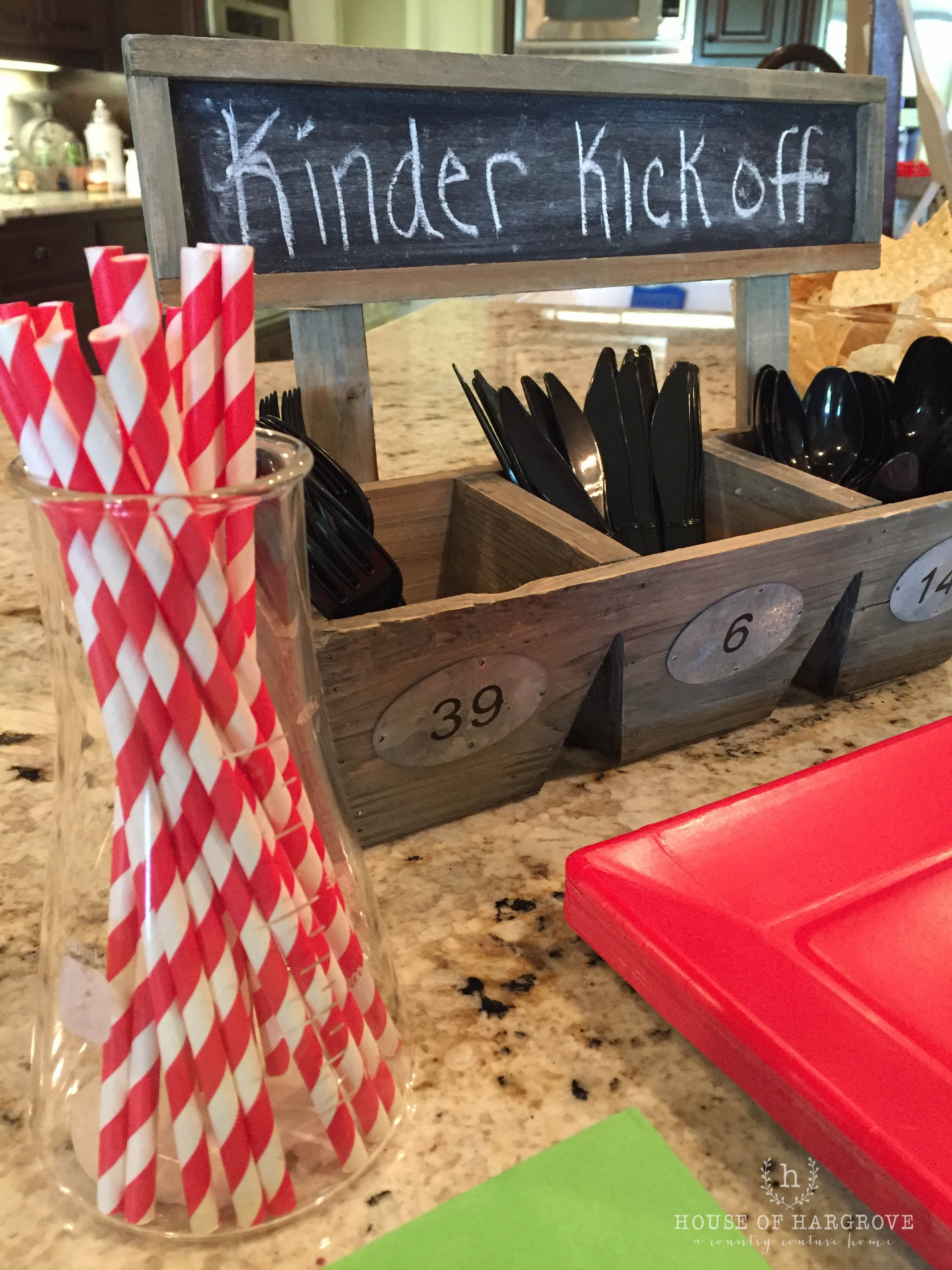 Love using fun school things in a new way….the glass beaker made a great straw holder.  Get one HERE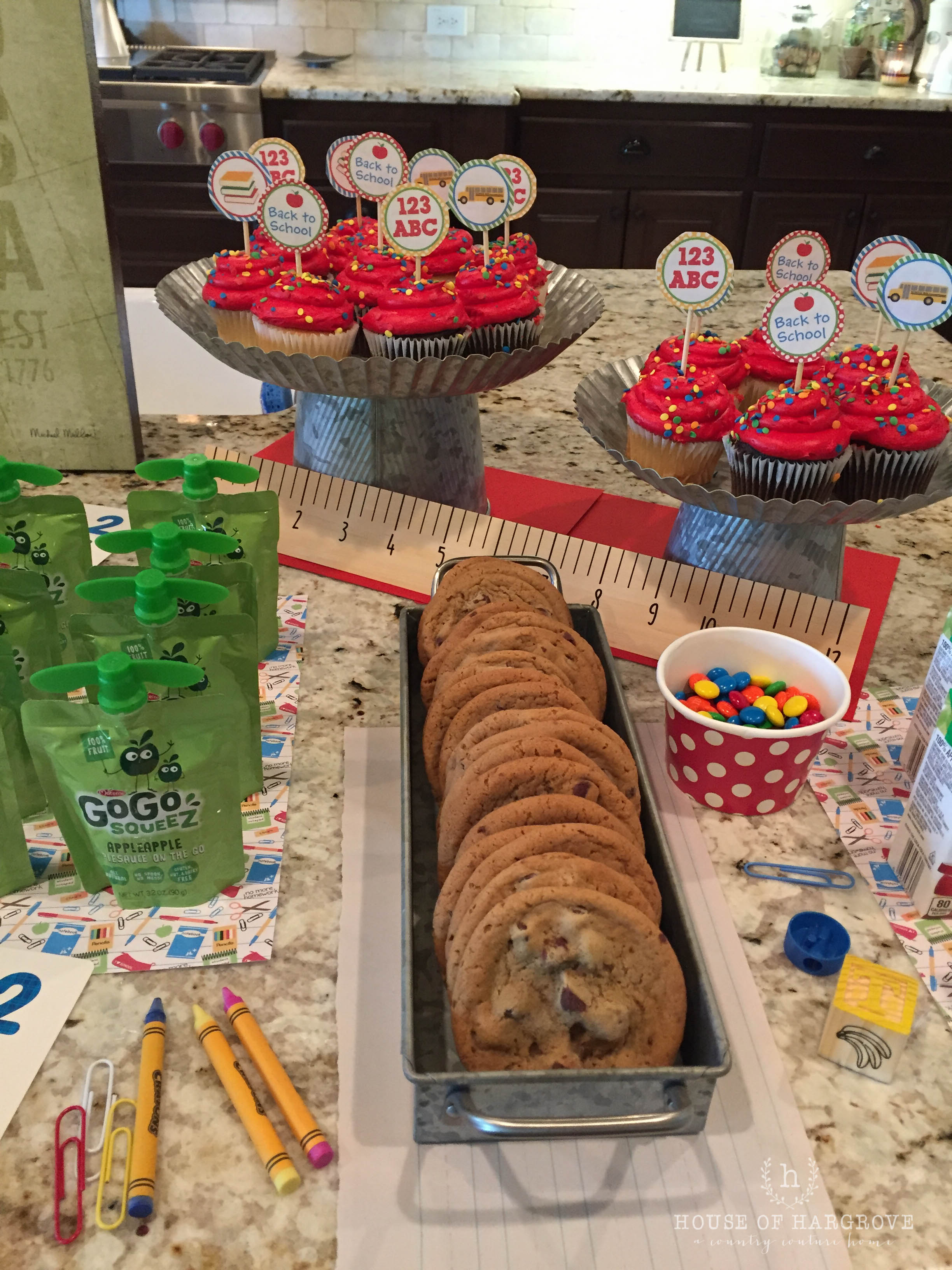 I got these cupcakes made at a local grocery store and these adorable Back to School Cupcake toppers from Lauren Haddox Designs.  You just print them right from your own computer on cardstock and glue /tape them to toothpicks.
Cute Metal Cake stands are from HERE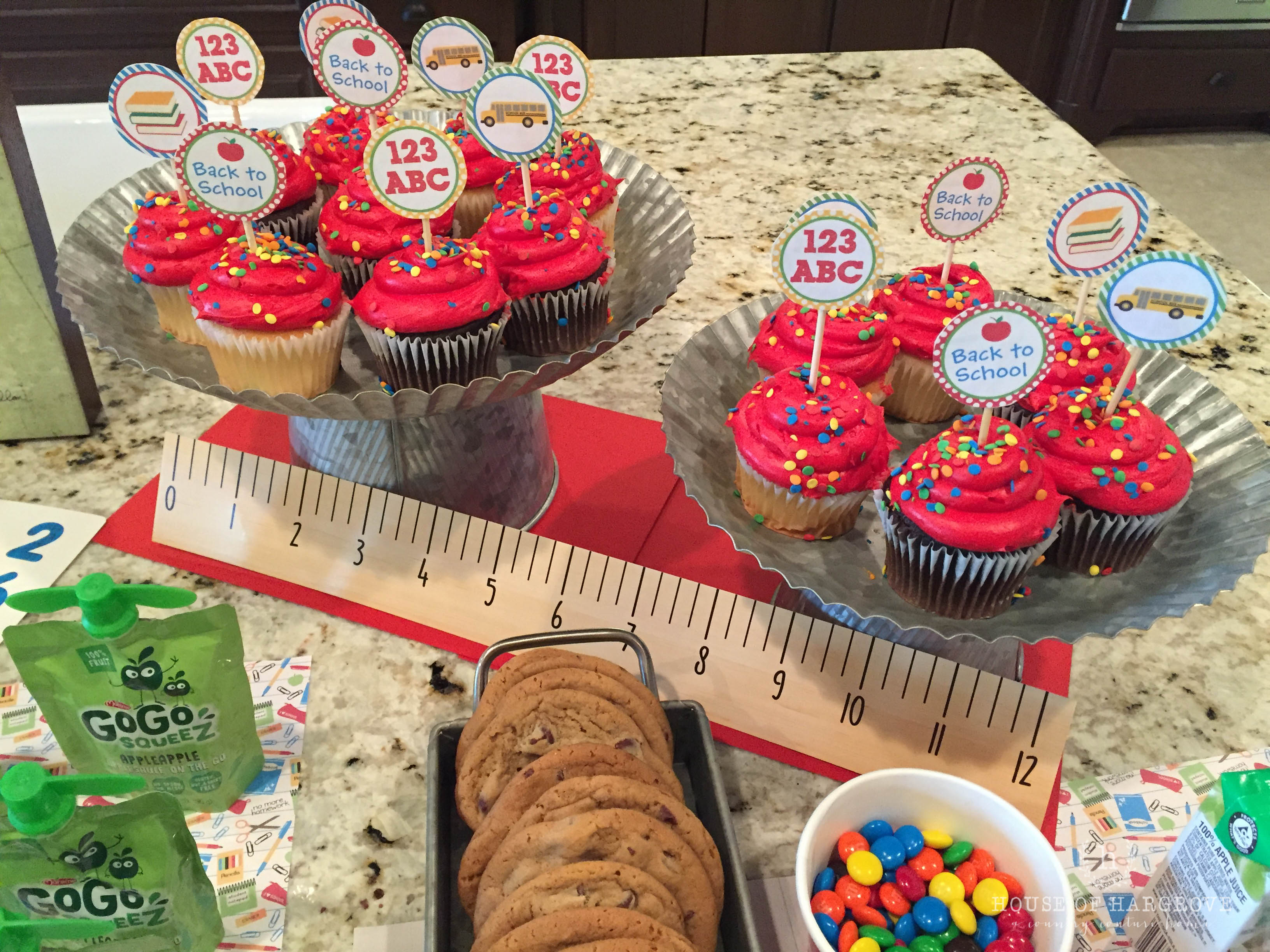 Kindergarten Kickoff Party Agenda:
Kids arrived and grabbed some food and then just hung out, ate and talked.
1st activity: Kindergarten Questionnaire
There are a lot of different examples online, but I compiled my favorite questions and made my own.  You can get my FREE printable HERE. I love having kids fill these out because their answers are usually so funny and they are the best to have when they get older for memories.   Avery said she wants to be an artist when she grows up….last week it was a dolphin trainer?!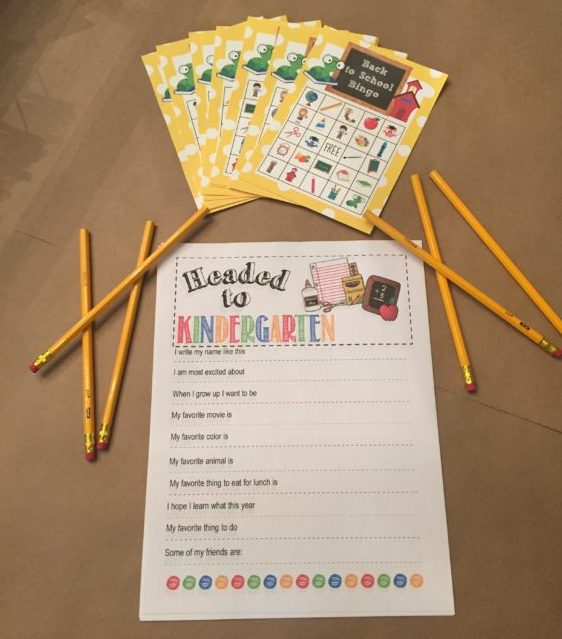 2nd activity: Back to School Bingo
  I found these adorable bingo cards at Crazy Little Projects and could't wait to play this.  She offers free printables with the cards and and drawing cards. We used M&M's as markers and the first round there was a 3 way tie so we just did it again and had 1 winner.  My prizes were also from the Target Dollar Spot and were stuff like Map of the US puzzle, etc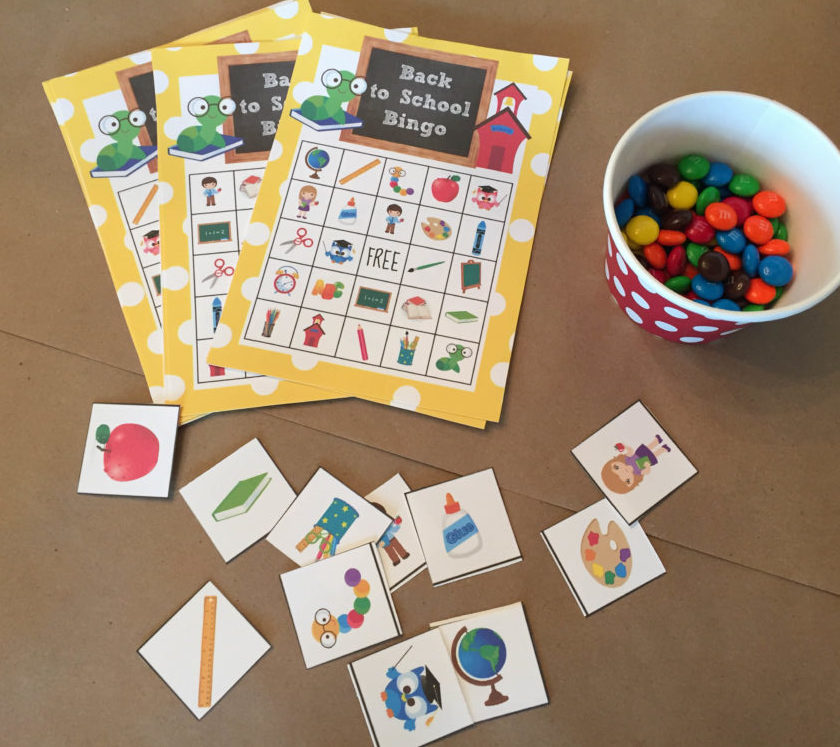 3rd activity: Fruit Loop Minute to Win It game
  So much fun! We passed out plates with a pipe cleaner and fruit loops.  The kids had 1 minute to put as many on the pipe cleaner as they could!  Then at the end they could wear them as bracelets. Here is our winner…she did amazing and got 16!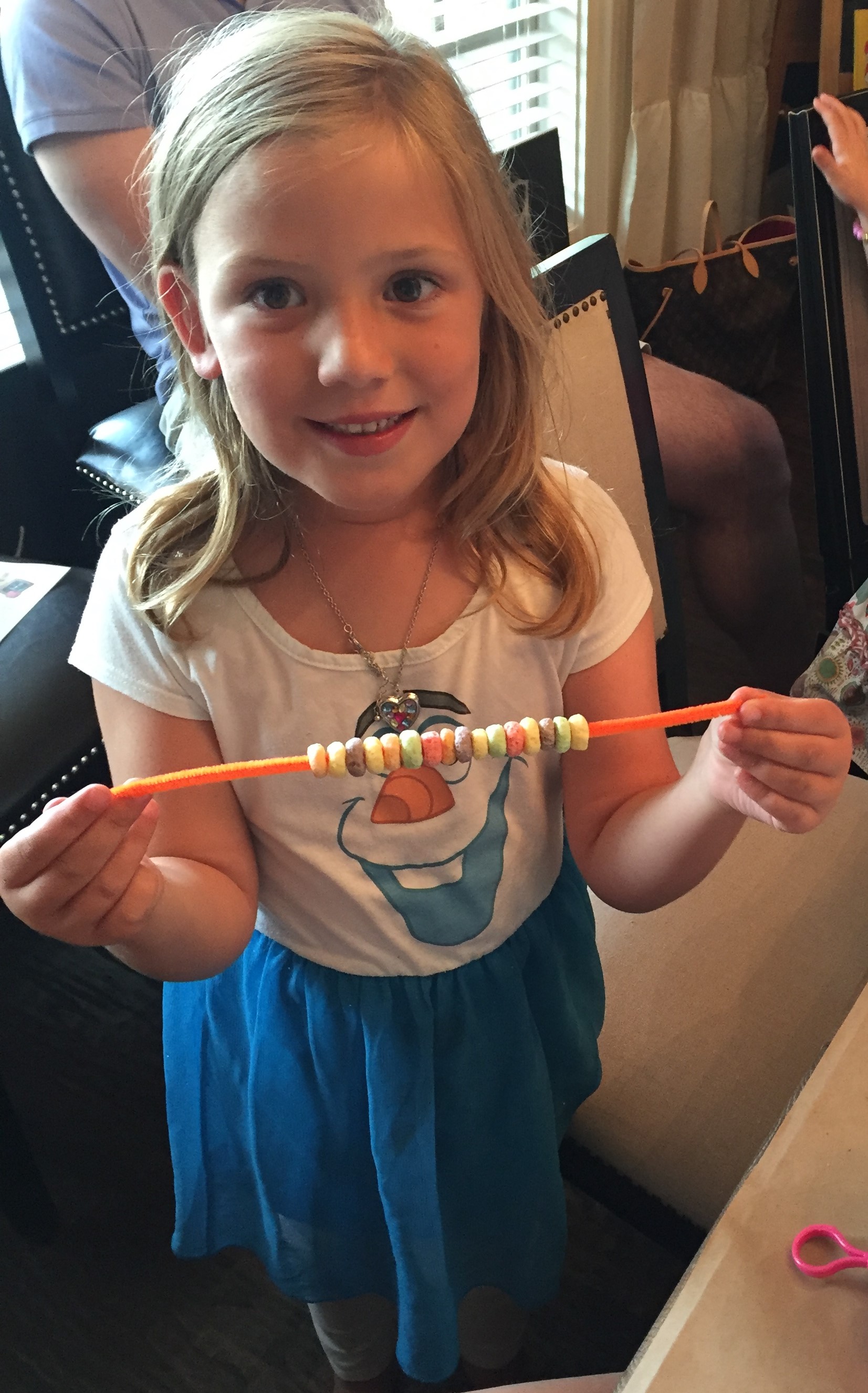 Next activity: Stacking Donuts Minute to Win It game
 I wasn't sure how many donuts the kids were going to be able to stack so I bought 3 bags of chocolate covered donuts (Ms Bairds) then I froze them (I highly recommend this…reduces the mess because they are hard).  We did 2 heats which was great because the kids could watch their friends.  Again they had 60 seconds to stack as many donuts as possible and when the timer went off that was the amount they got so they had to strategize when to stop stacking vs them falling over.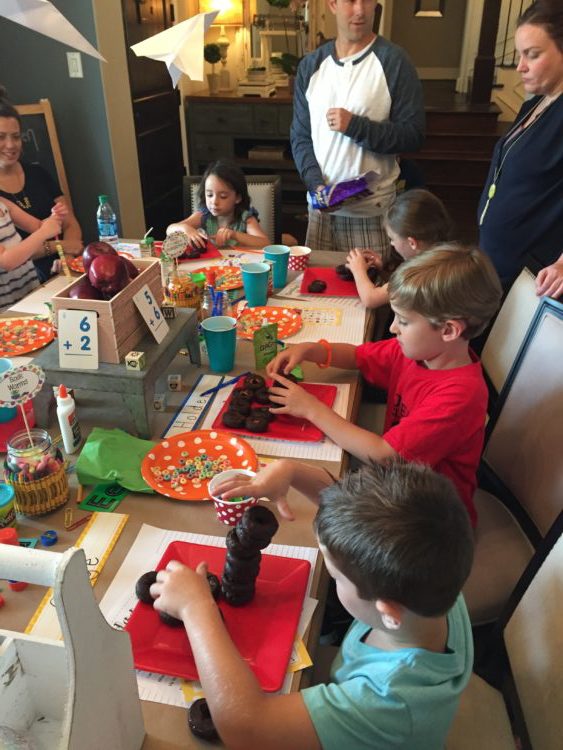 It was so much fun the parents got in on the action! My friends have serious talent!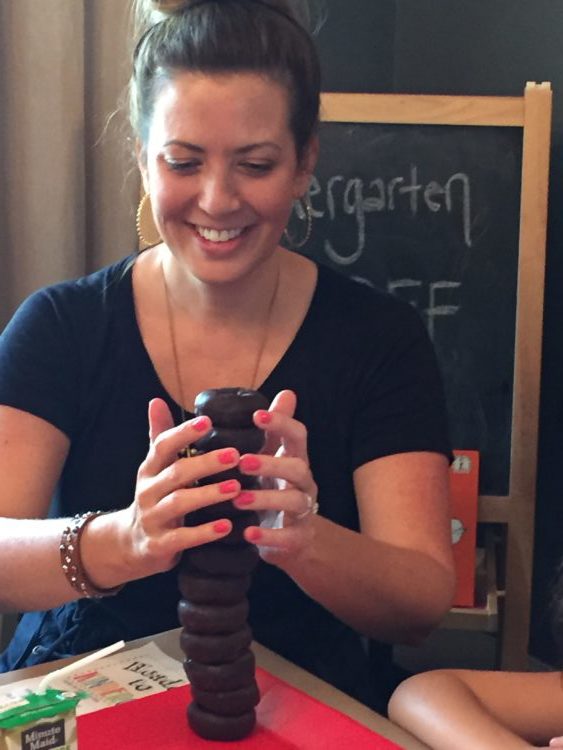 Our big winner!  haha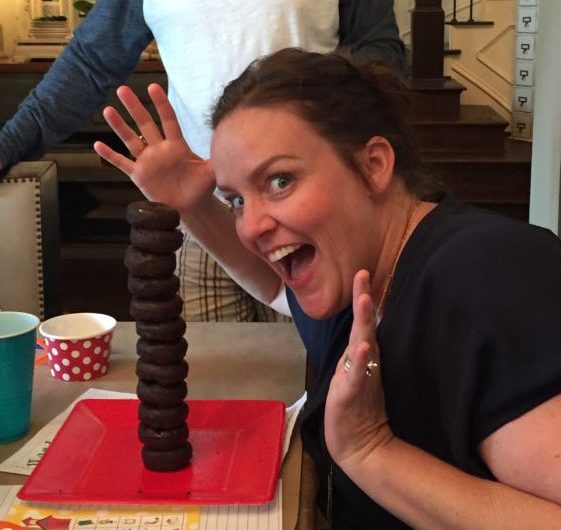 Final activity: Decorating school supplies
 Every kid got a folder, notebook and pencil bag to decorate.  I bough a bunch of cute stickers at Hobby Lobby and let them have fun.  They got to keep these as party favors.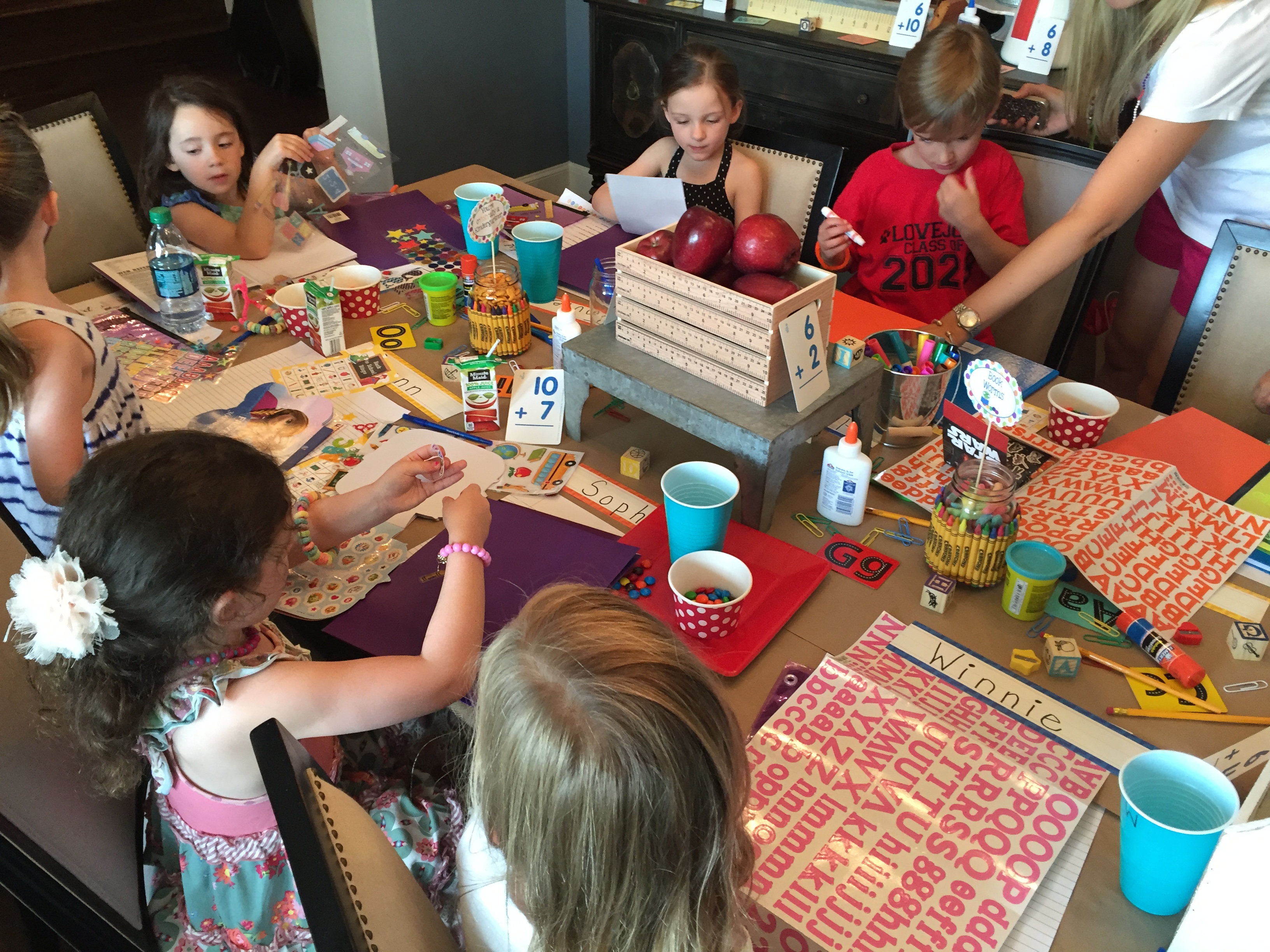 **See more cute back to school party ideas on my Pinterest Board**
Then we finished the party with pictures and playing.  I got this photo idea from Momfessionals Kindergarten party…I just loved the way her pictures turned out.  I bought some black foam board, a white paint pen and wrote out Class of 2029.  Look at those cuties!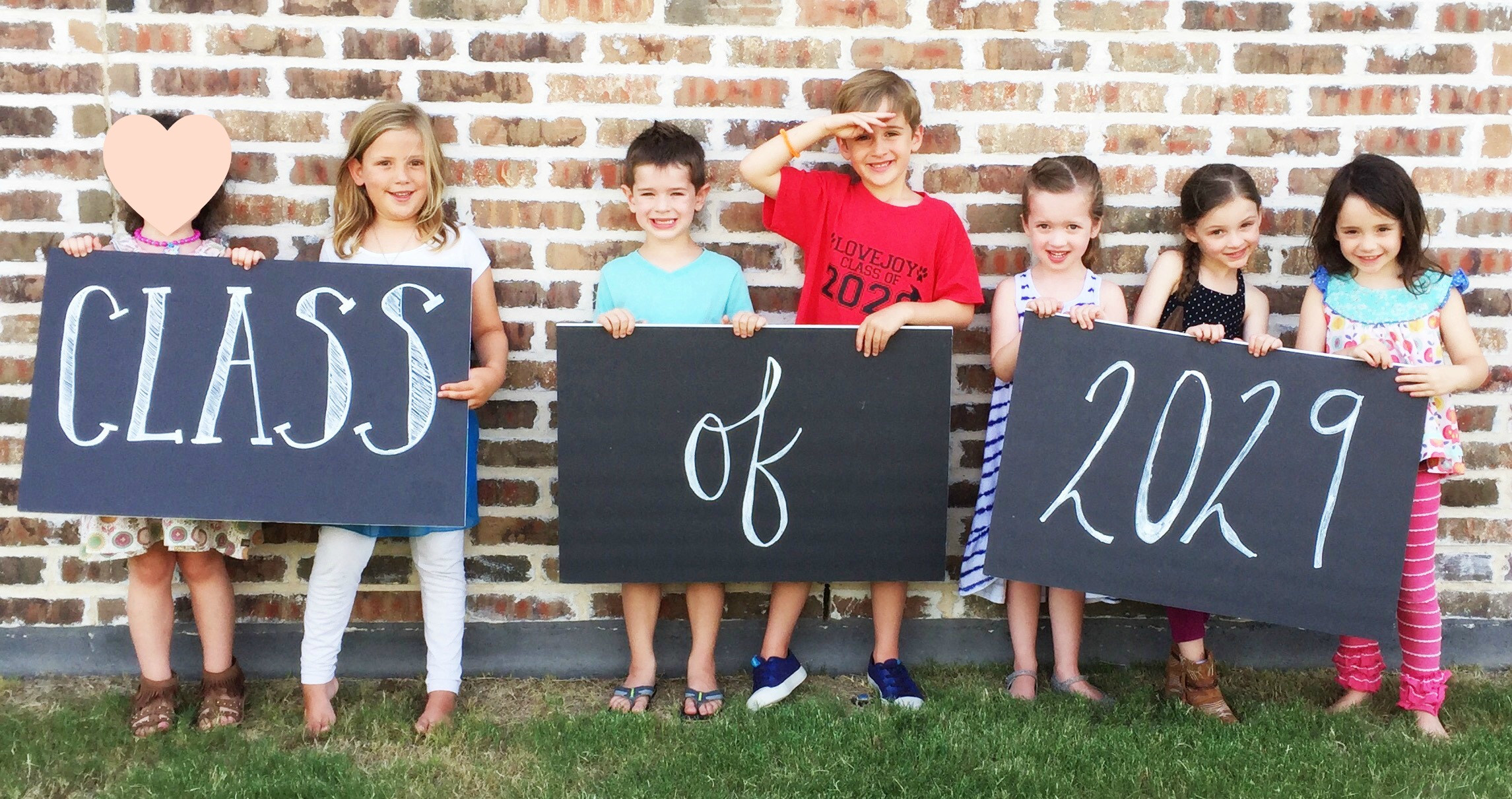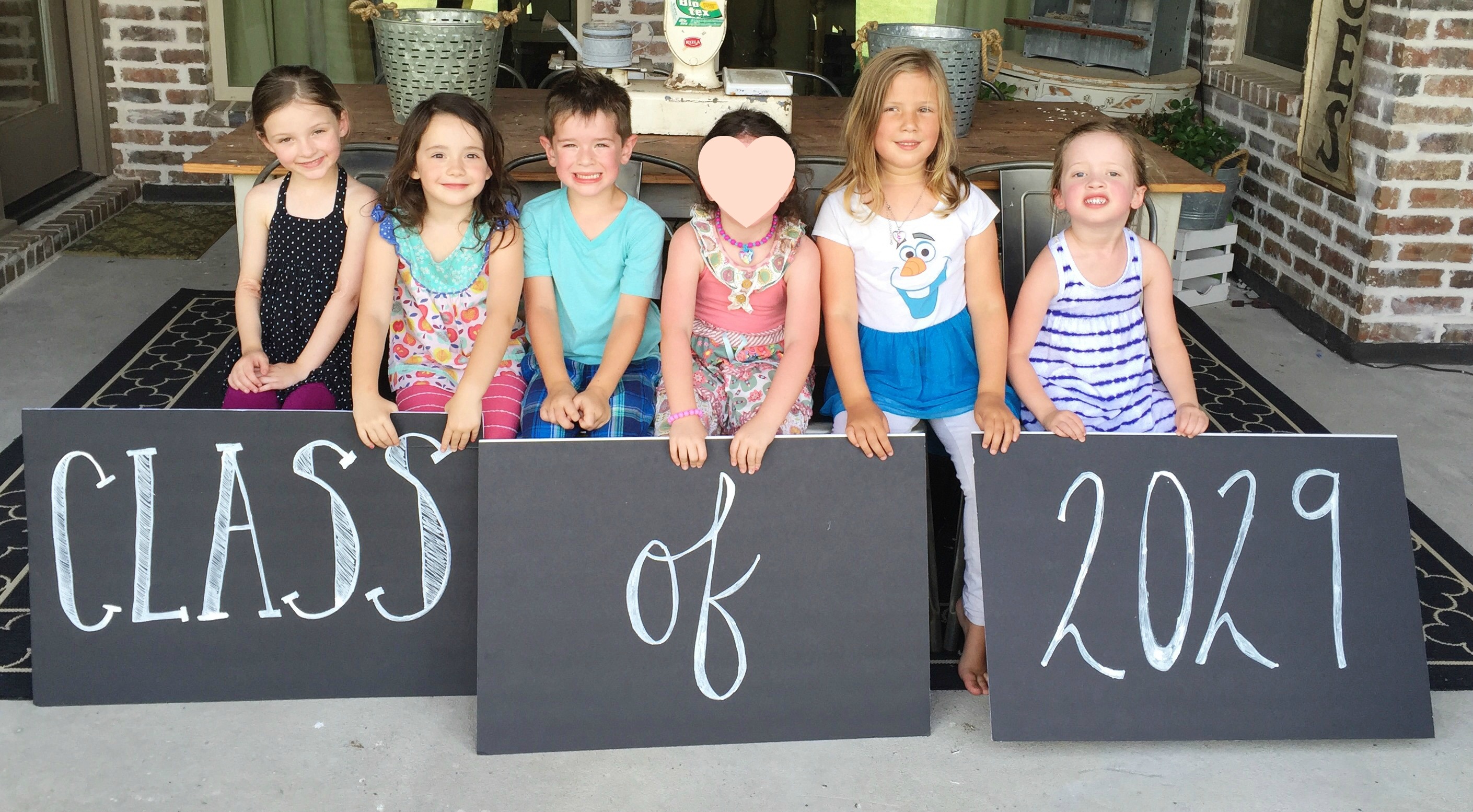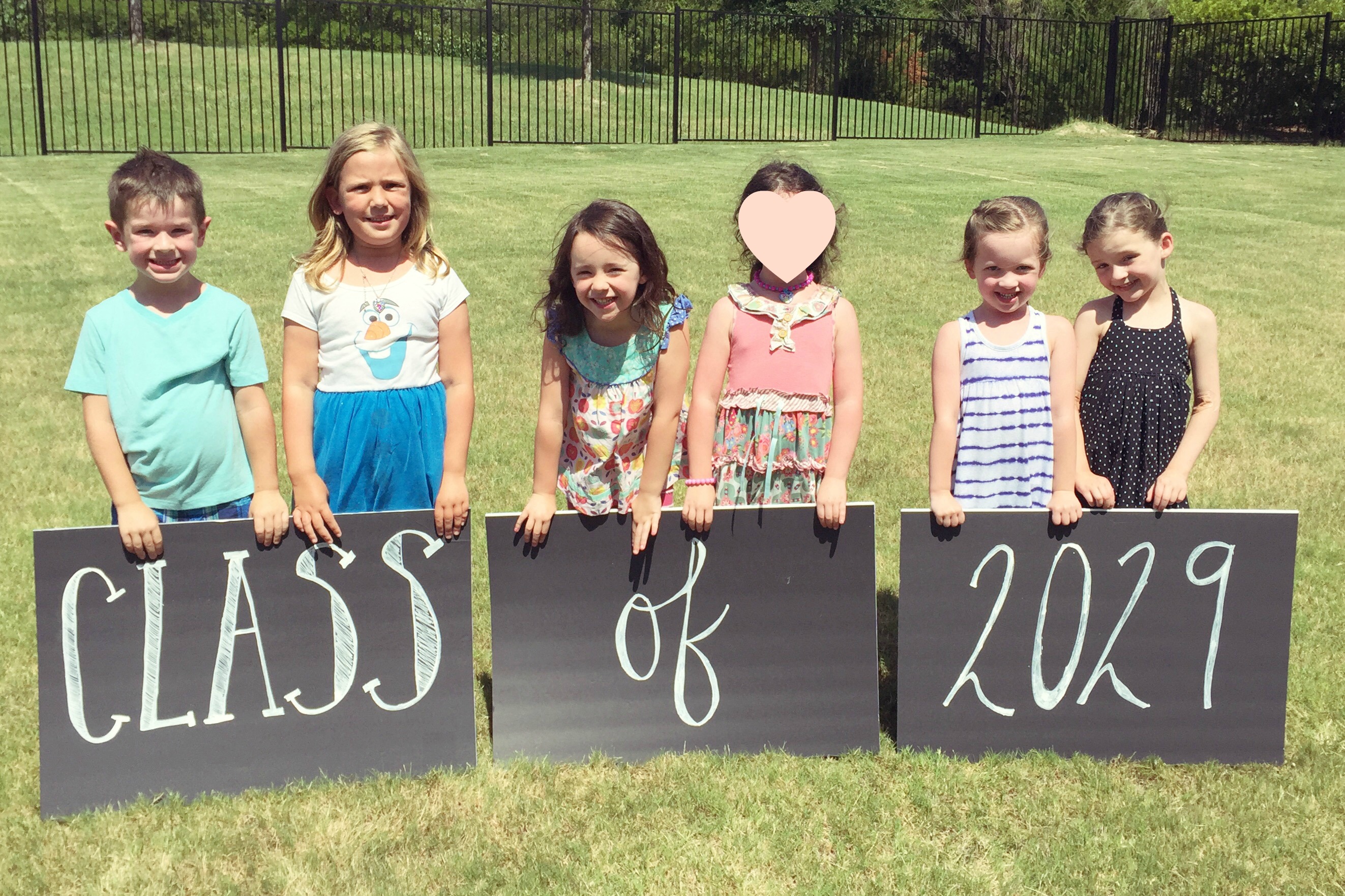 This party was soooo much fun and really easy to put together.  I cannot wait to see what these kiddos do over the next 12 years.  Would be amazing if we get to repeat this picture then….I am putting these boards up in storage just in case.
Be sure to pin this picture to help you as you plan your party!  This can also be tweaked for Back to School party…doesn't have to be Kindergarten
** This post contained some affiliate links.  If you purchase I may receive a small commission.  Thank you**