Like most of you I am in love with all things Fixer Upper, Magnolia and Joanna Gaines (Chip too).  Her style and ideas are just farmhouse perfection.  I cannot tell you how excited I was when I received this package in the mail with some of Joanna's favorite things and some samples of the new Magnolia Home Paint Line.  I couldn't wait to give it a try and I had the perfect piece of furniture that needed a makeover.  Read below for my full review!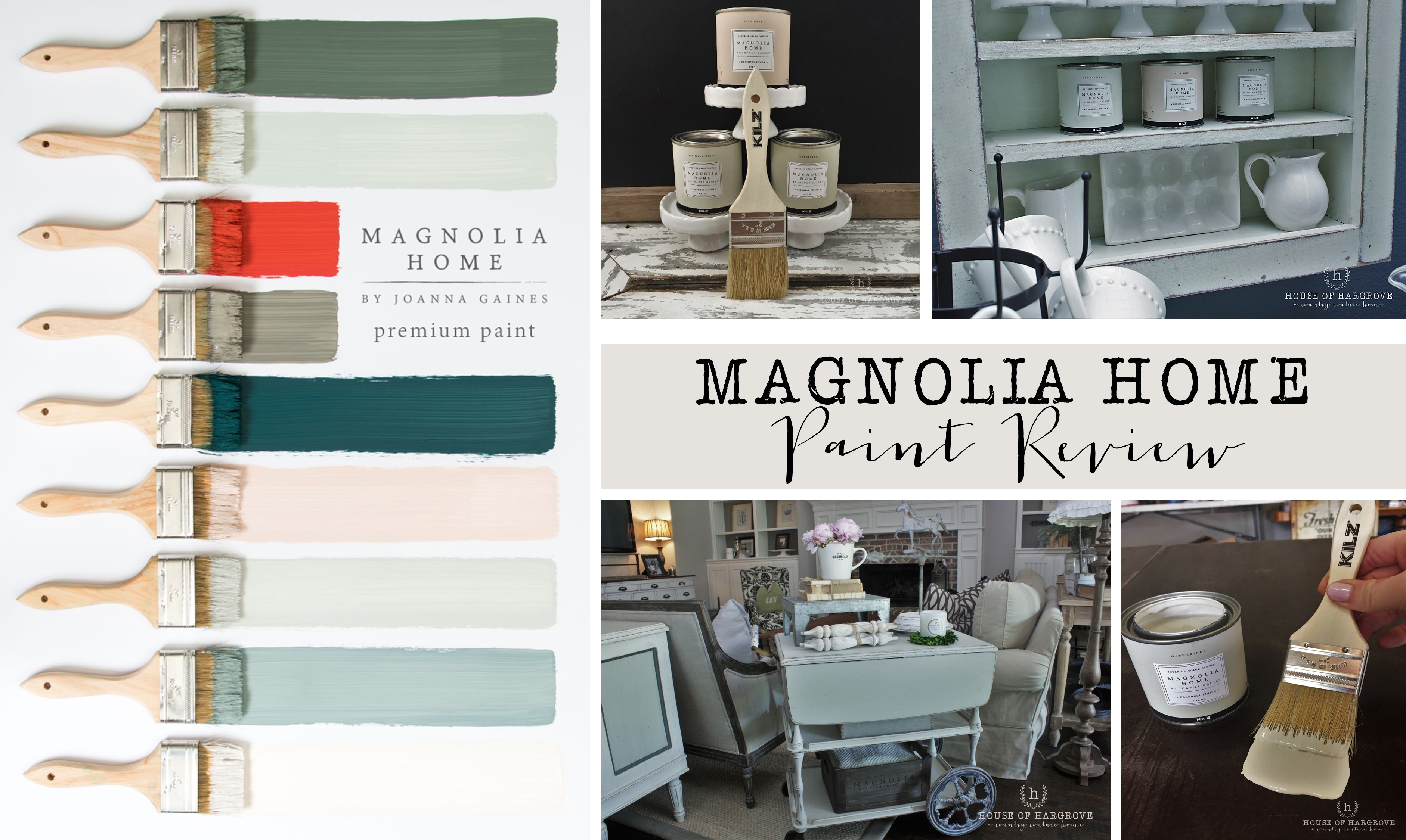 Here was my #happymail  A beautiful Magnolia Crate, Voluspa Gardenia Candle, amazing chocolate, a cozy Magnolia Home blanket and 3 samples of Magnolia Home Paint in Ella Rose, Gatherings and One Horn White.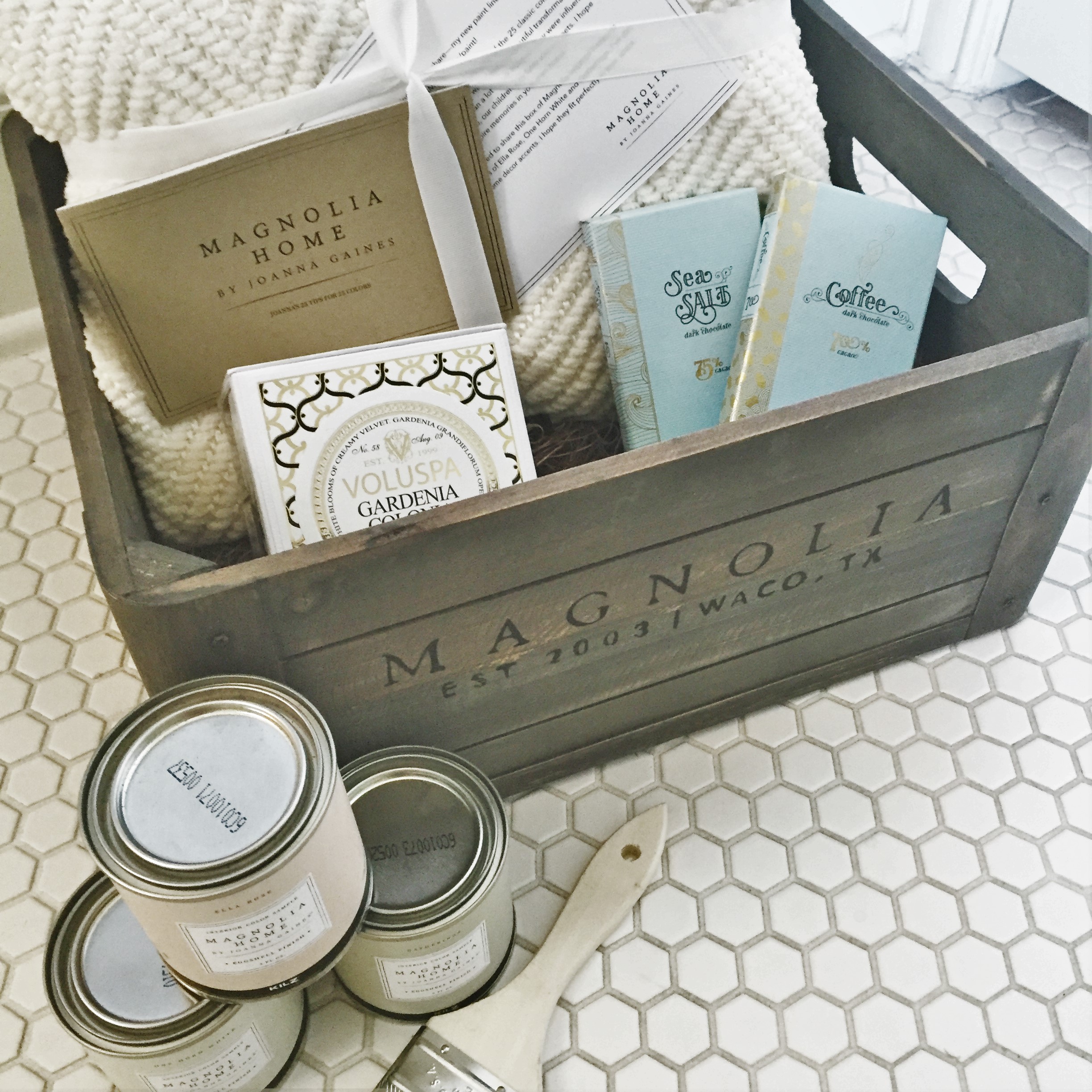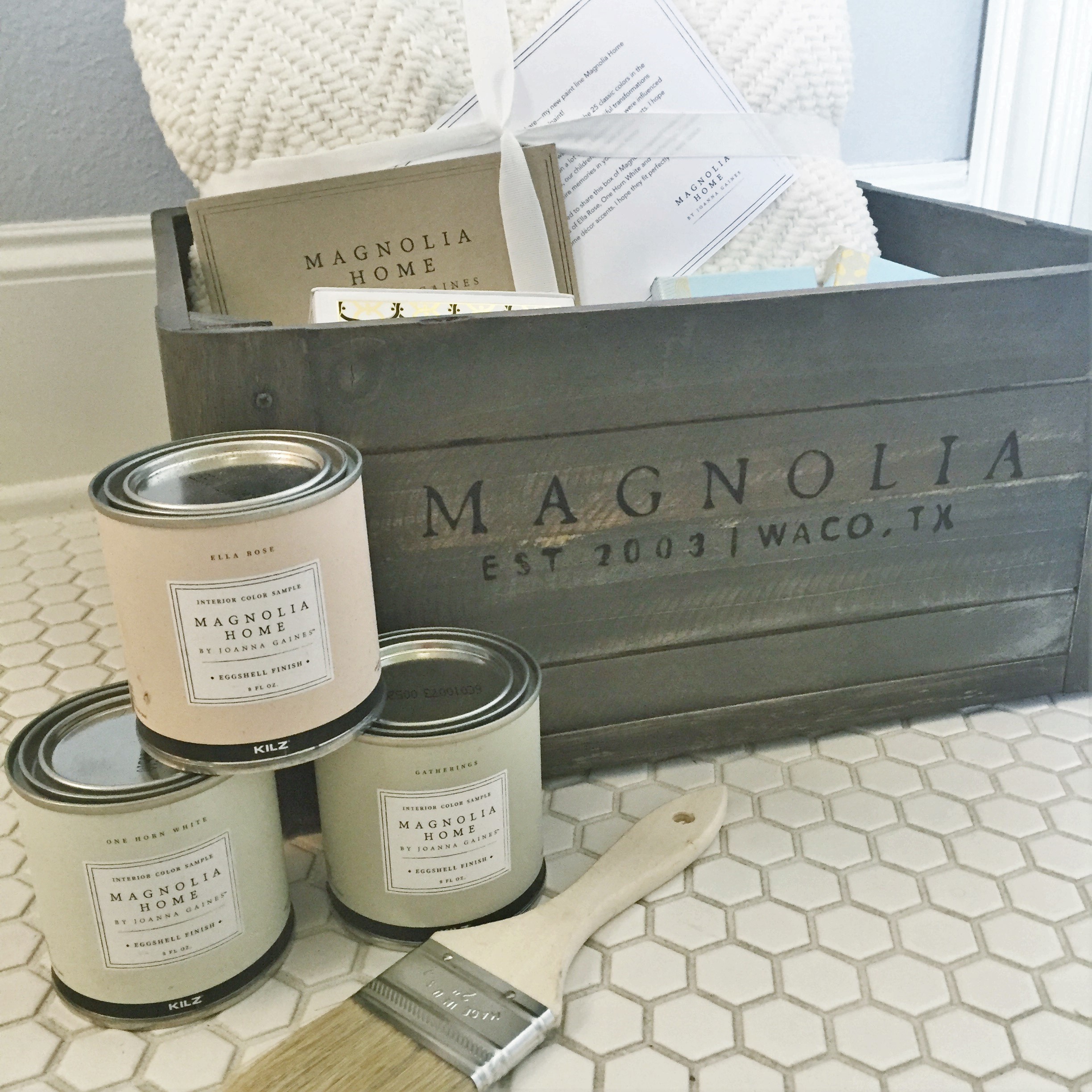 The number 1 question I get asked is "what are your paint colors?" so I can only imagine how many times Joanna gets asked this.  There are entire websites, Pinterest Boards, etc dedicated to figuring out her paint colors from episodes of Fixer Upper.  Lucky for us now we can all get her look through her new paint line.  She teamed up with KILZ and created a line with her favorite go-to colors.  Like everything Joanna does she pays so much attention to detail.  I mean look how cute the packaging is on her new paint.  I have bought a lot of paint in my day and never have I seen any this pretty.  You can purchase it from Magnolia Market or at the Silos in Waco if you are local.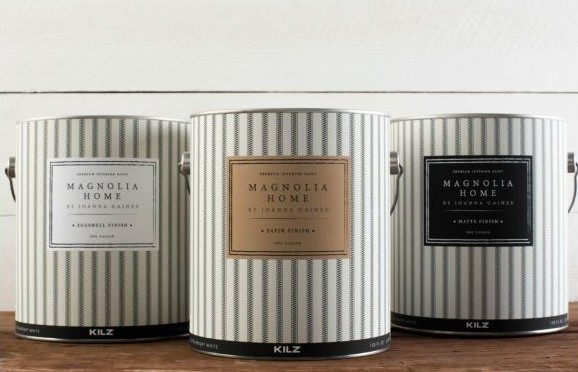 Photo via Magnolia Market
I had so much fun playing around with the cans!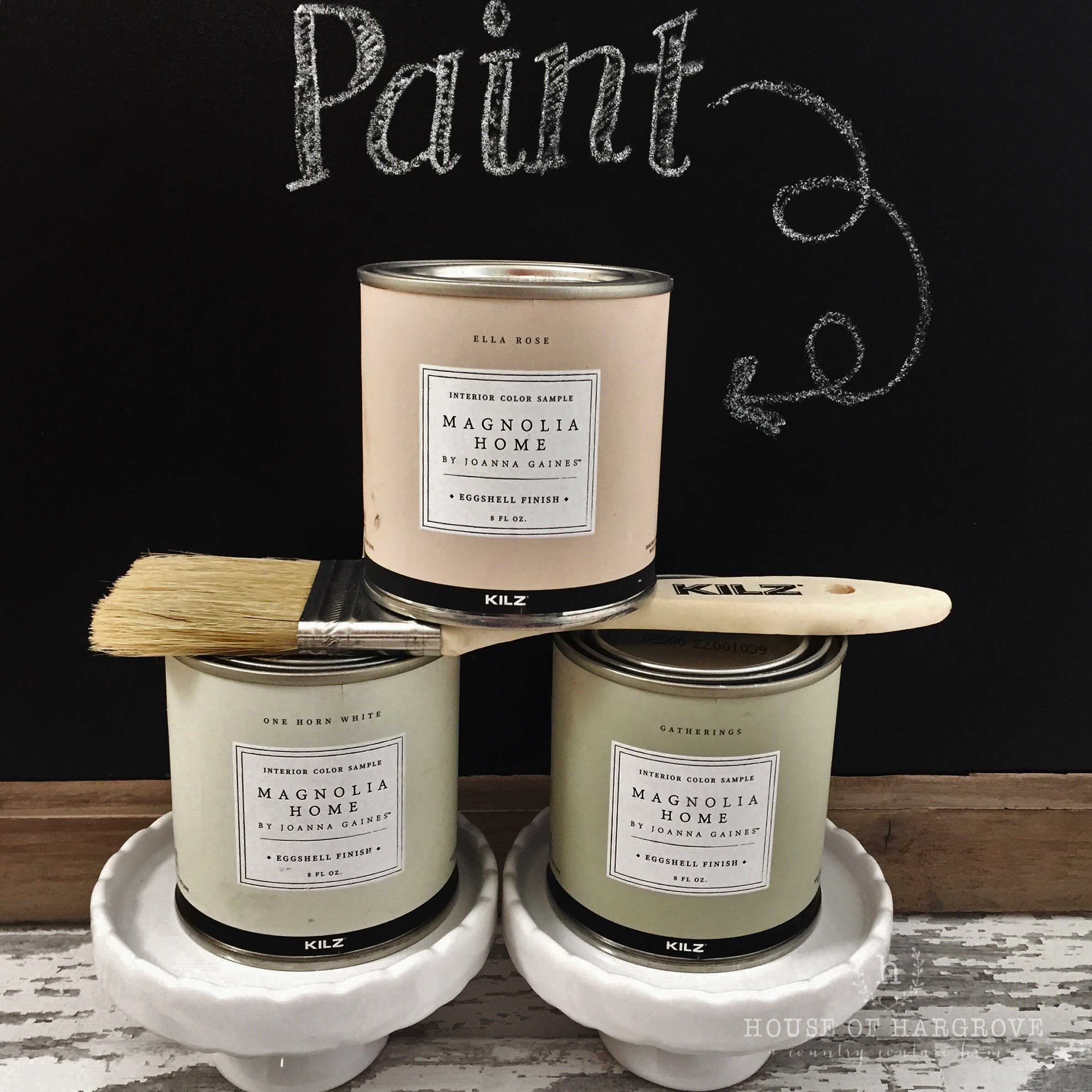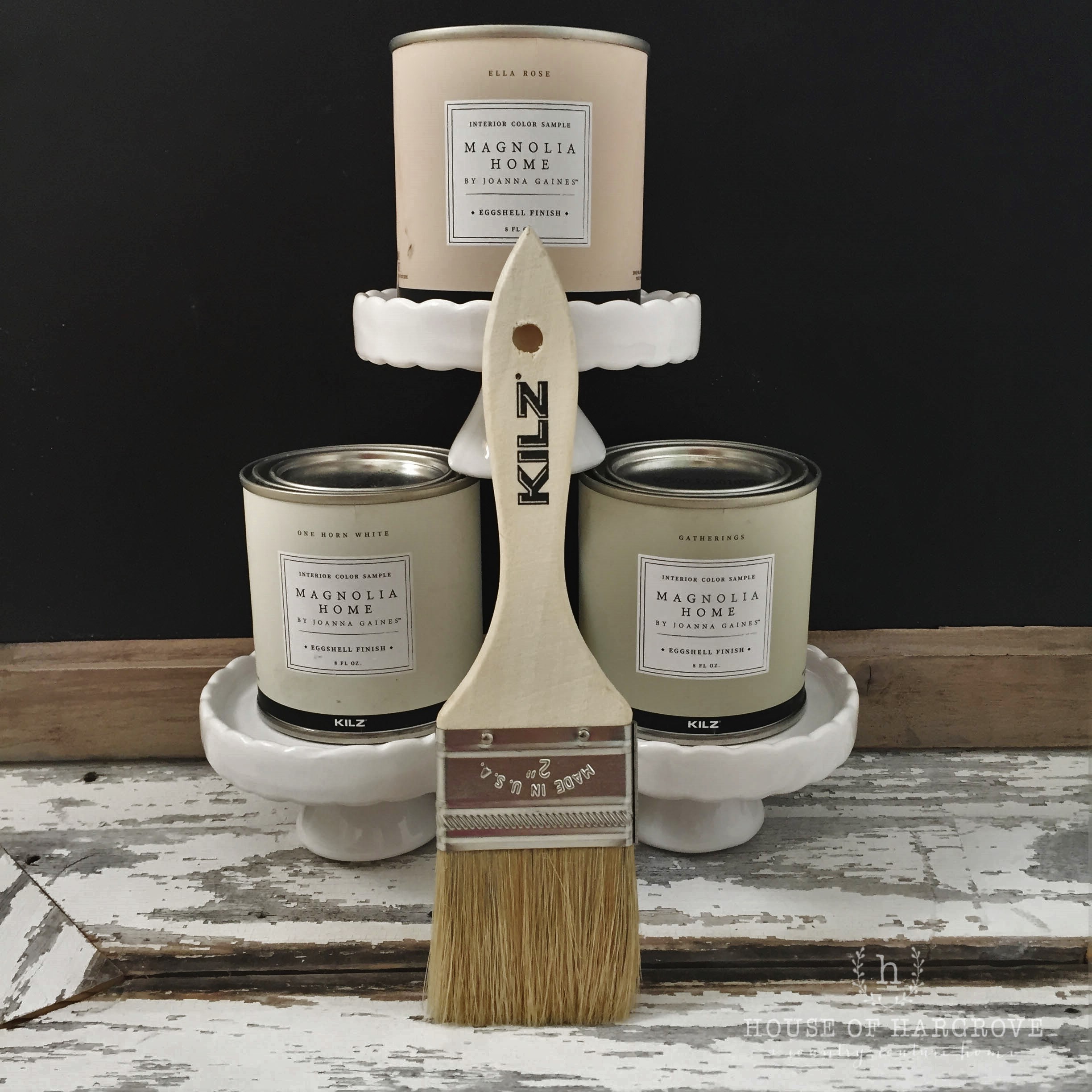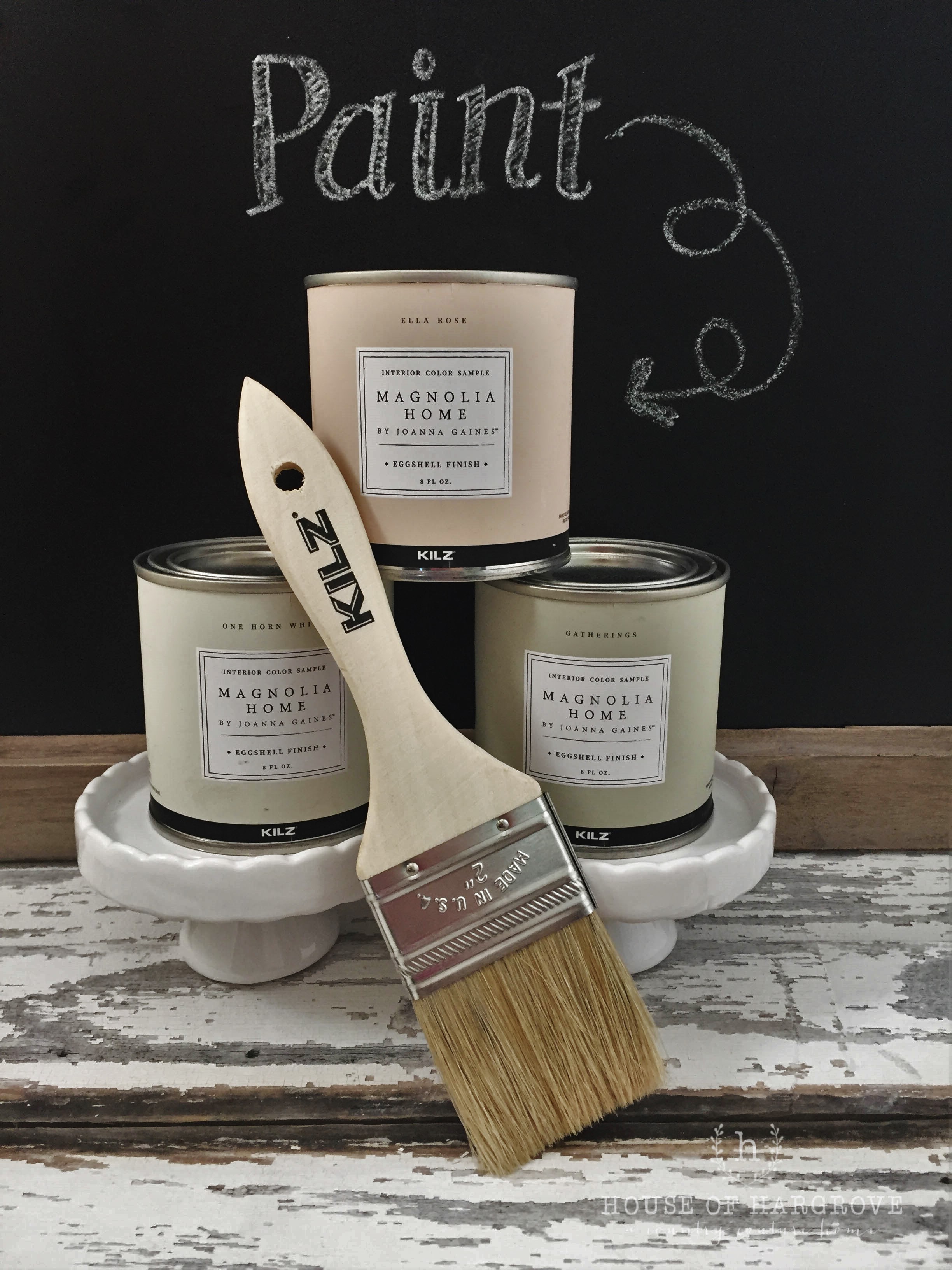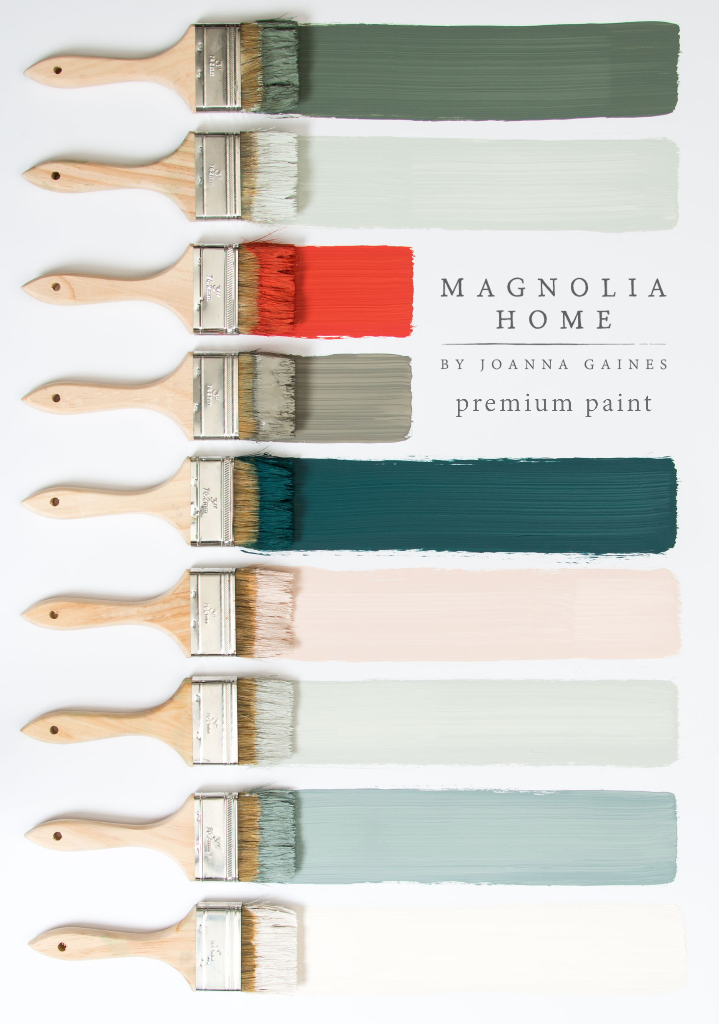 Photo via Magnolia Market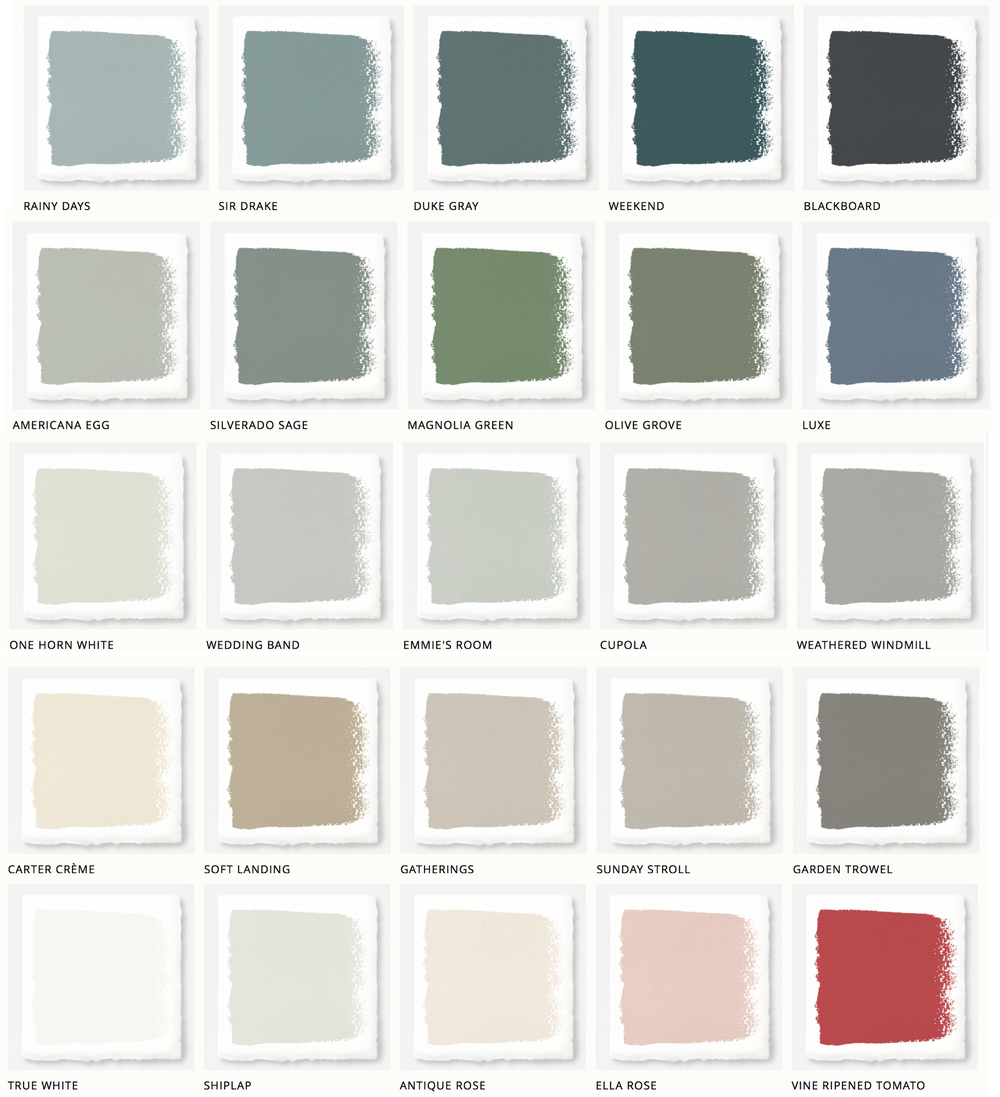 Photo via Magnolia Market
Magnolia Home Paint- my favorite things
I LOVE that there are only 25 colors.  Joanna really worked hard to make the assortment easy for us to use.  She picked her absolute favorites so now we can have a piece of her design in our own homes and dont have to stress for hours picking out the perfect shade of pink….there are 2.  I am a designer and get overwhelmed standing in front of a wall of thousands of colors so this limited color palate is incredible.
I also LOVE that every paint color has a meaning.  I mean, how special is that.  I think one of the reasons people really resonate with the Gaines is they are so real!  They seem so down to earth, approachable and committed to family and faith.
I had an antique tea cart that I could not wait to makeover with a bit of Joanna!  I chose the "Gatherings" color and here is its meaning:
"There's nothing I love more than gathering around the table, sharing a meal with those who matter most. To me, this color captures the same feeling of family and friendship, and really makes you want to settle in and share good stories."
Here is the tea cart before: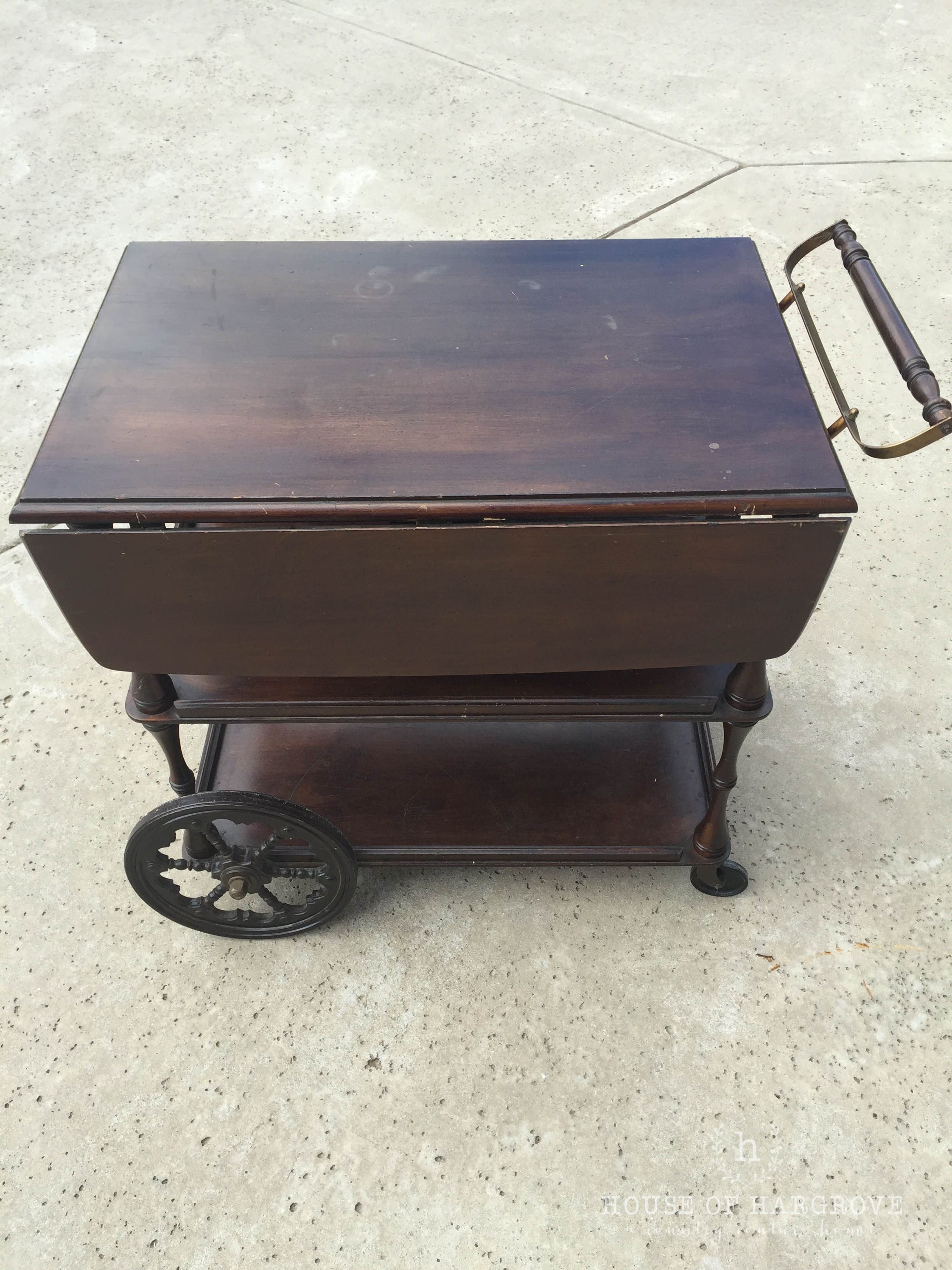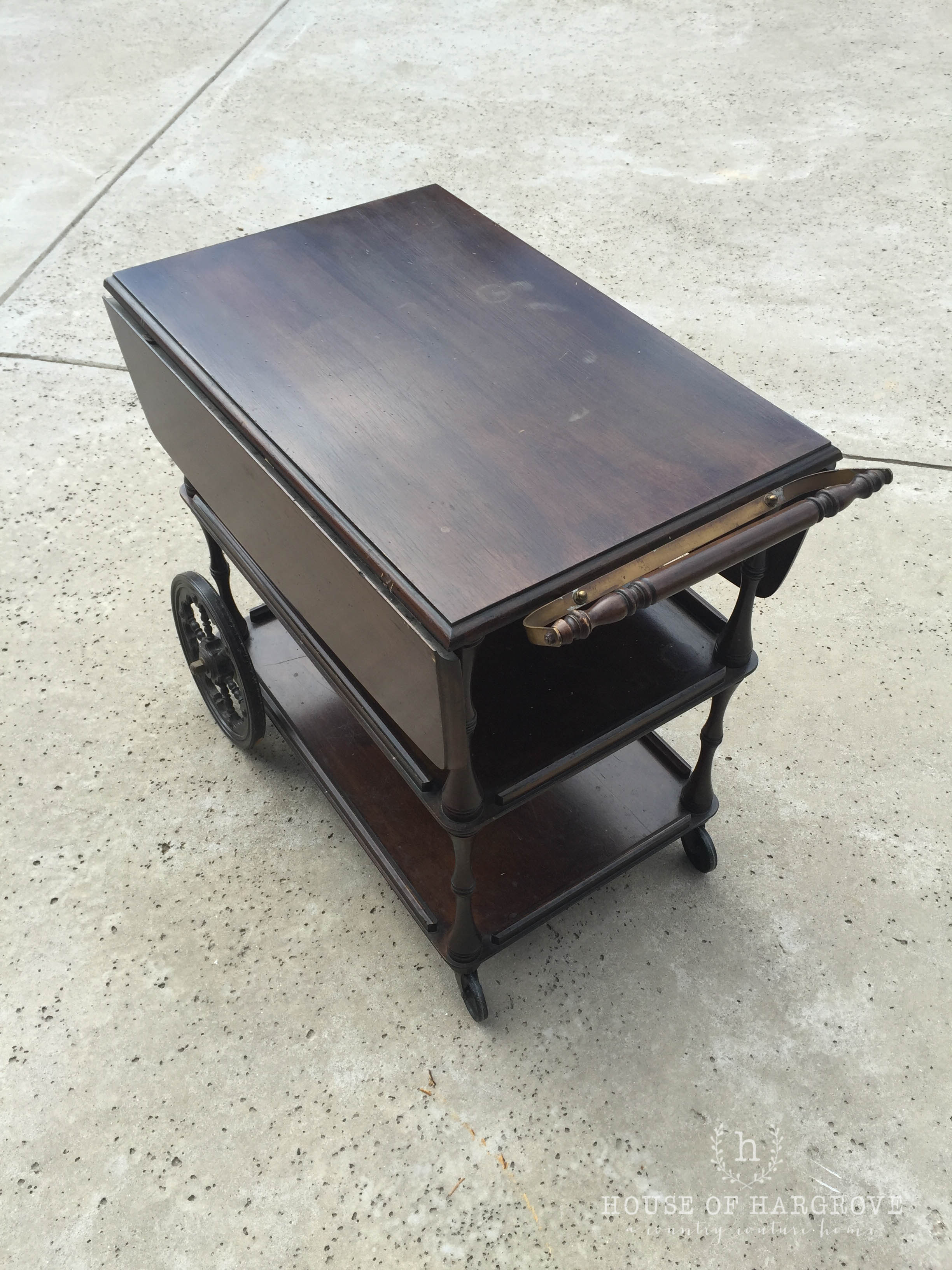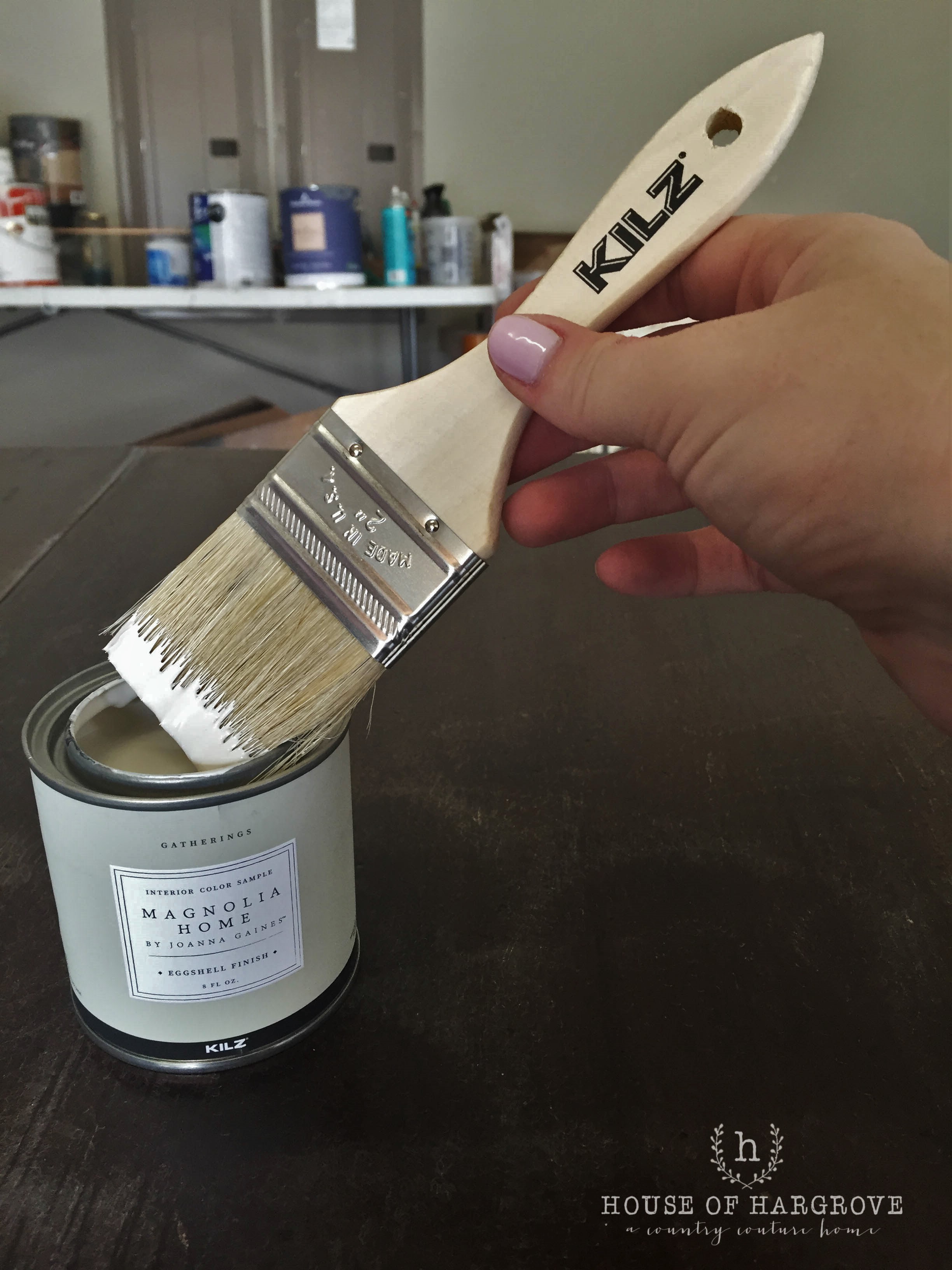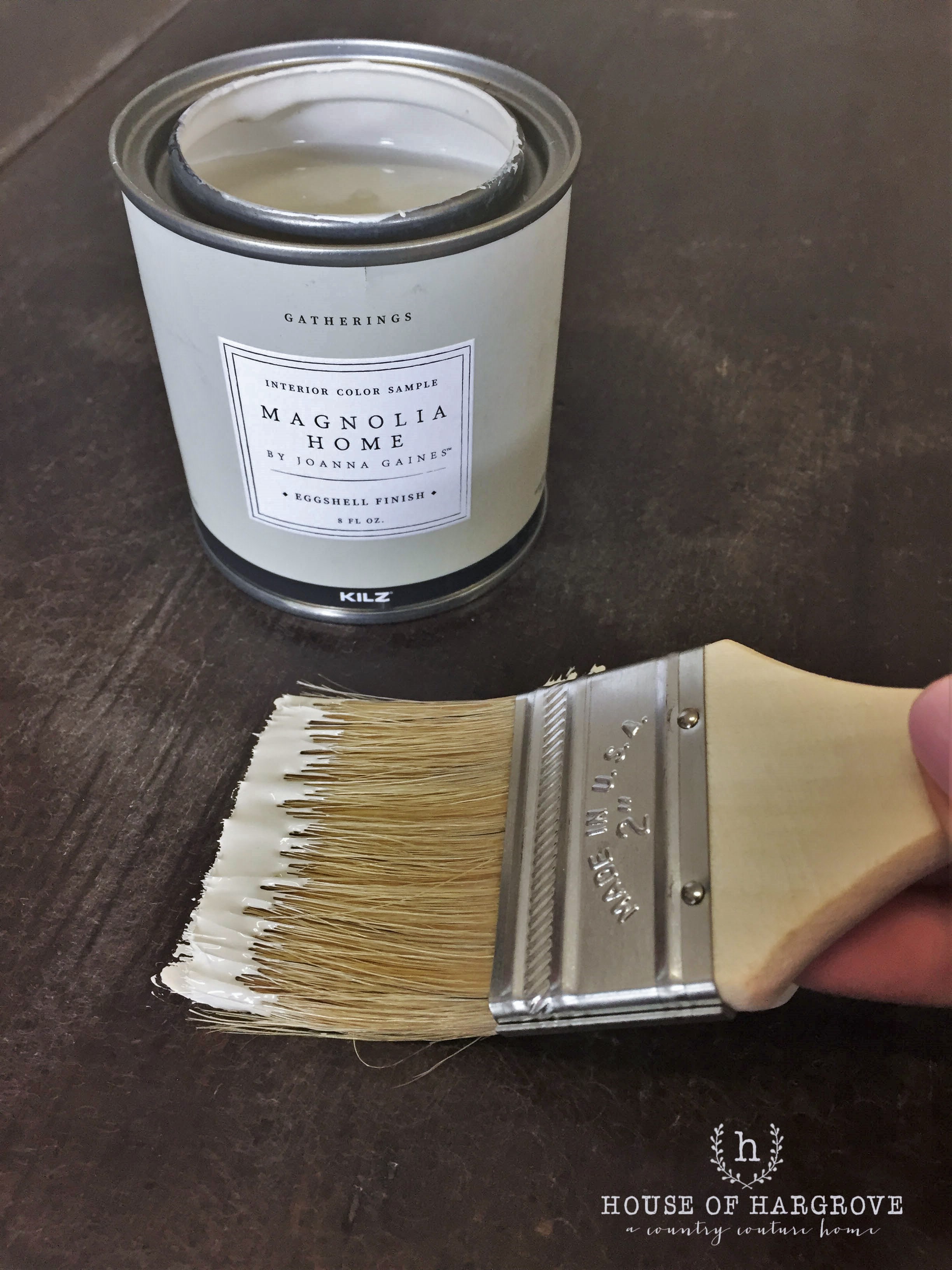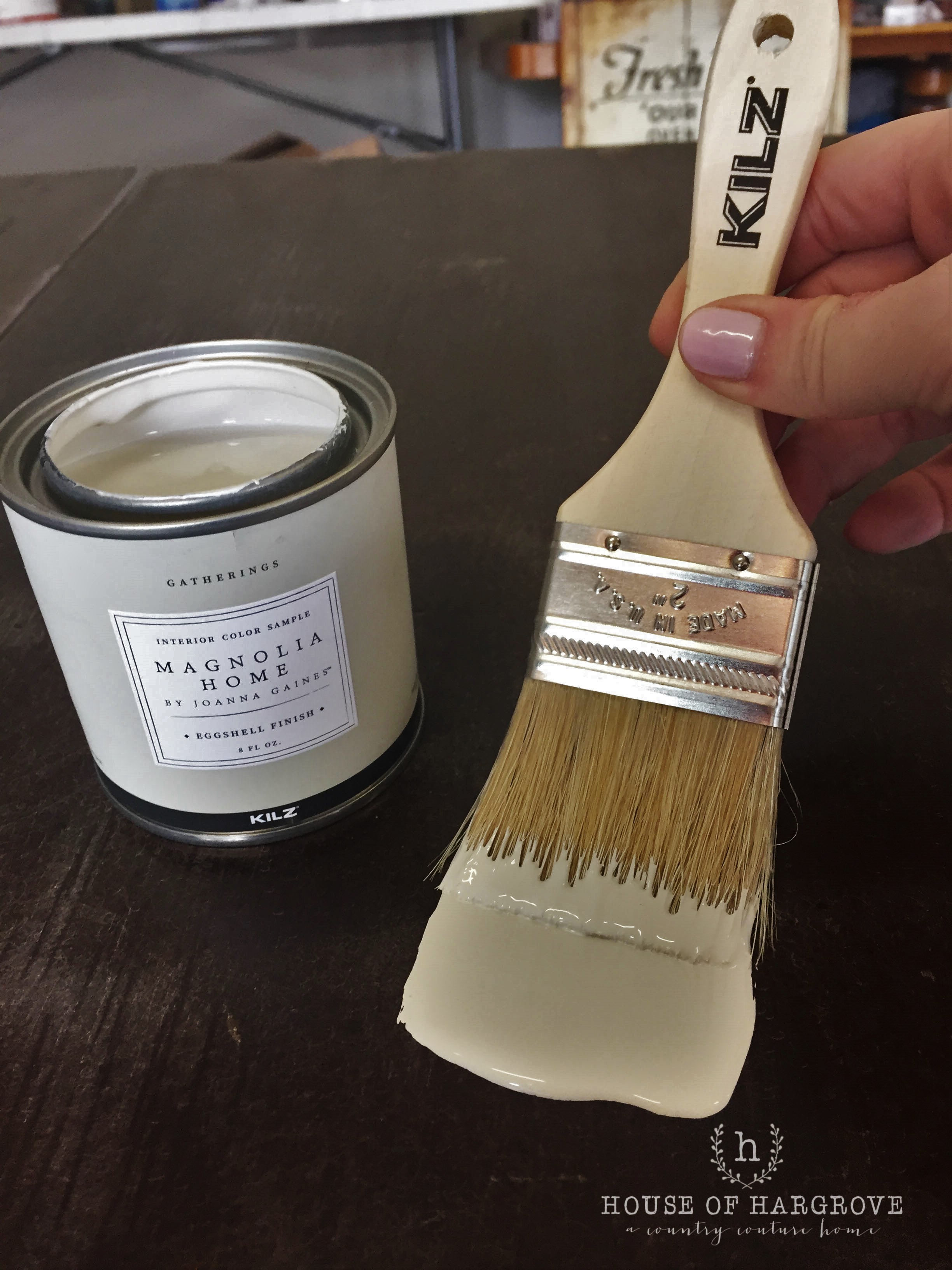 Ah the life of a furniture painter/DIYer….horrible manicures 🙂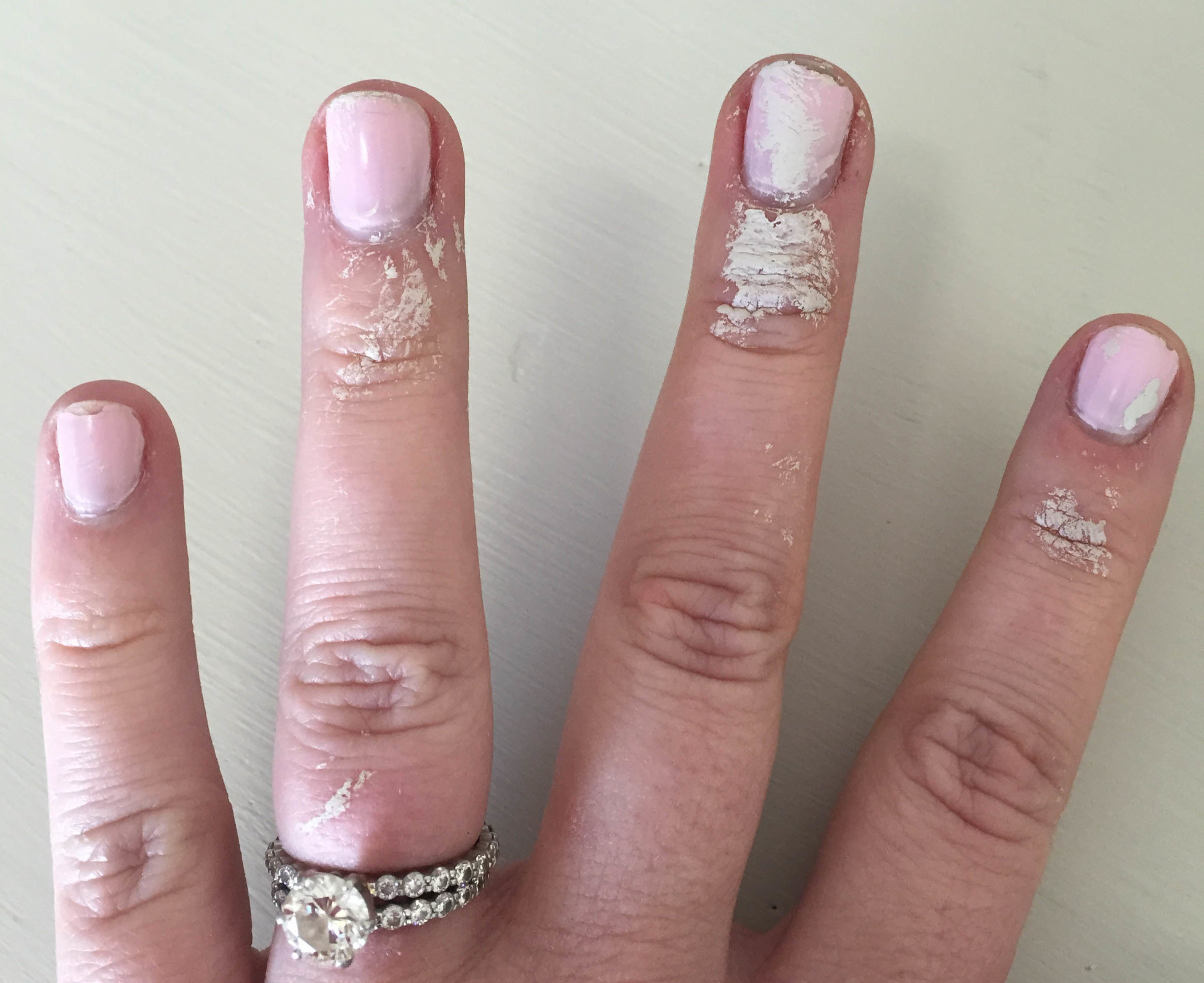 Here is the tea cart all painted before I distressed it with my favorite electric sander and applied a clear glaze.  This color is so pretty.  It is a linen color and would look beautiful on walls in a home!  The paint was so easy to use, had great coverage, very smooth and had a beautiful eggshell finish.  I will definitely use this paint in the future.  I used only half of an 8oz sample for this entire cart.  That tells you how great the coverage is because with cheaper paint you have to use way more.  This paint is a stain blocking paint and primer which is great for antiques because sometimes old furniture polish, etc will bleed through the paint.  I used the wall paint, not the furniture paint, but is worked great!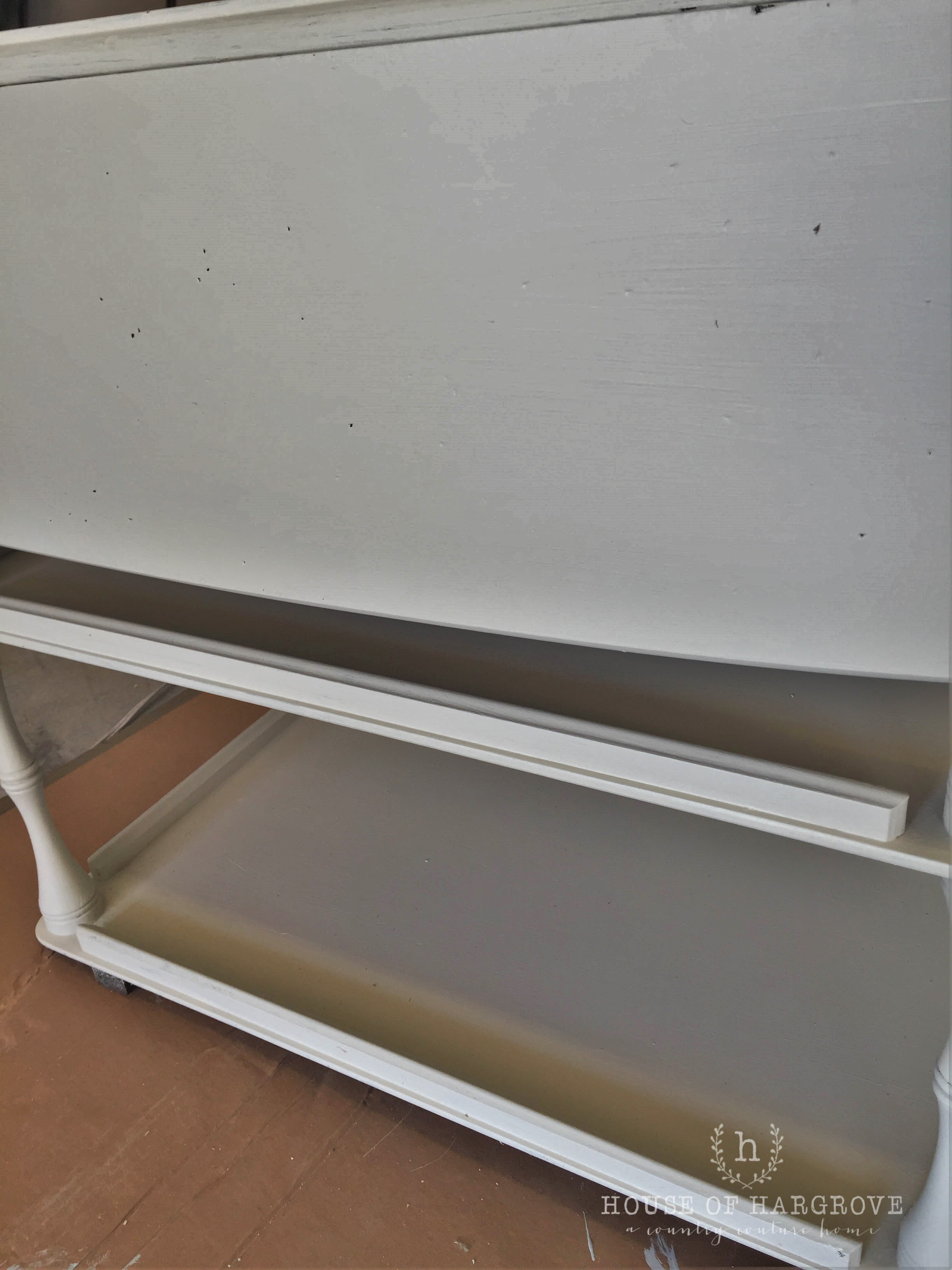 Here she is all finished!  I just love this color.  It is the perfect light neutral.  It coordinates with everything .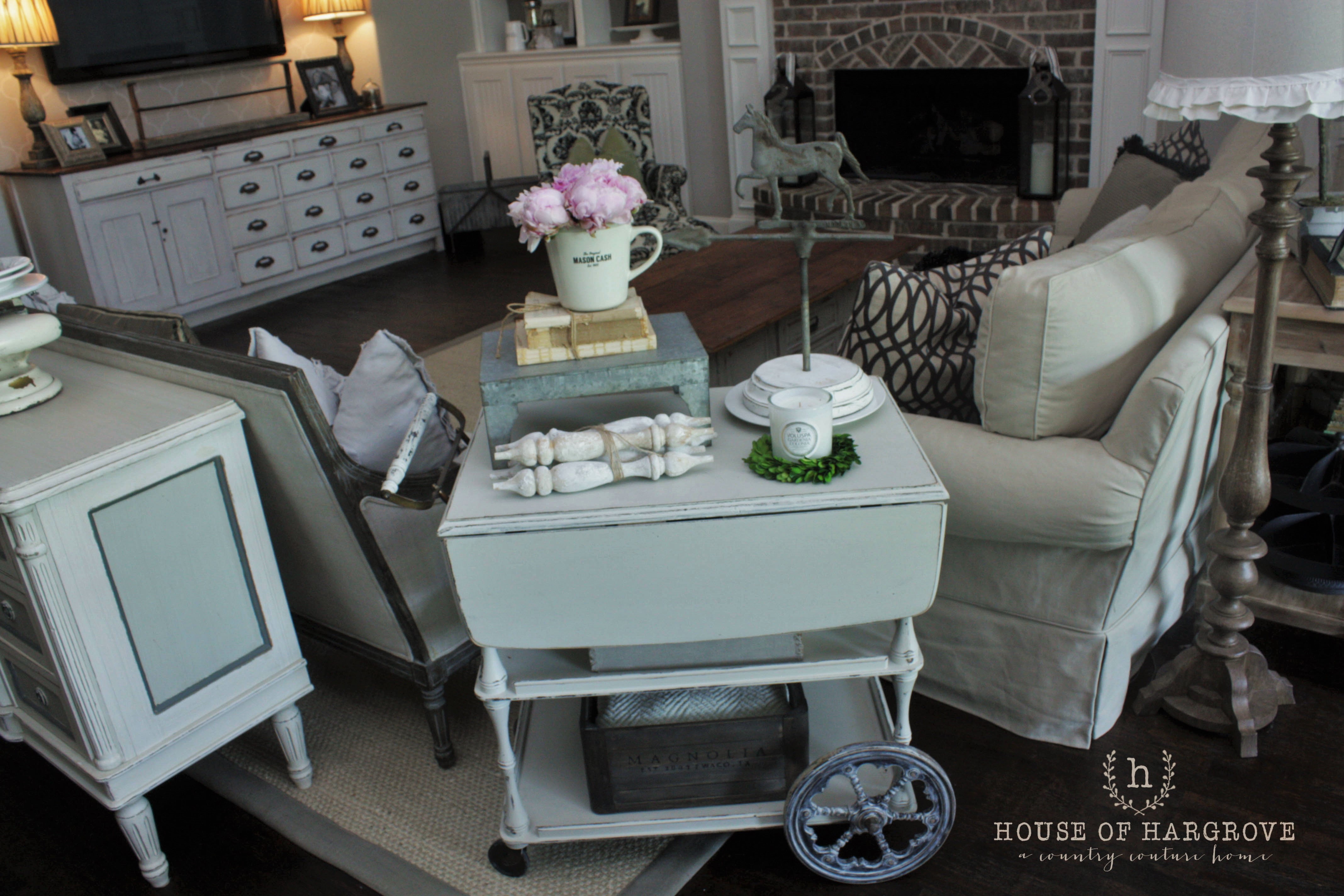 You can see Joanna's candle and the Magnolia crate here as well.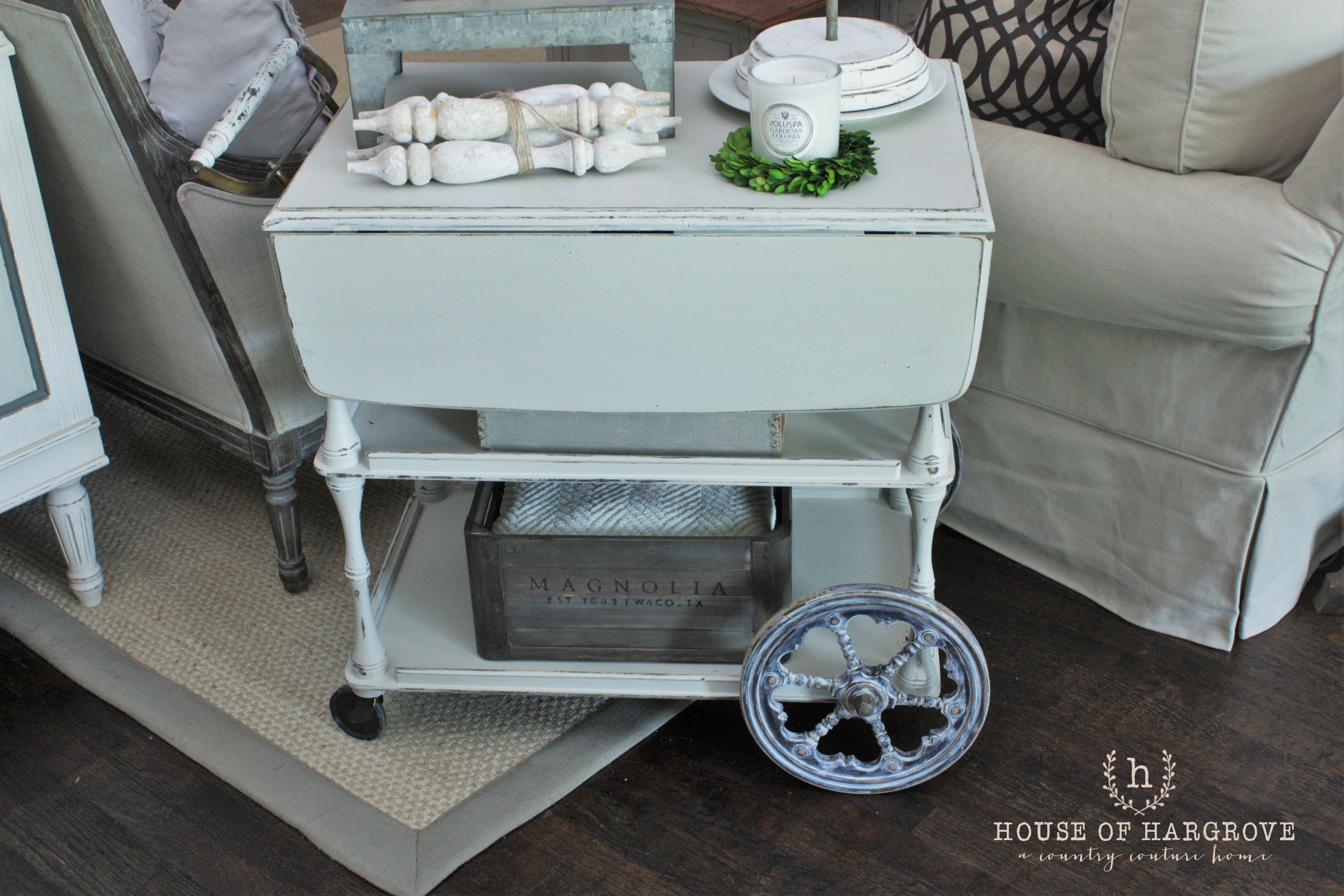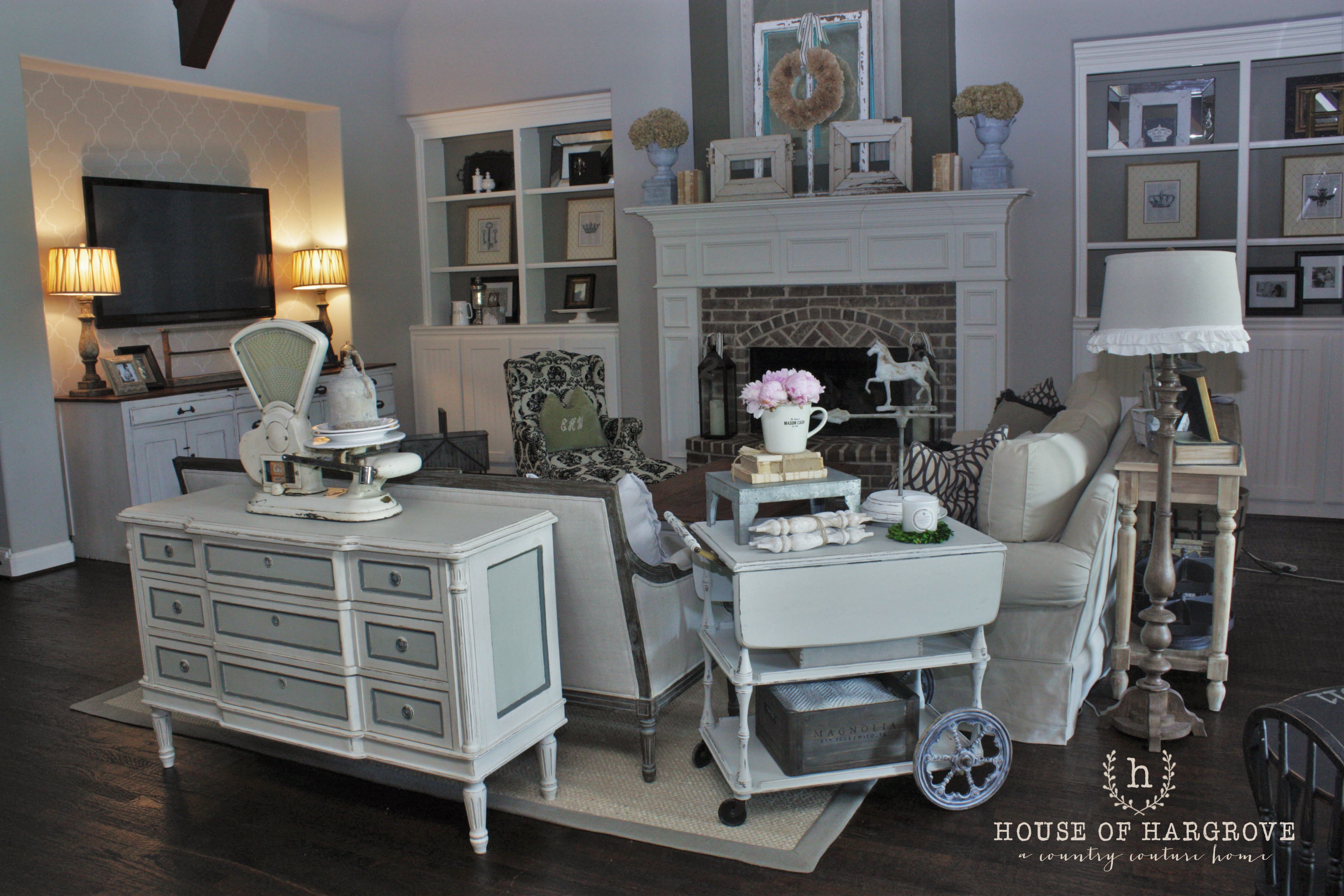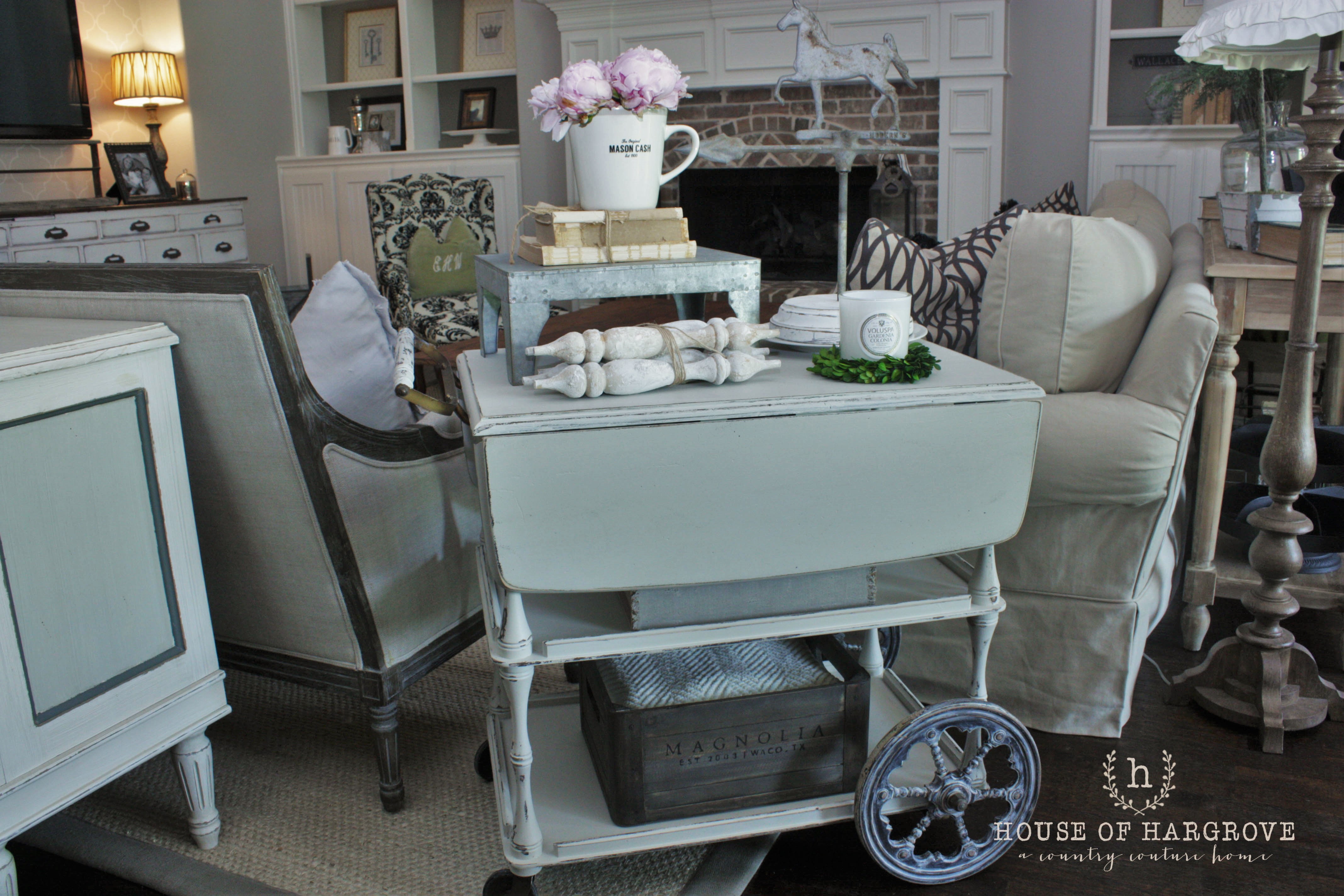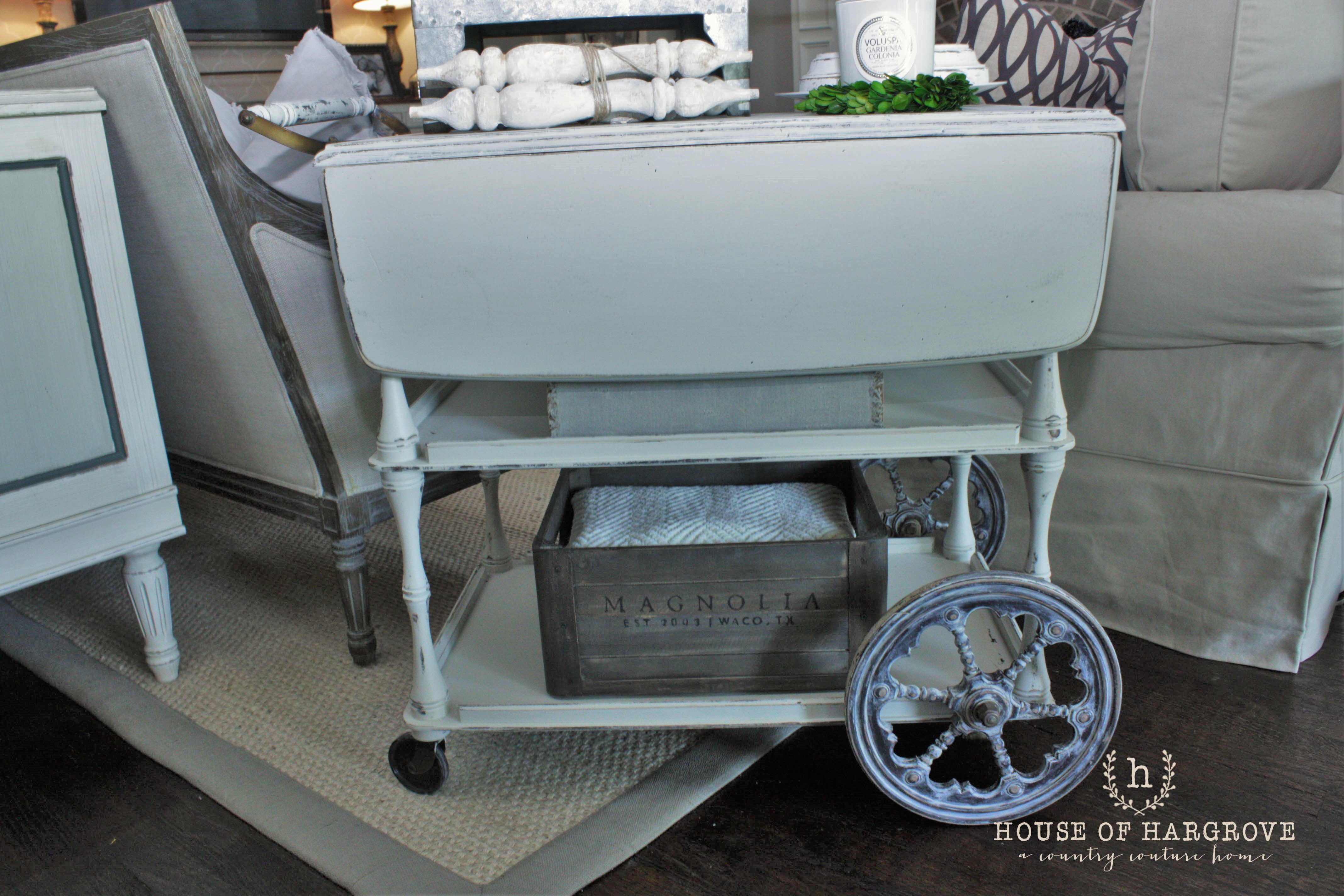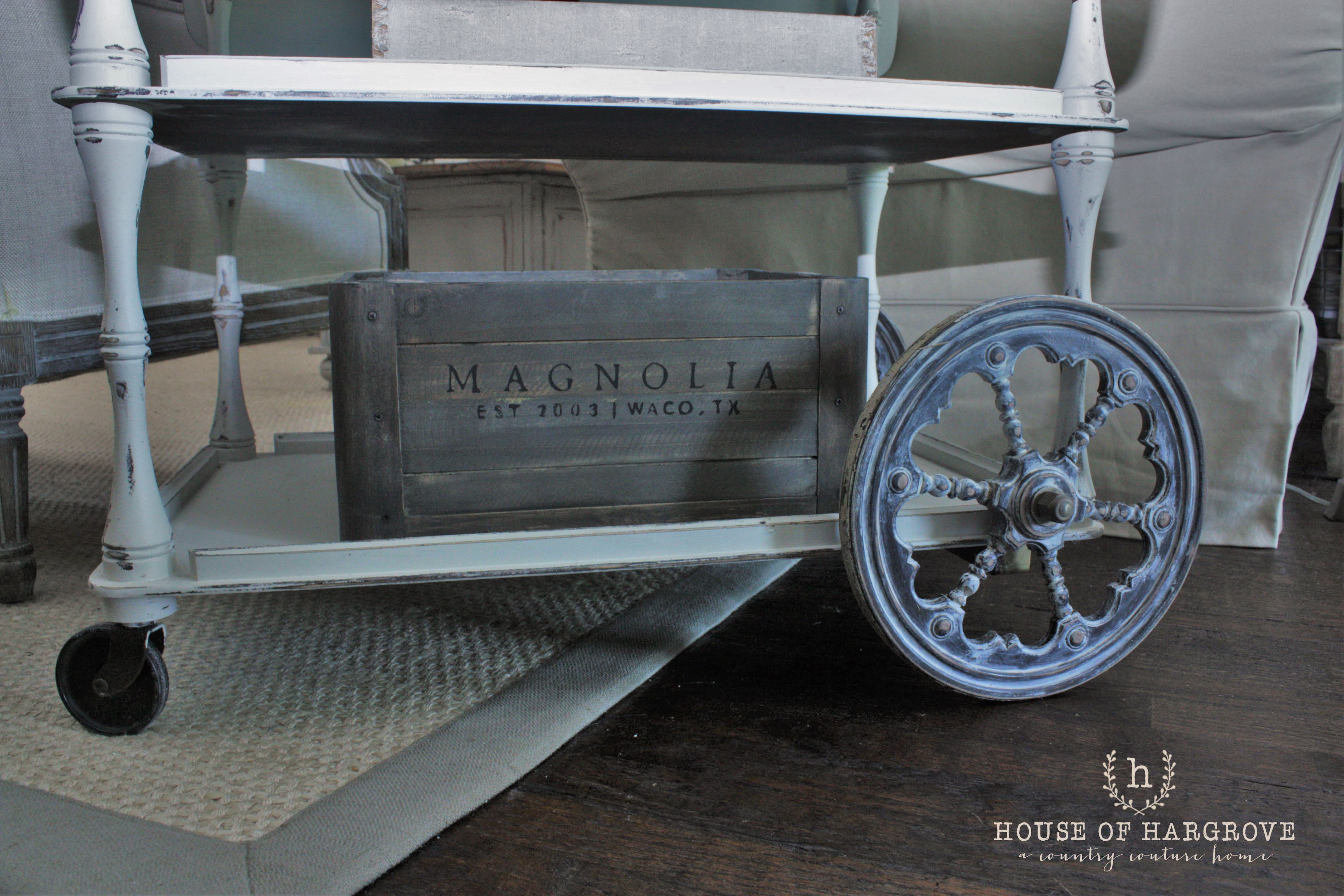 For the wheels I put the paint on and then rubbed if off quickly.  It gave them more of a washed look.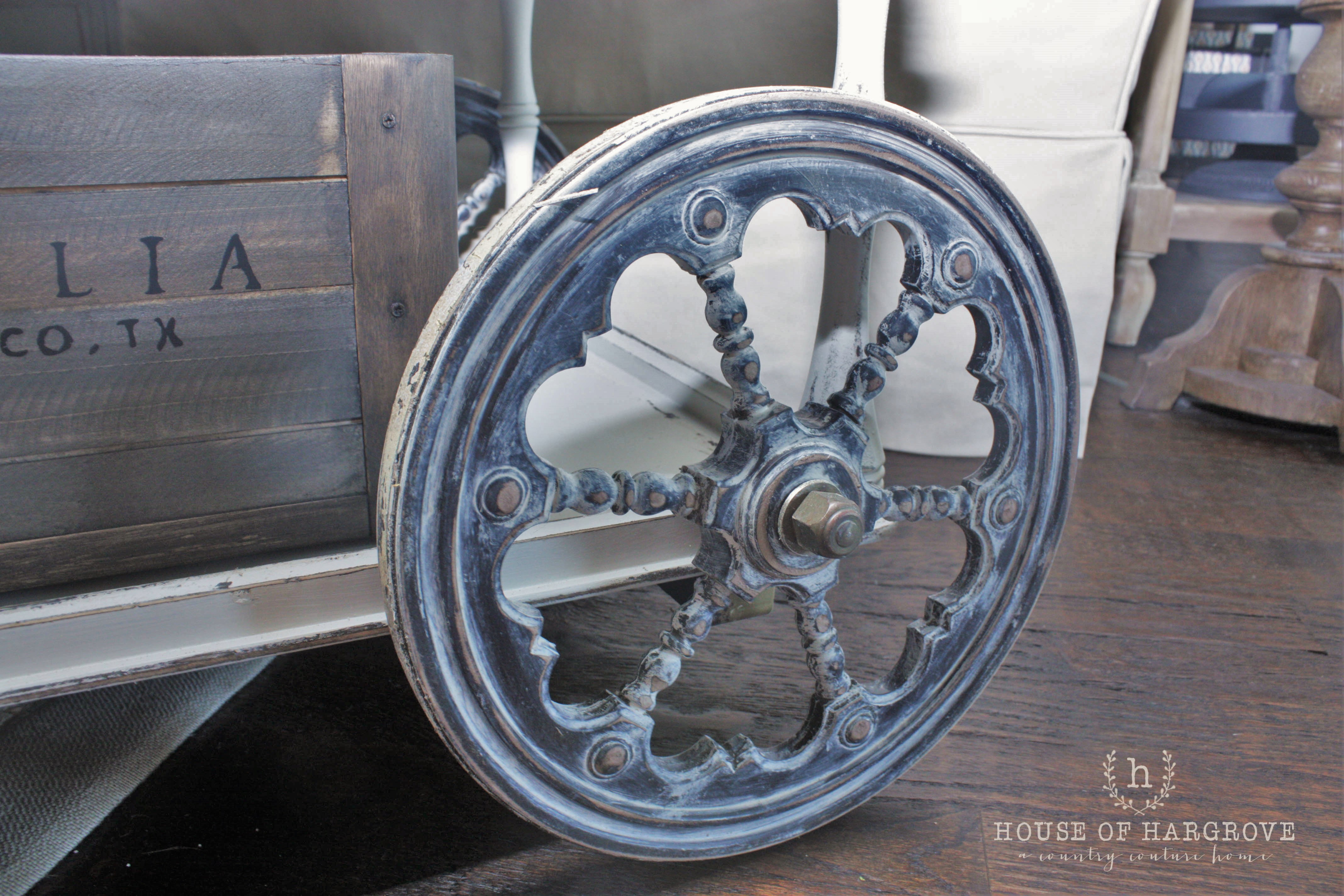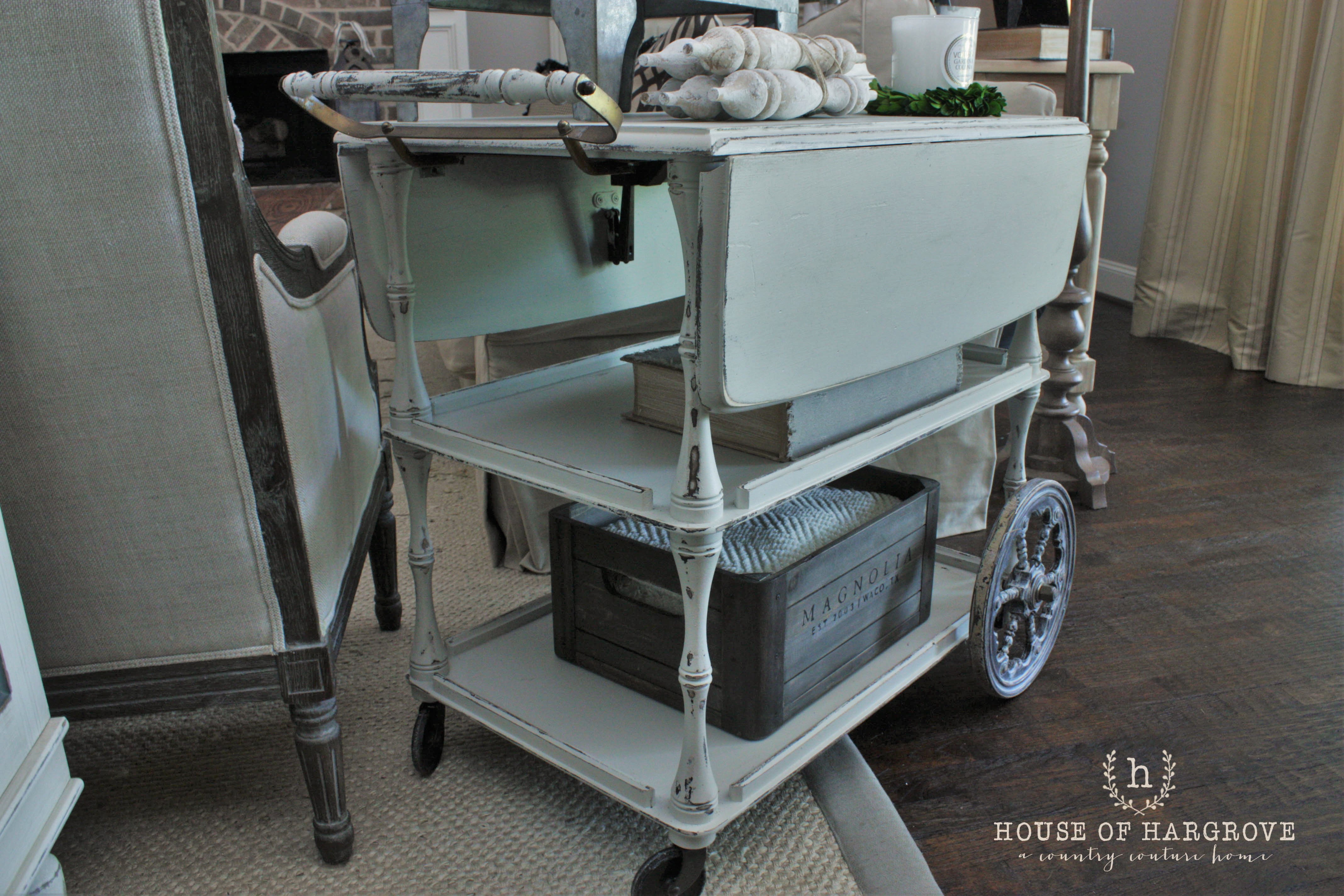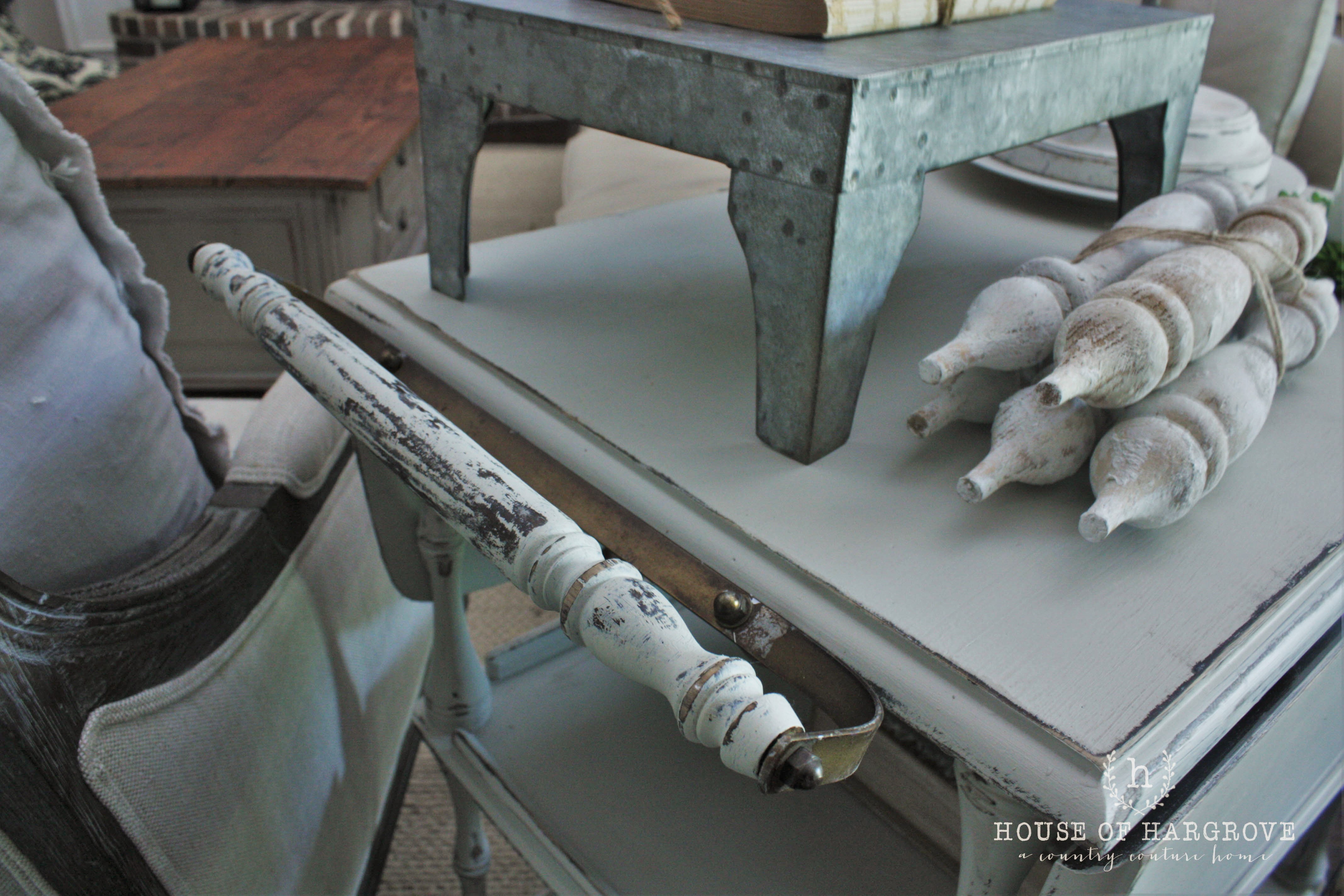 This antique tea cart is such a cute little piece.  It has storage and drop leaf sides so it can be a larger table if you need the room.  Here you see one of the sides up.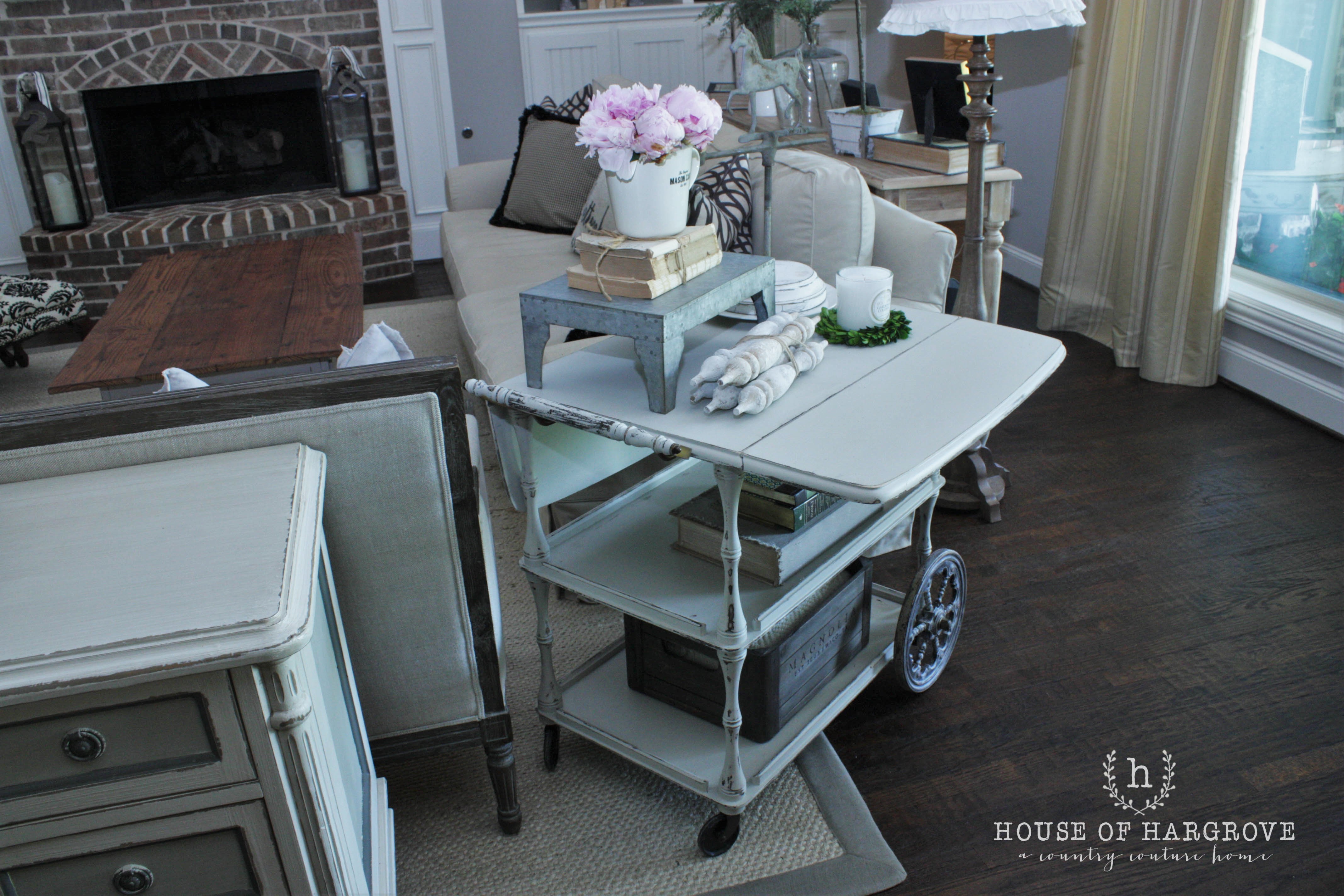 Here both sides are up.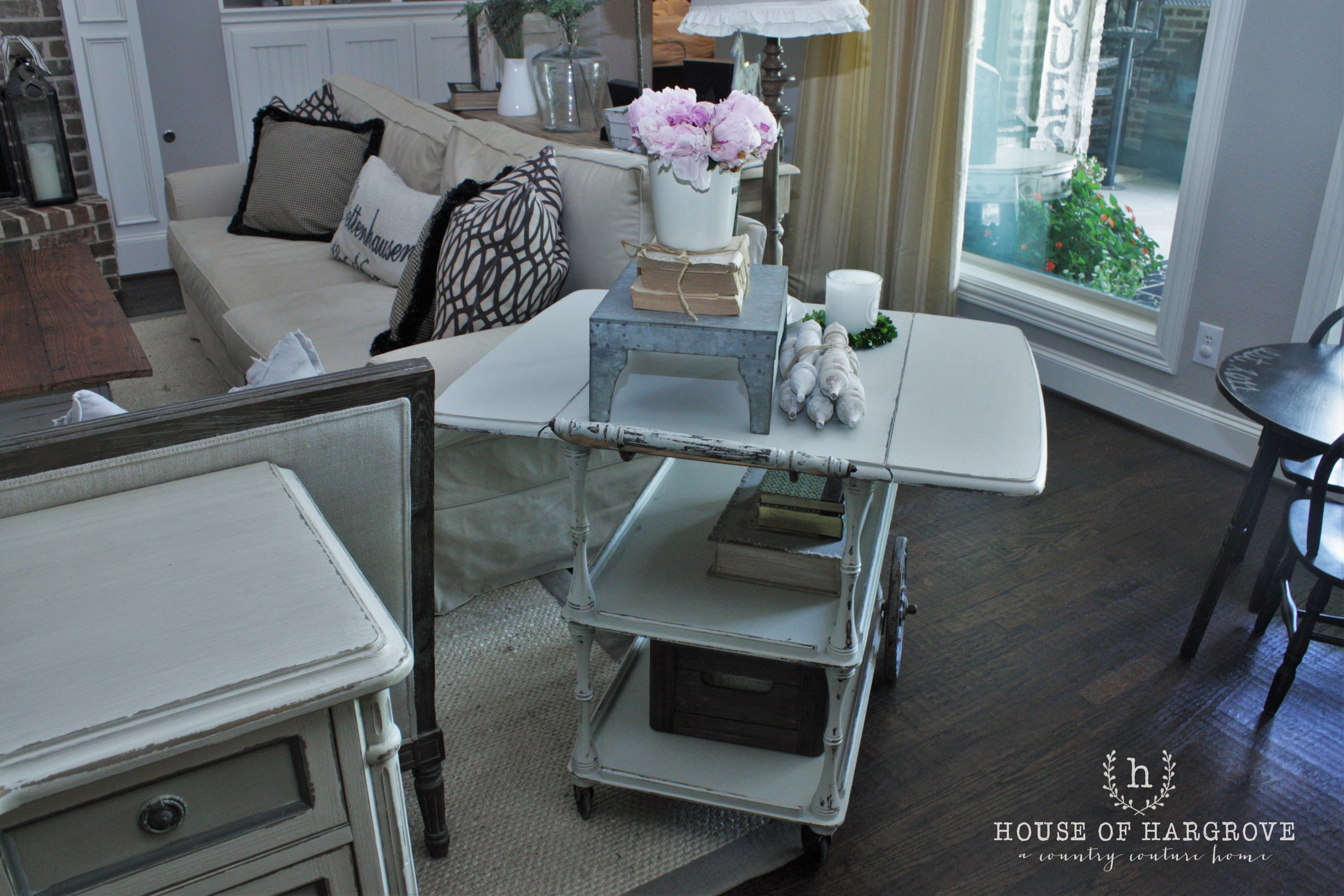 It is a very versatile piece.  Could be used as a side table, nightstand, bar, etc.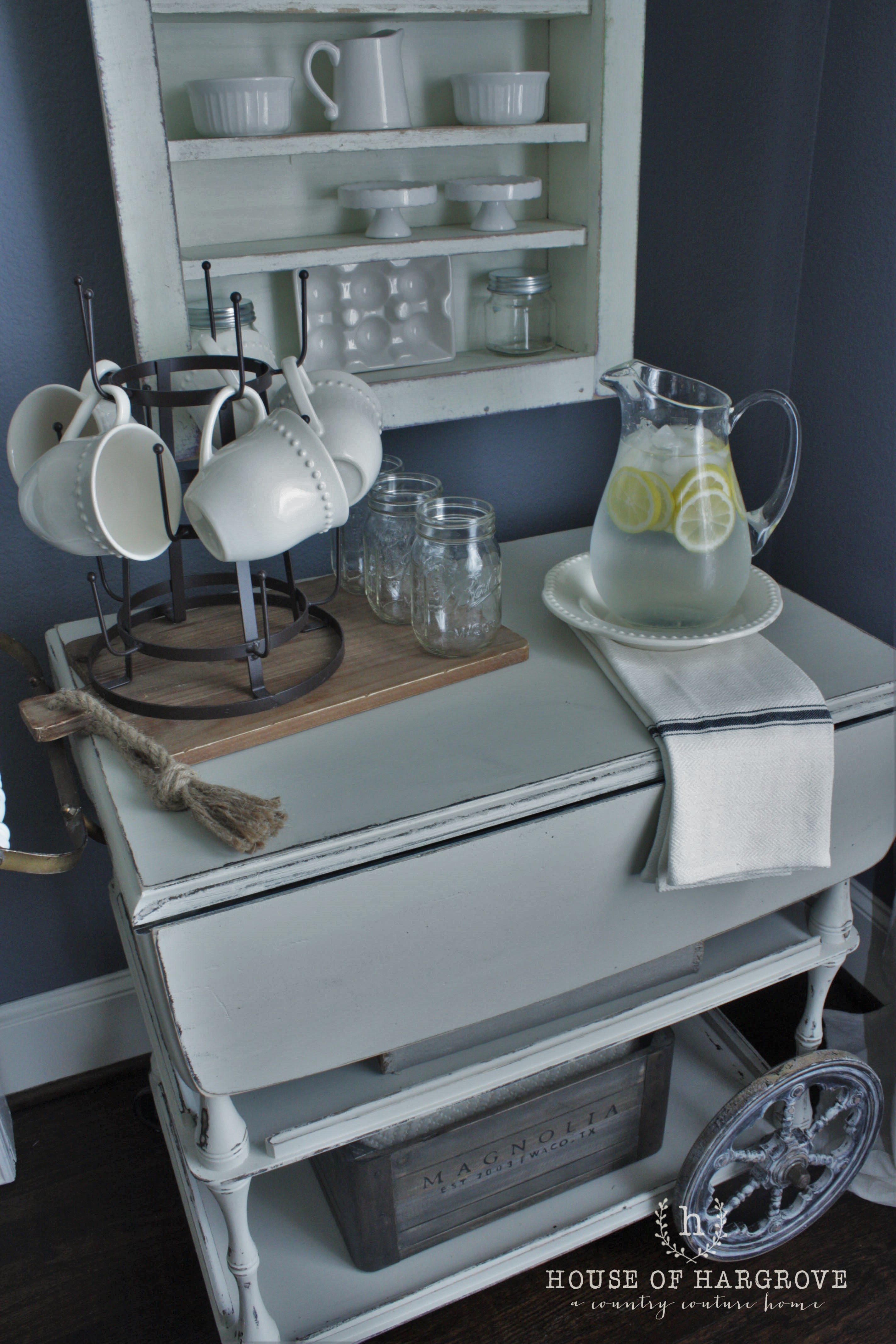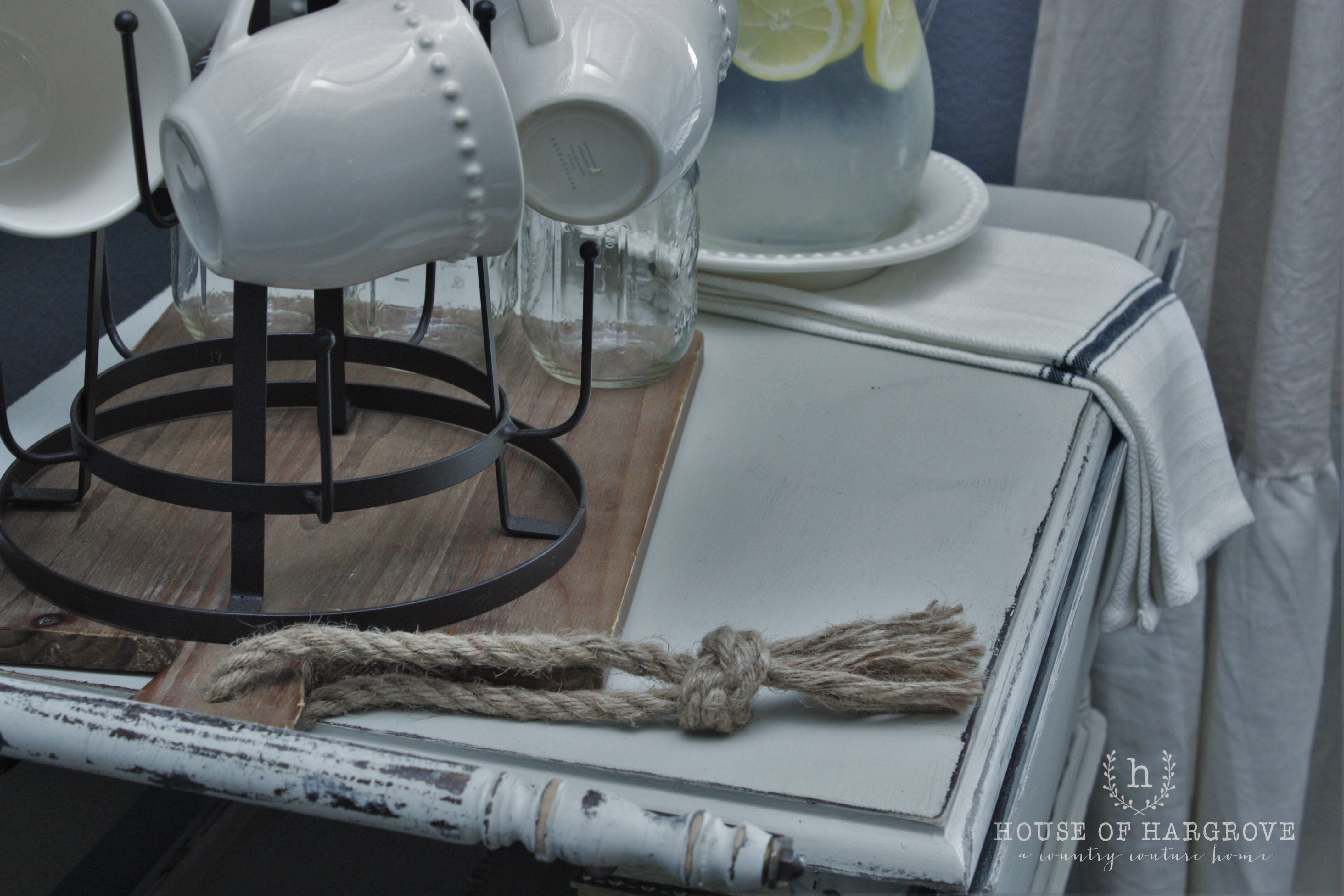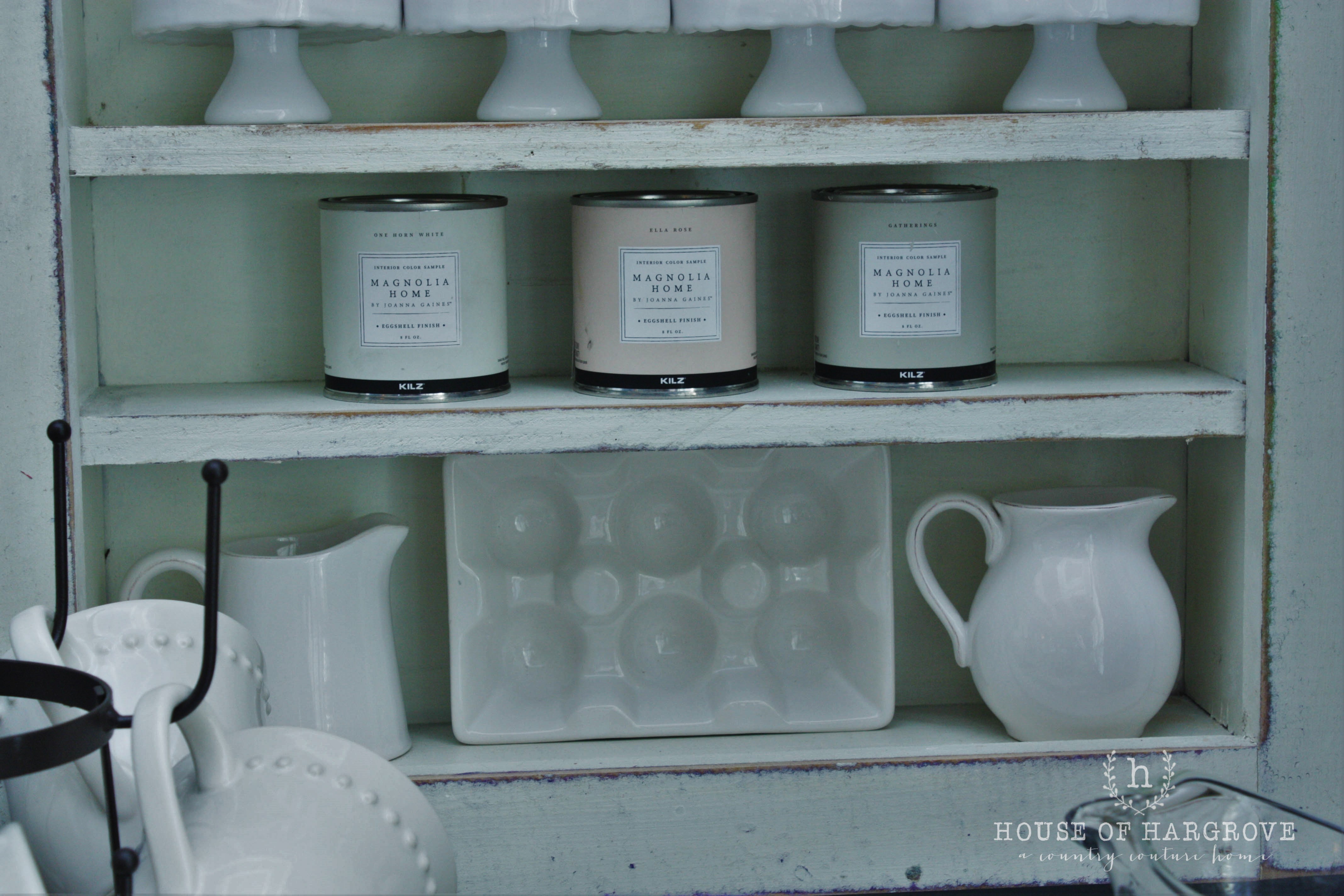 Have yall tried Magnolia Paint yet?  Love to hear what you think about it.  I am already counting down to season 4 of Fixer Upper.  I cannot get enough of Joanna & Chip.  Planning my trip to the Silos soon!
Here are a few of my favorite Magnolia Home items…shop them below!

And be sure to Pre-Order their book and be the first to read about their incredible story!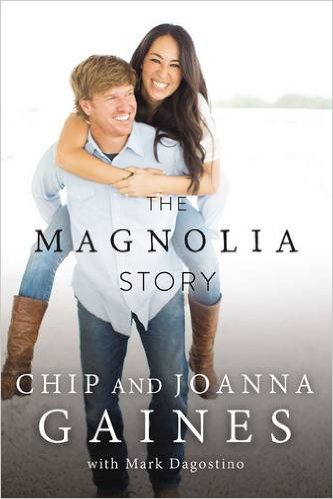 Be sure to pin the photo below if you liked what you saw!