If you follow my blog you know I absolutely love Farmhouse style.  Lately there has been lots of modern farmhouse designs that have really caught my eye.  "Modern Farmhouse Style" is a slight twist on traditional farmhouse by adding modern and industrial elements.  These may include paint, hardware, pattern, pops of color, etc.  I love looking at bathrooms and getting lots of ideas.  Check out these beautiful modern farmhouse bathrooms full of inspiration.
Modern Farmhouse Bathrooms
This bathroom uses farmhouse white with subway tile and wood floors, but makes it more modern with black grout, industrial/retro lighting, simple mirror, black framed window and industrial sink.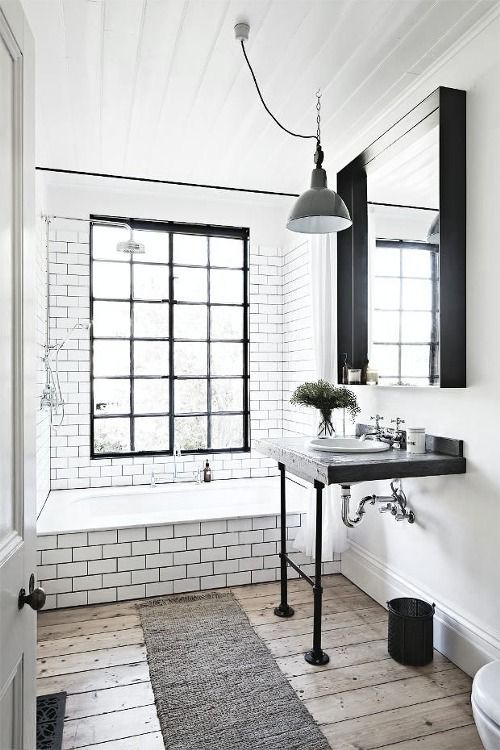 Darker floors, industrial mirrors and black fixtures add a modern touch.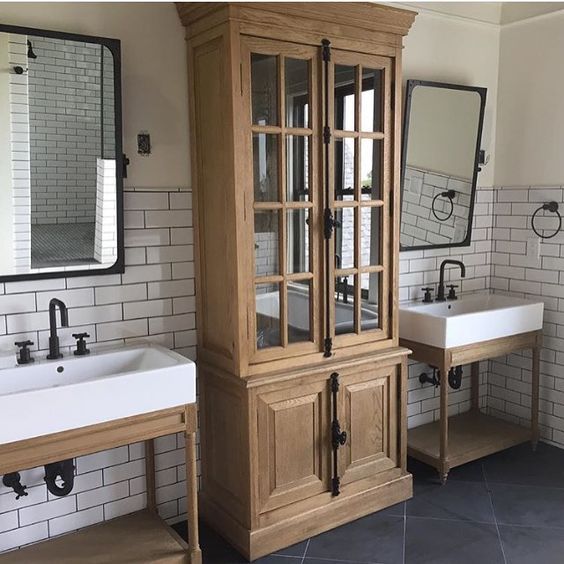 Dark grout, dark tile, industrial lighting, frameless mirrors and black hardware update this farmhouse bathroom.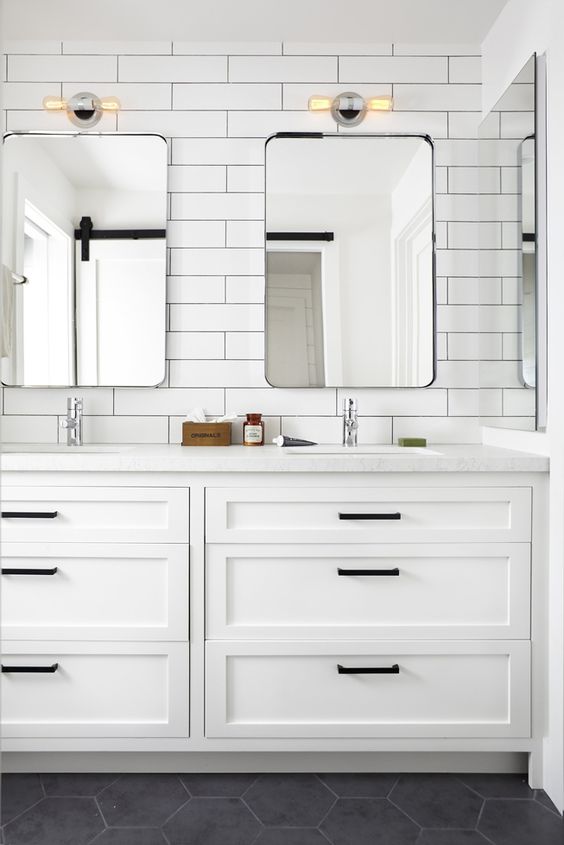 This bathroom has lots of traditional farmhouse elements, but the lighting and mirror give it a more modern feel.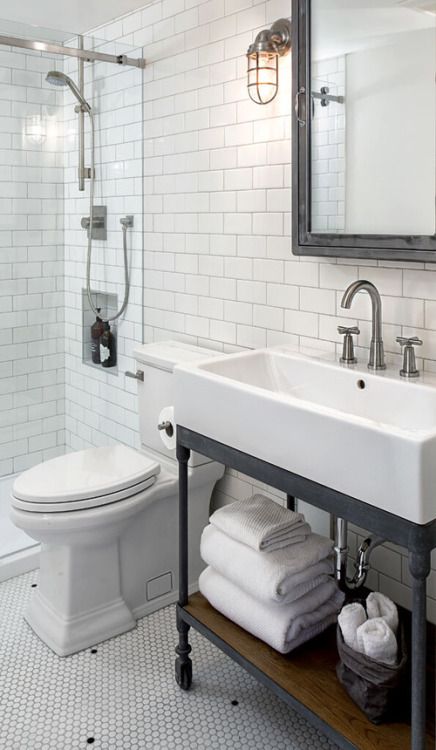 Design by: jodi foster design + planning
Photography by: Tony Colangelo
DARK WALLS
Dark subway tile with schoolhouse lighting and cement floors give a fresh feel to this farmhouse bathroom.  I love that sink!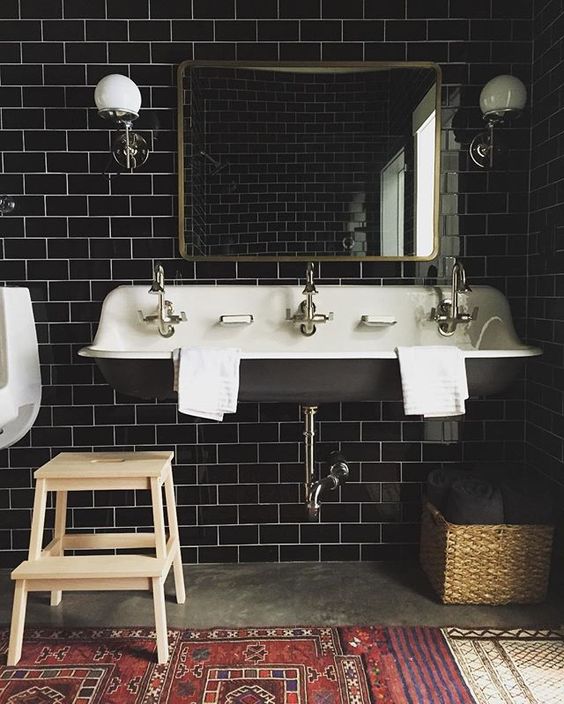 How fun are these chalkboard walls?  Would be so much fun in a kids bathroom and I love the pops of red!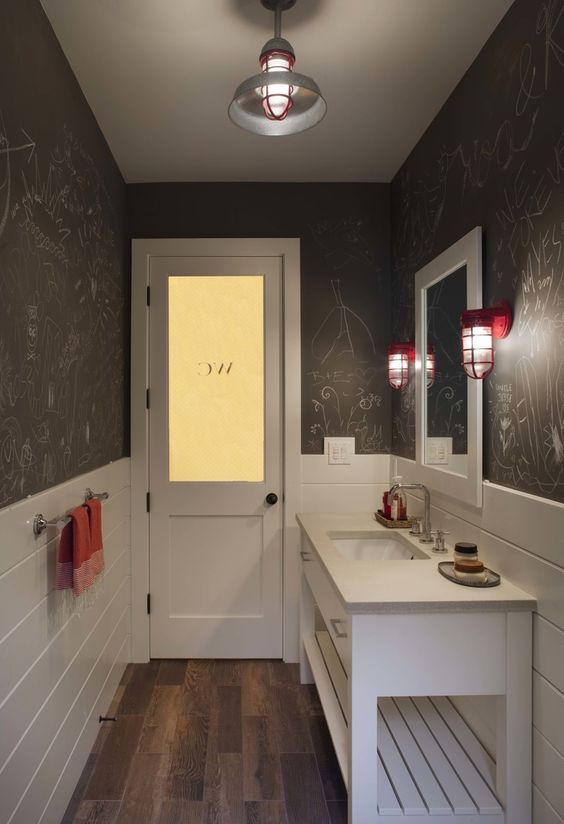 Dark shiplap and brass fixtures give this space a sophisticated look.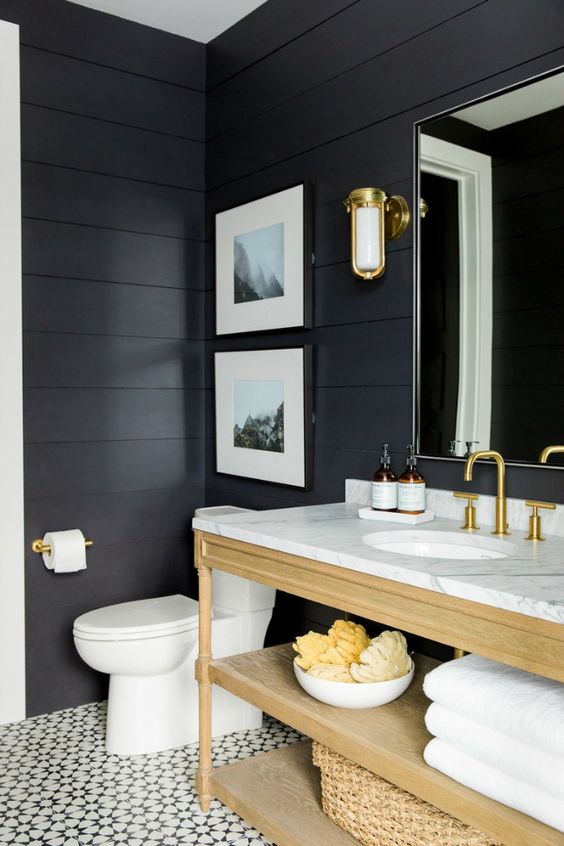 PATTERN TILE FLOORS
These fun floors and tan paint make this bathroom really stand out!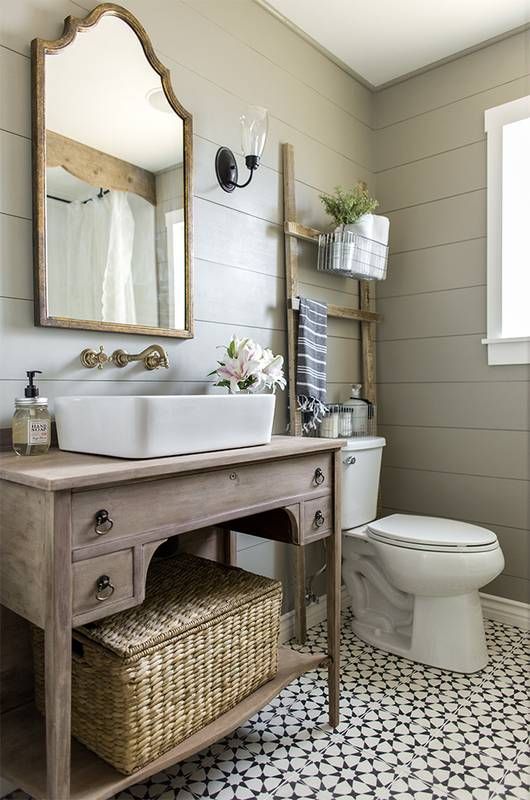 I love this fun tile design!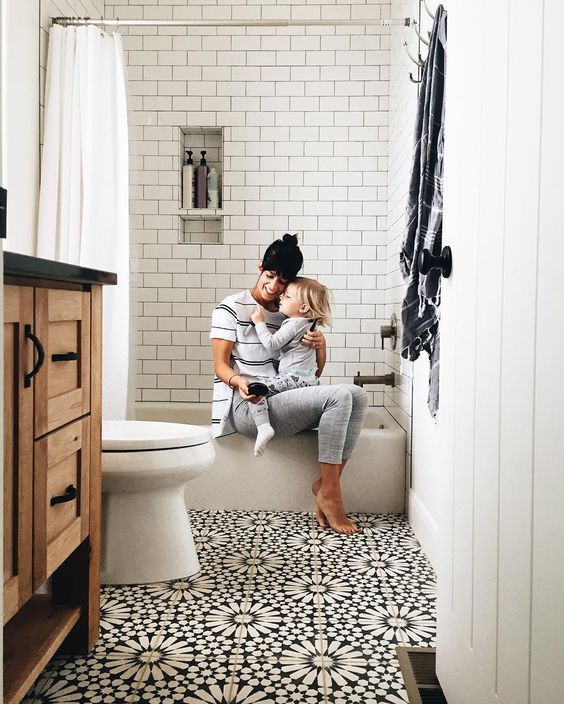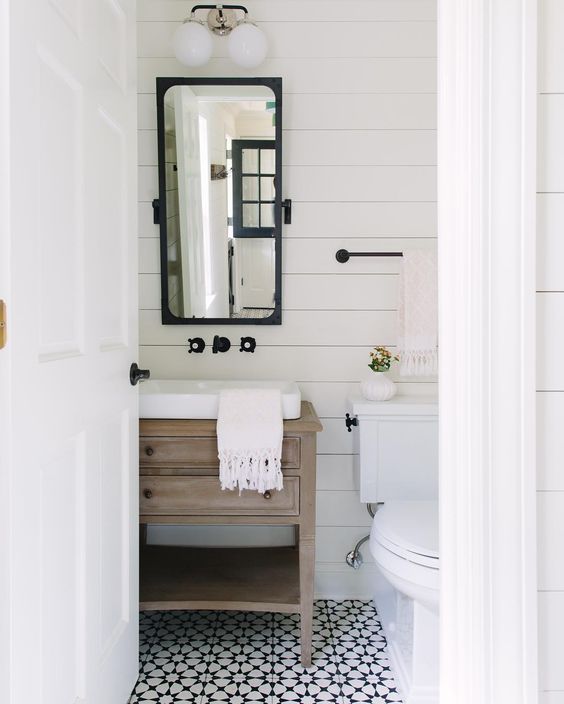 BLACK FRAMED SHOWER
This shower, lighting, mirror and sleek vanity are super fun and modern!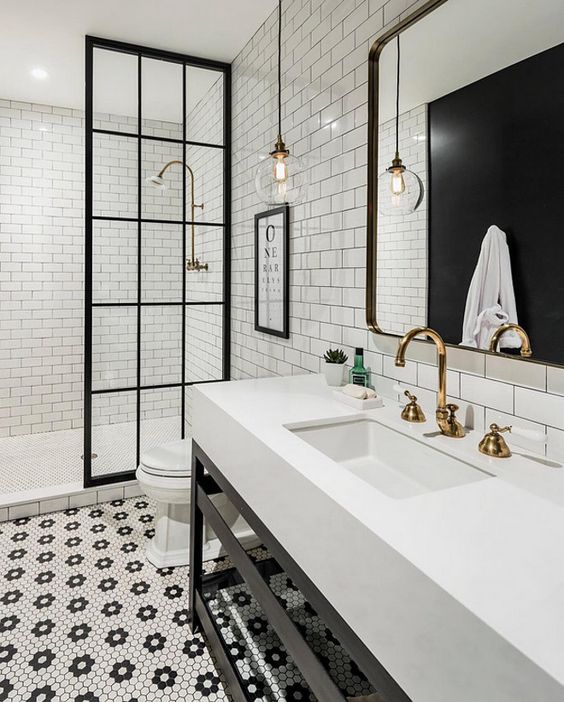 Home Bunch– A Finer Construction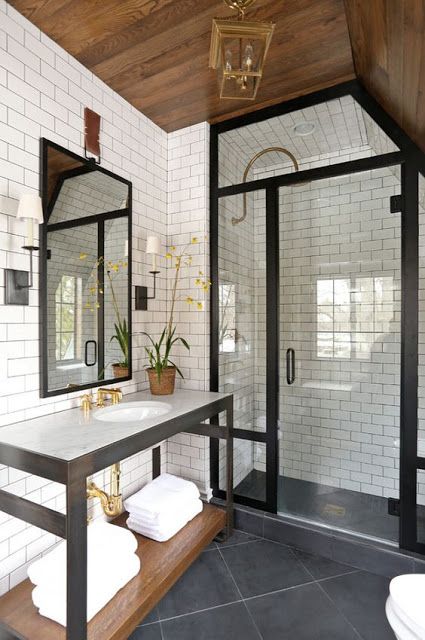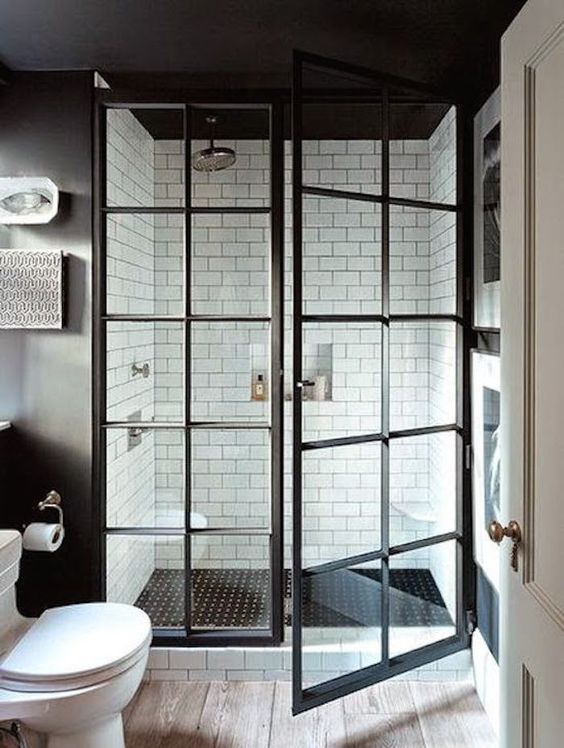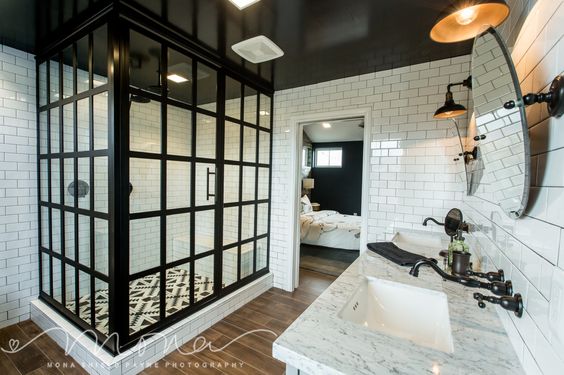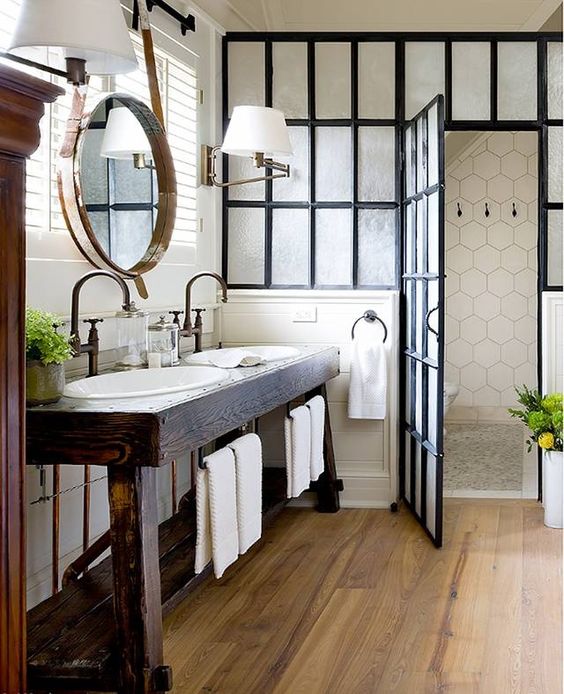 Home Bunch- Photographer Brandon Barre
So which style do you prefer?  Are you more traditional farmhouse or do you like the modern flair?
***Pin this photo for Modern Farmhouse Bathroom Inspiration***