Ok ladies, it's Day 2 of the NSale (early access).   I hit up my local store yesterday to try on some of the items in the sale because things always look different in person and when they are on!  You can only tell so much from an online photo.  Here are the outfits from my NSale try on sessions. You can see my complete Nordstrom Anniversary Sale guide by category HERE. 
Let me start by something about this sale.  Yes, there are tons of Fall items on sale.  Yes, there are some good deals to be had, but my philosophy is always the look for less.  I like finding great items at great prices and splurging on a few statement pieces here and there.  I do not believe in buying the most expensive, only wearing designer, going into debt for clothes, etc.  At the end of the day. . .they are just things!  I like to buy staple pieces during the sale and maybe a more expensive item I have had my eye on like Barefoot Dreams, etc, but. . .even during this sale I am looking for the best of the affordable things!  As you will see from my lists below almost everything I am showing you is very affordable!  Like the denim jeans I share. . .they are under $40!  Sure there are tons of designer jeans in the sale, some are very reduced, but I don't only wear designer jeans personally!  I like to find cute things for great prices.  During this sale Nordstrom has great items priced comparable to Target, Old Navy, AE, etc.  Hopefully you will find  some things you love that are very budget friendly (most things under $50)!
♥ FOR SIZING REFERENCE I AM 5'9″ AND TYPICALLY WEAR A M/L IN TOPS & DRESSES, SIZE 10/30 IN JEANS
♥ SHARING TRY ON VIDEOS AND VIDEOS OF OTHER JEWELRY/ACCESSORIES/SHOES & KIDS CLOTHES ON INSTAGRAM STORIES UNDER THE NSALE HIGHLIGHT BUTTON ON MY FEED.
♥ WHAT I AM WEARING/USED IN MOST PICTURES:
Ok, on to the try on session!
NSALE TRY ON SESSIONS
OUTFIT 1
These jeans were awesome and my favorite that I tried on in the store.  They are comfy, great wash, good distressing and ONLY $38.90.  This cardigan ($45.90) will sell out super fast!  it is one of the top sellers from the sale.  Layering tee in black for $15.90
---
OUTFIT 2
I love this jacket.  I never even noticed it from the photos online, but after seeing it in store I had to have it.  I was in the market for a moto style jacket and not only was this my favorite, but it was the least expensive in the sale!  It is a faux suede that is so soft. I love the hardware detail.  Would be cute over a dress, etc.  I paired it with the same $15.90 tee and $38.90 jeans.
---
OUTFIT 3
One of the things I do like to splurge on during the NSale is a Barefoot Dreams Cardigan.  I think it is a great staple to have in your closet.  They last forever, are super cozy and can be worn in so many different ways.  You can save a lot of money on them during the sale ($79.90 during the sale, $120 after).  Same $15.90 tee (white with silver metallic stars) and same $38.90 jeans.
---
OUTFIT 4
Another great cardigan ($38.90).  Yall, this one is so soft.  SIZE DOWN.  I needed a small in this cardigan. If Barefoot Dreams is out of your budget I would get this one.  It is much lighter weight, but so so cozy.  This could be worn now for a great layering piece and then into fall.  It basically feels like PJs.  Love the length and the pockets.  Comes in a few colors
---
OUTFIT 5
I know many of your were looking for items you can wear now.  This top is a great option and can be layered when the weather gets cooler.  It is really nice material that hangs well, doesn't wrinkle and ONLY $18.90.  Comes in lots of colors and is a great piece to add to your closet for a great price.  Can be dressed up, dressed down and perfect for work.  Paired with the same $38.90 jeans.
---
OUTFIT 6
I was looking for black jeans and really liked this option.  They are Articles of Society and $41.90 during the sale!  They are solid black, ankle length and a really great option!  This thermal top was really cozy, comes in several colors and $38.90.  The white was a little sheer so I layered it over my go-to tank.  It is on sale for ONLY $6.79.  I have like 10 of these that I wear all the time!  Great basic tank that is tunic length which I love.
---
OUTFIT 7
Yall, these jeans are everything!  They are by Wit & Wisdom and are called Absolution jeans.  They are magic.  They suck you in, lift your bum, smooth you out, feel like leggings, but look like jeans.  These were my favorite solid black ankle length pair of black denim from the sale.  ONLY $44.90 and great reviews.  I would size down 1 size in the jeans.  I love this outfit and will be one of my go-to!!  So cozy.  This is the other Barefoot Dreams cardigan I loved during the sale.  Has 2.6k 5 star reviews!!  I definitely recommend getting one of the Barefoot Dreams cardigans as your splurge during the sale.  ($76.90 during the sale, $116 after).  Same $15.90 tee  (in black and white stripes).
---
OUTFIT 8
Same outfit as above (outfit 7), but paired with a different cardigan.  This one is by Caslon, is cozy, fairly light weight, long, ribbed has pockets, a hood and cinches at the waist.  Comes in multiple color options. Same $15.90 tee  (in black and white stripes) and same $44.90 jeans listed above.
---
OUTFIT 9
Again the same outfit as the 2 above, but this time paired with a cute jacket (less than $60).  If you are in the market for a jacket I highly recommend this one.  It is so cute and cozy.  The entire inside is lined in fluffy fleece so it is so soft.  It is quilted with cute hardware and also comes in a blush color. Same $15.90 tee  (in black and white stripes) and same $44.90 jeans listed above.
---
OUTFIT 10
This is a fun outfit perfect for date night or girls night.  Remove the cardigan and it can be worn now.  This camisole is a must!  Only $25.90 and comes in 4 color/pattern options.  This is the perfect thing to buy multiples of.  Great for layering.  This leopard option with lace trim is so much fun.  The cardigan is made of ribbed sweater material and ONLY $31.90.  Comes in lots of color options.  Paired with the same $44.90 jeans as above
---
OUTFIT 11
I also really liked this pair of jeans.  They are black ankle length, but also have a lighter distressed finish on them (the other ones I shared are solid black).  They are comfortable and slimming!  These jeans are $59.90.  Paired them with a super cozy top ($31.90).   3/4 length sleeve with a twist tie bottom.  Comes in lots of color including a cute leopard print!  Great basic shirt with a twist.
---
ACCESSORIES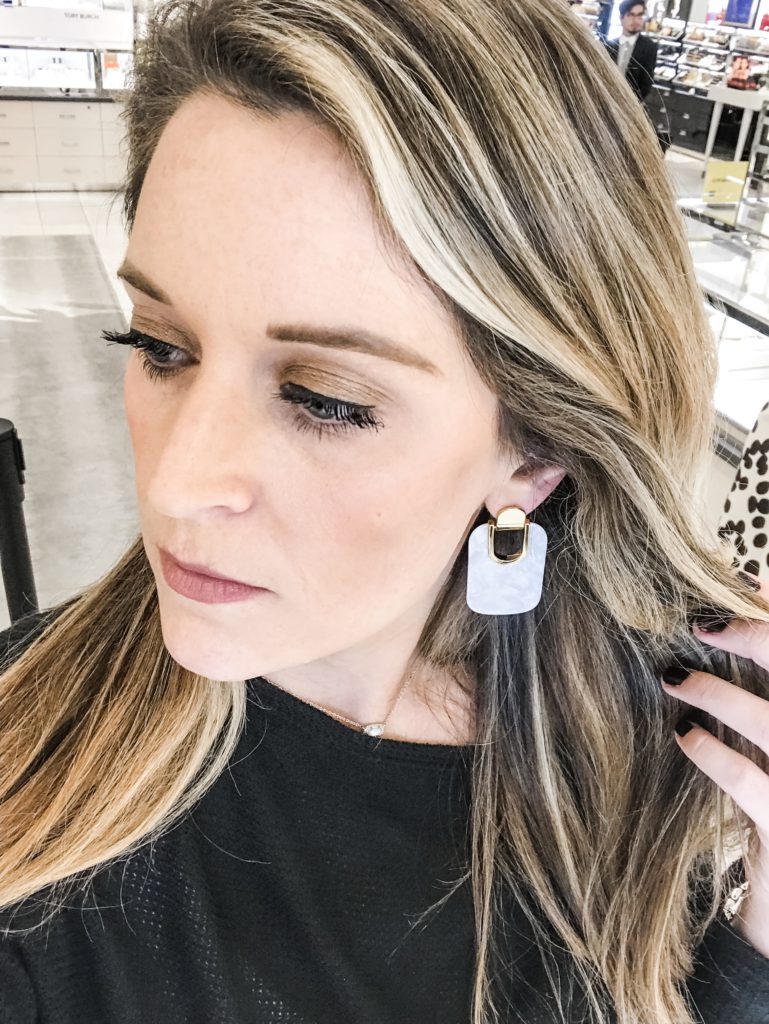 I thought these Kate Spade earrings were super cute. Very lightweight and under $40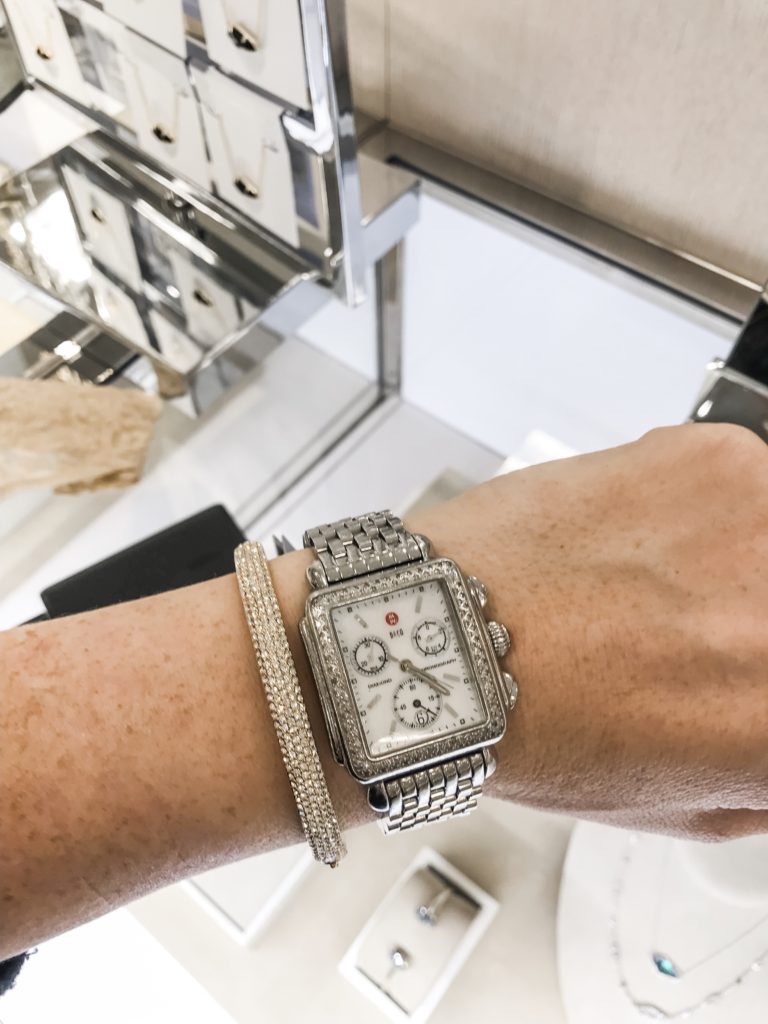 This is my Michelle Watch that I mentioned above that I wear every day.  I bought it 14 years ago, but there is an updated version in the sale on major sale.  It was a total splurge, but I absolutely love it.  So happy with this purchase.  I also loved this pave bangle bracelet from the sale.  It is $50 off right now.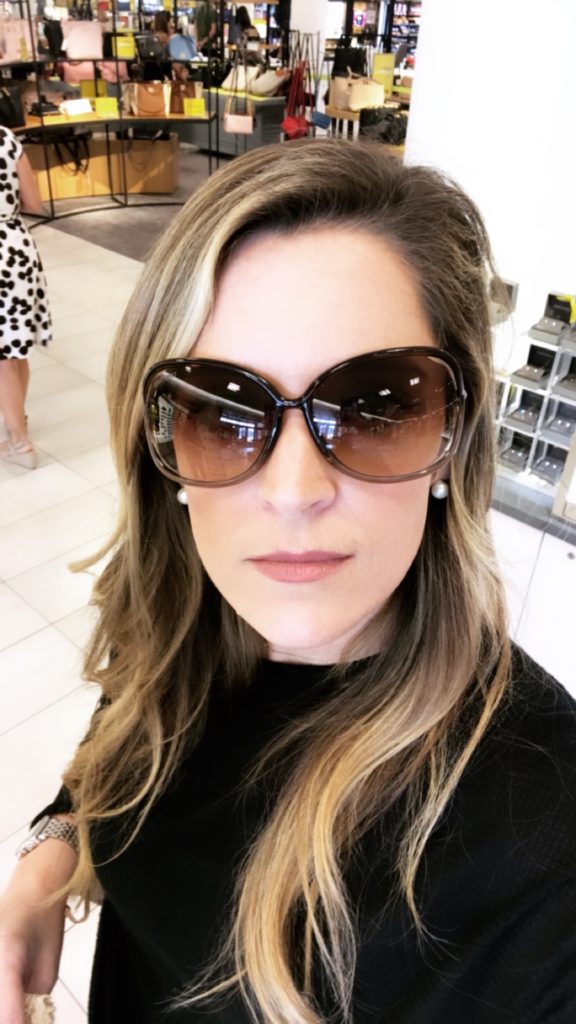 Ok, I did not buy these glasses.  I am a cheap sunglasses person, however I loved this Tom Ford pair.  They were my personal favorite from the sale.  If you happen to be looking for designer glasses I highly recommend these. Save $142
SHOES
These were my favorite shoes from the sale.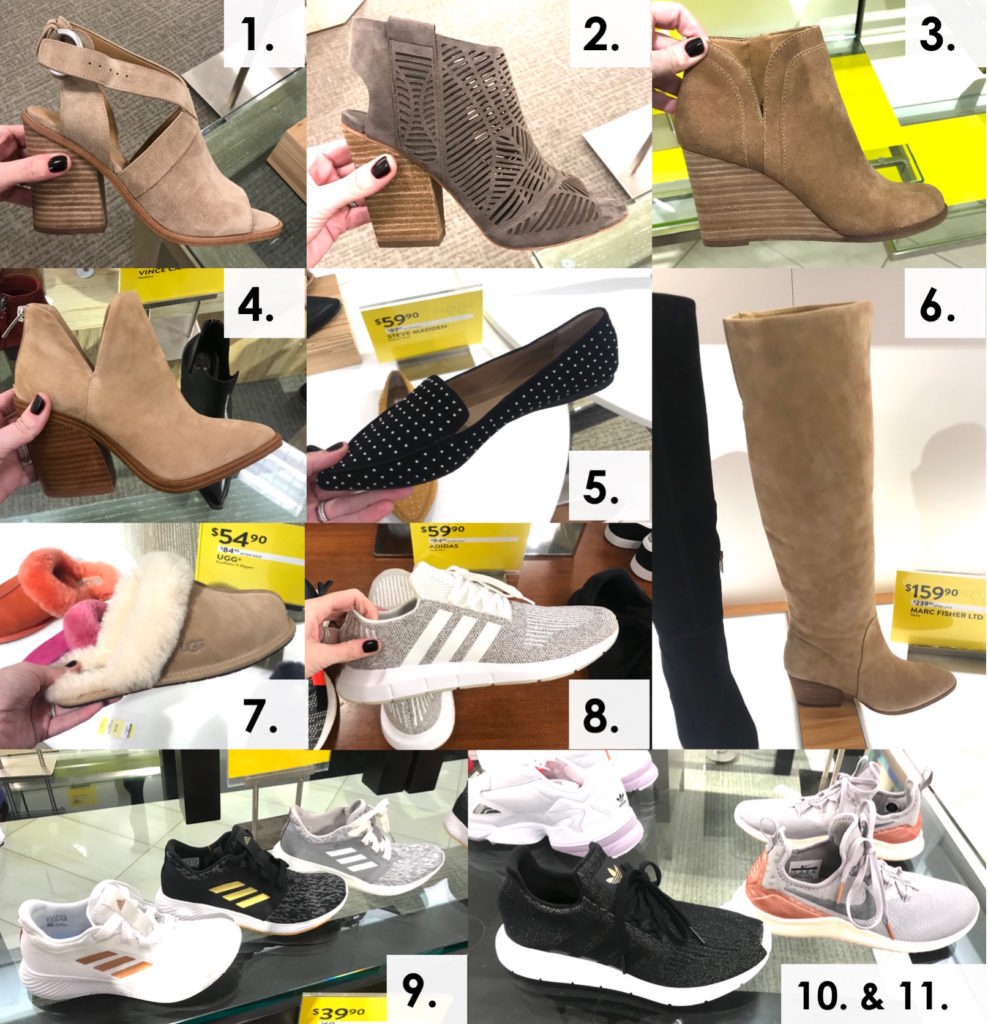 Ok hope you found these Nsale try on sessions helpful.  Love to hear the fun things yall are finding.  I will be coming to you later in the week with my top picks by price point!
Happy shopping!
This post contains affiliate links.  If you purchase I may receive a small commission.  Thanks for supporting my blog.