I love holiday traditions and one of our family traditions is sending Christmas cards.  I love getting photo cards from friends each year and seeing their beautiful families and how much their kids have grown, etc.  I get excited to go to the mailbox each day and see all the amazing cards.  MINTED is one of my go to places when I need paper products so as soon as I got my photos back I headed over there to design the perfect card.  Here are our family Christmas cards!
OUR FAMILY CHRISTMAS CARDS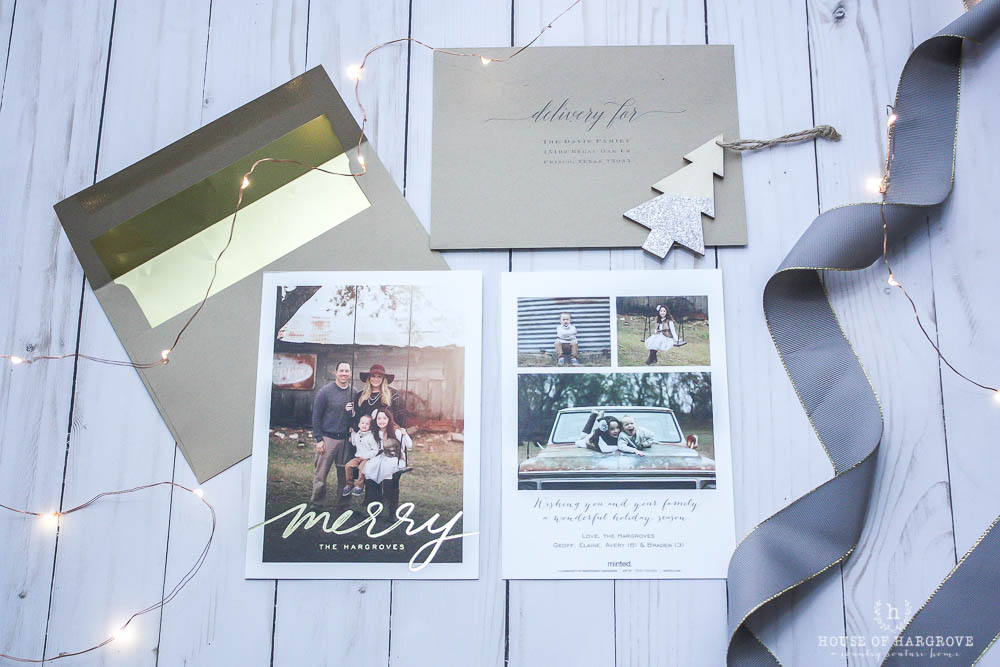 We take family pictures every Fall and use those photos for our Christmas cards each year.  I have such a fun time picking out the perfect holiday card to coordinate with our photo.  This year I knew I wanted gold foil!  There are so many amazing options at Minted.  The hardest part is narrowing it down to 1 design.  They have the most amazing tool called FIND IT FAST where you can upload the photo you want to use and see it on every single card!  You can also do this with the cards you saved to your FAVORITES file.  This really helps see which one is the best design to coordinate with your photo.  Below you can see I narrowed it down to a few foil options and this helped me see what each would look like in seconds.  You can do it with as many cards as you want!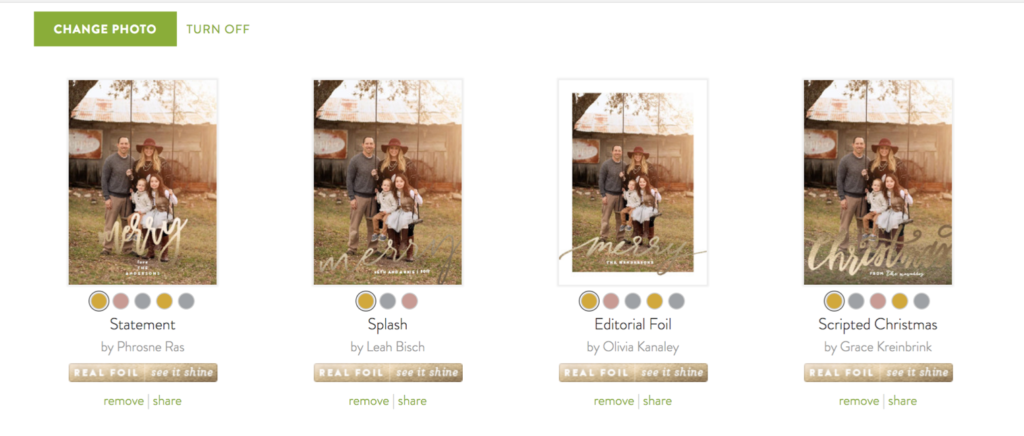 How cool is that?!  Super helpful.  I ended up choosing the Editorial Foil style for our family Christmas cards.  It was simple, shiny and just what I wanted.  You can change the color of the foil on these cards or make it glittery, but gold was the look I was going for.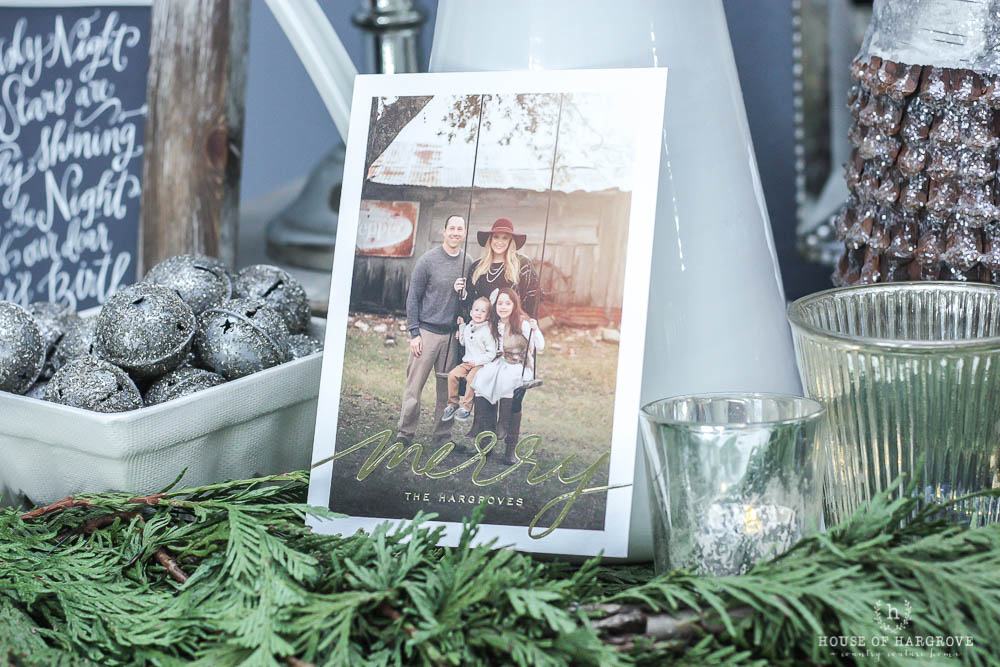 There are so many options to customize your cards exactly how you want them.  I chose the double thick paper and white back with 3 photo and caption option.  I also added a gold foil insert for the inside of my envelopes.  After you have finalized everything you get an email proof so you can approve and make sure everything is how you like it!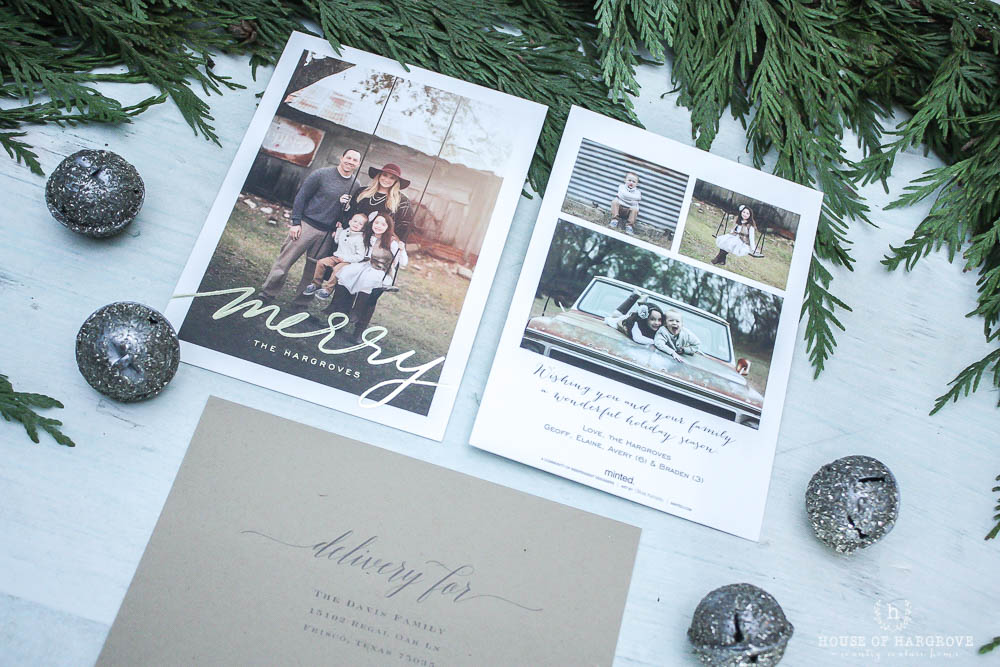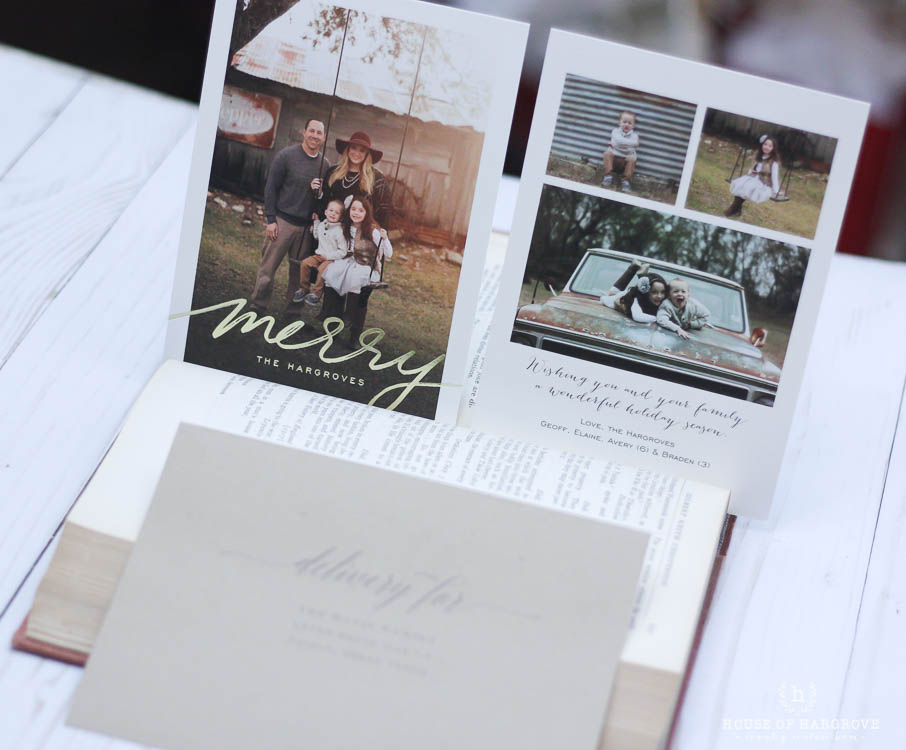 The other thing that I LOVE about MINTED is they will address your envelopes for you. . .FOR FREE!!!  I am not even kidding.  How amazing is that.  Again, there are tons of options to choose from so you can get the envelopes exactly how you want.  I chose Kraft with the Fresh Script addressing option.  All you do is upload your contacts and they do it all for you!
Another one of my favorite things about MINTED is you can purchase your cards when they go on sale and you can personalize later.  Right now holiday cards are 20% off $150+ and 15% off $100+ with code BRIGHT 17.  So. . .you can go purchase now at the sale price and make them exactly how you want when it is convenient!  Such a great option!
CUSTOM SILHOUETTES
Ok, so you know I love MINTED's holiday cards, but I also love their other products.  The design and quality is incredible.  I have been dying to get some silhouettes of my kiddos and they knocked it out of the park!  It was so easy!  All you do is send in pictures of your kids profiles, pick the size, color and frame you want and that is it!
Here were the pictures I sent in. . .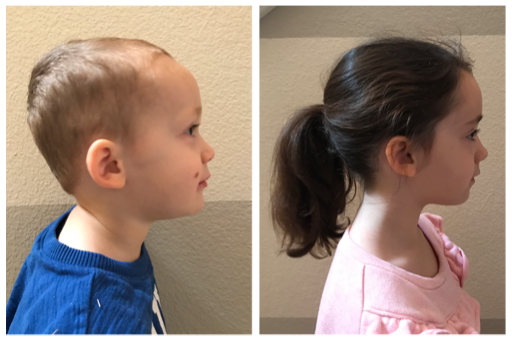 . . .and here is the final product!  I mean look how perfect they are.  They look just like my kids!  I LOVE them!  This would make such a special gift!  You can also do this with a pet!  These are prints I will treasure forever!  I wanted mine very classic, but you can choose pink, foil, etc to get the exact look you want.
Hope you liked our family Christmas cards!  Have you ordered your cards yet?  If not I highly recommend Minted.  The product is great and the customer service is awesome!  The vast majority of cards I receive from friends and family are from Minted. . .everyone loves them!  One of the things I love to do is take photos of my friends holiday cards on my phone and use them as their contact photo.  I update them every year and love seeing these beautiful photos when my friends/family call!  I also love to display them through my home during the holidays!  Lastly, I also always order a few extra so I can save them each year in a special box I have for each kiddo so they can look back and have a complete set over the years as they were growing up.  What are some of your favorite holiday traditions?
I am so excited to partner with Minted for my holiday cards.  I truly love Minted and have used them many times in the past.  All opinions are my own and I only share things I love.  This post contains affiliate links.  If you purchase I may receive a small commission. Thank you for supporting my blog.