We are all ready for Halloween over here!  I just love Halloween and my kids do too.  They had fun this year helping get our home ready.  Welcome to our Halloween front porch!
OUR HALLOWEEN FRONT PORCH
I decorate our porch for Fall each year, then update for Halloween and  when Halloween is over I change it back to our Fall porch through Thanksgiving.  All that said, I keep the same base for both Fall and Halloween.  I keep the cornstalks, hay and pumpkins and just add in spookier Halloween elements.
I got this chalkboard a few years ago and I love changing it up for each holiday.  I got this Dead & Breakfast Inn sign at Home Goods a few years ago and put it on an old post.  You can get similar ones on ETSY.  Then I change up the burlap sign that I hang on my vintage ladder.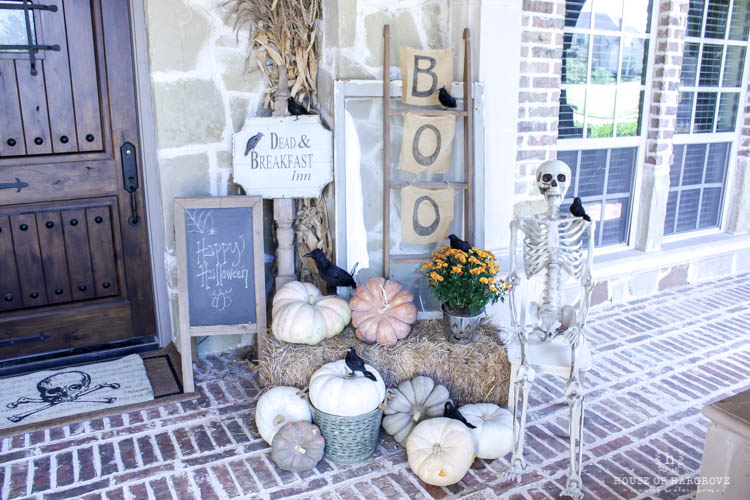 Adding a few crows and a full size skeleton help add to the Halloween fun!  I like to decorate with white mums, but for Halloween I like orange ones!
I got this banner and sign at Home Goods a few years ago and paired them with some vintage doors I have.  The skulls were from the Dollar Tree and fit perfectly in my little tool box.  My barn wood pumpkins were made at a local shop and I just lean them on the wall.  All of these elements add texture and while Halloween themed they still stick to my vintage/farmhouse style.
Thanks so much for touring our Halloween Porch!  Trick or treaters…we are ready for you!  Just need to add our Jack-o-lantern and we are all set!
See our entire Halloween home tour here
SHOP OUR HALLOWEEN FRONT PORCH

PIN OUR HALLOWEEN FRONT PORCH BELOW


This post contains affiliate links.  If your purchase I may receive a small commission.  Thanks for supporting my blog.