Haunted-House of Hargrove is all set over here!  I had so much fun decorating this year because my kids were really into it and a big help.  Avery has always loved Halloween, but this year Braden is finally able to kind of understand it.  He kept saying "spooky Mama".  Anyway, it was a family affair over here getting the house all ready.  We love to celebrate all the holidays and get our home all decked out to help set the mood.  Welcome to our Halloween Home Tour 2017 Edition.
Halloween Home Tour 2017
Skeletons & spiders….eek!  Our entry got invaded with these creepy things!  I love these big stick on spiders because they are super cheap, make a huge impact and are big enough I will not mistake them for real spiders.  I don't want to legit be scared in my home!
I have mentioned before that I love decorating with clipboards because it is such an easy/fun way to display art and very inexpensive.  Change it up with each holiday and you are all set!  Hocus Pocus is my favorite Halloween movie so I thought doing a broom parking chalkboard sign would be fun to go with this spooky broom we have.  It actually turns on, makes a creepy sound and spins around!  Much like the spiders I mentioned….these paper bats are a great way to add spooky fun to your home on a budget!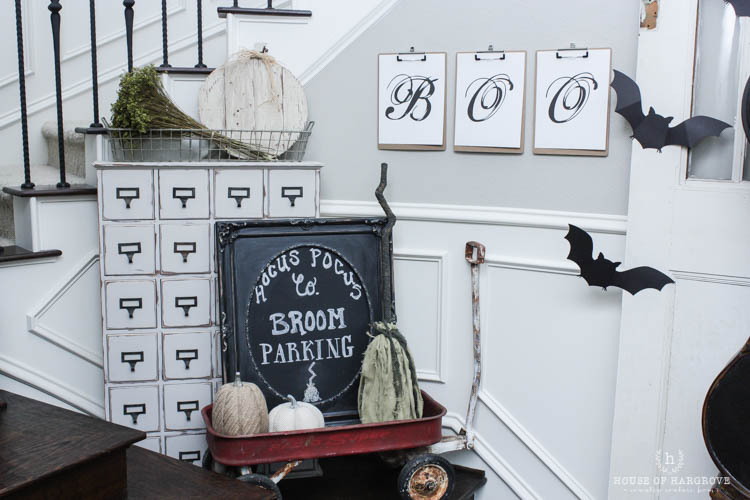 You may have seen my IT Tablescape/party, but that was NOT staying permanently…way too scary!!  I like my holiday decor to blend with my everyday decor.  I still keep it pretty neutral and add vintage/farmhouse touches to my spooky decor.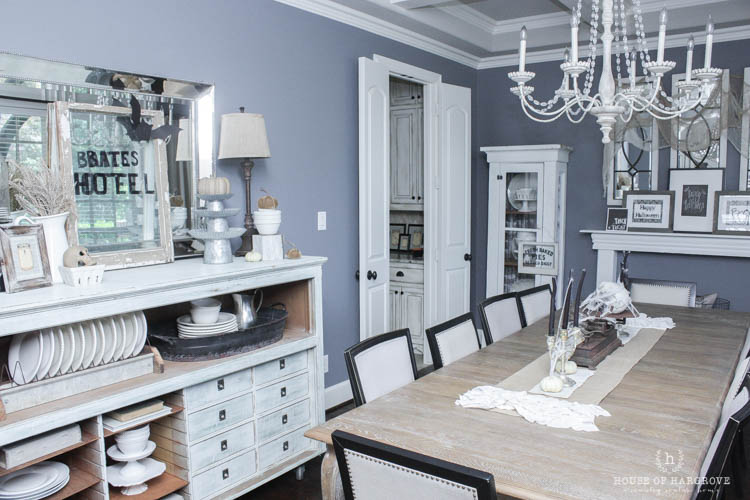 I bought this window at an auction a few years ago and it said HOTEL on it.  I just love it.  I thought it would be fun for Halloween to add BATES above it.  I know it was the "Bates Motel"….but close enough :).  I framed one of my FREE Halloween Mason Jar printables and added some pumpkins and a skull.
These spooky fabrics are a fun way to decorate….very inexpensive.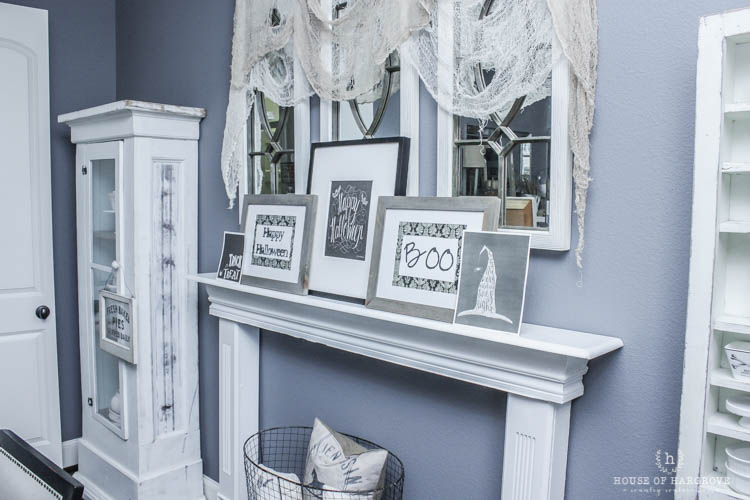 Loving my new buffalo plaid pillows and they go great with Halloween decor!  I repeated the mantle decor I did last year and added touches in my bookshelves, pillows and new favorite pumpkin candle!
This might be my kids favorite part because they love all the candy!!  We change it up with each holiday.  Again, I used my FREE mason jar printables here and just framed them in some Dollar Store frames.  Then just added fun seasonal candy to the jars.
This little spot is in our breakfast nook.  A few Dollar Store tombstones, pumpkins, creepy fabric and my favorite $5 pumpkin candle and this section is all set!
Thank so much for coming to tour our haunted house.  Hope you and your family have the best Halloween!
See our Halloween porch HERE
PIN OUR HALLOWEEN HOME TOUR 2017 EDITION BELOW