When we built our home I didn't think through my closet with much detail.  One thing that has always bugged me was the lack of shoe storage.  I was still using my cheap hanging shoe racks from college!  YIKES!  Not only are they ugly, but they are all different colors.  HA!  I was ready for an update and love my new shoe storage.  Check out my custom built in looking shoe storage for less than $100!
Here are my mix matched hanging shoe racks!  Different colors, different lengths….time to go!
I knew I wanted white cubbies that looked like they were built in.  I looked at a bunch of different options, but ended up going with the Container Store 12 Pair Shoe Organizer.  The ones I saw at Target were a little cheaper, but the reviews said that the cubbies were so small that many shoes didn't fit.  You had to put 1 shoe in a cubby and another shoe in the other cubby….no thank you!  The Container Store one had the look I wanted, was larger and had good reviews!  They cubbies can be used in either direction depending on your space.  I had perfect amount of space to stack 3 on top of each other.
I got them on sale so they were $31.99 each.  They offer FREE SHIPPING on orders over $75!  They were very easy to put together.  Took me about 10 minutes each.  The material is very sturdy and good quality!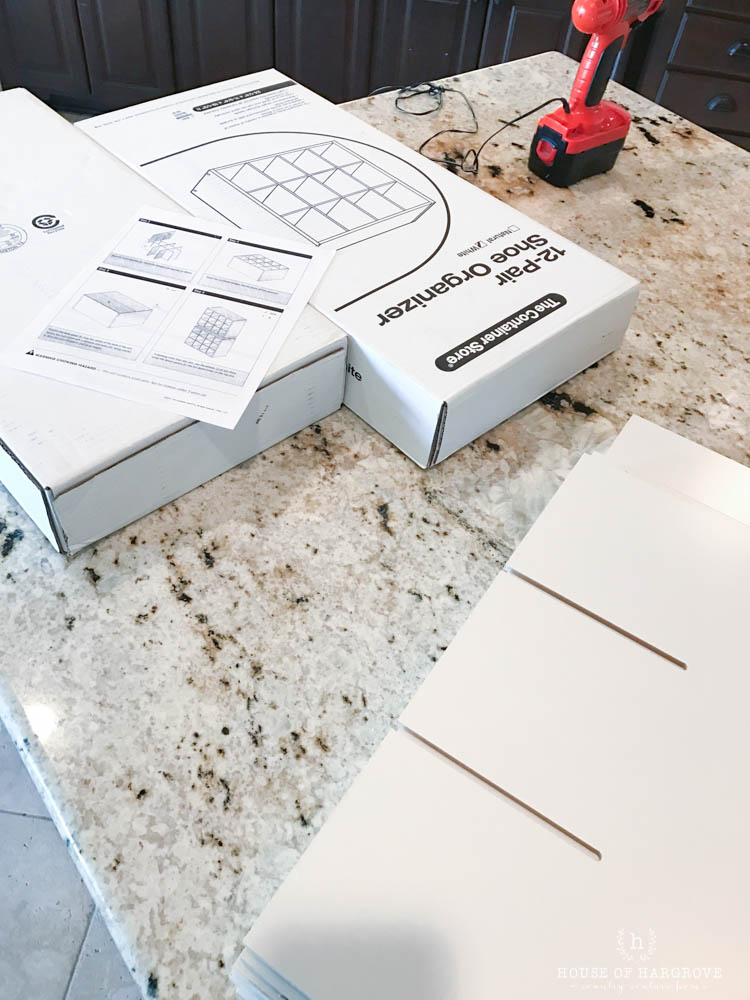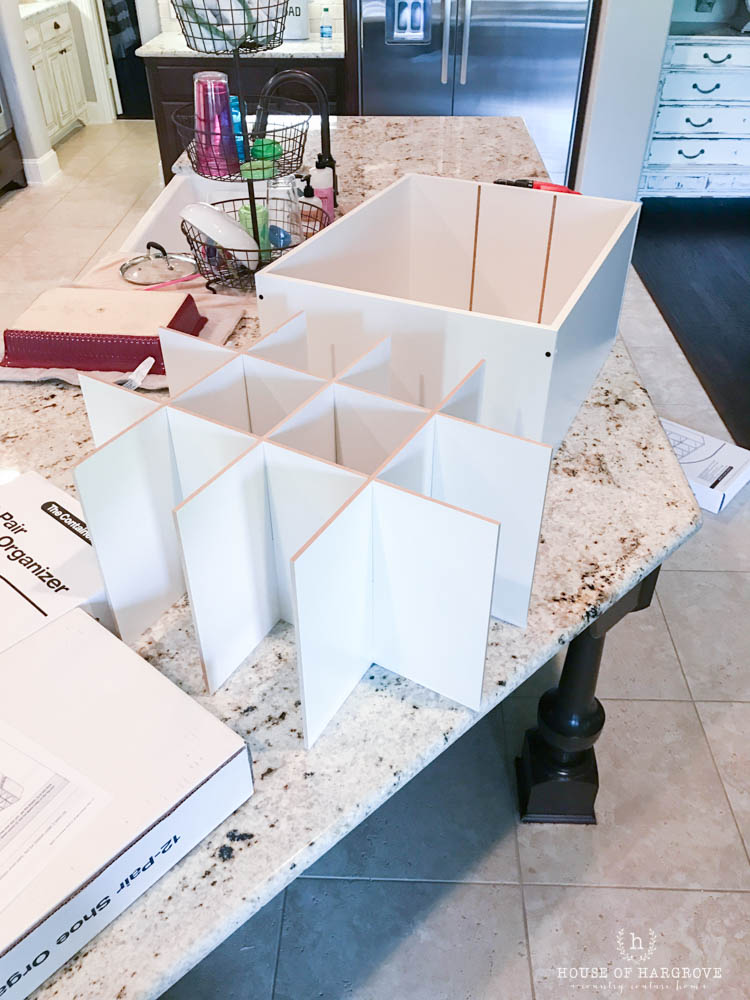 Ta Da…… (please ignore the amazing photography here)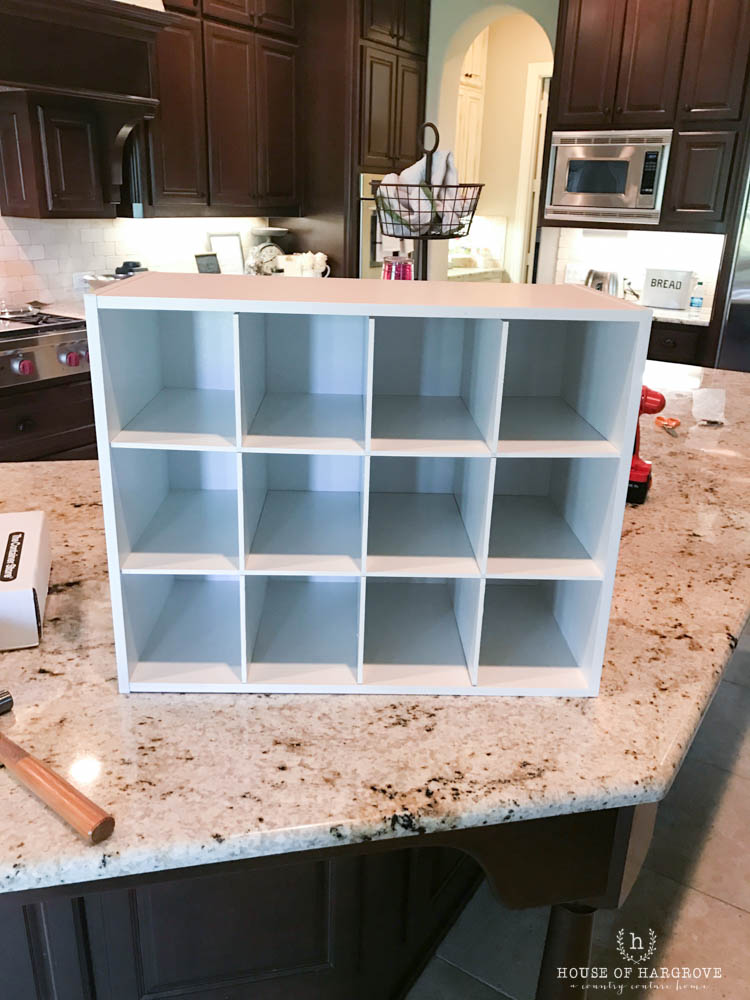 I cannot tell you how happy I am with the result!!  I just love them!! These cubbies have dowels to make them very sturdy when stacked on top of each other.  I am very impressed with the quality and they look like they were built in.  I did keep one of the hanging shoe racks because I had just the right amount of space on the side for one and needed some storage for my scarves.  If you need shoe storage I highly recommend these cubbies!!  They can be used for so many things.  They also have an 8 pair cubby that coordinate if you need larger space for bigger shoes.
Here is a picture from the Container Store website showing another configuration.  You can also get the cubbies in a wood color.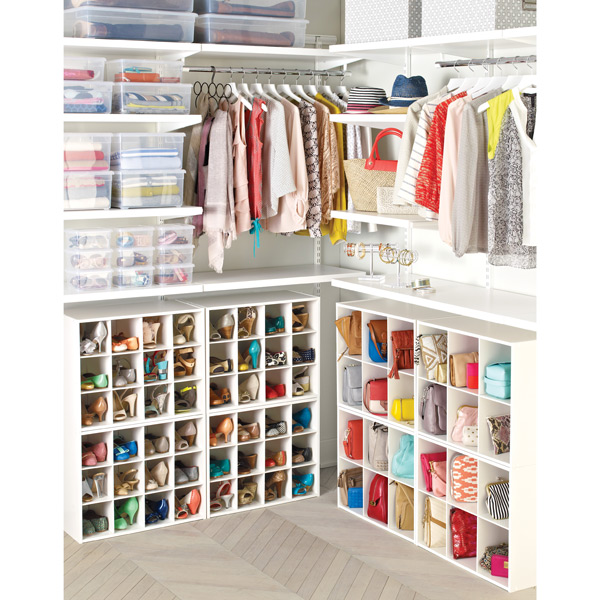 I LOVE my closet now!  My shoes all have a space and this winter I am going to love being able to see all my scarves! They used to all be shoved in a drawer!
I got my cubbies on sale.  They were $31.99 each and I got 3 so my grand total was $95.97 with free shipping….LESS THAN $100!  Such a steal!!  Custom looking shoe storage for less than $100.  Yall know I love the "look for less".  If you need storage in your closet Container Store is the place to go.  This post is NOT SPONSORED….I just love the stuff I find there!  I highly recommend these cubbies!
SHOP CUBBIES BELOW

SHOP ALL SHOE ORGANIZATION HERE
Pin the photo below if you are thinking of organizing your closet!!