Its beginning to look a lot like Christmas around here. I hit up At Home for some fun new decorations and they don't dissappoint.  They have aisle and aisle of things to choose from!  If you are looking for a specific ornament….go there!  They must have 1000 different options!  I am not even kidding.  Since I love mixing themes it was so much fun to let my imagination wander. I decided on a bit of glitter and a bit of rustic!  Here is my sparkly farmhouse holiday decor!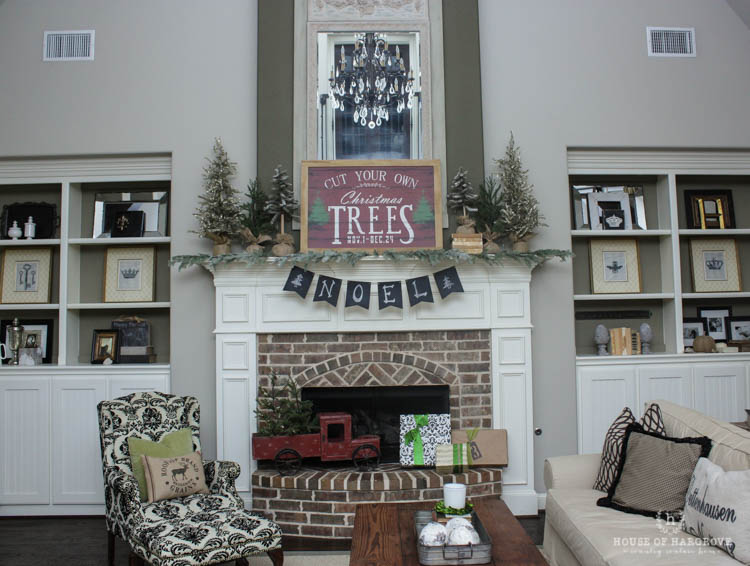 As soon as I saw this Cut Your Own Trees sign I had to have it!  It is huge and so cute!  I love the farmhouse feel.  Living in Texas we get a fake tree, but I love the idea of living in the north and taking the family to a tree farm each year to pick our Christmas tree….until then, I will enjoy the sign 🙂  There were tons of faux tree options at At Home so I combined a few of my favorite to tie into the tree farm theme.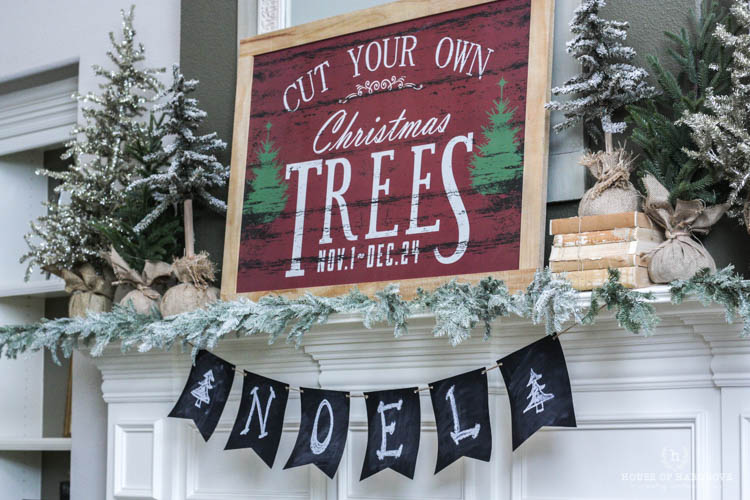 They had lots of garland to choose from and I loved this flocked greenery that had clear and white glitter on it.  It was subtle, but added just a bit of shimmer.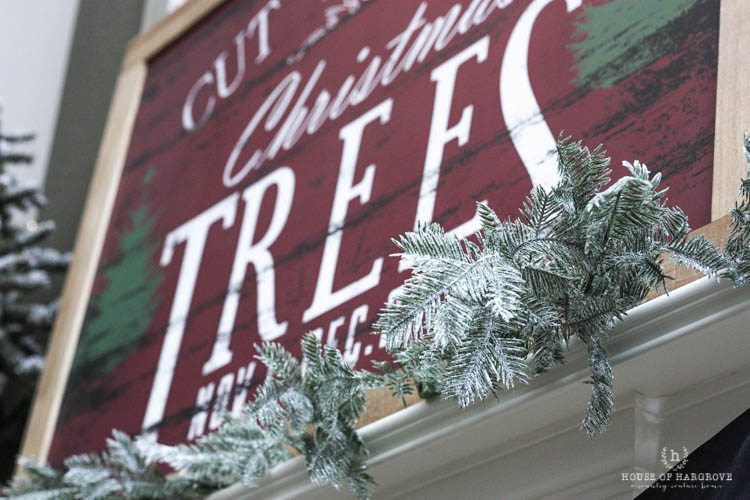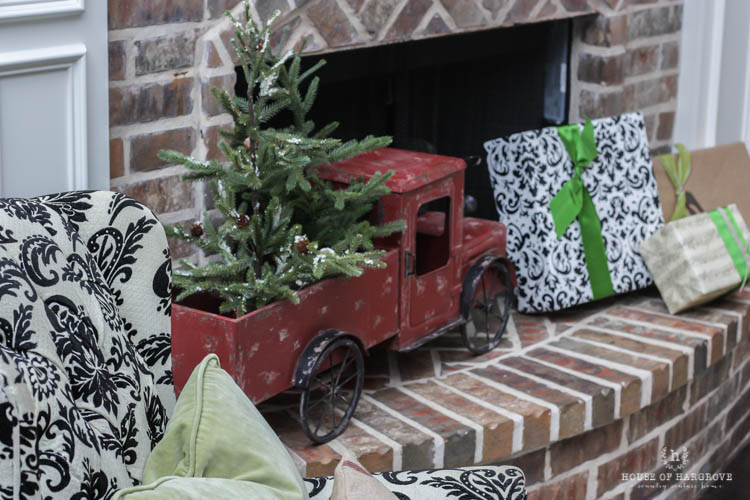 One of the things I love about At Home Christmas Decor is they have it broken up by themes to fit everyone's style.  It makes decorating so much easier because everything coordinates.  The 2 themes that I bought the most of were Winter's Garden and Lavish and Luxe.
I love decorating with ornaments in unique ways.  Here I took birch wood balls and used them as a tray filler.  They add a bit of rustic decor, but also have clear beads on them to add a touch of sparkle.  I also like to use ornaments on each place setting in a tablescape.  I use this tray year round and just love it.  It has a vintage/industrial feel.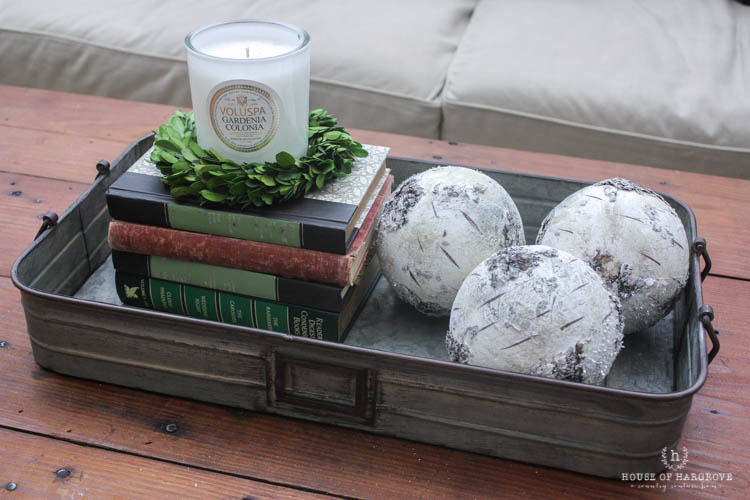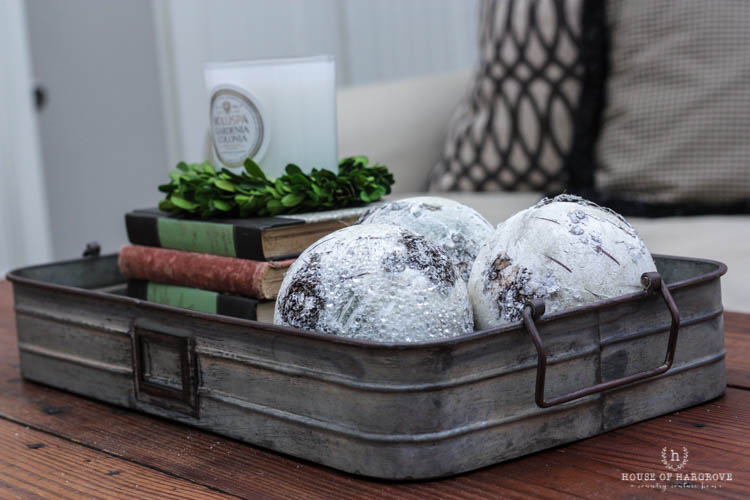 How cute are tiny little Christmas Villages?  It would be a dream to live in a cottage covered in glitter!  Until then I will just decorate with them.  My kids love these too because they light up and they play make believe on what is going on in each house.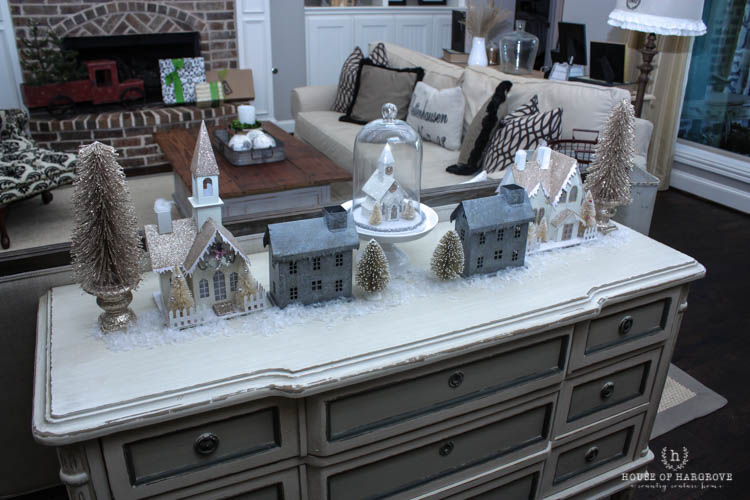 Again, At Home has such a huge selection.  There were tons of homes to choose from, but I loved these white glitter and galvanized metal ones.  The one in the middle came with the cloche and everything!  I love that it is all one piece!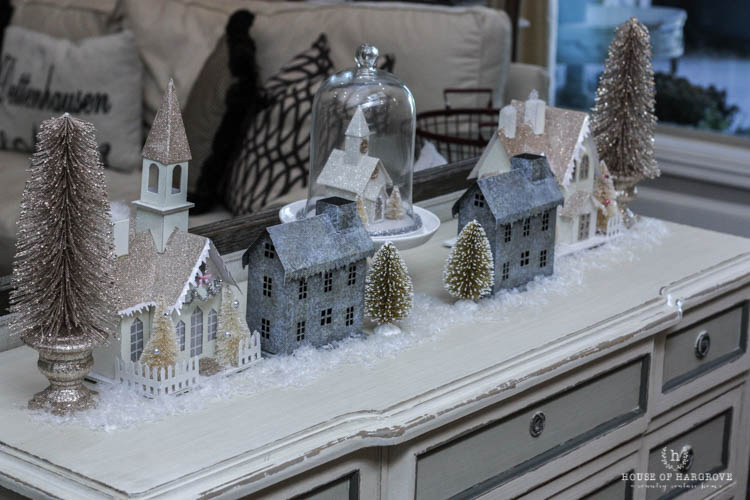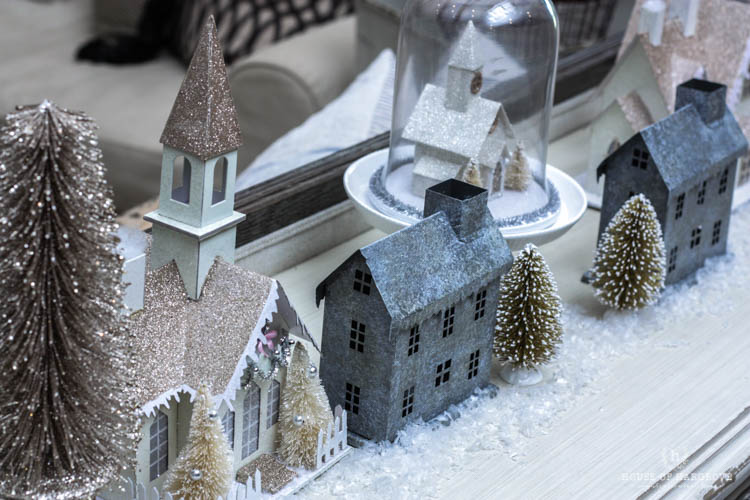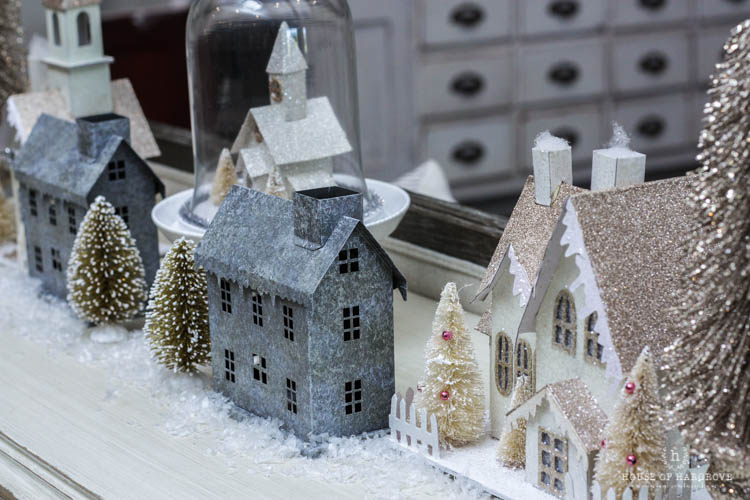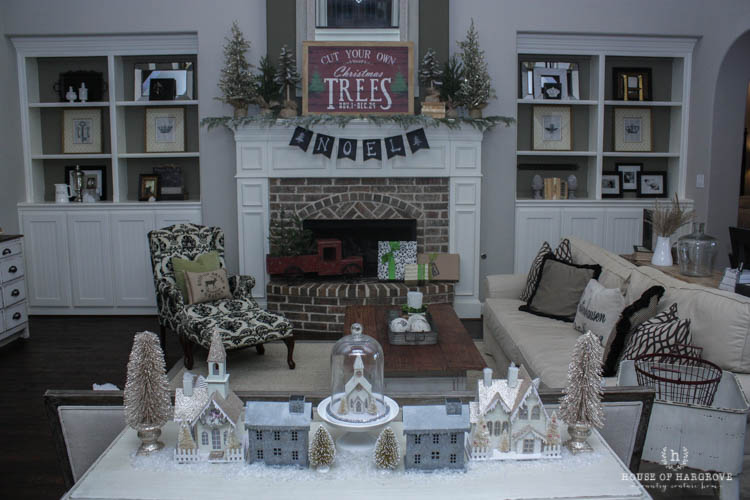 Here they are all lit up.  At night with the fire going everything feels really cozy!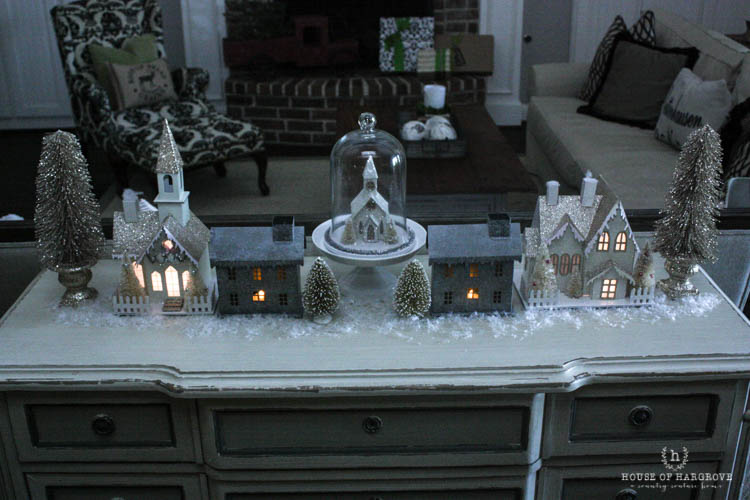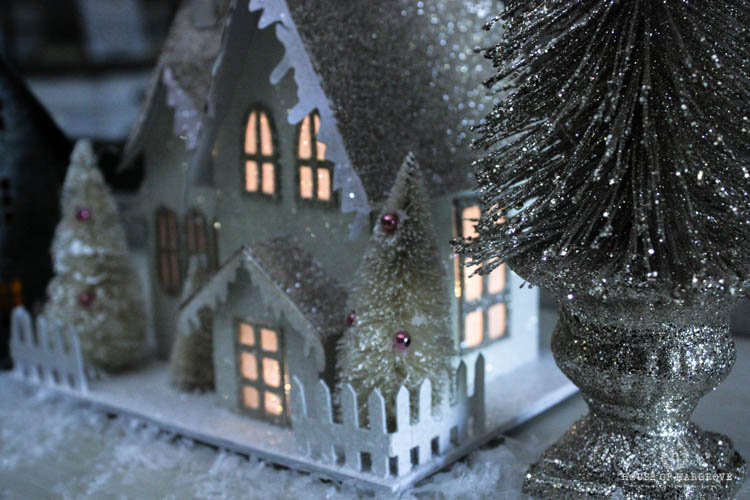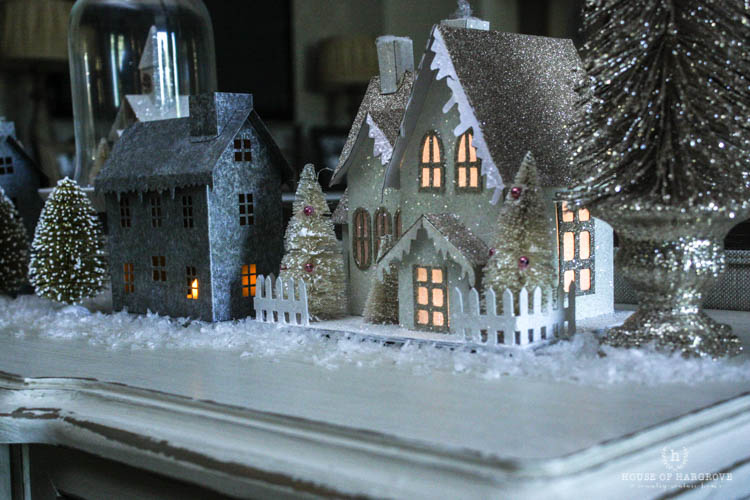 Hope this gave you some fun ideas on how to add holiday fun to your own home.  There are no rules…just pick the things you love!  At Home has everything you need for your holiday decor needs!  To find the store nearest you click HERE. Be sure to follow At Home on Instagram to get lots of inspiration!
Pin this photo if you loved my SParkly Farmhouse HOliday Decor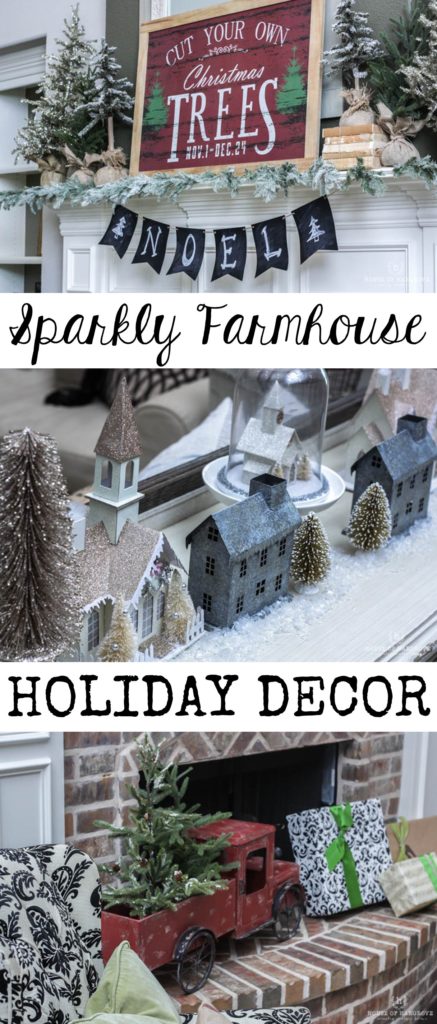 Thank you so much At Home for sponsoring this post.  I love your store.  All opinions are my own.