This post is brought to you by CJ Affiliate's VIP Content Service.  Thank you Pier 1 for sponsoring this post.  All opinions and content are my own.
Halloween is coming soon and what better way to celebrate than to host a fun Halloween dinner.  Have one for your family or invite over your favorite "goul"friends…it is sure to be a great time!  Get all the details on my spooky Halloween tablescape below.
I love a good festive family night.  We like to celebrate big over here.  We have an annual Hocus Pocus night where we have a spooky dinner, get in our Halloween PJs and then go watch the movie as a family.  I grew up watching the movie with friends and now that Avery is older we watch it with her and it is such a fun family tradition (in her younger years we would watch Its the Great Pumpkin Charlie Brown).  We start the night by setting the mood with a spooky Halloween tablescape.  Fun fabric is a quick way to transform the feel of a room.  Hang it over a chandelier or get this awesome black spooky cloth fabric and put it over your windows to transform your home into a haunted house!
These black jeweled candelabras are perfect for the center of the table.  They add height and the style is both spooky and beautiful.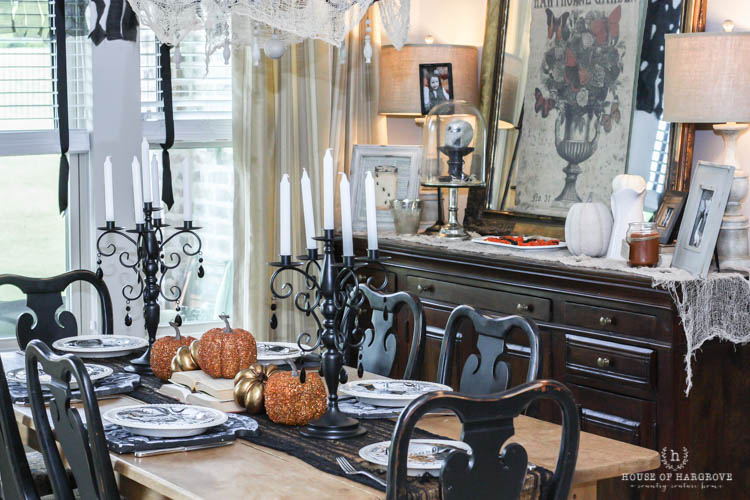 I lined the middle of the table with fun pumpkins.  Avery loved the orange glitter ones!  The gold ones helped complete the look.  I love adding books to my decor….I told Avery they were the witches spell books!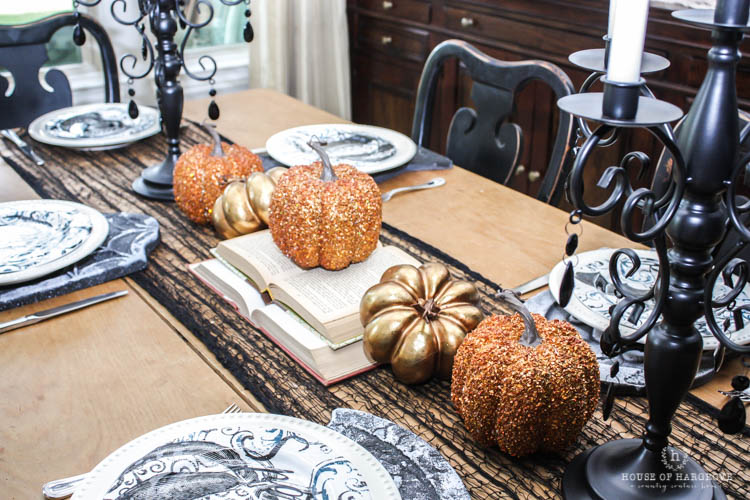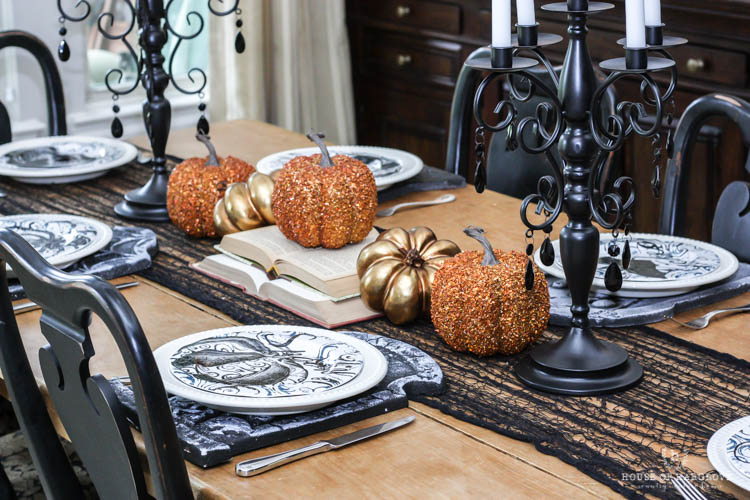 How cute are these Halloween plates?!  Not only are they perfectly creepy, but they are melamine so they wont break…perfect for kiddos! We will use these all month long! Comes with a set of 4 and each one is a different style.  I love the skull one!  I used tombstones as chargers to add even more fun!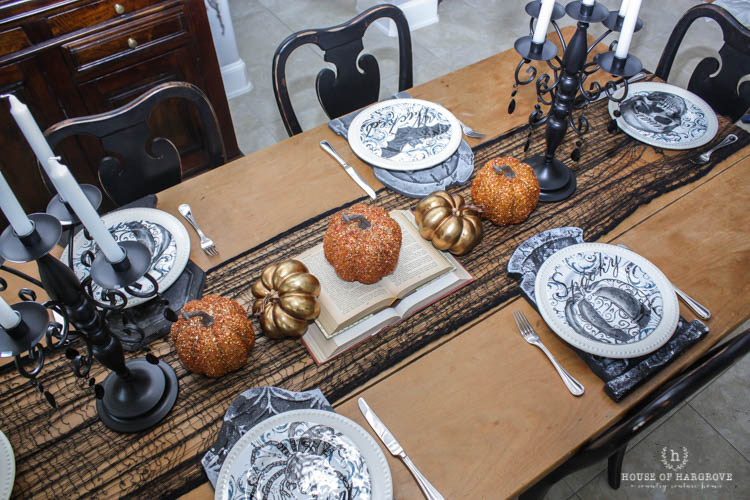 How great is this painted wine glass?!  The perfect addition to the table!  Add some witches brew (aka wine) and you are all set!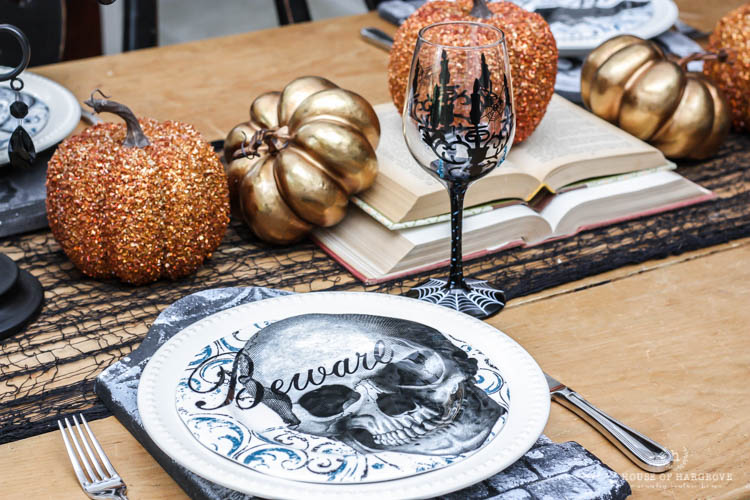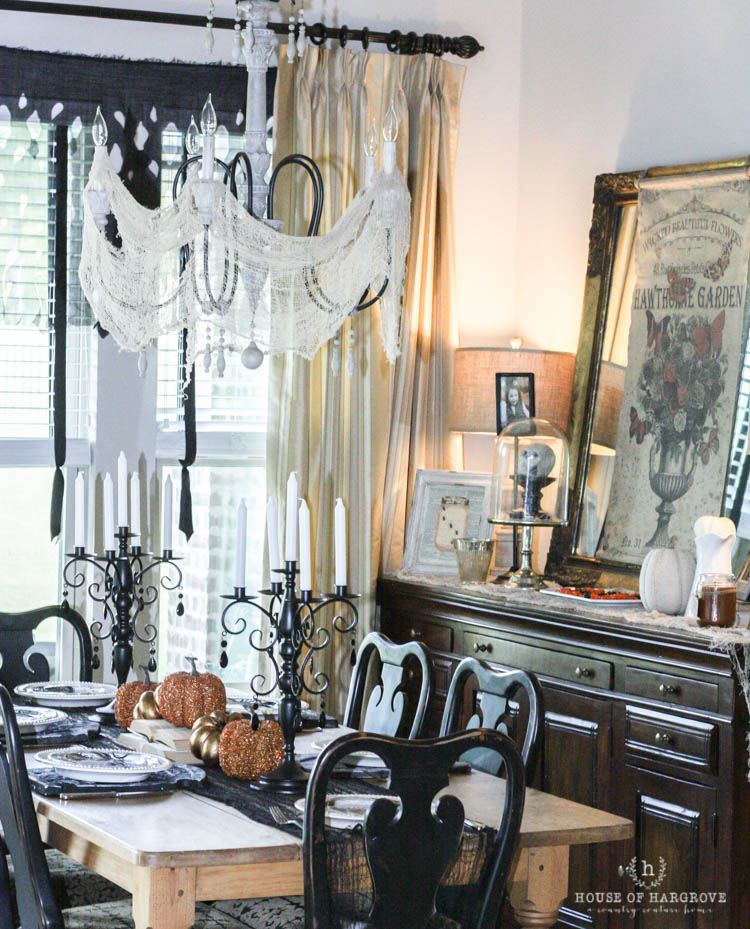 This wall hanging is one of the coolest items.  It is Black and Orange and has a really creepy feel to it while not being overly Halloween.  The size is great so it would be the perfect decoration if you have a large space to fill.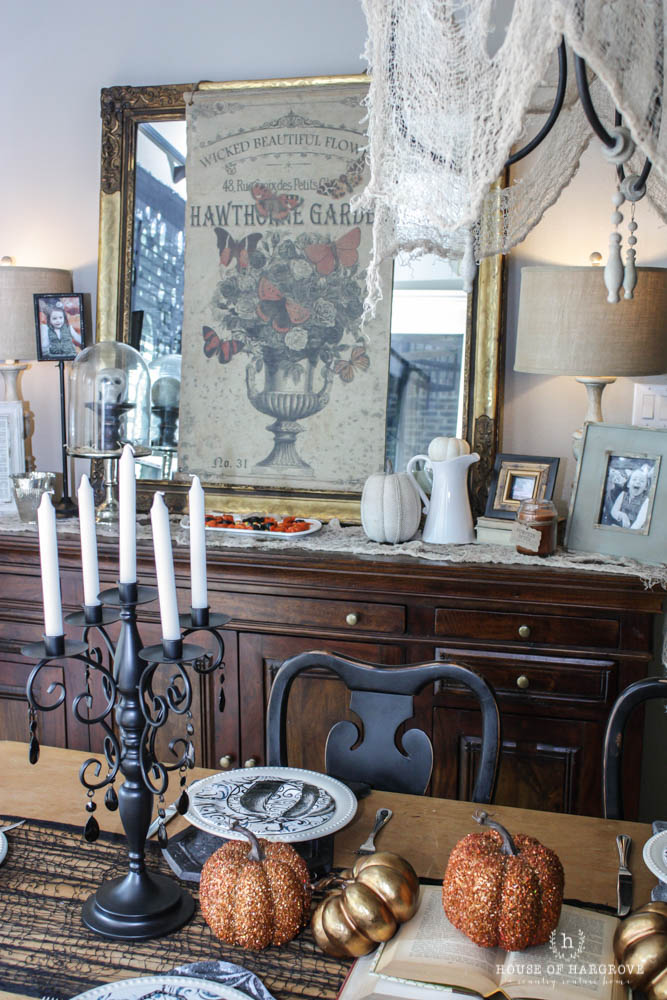 Last, but not least is the dessert!  Halloween is not complete without candy!!  We grab some candy and enjoy it while we watch our movie.  When I saw this "Treats" platter I had to have it!  It can be used year round, but is perfect with any Halloween decor!  Fill it up with your favorite spooky treats…candy, pumpkin bread, cookies…you name it!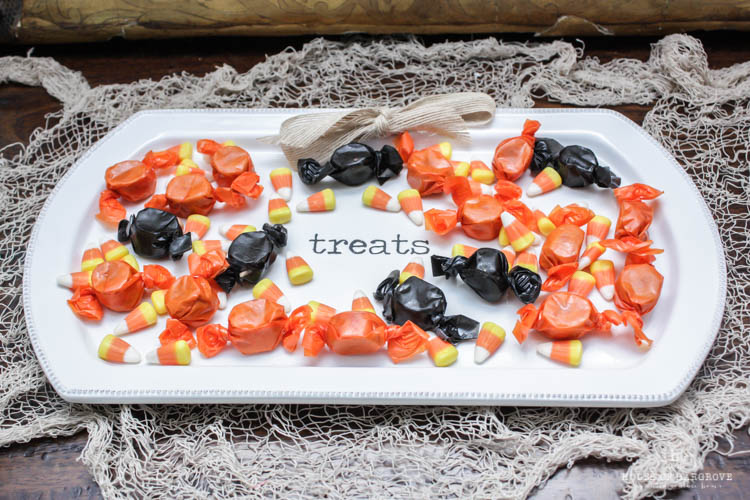 I hope you found lots of spooky ideas to get your home ready for Halloween and were inspired to do your own family movie night.  It is such a fun night we look forward to each year.  Creating fun, family traditions that my kids will remember is one of my favorite things to do!
shop this spooky tablescape & other great Halloween items below
Pin the photo below If you loved this Spooky Tablescape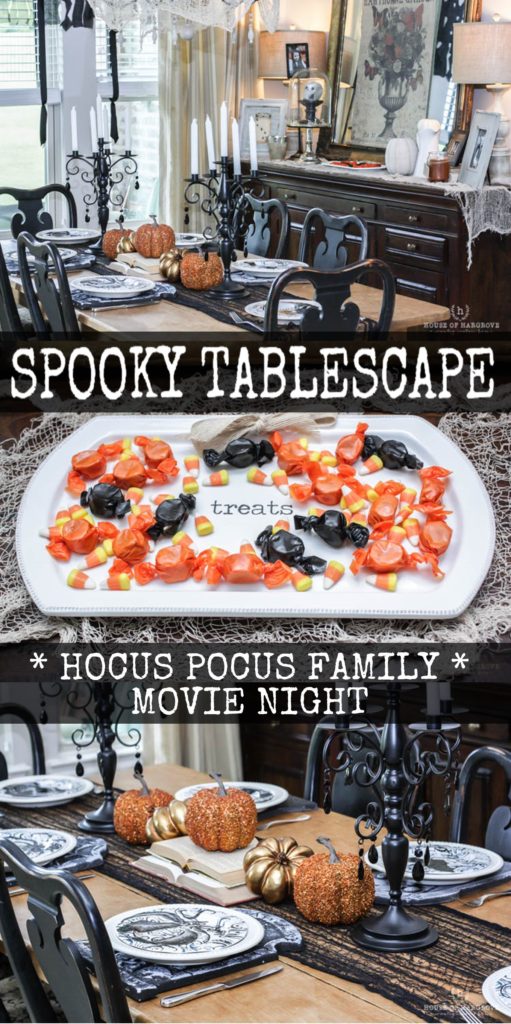 This post contains affiliate links.  If you purchase I may receive a small commission.  Thank you