Saturday my sweet baby boy turned 2!!  How is that possible?!  We had all the family over and celebrated with a taco "TWO's-day" theme!  It was so much fun and so easy!  We catered food this year and that was a total #momwin!  Who doesn't love a Taco Bar?  It was delicious and so much less work!  Here are all the details!
We are lucky to have family live close so they all came over to help us celebrate and I am pretty sure they were all excited about tacos. Here was the invitation I sent out.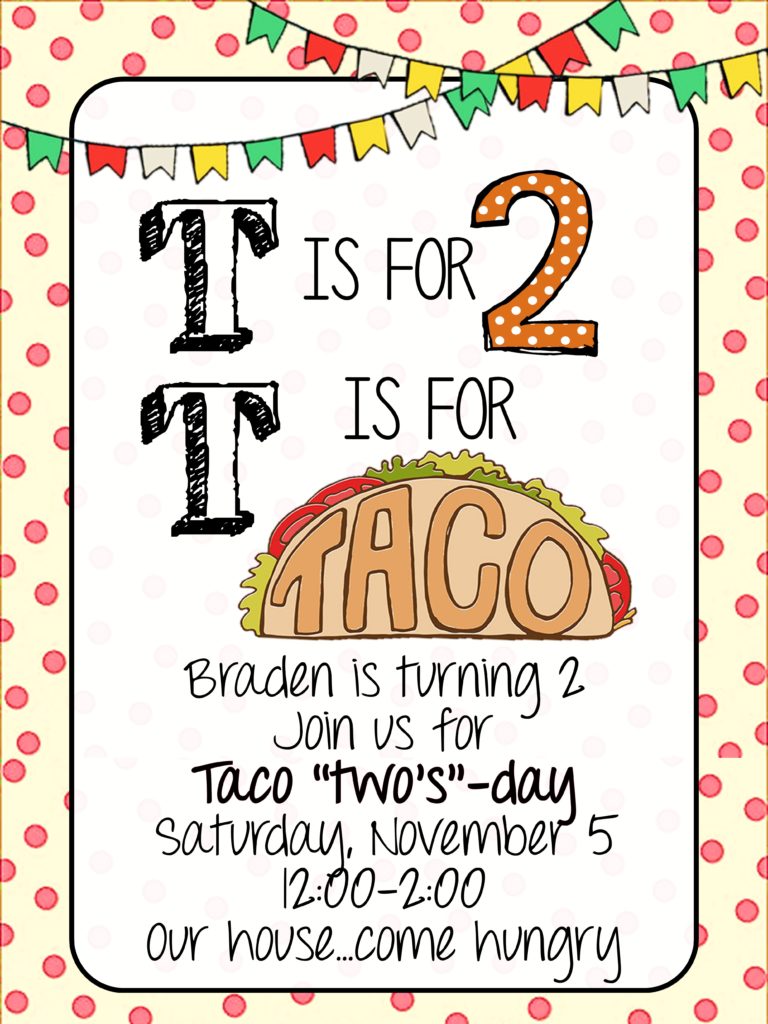 We catered Fuzzy Taco….DELICIOUS!!  I think I could definitely get used to catering!  Tastes better, less time, less clean up and we have amazing leftovers!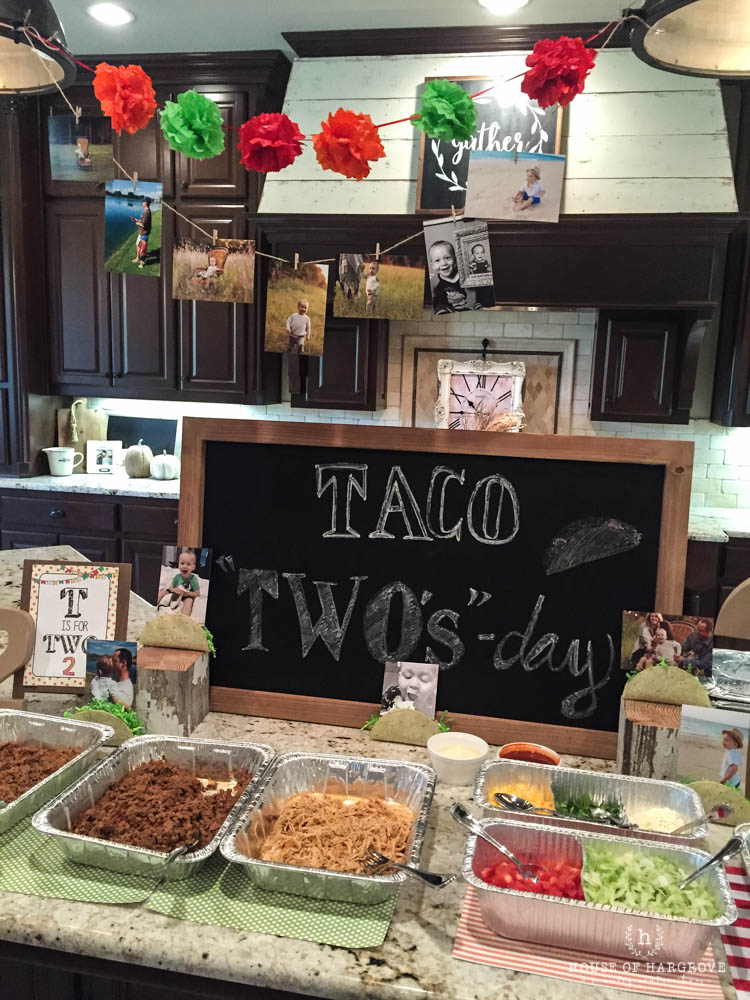 I got the pom-pom banner at Hobby Lobby and hung some recent photos of Braden below.   I just love a photo banner!  It is still hanging in our kitchen :)…I don't want to take it down!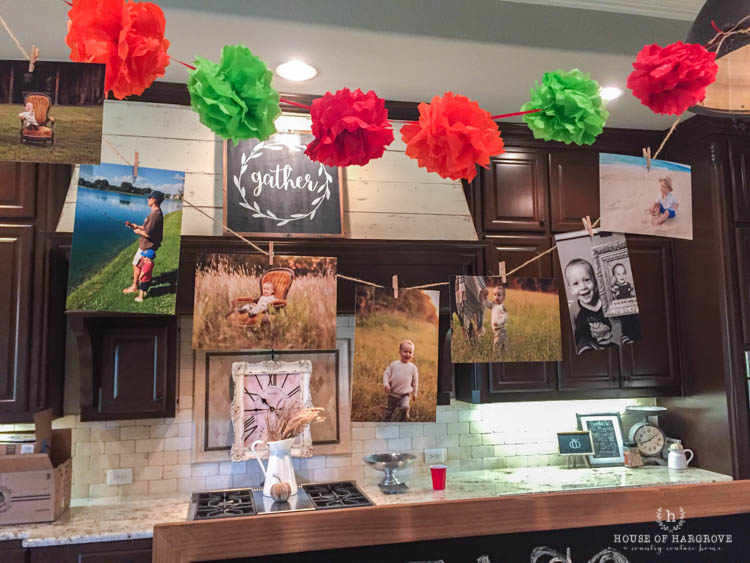 Huge chalkboards are the best.  They are cute and can be used over and over again!  I kept it really simple this year with some cardstock 2's from Hobby Lobby, chippy wood blocks, scrapbook paper for added color, signs I made and taco picture frame holders.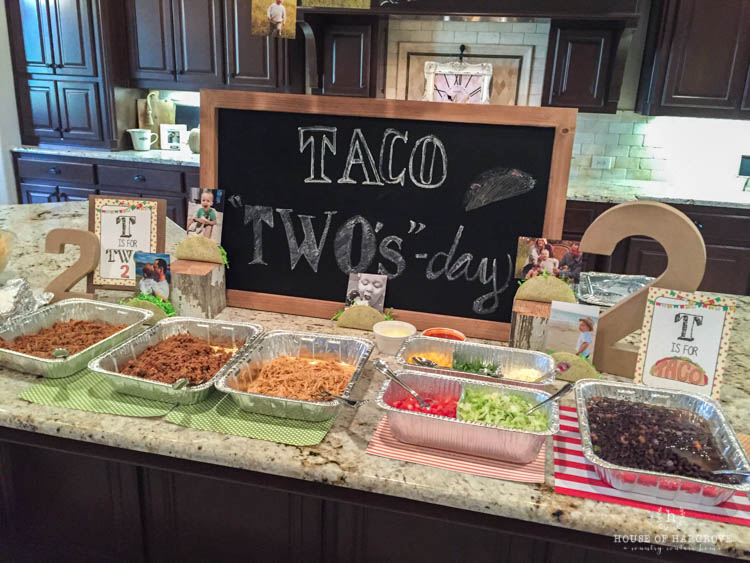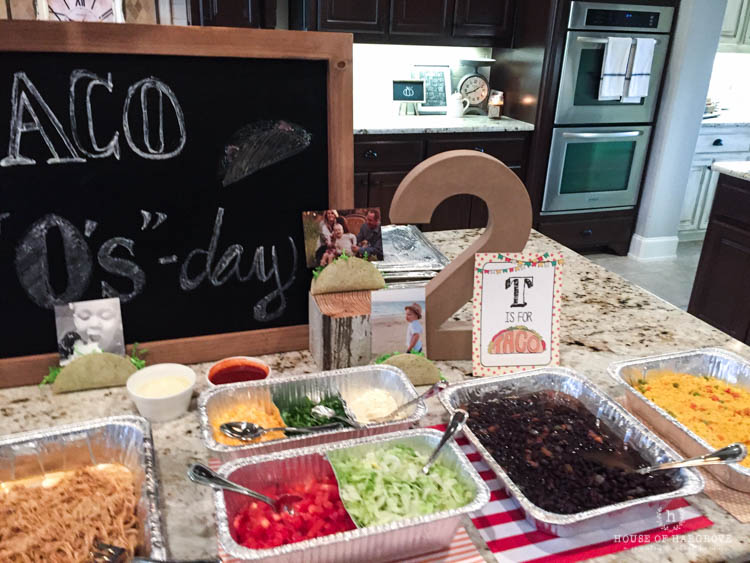 Since we had a taco theme I thought using hard shell tacos, filling them with green paper sizzle to look like lettuce and sticking  photos of Braden in there would be cute, cheap and fun!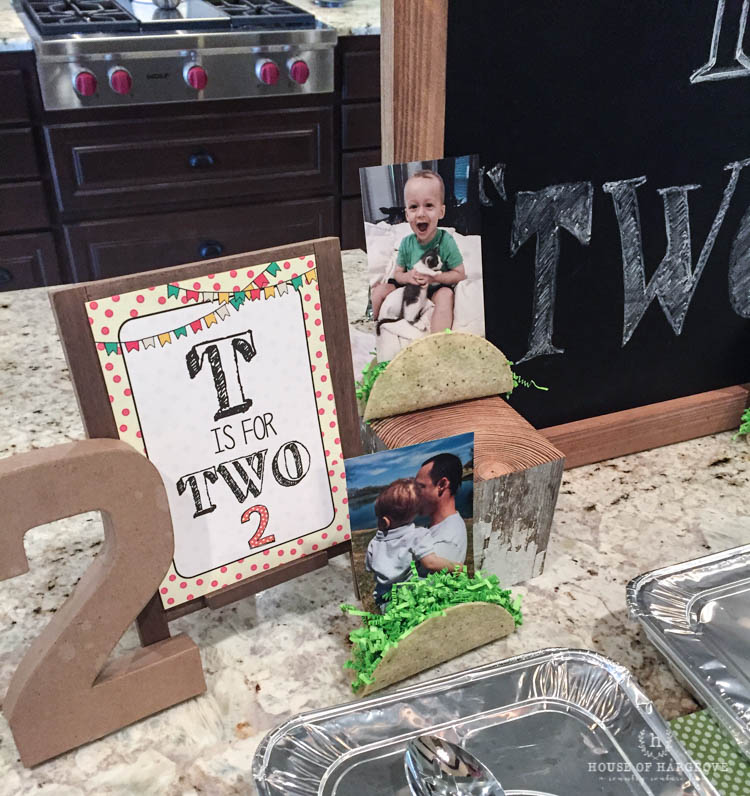 A little taco cookie cake!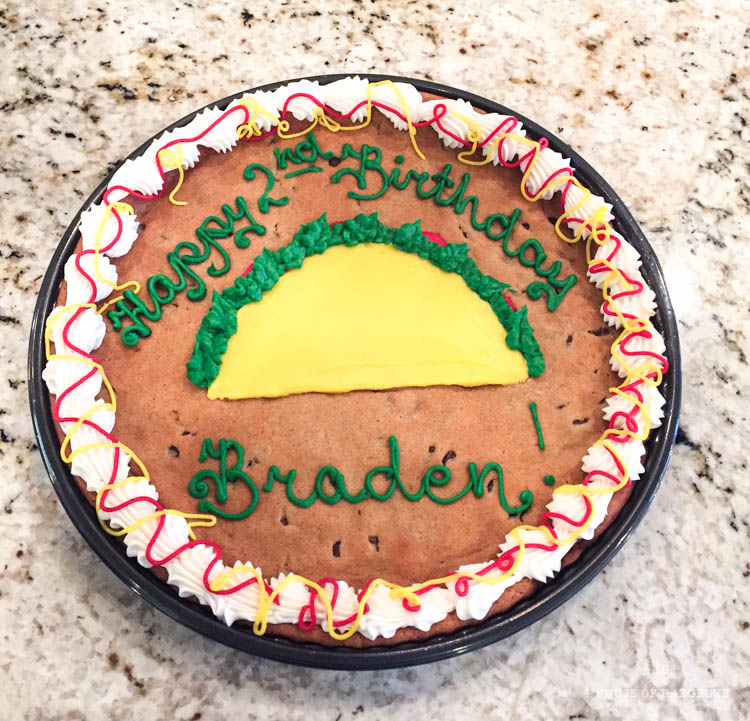 The birthday boy!!  We bought these little plastic sombreros and mustaches at Hobby Lobby and took fun pictures with them.  Braden was not so sure about the mustache!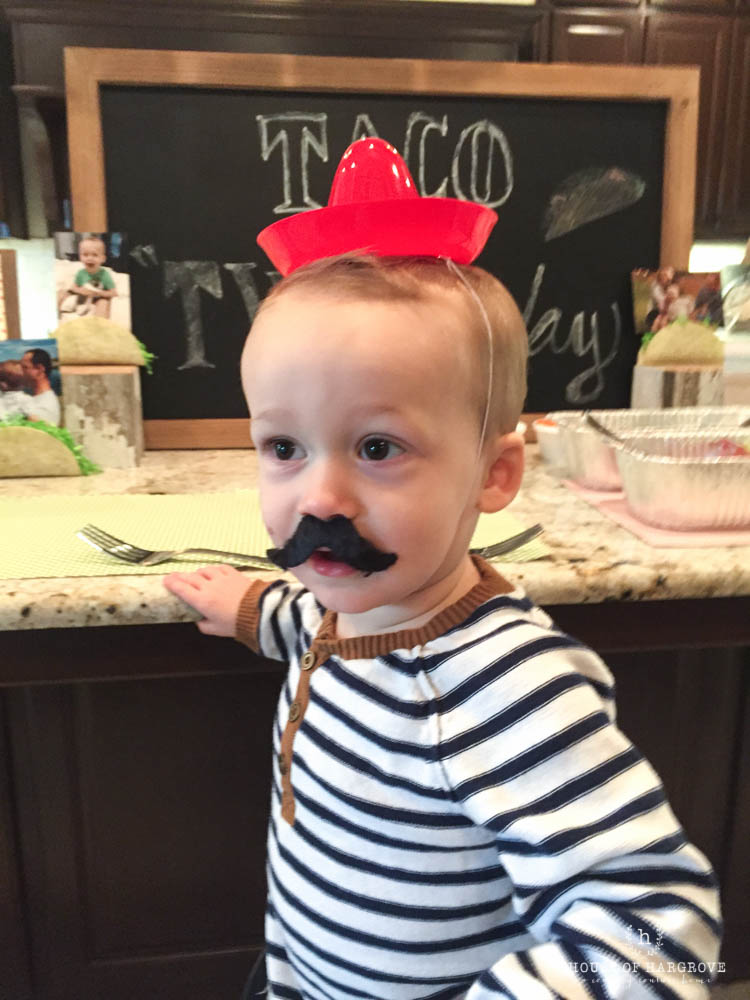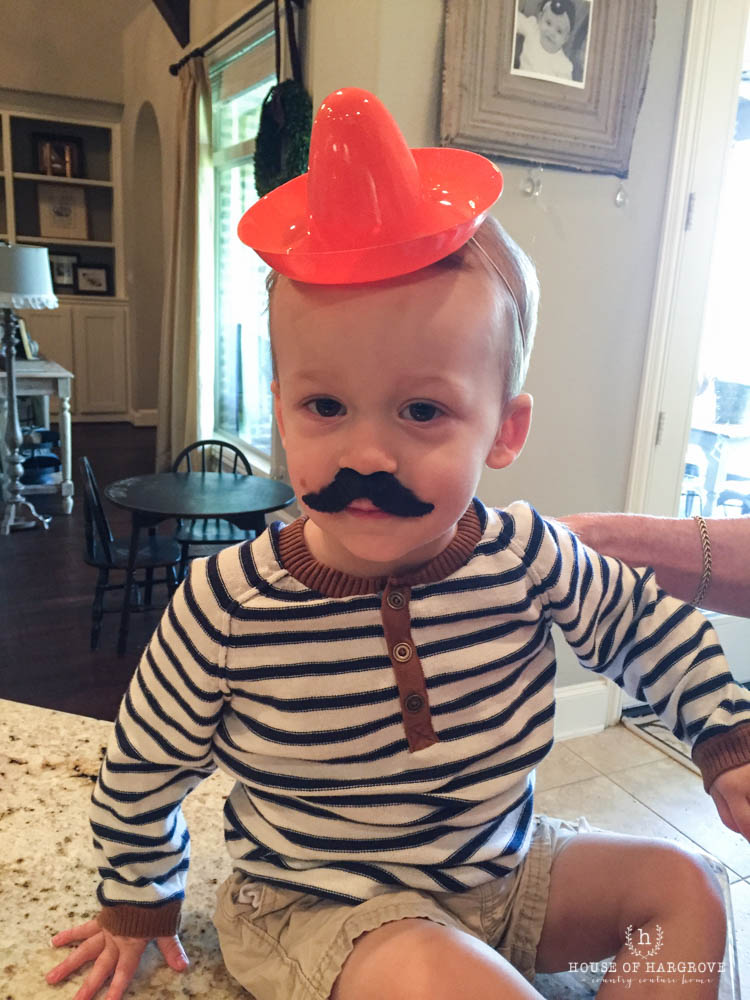 The family got in on the fun! I swear it was fun even though we all look so serious in this photo!  For some reason the mustaches gave everyone serious faces!  It was hard to smile!  Geoff's is a bit wonky! haha.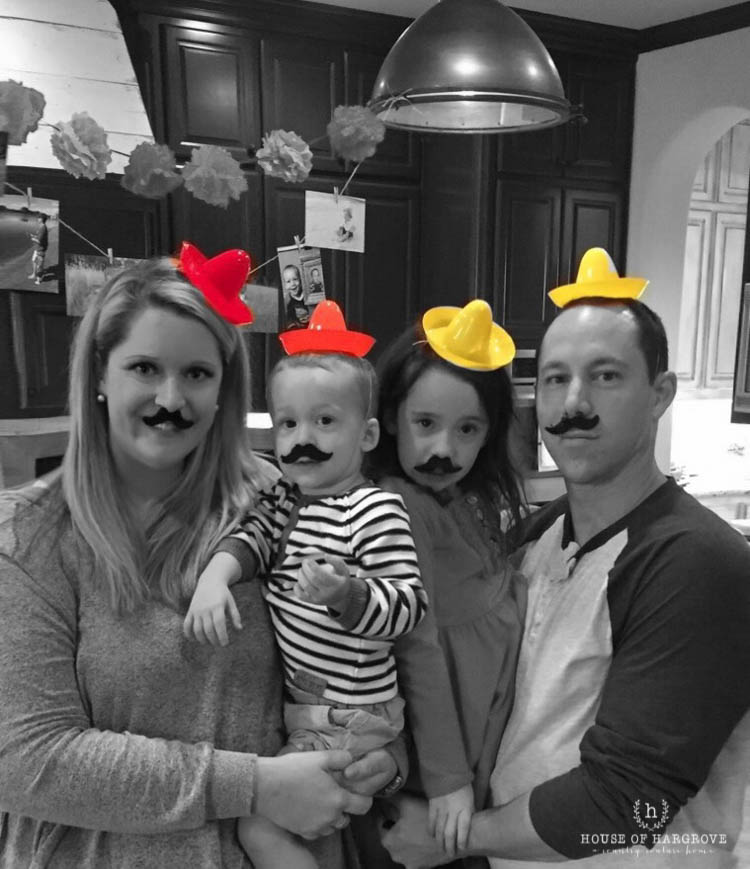 It was a fun little fiesta and we loved celebrating our sweet little man!
See Braden's Vintage Barnyard 1st birthday here.
Pin for later so you can throw your own TACO "TWO's-day" party