It's here. . . my favorite season ever!  I just love the holidays!!  We have been busy over here getting our home all ready and I have been getting lots of questions about our Christmas Tree so I am sharing all my tips and tricks to make the perfect Christmas Tree.
TRICKS FOR THE PERFECT CHRISTMAS TREE
To me there are 3 things that are super important in making the "perfect" tree.  Looks, lights and scent!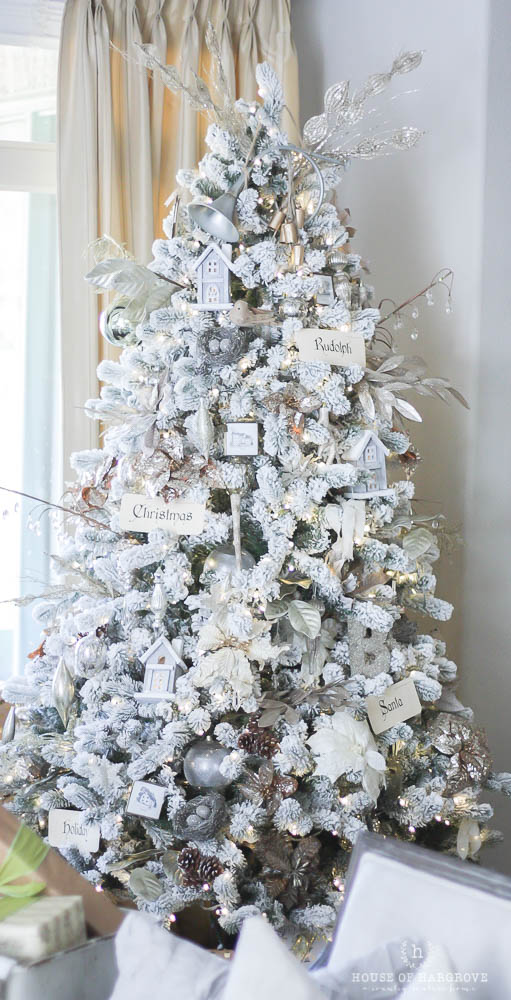 LOOKS
I am a faux tree girl.  I love that you can pick out the exact look you want, the branches are firm so they are easier to decorate, there is no maintenance, and you can use it year after year.  I used to get a real tree every year, but it was just too much work.  You had to remember to water it, the branches were real so some were flimsy and didn't hold my ornaments as well, my trees always seemed to die early so mid month the needles and ornaments were sliding off and then when you have to get rid of it there is a giant mess!  NO MORE.  The faux trees are so good now a days that you can get exactly what you want and they look real.  The one thing I miss about a real tree is the amazing smell . . . but I will get to that more later because I have found an amazing solution!
This year I got a flocked tree and couldn't love it more.   I love how white and bright it is.  I like to decorate my tree very neutral with shimmery ornaments.  This allows the tree to really glisten.  The key to a unique tree is layering.
I start with all my ball ornaments and place them all over the tree.
Then I layer in my more unique ornaments.  Birds, shapes, pictures, etc.  I always use an odd number.  If I buy new ornaments I buy in 3, 5, 7. . . you get the idea.   Then I scatter them around the tree so they are not clumped together.  Below you can see glitter letters, a metal nest, a mercury glass letter, a frame with house print, a bird, etc.  They are all neutral so they flow together, but all are unique.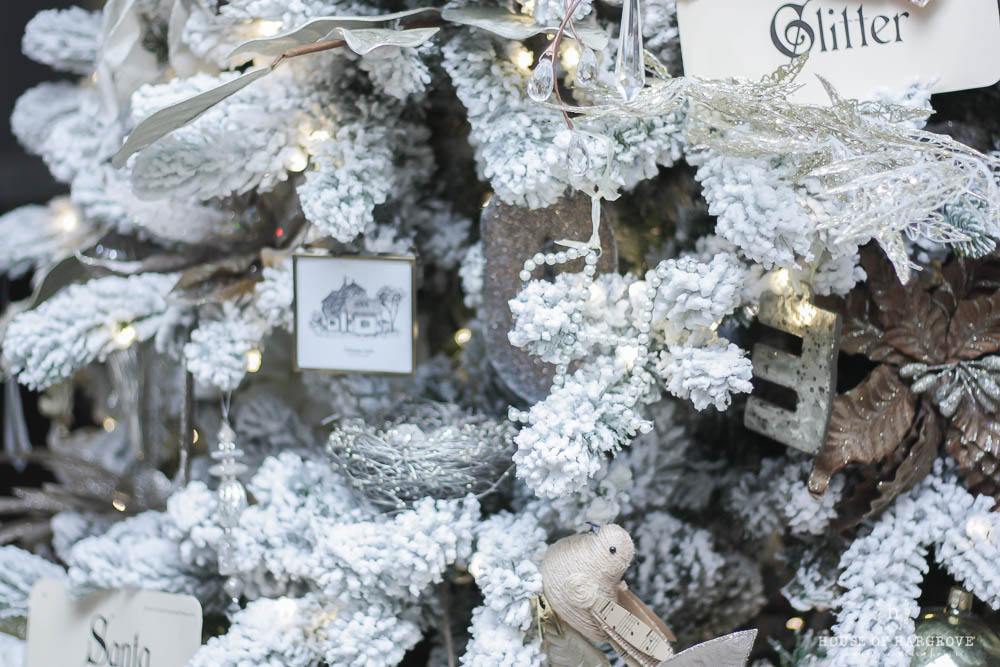 After my ornaments are done I place my picks.  I use lots of different fun, glittery picks, pine cones and flowers.  I will go to the floral department and find glittery flowers sometimes because they take up lots of space. I also use tree branch picks so it adds some texture to the tree.  They are also flocked so don't stand out too much, but add a little different shape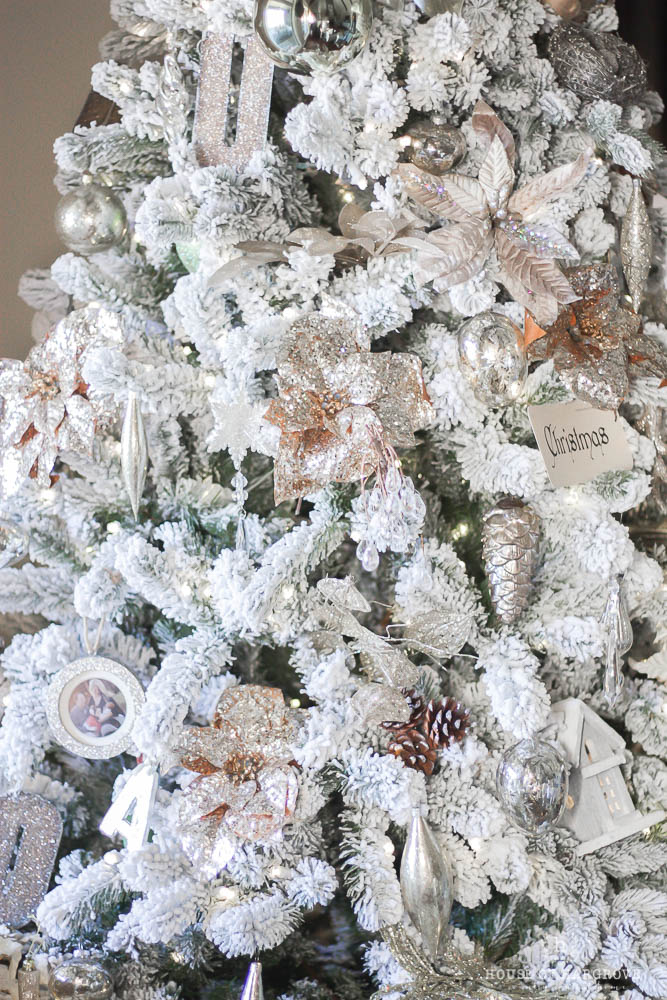 Lastly, I like to add whimsical things to my tree for added interest . . . this year I did flash cards and wooden houses.   You can do many things here . . . toys, bingo cards, silhouettes, etc.  Find something you love and make it your own.
The layering adds so much interest to your tree and really makes it one of a kind.
LIGHTS:
It makes my heart happy to be cuddled up with my family to the glow of a Christmas tree.  Personally I like mine to be prelit because I am not good at stringing lights.  It is well worth the extra money to have it already lit.  We leave ours on 24 hours a day.  Walking in the room and seeing it glow really adds to the holiday feel to me.  I like white lights and lots of them!  I mentioned above I like neutral metallic ornaments and they reflect the lights and make the tree look like there are even more!  It creates a mirror effect that makes everything sparkle!
SCENT:
Smell . . . this is SO IMPORTANT!!  The smell of the holidays is one of the best parts!  The scents of baking, fresh trees and garland, cinnamon, candles, etc.  These scents are part of all of our memories.  So…when I decided to start using faux Christmas trees I was so sad not to have the amazing smell of the Christmas tree in my home.  Then I discovered SCENTSICLES!!  Have you heard of these?!  I have been using them for years and you need them!!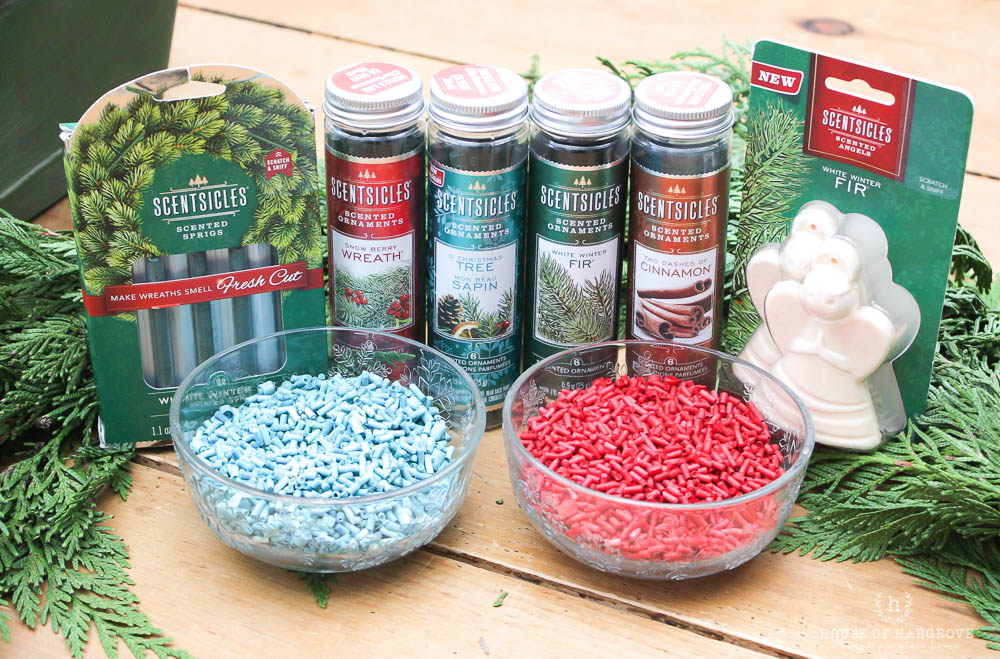 Several years ago I first discovered the SCENTSICLES scented ornament sticks at a local store and decided to give them a try.  They were a game changer.  There are 4 scents (Snow Berry Wreath, O Christmas Tree, White Winter Fir and Cinnamon) you can mix and match to make your own signature fragrance.  Our favorites are White Winter Fir and Cinnamon.  They are super easy to use.  They come with ornament hooks so you can hang them in your tree where no one can see them…or you can just stick them in your tree like I do.
They smell amazing!!  They are made of all natural, biodegradable recycled paper infused with pure fragrance.  Our entire home smells like fresh Christmas tree without any of the hassle!  After falling in love with the scented ornaments I wanted to see what other products SCENTSICLES had.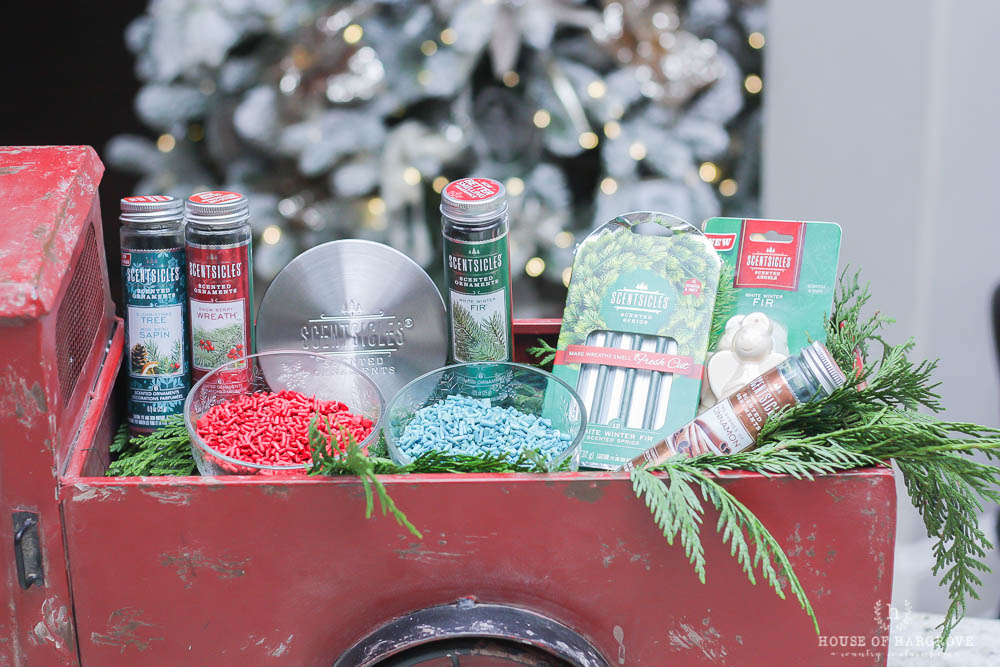 They have scented sprigs for your wreaths in the most popular scent White Winter Fir.  It smells just like a fresh cut Douglas Fir wreath!  They also have decorative angel ornaments that smell like fresh fir so you can hang these in your tree as decoration and a way to make it smell good.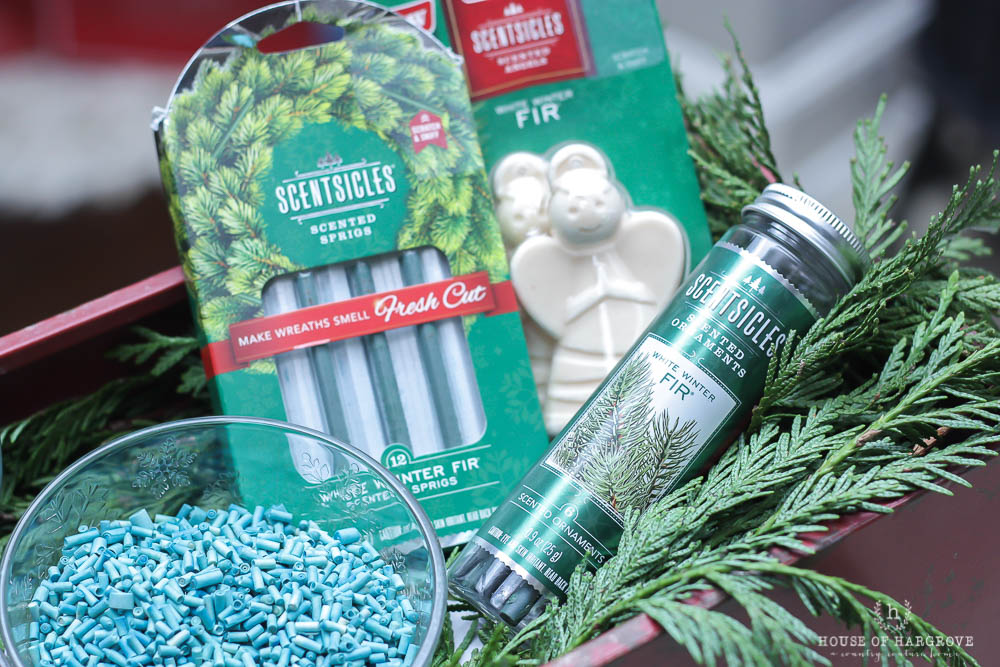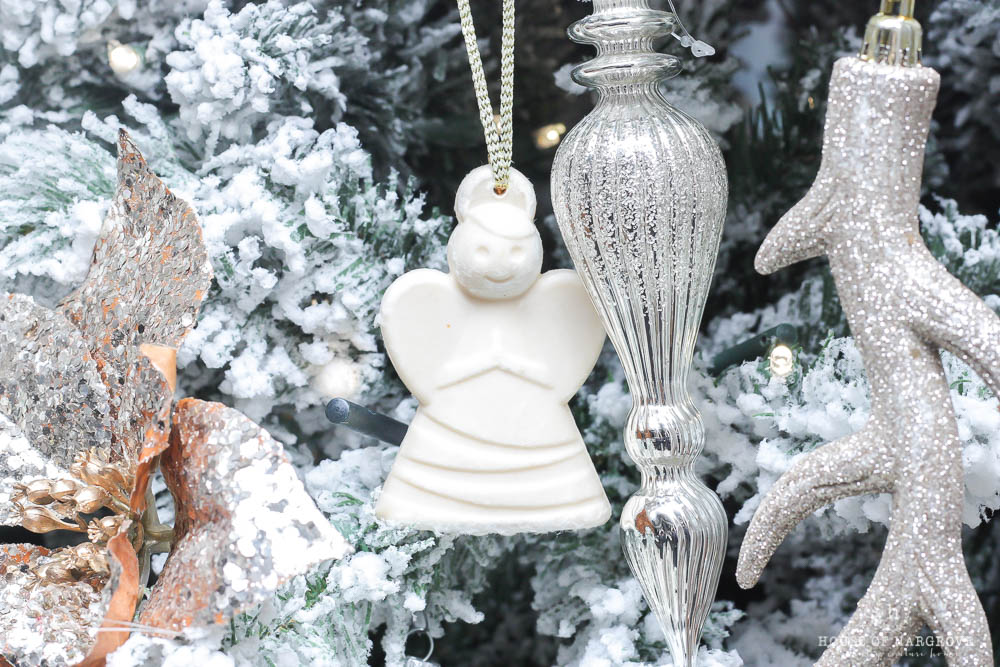 You can also buy these awesome table ornaments.  They come in beautiful glass jars and they have scented pellets . . . works like a candle without the flame.  These are very strongly scented and can smell up an entire room!!  You can leave them out all season and just shake them to circulate fragrance.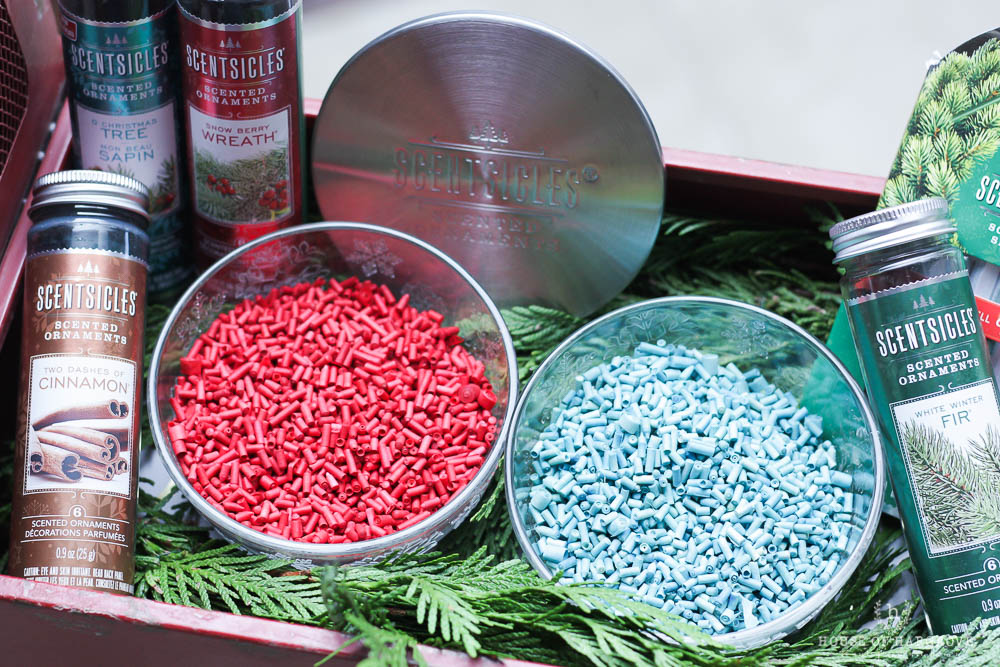 So cool right?!  An easy way to add amazing scents to your home.  You can purchase SCENTSICLES HERE or click HERE to use the store locator and find a retail location near you.
I hope these tricks help you to make the perfect Christmas tree for your home and that you try SCENTSICLES and enjoy all the amazing scents of the season!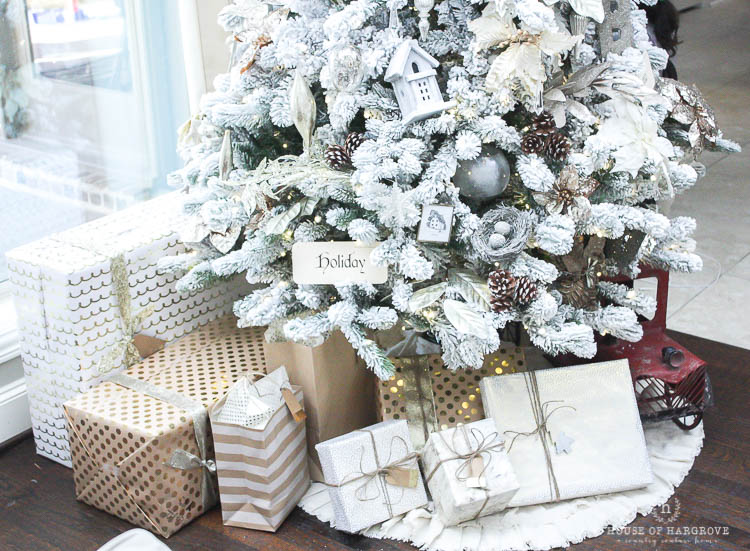 PIN BELOW FOR THE PERFECT CHRISTMAS TREE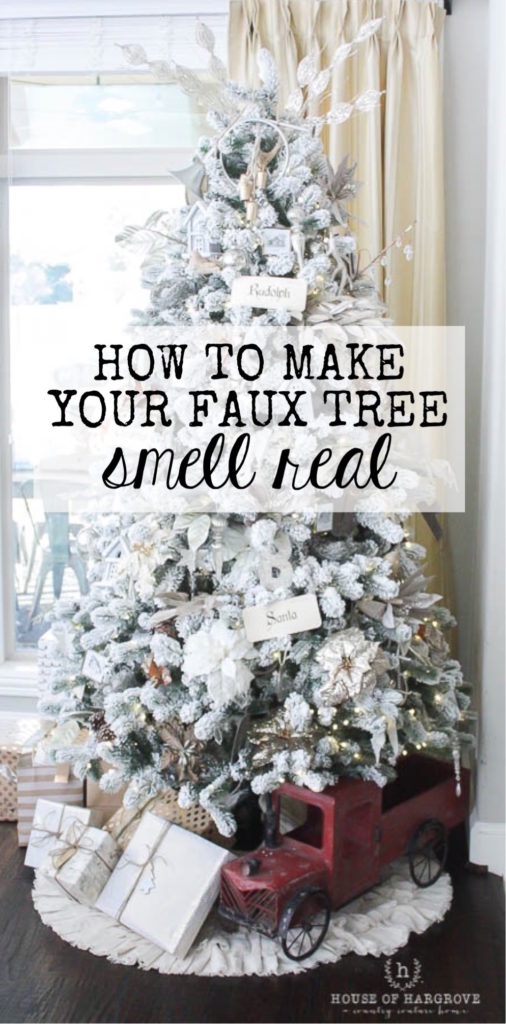 Thank you to Scentsicles for sponsoring this post.  All opinions are my own.  I was a customer of Scentsicles and wanted to share the product with my readers.