I absolutely love it when people incorporate vintage pieces in their homes and one of the place I love it the most is when people use unique furniture for kitchen islands or bars.  It adds so much character and farmhouse charm to a kitchen when you have a focal piece like an old store counter.  Here are some amazing vintage farmhouse kitchen islands and I have one for sale that is ah-mazing!!  It is an antique bakery counter and I dream about designing a kitchen around it.  Since I cannot right now…you can!
This kitchen island almost broke Instagram & Pinterest!  Just kidding, but everyone loved it!  It has been pinned and commented on sooooo many times and I see why!  It is incredible!  Resa at The Farmhouse 31's entire home is amazing, but this island is everything!  The one I am selling (below is similar)!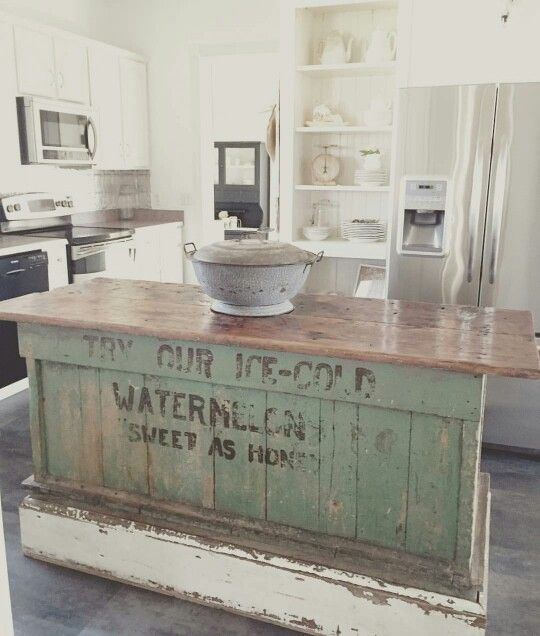 This old counter had a sink put in it and it looks so great in this kitchen.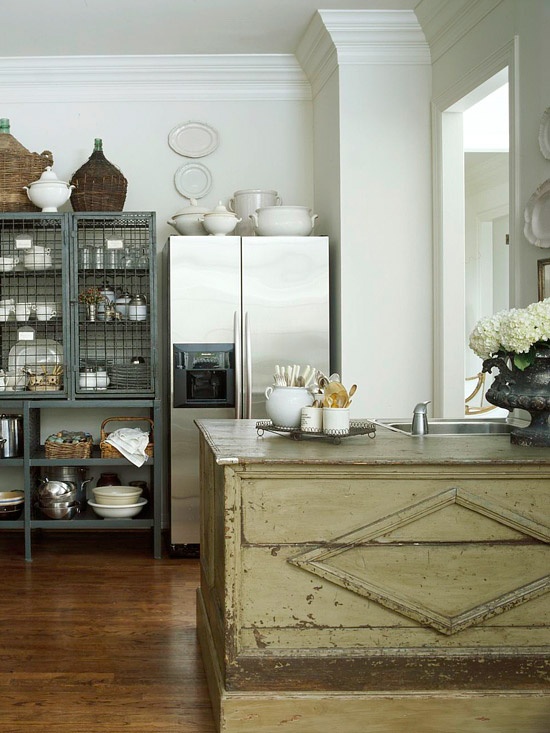 These next 2 pictures are an old grocery counter turned kitchen island.  It truly makes this kitchen!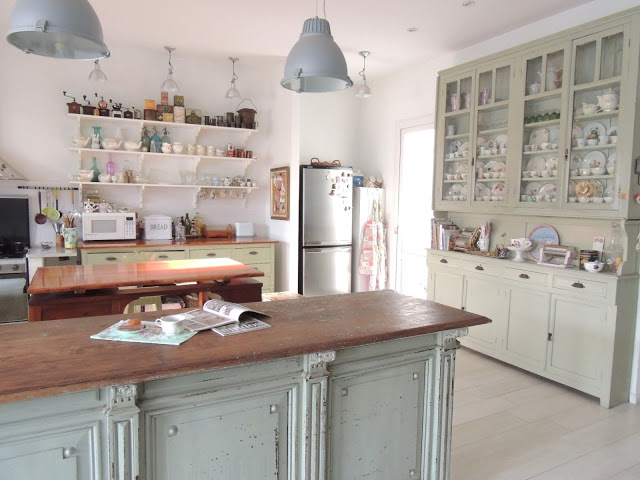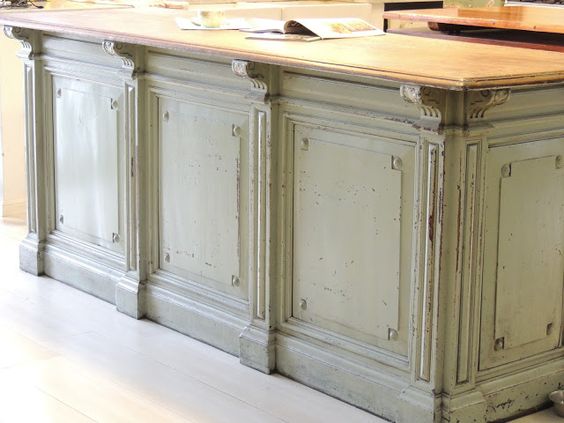 This amazing island is an antique candy store counter!  A new top was added to it and the rest of her kitchen was built around this amazing focal point!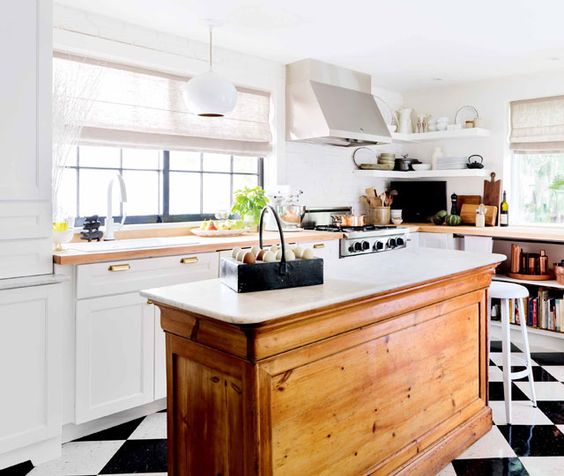 I am sure most of us know this incredible kitchen!  Its from the one and only Joanna Gaines.  Her island is an communion table from an old church.  She says:
"I just love this piece because of its story and the detail. It is now the focal point and anchor for my kitchen. Once I determined where I wanted it, the rest of the kitchen fell in to place.  This island has become the character in my kitchen. I wanted to highlight it so I kept my backsplash simple, my countertops concrete, and the walls white. Even though this space is very simple I feel like the island gives it that punch of character the space needed.  If you are feeling stuck and don't know what direction to move towards, perhaps you need to find that one thing that inspires you for the space."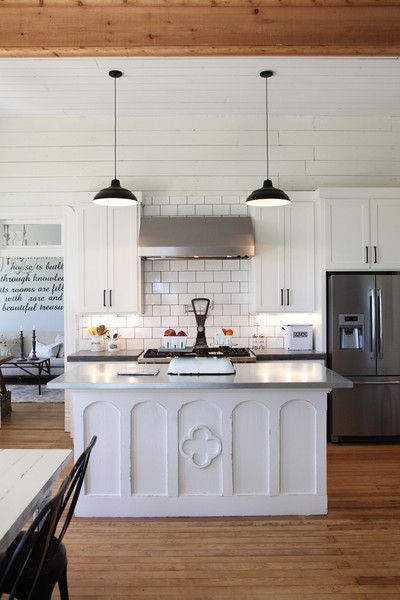 Are you redoing your kitchen?  Building a new home?  Designing a bar area?  If so you need this kitchen island below in your life.  It is an old bakery counter and it is in incredible condition.  Like Joanna, you could design your entire kitchen around it.  I am obsessed and if we were building our house right now I would definitely be keeping it!  I love the character, the metal logo, the chippy finish, the planked top….I love everything about it!
It reminds me so much of Joanna Gaines and The Farmhouse 31's island.  It is a robin egg blueish color with tan/cream showing through.  The top has been waxed to bring out the natural wood top.  It is 34.5″ tall, 70″ wide , 32.5″ deep.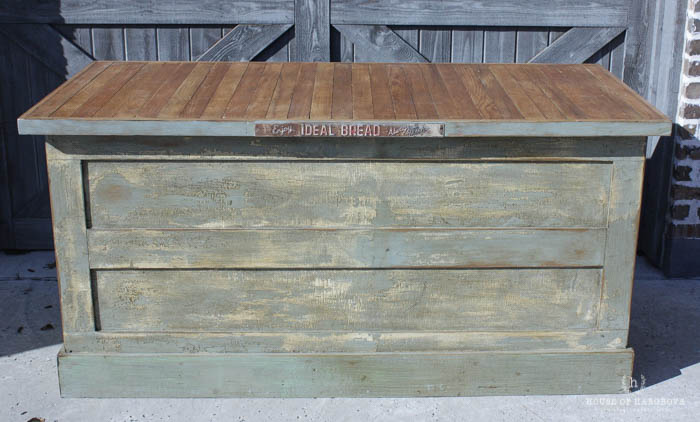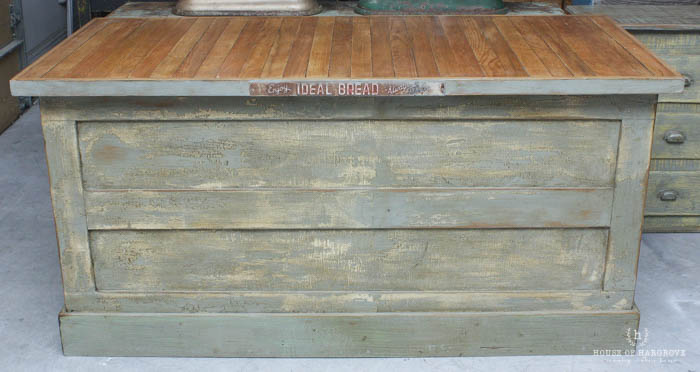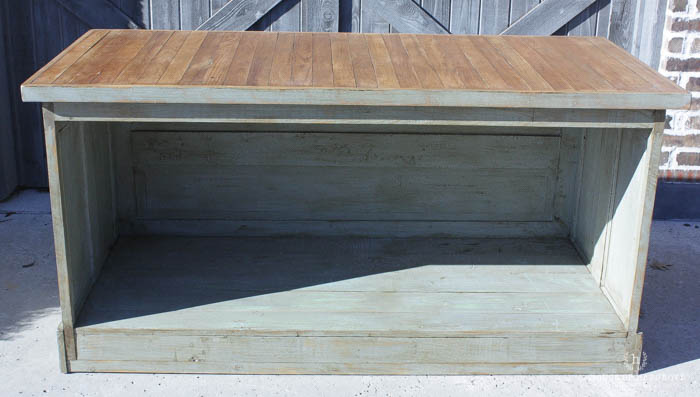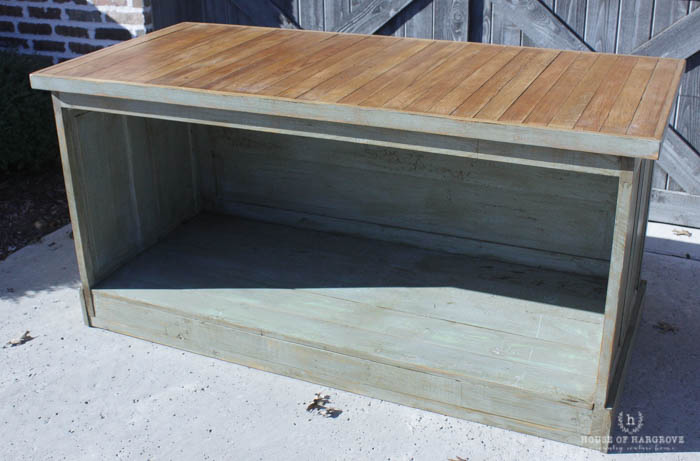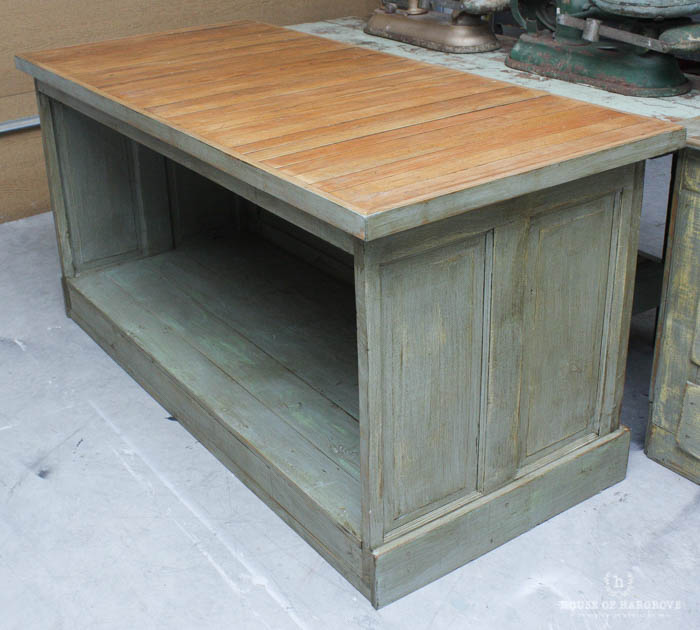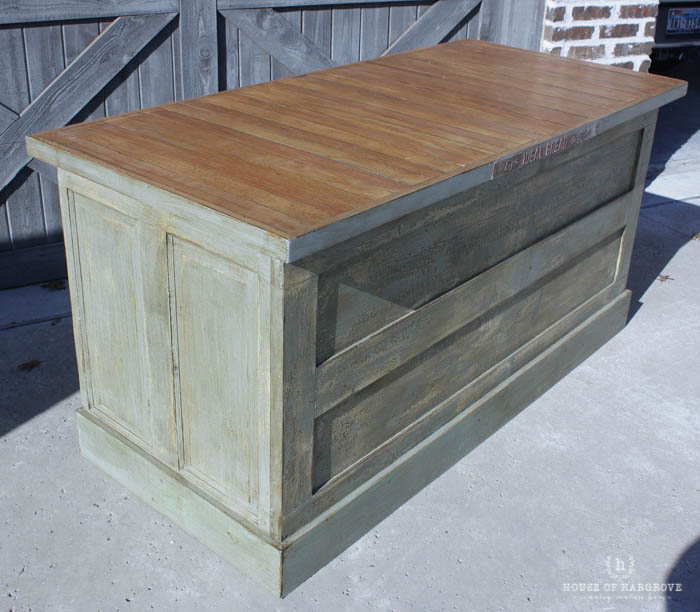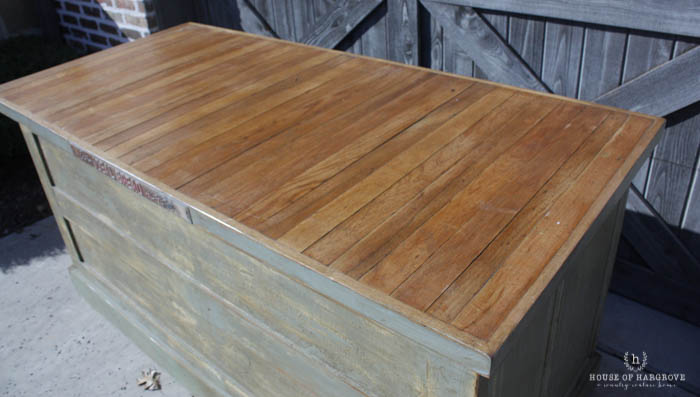 Still has the amazing original metal logo.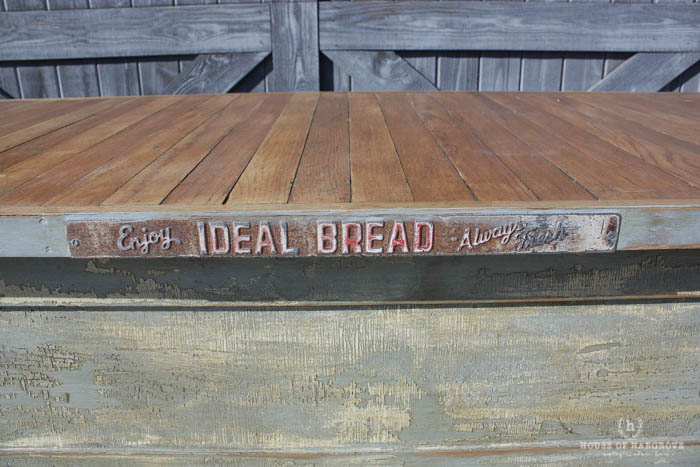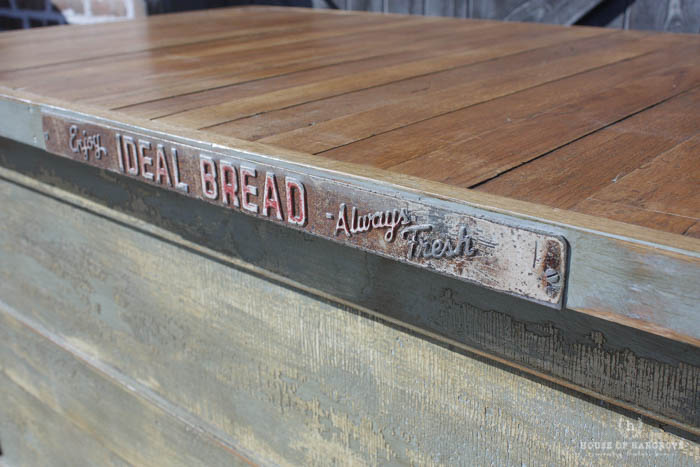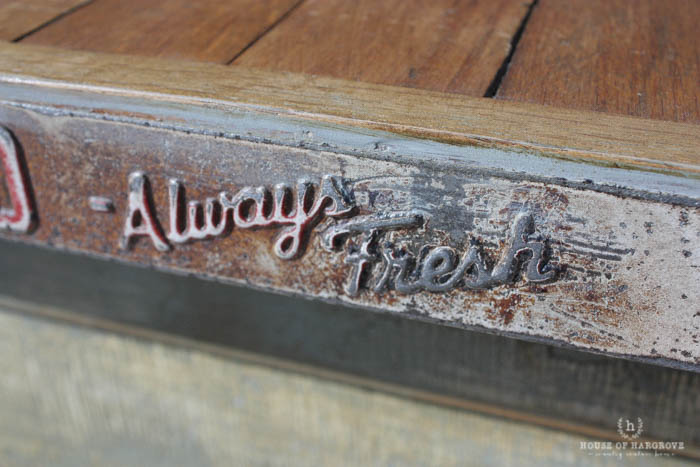 Look at this beautiful finish!!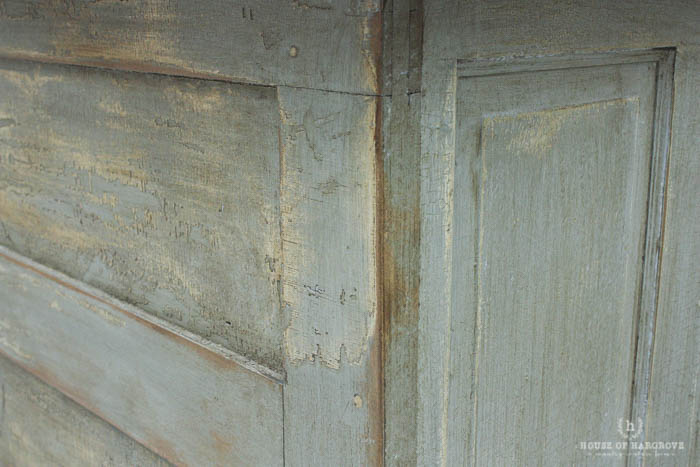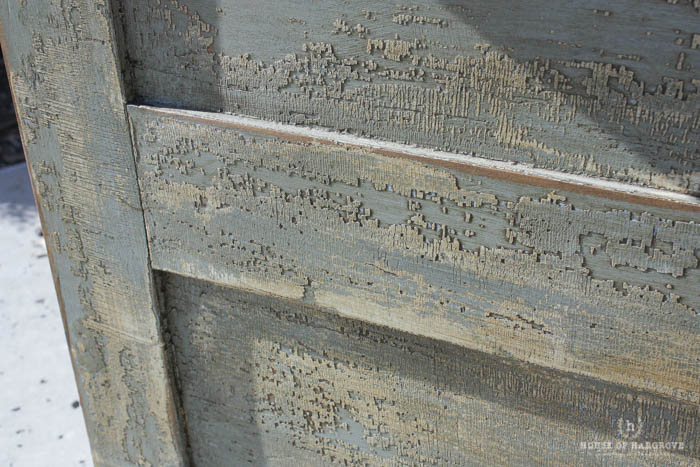 I was trying to imagine Joanna Gaines kitchen with this island so I had a little photo shop fun!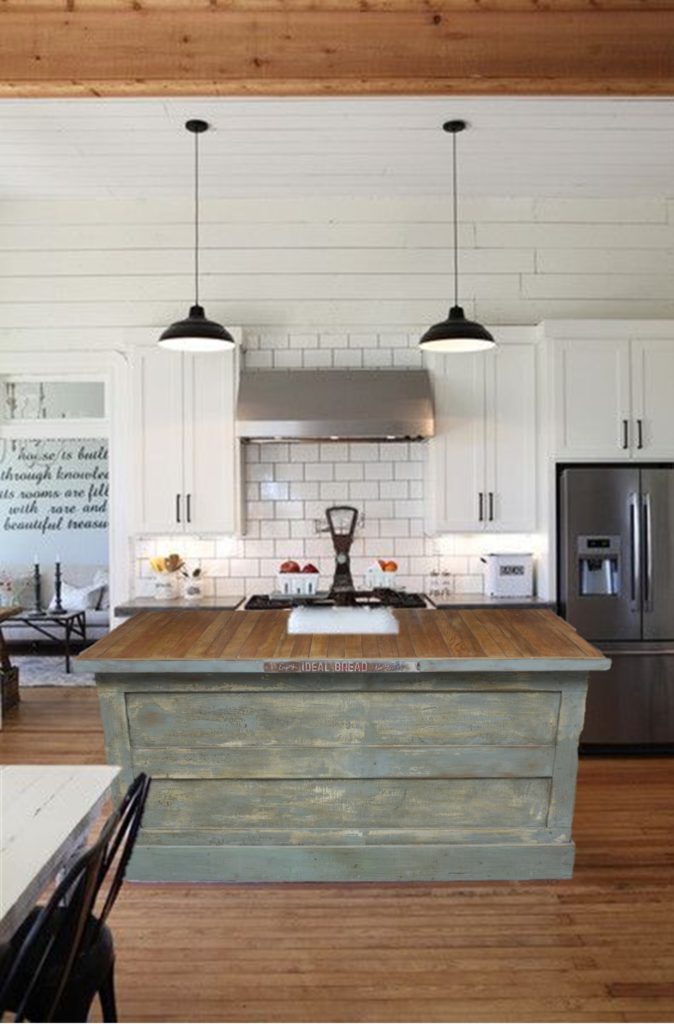 If you want this incredible statement piece in your own home email me at houseofhargrove@gmail.com and I can give you all of the details! Local pick up only.  I will be sharing more amazing farmhouse furniture for sale soon!  Stay tuned!  You can see all of my current inventory here.