Hope your Holiday season is going amazing.  I am so excited to share boots, jeans & some cute things with you today.  I think it's time for me to let you guys in on some of my favorite boots! We've been friends long enough now, don't you think? It's finally cold enough in Texas to wear all of my boots again! I love getting them out of their boxes and back on my feet! It's only fair to start with my very favorite, my Hunter boots.  Now ladies, these aren't just any old Hunter boots… these are special.  Not everyone has these and yet they are THE CUTEST ones they make! They are pretty hard to find, but lucky for you, I am here to save the day! Find my #1 rainboot pick here.  I get compliments on them every time I wear them.  I love the riding boot silhouette and the quilting is so cute! I don't only wear these when it's raining because they are warm too! They are so snazzy (is that how you spell that?), that I wear them with my athleisure wear too! Don't forget to grab this Boot Shine Sponge too, you will want to have it for these! It makes it so easy to clean your Hunter boots! Find it here.
ALSO…Neimans is offering a $50 gift card when you spend $200 with code: BONUS  
This will save you a ton on the Hunter Boots!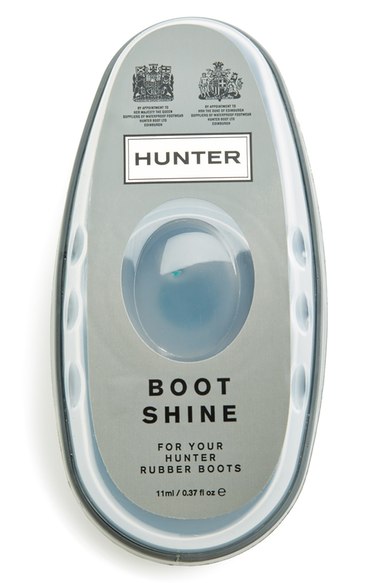 I bought these beauties and they are the most comfortable and warm boots! If you don't own a good pair of UGG boots, please treat yourself and get these for yourself! Find my favorite UGG boots here.  I have them in chestnut suede and they match so many different outfits!

Lets talk about these fun Minnetonka boots that I have in the brown suede color.  They are so fun and they really are comfy to boot! (Did everyone catch my funny pun there?) =) I think they look great with black leggings or skinny jeans and just about any top! Find them here.

Over the knee boots are really in right now and these are my favorite option! You can wear these with leggings, a dress or skinny jeans.  They are a Nordstrom exclusive.  Since I mentioned jeans, we should point out that these are my new, amazing, fabulous, flattering, and comfortable jeans! The wash is pretty, the distressing is on trend and they are buttery soft! They are an investment, but if you've ever bought designer denim, you know that you really do get what you pay for.  I figure if I wear them everyday, then I will get my money's worth! Just kidding, but I have found myself grabbing them out of my closet over and over again! I am wearing them in most of the pictures on today's post.  Find my new favorite jeans here.  OK, back to these fun over the knee boots, you can find them here and they are on SALE!!!

You have seen me in these before in another post and if you didn't read that one, I won't hold it against you! These are the most comfortable, classic, wear with anything boots! The cognac color is so pretty and goes with lots of outfits! These are a great investment, I wear mine often! You can find them here.  The best news is that they are on SALE! Yippee!

Check back to see if your size has come back in stock on these amazing jeans that are on SALE and are really affordable! So many of you told me that they were out of your size, but they have added back a few sizes that were previously sold out.  I really love these jeans and I love the price even more! Find them here.  Yall….they are ONLY $44.90!!  From Nordstrom!!!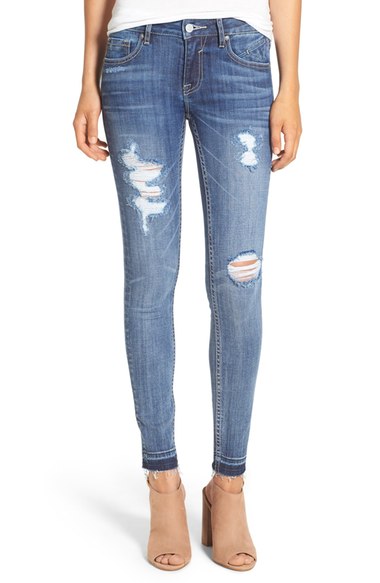 Lets shift gears because I am excited to share two new items that I love from Vineyard Vines! Did you know that our favorite store (Nordstrom of course), with free shipping and the best reward program, has tons of options for you, your husband, and your kids from Vineyard Vines? First up, this amazing women's t-shirt that has gold foil on the logo! It's AMAZING and it's a fairly thick t-shirt! It is selling way too quickly, so order it quickly! This will make any girl happy this Christmas! Find it here.  I'm wearing it with my NEW Vineyard Vines leggings! I was surprised that they even made these crop leggings, but the fit is great (fairly high rise), the fabric is comfortable and not too thin! I love the pink whale tails! They are a great length too! Find them here.  Again, the sizes are selling out, so grab yours now! Sunglasses here.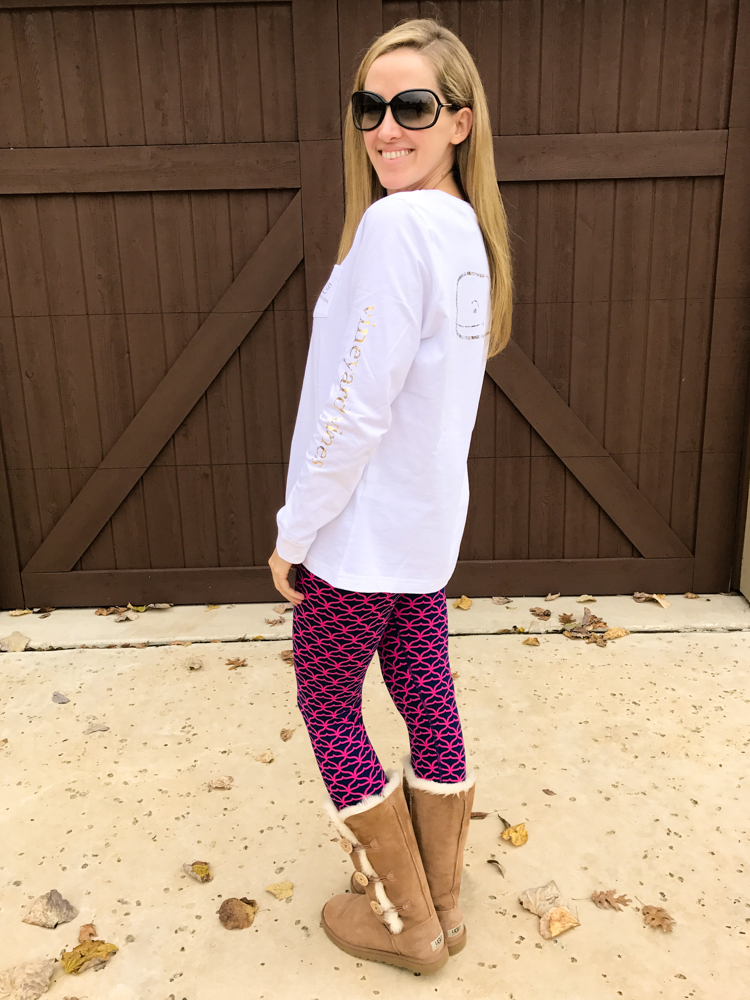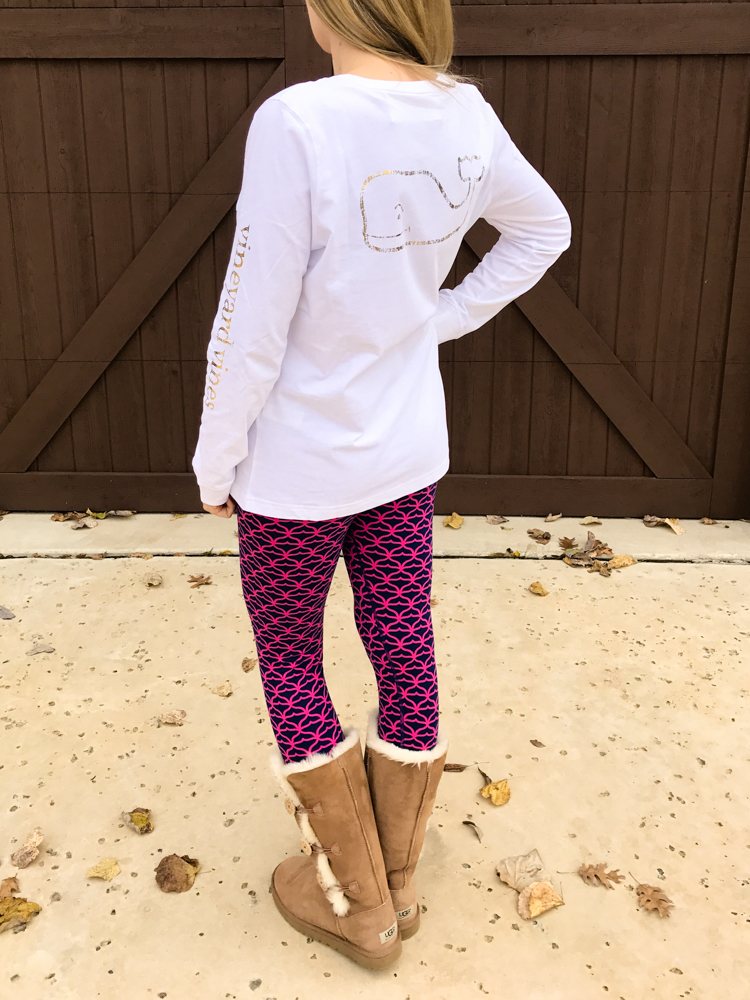 I have to include a silly picture, this is me saying "Fa, La, La" because this is part of my Christmas to myself this year! I love Vineyard Vines!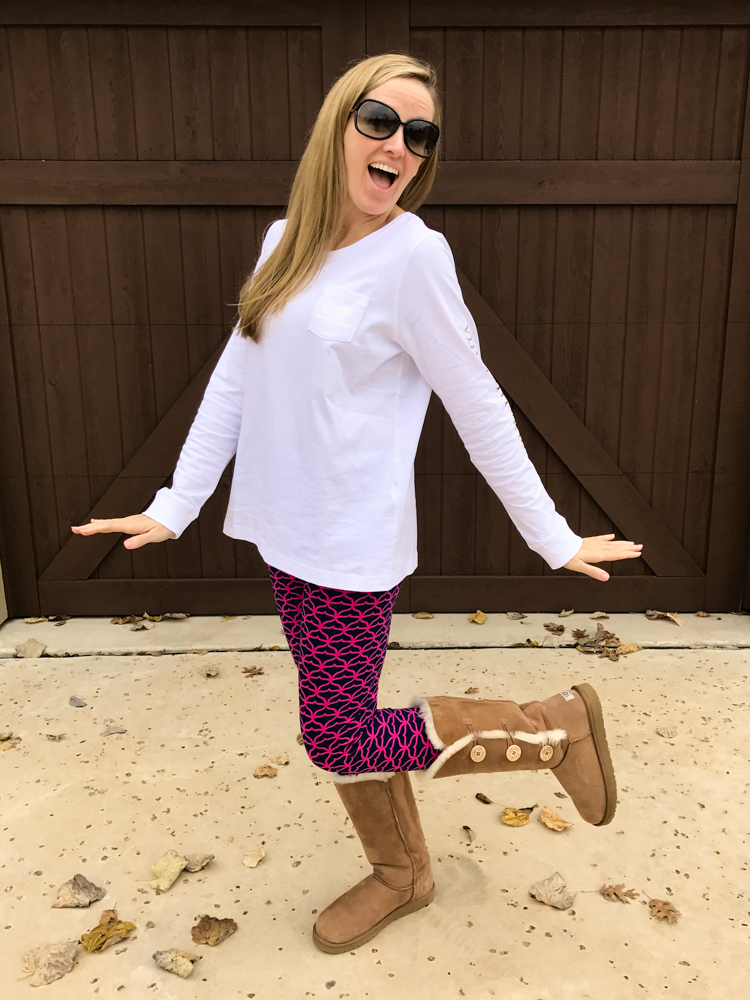 Now when you are wearing your new adorable leggings, you will need to make sure you don't have a panty line.  The most comfortable way to achieve this goal is with some Hanky Panky thongs! They are so comfy that you won't even notice them during the day! They have great ratings because it's the truth! These also make good gifts because they are one size fits most! I love that because I don't have to worry about insulting someone by buying them the wrong size on accident! 😉 I prefer the original rise thong, but the low rise thong is very popular too! They come in really pretty colors so you just go ahead and pick out a few of your favorites here.  Bye bye panty line, hello stocking stuffer! This 3 pack saves some money and comes in two color options.  Find it here.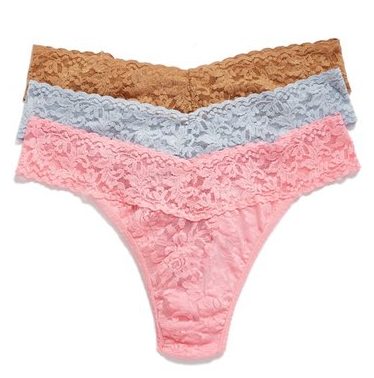 It wouldn't be a Wear it with Barrett post without some jewelry picks! Since it's almost Christmas, I think it's the perfect time of year to pick out something extra special for yourself! Stella & Dot recently launched their fine jewelry and real leather line called Covet.  They have some beautiful diamond and gold necklaces and my favorite is the pave initial necklace in gold! You can wear it everyday by itself or layer it! Find it here.  I appreciate that they made it adjustable from 15″-18″ in 1″ increments.  The price point is really good for real diamonds and 14k gold! It's also the perfect time to buy it because they are offering Dot Dollars right now.  So for every $50 you spend now, you earn $25 to spend later! Win-win!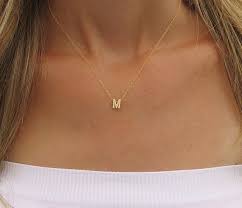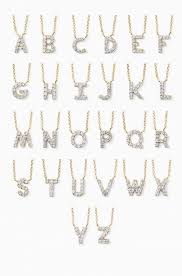 The Covet line also features genuine leather purses and wallets! I think this leopard print, calf hair wallet is gorgeous! The zipper pull hardware is great quality and pretty too! Find it here.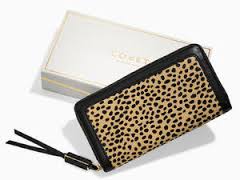 I just received my new Navy Trove Tassel Necklace and I am obsessed! It is really nice quality, the beads are amazing in person and it will make a perfect addition to my collection! I wish you could see it in person, but you are just going to have to take my word for it and go with it.  I bet this one will sell out! Find it here.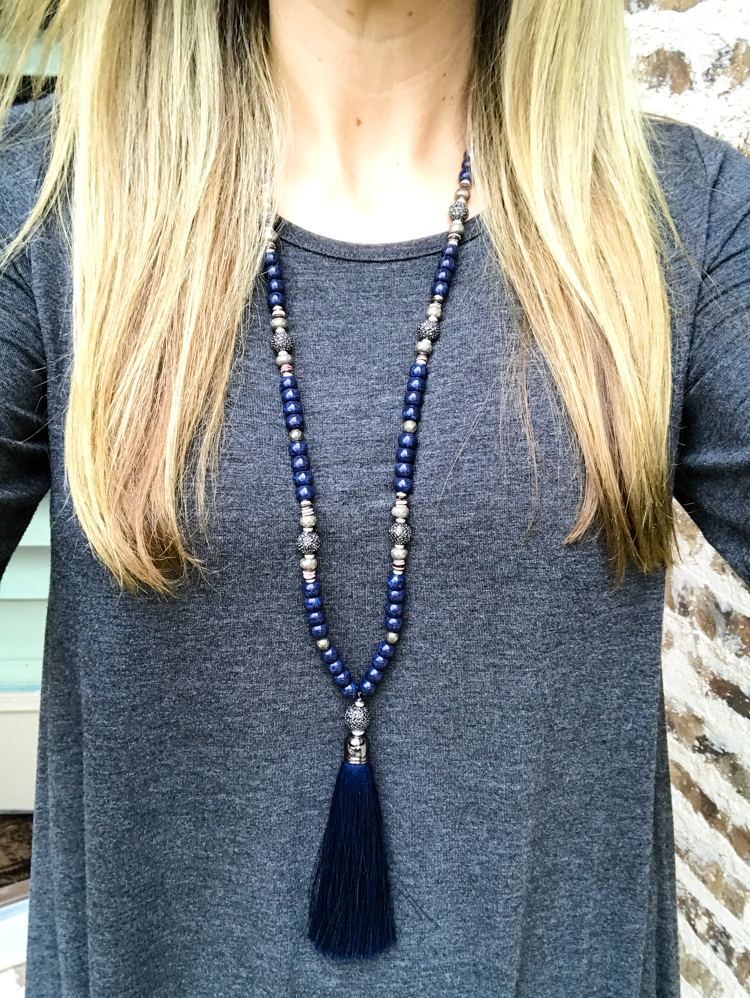 They also released this really cool Trove Statement Ring! It's a fun piece to wear to a holiday party or it would be perfect for New Years Eve too! It's substantial and very sparkly! Find it here.  ONLY $39!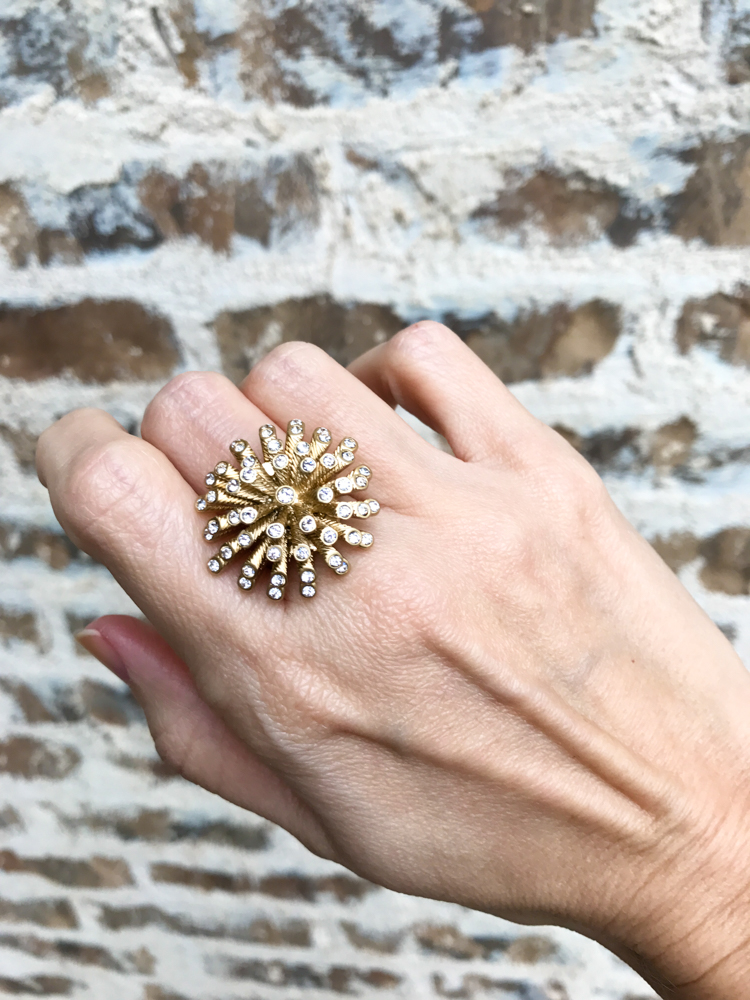 I stumbled upon this beauty the other day! It makes a great Christmas gift that's under $50! It comes in gold, rose gold and silver and they would look really pretty all stacked together! I love mixing metals! Find it here.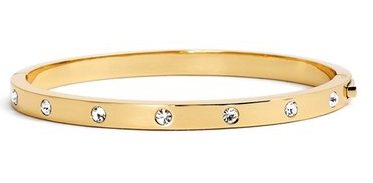 On another note, Anthropologie is offering 30% off all clothing and free shipping over $150 and it ends today! Remember my amazing cords? They are a great value and an essential Fall wardrobe piece at only $61.60! They are really comfortable and flattering! Find them here.  I bought the wine pair, but they are also available in 5 other colors!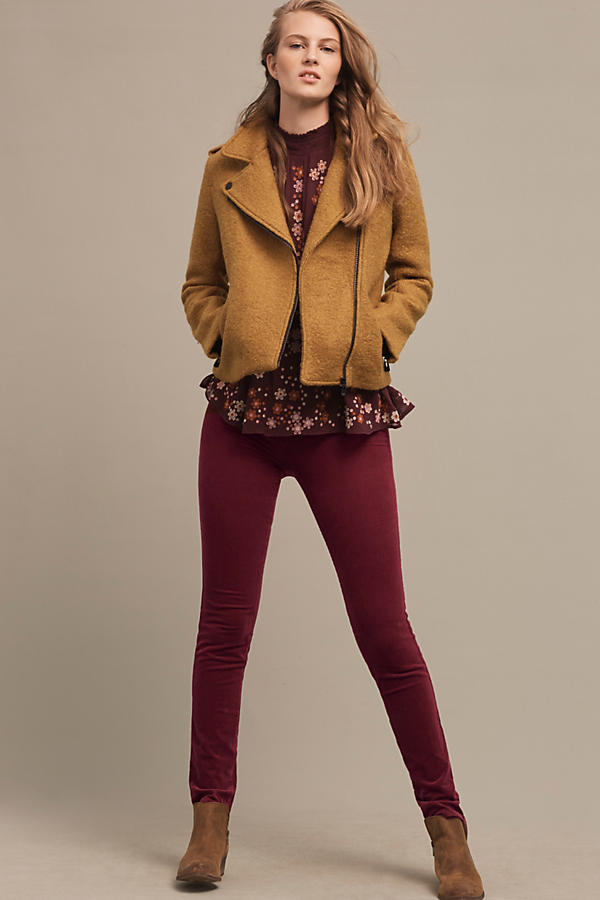 If you are looking for a REALLY awesome gift idea, then this Volcano scented hand soap and lotion caddy will fit the bill! I love the blue bottles and the cute caddy they come in! Find it here.  It is such a popular scent for good reason.  It smells amazing and I am excited that they are offering it in a hand soap and lotion now!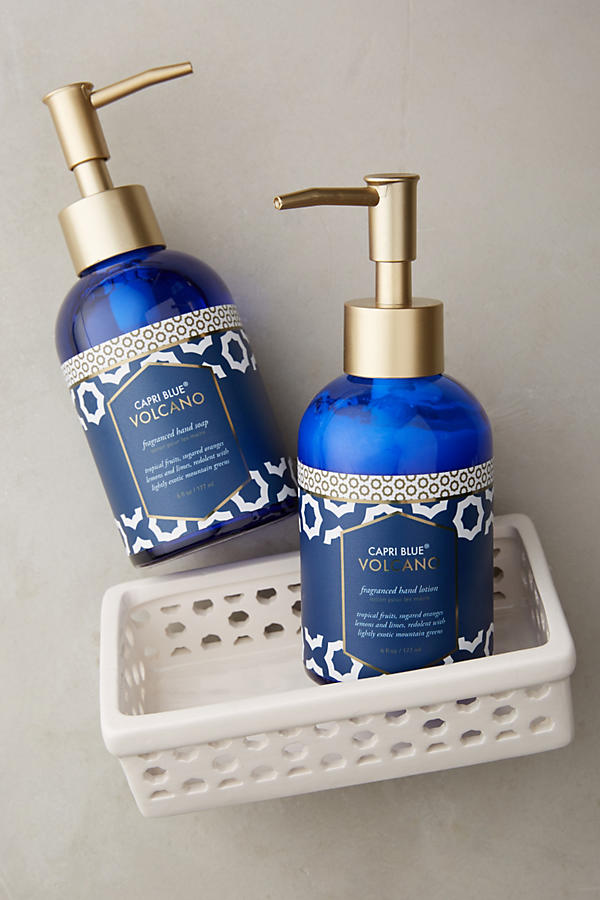 Have y'all heard about Kendra Scott's new home line? Well, you must check it out here.  My favorite thing is the Filigree Photo Frame in Bright Brass! Find it here.  She used her popular metal design and made it into a picture frame.  Sorry that I don't have a better picture, just click the link to see it!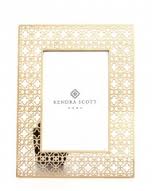 Hopefully I have trained you to read all the way to the end of my posts because I usually save the best for last! If any of you don't know about Living Proof's Dry Shampoo, then allow me to introduce you now! It literally cleans your hair! It works like a champ and I highly recommend it! Grab some for yourself and for anyone else on your Christmas list! It has won awards and has fantastic reviews, in case you don't believe me. =) Find it here.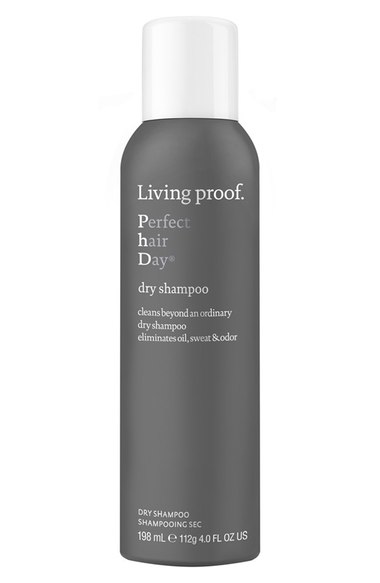 It is really almost time for Christmas so I hope that I have helped give you some good options for gifts for yourself or the ones you love! 2 weeks from today! It's very exciting! I know my boys are counting down the days! Thanks for reading!
PS, a bunch of my stocking stuffer ideas from The Container Store that I posted here, are on SALE! So if you were still thinking about it or missed last weeks post, check it out! They are also offering 20% off of their amazing selection of gift wrap and holiday storage until December the 12th!


**This post contains affiliate links.  If you purchase I may receive a small commission.  Thank you.**