It's time again for another edition of Changing Room Chat! There are so many cute things at Anthropologie right now, so I went to my local store to try on lots of my favorites so you can see things on! The pictures aren't great, but hopefully they will help you see how they look on.  They also have a HUGE change that I am so excited about! ANTHROPOLOGIE is offering FREE SHIPPING every single day for orders $150 and up! All you need to do is make sure you are an AnthroPerks Member.  It's their free loyalty program that offers invites to events and parties, early access to pre-shops and new arrivals, and a special Birthday discount during the month of your Birthday! It's easy to sign up online HERE.  I don't know about you, but I love getting free shipping when I shop online! This is great news!!! They are currently offering an additional 40% off of SALE items! Woohoo!!! I'm also sharing some of my favorite finds for Father's Day Gift ideas, some of which are on sale! My husband is so hard to buy for, but I love picking out things I like for him! The NORDSTROM Half Yearly Sale is still going, so be sure to snag up some great deals before things sell out! Several of my picks from last Wednesday's post are already sold out! I shared my favorites that are under $25!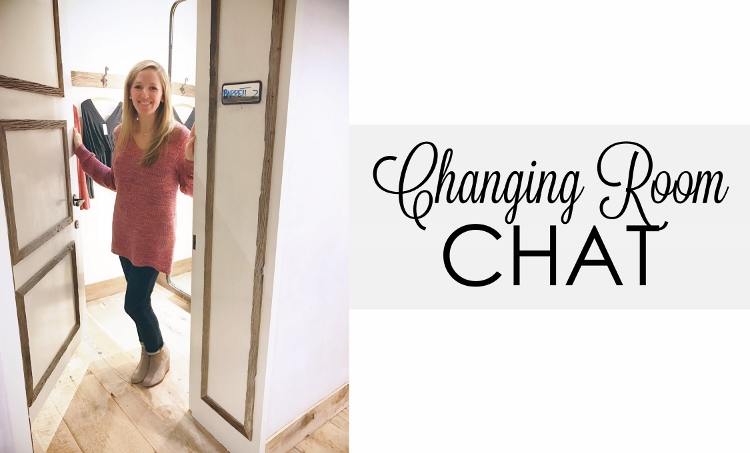 I have to start with this fun PLAID TOP because the colors just scream Summer! It's a shorter hemline but I really love it! It's slightly boxy, but in a good drapey way.  I sized down in this top but if I wanted it a little longer, I would recommend your normal size.  The white Pilcro crops I am wearing in most of these pictures are sold out, but THESE are very similar.  I'm wearing my ivory and blue Tory Burch FLIP FLOPS too.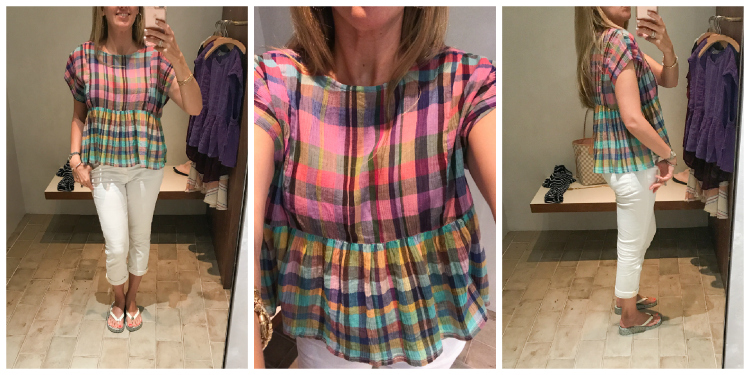 Excuse me for going on a tangent here, but have you seen these amazing new leopard print FLIP FLOPS? They are too cute!!!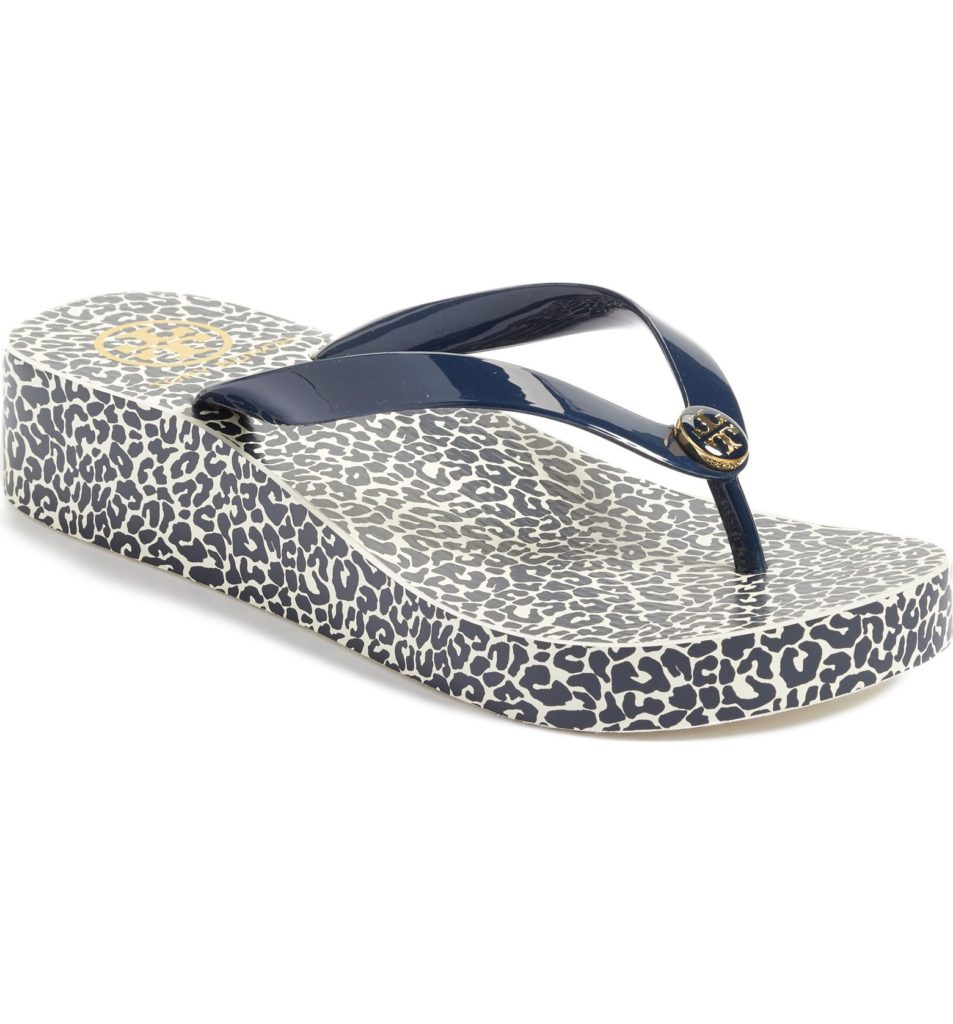 I'm also dying to get my hands on THESE!!! I love leopard! It is a neutral after all, right???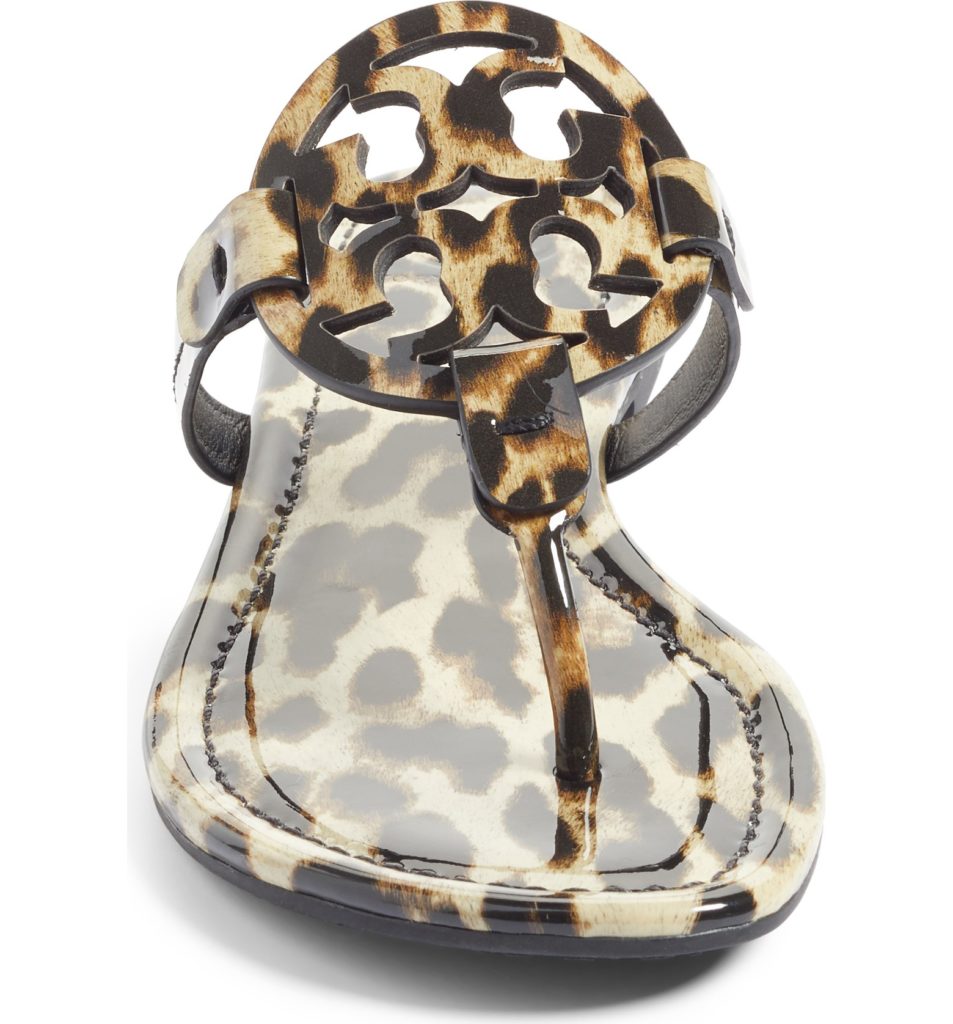 OK, sorry about that, I was so excited to show you the new leopard sandals, but back to the topic at hand… The sleeves on this linen chiffon-sleeve TEE are really, really cute! Probably the best ruffle sleeves I have seen! It has ruching on both sides so it has a really nice shape.  I liked both the dark grey and the rose (pictured).  I normally consider myself to be a medium, but I preferred the small in this top so it wasn't so baggy.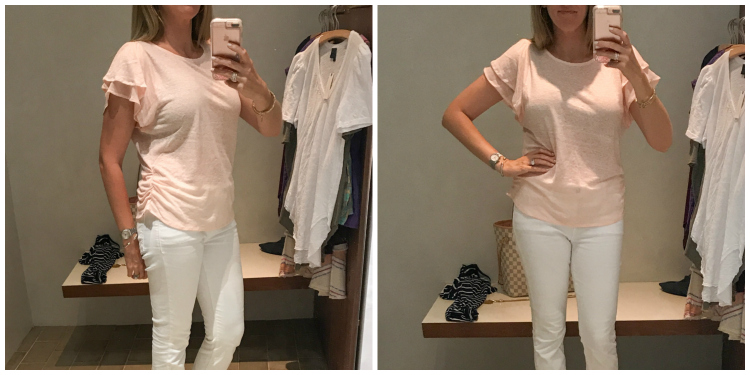 Another ruffled-sleeve TEE that's so cute! This one is available in several great colors, and even a couple of patterns! Again, a shorter hemline but it isn't too short.  I for sure would size down in this one.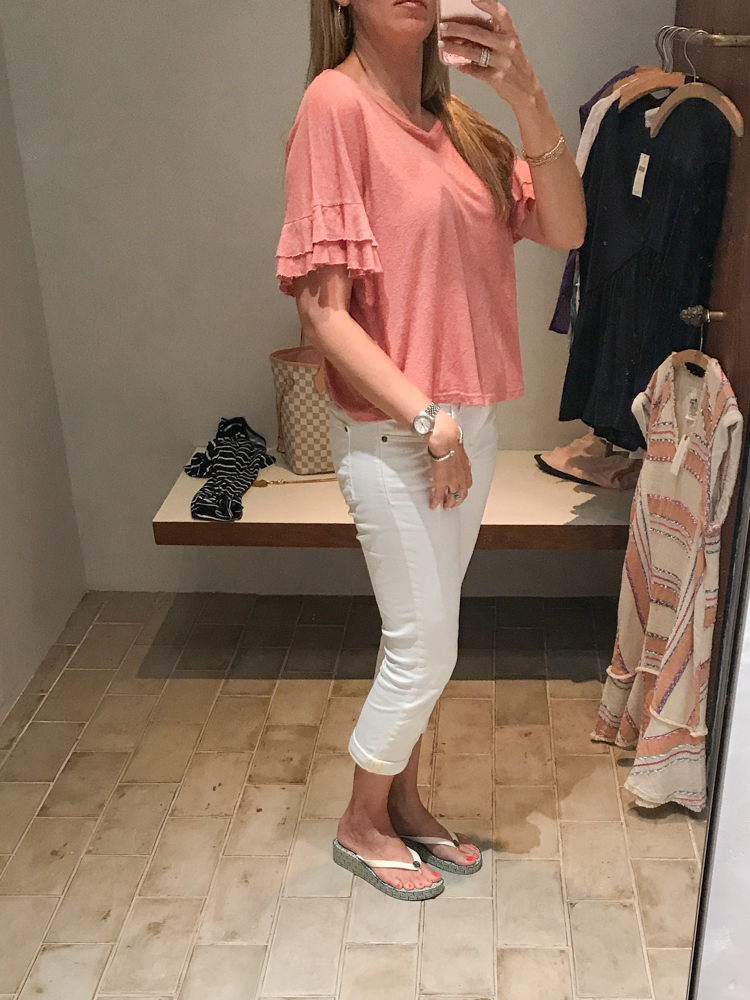 This chiffon-hemmed TEE comes in three really pretty colors, I tried on the burgundy and really like it! It's higher in the front and the back has a really cool longer chiffon layer.  You might want to click on the product link to see better pictures of the back! Ha!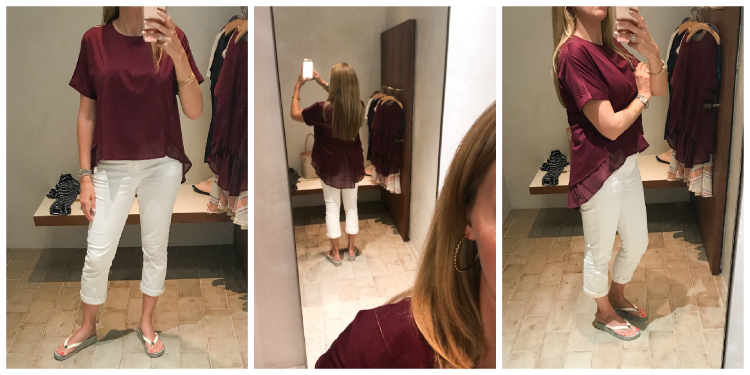 This DRESS has really grown on me.  It's hard to tell but it has bright pink (my favorite) stripes and really good lines! You can dress it up or down depending on the shoes and jewelry.  It's an easy dress for the Summer! It runs big, so I would say to size down.  I feel like a broken record but things have been running big lately. =)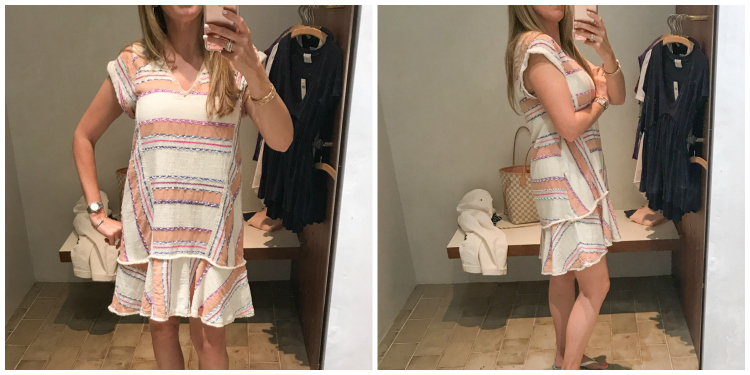 This v-neck TEE is really cute and it has a longer hem! Hooray! The sleeves are perfectly puffy! Such a cute detail! I am not suggesting that you wear white on white, I just had them on when I went shopping. 😉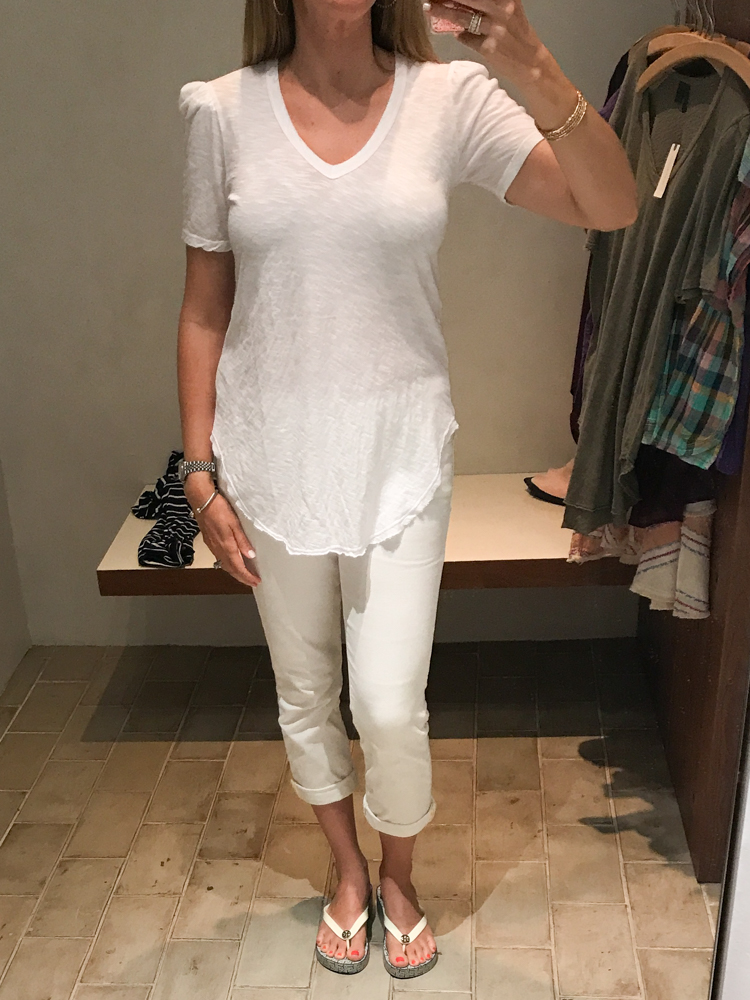 This was my favorite find of the day! I love a good v-neck and this draped TEE is adorable! I like lots of the colors and had a really hard time deciding.  I am wearing the XS in this picture, I preferred it extra sized down.  It is super soft and a great price too!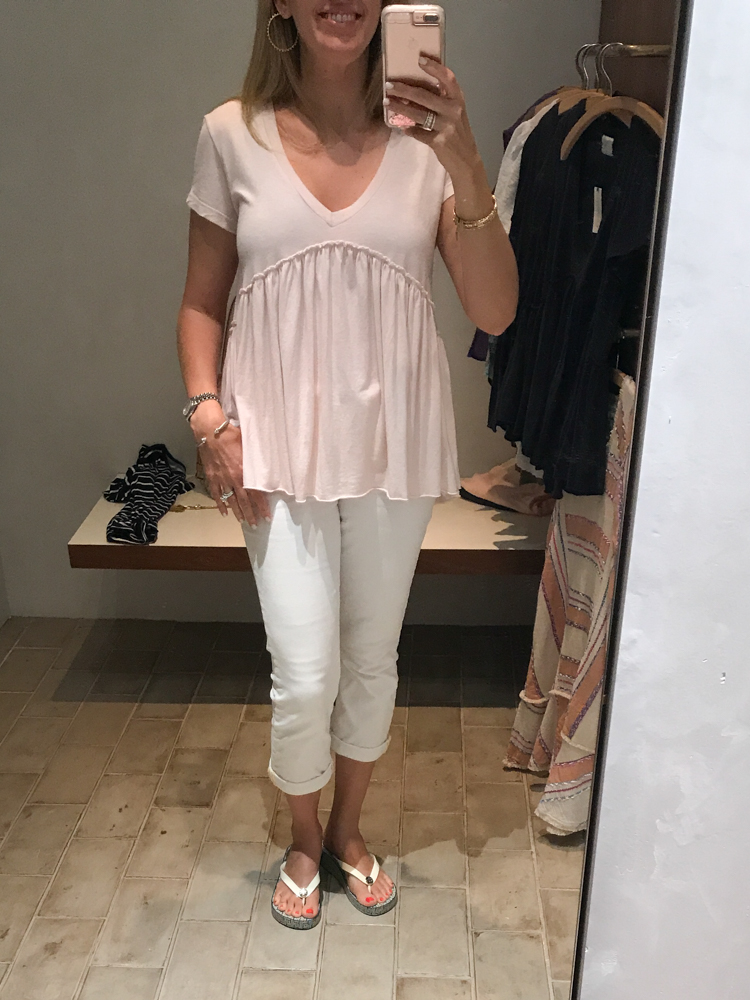 Here it is in navy…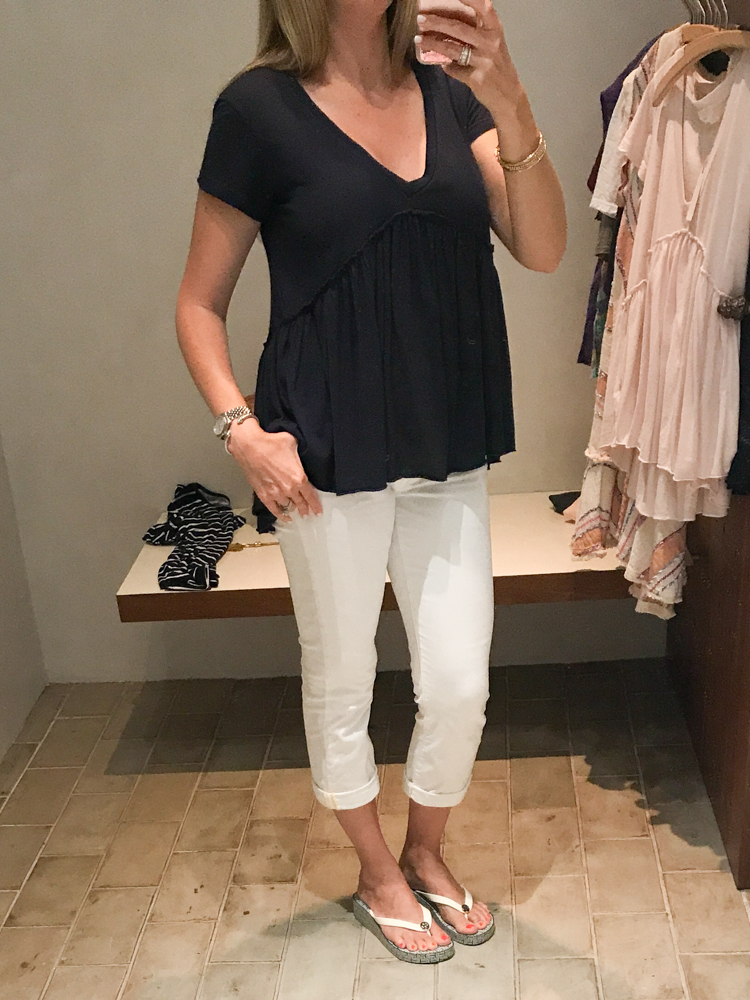 This is a unique TOP, it has contrasting seams in a cute raglan style.  I liked it in blue with white denim.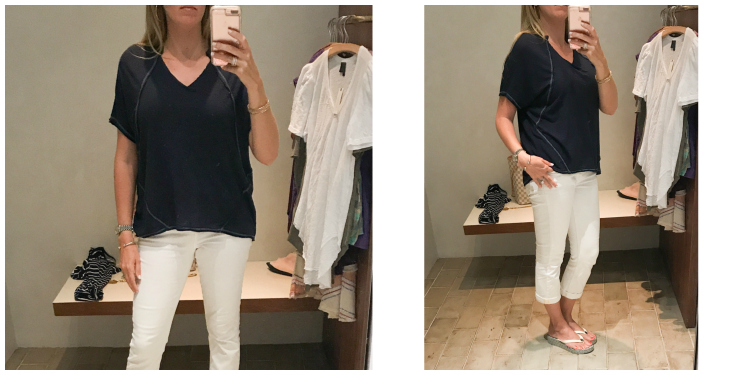 I don't have a picture of me in this TOP, I know you are so disappointed, but I came home with it! The lady who checked me out had it on with a jean jacket over it and I had to have it! The picture doesn't do it justice.  It has a shimmery, metallic, silver and gold look, that can be dressed up or down.  I absolutely love it!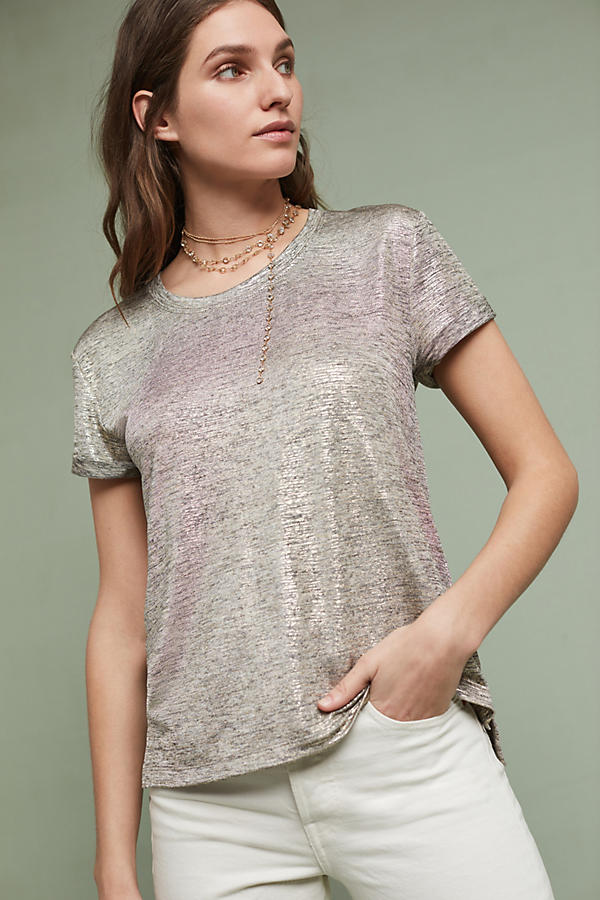 I didn't get to try on this swing DRESS, but it really caught my eye on the mannequin! It's so feminine and pretty!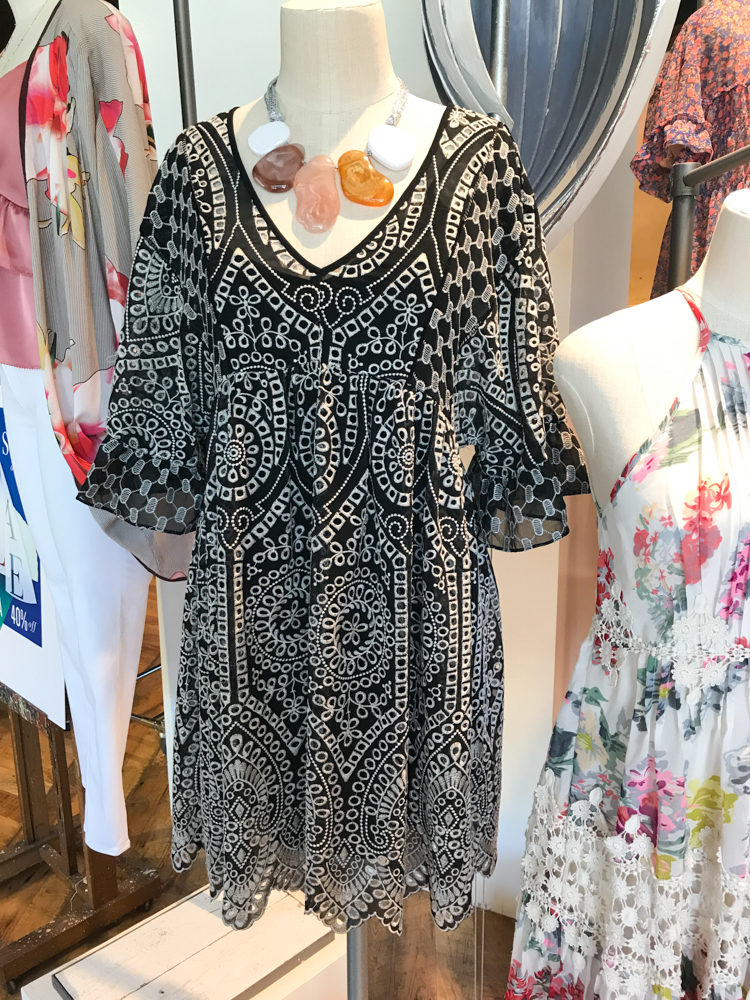 It also comes in peach! Decisions, decisions…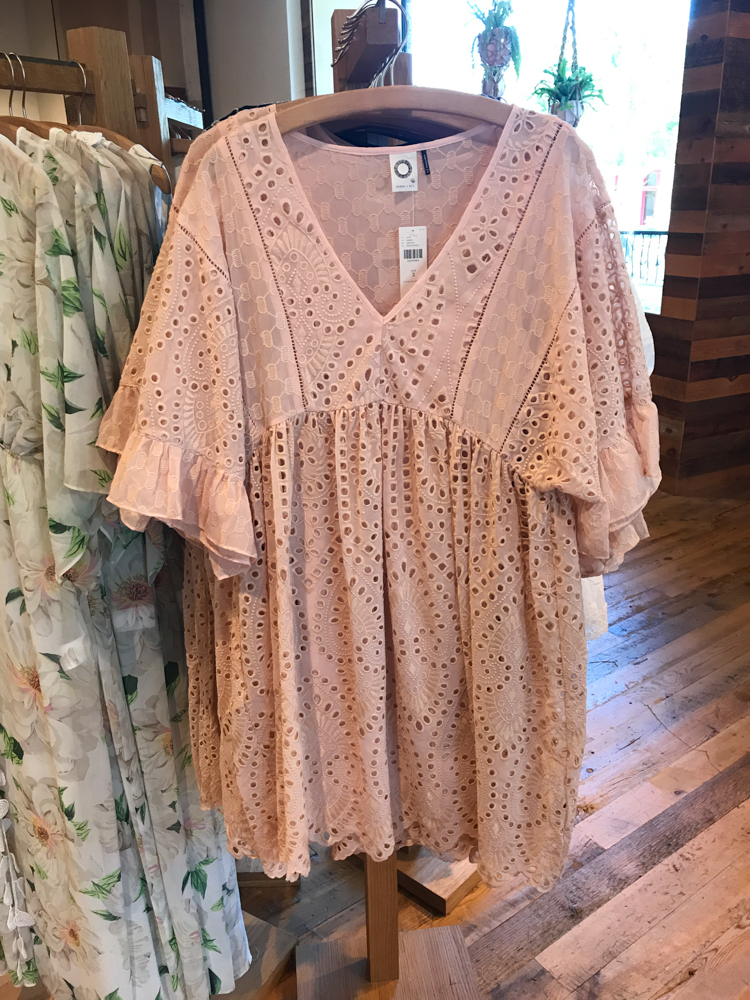 This is another really unique and feminine TEE.  It is made out of linen and has lots of pretty lace too! There are a few color options available too.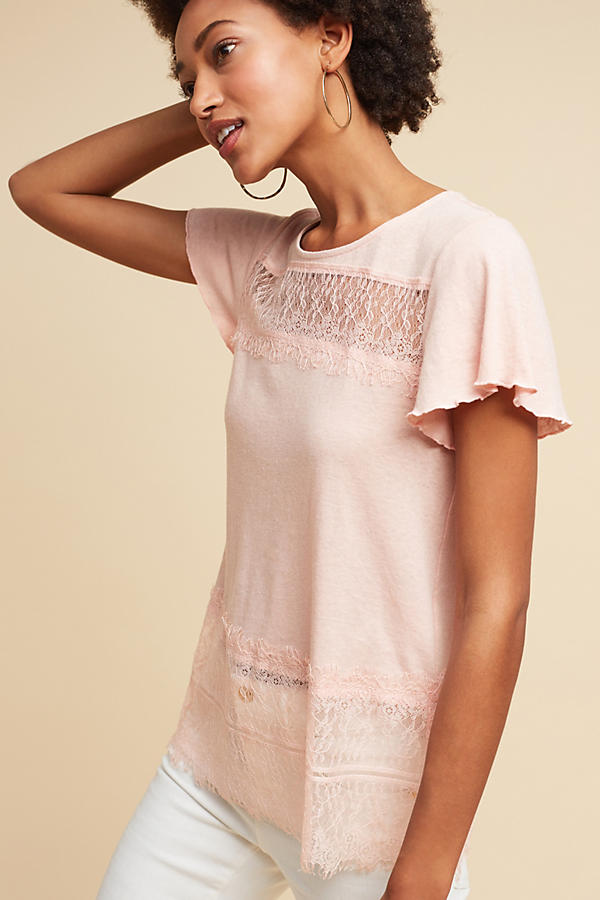 If you need a really good white staple top, this smocked swing TOP is perfect! You can wear this with lots of different bottoms.  It will look fantastic with denim!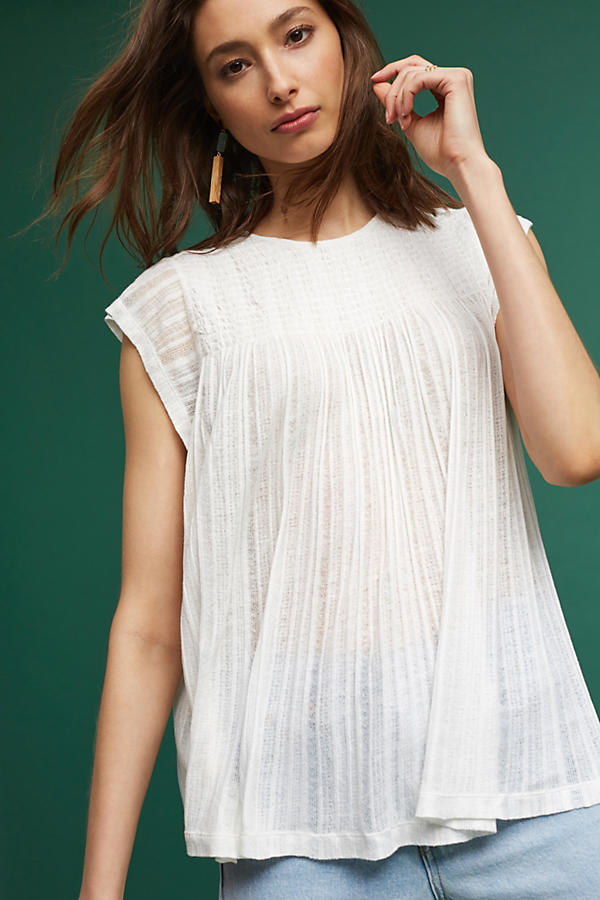 This is such a pretty off-the-shoulder TOP! It's available in white too.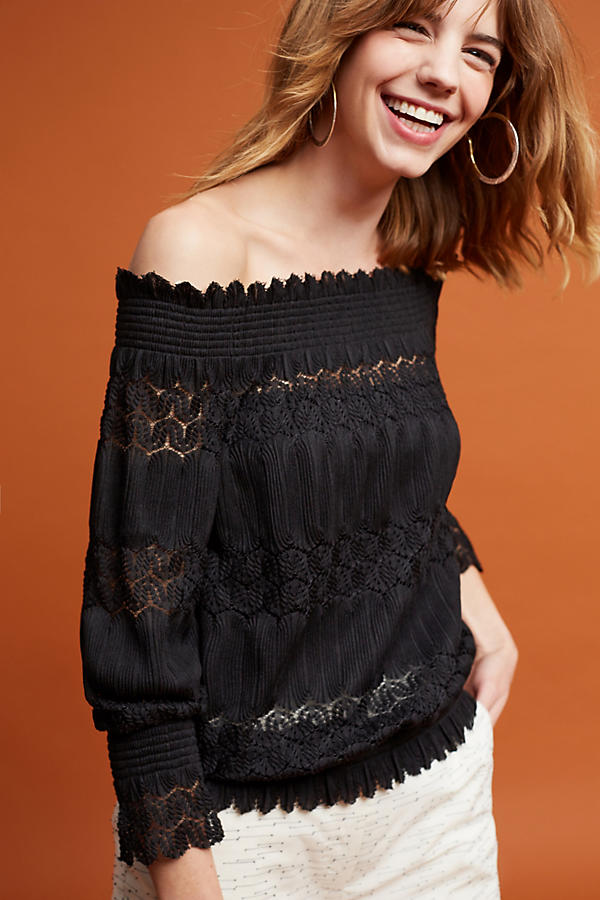 I've been anxious to share these new white denim jacket options with you guys! I think this peplum JACKET is so cool! Love the sleeves so much! I sized down in this one!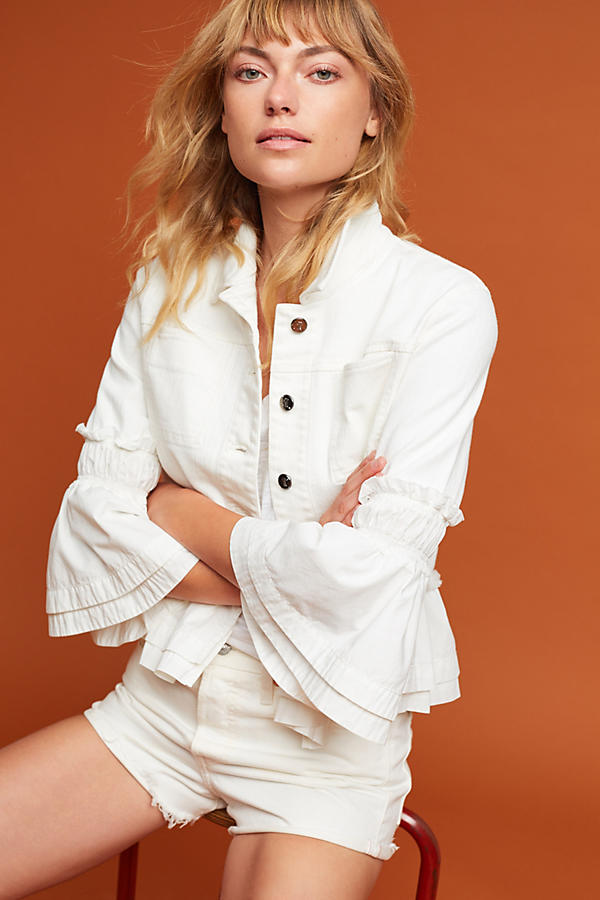 The other option is this embroidered white denim JACKET.  Such a fun bonus to have the subtle white embroidery on such a useful staple!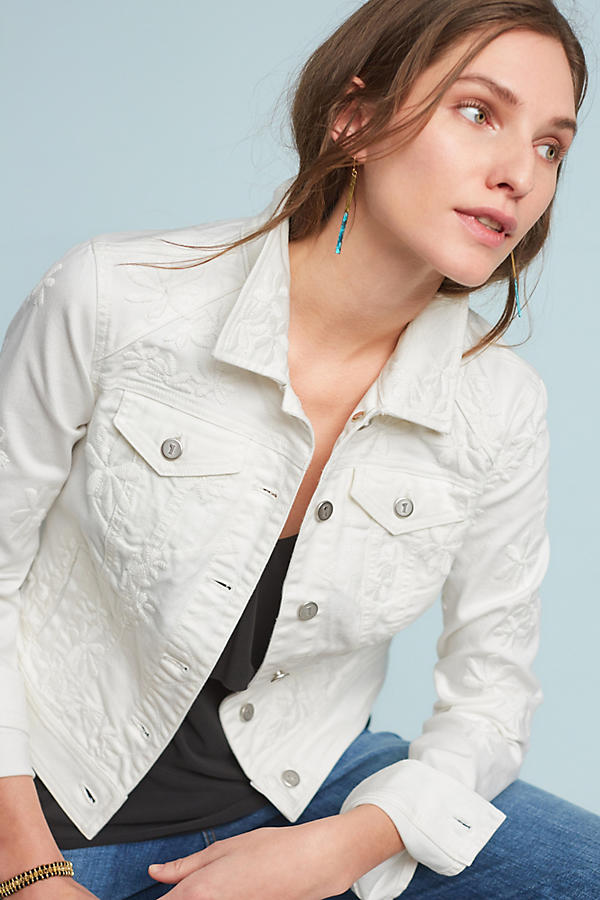 This DRESS is made out of the softest material and it's so effortlessly cute!  It has a frayed hem and pockets too! It's available in 4 different colors.  Love the red!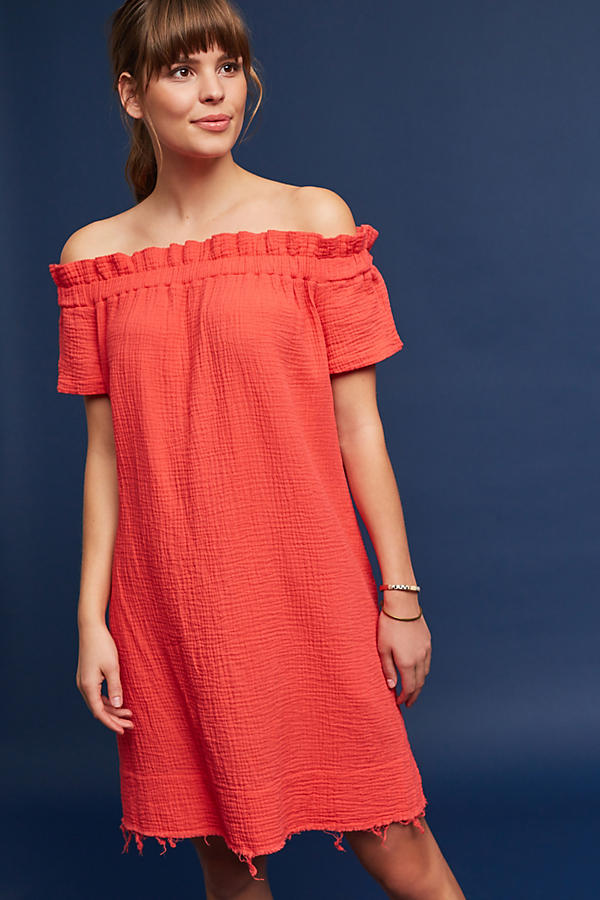 Father's Day Gift Ideas

1 | 2 | 3 | 4 | 5 | 6 | 7 | 8 | 9
1 – We all know that our husbands need to use good skincare like we do, but without us, it probably doesn't happen.  This gift set is a great way to kickstart his new routine!
2 – These are my absolute favorite flip flops for men.  They come in lots of great color combos, but I am partial to the navy pair because they will go with just about everything!
3 – This Peter Millar polo is on SALE, 40% off! This is a really high quality brand and this is a great time to take advantage of the Half Yearly Sale going on at NORDSTROM right now!
4 – Love this pink polo that is also on SALE! It's only $23.70 and it comes in other colors if your guy doesn't wear pink! 😉
5 – I think this beer pilsner is so cute! If your guy is a beer drinker, this pilsner would be a cute Father's Day gift! It's on sale for $23.90!
6 – The old school Adidas slide sandals have had a slight makeover and are available in navy (pictured) or black.  You will make him feel young again in his retro Adidas sandals!
7 – I am always on the hunt for good casual shorts for my husband and I found these drawstring linen and cotton shorts!  They are a relaxed fit and I know he will wear these a ton! They come in several colors!
8 – Rainbow flip flops are another fantastic basic that every guy needs for the Summer! They wear so well and look even better as they age.  I like the tan color the most but they are available in several other shades.
9 – Not sure why, but it is so hard to find a good, solid pair of Under Armour shorts for men! I snagged these as soon as I saw them because I like the plain colors without crazy patterns and stuff on them.  They come in tons of colors and are affordable!
I hope you enjoyed this edition of Changing Room Chat and found some great gifts for Father's Day! It will be here before we know it! Have a great week!

Learn more about Barrett & see all of her posts HERE.
Follow Wear it with Barrett on Instagram and Facebook.
**This post contains affiliate links. If you purchase I may receive a small commission. Thank you!**